Tam Coc – Bich Dong is one of the most attractive destinations in Ninh Binh. The area is a perfect combination of charming rivers, historical caves, and the aptitude of local people. Tam Coc-Bich Dong is also known as "A terrestrial Halong Bay" or "South second nicest grotto". Along with other attractions in Ninh Binh such as Trang An Landscape Complex, Bai Dinh Pagoda, Cuc Phuong National Park, Tam Coc Bich Dong should be the highlight of your Ninh Binh tour.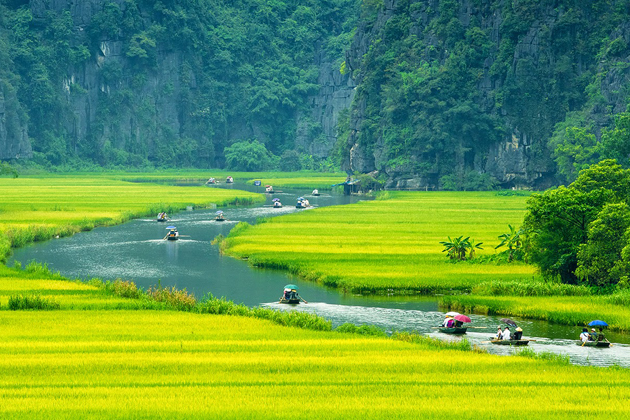 Location of Tam Coc Bich Dong
Located in Ninh Hai Commune, Hoa Lu district, Ninh Binh Province, Tam Coc-Bich Dong is an off-center area as it is about 25km away from Ninh Binh City. In order to reach this destination, you have to drive about 90km south of Hanoi along 1A Highway to Ninh Binh City, and then continue to drive around 25km. There are several entrance gates for tourists including Tam Coc, Co Vien, Thung Nang, Thung Nham, Bich Dong Pagoda, and Mua Cave.
Geography & Attractions of Tam Coc
Tam Coc (or Three Caves in English) is a combination of three different caves: Ca Cave, Hai Cave, and Ba Cave. All the caves are situating along with by Ngo Dong River, which flows through the mountains and forms the cave inside. Ca Cave has a length of 127m, crashing through a huge mountain with a 20-meter wide entrance gate. Inside the cave are a perfect integration of cool temperature and alluring stalactites suspending from the above in different sizes and shapes. 1km far away from Ca Cave is Hai Cave.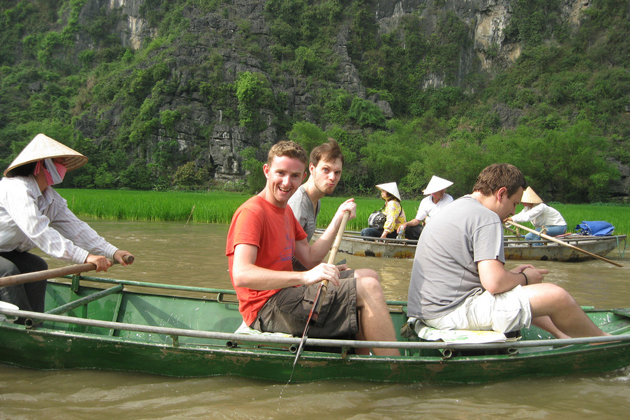 This cave retains a 60-meter length with a variety of striking stalactites. On the other hand, Ba Cave is much shorter than the first two, which is just about 50-meter long and the roof is lower as well. Tourists may take about 2 or 3 hours in order to visit all the stunning caves as well as take wonderful photos of this attraction. In the season of rice, sailing along the river, watching the farmers collecting rice from the fields, and taking some wonderful photos of the yellow paddy fields are absolutely worth your visit.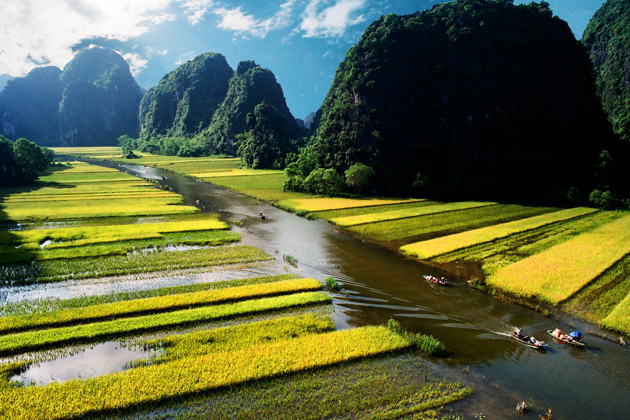 Geography & Attractions of Bich Dong Pagoda
In your Ninh Binh tours, besides Tam Coc, Bich Dong Pagoda is also a place of interest that you should not miss. The Pagoda is situated 2km away from Tam Coc Wharf. According to the epigraphy and history, the pagoda was built under the reign of the Le Dynasty. It was originally named Bich Son (Green Grotto) before changing its name in the 18th century. The temple and its surrounding scenery were so beautiful and magnificent that it was dubbed "South second nicest grottoes" in 1773 by Trinh Sam King. The whole pagoda was built according to the "Tam Hoa" structure. Ha Pagoda (Lower Pagoda) is located on the foothills, which characterized the Oriental style of the trusses, crossbeams, and ironwood spars. Trung Pagoda (Middle Pagoda) represents a unique structure with half of it is opencast and the rest affixes with the limestone mountain. Climbing up for 40 steps, tourists can approach Thuong (Upper Pagoda) where venerates Guan Yin Buddha. From the campus of Bich Dong, you could admire the extraordinary landscape of Ninh Binh from a bird's eyes view.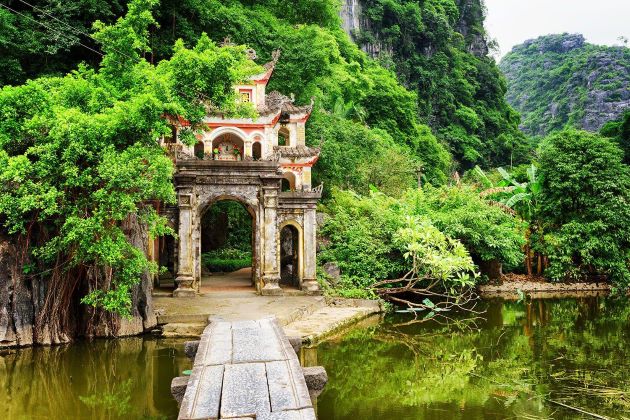 Tam Coc-Bich Dong is not just attractive for its astonishing landscape, the region is also a masterpiece made by the human. Its cultural values, historical relics, exotic caves, and winding rivers have made Tam Coc-Bich Dong an appealing tourist destination in Ninh Binh.