Located in Cao Bang province, Nguom Ngao cave is one of the priceless gifts from nature for this beautiful land beside Non Nuoc Cao Bang Geopark and Ban Gioc waterfall. It is also the interesting destination for tourists who want to have a taste for the real natural beauty without any traces of human beings. Your travel to Vietnam would be remiss not to include Nguom Ngao cave in your itinerary.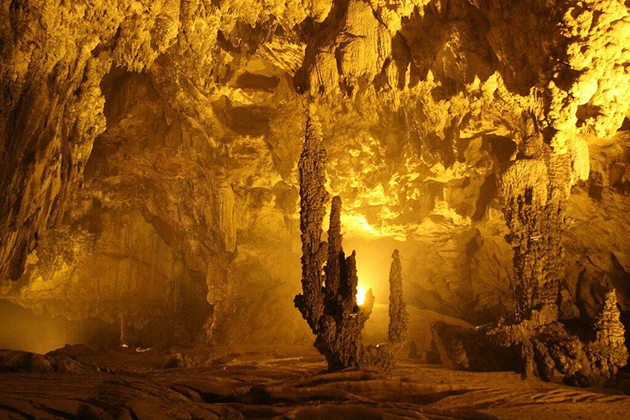 A 300-Million-Year-Old Nguom Ngao Cave
The Tale of Nguom Ngao
According to legend, Nguom Ngao means "many tigers" as a lot of ferocious tigers used to live in the cave very long time ago. However, others tell this name had the origin from sounds of the waterfalls flowing inside the cave which were so similar to the roar of tigers.
Structure of Nguom Ngao Cave
Based on the data published by British Caving Association in 1995, Nguom Ngao cave has the total length of 2144m with three main gates and thousands of caverns. Inside the cave is the lively collection of tiny limestone mountains and unique stalactites taking millions of years to form in shapes of today.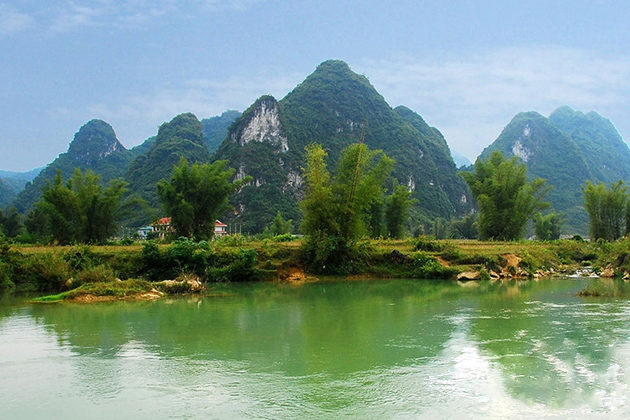 A Nguom Ngao Cave of Beauty & Marvel
First Impressions about Nguom Ngao Cave
Entering the cave brings visitors fascinating feelings of sparkling and miracle images of stalactites in diverse shapes which would only appear in the heaven of childish fairy tales. Mother Nature by chance creates the wonderful sceneries from limestone such as a reverse lotus, a fairy combing her hair or a stone in form of a cactus. Nguom Ngao cave is divided into many different sectors, for example, "quadrangular pillars of the heaven" one with four huge limestone pillars from the bottom to the ceiling of the cave.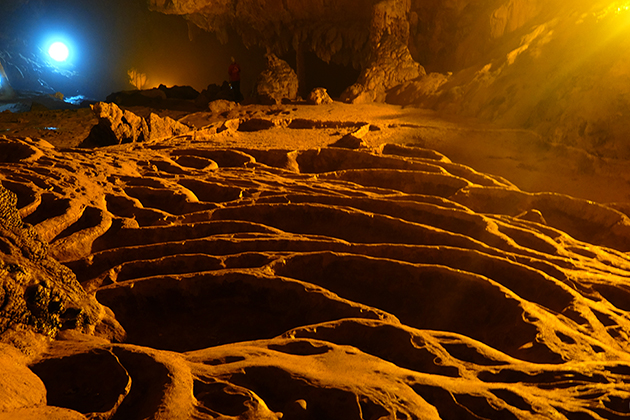 Dive into Nguom Ngao Cave
Deep into the cave, the scene is becoming more and more mysterious. The ambiance is covered by silence but just one low sound is enough to spread throughout the cave. There are a lot of floras and faunas you may have never seen living in every corner of the caverns. The deeper you dive into the cave, the more breathtaking spectacles of limestone mountains as well as strange stalactites you can see. Join in the real adventure at its greatest and find the enjoyable moments in Nguom Ngao cave.
Guides and Tips for Traveling to Nguom Ngao Cave
Specialties in Local Areas
Discover the cave will exhaust nearly all of your energy so prepare some local specialties to eat in the rest of the exploration. Names of recommendation are chestnut, roasted duck, and Vietnamese sausage. Refresh yourself by these delicious dishes to continue your amazing discovery in Nguom Ngao cave.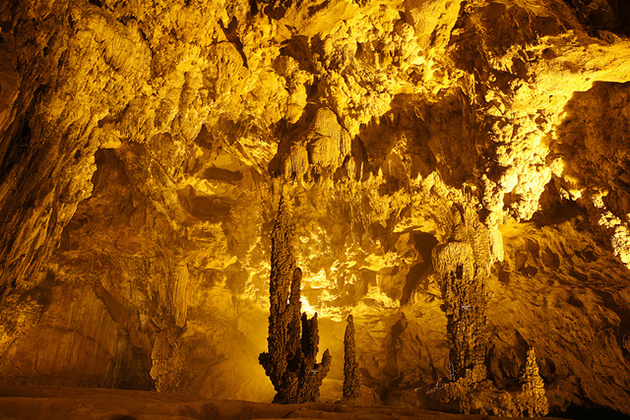 When to Visit Nguom Ngao Cave
The stable temperature in Nguom Ngao cave from about 180C to 250C is convenient for visiting all around the year. Nonetheless, your list Thing to Do and See in Cao Bang must not only include this cave so months between May and September are quite suitable to visit both Nguom Ngao cave and Ban
Gioc waterfalls.
How to Get to Nguom Ngao Cave
You need to go to Ban Gioc waterfall before getting to Nguom Ngao cave. Travel by motorbike and coach from Hanoi are popular means of transportation. After arriving at Ban Gioc, walk 3km to reach Nguom Ngao cave while enjoying the scenic beauty of the jungle along the way.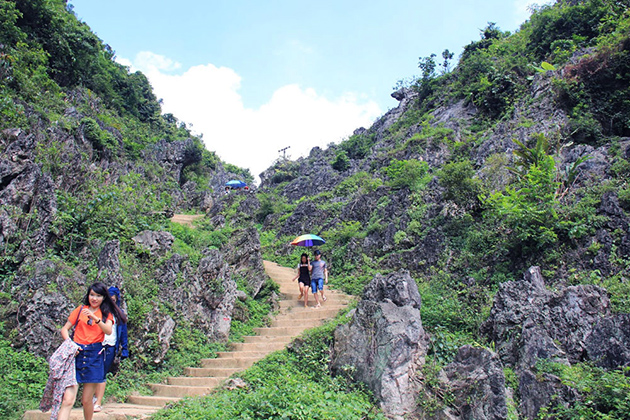 Where to Stay in Nguom Ngao Cave
Prepare a tent or sleeping bag to camp if you want to travel independently and easily to visit other places. Otherwise, rent a room in hotels in Trung Khanh for a relaxing night before exploring the cave the next day.
What to Bring to visit Nguom Ngao Cave
For a safe discovery, here are things should be included in your backpack: Warm clothes, hot drink against the cold night in Nguom Ngao cave; medicines and bandages in case of being wounded; contacts for emergency calls and tools for mountaineer can be also useful.