As the second UNESCO-recognised Global Geopark in Vietnam after Dong Van Rock Plateau, Non Nuoc Cao Bang Geopark can give researchers an insight into an over-500-million-year history of the Earth with fossils, ocean sediment, volcanic rocks, minerals, and especially karst landscapes. There are two distinct parts which are the eastern part and the western part.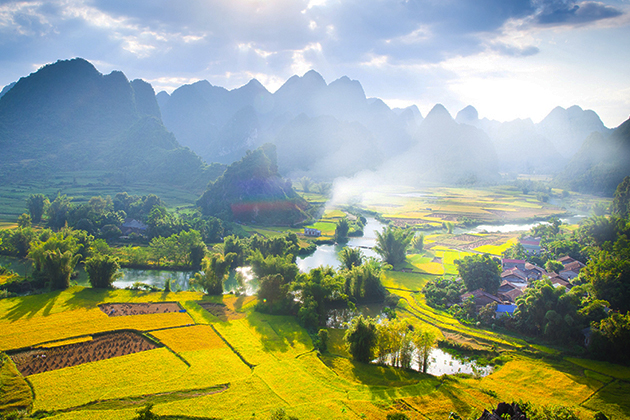 The Location of Non Nuoc Cao Bang Geopark
Located in the north of Vietnam, 300km from Hanoi Capital, Non Nuoc Cao Bang Geopark covers an area of 3,000km2. This park is famous for its diverse landscapes as well as the spiritual and cultural values. Spead over 6 districts of Cao Bang province including Ha Quang, Tra Linh, Quang Uyen, Trung Khanh, Ha Lang, Phuc Hoa, part of Hoa An, Nguyen Binh, and Thach An, the park is well-known for its high biological diversity with abundant endemic flora-fauna species and ecosystems.
Best Things to Do & See in Non Nuoc Cao Bang Geopark
While the eastern one is composed of Palaeozoic, the other one features sedimentary rocks, pillow basalts, ultra-mafic and granitic intrusions rich in minerals and hydrothermal alterations. This area also is home to nine different ethnic groups such as Tay, Nung, H'Mong, Dao, and more with rich cultural identities and unique traditions.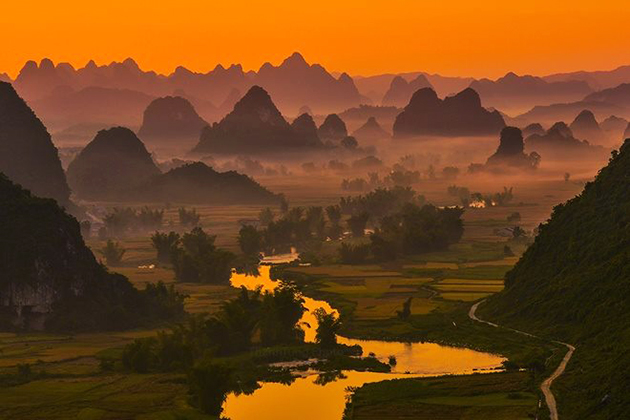 The highlight of the park is the historic monument Pac Bo, where President Ho Chi Minh lived and worked in the early days to lead Vietnam's revolution. Coming to the park, you also can visit the special national relic site of Tran Hung Dao Forest. It is the place where General Vo Nguyen Giap establishes the Vietnam Propaganda and Liberation Army in 1944. Today, it is the Vietnam People's Army.
With three experience routes, Non Nuoc Cao Bang guarantees you a ton of joy. Each route brings you a totally different feeling. You not only have a chance to discover the spectacular landscape but also learn more about the ethnic group lifestyle and culture.
The 3 Best Ways to Discover Non Nuoc Cao Bang Geopark
Non Nuoc Cao Bang Geopark Route 1: Exploring Phia Oac
Visitors will discover many highlights such as the village of Dao Tien people, Lung Muong vonfram, O village, Phia Den fishing farm, Kolia green tea farm, etc, especially the Phia Oac-Phia Den National Park and the historic monument in Tran Hung Dao forest. This route will give you an interesting experience which you cannot find anywhere else.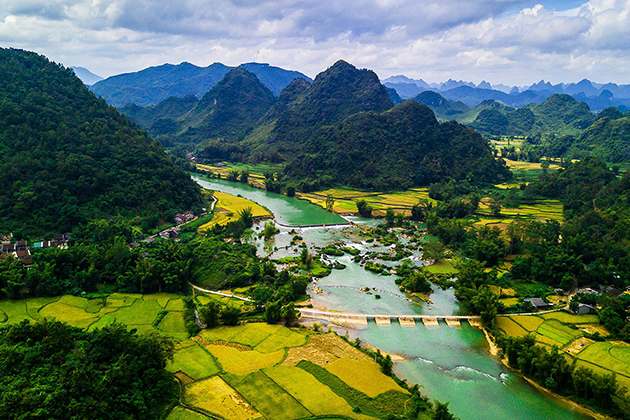 Non Nuoc Cao Bang Geopark Route 2: Visit Historic Monuments
In this route, you will visit De Dong Temple, Nguom Boc cave, King Le Temple, Keo Yen karst landscape, etc, especially the Pac Bo Special National Monument. This is the first choice for tourists when visiting Cao Bang.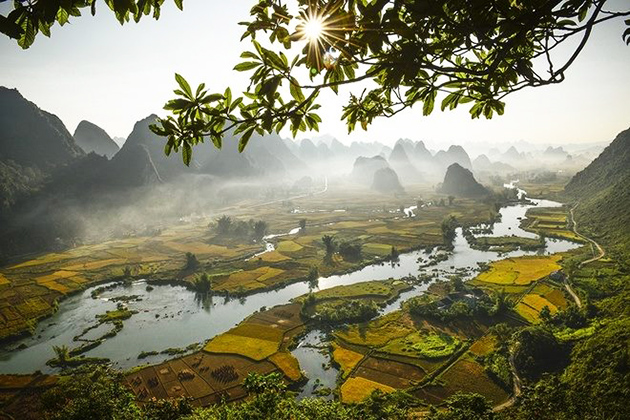 Non Nuoc Cao Bang Geopark Route 3: Experience Local Culture
With this experience route, you not only have a chance to admire the karst landscape but also can visit the traditional village, soak up local festivals, and taste the famous dishes of the local ethnic group such as Tay, Nung, Dao, San Chi, etc. The poetic and serene landscape will make you relax and refresh your mind. Visiting Phat Tich Truc Lam Ban Gioc Pagoda as long as a chain of restaurants and hotels perfect your Cao Bang tour.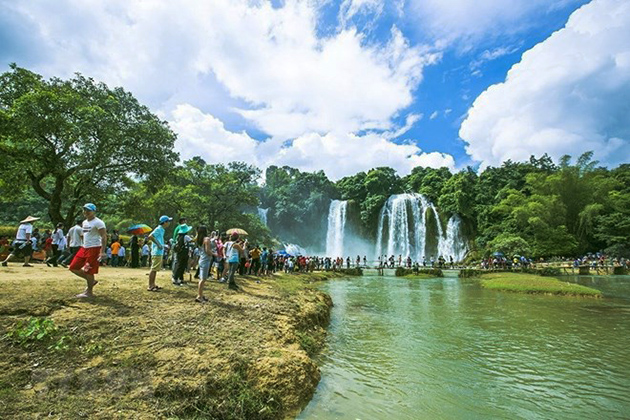 Check out our website to have a memorable Vietnam vacation with amazing journeys to all famous destinations throughout the country.