Emerging as a tourist destination, Myanmar has many deserted beaches and pristine beauty still remain. The best time for Myanmar tour packages beaches is from November to April. It's warm and dry with average temperatures from 24 – 31°C. Beaches will be by far the most thrilling in Thingyan (or Water Festival) – one of Myanmar's most anticipated festivals – takes place in April. Most resorts will close during the rainy weather (from May to October).
Ngapali Beach
Ngapali (pronounced Ngapali) is one of Myanmar's best beaches. The beach has famed for its natural and unspotted beauty up until now. Beach shoreline property to a 7km stretch, blue sea, and translucent crystal tends to be the norm here. Ngapali Beach is punctuated with white sand and lush green palm trees and blessed by cool breezes most of the day. The sand here is yellowish-white, typical on tropical beaches, is the combination of coral, silica, and shell. During the peak season of tourists (November to April), water conditions are calm, and no powerful rip currents are safe for you to indulge in cool water.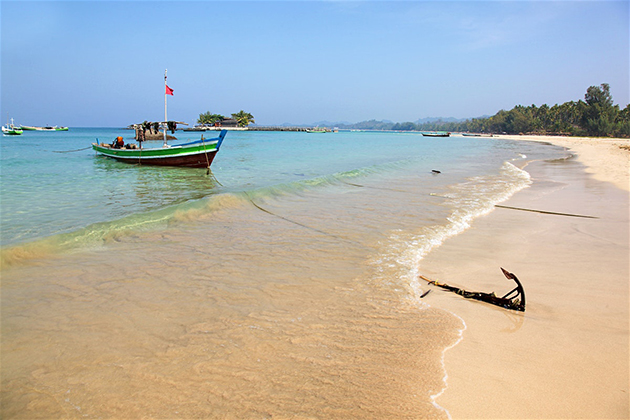 If tourists would like to get insights into local life in Myanmar, it is recommended to visit the fishing villages. Ngapali is easily accessible by flight that takes 45 minutes from Yangon. Guests can choose to stay at Ngapali Resort, villa near the coast, and often delicious seafood here. Even better, Ngapali Beach, guests can experience many water-based activities like diving, swimming, rowing boat, kayaking, cycling, golfing. Besides, the villagers usually dry their fish, shrimp, and coconut in the sun. Visitors can reward themselves with the drinks and savor the scrumptious seafood while catching the magnificent sunset.
In Ngapali Beach vacation, a few hawkers sell tropical fruit or roasted seafood that is popular with beach visitors. They are polite and not aggressive. What's more, the vendors and small stalls are set up on the sand in order to sell local handicrafts.
Ngwe Saung Beach
Ngwe Saung (pronounced 'nway saung') is located in the south of Ngapali and it takes only 35 minutes to fly from Yangon. Ngwe Saung is a typical Burmese-style beach, also known as the "Silver Beach" in Ayeyarwady Region. The beauty of Ngwe Saung rarely disappoints. Gazing out some the thin layer of gorgeous white sand covering the dark mass is the thing that cannot be missed out. The white and light gravels are blown over the beach, looks like a shifting coat of paint. The water is clean and clear. The peaceful environment makes a tranquil destination to escape the hustle and bustle of the city. The neck of sand that leads to the south end of the beach to Lovers' Island, which makes the way to rent boats for touring. At low tide, visitors can take a stroll on the sand spit to the little island. During the Southeast Asian Games of December 2013, the little sand spit was used as the dock for sailing boats.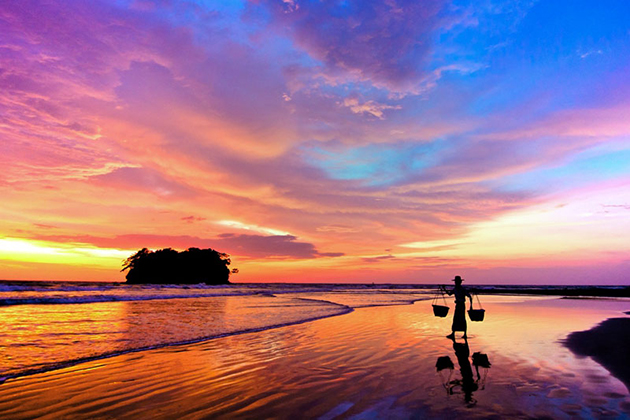 Ngwe Saung is filled with a principal market of middle and upper-class Burmese families. The fishing village wrapped in the beautiful white sandy shore will captivate many tourists. Still has a variety of nightlife activities for visitors. This is not just an ideal place for swimming but also an outstanding site for diving, surfing, and visiting the island. First-time visitors can walk to the small island towards the southern end of Ngwe Saung beach when the tide goes out. Another option is hiring a motorbike to explore more than a hundred kilometers of sandy beach around Ngwe Saung. In the far north, close to the village, you can hire rubber tubes and beach toys, and some few houses for rent – including a fake 'zebra'.
Chaung Tha Beach
Chaung Tha Beach (Chaung Thar) is considered Myanmar's Hidden Paradise. Chaung Tha is the closest beach to Yangon, about 240 km from the west. The concentration of biological material from coral and shells that creates stunning white sand. The water is clear and clean.
Beach hawkers are prevalent on Chaung Tha. The local Burmese have come here to do business and most of their stalls are selling seafood. Hawkers patrol offers roasted seafood, hundreds of rubber tires and other water toys, bicycles, and the traditional horse or horse-and-cart. Horse fences are unique to Chaung Tha every resort. Specifically, a wall (wooden fence) separates every resort from the beach. These temporary wooden barriers stop the horses that constantly roam the beach, as their owners look for take-a-ride customers, from chewing up the hotels' gardens.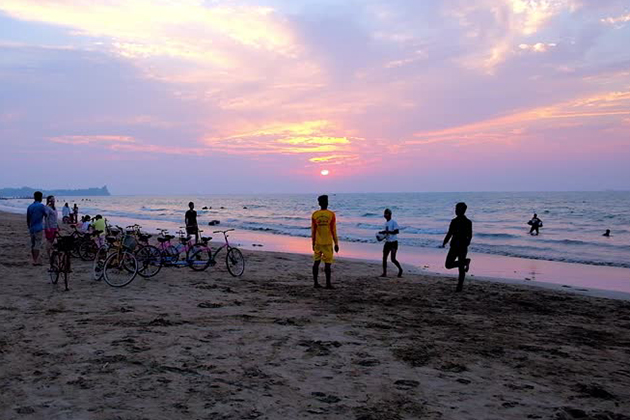 If visitors would like to find a fun beach in Myanmar, Chaung Tha Beach could be a perfect destination. It captivates many single, young people from Yangon stop at for holidays or go on their vacation, which goes with a chance to experiences and meet the local residents. Not only the middle class and wealthy Burmese but also many foreigners come here to savor seafood, drink, and indulge in the cool water. In Chaung Tha beach, it is easy for guests to find food just by taking a relaxing walk on the sand or the road behind. The visitors will be mesmerized by professional service as well as the wide range of colorful tropical fishes. Visitors can hire a boat to the island or scuba diving to marvel at.
Kanthaya Beach
Kanthaya is on the Bay of Bengal coast in Rakkhine State, Myanmar, it just takes about 125 miles from Yangon. Kanthaya Beach owes the official name in English "Pleasant Beach" that is pleasant with all the natural beauties of unspoiled nature. "Thayar" in Myanmar means "pleasant" or "delightful". A picture-perfect setting awaits the first comers at Kanthaya Beach, where is one of Myanmar's quietest getaways. The beach is filled with casuarinas trees and sandy beaches.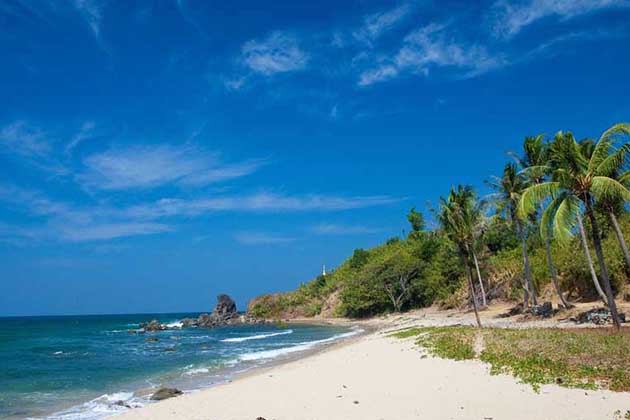 Kanthaya beach is less altered by modern life in Myanmar. Therefore, it is a perfect place to visit, enjoy the tranquility, or forget the world for a while. Unlike many other beaches, it is not filled with modern sports or shop, so it suits visitors want to enjoy the serenity the pristine beach offers. It is ideal for the refreshing mind and recharging battery on the untouched natural paradises. The local timber houses with walls are made from woven mats that are unique to Kanthaya.