Generally, the Laos nightlife is quiet and laid-back, most nightclubs or bars staying open only until 11:00 pm. Vientiane, Luang Prabang, and Paske are three cities where you can find many bars and pubs to soak up as well as experience Laos nightlife. For example, if you travel to Vientiane, Laos, you can visit Future Nightclub which is a nightclub of note in Vientiane, fairly close to the airport, and often stay open later than they should. You also should visit the French Cultural Center which often shows movies, and has music performances. Check out this article before taking your Laos tours to get a lot of useful information.
Vientiane Nightlife
As the laidback capital of Laos, Vientiane is renowned for its sleepy lifestyle. In Vientiane, most of the bars, restaurants, and discos close by 11.30 pm or midnight at the latest. However, there are some bars and nightclubs where you can drink top-shelf liquor. Here are some bars and nightclubs you cannot miss in Vientiane.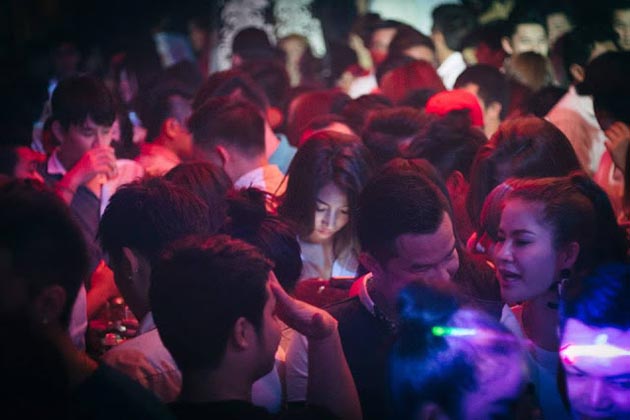 Future Nightclub
If you travel to Vientiane, Laos, you can visit Future Nightclub which is a nightclub of note in Vientiane, fairly close to the airport, and often stay open later than they should. Although it ostensibly closes at 1:30, it often opens longer. This thumping nightclub is always very busy even on weekdays. Once entering Future Nightclub, you will see a ton of revelers standing around their table laden with Black Label and Beer Lao and jiggle about madly. Therefore, you will not be harassed if you wish to jiggle in peace. Unfortunately, this nightclub does not have any dance floor.
Address: Luang Prabang Road, Vientiane, Laos.
Open daily: 05:00 pm – 01:30 am.
Galaxy Pub
Located on the Mekong River, the Galaxy Pub attracts tourists by its location, impressive live music, and outside seating. The main drinkings of this pub are Beer and Whiskey. Moreover, wifi is available there.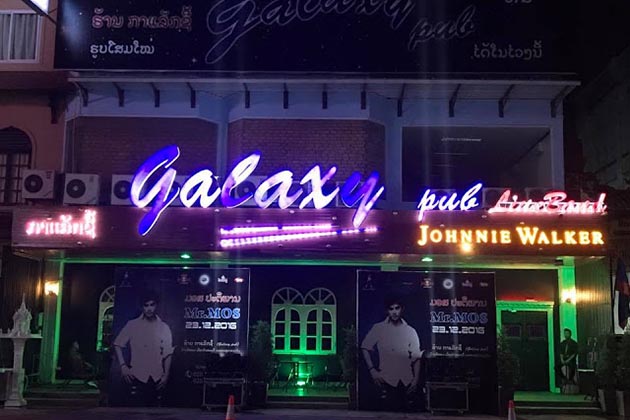 Address: Pa Ngum Road, Vientiane, Laos
Open daily: 08:30 pm – 12:00 pm
Kong View Restaurant
Located a few kilometers upstream from the center of town, Kong View Restaurant is an ideal place to enjoy dinner and relax. It's so romantic when having a tasty dinner with your lover while admiring the majestic sunset over the Mekong River. This restaurant offers you an excellent mix of Laotian, Thai, and Western food.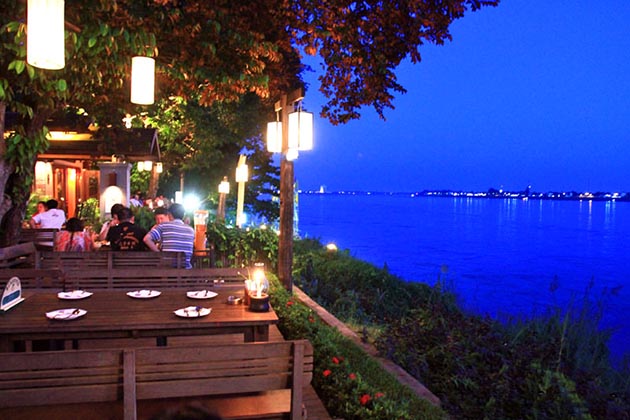 Address: 183 Souphanouvong Rd, Vientiane
Open daily: 12:00 – 23:00
Vangthong Food Market
It's a great idea to spend a couple of hours visiting Vangthong Food Market to take part in intriguing evening activities and get a taste of both local Laotian life and food. This market often opens from around sunset. You will be excited by the huge range of tasty local snacks sold in all corners of the market such as grilled pork skewers, fragrant fish cakes, spicy beef salads, whole roasted chickens and a range of Laotian sweets.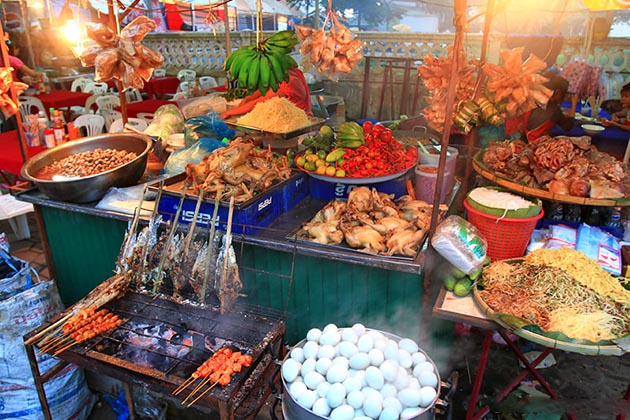 Address: Vangthong Food Market, Boulevard Khounboulom
Open daily: 17:00 – 22:00
Lao Bowling Centre
If you travel to Laos with your family, you cannot miss the Lao Bowling Centre in Vientiane which is a great entertainment option for families and those looking for a fun, alternative night out. Note that, with only 10 lanes, arriving during peak hours (around 22:00) might mean you have to wait for a while.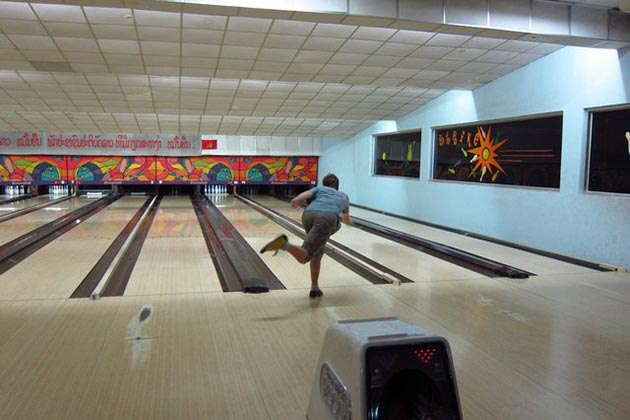 Address: Boulevard Khunbulom, Vientiane
Open daily: 09:00 – 01:00 (sometimes later)
Luang Prabang Nightlife
Although Luang Prabang is a morning town, you still can find some good spots for drinks and music. Walking down an alley of Luang Prabang to get to a budget guesthouse and adjoin some bamboo bars.
Pack Luck Wine Bar
Pack Luck Wine Bar is a popular hang-out spot among visitors and ex-pats with an inviting, contemporary ambiance, and an extensive wine list.  Coming to this bar to enjoy some drinks and immerse yourself into the sounds of jazz, Latin, bossa nova, R&B, lounge, and classic modern music.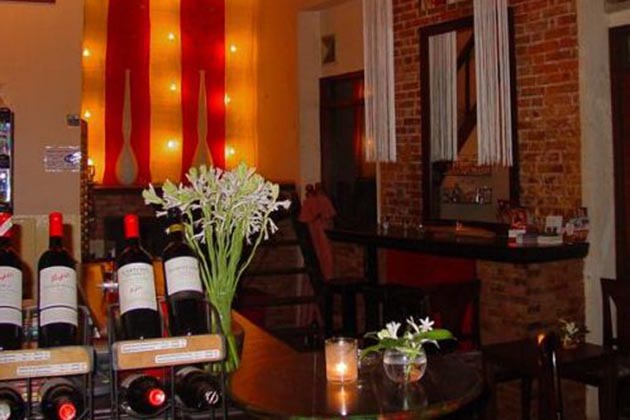 Address: Ban Vat Nong, near Wat Sene, Luang Prabang, Laos
Open daily: 10:00 am – 11:30 pm
1861 Bar
Once entering 1861 Bar, you will be impressed with a classy explorer-theme interior fashioned in the style of French colonial elegance. From hardwood floor, marble fireplace to mirrors, velvet sofas, and stained glass lampshades this bar stocks spirits and fine wines from around the world.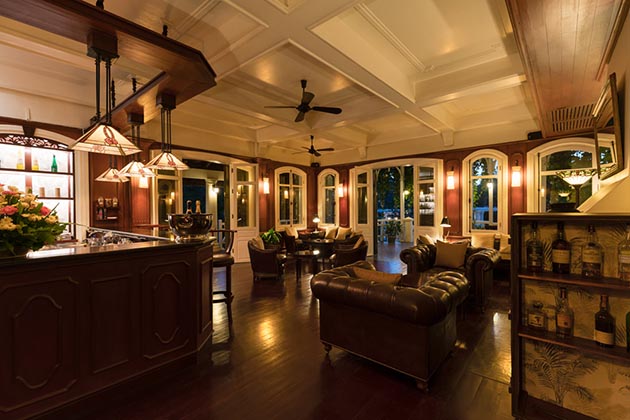 Address: The Luang Say Residence, Ban Phonepheng, south of Luang Prabang center
Dao Fah – Dance Clubs
Dao Fah is a modern Thai-style disco where music is played at deafening volume, whether by a live band or a spiky-haired DJ. It is also a public bar where Luang Prabang's young and hip congregate moodily.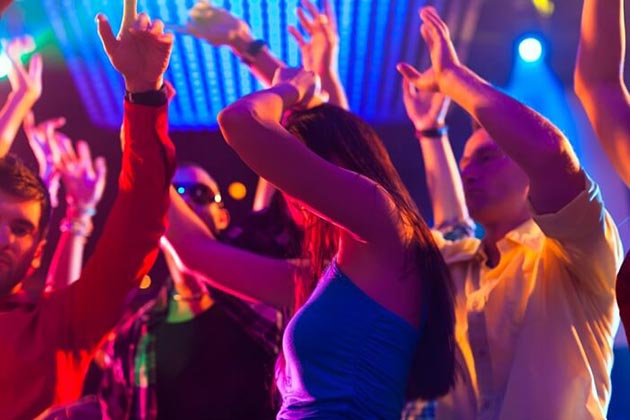 Address: Rt13 near Southern Bus Station, Luang Prabang, Laos
Open daily: 9:30 am to 11:00 pm
Blue Ice Bar
Blue Ice is a gay-friendly bar that attracts tourists by its cozy friendly atmosphere, and a wonderful view overlooking the Nam Khan River. It is a two-story bright yellow building that has a bar, and a dance floor. It offers friendly services and a pool table, which one of the best in town.
Address: Kingkitsarat Road (close to Nam Khan River), Luang Prabang, Laos
Open daily: late afternoon – 11:30 pm
Pakse Nightlife
Pakse has fewer bars and pubs than the two cities above. However, you will find some bars in this town which bring the local flavor and less expensive.
King Junior Nightclub
As the largest and most popular bar & club in town, the King Junior Nightclub often opens a bit longer, and this is the place people end up in at the end of the night.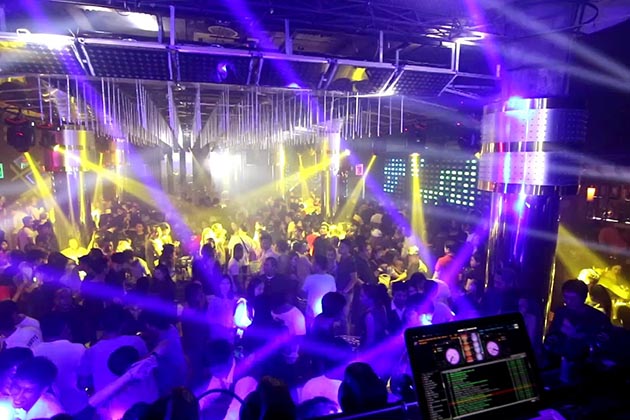 Address: 3 km south of town, Pakse, Laos
Open daily: 08:30 pm – 02:00 am
Barzaa Pub
If you are in Pakse, you cannot miss Barzaa Pub which is the largest pub to hang out and drink in town. Especially, this pub is upscale, you will a nightclub down the street.
Address: 6 km south of town, Pakse, Laos
Open daily: 07:30 pm – 01:00 am