If you want to get out of all the hustle and bustle of life and immerse yourself in nature, Ba Be Lake would be the most wonderful choice for your journey. Nowadays, Ba Be Lake is getting more attention from both domestic and international visitors for its beautiful nature with a variety of flora and fauna. Spending a few days during your Vietnam vacation visiting Ba Be Lake and other nearby destinations will not let you down.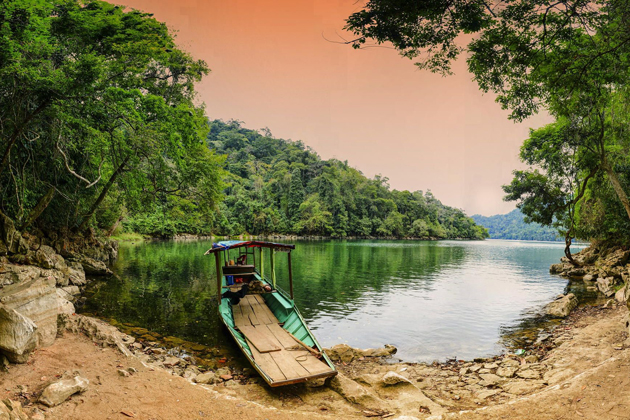 Highlights of Ba Be Lake & Ba Be National Park
Driving about 230 kilometers away from Hanoi, tourists can reach Ba Be Lake, which is located in Nam Mau commune, Ba Be district, Bac Kan province. Local people call this lake Slam Pe, which means "Three lakes" as it is the convergent point of three river branches Pe Lam, Pe Lu, and Pe Leng.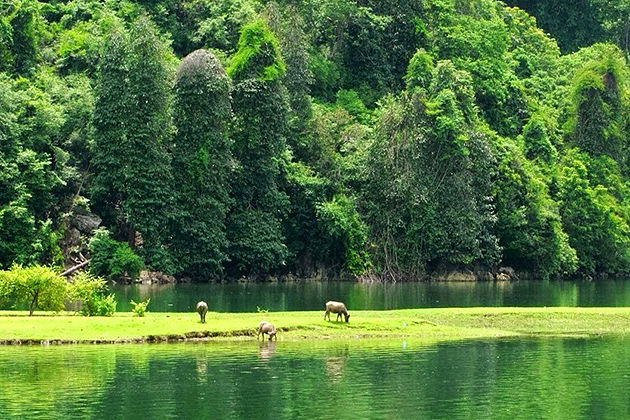 Ba Be Lake is the biggest natural lake in Vietnam, which belongs to Ba Be National Park. The lake is at about 145 meters high to the sea level. The total area of the water surface is over 650 hectares, surrounded by many ranges of limestone mountains, caves, and underground rivers. The average depth of the lake is 20-25 meters, falling to 5-10 meters during the dry season. Ba Be Lake holds it priceless value of diversity as it is home of 417 trees species including orchids and medicine plants, 319 species of animals naming gibbon and red algae. In 1995, Ba Be Lake is recognized as one of twenty freshwater lakes over the world that needs to be preserved.
How to Get to Ba Be Lake & Ba Be National Park?
From Hanoi, you can catch a bus or drive a motorbike to Bac Kan, continue to Cho Ra Town and hire a motor-taxi to Ba Be Lake. The cost of bus may range from 100,000 to 130,000 VND. If you go by motorbike, you will have more freedom to visit Ba Ba Lake and the surrounding areas. However, checking carefully the motor safety, paying attention to the speed and avoiding driving at night are recommended.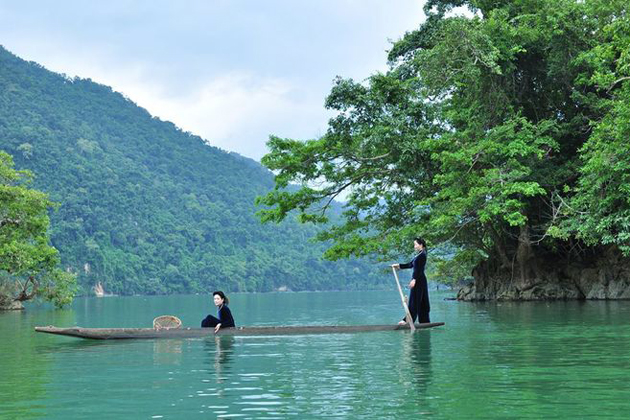 Best Things to Do & See in Ba Be Lake & Ba Be National Park
Ba Be Lake & Ba Be National Park
This is a must-visit destination. The area is always green with the surroundings of the mountains.
Puong Cave
The Cave is at 300 meters long and 30 meters high. The cave is home to sparkling stalactite and thousands of living bats.
Hua Ma Cave
6 kilometers from Ba Be Lake is Hua Ma Cave. In order to get there, you have to go up for nearly 3oo meters on the stairs. Inside the cave, you would be overwhelmed by mysterious, shining, and twinkle stalactite.
Fairy Pond
100 meters away from Ba Be Lake, the pond is full of water all around the year. It is believed to be the place for the fairies to have a bath.
Pac Ngoi Village
It is a cultural destination as it is the living area of the Tay ethnic minority. The village hosts more than 400 people, most of who are doing agriculture such as raising domestic animals and growing rice.
Best Foods to Try
Pac Ngoi grilled fish, grilled pork, hill running chicken, sticky rice, boiled bamboo shoots with meat, vegetables, and spring fish are delicious and worth a try.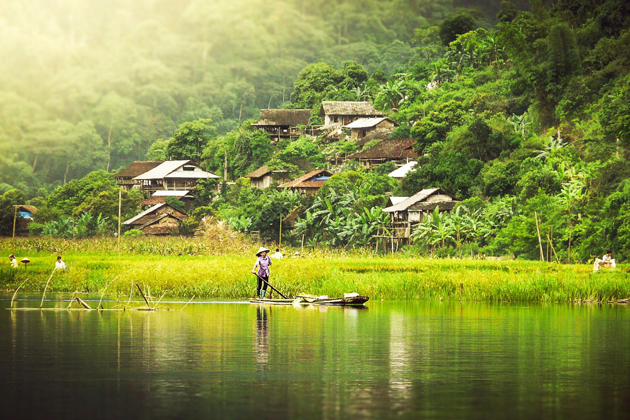 Travel Tips to Visit Ba Be Lake & Ba Be National Park
Enjoy the fresh cool air in the early morning and late afternoon. Therefore, you should remember to bring a coat along with you to keep warm.
Full-length clothes and anti-mosquito cream should be carried with to avoid malaria.
It is hard to find a grocery store in the region, so you should bring water and snacks with you in case of getting hungry.
There are lots of amazingly beautiful spots in the area, so a trip to Ba Be Lake may take you 2-3 days. A good Ba Be tour is recommended if you want to enjoy your day-offs to the fullest.