Embark on a tour that immerses you in all the history, arts and people of Vietnam with our Vietnam Grand Tour. Head to the prominent highlights to admire the breathtaking scenery and sights of Vietnam and learn about its culture and traditions. Travel from French colonial Hanoi and enchanting Halong Bay in the north, to the ancient town of Hoi An and the westernized Ho Chi Minh City in the south, you will explore the authentic insights into this beautiful country within 22 days. Join us and experience one of the best emerging tourist destinations.
General Information
Duration: 22 Days/ 21 Nights
Date: No fixed departure dates. You may go whenever you wish.
Start/ End: Hanoi/ Ho Chi Minh City (Saigon)
Tour Route: Hanoi – Ha Giang – Cao Bang – Halong – Danang – Hoi An – My Son – Nha Trang – Saigon – Mekong Delta
Tour Customizable: Definitely! (Tell us your specific requirements in the inquiry form)
Guides: Local Guide (English Speaking Guide, Other Languages upon Request)
Brief Itinerary
North Vietnam Tour – 11 Days
Day 1: Hanoi Arrival
Day 2: Hanoi – Ha Giang
Day 3: Ha Giang – Quan Ba – Yen Minh – Meo Vac
Day 4: Meo Vac -Bac Me
Day 5: Bac Me – Cao Bang
Day 6: Cao Bang – Ban Gioc Waterfall – Cao Bang
Day 7: Cao Bang – Lang Son
Day 8: Lang Son – Halong Bay
Day 9: Halong Bay – Cat Ba Island
Day 10: Halong – Hanoi – Street Food Tour
Day 11: Hanoi City Tour (Art Tour for Option)
Central Vietnam Tour – 6 Days 
Day 12: Hanoi – Fly to Danang – Hoi An
Day 13: Hoi An – Farming & Fishing tour – Walking Tour
Day 14: Hoi An – My Son Holy Land & Cooking class
Day 15: Hoi An – Fly to Nha Trang
Day 16: Nha Trang Island & Snorkeling Tour
Day 17: Nha Trang Leisure Time
Sourth Vietnam Tour – 5 Days 
Day 18: Nha Trang – Fly to Saigon
Day 19: Saigon – Cu Chi Tunnels – Vespa Tour
Day 20: Saigon – Mekong Delta
Day 21: Mekong  Delta – Saigon
Day 22: Saigon Departure
North Vietnam Tour – 11 Days
Day 1: Hanoi Arrival (D)
Welcome upon arrival at the airport by your local guide and driver, and we transfer to the hotel. Enjoy a welcome dinner at a fine local restaurant in town. The remainder of the day is free for you to relax or recover from the long-distance flight or possibly from jet lag.
Day 2: Hanoi – Ha Giang (B, L, D)
Leave the hotel in the early morning and take a scenic drive to Ha Giang through beautiful sceneries of sprawling rice terraces and tranquil villages. Make a stopover to visit Mac Dynasty Citadel in Tuyen Quang Province and wander around the nearby local market for some indigenous food.
After lunch in a local restaurant, continue the travel to Ha Giang where fantastic mountains dominate the panoramic scenery. Head to Thon Tha Village, 5km away from the town center. Visit traditional stilt houses made from wood and bamboo and with a palm-thatched roof. Cross the mud-drenched road in the harvest season with pleasant fragrance filling in every single lane. In the evening, join a warm dinner with the host of the homestay. Enjoy an appetizing meal, communicate with welcoming locals and sip sparkling local wine.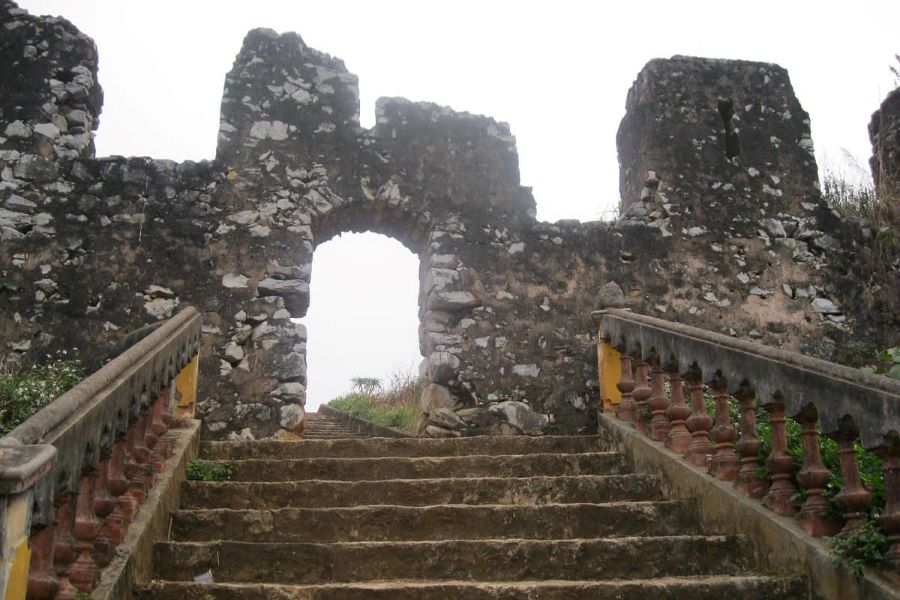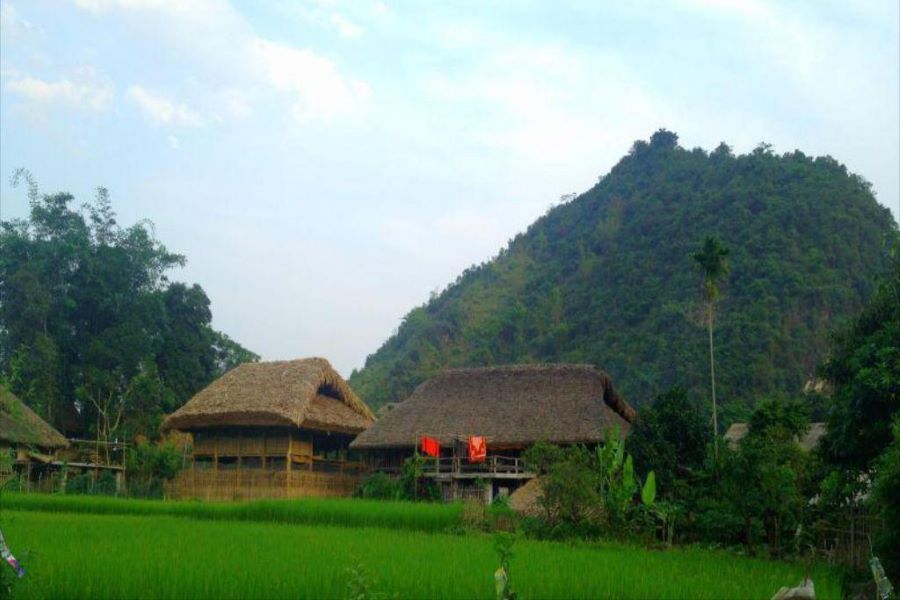 Day 3: Ha Giang – Quan Ba – Yen Minh – Meo Vac (B, L, D)
Start the day with a visit to Meo Vac passing through Quan Ba, Yen Minh, which is considered one of the most stunning routes in Vietnam. Stop for a short breather and lunch with smiling locals. Stroll through sleepy villages to get a first-hand look at the minority communities and learn about the social relations of the ethnic people. In the early afternoon, take a scenic ride to Ma Pi Leng Pass for a sweeping vista of Nho Que River winding around little towns encircled by impressive ranges of craggy mountains.
Day 4: Meo Vac – Bac Me (B, L, D)
After walking through the lively Meo Vac local market in the morning, return to beautiful routes along Yen Minh. The rest of the day sightseeing in Quan Ba with heavenly and peaceful landscapes from Heaven Gate and taking a short visit to the nearby Tay ethnic minority villages introduces the hidden beauty in the Northwest of Vietnam. Dinner and overnight in a small hotel in Bac Me town.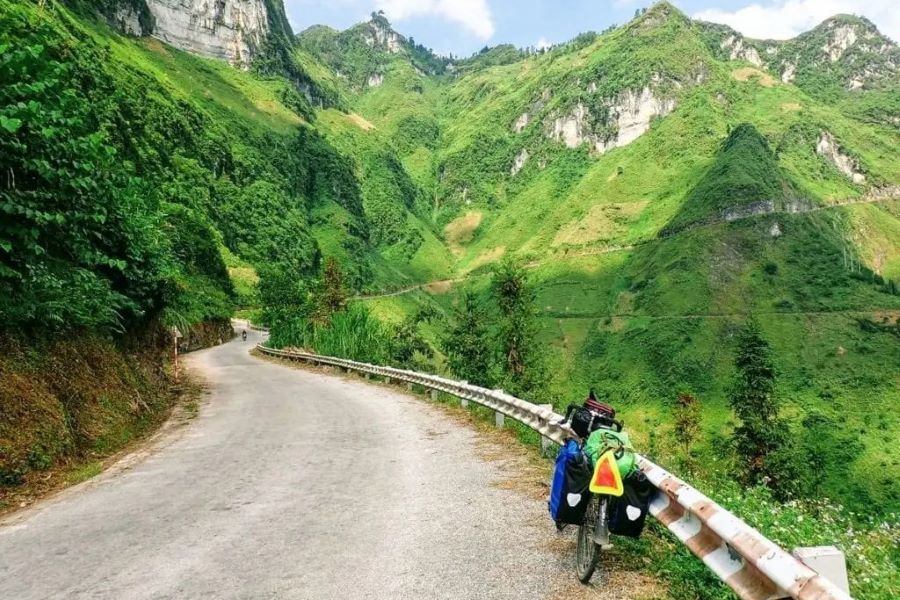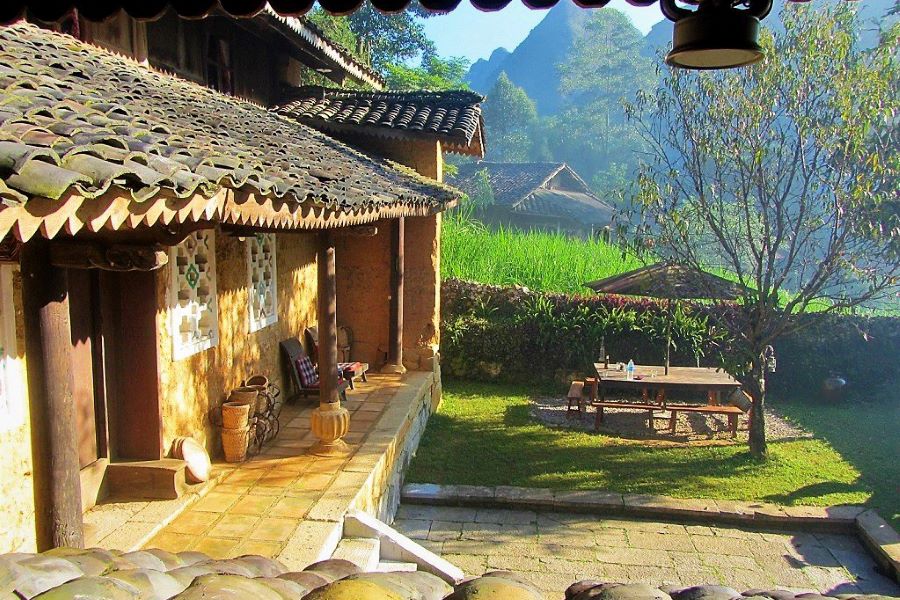 Day 5: Bac Me – Cao Bang (B, L)
Relax and let the countryside pass by on your northbound journey to Cao Bang Town through three passes with a beautiful landscape of jungle-clad mountains. Sample the regional specialties in the local restaurant and visit peaceful villages. Overnight in Cao Bang
Day 6: Cao Bang – Ban Gioc Waterfall (B, L, D)
On this day, admire one of the largest and the most impressive waterfalls in Vietnam – Ban Gioc Waterfall on the China-Vietnam border, 86km from Cao Bang. Get your eyes amazed by the white water, picturesque blue sky, great limestone mountains, and stunning rice fields.
After a stop with a picnic lunch, transfer to Nguom Ngao Caves to explore thousands of fascinating stalactites of different shapes. Then get back to Cao Bang for dinner and overnight stay.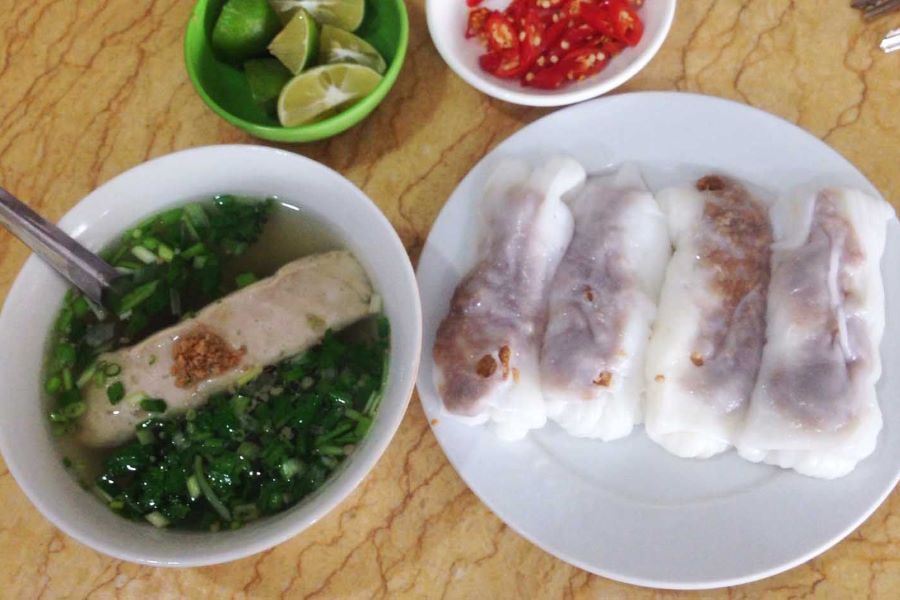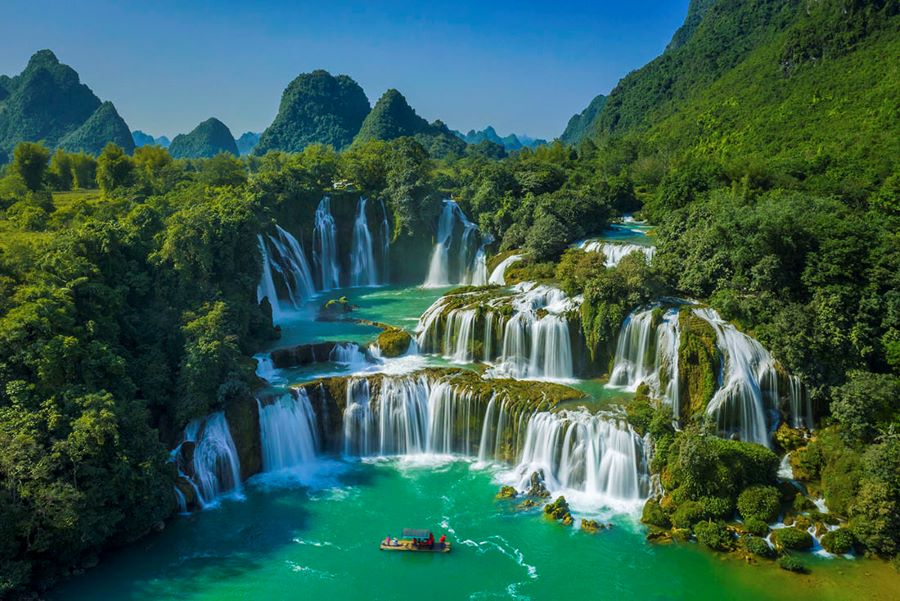 Day 7: Cao Bang – Lang Son (B)
When returning to Halong with a stop in Lang Son en route, visit the colorful local border market and browse through endless alleys brimming with merchant vendors selling various types of items. Check-in hotel in Lang Son after having lunch in a local restaurant with its wholesome authentic food. Overnight in Lang Son
Day 8: Lang Son – Halong Bay (Overnight on Cruise) (B, L, D)
Leave the remote villages with steep uphill slopes to head for Halong through a slightly bumpy but scenic road. We will drive through the beautiful mountains and coastline of Quang Ninh province, the hometown of Halong.
On arrival at Tuan Chau International harbor, we embark the cruise ship and enjoy a welcome drink before a sumptuous lunch while cruising into the magnificent Halong Bay with its thousands of extraordinarily shaped limestone islands. There's time to explore the Lom Bo Area and be charmed by this outstanding masterpiece of Mother Nature.
In the late afternoon, return to the cruise for a romantically scenic sunset party and take part in a fruit carving demonstration. Savor a sparkling and dreamlike dinner on the top deck under the light of a thousand stars in the middle of the tranquil Bay with extremely delicious food and be awed by a fascinating fruit and vegetable carving show. Delight in traditional music performances. Afterward, socialize with the artist, new friends, and crew members, and join squid fishing. Overnight on board.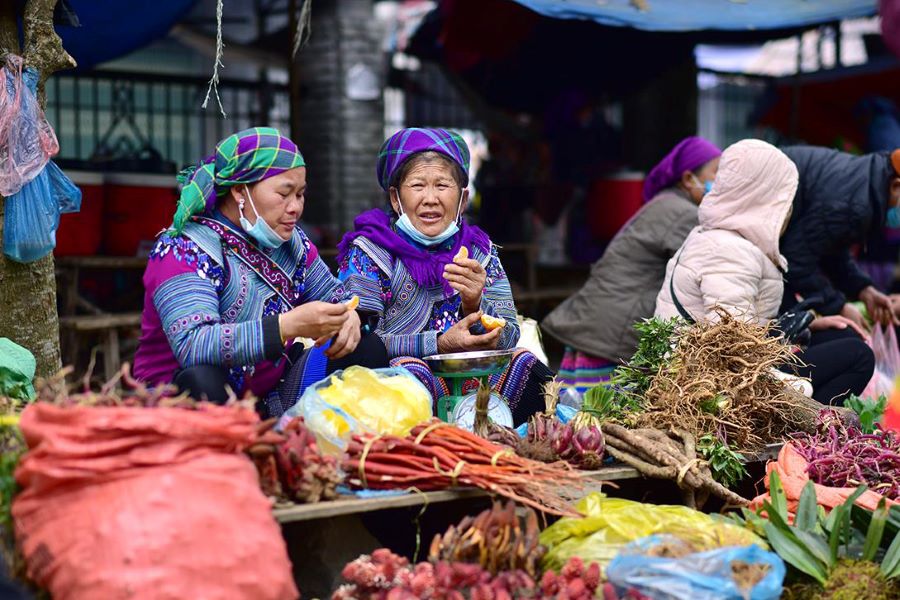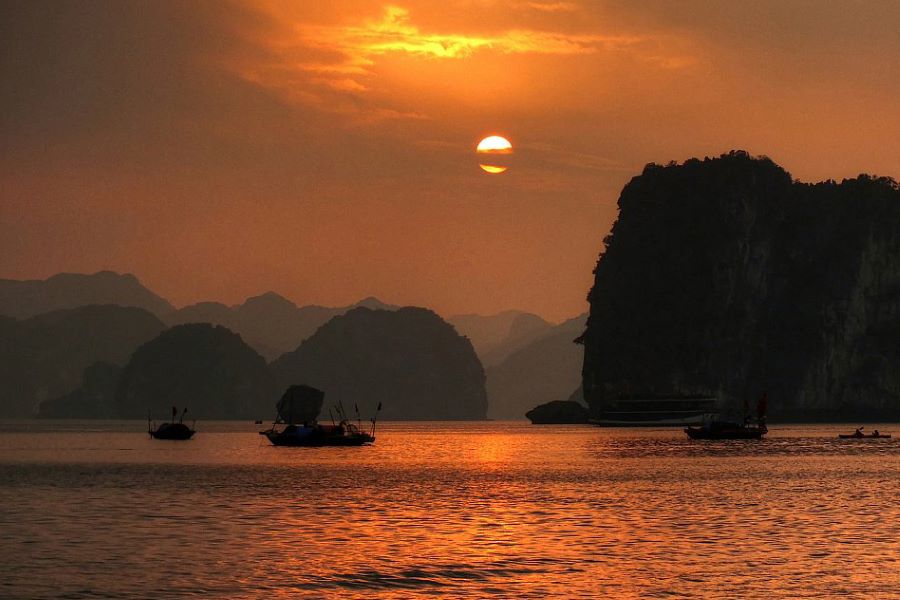 Day 9: Halong Bay, Overnight on Cruise (B, L, D)
Spend a full day in Halong exploring the peaceful beauty of this magnificent bay by taking a boat cruise. After learning about the traditional fishing method with genial local fishermen, kayak to Cua Van Area to visit spacious floating houses as well as to experience the indigenous cultures and customs and then relax on the beach. The trip continues to floating Pearl Farm for further knowledge about skills for making high-quality pearls. In the evening, it's your time for squid fishing or just lazing around.
Day 10: Halong Bay – Hanoi Street Food Tour (B, L)
The new day will be started with a Tai Chi session or photo hunt in the early morning. After taking a nice swim in shimmering water, dip your toes into the white sand or make a short trek to the top of Titop island for a panorama view of the Bay. Then kayak through the hidden treasured beauty of the bay.
After an appetizing lunch, return to Hanoi by car with your private guide and driver. Arrive in Hanoi in midafternoon, check in at the hotel, and be ready for the Hanoi street food tour. Walk down to Hang Be Street for visiting the local market, and learn about all the ingredients as well as inhabit local people here. After the street market, continue your trip along different streets, try to taste different kinds of local foods such as oil-fried pastry, tofu, rice pancake, pillow cake, sweet soup, stuff pancake with pork, draught beer… and one of our best surprised is a stop at Dong Xuan wholesales market where many kinds of ingredients are sold. One thing that can be missed as travel to Old Quarters is to sip aromatic egg coffee at a hidden coffee shop in pleasant surroundings overlooking Hoan Kiem Lake. Overnight in Hanoi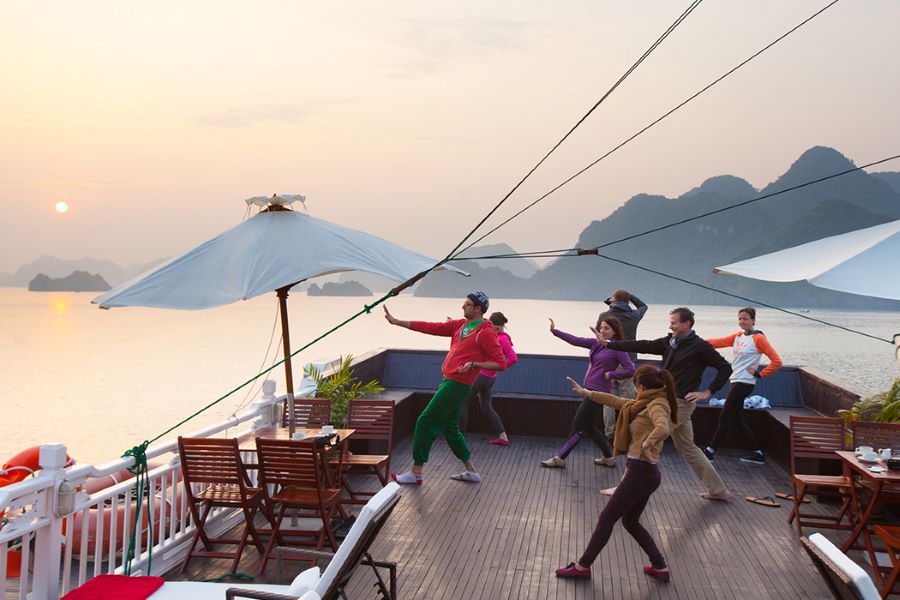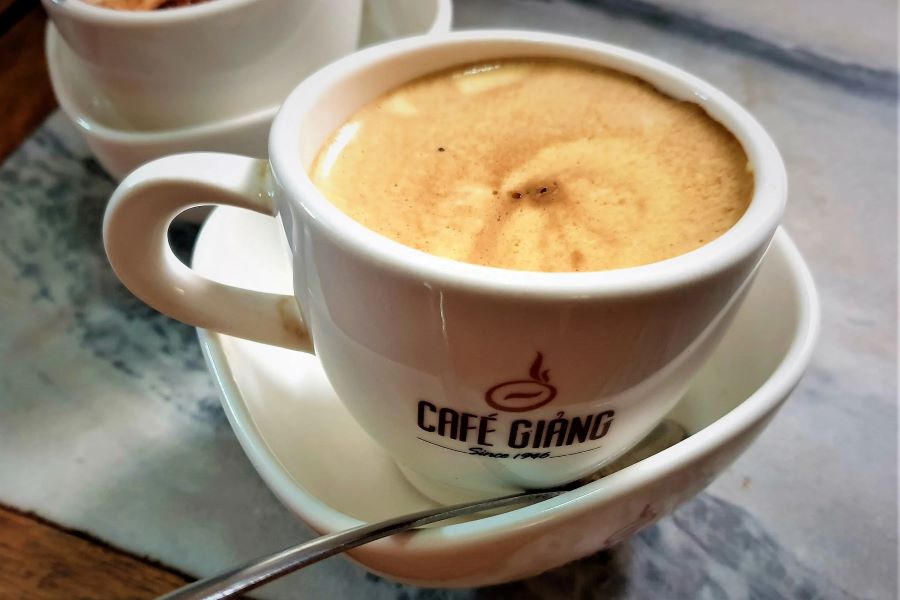 Day 11: Hanoi City Tour (Art Tour for Optional) (B, L, D)
A day dedicated to the easy charm of Hanoi. First up we will drive to the Ho Chi Minh complex where we will spend time at Ho Chi Minh's mausoleum to explore the architectural and historical aspects of Uncle Ho's final resting place. Just next door is Ho Chi Minh's house on stilts and lying to one side of the Mausoleum is the One Pillar Pagoda whose structure has become an important symbol for the people of Hanoi. Then proceed to visit the Literature Temple to see Vietnam's first university whose landscaped gardens and well-preserved architecture will offer a relaxing glimpse into Vietnam's past.
After lunch, head to the Museum of Ethnology, which is widely acknowledged as the best in the country and has an extensive display dedicated to Vietnam's 54 Ethnic minority peoples, and the infamous Hoa Lo Prison Museum. Go back to Hoan Kiem Lake to see the peaceful waters as well as the beauty of Ngoc Son temple, and enjoy 1-hour cyclo tour of the French-inspired "old quarter", where you will be free for shopping in the old quarter ranges from markets through to designer boutique stores to amazing contemporary art galleries. In the evening, enjoy a performance of the city's famous Water Puppet Show or some other optional shows to learn more about Vietnamese traditional arts.
Central Vietnam Tour – 6 Days
Day 12: Hanoi – Fly to Danang – Hoi An Ancient Town (B, L)
After boarding a flight to Danang, you'll be taken to visit Cham Museum, the house of the most complete collection of Cham Artifacts anywhere in the world. Then move to China Beach – where the Americans named and used to have their Rest and Relaxation; and the Marble Mountain – the five elements of the Universe (water, wood, air, fire, and earth). For the rest of the day, farewell Danang to transfer to Hoi An. Overnight in Hoi An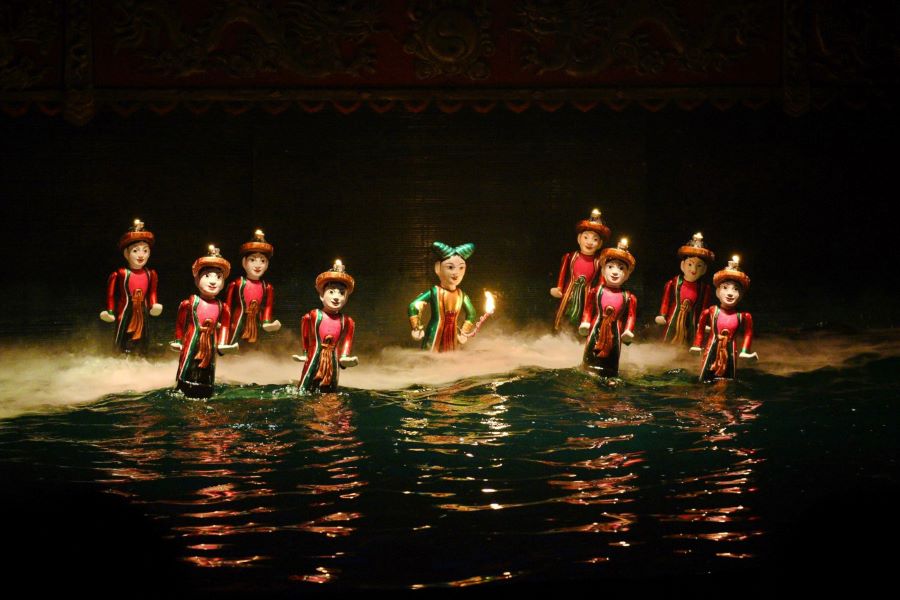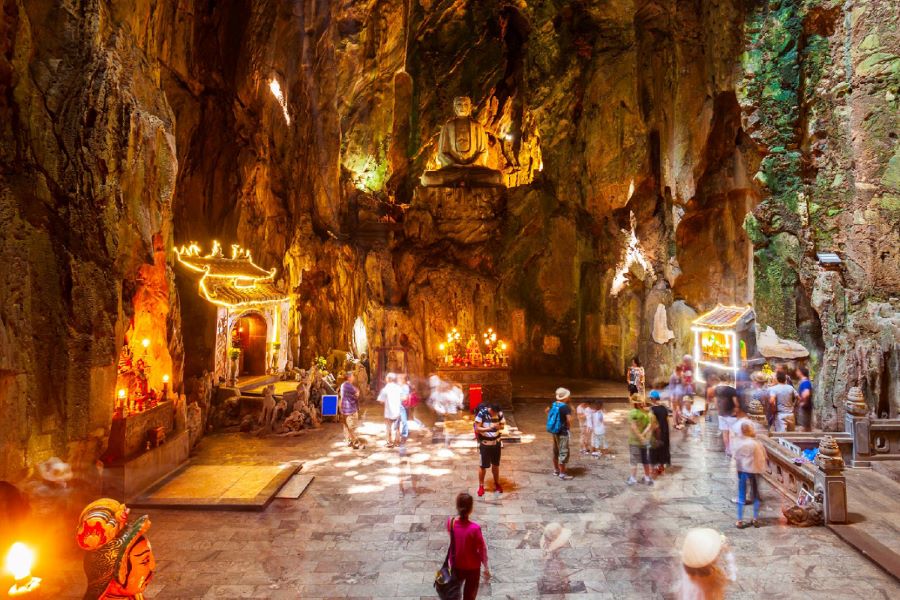 Day 13: Hoi An – Farming & Fishing Tour – Walking City Tour (B)
Start a new day in the early morning and head off to the Farming & Fishing Life Eco Tour. Take the road to Tra Que Village renowned for its fresh local herbs and vegetables, and the village is named after the sweet-smelling herb that is used to flavor many local Hoi An dishes. Join the farmers in preparing their land for sowing, fertilizing the garden using seaweed from the local river, and watering it using huge tin.
After doing gardening, get a first-hand look at local Vietnamese rural life through a leisurely cycling tour across the countryside, passing coconut palms and shrimp farms as we go. Hoi An Eco-tour takes you on a journey through the untouched waterways, fringed by river coconut palms in the unique coracle boat: a mystery of navigation. Take the opportunity to see a local fisherman dredge the river bed in search of river snails.
The afternoon is your time to start a walking tour around the ancient town to visit the Japanese Covered Bridge, the Pottery Museum, Tan Ky old house, the Cantonese congregation, the silk street of Hoi An, the temples, and pagodas of Chinese appearance.
Day 14: Hoi An – My Son Holy Land & Cooking Class (B, L)
You will meet our tour guide and driver at our hotel then leave Hoi An for the world heritage of My Son, the ancient Cham ruins. It served as a center of Hinduism for the once mighty Cham kingdom that dominated central and southern Vietnam for centuries. Once there, visit the Tra Kieu capital which was the former administrative center of the Champa Kingdom. Discover the majestic ancient ruins at My Son including ancient towers which were built in the fourth century.
Later, we board the Red Bridge boat for a leisurely cruise along the Hoi An River to the Red Bridge Cooking School; explore the cooking school's herb and vegetable garden before learning about some of Hoi An's and Vietnam's well-known dishes. Included in the class is a brief introduction to Vietnamese food carving (plate decoration). After the lesson, we sit down and eat exactly what we have cooked. Your overnight accommodation will be in Hoi An.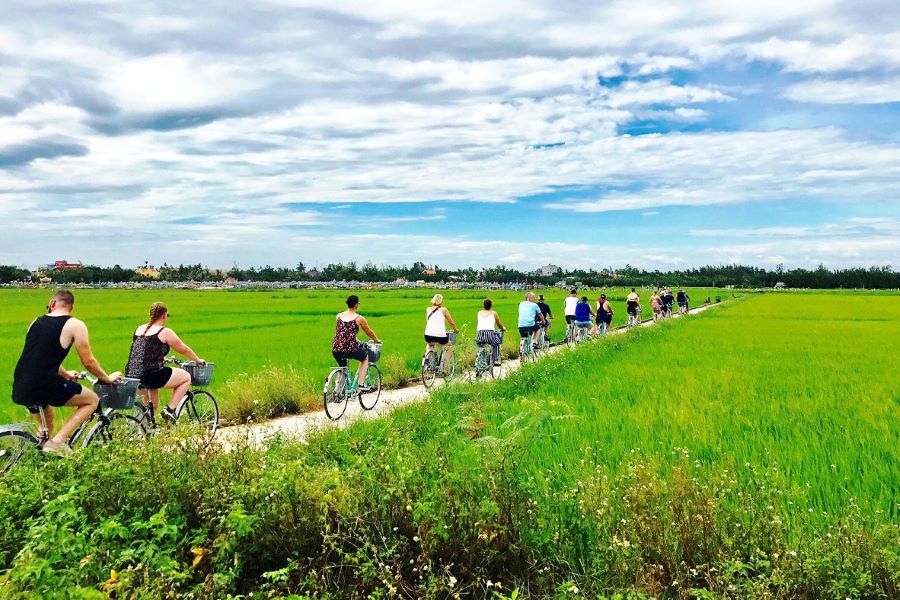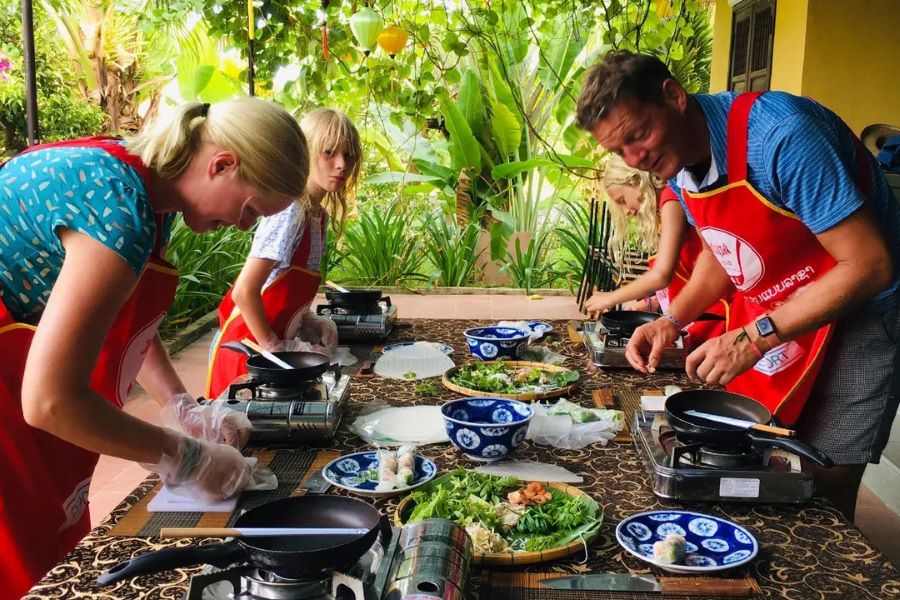 Day 15: Hoi An – Fly to Nha Trang (B)
After boarding a flight to Nha Trang, welcome up by our local guide and driver to transfer to your hotel. The rest of the day is free for you to relax at a swimming pool or beach. Overnight in Nha Trang.
Day 16: Nha Trang Island & Snorkeling Tour (B)
Continue your visit with a boat trip. The first stop this morning is Cau Da port, then we transfer to Tri Nguyen Aquarium on Mieu Island where many sea species of the region make a small ocean world. Experience Nha Trang in a different way by snorkeling its waters and visiting its culturally rich surrounding areas in Mun Island, one of the best islands for snorkeling. Watch colorful fish and coral up close. Then relaxing, swimming and doing water sports or other activities at Mot Island, Tranh Beach Island or on a small island called "Mini beach". In the afternoon, boat back to the shore and visit a local fishing village to see their way of life. Overnight in Nha Trang.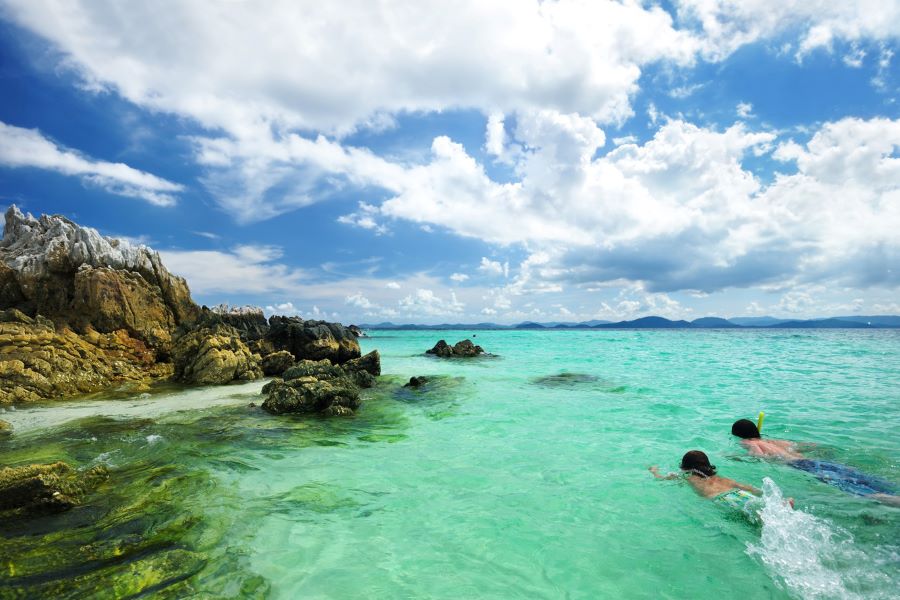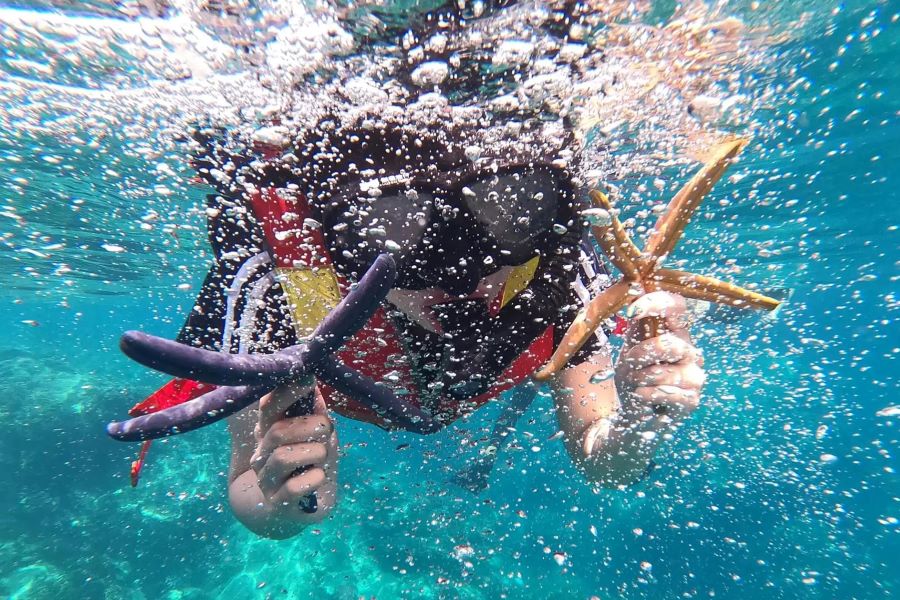 Day 17: Nha Trang Leisure Time (B)
The day is at leisure. You'll be to go shopping stroll in the town, laze on the beach, or do whatever takes you fancy. Overnight in Nha Trang
South Vietnam Tour – 6 Days
Day 18: Nha Trang – Fly to Ho Chi Minh City (B, L, D)
On arrival at Tan Son Nhat airport in Ho Chi Minh City, you will be greeted and driven to your hotel in the city center. Delve into all the highlights in Ho Chi Minh City such as the Reunification Palace, a palace of the old President in South Vietnam during the American war; the War Remnants Museum which is a poignant display of the futility of war. The trip continues with Old Post Office, Notre Dame Cathedral, and Buu Long Pagoda before you move ahead of the center to go shopping at the famous Ben Thanh market where Authentic Vietnamese delights are sold. Overnight in Saigon
Day 19: Ho Chi Minh City – Cu Chi Tunnels by Speedboat – Vespa Tour (B)
Today you will have an opportunity to uncover the secrets of the Cu Chi Tunnels, a vast network of underground passageways built and used by the Viet Cong to evade detection as they moved troops and supplies throughout Ho Chi Minh City's northern district.
After a short documentary, your guide will lead you through the historic Cu Chi, dug by resourceful guerrilla fighters to provide communication and supply routes, hospitals, food and weapon caches, and living quarters during numerous conflicts. In the late afternoon, picked up by Vespa drivers to stroll around the big streets to small streets for a glimpse of all the daily nightlife of local people and sample freshly caught dishes at special street restaurants. Overnight in Saigon.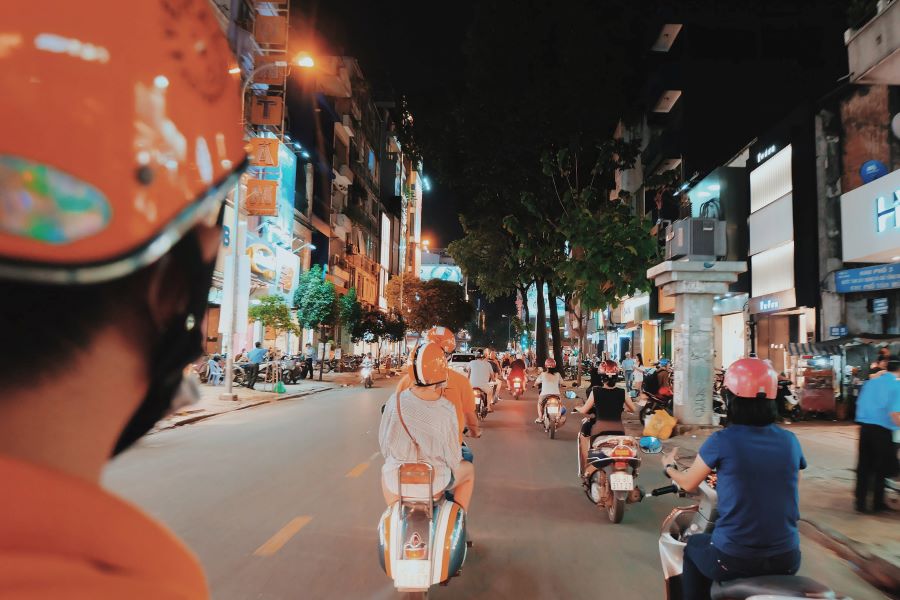 Day 20: Ho Chi Minh City – Mekong Delta (B, L, D)
Upon arrival in Vinh Long, you will meet a host and will be led to the lodge along country roads. After just a short walk you will be treated to a welcome drink and a delicious traditional lunch in the lodge's restaurant. Next, join in a boat cruise through the local canals and pop rice factory. You will be explained how the animals are raised and how they collect 'biogas' to make free and sustainable cooking food, the secret of making 'rice pop' will be also revealed by locals. This unique and nutritious foodstuff will become a gift for local children the following day.
The included trip leads you to a historic, colorful and beautiful, Cao Dai temple through the quiet village roads passing by a duck farm, dragon fruit gardens, and coconut fabric factory. Also, you can participate in a traditional cooking class to know how the locals prepare a traditional meal. Overnight at Cocoriverside Lodge
Day 21: Mekong Delta – Ho Chi Minh City (B, L)
Today, you will be rowed to visit a local school and admire the deeply revered Ba Chua Xu temple that has more than 200 years of age existed at this idyllic village. You also have a chance to learn Vietnamese from kids or teachers. Then ride home for the next activity to harvest some water coconut leaves the key building material in the Mekong Delta used to build the walls and roofs of the houses. Afterward, back to the lodge for lunch and check out before continuing the journey to Ho Chi Minh City.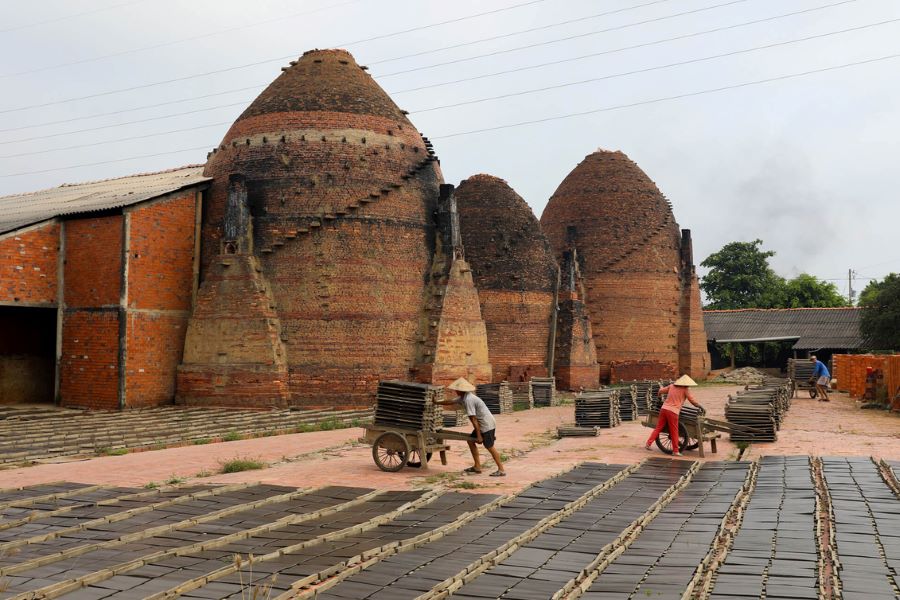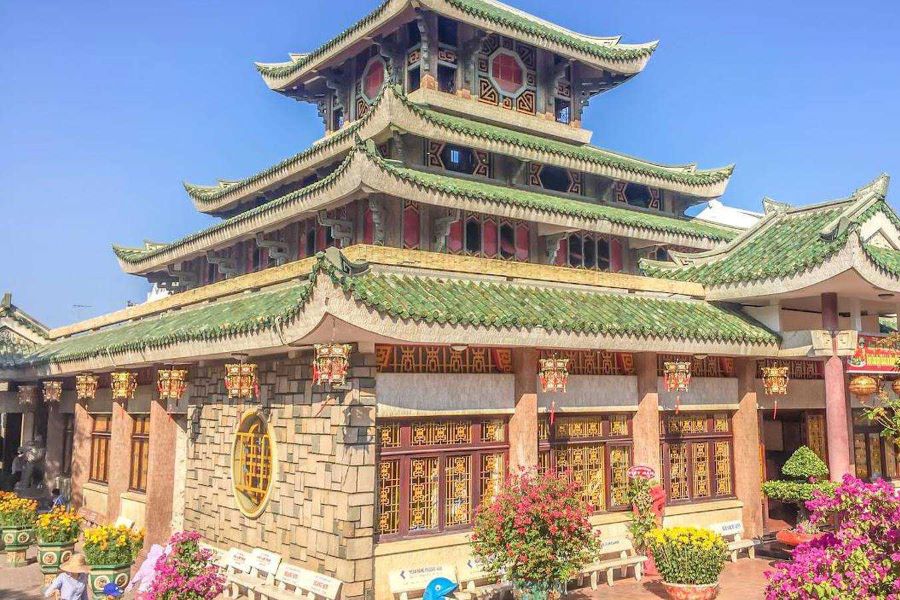 Day 22: Ho Chi Minh City Departure (B)
Time will be free until our car arrives at the hotel to take you to the airport in good time to board your homeward flight. Trip ends. See you again in the next Vietnam tour packages.