Brief Information
Tour Route: Hanoi – Pu Luong – Halong Bay – Hue – Hoi An – Mui Ne – Ho Chi Minh City
Duration: 15 Days/ 14 Nights
Date: Advice upon booking
Start/ End: Hanoi/ Ho Chi Minh City
Tour Customizable: Definitely! Tell us about your specific requirements
Tour Category: Vietnam Luxury Tours
Tour Highlights
Enjoy your trip in one of the World's Nature Wonders with fascinating services: transferring to the bay by seaplane and overnight in the most sumptuous cruise
Explore Hanoi – the capital city of Vietnam, was known as the city with thousand years of civilization
Experience a special type of city tour, which can help you have a closed view of culture in the daily life of Vietnam
Immersing in friendly nature, relaxing and get rid of tiredness
Discover Mui Ne – one of the top ten new destinations in Asia (rated by Trip Advisor), Da Nang City – the best place to live in Vietnam and the cultural heritage of UNESCO – Hoi An
Brief Itinerary
Day 1: Hanoi Arrival – Tonkin Show
Day 2: Essence of Hanoi
Day 3: Hanoi – Pu Luong Retreat
Day 4: Pu Luong Natural Discovery
Day 5: Pu Luong – Hanoi
Day 6: Hanoi – Halong Bay by Private Seaplane
Day 7: Halong Bay – Hanoi
Day 8: Hanoi – Fly to Hue – Vespa Twilight Journey
Day 9: Explore Vietnamese Last Feudal Dynasty
Day 10: Hue – Hoi An by Scenic Route
Day 11: Hoi An Countryside Journey
Day 12: Hoi An – Danang – Mui Ne
Day 13: Mui Ne Relax & Revelry
Day 14: Mui Ne – Ho Chi Minh City
Day 15: Ho Chi Minh City Departure
Day 1: Hanoi Arrival – Tonkin Show
Warmly welcome to our beautiful country. Your tour guide and driver will pick you up at the airport and move to the hotel to check-in. At the start of the evening, we will come to Baara Land to see The Quintessence of Tonkin Show – recently become more famous because of its cultural spectacle.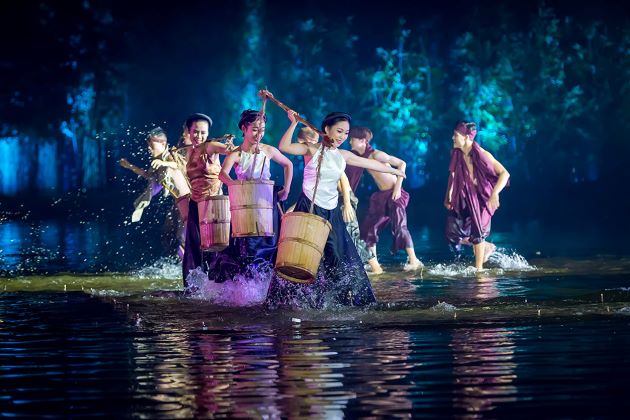 Accommodation: InterContinential Westlake Hanoi
Dinner: Ly Club Restaurant
Transportation: Private Limousine Car
Day 2: Essence of Hanoi
In Hanoi, there is a ton of special things that you should impress in. The main area of this trip is the Old Quarter and some nearby places. Street food in this city had attracted many tourists who have already visited, was talked about in many famous magazines and travel blogs all over the world. One thing that you can not deny experience street food here is its price and quality.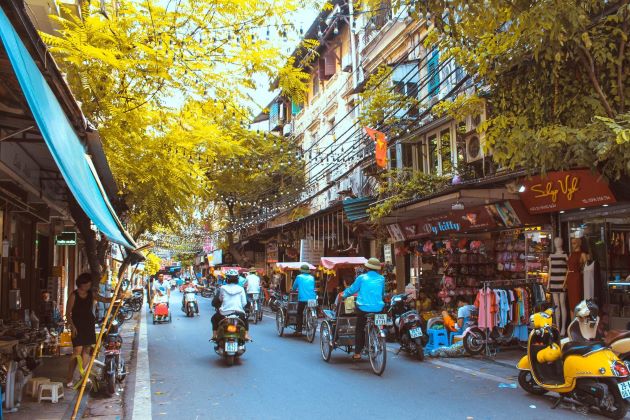 Traffic in Hanoi was terrible with most of the local people but in tourists' views, it's adventurous, special and a little bit challenging. Railroad tracks run through densely populated areas in Phung Hung street, has attracted great attention when was mentioned by CNN. 36 old streets in Hanoi is also a place that you can not ignore, which still retain lots of traditional features in the culture of living, maintain many famous jobs. Overnight in Hanoi.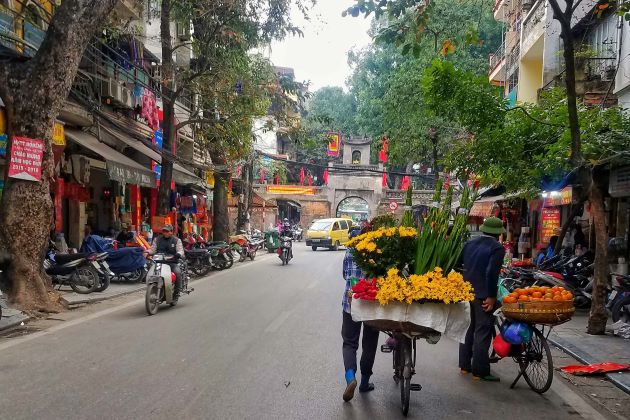 Accommodation: InterContinential Westlake Hanoi
Lunch: Old Hanoi Restaurant
Dinner: Cloud Nine Restaurant & Sky Bar
Transportation: Private Limousine Car
Day 3: Hanoi – Pu Luong Retreat – Water Wheels Walk & Rafting
After breakfast, pass by about 150 Km to come to Pu Luong. Arrival at noon, check-in and have lunch in at Pu Luong Retreats. Because this retreat was built by eco-friendly with nature, you can have the whole time in here, immerse in the picturesque landscape and hide from noisy and crowded life.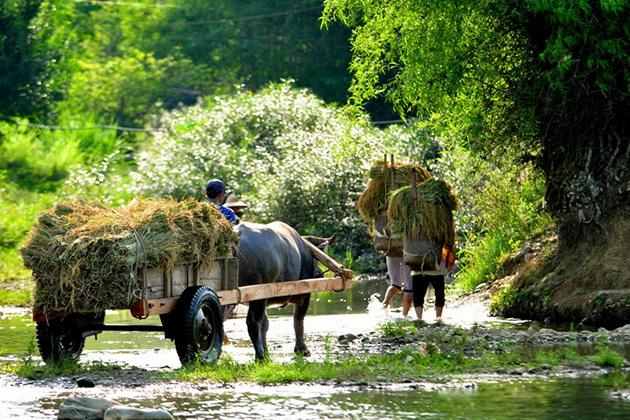 In the afternoon, start at a suspension bridge on Cham River, walking in here and look for beautiful stunning water wheels, find out how it works. Stopped by a house of local fishermen, we will have a short rest to prepare for an adventurous climb down the river. Float along the quiet river and enjoy the fascinating landscapes along the banks. At Tan Lap Bridge, got off and come to the vehicle, back to Pu Luong Retreat for dinner.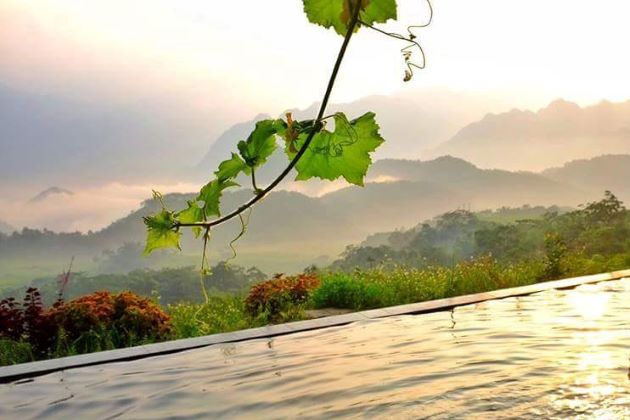 Accommodation – Lunch – Dinner: Mai Chau Ecolodge
Transportation: Private Limousine Car
Day 4: Pu Luong Natural Discovery
After breakfast, start walking to visit the wonderful valley located in the area. Continuing through the small paths, visit a picturesque village, based on the foot of a towering mountain. Soak up the roads, farmlands, villages, mountains, forests, ponds, and rivers. After lunch, you will be free to take a fresh swim in the nearby river before returning to the ecolodge.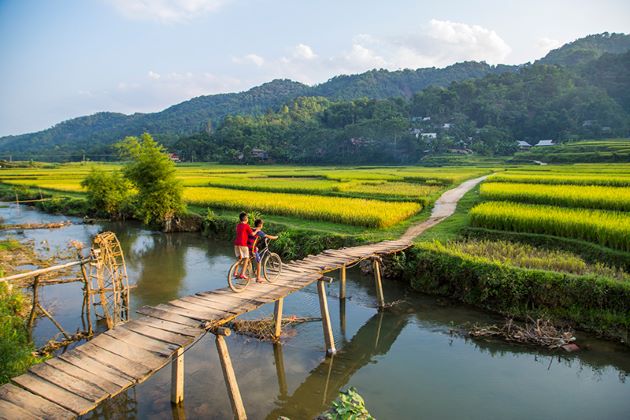 Accommodation – Dinner: Mai Chau Ecolodge
Lunch: Picnic Lunch
Day 5: Pu Luong – Hanoi
Today, get closer to the life of the village and the community by interacting with the local people living on the hill. Walking around the fields and paddy fields, talk to local people and if you want, participate together in daily work, learn how to make rice wine and weave colorful things. Return to the ecolodge for lunch, then travel back to Hanoi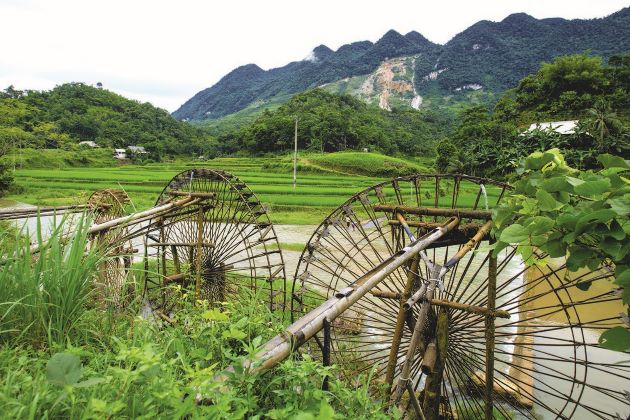 Lunch: Mai Chau Ecolodge
Dinner: La Badiane Hanoi
Accommodation: InterContinential Westlake Hanoi
Transportation: Private Limousine Car
Day 6: Hanoi – Halong Bay by Private Seaplane
Remember to wake up early to prepare for one of the most fabulous highlights in this tour – moving from Hanoi to Halong Bay by seaplane This is the one and the only service in Vietnam, promises bring for you a great experience by sightseeing this wonder's nature from above.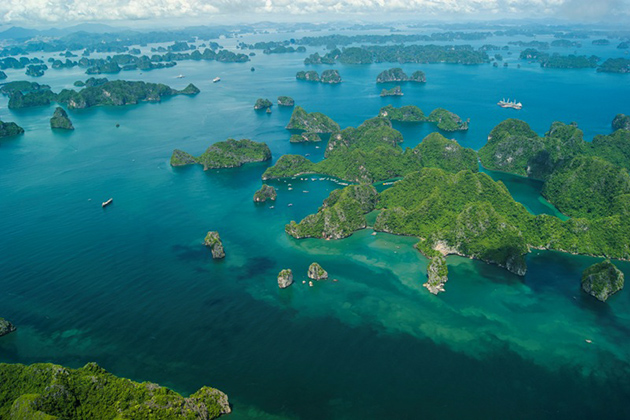 Then reach Tuan Chau Marina, check-in Orchid Cruise – the most luxury cruise with the top of services in Halong Bay. The peak is characterized by its outstanding architecture, which is exactly a perfect combination of traditional Asian style and modern Western features. Lunch will be served for you at the restaurant and then sightsee along Halong Bay with many beautiful landscapes.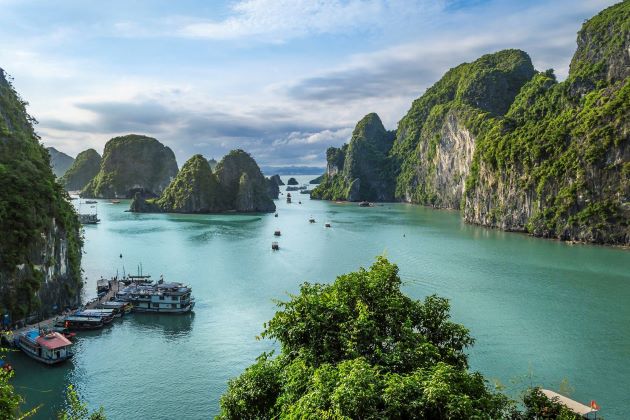 In the middle of the afternoon, you will delight in a spa treatment, refresh your body and soul. Next, you can visit Sung Sot Cave or another option is kayaking near Luon Cave area. An interesting activity is a cooking demonstration, which was taught by our local chef, to broaden your knowledge of Vietnamese cuisine.
Accommodation – Lunch – Dinner: Orchid Cruise
Transportation: Private Seaplane
Day 7: Halong Bay Discovery Tour
Start your brand-new day by doing Tai Chi on the sundeck with a light breakfast, coffee, and pastries. A la carte breakfast will be served for you at the restaurant next. Then travel by boat to visit Titop Island, Tung Sau Pearl Farm, and Cua Van Floating Village. In the afternoon, travel back to Hanoi by seaplane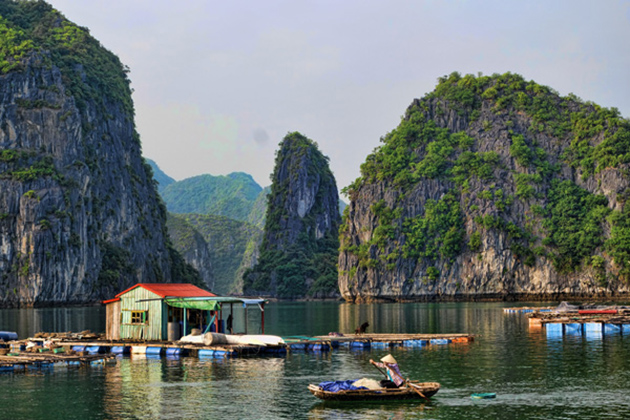 Lunch: Orchid Cruise
Dinner: Moc Central Restaurant
Accommodation: InterContinential Westlake
Transportation: Private Seaplane
Day 8: Hanoi – Hue – Vespa Twilight Journey
In the morning, take a domestic flight to Hue. Relax and revelry until 16:00, exactly at the fascinating sunset moment of the day. Pass Truong Tien bridge, come with Dong Ba market – famous as an old market which is closed with local people's life.  Keep riding to the West area to come to Vong Canh Hill. This place will bring you a panoramic view of the mountains and the Perfume River. On the top of the hill, you can immerse in the marvelous scenery while enjoying sparkling wine, local beer or soft drinks.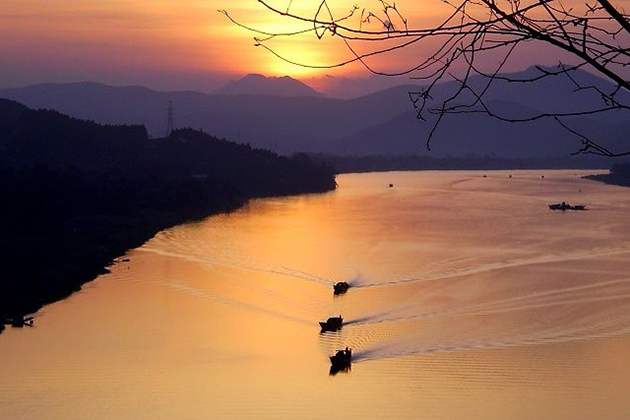 Riding back and enjoy your dinner at Tha Om Garden House. Stepping into Tha Om, you can enjoy a warm, private and intimate space. Even though this house only was built of bamboo but it still has enough those criteria: solid, comfortable and harmonious. Your beloved family will often spread out of the heart with nature, the wooden doors always open to getting sunshine.
Lunch: Les Jardins De La Carambole
Accommodation: Azelai La Residence Hotel
Transportation: Domestic Flight – Vespa Scooter
Day 9: Explore Vietnamese Last Feudal Dynasty
In the morning, explore Hue Citadel and Forbidden Purple City to know more about the growing and falling process of Nguyen Dynasty. This is a fabulous architecture works, related to a period of Vietnam ancient history.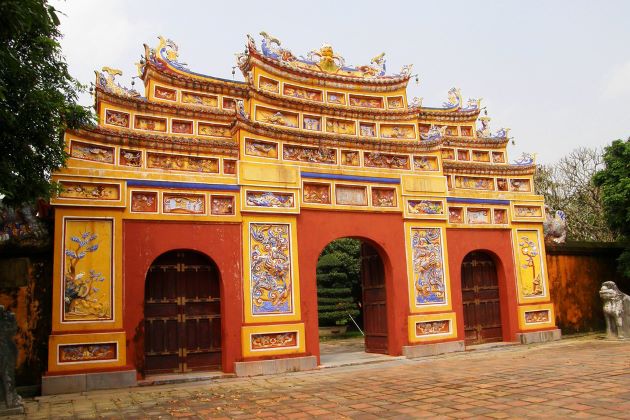 Then travel by a private dragon boat trip on the romantic Perfume River. Stop at Thien Mu Pagoda, the biggest pagoda in Hue and was known as the symbol of this ancient capital. Later, visit the tomb of Emperor Khai Dinh and Hue National School for the gifted with classic French architecture before returning to the hotel.
Lunch: Ancient Hue Restaurant
Dinner: Royal Park Restaurant
Accommodation: Azelai La Residence Hotel
Transportation: Private Limousine Car – Private Dragon Boat
Day 10: Hue – Hoi An by Scenic Route
Today, on the way come to Da Nang City – the most worth-living city in Vietnam. Visit the Cham Museum – the only museum in Vietnam preserving the most complete collection of Cham sculpture and artifacts, and Marble Mountain, symboling for five elements of the Universe.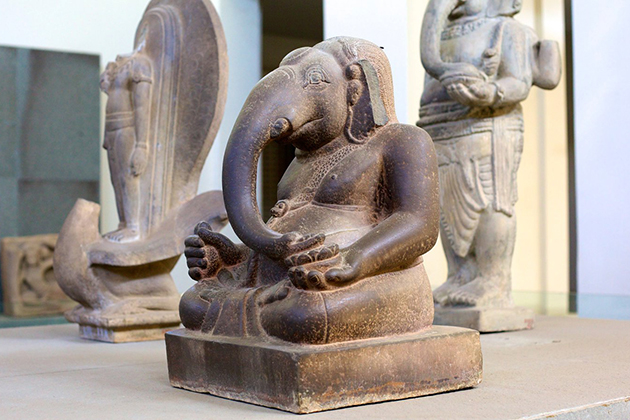 After lunch, head to Hoi An, check-in at Koi Resort and Spa Hoi An. Inspired by the glamorous and ancient charm of a timeless cultural heritage, the unique architecture combined with the natural green space will bring you a luxurious experience. Nestled on a lush oasis on the banks of the De Vong River, the resort offers guests a private and peaceful space. In the evening, you can spend the time to explore an ancient Hoi An.
Lunch: Waterfront Restaurant (Danang)
Dinner: Aubergine 49 Restaurant
Accommodation: Koi Resort and Spa Hoi An
Transportation: Private Limousine Car
Day 11: Hoi An in-Depth
Hoi An is a quite small town, everything in here brings you a branding-new feeling. The first attraction for today is Sa Huynh Culture Museum. Next, visit and take photos in Cau Pagoda and explore the ancient street area. Then travel to the countryside for sightseeing and villages, on the way along the banks of the Thu Bon River. Stop at a local market where you can find fresh seafood, learn about the local fishing process.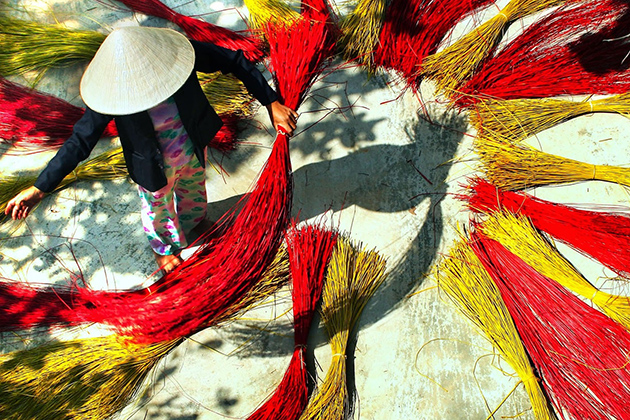 After lunch at a local house, you will have a chance to see local people making rice crackers. Then visit the farm and know more about agricultural cultivation practices and a traditional family to learn how to make Mat weaving.
Lunch: Home-hosted lunch
Dinner: Cargo Club
Accommodation: Koi Resort and Spa Hoi An
Transportation: Private Limousine Car
Day 12: Hoi An – Danang – Fly to Nha Trang – Mui Ne
Come back to Da Nang International Airport to take the domestic flight to Cam Ranh airport. Then travel to Mui Ne, the beautiful beach which can compare to Nha Trang beach but is lesser-known. The rest of the day is your leisure to relax and revelry at the resort.
Accommodation – Lunch – Dinner: Anantara Mui Ne Resort & Spa
Day 13: Fantastic Mui Ne
In the morning, drive a jeep to conquer the great sand dunes in Mui Ne then explore the amazing Fairy stream. The rest of the day is your leisure to relax at the beach and the resort.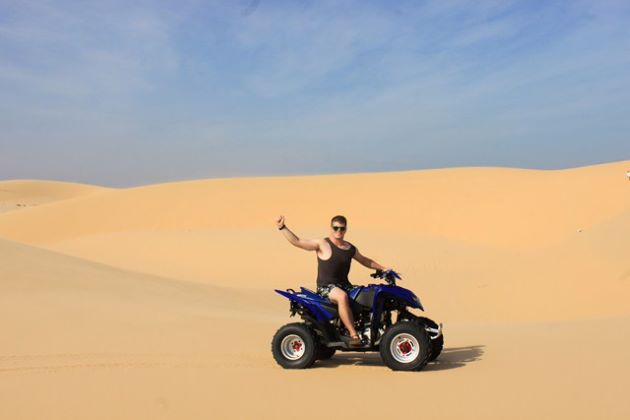 Accommodation – Lunch – Dinner: Anantara Mui Ne Resort & Spa
Day 14: Mui Ne – Ho Chi Minh City
Today, enjoy your last morning at Mui Ne before transferring back to Cam Ranh airport for a domestic flight to Ho Chi Minh City. On arrival, you can repose at the hotel or explore the most vibrant city in Vietnam.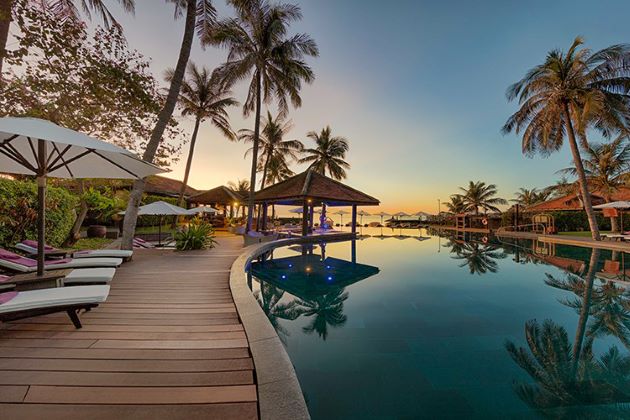 Lunch: Anantara Mui Ne Resort & Spa
Dinner: Anan Restaurant
Accommodation: Park Hyatt Saigon
Transportation: Domestic Flight – Private Limousine Car
Day 15: Ho Chi Minh City Departure
After breakfast, travel to the Tan Son Nhat International Airport to take your flight home. Trip ends. See you again in the next Vietnam tour packages.