Brief Information
Tour Route: Hanoi – Halong Bay – Hue – Hoi An – Ho Chi Minh City (Saigon) – Mekong Delta
Duration: 15 Days/ 14 Nights
Date: No fixed departure dates. You may go whenever you wish.
Start/ End: Hanoi/ Saigon
Tour Customizable: Absolutely! (Tell us your specific requirements in the inquiry form)
Tour Category: Vietnam Luxury Tours
Brief Itinerary
Day 1: Hanoi Arrival
Day 2: Explore the City of 1000 Years Old
Day 3: Hanoi – Halong Bay
Day 4: Halong Bay – Hanoi
Day 5: Hanoi – Hue
Day 6: Rural Life Discovery by Vespa
Day 7: Danang Wildlife Experience
Day 8: From Modernity to Ancient
Day 9: Hoi An Cooking Class at Organic Farm
Day 10: Hoi An – Ho Chi Minh City
Day 11: Retracing Saigon Past with Vintage Car
Day 12: Saigon – Cu Chi Tunnels
Day 13: Saigon – Vinh Long – Can Tho
Day 14: Can Tho – Saigon
Day 15: Saigon Departure
Luxuriate your Vacation with
Service Elevated
Each inquiry of Vietnam luxury tours is carefully handled by a dedicated Viet Vision Travel consultant which has been trained specifically for the task of:
Exceeding high expectations through the anticipation of your needs
Giving unprecedented levels of attention to detail
Delivering seamless experiences that leave you 'wowed' every step of the way
Expert Local Guide
The companion of your luxury journey is well-selected for his intimate destination knowledge as well as his accordant personalities including energetic, enthusiastic, humorous, loyal, and caring. He is always ready to support anytime and anywhere.
Hand-Picked Hotels & Restaurants
No effort has been spared in sourcing the finest hotels and restaurants in Vietnam to ensure that you will receive the utmost comfort and delicious meals during your journeys.
Premium Transportation
By state-of-the-art limousine cars, high-class flights, private planes, and luxury cruise ships, we will make your transportation relaxing and enjoyable during your luxury vacation in Vietnam.
Special Note: Each of Vietnam luxury tour is carefully crafted to your exacting specifications. Tell us your request or interest, if it's possible, we can surely arrange it for you. We always ensure you can enjoy whatever way pleasing you most.
Day 1: Hanoi Arrival
Welcome upon arrival by local tour guide & driver, you will transfer to the hotel in the center city. The rest for the day is your free time to relax at the hotel or explore the Vietnamese capital.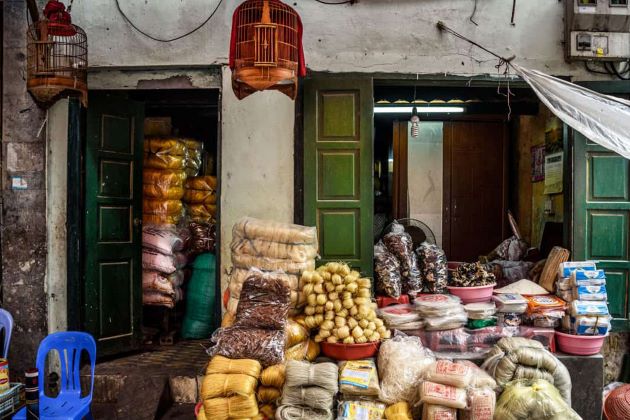 Accommodation: InterContinential Westlake Hanoi
Dinner: Moc Central Restaurant
Transportation: Private Limousine Car
Day 2: Explore the City of 1000 Years Old
After breakfast, visit Ho Chi Minh's Mausoleum of the greatest Vietnamese president and One Pillar Pagoda, the symbol of Hanoi with the age of nearly 1000 years old. Keep traveling to see the Temple of Literature which was originally built as a temple to Confucius, this is the site of Vietnam's first university dating back to 1070. The temple highlights the importance that Vietnamese society placed then and now on education.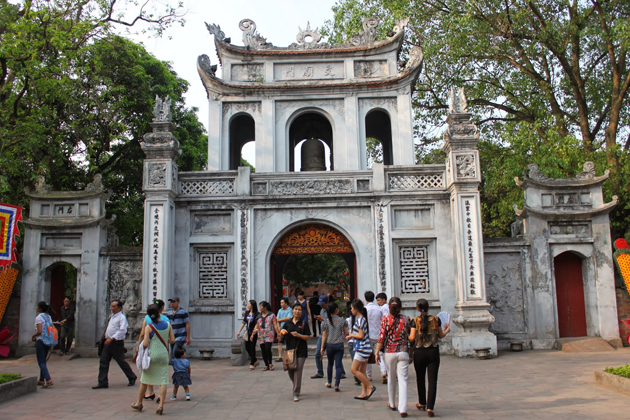 In the afternoon, visit one of the most interesting museums in Vietnam – Museum of Ethnology, which is widely acknowledged as the best in the country and has an extensive display dedicated to Vietnam's 54 Ethnic minority peoples. In the evening, you can enjoy the unique Water Puppet show. Hear the Vietnamese traditional instruments and singing from the live musicians who play throughout the show (Optional).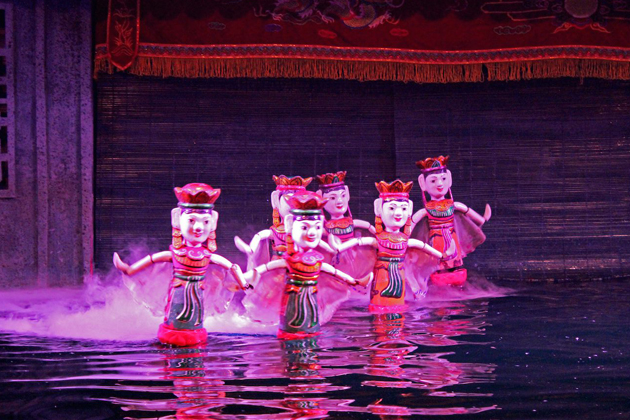 Accommodation: InterContinential Westlake Hanoi
Lunch: KOTO Restaurant
Dinner: Cloud Nine Restaurant & Sky Bar
Transportation: Private Limousine Car
Day 3: Hanoi – Halong Bay
Travel to Halong Bay by private seaplane to behold one of the World Natural Heritage Sites from bird's view. Then embark on the cruise, enjoy welcome lunch and drink while cruising deeply to the Bay, where you can see the islands and islands, which emerge from the emerald water with many shapes as the Incense burner, Dog islets, Fighting cocks …and many fishing villages.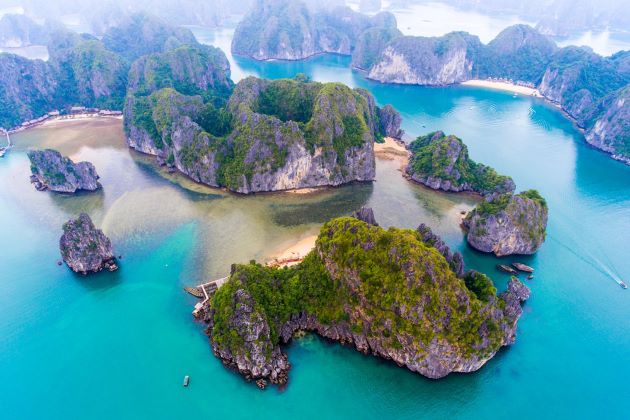 On this day tour, visit the Cave of Surprise, with thousands of shaped stalactites and stalagmites… And before relaxing and enjoying the sunset, join the demonstration of trimming flowers from fruits and roots and cooking class at sundeck by the chef. Then try on the food you have made. It is a really amazing time. Dinner tonight in European style on the Coconut Island.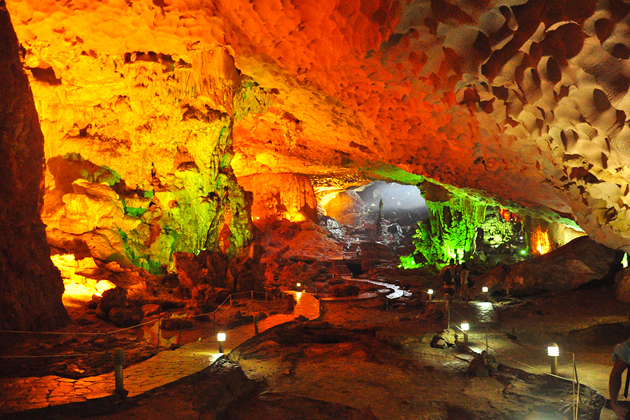 Accommodation – Lunch: Signature Halong Cruise
Dinner: Dinner at Coconut Island
Transportation: Private Seaplane
Day 4: Halong Bay – Hanoi
Begin our day tour today with a wonderful Tai Chi lesson on the sundeck, and then explore the Luon cave (a Hallow cave) by small boat or by kayak. Later, check out and take a flight back to Hanoi.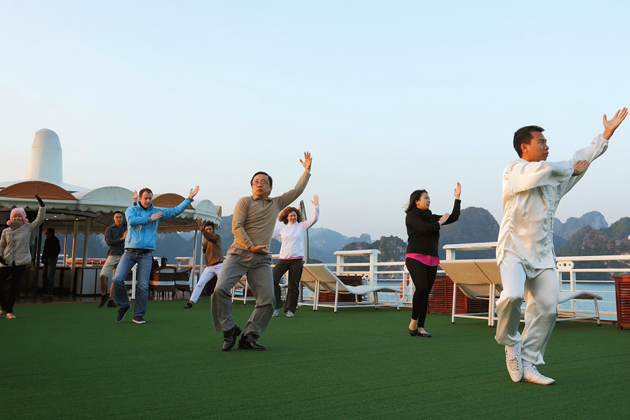 Accommodation – Lunch: Signature Halong Cruise
Dinner: La Badiane Hanoi
Transportation: Private Seaplane
Day 5 Hanoi – Fly to Hue
In the morning, take a domestic flight to Hue. In the afternoon, start to visit the Hue Citadel, the Forbidden Purple City – home of Vietnam's last royal dynasty with stunning palaces and magnificent historical relics.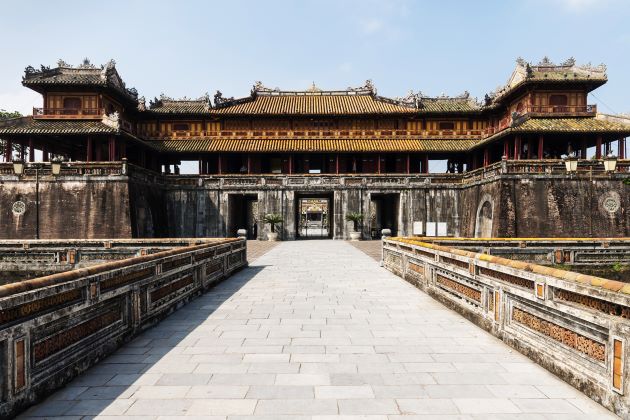 Accommodation: Azelai La Residence Hotel
Lunch: Les Jardins De La Carambole
Dinner: Ancient Hue Restaurant
Transportation: Domestic Flight – Private Limousine Car
Day 6: Rural Life Discovery by Vespa
Escape the city on Vespa scooter by following the small path to the countryside. On the route to a local market, go through lots of communal houses and family temples. Stop for a while so that the tour guide can explain about Vietnamese villages and such places of worship. Then take a look at a lively village market where most female villagers come daily to buy and sell their products.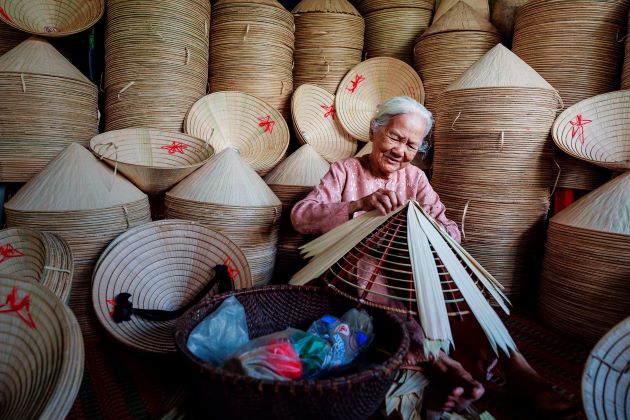 Keep riding to visit a village pagoda of Buddhism, a local rice-growing family, the three-generation family inherits a traditional job of making the sticky-rice cake and a family who make conical hat through generations. You will have a chance to see how to make a simple conical hat, from going to the forest to collect leaves to clean and dry leaves, iron leaves, select leave, making frames. On coming to Thanh Toan Village, taking a walk around the village, stop by the Farming Tools Museum for a glimpse of local farming customs before having a soft drink with local snacks, taste the sticky-rice cake from the local family.
Accommodation: Azelai La Residence Hotel
Lunch: Home-hosted Lunch
Dinner: Hanh Restaurant
Transportation: Vespa Scooter
Day 7: Danang Wildlife Experience
Today's travel begins with a drive from Hue to the modern city of Danang, one the fastest developing city of Southeast Asia famous for its beautiful beaches and luxuriant jungles around. On arrival, check-in the hotel and start your half-day natural experience.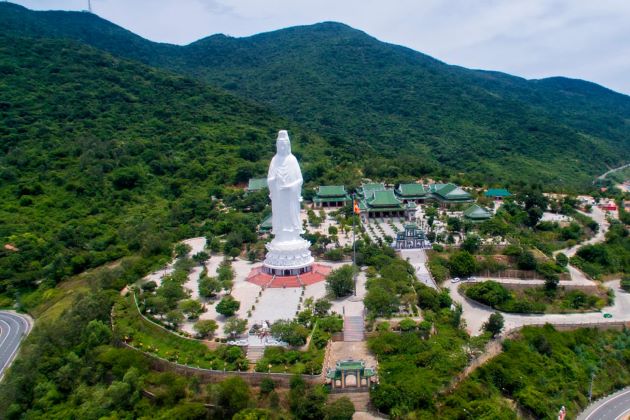 Monkey Mountains aka Son Tra Peninsula is a perfect place for wildlife exploration. This peninsula, which covers more than 4,400 hectares (nearly 11,000 acres) and rises to 700 meters at its peak, acts as a natural shield for the central city of Da Nang. It was originally an island before ocean currents and sediment linked it with the mainland. It is also best known for the world's largest population of the endangered red-shanked douc langur. Thanks to its unique beauty with 5 impressive colors, the red-shanked douc langur has been recognized by the Wildlife at Risk international organization as the 'Queen' of the primate species. If you get lucky, you might be able to observe their beauty and daily activities.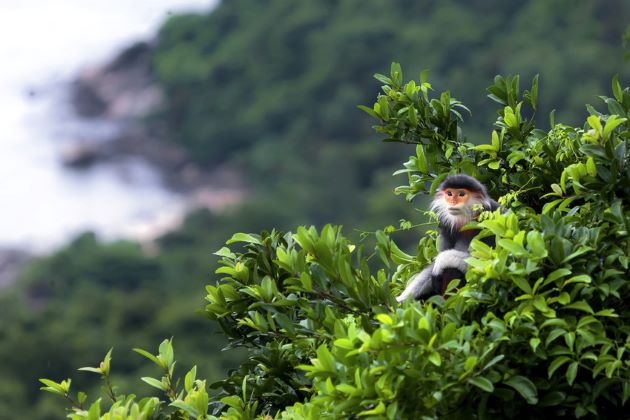 The trip is especially led by a wildlife expert for an insight into the biology diversity conservation activities organized on Son Tra Peninsula as you observe the wildlife from afar using binoculars and telescopes to minimize disturbance to the ecosystem. Get more information on the impact of human activity on this fragile ecosystem and reach the top of Son Tra to both admire the beauty of the surroundings and reflect on the fragility of it all.
Accommodation: One Opera Hotel
Lunch: Picnic Lunch
Dinner: La Maison 1888
Transportation: Vespa Scooter
Day 8: From Modernity to Ancient
Today, transfer to Hoi An ancient town, the vibrant trading center in the past and now one of the World Culture Heritages of Vietnam. This quaint riverside town still boasts a wealth of century's old traditional architecture. The influences of several Asian cultures can be seen in old houses and waterside buildings. This day is your leisure to explore this ancient town.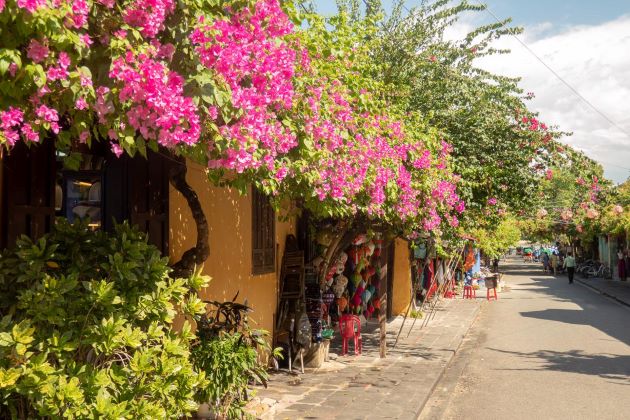 Accommodation: Anantara Hoi An
Lunch: Cargo Club
Dinner: Aubergine 49 Restaurant
Transportation: Private Limousine Car
Day 9: Cooking Class at Organic Farm
Today, leave the hotel for a short ride to the organic farm. Located about 3km from the Old Town center, this quietly tucked away farm was established by an expert in nutrition and team based out of the love of food and local cuisine. Be greeted by the passionate team at the farm and start the experience today. Just like the varied landscape of Vietnam, the cuisines contain a brilliant balance of aromatics, heat, sweetness, sourness, and umami flavor from the use of fish sauce. The cuisine is all about the balance between yin and yang; the sweet and the salty, the cool and the warmth, the fresh and then fermented. Follow the expert in nutrition and explore the farm while listening to inspiring stories about how to use food and vegetables for healthy living. Pick-up some ingredients before heading to the lovely kitchen to make dishes.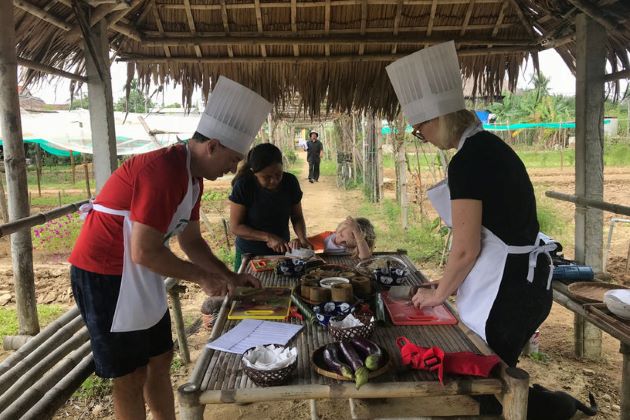 There will be five dishes to learn to make, have a chance to get hands-on in making rice flour with the old stone grinder, rice paper with copper vessels and invent a personal organic juice recipe. Once ready, sit down and feast on a delicious meal of authentic local cuisine. After filling up on these home-cooked delights, return to Hoi An for the afternoon leisure
Accommodation: Anantara Hoi An
Lunch: Cooking Class
Dinner: Orivy Hoi An
Transportation: Private Limousine Car
Day 10: Hoi An – Da Nang – Ho Chi Minh City
In the morning, you can relax at the resort, enjoy the beach, or stroll around the ancient town. After lunch, take a short rest before transferring to Danang then catch a flight to Ho Chi Minh City – the heart of Southern Vietnam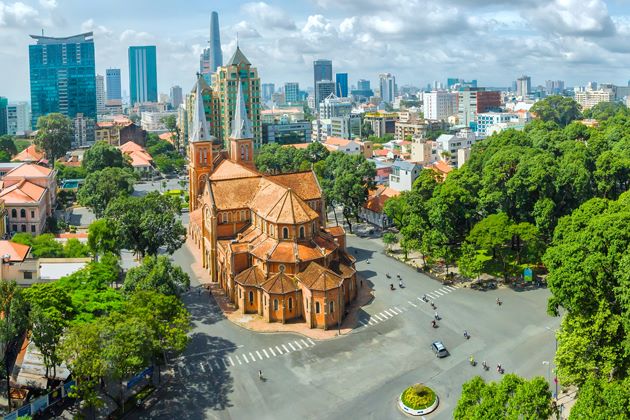 Accommodation: Park Hyatt Saigon
Lunch: Waterfront Restaurant (Danang)
Dinner: Saigon Prince Cruise
Transportation: Domestic Flight – Private Limousine Car
Day 11: Retracing Saigon Past With Vintage Car
Once known as the 'Pearl of Indochina', Saigon boasts an enormous architectural wealth, mirroring its colorful history. From the pagodas, museums and European architecture of the city's recent past to the growing number of skyscrapers, Saigon is a city of contrasts. Meet with a respected history researcher at the hotel lobby. Retrace Saigon's past with classical and timeliness beauty of a vintage car. Start at the French colonial area with a visit to the Archbishop's Palace and its more than 200-year-old house of prayer. Continue through the years and meet with a local who lived through the Vietnam War. Visit Gia Long Palace, built-in 1885 combining classical Baroque architecture elements with European and Oriental influences.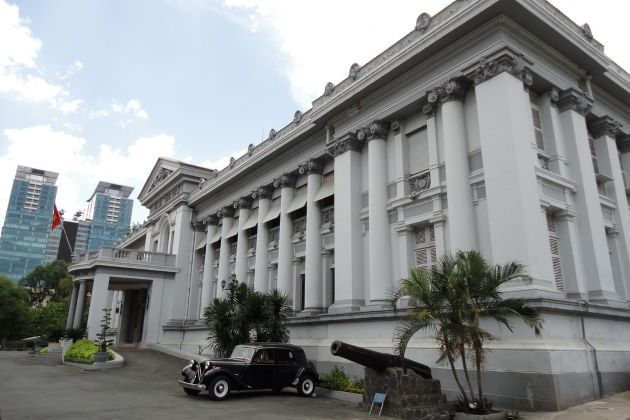 Continue to a private home, famous for its role in the planning of the well-known Tet Offensive before returning back to the hotel. During the ride back, there is an option to visit the burning monk statue and listen to the brave sacrifice behind it.
Accommodation: Park Hyatt Saigon
Lunch: Li Bai Restaurant
Dinner: Skewers Restaurant
Transportation: Sidecar
Day 12: Ho Chi Minh City – Cu Chi Tunnels
In the morning, leave Ho Chi Minh City for the Cu Chi tunnels, otherwise known as the "Iron Triangle" or "Iron Land". On the way, you will see the pleasant countryside; rubber plantations and rice paddies. Before entering the tunnels, watch a short introductory video showing how they were constructed, followed by an exploration of the maze of tunnels, some of which have been widened to allow tourist access. Also on display are various mantraps and the remains of an American tank, as well as numerous bomb craters made by 500lb bombs, dropped by B52 bombers.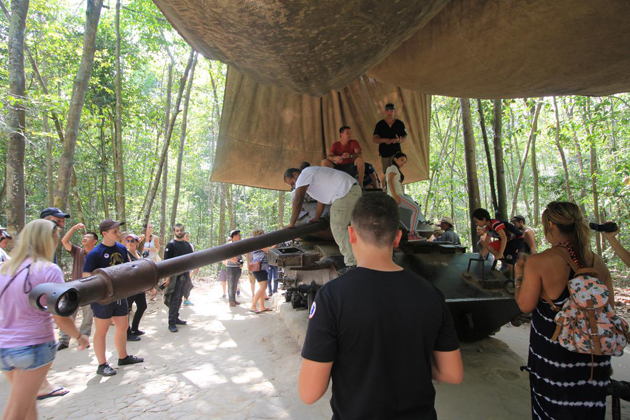 Accommodation: Park Hyatt Saigon
Lunch: Picnic Lunch
Dinner: The Garlik
Transportation: Private Limousine Car
Day 13: Ho Chi Minh City – Vinh Long – Can Tho (B, L)
Today, leave Ho Chi Minh City again and travel to Cai Be. Vivid farming activities and the riverine life of the Mekong Delta can be seen en route. Take a boat trip from Cai Be along the mighty Mekong River and its tributaries to view the riverine of local people who work and play on the waterways of the Mekong Delta. It would be amiss if you do not visit a family-run workshop making popcorn, pop-rice and rice paper. A taste of these local products with green tea brings you a great feeling of tropical weather.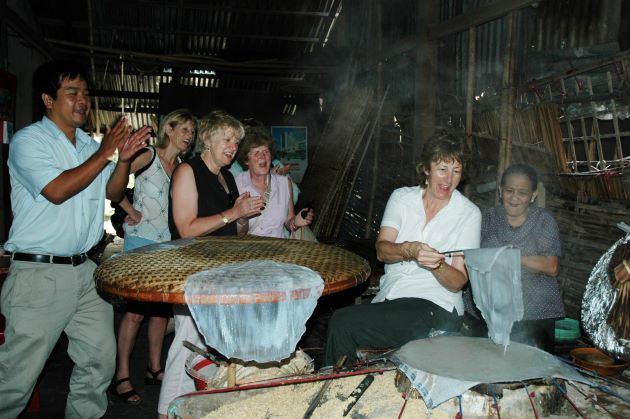 Lunch will be set up in a local house that located on an island, which is the fertile place for different fruits and trees. After lunch, take a short nap in a hammock under the shady garden or you can do cycling along the village paths to enjoy the beauty of the countryside. Lastly, the cruise will transfer us to Vinh Long city where you will be picked up by the vehicle to Can Tho – the heart of Mekong Delta.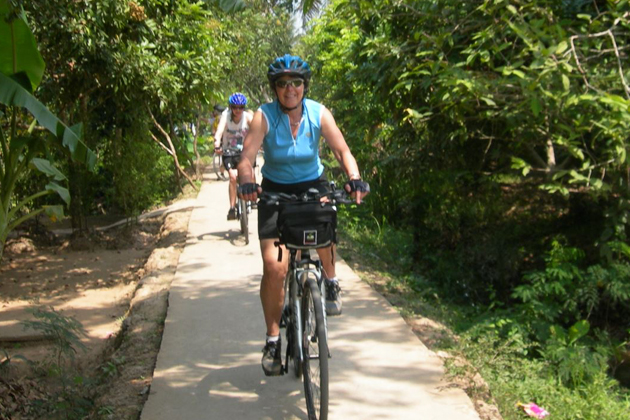 Accommodation: Victoria Can Tho Resort
Lunch: Home-hosted Lunch
Dinner: Victoria Can Tho Resort
Transportation: Private Limousine Car – Private Boat
Day 14: Can Tho – Saigon (B)
Today is your leisure to relax at the resort or explore the city. In the afternoon, travel back to Ho Chi Minh City.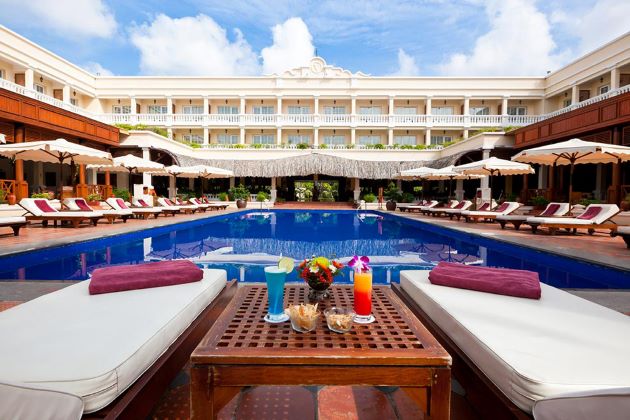 Lunch: Thanh Van Spring Roll
Dinner: The Deck Saigon
Transportation: Private Limousine Car
Accommodation: Park Hyatt Saigon
Day 15: Ho Chi Minh City Departure (B)
After breakfast, feel free at leisure until the vehicle transfers you to the airport for your flight home. Trip ends. See you again in the next Vietnam tour packages.