Discover the essence of Vietnam – Cambodia – Thailand in 4 weeks covered by inherently spiritual and deeply traditional values. Visit iconic destinations of these 3 countries from Hanoi to Chiang Mai, Siem Reap to Hoi An. Join in time-honored traditions, wander around enigmatic temples weathered by time and delve into the best street culinary in the world.
Tour Route: Ho Chi Minh City (Saigon) – Mekong Delta – Phnom Penh – Kampong Chhnang – Kampong Cham – Siem Reap – Danang – Hoi An – Hue – Hanoi – Halong Bay – Ninh Binh – Chiangmai – Bangkok
Duration: 28 Days/ 27 Nights
Date: No fixed departure dates. You may go whenever you wish.
Start/ End: Saigon/ Bangkok
Tour Type: Explore and Experience
Tour Categories: Indochina Package Tours
Tour Customizable: Absolutely! (Tell us your specific requirements in the inquiry form)
Brief Itinerary
Saigon Itinerary in 2 Days
Day 1: Saigon Arrival
Day 2: Saigon City Tour
        Option: Saigon Vespa Tour after Dark
Explore Mekong River by Heritage Line Cruise – 8 Days
Day 3: Saigon – My Tho – Cai Be
Day 4: Cai Be – Sa Dec – Tan Chau
Day 5: Tan Chau – Border Crossing – Phnom Penh
Day 6: Phnom Penh City Tour
Day 7: Phnom Penh – Kampong Chhnang
Day 8: Kampong Chhnang – Kampong Cham
Day 9: Kampong Cham
Day 10: Kampong Cham – Siem Reap
Siem Reap Itinerary in 2 Days
Day 11: Siem Reap – Angkor Complex
Day 12: Siem Reap – Beng Mealea & Banteay Srei
Central & North Vietnam Itinerary in 10 Days
Day 13: Siem Reap – Fly to Danang – Hoi An
Day 14: Hoi An Free Day
          Option: Ba Na Hills
Day 15: Hoi An Farming & Fishing Tour
Day 16: Hoi An Walking & Cooking Class
Day 17: Hoi An – Hue
Day 18: Hue City Tour – Fly to Hanoi
Day 19: Hanoi City Tour
Day 20: Hanoi – Halong Bay
Day 21: Halong Bay – Hanoi – Street Food Tour
Day 22: Hanoi – Ninh Binh
Thailand Itinerary in 6 Days
Day 23: Hanoi – Fly to Chiang Mai
Day 24: Chiang Mai Temples
Day 25: Chiang Mai – Elephant Sanctuary – Bangkok
Day 26: Bangkok – Ayutthaya Ancient Town
Day 27: Bangkok City Tour & Street Foods
Day 28: Bangkok Departure
Saigon Itinerary in 2 Days
Day 1: Ho Chi Minh Arrival (D)
On arrival at Tan Son Nhat airport in Ho Chi Minh City, you will be greeted and driven to hotel in the city center. After check-in, feel free to wander around the hustle and bustle city. In the evening, you will be picked up and transferred for a welcome dinner at a nice local restaurant. Overnight in Saigon
Day 2: Ho Chi Minh City Tour (B, L)
Today, visit all the highlights in Ho Chi Minh city including the statue of the Burning Monk and hear its impressive story; the Reunification Palace, a palace of old President in South of Vietnam during the American war; the War Remnants Museum where is poignant display of the futility of war; Notre Dame Cathedral and Old Post Office with the charming French architecture.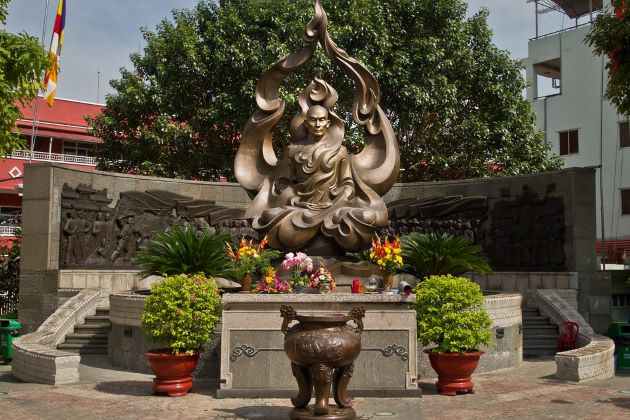 After lunch, travel to the district 5 to visit Cho Lon (Chinatown) to visit Giac Lam Pagoda. Then head back to the center to do shopping at famous Ben Thanh market of various goods, souvenirs, and street foods. Overnight in Ho Chi Minh City
Option: Vespa Tour
You are picked up by Vespa driver at 6 PM and drive to meeting happy point at Cafes Zoom where you can enjoy a welcome drink and snack. Here, you are also top models when the Vespa Adventure staff will take you many nice photos and send to you after the tour.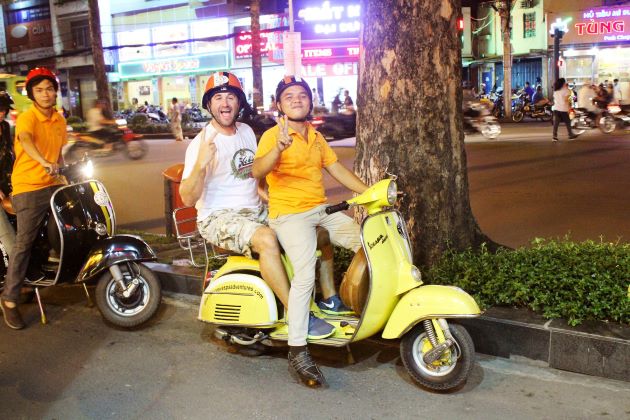 Start your tour once the sun disappears in the west; the drivers drive you around the big streets to small streets and you can see all the daily nightlife of local people. Then stop at a seafood workshop for your first tasting meal with local beer, fruit juice or cold water. After that, Vespa drivers take you back to center district, passing many highlight places in the city and finally meet the tour guide who takes his private Vespa at the Banh Xeo workshop. This is a special street restaurant where you will have a chance to see the local women cooking Banh Xeo and later try with a cold drink.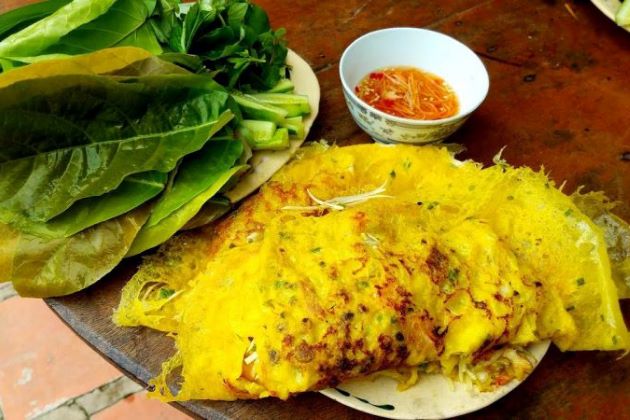 When you think you cannot eat anymore, it's time the Vespa drivers take you to a hidden Vietnamese-style coffee shop to have a taste of Vietnamese live music as local. There is no micro, no power light, it's only live songs and candle and people whisper to pick up drink. You can stay here long as you can or you will move to the last destination to change the music taste if you are a fan of Rock & beer. Then say goodbye with Vespa drivers, tour guide, and return to the hotel and enjoy a peaceful night.
Explore Mekong River by Heritage Line Cruise – 8 Days
Day 3: Ho Chi Minh City – My Tho – Cai Be (B, L, D)
Leave Saigon this morning and journey south overland to My Tho to embark on your luxury floating home for the upcoming journey along the Mighty Mekong.  After the crew warmly welcomes you, you check in to your well-prepared staterooms. The ship sets sail and a fascinating voyage along the Mekong begins.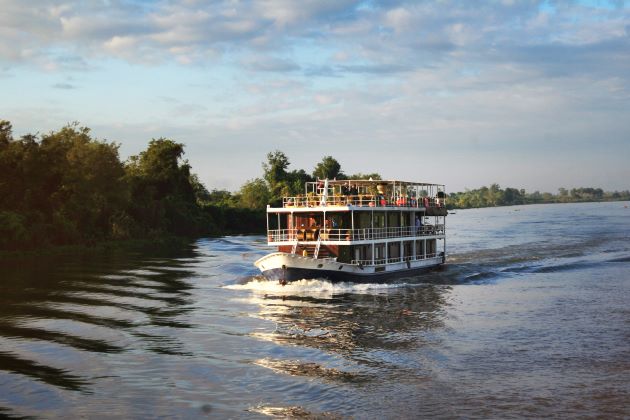 The afternoon allows you to leisurely on your room's balcony, join the tea break or other entertainment on the ship. During your dinner, the ship will reach Cai Be which is a charming town, famous for its Catholic French church and the traditional crafts as well as food products. The floating market of Cai Be is getting smaller every year since trading on the water is shifting more and more to the modern central markets. Later, anchor mid-stream near Cai Be for dinner and moor there overnight. After dinner, the lounge cinema features selected classic movies (every night).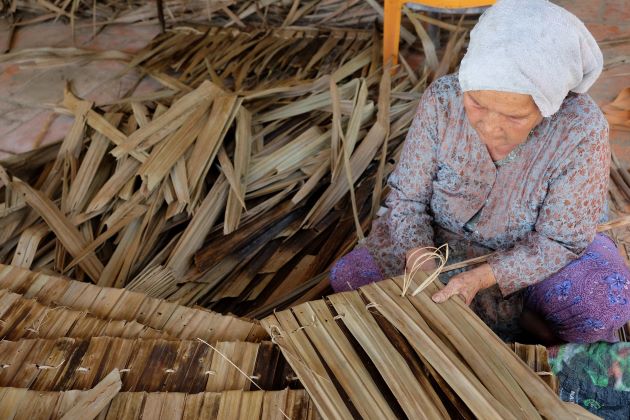 Day 4: Cai Be – Sa Dec – Tan Chau (B, L, D)
Each morning, join in an invigorating Tai Chi class on the sun deck. A sumptuous buffet breakfast is served for the perfect first exploration day in the Mekong Delta. The morning tour takes you to Cai Be to see some boat to boat trading of local goods such as fruits and agricultural products. The guide will explain the particularities of this long-lasting trading culture. Each boat has a special marker that lets buyers know what goods it is selling.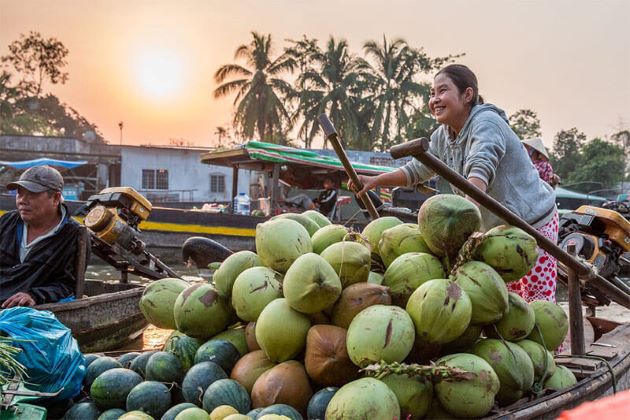 Go on-shore to visit a workshop and learn how rice paste, rice paper, rice cookies, and rice wine is manufactured. Cai Be and its surrounding areas are covered with palm trees and hence the region is also famous for the production of coconut candies. With our local boat, you can continue to explore the lush and green canal network and observe the farmers working in the fields. Back onboard lunch is served. You can enjoy time for yourself then to either enjoy a true Vietnamese coffee at the bar or simply watch the life on the riverbanks floating by.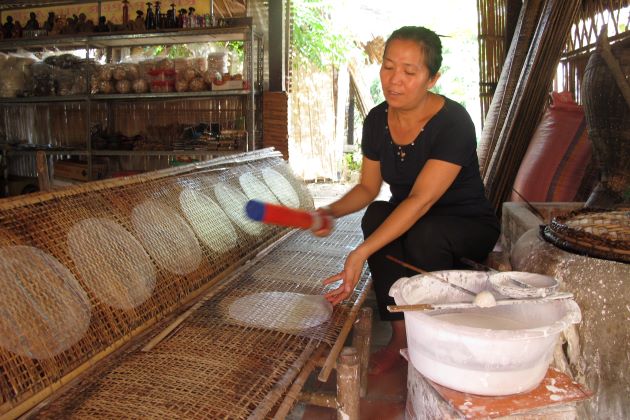 In the afternoon, travel to Sa Dec and embark on a local boat and head to Binh Thanh Island which is one of the largest islands in the vast stream of the Mekong. Local people have settled here and grow water hyacinths for a living. By wandering through the village, get a deep understanding of the native life and see the whole process of mat making. You can try the hands-on experience of weaving by yourself with the help of the locals. Next, meet also an elderly local couple who shares their story on this island. They are happy to engage in a conversation with you.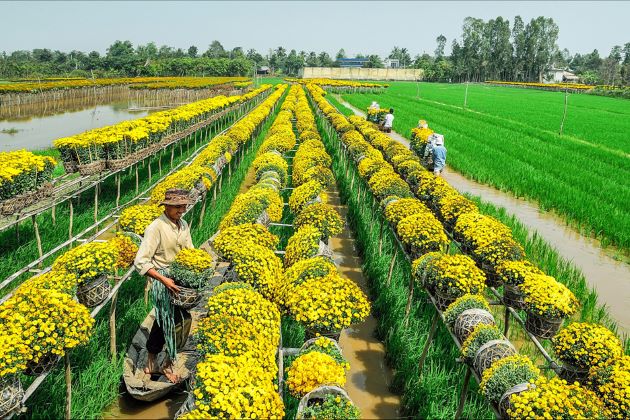 Back on board, you may like to pamper yourself with a spa treatment or take a dip into the pool on the sun deck. The expert guide offers a presentation on the "Life on the Mekong Delta" as the ship continues sailing to Tan Chau – near the border to Cambodia. After dinner, you can join in the cinema session (every night) showing selected classic movies.
Day 5: Tan Chau – Border Crossing – Phnom Penh (B, L, D)
Welcome to the fish sanctuary of Vietnam. After breakfast, visit Tan Chau, a pleasant, slow-paced town with the appearances of Chinese, Kinh and Khmer communities. Once on-shore, hop on the traditional vehicle "xeloi" to explore Tan Chau to see all the workshops and traditional houses. Get to feel the laid-back vibes of this place. Then stop at a local market nearby where you can interact with the vendors to practice your bargaining skills. Next, board a local boat to reach floating houses and floating fish farms to get a deep insight into how fish farming works.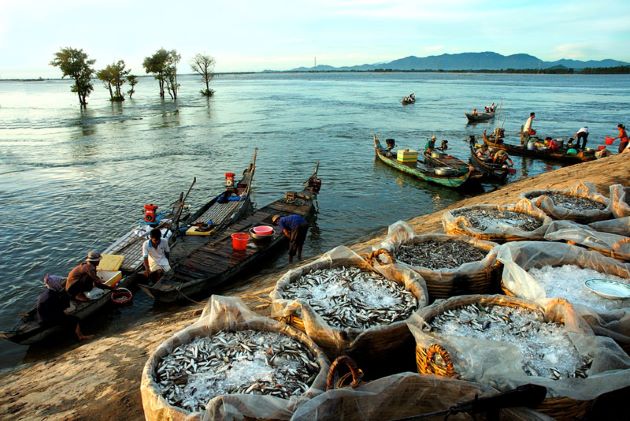 Back on board and head towards the Vietnamese-Cambodian border. Get ready for a fascinating and leisurely cruise through the deep Cambodian countryside towards Phnom Penh. The whole afternoon is at your own arrangements for massages, relaxation on the sunbeds, and private balcony kick-backs.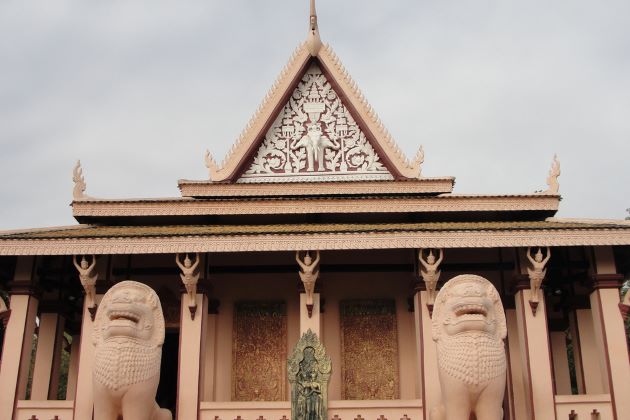 A culinary class is offered in the afternoon to sharpen your knowledge and skills on the local cuisine. Dinner is served before arriving at the capital of Cambodia. When the boat docks at the pier of Phnom Penh, you are free to explore this capital by yourself. Overnight in Phnom Penh
Day 6: Phnom Penh City Tour (B)
After breakfast, start with a full sight-seeing tour right after breakfast. By bus, visit the Killing Fields outside of the city and after, the centrally located prison"S21″ displaying the dark chapter of Khmer history when the Khmer Rouge ruled this land by terror and suppression. Enjoy lunch at a fine restaurant in town. Your exploration of Phnom Penh continues on the fascinating cultural heritage of Phnom Penh. In the afternoon, visit the golden edifice of the Royal Palace together with Silver Pagoda and the exceptional Khmer crafts at the Cambodian National Museum. Take a cyclo ride back to the ship through the vibrant streets of downtown Phnom Penh.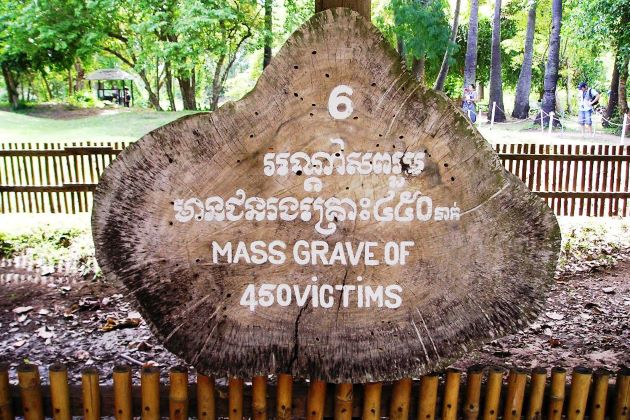 Take some rest before your captivating evening activities start. Move to the lounge which is set up for a lecture about Cambodian modern history, held by a professor of the Royal University of Phnom Penh. Definitely among the highlights of this cruise receiving knowledge first hand as our lecturer has studied the subject extensively and personally. After that, the dinner is accompanied with an Apsara dance performance of brilliance and richness along with the soothing sounds of Khmer traditional music. Later, enjoy your supper with wine, the skyline of Phnom Penh, and dreaming Tonle River. Overnight in Phnom Penh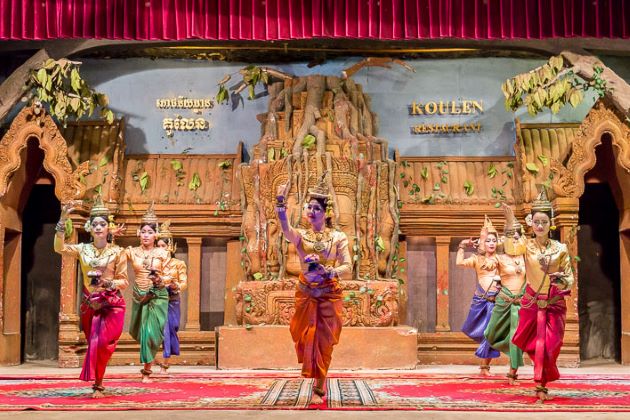 Day 7: Phnom Penh – Kampong Chhnang (B, L, D)
Before the sun peeks over the horizon, the cruiser sets sail towards Kampong Tralach on the Tonle River – an amazingly narrow river. After breakfast, reach the shore by boat then visit "Green School" which is partly supported by Heritage Line. Then see all the river life by a local ox cart ride. Return to the ship and enjoy the show of a variety of traditional Khmer fashion. Lunch is served afterward.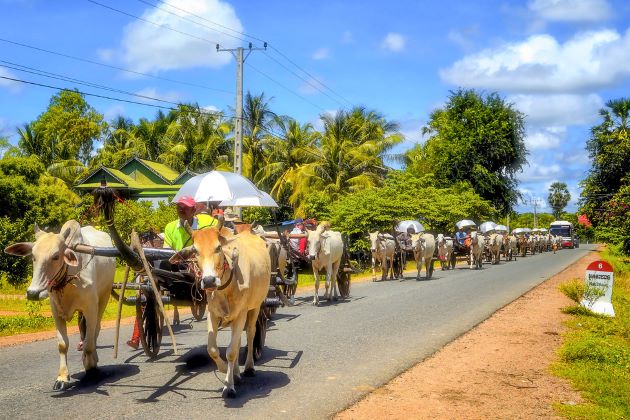 In the afternoon, the ship cruises along Tonle River towards Kampong Chhnang which is the most fascinating cruising spot in Cambodia. Everything is on sticks and balanced on water-rich soil. Back on land in Kampong Chhnang, take minibusses to a rural village nearby for a walking tour. The guides introduce you to the village specialties – Khmer style pottery and the making of palm sugar. Before return to the boat, explore the floating villages and wetlands of the region. Relax back on board until dinner is served. The boat moors mid-river in the Tonle area.
Day 8: Tonle River – Kampong Cham (B, L, D)
In the early morning, depart from the lower Tonle River towards the Mekong passing their confluence at Phnom Penh. Arrive at the island of Koh Oknha Tey. This spot in the middle of the Mekong owns its fame for the manufacturing of high-class silk products. By tuk-tuk, explore the island with its workshops and learn how silk is processed from its source, provided by little silkworms, to a final top quality product made of original Cambodian silk. Afterward, a Monks' blessing ceremony on board delivers spirits and wishes for our health and prosperity for all.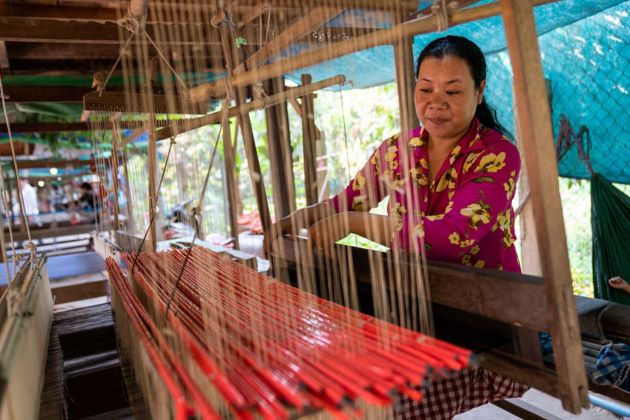 After lunch, head to small Angkor Ban village which is famous for its rustic community with beautiful and traditional houses. It feels like being transported back a hundred years ago into an era unaffected by modernity. Villagers are characterized by their unbridled warmth. Afterward, it's time for some fun at a cocktail party on the riverbank. Overnight on the cruise ship at the riverbank of Kampong Cham.
Day 9: Kampong Cham (Mekong) (B, L, D)
After breakfast by bus, visit the enchanting pre-Angkorian temple of Wat Hanchey, built in the 7th century. It sits on a hilltop on the shore with a breathtaking panoramic view of the Mekong River. Get back to the ship for relaxation and lunch In the afternoon, head to the tiny, colorful monastery of Wat Nokor where you can engage in light banter with monks living in the area. Besides, you can see a bamboo bridge connecting the mainland and the island. Local communities re-build the bridge every year when the water levels drop.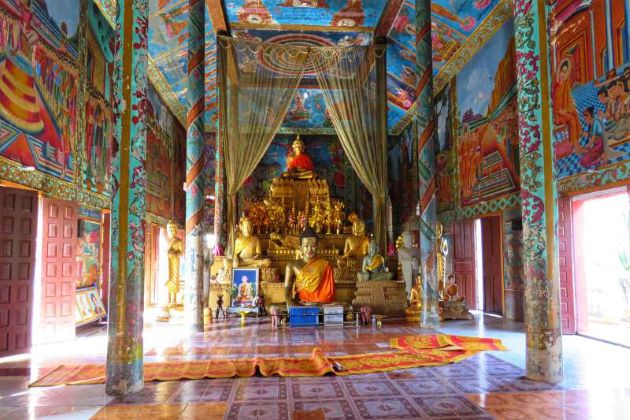 Continue your journey to visit a local school to know more about education for the young Cambodian generations (NGO project). You can watch them show their skills in music and art along with smiles upon your applause. In the late afternoon, you will be invited to a farewell event with dances and music before dinner. Overnight on the cruise ship at the riverbank of Kampong Cham.
Day 10: Kampong Cham – Siem Reap (B)
After breakfast, disembark the ship for a transfer to Siem Reap. The transfer takes about 4.5 hours. Snacks are provided during the trip. You will arrive in Siem Reap in the early afternoon.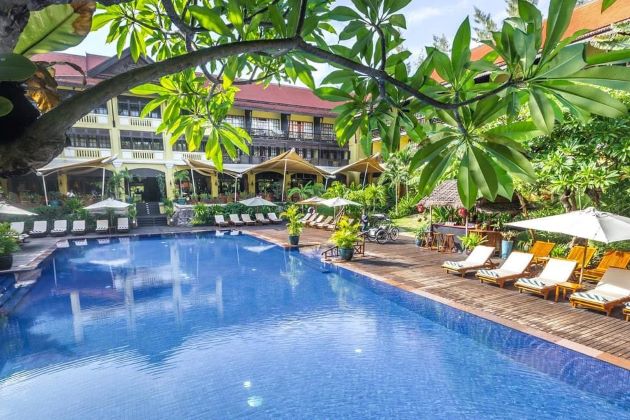 Upon your arrival at the drop point of cruise at Victoria Angkor Resort & Spa, welcome by our local guide and driver who will transfer you to the selected hotel for check-in and relax. Tonight, your first welcome dinner at Kannel Restaurant followed by welcome cold towel & glass of Kannel signature drinks also snacks. Overnight in Siem Reap
Siem Reap Itinerary 2 Days
Day 11: Siem Reap – Angkor Complex (B)
The second day of your journey is also filled with color by enjoying the early morning sunrise over the Angkor' five towers, which would give you a chance to live to the fullest. After back to hotel for having breakfast, then begin the tour today to head off to enter the South Gate of Angkor Thom Temple and marvel the wonders of Bayon temple, the terrace of Elephants and Terrace of Leper King, and Ta Prohm temple. In the afternoon, visit the famous Angkor Wat, built for King Suryavarman II in the early 12th century as his state temple and capital city. Overnight in Siem Reap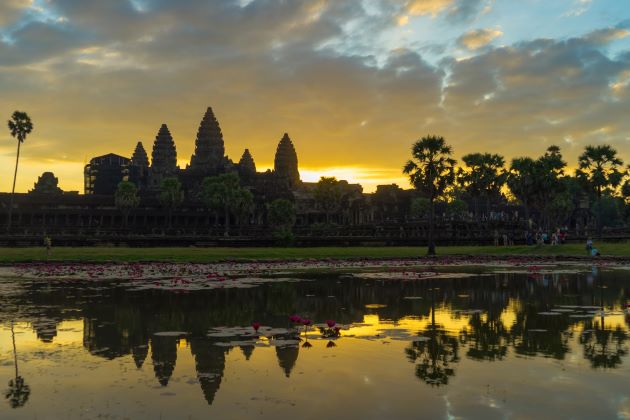 Day 12: Siem Reap – Beng Mealea & Banteay Srei – Phare Circus (B)
Breakfast at hotel, continue by the trip to see more of the surrounding temples, return in the direction of Siem Reap, stop to explore another of the lesser-visited temples – Beng Mealea, similar in size to the better known Angkor Wat but owning more mysteries.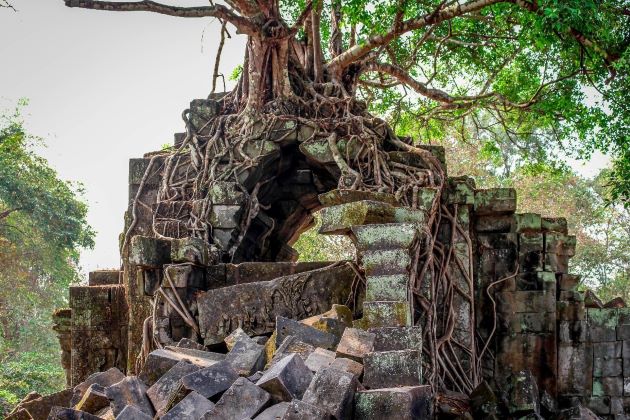 In the afternoon, visit the beautiful village to visit the pink sandstone temple of Banteay Srei, founded in 967. Banteay Srei Temple, considered as the jewel of the Classical Khmer Arts. Cleared from the creeper plants and trees that invaded it, Banteay Srei – which means "the Citadel of Women". On the way back, have a short stop at a traditional village for a demo about the collect and taste of the sugar palm juice and the making of the palm sugar (October to April for the collecting season).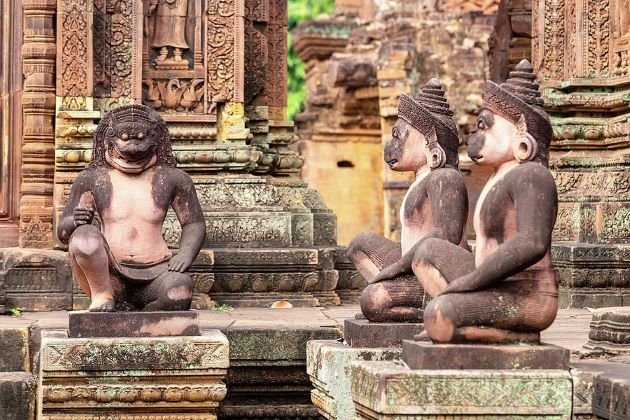 Tonight, you will be amazed by the Phare Cambodia Circus; a troupe of young Cambodians offering a spectacular and exciting blend of traditional and modern theatre, music, dance, acrobatics, juggling and contortion beautifully choreographed and performed as a story about Cambodian life and society. Overnight in Siem Reap.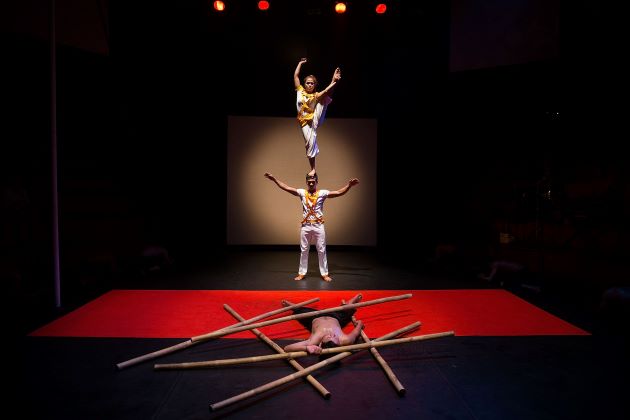 Central & North Vietnam Itinerary in 10 Days
Day 13: Siem Reap – Fly to Danang – Hoi An (B)
Breakfast at hotel and prepare for check out from hotel to being the trip and head off to the airport. On arrival in Danang, you will pick up by our local guide and diver transfer to Hoi An. Check-in the hotel and relax. Feel free at leisure to explore the ancient town. Overnight in Hoi An.
Day 14: Hoi An (B)
Today, feel free at your leisure or consider our option below. Overnight in Hoi An
Option for Bana Hill Tour
 Inclusion: car, guide, entrance fee, cable car, lunch, water.
After breakfast at the hotel, drive to Sun World Ba Na Hills and have a full day entertain in Ba Na Hills. Firstly, take the cable car up to the mountains, enjoy the specular of Truong Son Mountains and most especially, the Golden Bridge – the new symbol of Danang thanks to its unique design and magical settings.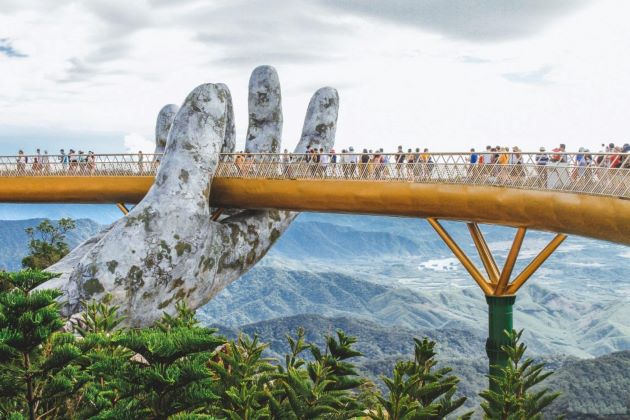 Next, you are free to wander around the Le Jardin Garden with various flowers or behold the architecture buildings at French village. Buffet lunch is included. In the afternoon, we take the cable car down and transfer to Hoi An. Check-in your hotel and spend the night in Hoi An.
Day 15: Hoi An – Farming & Fishing Tour (B, L)
This morning, reach a local farming village to join the daily work life of farmers such as hoeing, watering, riding water buffalo. After that, board the Hoi An Eco-tour boat and cruise to Cua Dai Sea.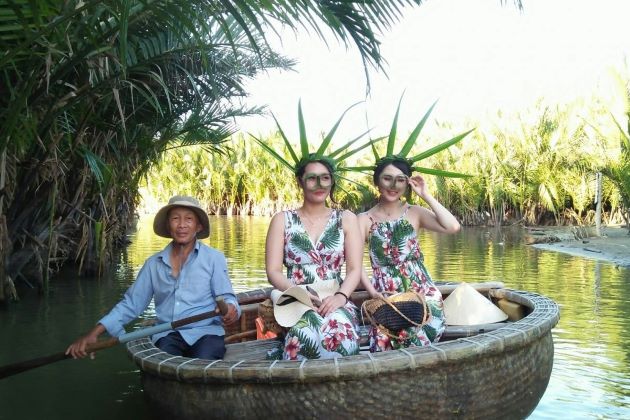 You can also learn and try our hand at local traditional fishing techniques using round and cast nets, learn to paddle the strange and unique Vietnamese bamboo basket boats. Explore the now tranquil coconut-palm flanked waterways of a past war and hear of the extreme conditions endured by soldiers on both sides. You will also have fun by catching beautiful purple crabs on the bamboo basket boat. After the visit a local water coconut palm village, take a walk around the village and have some tea and snack with local talks… Back on-board our Hoi An Eco-tour boat, enjoy our lunch and a cold beer or soft drink on boat, then back to resort.  Leisure at this afternoon. Overnight at hotel in Hoi An.
Day 16: Hoi An Walking Tour & Cooking Class (B, L)
In the morning, participate in a walking tour around Hoi An ancient town – the World Heritage Site. The destination includes the Japanese Covered Bridge, Pottery Museum, Tan Ky old house, and Cantonese congregation.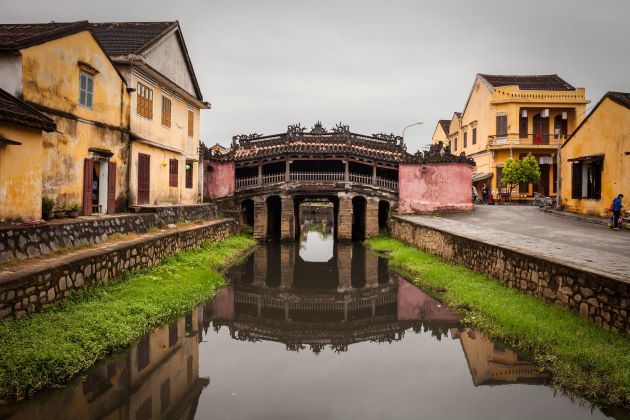 After lunch, gain at the seat of a fantastic Cooking class at Red Bridge restaurant with the first activity to visit Hoi An colorful market to purchase some ingredients which will be used in the upcoming cooking lesson. In 2 hours of the cooking lesson, each dish is demonstrated first by the chef then you will prepare the same dish yourselves. The class also includes an introduction to the interesting Vietnamese food carving (plate decoration). After the lesson, sit down and eat exactly what you have cooked. Overnight in Hoi An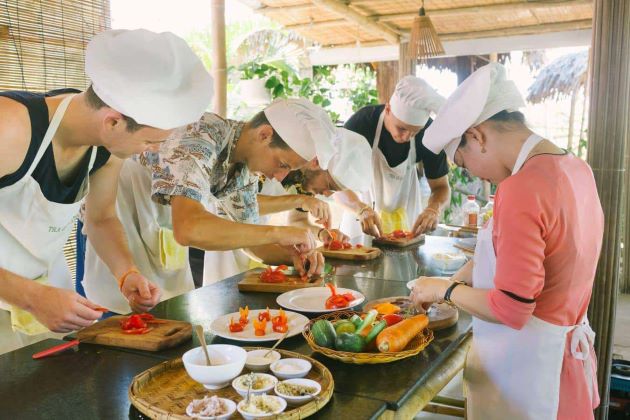 Day 17: Hoi An – Drive to Hue (B, L)
After breakfast at the hotel, travel by vehicle to Hue along scenic highway 1A. Along the way, stop to contemplate the stunning views North, to Lang Co Beach and South to Danang city. On arrival in Danang, visit at Cham Museum – the houses of the most complete collection if Cham Artifacts anywhere in the world and the Marble Mountain – the five elements of the Universe (water, wood, air, fire, and earth).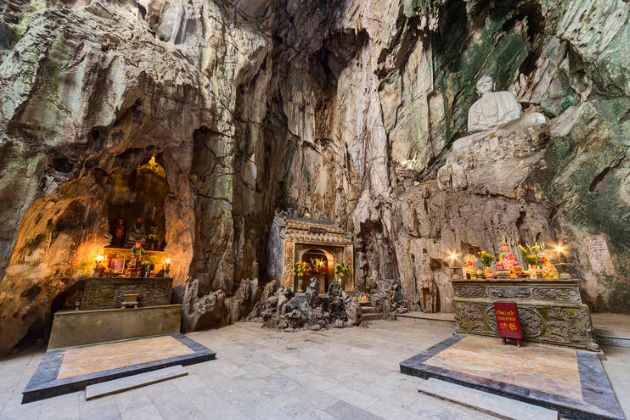 On arrival in Hue in the afternoon, board the Dragon Boat on the romantic Perfume River heading out for the countryside. Used to the Vietnamese capital in the past, Hue has a rich mix of ancient tombs of emperors as well as gorgeous palaces. Visit the stunning Thien Mu Pagoda considered the symbol of Buddhism in Hue. Behold the sunset on Perfume river before returning to the hotel for overnight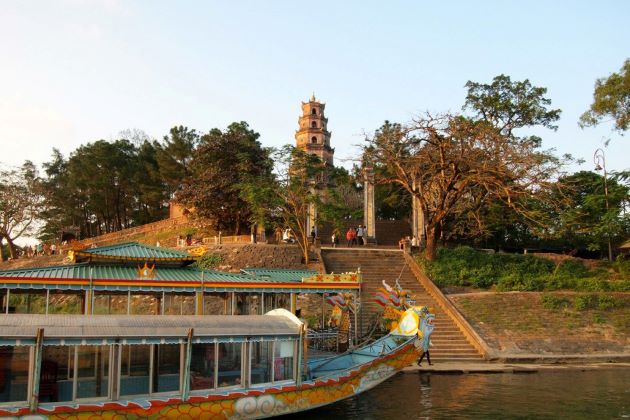 Day 18: Hue City tour – Fly to Hanoi (B, L)
After breakfast, the local guide and driver will pick you up and transfer you to visit the most sightseeing places here: visit the Imperial Citadel of the last Feudal dynasty ruling Vietnam in the 19th century together with a lot of impressive palaces. Have lunch before visiting King Khai Dinh's Tomb and King Tu Duc's Tomb.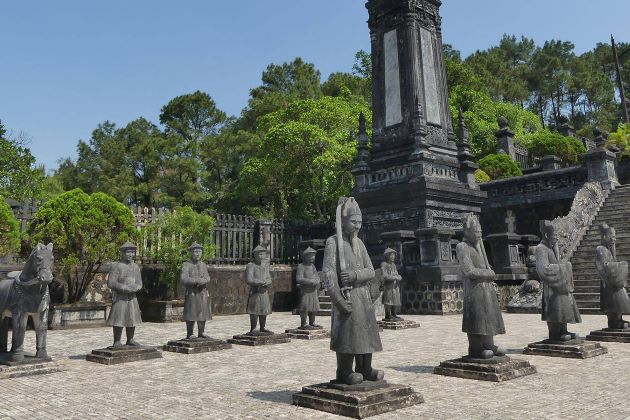 Finish your day in Hue with a visit to Dong Ba Market to see the daily life of local people before transferring to the airport for a flight to Hanoi. Welcome upon arrival by local tour guide and driver then transfer to the hotel. Overnight in Hanoi.
Day 19: Hanoi City Tour – Tonkin Show (B, L)
Today, venture out to explore Hanoi. Firstly, drive to the Ho Chi Minh Complex to visit Ho Chi Minh's mausoleum, his former stilt-house, the Presidential Palace, the Ho Chi Minh Museum and One Pillar Pagoda. Later, explore the Temple of Literature, which originally built as a temple to Confucius. After lunch, travel to Hanoi Museum of Ethnology to have a closer look at the local lifestyle, tradition, and cultures of Vietnam's 54 Ethnic minority peoples or the infamous Hoa Lo Prison Museum.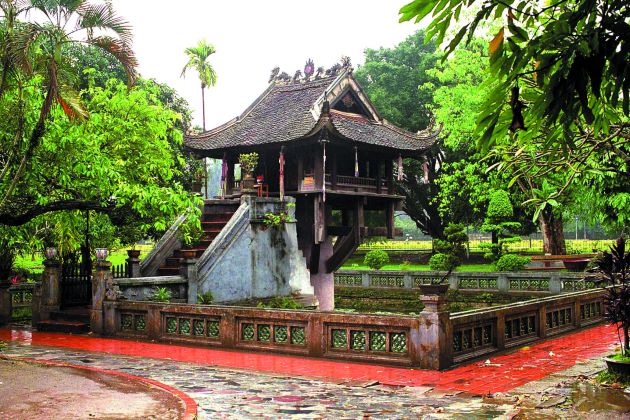 Next, pass by the hidden Tran Phu train track and enjoy a cup of coffee here to feel the steady lifestyle of local people here which differ with the bustle streets outside. Later this afternoon, join in a 1-hour cyclo tour of the French-inspired "old quarter". Then feel free for shopping in the old quarter from local markets, street vendors to designer boutique stores and interesting contemporary art galleries. Then transfer to outskirt for Tonkin show.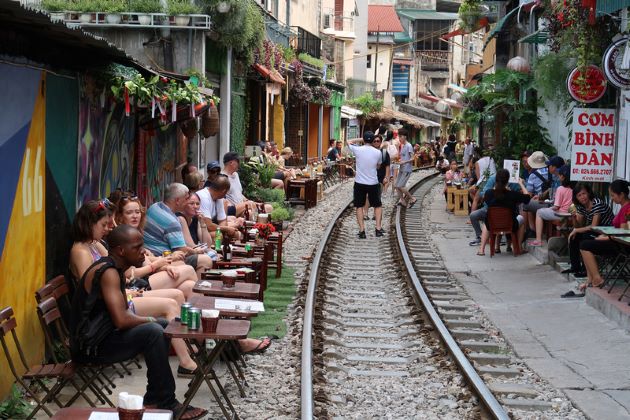 FYI: Tonkin Show: Daily operated (Tuesday, Thursday, Saturday), The Quintessence of Tonkin Show is one of the most interesting shows in Hanoi at this stage. The Show lasts from 7.30 PM to 8.30 PM and draws inspiration from the spiritual history of the nearby Thay Pagoda telling the story of the pagoda's founding by monk Tu Dao Hanh, and the close union between the monarchy and religion. Years of preparation, various artists, an interactive stage, state-of-the-art technology, and a stunning setting, this show is really worth your while in your vacation. Buffet dinner is included before the show.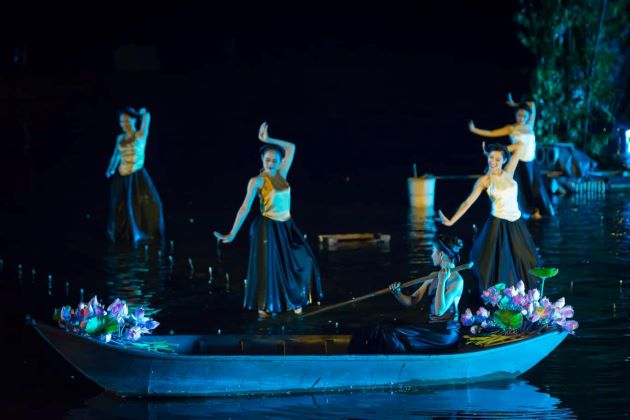 Other options for your Hanoi City Tour:
Vietnamese Women's Museum – one of the most interesting museums in Hanoi and voted among '10 Must-see sites in Hanoi' by the Tripadvisor.
The History, Fine Arts and Army Museum – large, but many interesting exhibits
The Hanoi Citadel – in the process of being released by the Army: two buildings now accessible
The Dong Xuan, Hang Be or Hom markets – large, crowded, but very Vietnamese
Joseph's Cathedral – European neo-Gothic (plenty of up-market shops and restaurants nearby)
Day 20: Hanoi – Halong Bay, Overnight on Cruise (B, L, D)
Today, set off to the 'Jewel in the Crown of Vietnam' – Halong Bay, one of 'The New 7 Wonders of Nature'. Before lunch, board our boat and then set sail, cruising amongst thousands of extraordinary limestone Karst formations. On arrival at Hon Gai International Harbor, check-in the cruise and enjoy a set menu lunch served in the outdoor dining room (depending on the weather) while cruising into magnificent Bai Tu Long Bay and admire the fascinating limestone karsts on the way.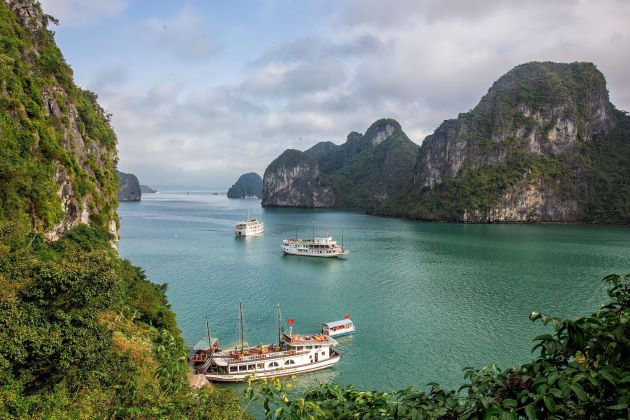 In the mid-afternoon, cruise to Vung Dang – Cong Dam for swimming or relaxing on a white sandy beach, kayaking through the mystery Karst Mountains in the Vung Dang area. Return to the Cruise ship to refresh yourself in Mineral Seawater Pool, Fitness Room or the Spa and Massage Services before dinner. Dinner and overnight at Tra San area.
Day 21: Halong Bay – Hanoi – Street Food (B, L, D)  
Wake up early in the morning and enjoy a Tai Chi demonstration on the sun-deck and take in the morning view of the Bay's landscape then enjoy breakfast. Later, reach the Cong Do area to explore the mysterious Thien Canh Son Cave.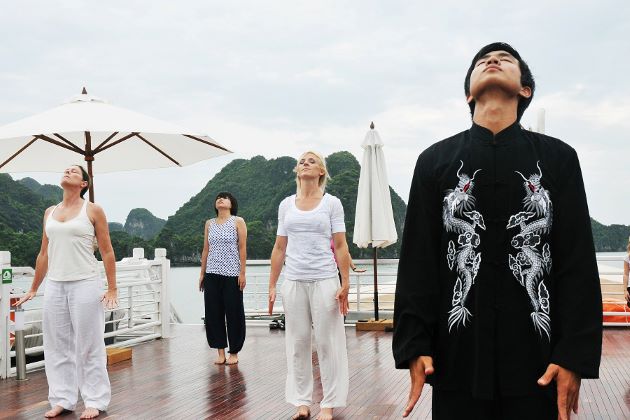 Check out your cabin at 10 AM and enjoy a buffet while cruising towards the harbor where our car is waiting and take you back to Hanoi. Arrive in Hanoi in the late afternoon, drop off at hotel where your guide is ready to assist you to have a street food tour.  Walking down to the Hang Be street for visiting the local market, you will be guided by all the ingredients as well as inhabit of local people here.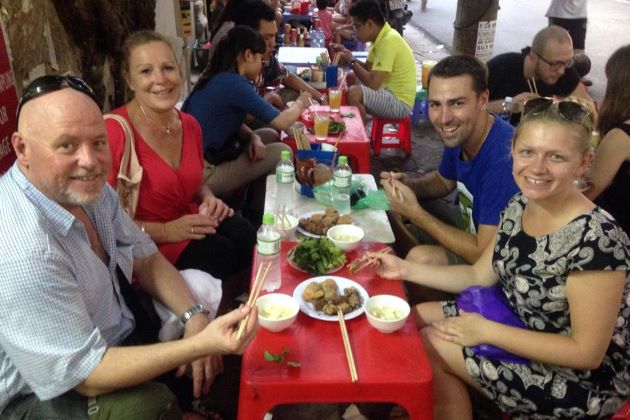 Afterward, continue your trip to taste some kinds of local foods such as tofu, oil-fried pastry, rice pancake, sweet soup, pillow cake, stuff pancake with pork, and draught beer… and one of the best surprised is a stop at Dong Xuan wholesales market where many kinds of ingredients are sold. Last but not least is your happy ending at a hidden coffee in the Old Quarters enjoy its famous 'egg coffee' in pleasant surroundings overlooking Hoan Kiem Lake.
Day 22: Hanoi – Ninh Binh (B, L)  
Pick up at hotel after breakfast then transfer to Ninh Binh, visit Hoa Lu Ancient Capital dated back from the 10th and 11th centuries. This land is the immense rice fields broken by a lot of limestone mountains. It features several dozen monuments, including King Dinh and King Le Temple and Tombs… Then stop at a local restaurant for lunch.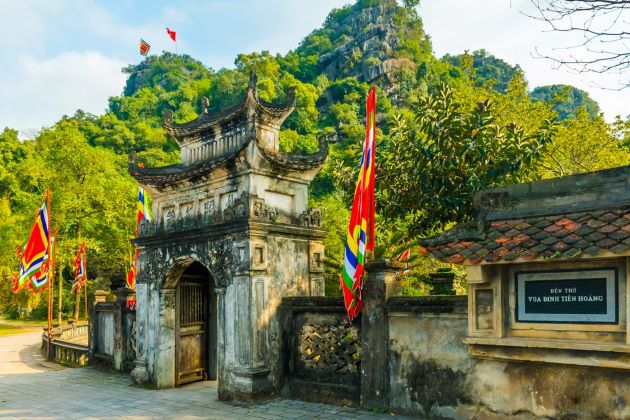 In the afternoon, take a pleasant boat rowing in Hoang Long River to visit Trang An Eco-Tourism complex. The complex is surrounded by picturesque landscape with thousands of hectares with more than 100 caves which can be explored by boat. The park is also the home to about 600 kinds of floras and more than 200 kinds of faunas. It is also a gathering of 31 valleys, 48 cross-water caves and we will visit 3 to 6 of them. Sitting on the rowing boat, feel the fresh air by your nose and clean and clear water with underwater grass by your hands. Experience yourselves the feeling and emotion when we are on the water caves…. In the afternoon, at around 4 PM, you will be transferred back to Hanoi for overnight accommodation.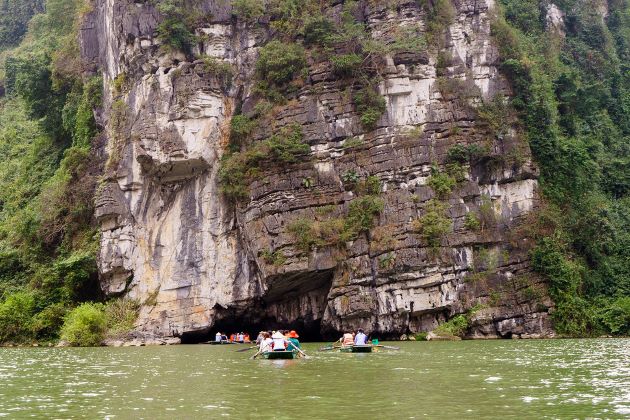 Thailand Itinerary in 6 Days
Day 23: Hanoi – Fly to Chiangmai (B)  
After breakfast, you will be free until your driver arrives to take you to Noi Bai airport for your departure flight to Chiangmai. On arrival at Chiang Mai airport, you will be met and transferred to the hotel. Check-in hotel and free time at leisure. Overnight in Chiang Mai.
Day 24: Chiangmai Temples (B)
The morning will be mainly devoted to visiting the old city with stops at Wat Chaing Man Monastery, the ancient wall, the moat and the door of the old city. You will see more beautiful temples in Chiang Mai: Wat Prah Singh Temple, Wat Phan Tao temple and the temple Wat Chedi Luang.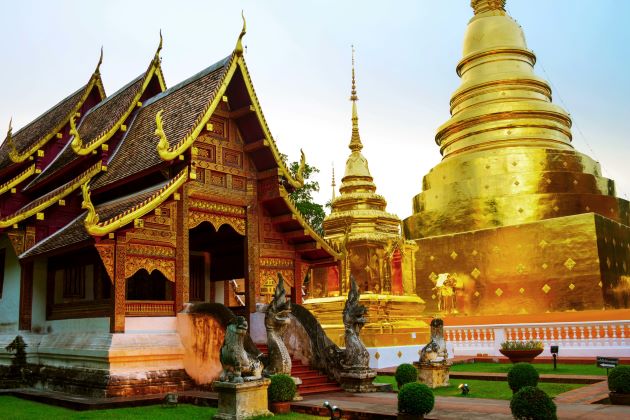 You will also visit Wat Chiang Man, the oldest temple in Chiang Mai, which houses two important and venerated Buddha images: Phra Sila (marble Buddha) and Phra Satang Man (crystal Buddha). Then transfer to the Tribal Museum outside the city, you discover the culture of the 10 major hill tribes in the province: Karen, Hmong, Yao, Akha, Lahu, Mlabri, H'tin, Lua, Khmu and Lisu.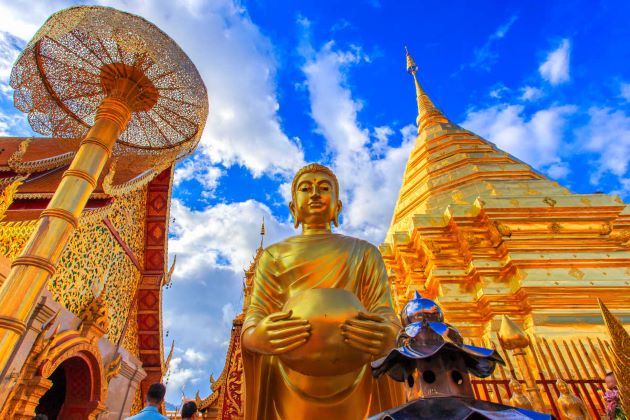 In the afternoon, visit Wat Phra That Doi Suthep, the most famous pagoda Chiang Mai. It is reached after climbing a staircase of 290 steps with ramps represents two giant nagas. From the square, you can admire the panorama of the whole Chiang Mai Valley. Then you will stroll along small streets lined with traditional houses, where you will ride a pedicab. From there, you will go to the big central market of Warorot. Then visit craft villages: lacquer factories, silk weaving, and manufacture of umbrellas, wood carvings, and goldsmith work. Enjoy your time at night market on your own
Day 25: Chiangmai – Elephant Sanctuary – Fly to Bangkok (B, L)
In the morning, travel to North of Chiang Mai through rolling hills, forest, and local farming areas. On arrival at Kanta Elephant Sanctuary, the first activity is to prepare fruits for the elephants then feed, roam, and play with elephants.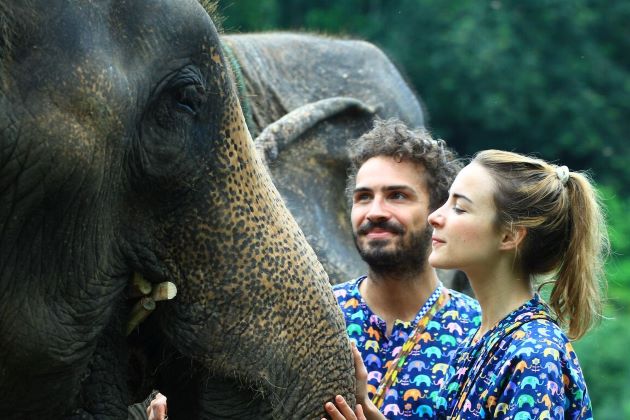 After lunch, prepare and cook sticky rice mixed with herbal for our elephants. You will also learn about interesting knowledge about the healthcare and behaviors of Elephants. Next, enjoy more time roaming, feeding and take the elephant walk to the river and for bathing. Feed them sticky rice balls, fruits to the elephants.  This part is focused on taking your time to observe and allowing the elephants to enjoy each moment of their freedom, scratching, rubbing, throwing dirt, enjoy the view and take lots of pictures. Next, enjoy tea and coffee break.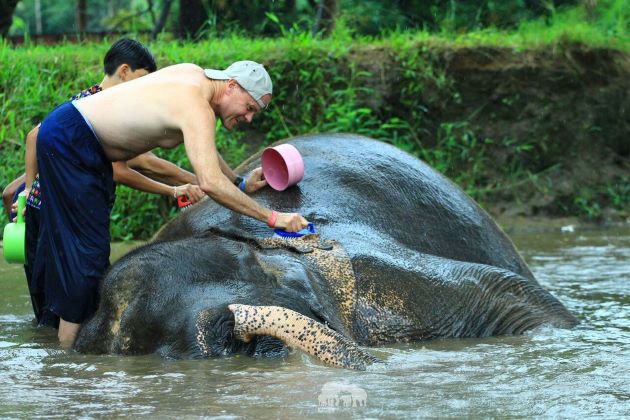 Leave Kanta Elephant Sanctuary and drive back to Chiang Mai. Continue to the airport for flight to Bangkok. On Arrival in Bangkok, meet our guide pick up transfer to hotel free on your own after check-in. Overnight at hotel in Bangkok
Day 26: Bangkok – Ayutthaya Ancient Town by Cruise (B)
This full-day tour begins with an exploration of Thailand's ancient capital and cultural heartlands, the UNESCO World Heritage-listed city of Ayutthaya. The city was established as the royal capital in the 14th century and rapidly became the largest city in all of Asia, with grandiose temples and an impressive network of canals. Although much of the city was destroyed in 1767 when the Burmese army invaded, there is still plenty of evidence of its former grandeur.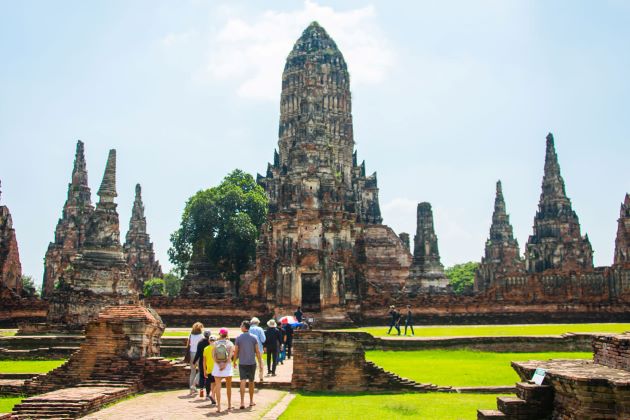 Visit the main sites, admiring their unique architectural styles and learn about the history of the former city. Wat Phra Si Sanphet,  a classic example of Ayutthaya architecture and former home to a 16-meter high, gold-covered Buddha which was melted down by the Burmese. Continue to Wat Yai Chai Mongkhon, with an impressive collection of seated Buddha Images, and Wat Mahathat where a tree has, over the course of several decades, grown around a stone carving of the Buddha's face.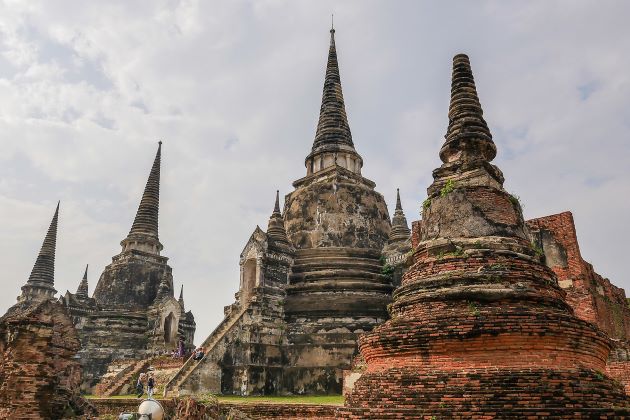 Stroll through Ayutthaya's local market and take a walk through the town's Muslim Quarter which offers the opportunity to sample an unusual local delicacy, candy floss roti. At midday begin the return boat trip from Ayutthaya to Bangkok with a one-hour drive to the banks of the Chao Phraya River. Board an air-conditioned riverboat and cruise down the river, commonly referred to as 'The River of Kings'. In about 3 hours of the journey, you will have plenty of times to behold the passing scenery of riverside life. Arrive in Bangkok in the late afternoon and transfer back to the hotel to stay overnight.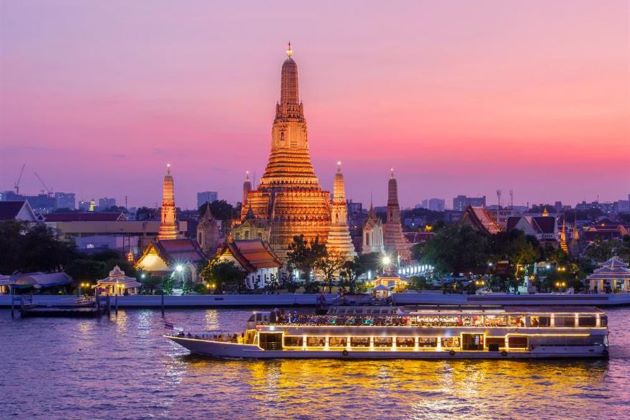 Day 27: Bangkok City Tour – Canal Tour – Street Food Tour (B, D)
Breakfast at hotel pick up transfer to visit the Grand Royal Palace dedicated to the ceremony of the Thai royal family. In the same compound is the magnificent Wat Phra Kaew, which is known for the statue of the Emerald Buddha. After visiting this complex, we continue to visit Wat Pho, a giant house of the Reclining Buddha.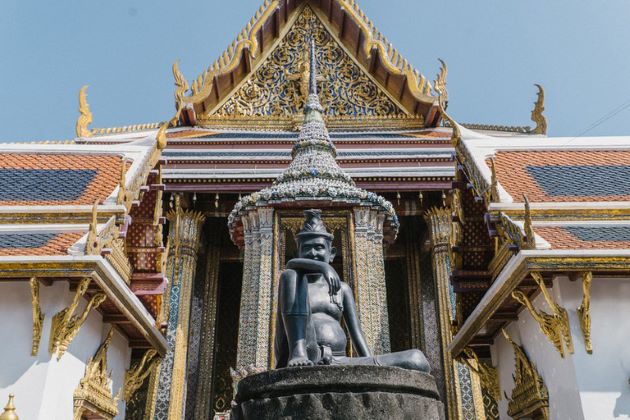 After lunch at the restaurant, a walk-in Chinatown is considered the busiest area in Bangkok and known by various specialties from countries in the region. The dishes are prepared only with the freshest ingredients of the day. Then board a long-tail boat for a trip along the Chao Phraya River and many lively inner canals of Thonburi bank offering fantastic views of the local life nearby. You will have the opportunity to snack, buy trinkets or use the toilet at stops along the way. Along the way, stop at Wat Arun, the Temple of Dawn. Next, visit the Wat Traimit which is well known as the Golden Buddha.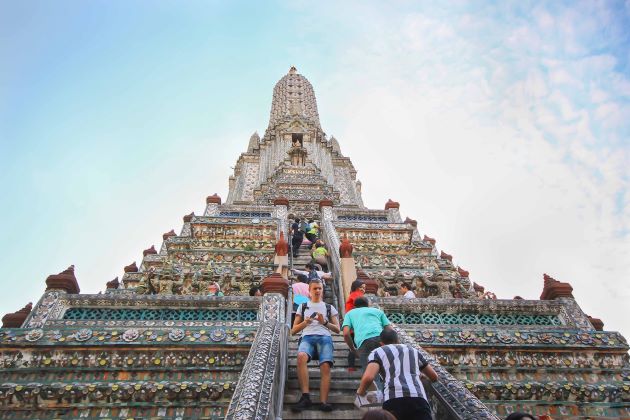 In the evening, enjoy Bangkok Best Eats Midnight Food Tour by Tuk Tuk. First, visit local famous eateries at night including Pad Thai and Northeastern Thai food. Next, try the best kept-secret Guay Tiew Kua Gai and see how it's made. Later, sip chilled beer at "Secret Bar" which is known to have the most fantastic view in Bangkok. Afterward, explore the amazing flower market and visit a magnificent temple for a unique night-time perspective. Back to the hotel free on your own. Overnight at hotel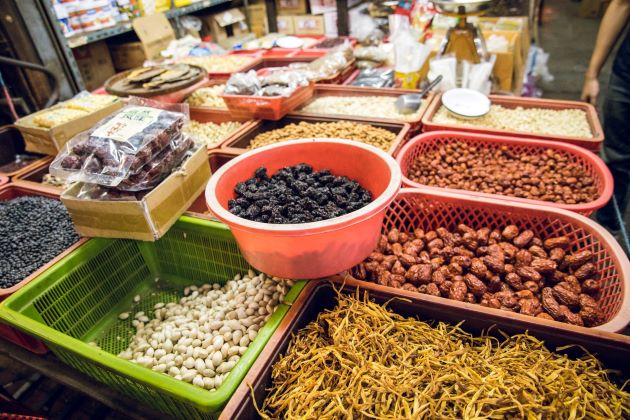 Day 28: Bangkok Departure (B)
After breakfast, you will be free until your driver arrives to take you to the airport for your departure flight. Tour ends.