Duration: 22 Days/ 21 Nights
Date: No fixed departure dates. You may go whenever you wish.
Start/ End: Hanoi/ Yangon
Tour Customizable: Definitely! Tell us about your specific requirements.
Guides: Local Guide (English Speaking Guide, Other Languages upon Request)
Transportation: Private first-class air-conditioned vehicles
Tour Categories: Indochina Tour Packages, 4 Countries – 1 Destination
Tour Route: Hanoi – Halong Bay – Ky Son – Hue – Hoi An – Saigon – Cu Chi Tunnels – Mekong Delta – Cai Be – Vinh Long – Chau Doc – Phnom Penh – Siem Reap – Angkor Wat Complex – Luang Prabang – Mandalay – Bagan – Yangon – Dala – Yangon
Brief Itinerary
VIETNAM
Day 1: Hanoi Arrival
Day 2: See the Real Hanoi
Day 3: Hanoi – Halong Bay – Overnight Cruise
Day 4: Halong Bay – Hanoi – Ky Son – Moon Garden
Day 5: Moon Garden – Afternoon flight to Hue – Cyclo & Foodie Hue Tour
Day 6: Hue Cycling to the rural area – Hoi An
Day 7: Walking Tour – Sunset Paddle & Home Dinner
Day 8: Hoi An – Fly to Saigon – Cu Chi Tunnels – Vespa Tour After Dark
Day 9: Saigon – Mekong Delta – Homestay – Mekong Lodge
Day 10: Cai Be – Vinh Long – Chau Doc
CAMBODIA
Day 11: Chau Doc – Highspeed boat to Phnom Penh
Day 12: Phnom Penh – Phnom Tamao Sanctuary
Day 13: Phnom Penh – Fly to Siem Reap – Angkor Wat at Sunset
Day 14: Siem Reap: Angkor Thom, Bayon, Ta Prohm
LAOS
Day 15: Siem Reap: Banteay Srei – Afternoon flight to Luang Prabang – Sunset at Mount Phousi
Day 16: Luang Prabang City Tour
MYANMAR
Day 17: Luang Prabang – Fly to Bangkok – Connect flight to Mandalay – City Tour
Day 18: Mandalay – Amarapura, Ava & Sagaing
Day 19: Mandalay – Fly to Bagan – Temple Tour
Day 20: Electric Bike around Bagan
Day 21: Bagan – Fly to Yangon – Circular Train
Day 22: Yangon – Dala – The Other side of Yangon – Departure
Vietnam Itinerary 10 Days
Day 1: Hanoi Arrival (D)
Upon arriving at Noi Bai International Airport, your guide and driver wait with the welcome-board, then transfer you to the hotel. Overnight in Hanoi.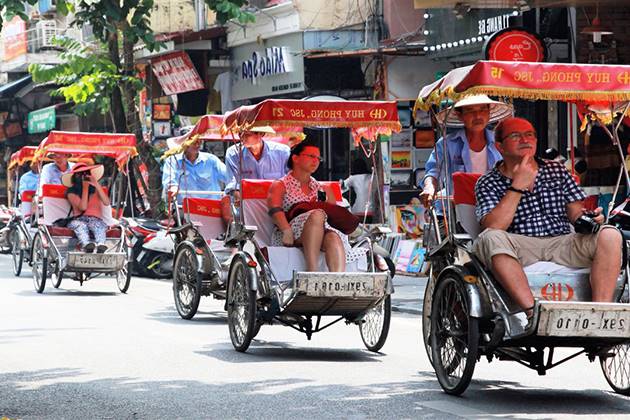 Day 2: See the Real Hanoi (B, L, D)
Pick up at your hotel and start the trip with the centuries-old Buoi Market. Buoi Market is one of a few markets in Hanoi retaining its tradition of special market days 6 times per month. There, you can find specialties of traditional villages, different kinds of farming tools, plants from famous neighboring villages and various kinds of fruit trees, flowers and ornamental.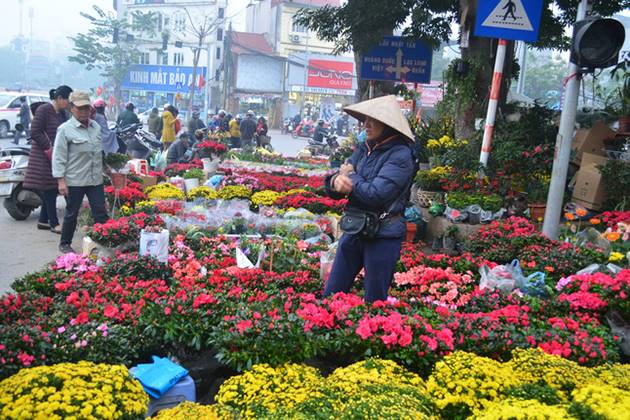 Continue with Hoang Hoa Tham flower market which begins from Buoi market and stretches to Hoang Hoa Tham Street. The street is always busy and lively with hundreds of flower and bonsai shops as well as vendors set up on the pavement. Compared to other flower markets, it is more special as it also sells seeds, planters, tools, soil, breeds, animal, and pets, etc. Lunch at a local restaurant. Photo tour stops at the corner of Dien Bien Phu and Tran Phu for railway line which runs through narrow streets and train departing passing shop fronts and traders. Return to hotel and trip ends at around 4 p.m.
Day 3: Hanoi – Halong Bay (Overnight on Cruise) (B, L, D)
After having breakfast at the hotel, you will head to Halong Bay. Arriving at Halong Bay, check-in when tasting the welcome cocktail. Then enjoy seafood lunch on the cruise going through the calm water. Take a sightseeing tour around Bai Tu Long Bay and various islets and caves. Then visit Vung Vieng floating fishing village to get a glimpse of the life of fishermen.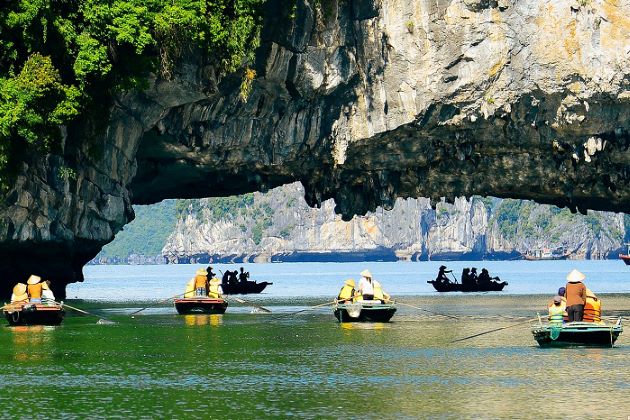 Moreover, there are many other activities you can do such as kayaking, sunbathing, swimming, etc. There are also some available services for relaxing on the cruise like massage and sauna. After sunset, have dinner and then overnight on boat.
Day 4: Halong Bay – Hanoi – Ky Son Village – Moon Garden (B, L, D)
Wake up in the early morning for joining a Taichi session on the sun deck. After enjoying a delicious breakfast, hop on a tour passing through various islets, stop at Sung Sot Cave to admire the fantastic natural structure. Check-out at 10:00, enjoy an early lunch before return to the wharf.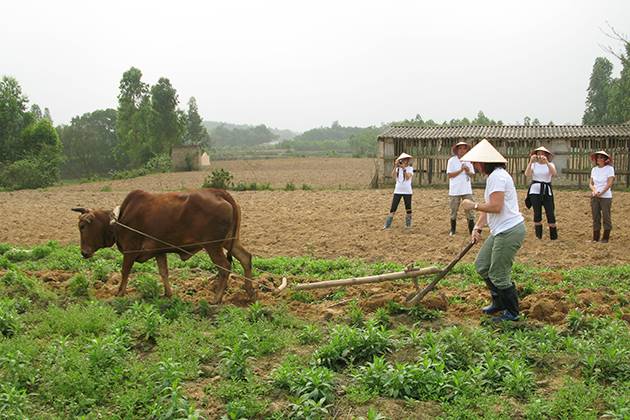 Coach transfer you to Hanoi. On the way heading to Ky Son, catch the sights of Hanoi Streets and heavy traffic. Arrive in Moon Garden Homestay in the afternoon. Have a traditional and refreshing steam bath with fragrant herbs including lemongrass, pomelo leaves, and holy basil leaves. Before having dinner with traditional Vietnamese food, witness the evening Buddha worship. Then, enjoy foot bath in warm water with some special medicinal herbs for a deeper sleep. Overnight in Moon Garden.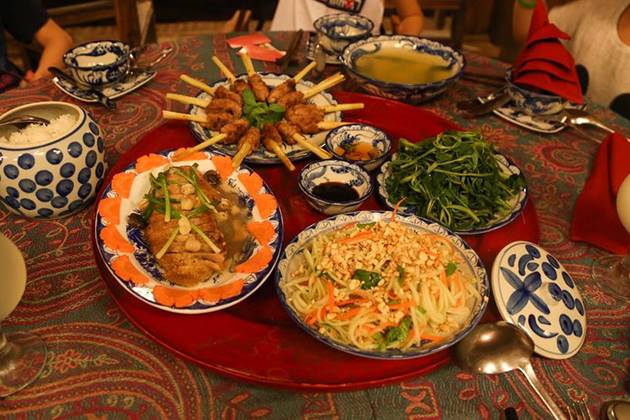 Day 5: Moon Garden – Afternoon Flight to Hue – Cyclo & Foodie Hue Tour (B, L)
After Yijinjing traditional exercises in the early morning, have breakfast. Then hop on a short ride through Ky Son, Tam Son, Van Minh, and Cham farming communities. Get hands-on experiences farming, seeding,… If you want more, heading to Duong Lam ancient village to visit Mia Pagoda, Mong Phu Communal House. When you go back, join in a cooking class and then have lunch. Before hop on the coach transferring to the airport, enjoy a hand spa for relaxing.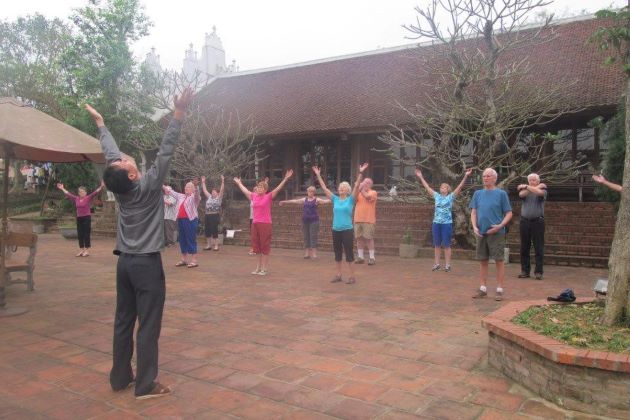 Flight to Hue in the afternoon. Arrived in Hue. Start a cyclo tour around this beautiful city. Then, explore the special Hue cuisine in a local restaurant. Overnight in Hue.
Day 6: Hue Cycling Tour – Hoi An (B, L)
After breakfast, hop on a cycling tour to the rural area with the first place is Thanh Toan Bridge. Then, pedal through several small villages full of paddy fields stops for some photo shots or chat with locals to get a glimpse of their daily life.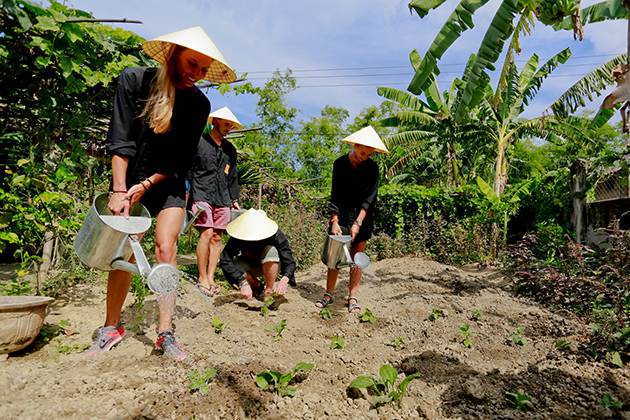 Visit Thanh Toan Agricultural Museum to understand deeply about the agriculture of the local's life while listening to guide presenting about the history and significance. Head to market to pick up some local products such as fresh vegetables, meats, fishes and so on. Continue your trip to traditional villages of Hue trying to make Non la. Back to the city center in the afternoon.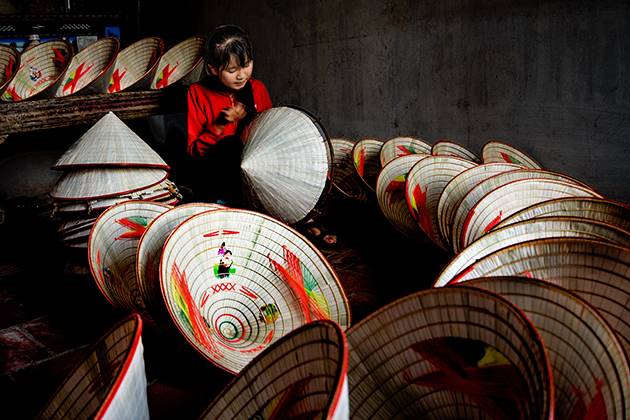 Day 7: Hoi An Walking Tour – Sunset Paddle & Home Dinner (B, L, D)
Pick up at the hotel at 2 PM, we will be taken to the pier to board a special traditional wooden racing boat and start a lovely trip on the Thu Bon River down to Cam Thanh village. You can either choose to paddle like local people or just sit down and enjoy the beauty of the river with small islets, farmers planting vegetables and fishermen in their attractive casting net.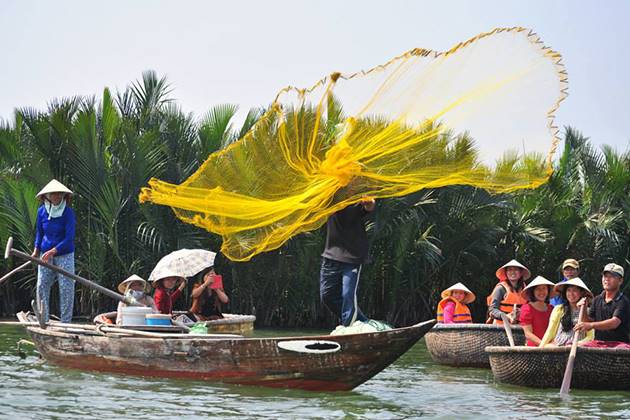 Being lost for a while in the water coconut farm, we arrive at Cam Thanh coconut and bamboo village. We then stop at a handicraft's family that specializes in making bamboo products like bamboo chairs, bamboo tables, bamboo lamps, bamboo telephones, and even bamboo bicycles. A warm dinner with a local family and their daily life stories will bring you a memorable experience that you will never forget! After dinner, say goodbye to our friendly host, we will be given a small bamboo gift before going back to our hotel for the night.
Day 8: Hoi An – Fly to Saigon – Cu Chi Tunnels – Vespa Tour After Dark (B, L, D)
After breakfast, leave Hoi An behind with a flight to Saigon. Check-in hotel, take a rest and then have lunch. In the afternoon, hop on a 70-kilometer ride from the city center through the countryside with plenty of rice paddies to stop at Cu Chi Tunnels. Here, you enjoy a short video introducing the construction of the tunnels, then explore a part that is wide enough to visit.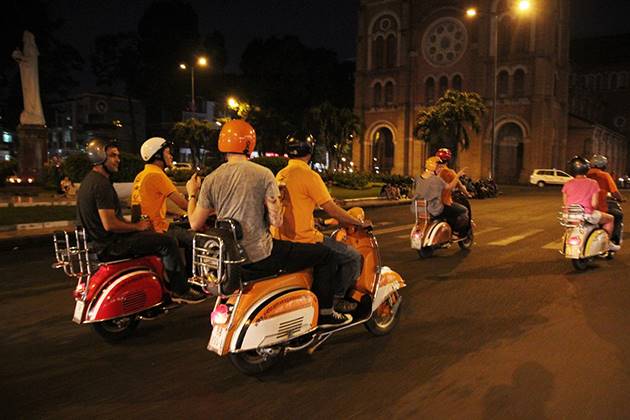 Admire many mantraps, bomb craters, and US tank's remains. Back to the city for dinner. Then hop on the back of an old-fashion Vespa to discover all highlights of Saigon through the Reunification Palace, the War Remnant Museum, the Notre Dame Cathedral and Old Post Office. Overnight in Saigon.
Day 9: Saigon – Mekong Delta – Mekong Lodge (B, L, D)
This morning, go to the south to visit Mekong Delta with exploring Cai Be Floating Market. You board for a cruise along the waterways of the mighty Mekong Delta. Stop a while to visit the floating fish farm, get a glimpse of fishermen's daily life. Have lunch in a local restaurant with typical Mekong Delta food. In the late afternoon, transfer to Mekong Lodge Homestay for experiencing the rural atmosphere of Mekong Delta. Overnight in there.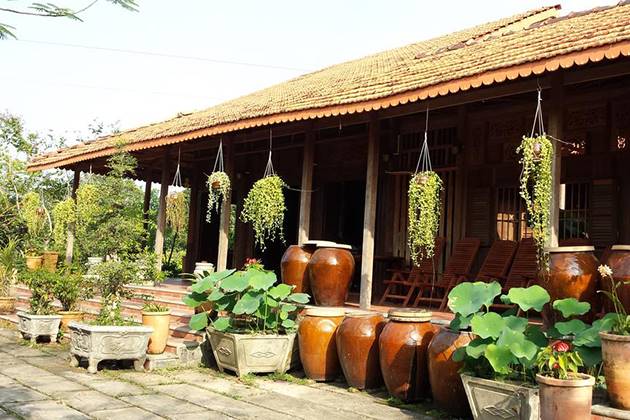 Day 10: Cai Be – Vinh Long – Chau Doc (B, L)
Today, continue your Mekong Delta trip. On the boat, you go deeper to the countryside with a visit to Cai Rang floating market and rice noodles making village nearby. After that, transfer to Chau Doc where you relax before taking a boat trip to Phnom Penh tomorrow morning.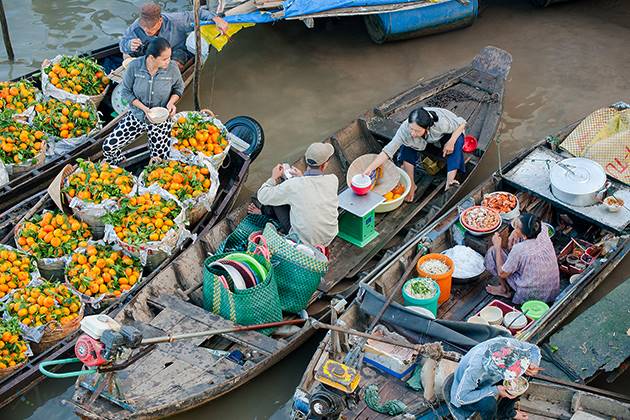 Cambodia Itinerary 4 Days
Day 11: Chau Doc – Highspeed Boat to Phnom Penh (B, L)
At 7 a.m, leave Vietnam with a 5-hour-highspeed-boat to Phnom Penh. Upon arrival at midday, you will be transferred to hotel. After a rest, you will visit the highlights of this city through Royal Palace, Silver Pagoda, and National Museum – the stunning and also must-seeing attractions in any tour to Phnom Penh. Overnight in Phnom Penh.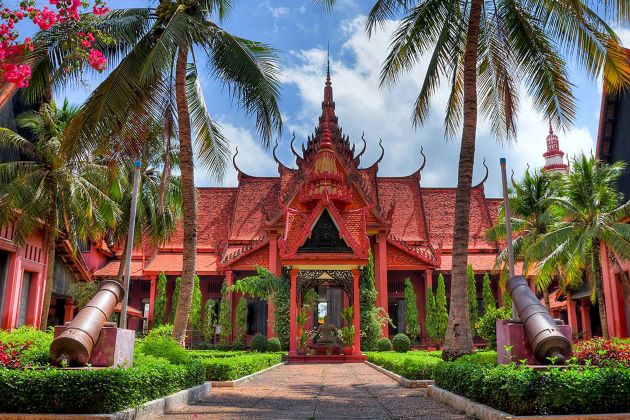 Day 12: Phnom Penh – Phnom Tamao Sanctuary (B, L, D)
Today, your guide and driver will lead you to Phnom Tamao Sanctuary where you can admire hundreds of animal species. Trek through the jungle, ride on the back of an elephant, play with the monkey, and lure your body into the green atmosphere around.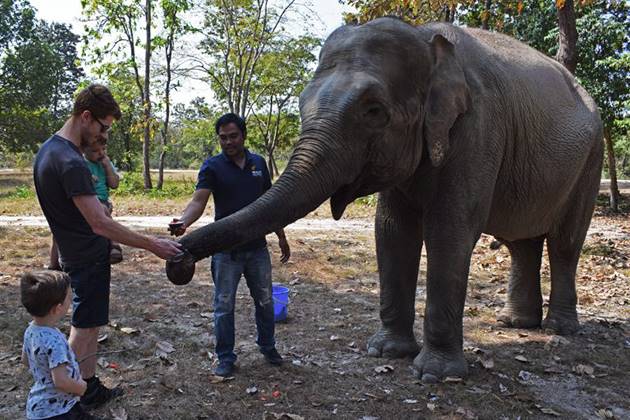 Back to the city center for dinner. At night, you can take a rest at the hotel, or freely explore the city by yourself. Drink a savory glass of beer on a rooftop bar is a good idea to taste the nightlife of Phnom Penh.
Day 13: Phnom Penh – Fly to Siem Reap – Angkor Wat at Sunset (B, L)
This morning, visit Cheong Ek killing field which serves as a place to torture and purges people during the Khmer Rouge period. Have a deeper look when entering the Toul Sleng Museum – a former high school and then turned into a prison for the Government of Khmer Rouge.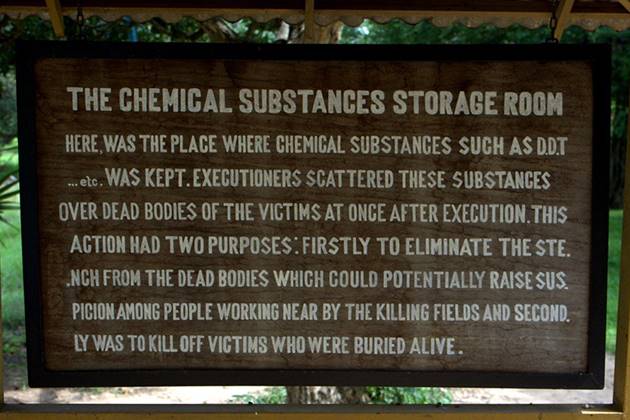 In the afternoon, flight to Siem Reap. Check-in hotel and have a short break before taking a visit to admire one of the most stunning sights you have ever seen – the sunset through the splendor of Angkor Wat. Overnight in Siem Reap.
Day 14: Angkor Complex: Angkor Thom, Bayon, and Ta Prohm (B)
Today, head to the Angkor Wat Complex. The first place to visit is Angkor Thom – the ancient capital of the Khmer empire. Then head to Bayon temple with the special design of four faces looking into four directions on the top of temples. After that, explore the picturesque Ta Prohm hiding in the jungle with a huge tree growing from the roof.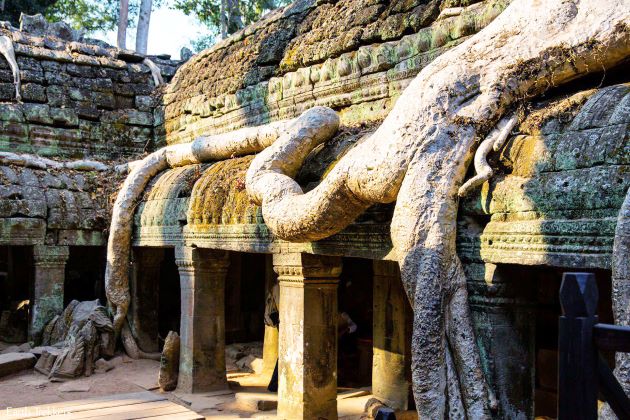 Laos Itinerary 2 Days
Day 15: Banteay Srei – Afternoon Flight to Luang Prabang – Sunset at Mount Phousi (B, L, D)
After breakfast, drive through the peaceful countryside to visit Banteay Srei temple – an ancient structure dated back to the Khmer culture.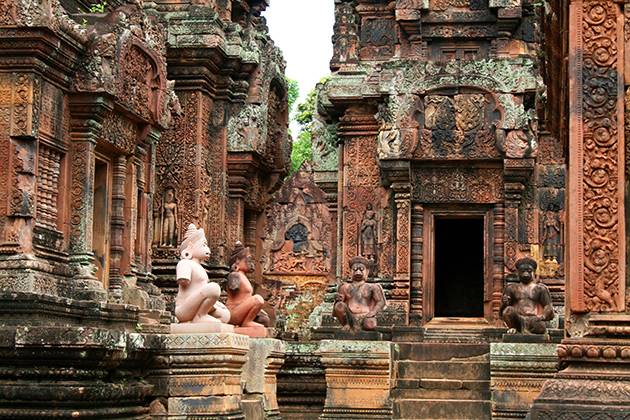 In the afternoon, flight to Luang Prabang. Check-in hotel, you visit the impressive stupa, Wat Visoun, Wat Aham, and Wat Mai. Then climb up to the top of Mount Phousi for a panoramic sunset view of the whole city and the splendor Mekong River. After dinner, explore the Night Market where you can pick up some lovely handmade textiles as memorial gifts.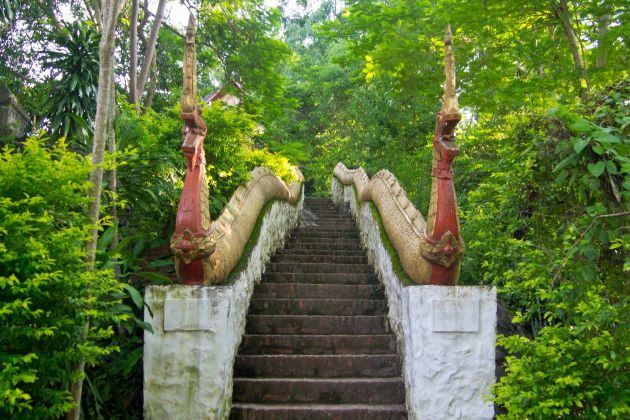 Day 16: Luang Prabang City Tour (B)
A day sightseeing tour will take you to go around the city. Board a cruise upstream on the Mekong River to catch the bird-eye view of the countryside. Stop at Pak Ou Caves to explore the wonderful sanctuary made by two large caverns which dedicated to thousands of Buddha images. On the way back, visit Ban Phanom village to get a glimpse of traditional crafts, pottery, and hand weaving. Overnight in Luang Prabang.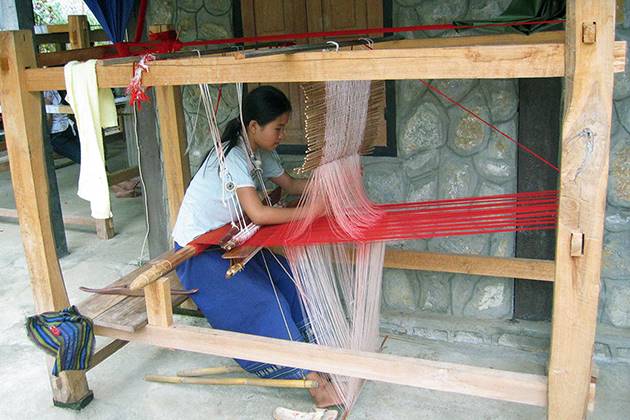 Myanmar Itinerary 6 Days
Day 17: Luang Prabang – Fly to Bangkok – Connect Flight to Mandalay – City Tour (B)
Check-out hotel in the morning, flight to Bangkok. Take a short break inside the airport before flying to Mandalay. In the afternoon, the Mandalay city tour starts with the first place are Mandalay Palace and Shwe Nan Daw – a traditional wooden house.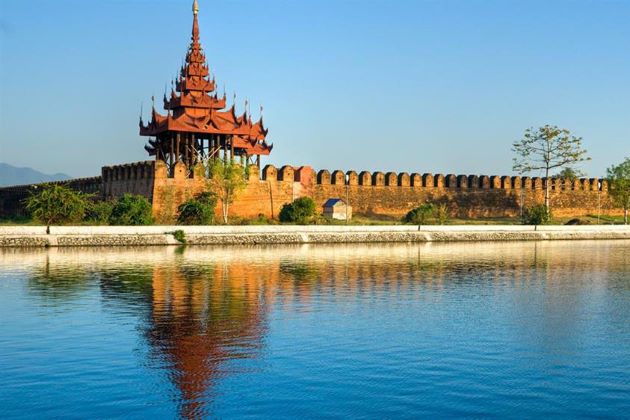 Then head to Kuthodaw temple which is home to over 700 stone plates carved into Buddhist Scriptures that becomes one of the largest books in the world. Enjoy the stunning sunset from Mandalay Hill.
Day 18: Mandalay – Amarapura, Ava & Sagaing (B)
This morning, visit Amaraputa – the Immortal City of Myanmar. Then head to the ancient wooden bridge having the age of 200 years, also the longest teakwood bridge in the world. For more understanding about Buddhism in Myanmar, visit Mahagandaryon Monastery and Bagaya Monastery where you can have a chance chatting with various monks.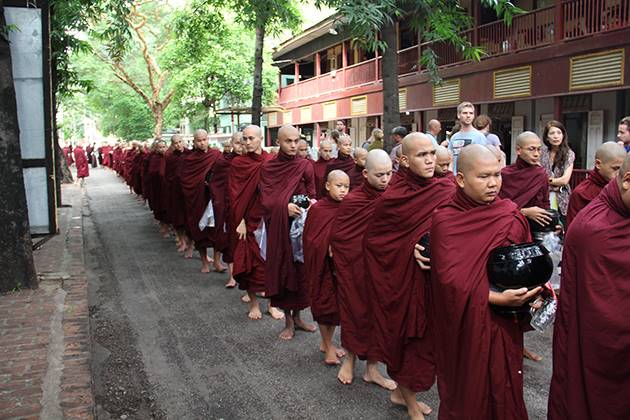 After lunch, your Mandalay trip will continue with a drive to Ava and Sagaing through numerous places including Maha Aung Myae Bonsan, Nan Myint of the clock tower, Inwa Tower, Bagaya Monastery, and Sagaing Hill. Overnight in Mandalay.
Day 19: Mandalay – Fly to Bagan – Temple Tour (B, L, D)
After breakfast, the driver will transfer you to the airport, take the flight to Bagan. Upon arrival in Bagan, explore the Nyang Oo local market where you can admire various featured local goods. Next, come to Wetkyi-in Gubyaukkyi Temple which maintains plenty of pictures describing Jakarta and Thatbyinnyu Temple – the highest temple in the city.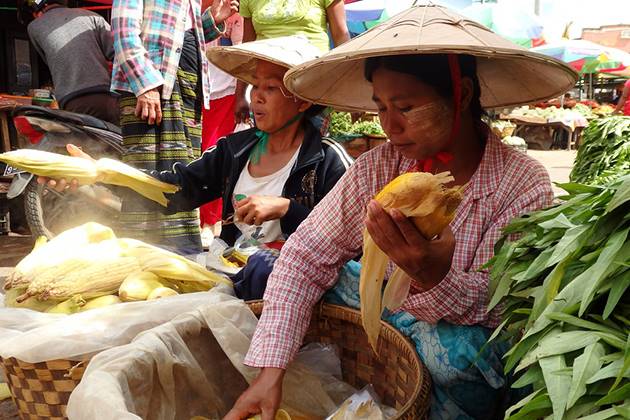 In the afternoon, visit some highlight religious sites such as Manuha Shrine home to the ancient states of Buddha, Nanpaya Temple with carved stones, Ananda Temple with the masterpiece Geek cross. Have dinner in a local restaurant while enjoying traditional ethnic music.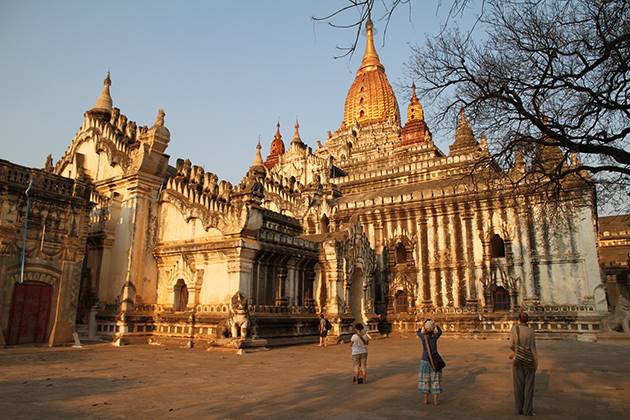 Day 20: Electric Bike around Bagan (B)
The pagodas of the Bagan are recommended to visit early in the morning. Start the day with a seat on electric bike and focus on the temples that were built between the 14th and 19th centuries: Shwezigon, Sulamani, Htilominlo which are the typical attractions in Bagan. Electric bike tour continues in the afternoon with the next place is Dhammayangyi – a giant temple dated back to the 12th century with the shape of a pyramid. Then, visit Sularmuni Temple for photo opportunities. Finally, enjoy sunset view through Pyathat Gyi Temple to catch the panoramic view of Bagan.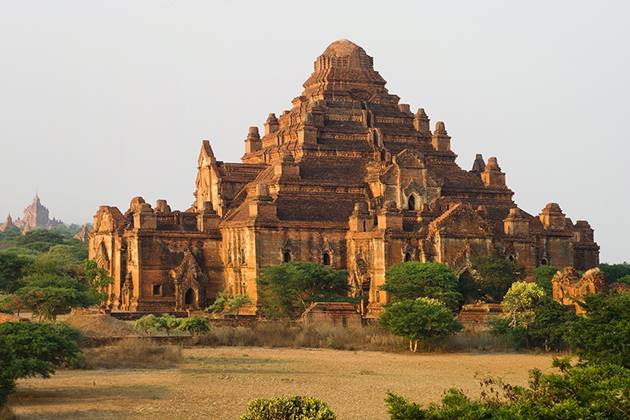 Day 21: Bagan – Fly to Yangon – Circular Train (B)
After breakfast in the hotel, transfer to the airport for a flight to Yangon. Check-in hotel and have a break. In the afternoon, explore the exotic Yangon by hopping on a city circular train to Kyee Myin Daing Train Station. Explore the authentic daily life of locals, visit the spectacular Chauk Htat Gyi Pagoda with a giant-sized laying Buddha statue, and don't miss a trip to the most sacred pagoda in Yangon – Shwedagon.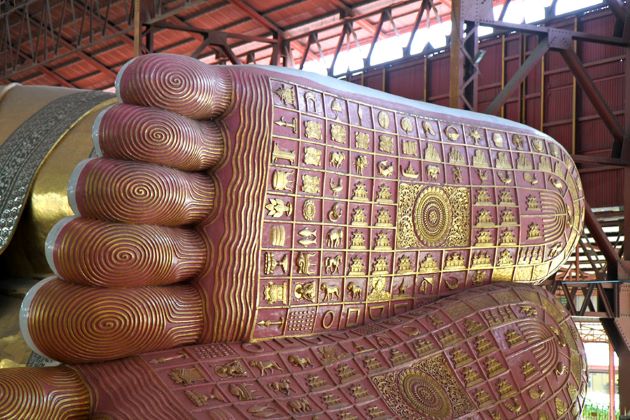 Day 22: Yangon – Dala – the Other Side of Yangon – Departure (B)
After breakfast at the hotel, start your day by enjoying an authentic experience with a local ferry – the only way to reach Dala. Take a rickshaw ride around the little but interesting Dala town, visit the orphanage to chat with friendly Burmese children and have a stroll in the local market for a deeper look at the colorful life of Myanmar people. Back to Yangon, freely shopping at the Scott Market before the departure flight in the afternoon. Vietnam Cambodia Laos Myanmar itinerary 3 weeks ends. See you again in the next Vietnam tour packages.