Discover Indochina within a 3-week itinerary brings you the perfect combination of World Heritage Sites, rustic local life, long-established cultures, and majestic nature. See the best of Cambodia, Vietnam, and Laos through their wonderful attractions and well-known destinations. Another day of 18 will reward you another unforgettable experience of this mesmerizing lands.
Tour Code: VVIT 18
Tour Route: Siem Reap – Phnom Penh – Ho Chi Minh City – Mekong Delta – Hoi An – Hue – Hanoi – Halong Bay – Vientiane – Luang Prabang
Duration: 18 Days/ 17 Nights
Date: No fixed dates
Start/End: Siem Reap/ Luang Prabang
Tour type: Explore and Experience
Tour Customizable: Available
Active Level: Walking, soft cycling, boating, kayaking…
Tour Category: Indochina Tour Packages
BRIEF ITINERARY
Cambodia Itinerary 4 Days
Day 01: Siem Reap Arrival
Day 02: Angkor Temple Complex
Day 03: Siem Reap – Phnom Penh
Day 04: Phnom Penh
Vietnam Itinerary 9 Days
Day 05: Phnom Penh – Ho Chi Minh City
Day 06: Ho Chi Minh City Tour
Day 07:  Ho Chi Minh City – Mekong Delta
Day 08: Ho Chi Minh City – Danang – Hoi An
Day 09: Hoi An – Free Day
Day 10: Hoi An – Hue
Day 11: Hue Tour – Night Train to Hanoi
Day 12: Hanoi City Tour
Day 13: Hanoi – Halong Bay
Laos Itinerary 5 Days
Day 14: Hanoi – Fly to Vientiane
Day 15: Vientiane Tour
Day 16: Vientiane – Luang Prabang
Day 17: Luang Prabang
Day 18: Luang Prabang Departure
Cambodia Itinerary 4 Days
Day 1: Siem Reap Arrival (D)
Welcome upon arrival by local tour guide and driver, then be escorted to the hotel in Siem Reap. In the afternoon, we will proceed to visit the amazing Angkor Wat temple, that is surrounded by a gigantic man-made moat, which is the symbol of Nirvana. Furthermore, we will also enjoy the sunset view at Prasat Chrung on the wall of Angkor Thom with a bottle of champagne and fruits. After the sun wanes, we will return by the royal boat journey through the ancient moat. Tonight, we will enjoy the Apsara Performance that depicts Khmer mythology.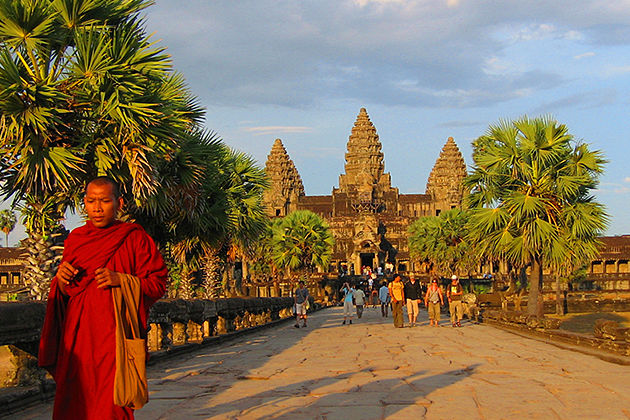 Day 2: Angkor Temple Complex (B)
Getting up early this morning to visit the temple that is surrounded by a dense jungle named "Preah Khan", where we enjoy the sounds of birds, gibbons, and monkeys that are chatting early with the sun glimmering on the water and trees.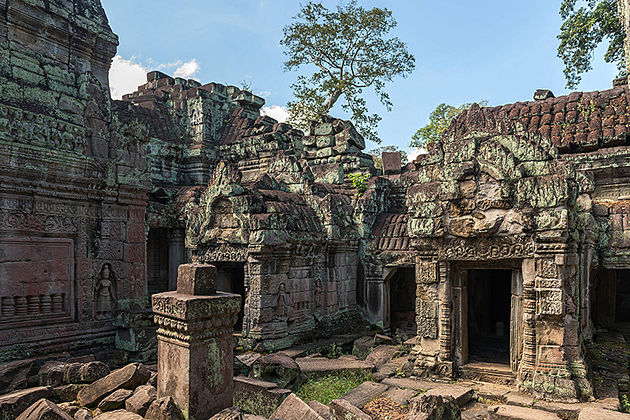 Take short cycling to the Tanai temple and enjoy a picnic breakfast. After that, we continue to visit the jungle temple of Ta Prohm and the Angkor National Museum. The Angkor National Museum takes pride in revealing the royal historical path of the Golden Era of Khmer Kingdom, through the state of the multimedia art technology that provides the visitors a full picturesque story of the legend that will provide a deep pleasure.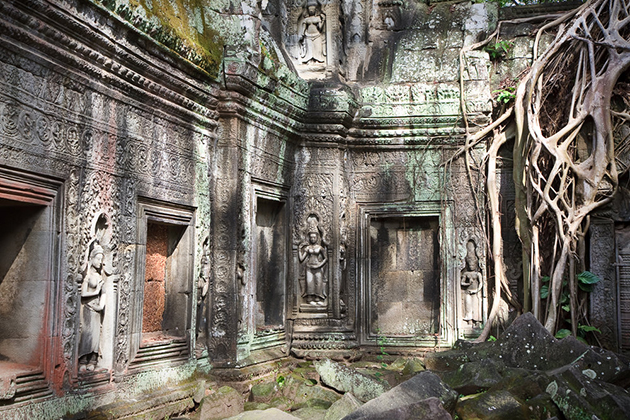 In the afternoon, we explore Angkor Thom, which was the last capital of the Khmer Empire. Entrance will be from the Western Entrance, where the four faces of Buddha and the flanking statue of gods and demons can be seen. Then we discover the Terraces of Elephant and the Leper King to the Baphuon temple just re-opened to the public on 2011 June after 50 years of restoration. The day will be finished by visiting the main temple of Bayon, who has similarities of the 216 gigantic faces of the temple's towers to other statues of the king, which has led many scholars to the conclusion that the faces are the representations of Jayavarman VII himself, and others have stated that the faces belong to the bodhisattva of compassion called Avalokitesvara or Lokesvara.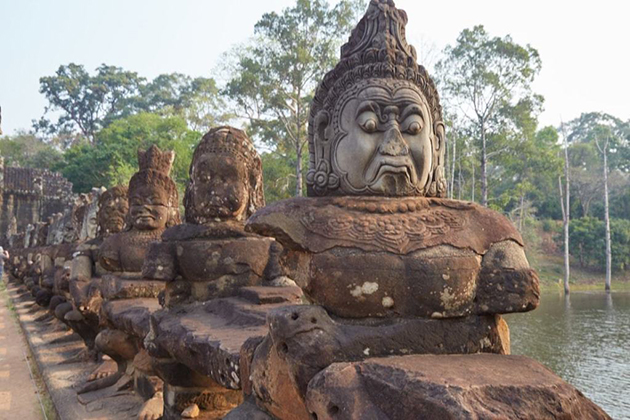 Day 3: Siem Reap – Phnom Penh (B, D)
Leave from hotel early in the morning and visiting the floating village of Chong Khneas, where we will see the fisherman and fishmongers barter their products in the busy traffic on the waterways and the fisherman return to the dock from fishing, young students row their wooden canoe to the floating school, boat traders sell their vegetable or meats to the habitats of the village, who live a simple and happy life, followed by our seasonal fruits basket.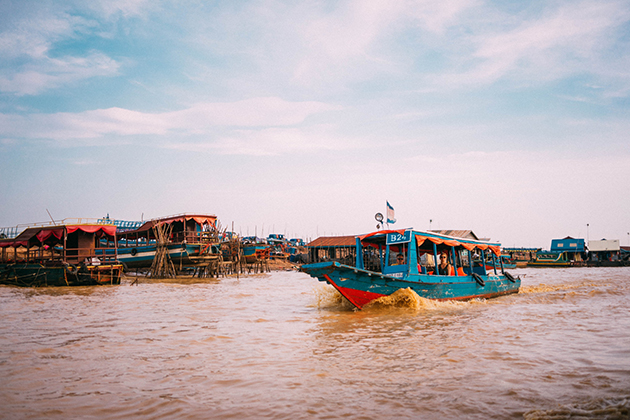 Return to the hotel for breakfast, then we transfer to Phnom Penh by private vehicle. There will be no tour guide escort to Phnom Penh. After 5 hour driving, we arrive at the hotel in Phnom Penh where we meet our new tour guide there. Checking in, relax and enjoy our local dinner in the restaurant.
Day 4: Phnom Penh City Tour (B)
Phnom Penh is the capital city of Cambodia. After the civil war ended more than 15 years ago, Cambodia has become an emerging city filled with modern buildings and distant memories.
Today, we will visit the ornate Royal Palace and the Silver Pagoda with a floor that is laid with more than 5,000 silver tiles!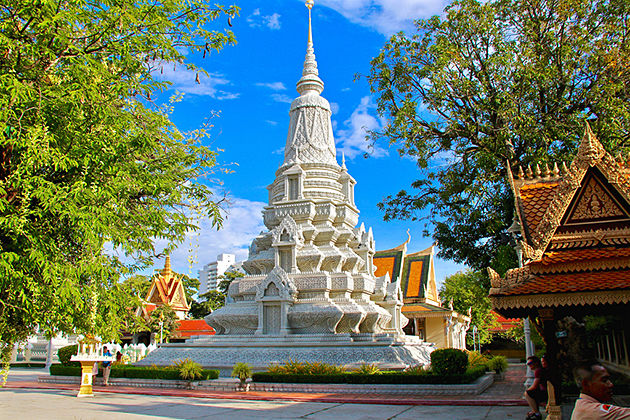 A testament to the horrifying legacy of the Khmer Rouge, a tour the Tuol Sleng museum, a former school turned concentration camp will be provided. Move on to the Russian market, where the sights and smells will fill your senses in the narrow aisles and passionate locals. Tonight, we enjoy the special dinner on the Kanika boat cruise along Mekong & Tonle Sap Rivers.
Vietnam Itinerary 9 Days
Day 5: Phnom Penh – Fly to Ho Chi Minh City (B, D)
Today, the tour guide and driver in Phnom Penh will escort us to the airport for our flight to Ho Chi Minh City, Vietnam. Welcome upon arrival by local tour guide and driver we then transfer to hotel. Check-in and relax. Tonight, we enjoy our dinner at a fine local restaurant in town.
Day 6: Ho Chi Minh City Tour (B)
The tour today around Ho Chi Minh City in the first place is the Reunification Palace, the former Presidential Palace for the president of the South of Vietnam. After that, we'll visit the War Remnant Museum, where we can see countless artifacts, photographs, and pictures documenting the second Indochina war. End of the morning, we stop at Notre Dame Cathedral and Old Post office to get our good shots for our memory of the biggest city in Vietnam.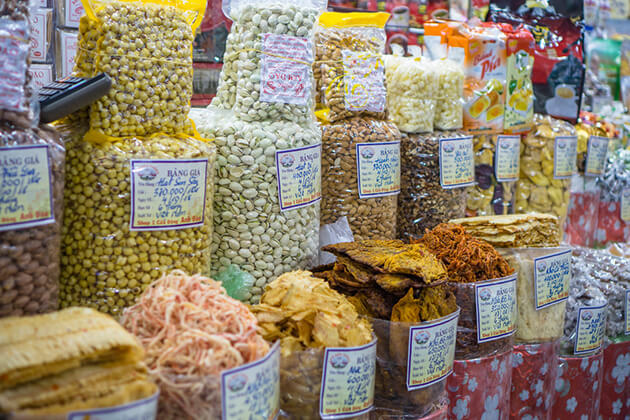 In the afternoon we will visit Ben Thanh market, Cho Lon, Chinese town and market, where we can experience our Vietnamese Southern daily life.
Day 7: Ho Chi Minh City – Mekong Delta (B, L)
Tour to Mekong Delta with Cai Be floating market is one of the most interesting ones when traveling Vietnam. The boat will take us among local barges full of fruits and vegetables, then we have a chance to see how rice paste, coconut candy, and pop-rice, pop-corn is made. More and more experience that we take the rowing boat deeper into the countryside on smaller canals and to enjoy the peaceful time, to see traditional houses made of wood and palm tree leaves and see some activities of the local farmers like catching fish… Lunch will be served at a local home.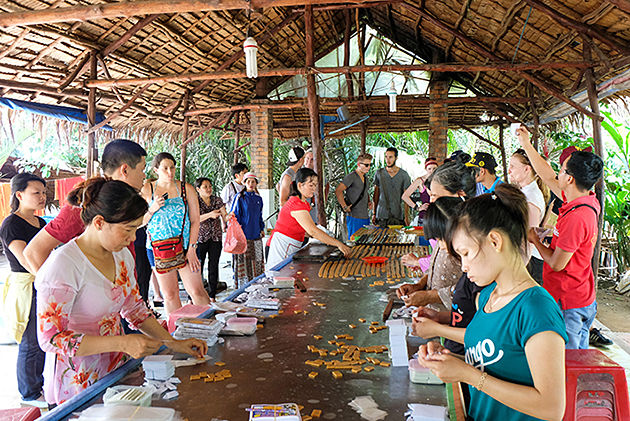 In the afternoon, we relax by walking around and enjoy some kinds of fruits while listening to traditional music. One more thing to do on this trip is biking. It will be so amazing to bike on village paths to see the local farms, houses, real life and the ancestral ways to pick up fruits in Mekong Delta. Lastly, we take the cruise back to Vinh Long city to take our own vehicle back to Ho Chi Minh City.
Day 8: Ho Chi Minh City – Fly to Danang, Transfer to Hoi An – Walking Tour (B, D)
The tour guide and driver will take us back to the airport for our short domestic flight to Danang. Meeting local tour guide and driver upon arrival, then we transfer to Hoi An. Today we have our afternoon walking tour around the ancient town to visit the Japanese Covered Bridge, the Pottery Museum, Tan Ky old house, the Cantonese congregation, the silk street of Hoi An, the temples and pagodas of Chinese appearance.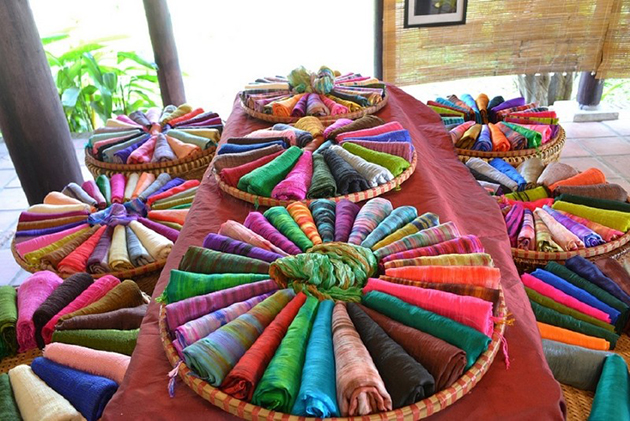 Day 9: Hoi An Free Day (B)
Free at leisure today for shopping, biking, cooking or relaxing at the swimming pool or beach….
Day 10: Hoi An – Hue – Half-day Hue Tour (B, D)
Escorted journey to Hue via Hai Van Pass, we will stop in Danang to visit Cham Museum, the Marble Mountain, and Lang Co beach. Continue the tour to the Citadel and the Forbidden Purple City and Dong Ba market before we have our nice dinner at a local restaurant.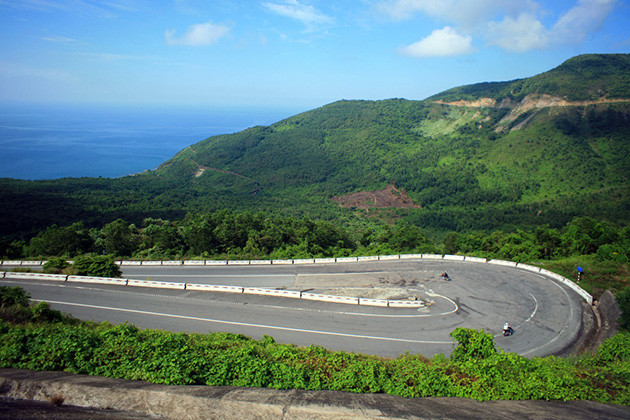 Day 11: Hue City Tour – Night Train to Hanoi (B)
Morning boat trip along the Perfume River to visit Thien Mu pagoda, then our awaiting vehicle will take us to Tu Duc King's tomb, which is one of the most beautiful works of Royal Architecture of the Nguyen Dynasty. The tomb lies in a boundless pine forest. In the afternoon we take the train to Hanoi.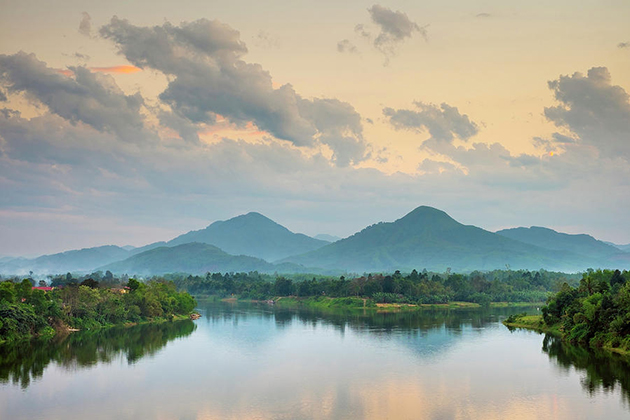 Day 12: Hanoi City Tour (B, D)
Arrive in Hanoi very early morning, we are welcome by local tour guide and driver at outside of the Railways gate, transferring to the hotel. Checking in upon arrival and relax.
Today we visit Ho Chi Minh Complex, where we will spend a couple of hours to visit: Ho Chi Minh's mausoleum, his former stilt-house residence, the Presidential Palace, the Ho Chi Minh Museum and One Pillar Pagoda. Keep going to see the Temple of Literature which originally built as a temple to Confucius. This is the site of Vietnam's first university dating back to 1070. The temple highlights the importance that Vietnamese society placed then and now on education.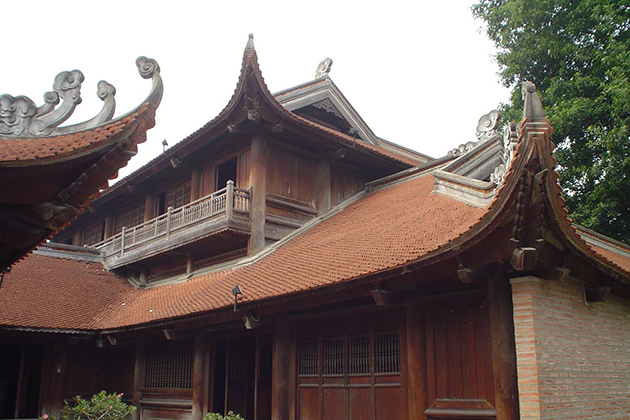 In the afternoon, we will visit one of the most interesting museums in Vietnam; Museum of Ethnology, which is widely acknowledged as the best in the country and has an extensive display dedicated to Vietnam's 54 Ethnic minority people. After that, we get back to the city center where we take one-hour cyclo around the Old Quarter, known as the 36 streets, this bustling area of narrow streets is home to literally thousands of small businesses and shopkeepers.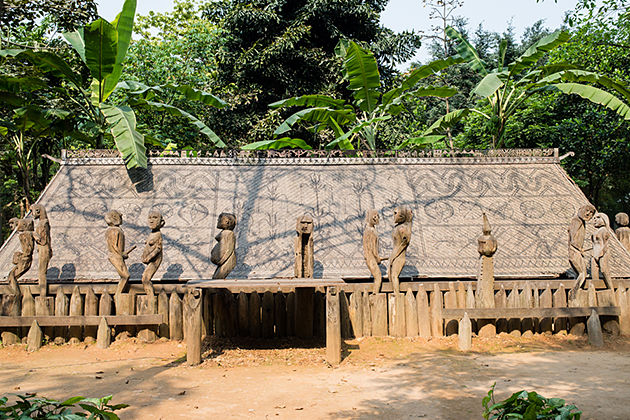 Before we go back to the hotel, we will have a chance to enjoy the unique Water Puppet show to hear to know Vietnamese traditional instruments and singing from the live musicians who play throughout the show. Dinner at a fine local restaurant.
Day 13: Hanoi – Halong Bay (Overnight on Deluxe Junk Cruise) (B, L, D)
After breakfast, we head to Halong Bay along the Red River Delta. Arriving at Tuan Chau jetty, we transfer to the junk by tender. Enjoying welcome drink delivered by crew team and checking room.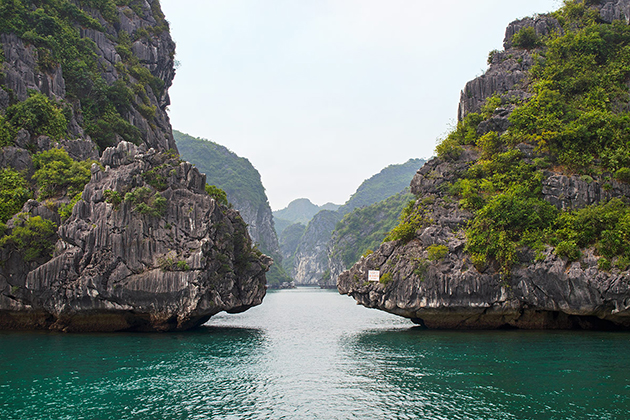 The cruise starts through Cho Da, Dinh Huong, Ga Choi, and Hoa Cuong limestone islets while our lunch is served on board. Passing thousands of the islands and islets, we will explore Sung Sot Grotto (the "Cave of Surprises"). Trying to swim at Titov Beach or Soi Sim Beach's pristine waters, then back to the cruise for reaching its overnight anchorage location near Ho Dong Tien or Luon Cave. Enjoy the sunset from the sundeck before having our delicious seafood dinner.
Notes: The itinerary can change due to weather, tide levels.
Laos Itinerary 5 Days
Day 14: Halong Bay – Hanoi – Fly to Vientiane (B, D)
An ultimate experience we may always have dreamed of waking up early amidst Halong Bay and practicing a Tai Chi session on the sun deck at dawn, while the Natural Wonder around us is slowly waking up! It's ideal for our body balance and rejuvenation, and a proven technique to reduce stress and enhance our psychological health. Breakfast with stunning scenery, then a small boat will take us to visit Luon Cave. Last lunch is served on board while the cruise goes back to Tuan Chau jetty for disembarking at noon time.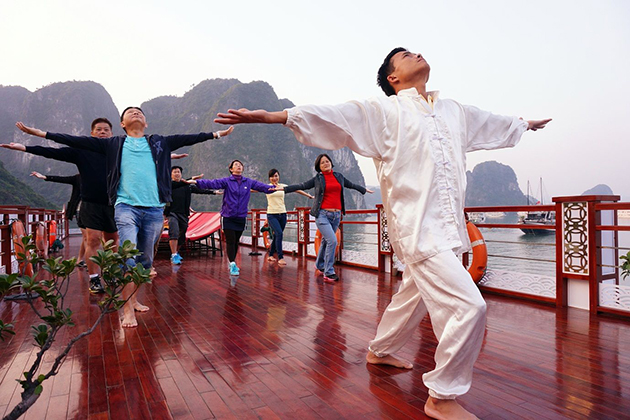 We transfer directly to the airport for our flight to Vientiane, Laos. Welcome upon arrival by Laos tour guide and driver, transfer to the restaurant for our dinner before checking in the hotel.
Day 15: Vientiane City Tour (B)
Being Laos' largest and capital city, there is much to see and do. There are religious museums like Wat Sisaket, the oldest city temple, which survived the 1828 Siamese war. Its cloister contains more than 8000 Buddha statues. Wat Ho Prakeo is the former home-temple of the Emerald Buddha statue, and today it contains a collection of Buddha statues, antiques and artifacts found in and around Vientiane. That Luang Stupa is the single most important monument in Laos, as it is said to contain a piece of the Buddha's chest bone. Patuxay (Lao Arc de Triomphe) was built in commemoration of those who died during past wars and today it is the city's main landmark.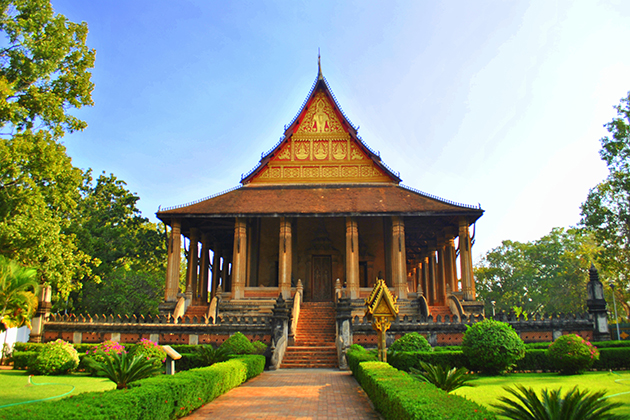 During the tour, we will make sure to stop at all of these attractions, spending time learning more about Laos' fascinating culture and history. We will also visit Mrs. Carol Cassidy's weaving studio. She is an American who arrived in Vientiane in 1989 as part of a United Nations project to promote traditional weaving. She remained and formed the Lao Textiles Studio that today employs over 40 weavers, creating naturally dyed, woven silk pieces reflecting reinterpreted traditional Lao design. Her textiles are seen at the NA DAO restaurant and mix tapestry, brocade, and ikat techniques (meeting Carol is, of course, subject to her availability).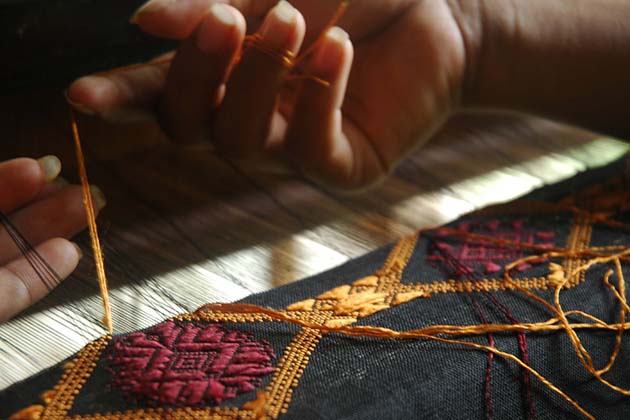 Day 16: Vientiane – Fly to Luang Prabang (B, D)
Our local tour guide and driver will escort us back to the airport today for our short domestic flight to Luang Prabang, which is perhaps the best-preserved traditional city in Southeast Asia. The tranquility and charm of this town with its splendid natural scenery and cultural sights make it one of the most delightful places to visit in Laos.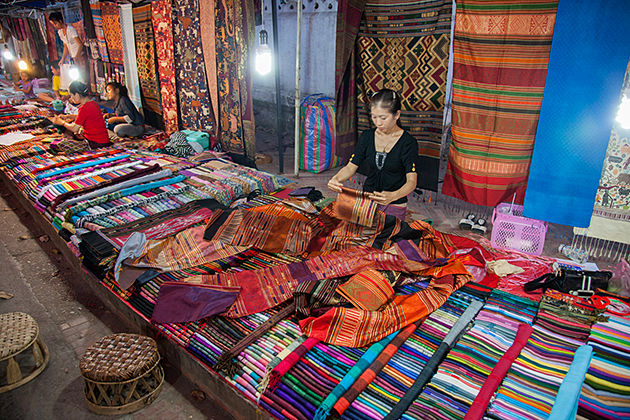 After checking into our hotel, we visit the impressive stupa, Wat Visoun and the shrines Wat Aham and Wat Mai. We then climb up to the top of Mount Phousi for a beautiful view of the city and the Mekong River at sunset. From here, we explore the Night Market, where we can browse through a lovely selection of handmade textiles.
Day 17: Luang Prabang Adventure Tour (B)
After breakfast, we enjoy a short-guided tour of the city, seeing the things we missed the day before. We then board a cruise upstream on the Mekong River, which gives us a panorama of the tranquil countryside. We'll stop at the Pak Ou Caves, sanctuaries consisting of two large caverns, both repositories for thousands of Buddha images. On our way back to the city, we take a short drive to Ban Phanom, a village well known for its crafts, pottery and hand weaving.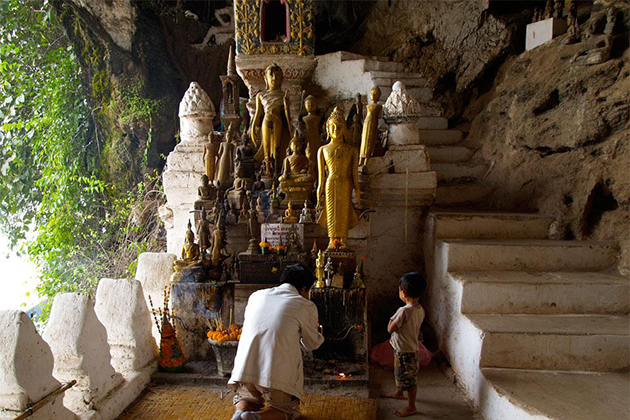 Day 18: Luang Prabang Departure (B)
Today our awaiting vehicle will take us back to the airport for our flight to home. Indochina itinerary 3 weeks ends.