Tour Route: Bangkok – Kanchanaburi – Chiang Mai – Hanoi – Sapa – Halong Bay – Hue – Hoi An – Ho Chi Minh City – Mekong Delta – Phu Quoc Island (or Mui Ne Beach)
Duration: 26 Days/ 25 Nights
Date: No fixed departure dates. You may go whenever you wish.
Start/ End: Bangkok – Ho Chi Minh City
Tour Type: Explore and Experience
Tour Category: Indochina Tours
Tour Customizable: Absolutely! (Tell us your specific requirements in the inquiry form)
Brief Itinerary
6-day Thailand Tour
Day 1: Bangkok Arrival
Day 2: Bangkok City Tour – Overnight in Kanchanaburi
Day 3: Kanchanaburi river bridge – Drive back to Bangkok
Day 4: Bangkok – Fly to Chiangmai
Day 5: Chiang Mai – Bua Tong Sticky Waterfalls
Day 6: Chiang Mai – Wat Doi Suthep & Cooking Class
20-day Vietnam Tour
Day 7: Chiang Mai – Fly to Hanoi
Day 8: Hanoi City Tour
Day 9: Hanoi – Leisure – Night train to Sapa
Day 10: Y Linh Ho – Lao Chai – Ta Van
Day 11: Cat Cat Village – Sin Chai Village
Day 12: Fansipan by Cable Car – Limousine Bus to Hanoi
Day 13: Hanoi – Halong Bay
Day 14: Halong Bay – Hanoi – Fly to Hue
Day 15: Hue Full-day City Tour
Day 16: Hue – Hoi An (via Danang)
Day 17: Hoi An Walking tour – Tailor shop
Day 18: Hoi An – Leisure at An Bang Beach
Day 19: Hoi An Farming & Fishing Life Eco Day Tour
Day 20: Hoi An – Ho Chi Minh City (Flights)
Day 21: Ho Chi Minh City – Mekong Delta – Cai Be Floating Market
Day 22: Ho Chi Minh City – Beach Vacation in Phu Quoc Island or Mui Ne Beach
Day 23 – 24 – 25: Beach Vacation in Phu Quoc Island or Mui Ne Beach
Day 26: Ho Chi Minh City Departure
6-day Thailand Tour
Day 1: Bangkok Arrival
Upon arrival, our guide and driver will be waiting to warmly greet you and escort you to the hotel for check-in. The rest of the day will be yours, relax at leisure. In the evening, enjoy a welcome dinner at a local restaurant. Overnight in Bangkok.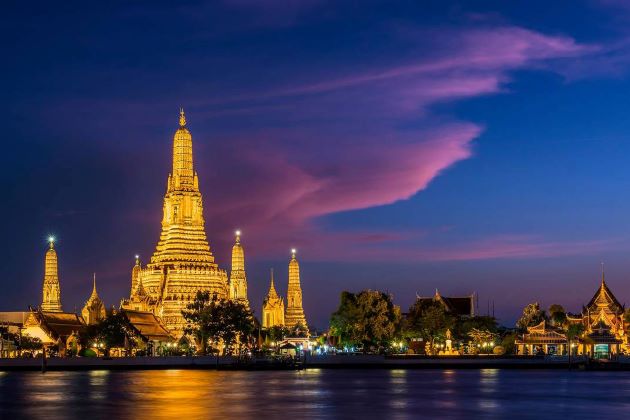 Day 2: Bangkok City Tour & Overnight in Kanchanaburi (B, L)
After 7:00 am, we leave Bangkok. Our tour guide will give you a potted Thailand's history as well as point out the exhilarating sites as you will whizz out into the provinces. Salt farms and the lush country quickly replaced high rises. We first visit the Orchid Farm & Coconut Producer. That's impressive many uses there are for coconuts & the small workshop has managed to turn the whole tree into a business. Squeezed for oil, young shoots boiled for palm sugar, lampshades, ladders, and even fuelling their fires with the husks.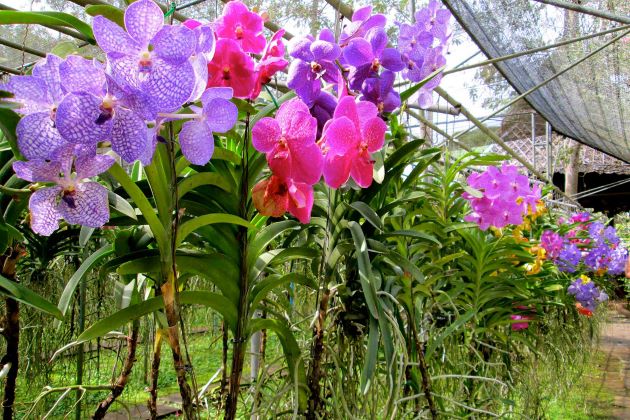 The hive of activity (beware of the sugar-hungry bees), the orchids seem less interesting; however, it's stunning to see them in their natural habitat. If you are used to witnessing them on window sills in plastic tubs. Then, take a 10' drive to the pier to hop on the decorated long-tail boats which will be waiting to escort you to the market.
The journey takes around 20' and it is wonderful to get into the tranquillity before the hectic pace of the market. At first, you can see it is an overcrowded place but I am sure that I will love it soon. Once there, you will indulge in a vibrant atmosphere with busy stalls that sell similar products to those you will be able to find at Chatuchak Weekend Market., small elephant's toys, and some. Then, visit Maeklong Train Market to witness and listen to the local lifestyle outside Bangkok. Move to Kanchanaburi and overnight there.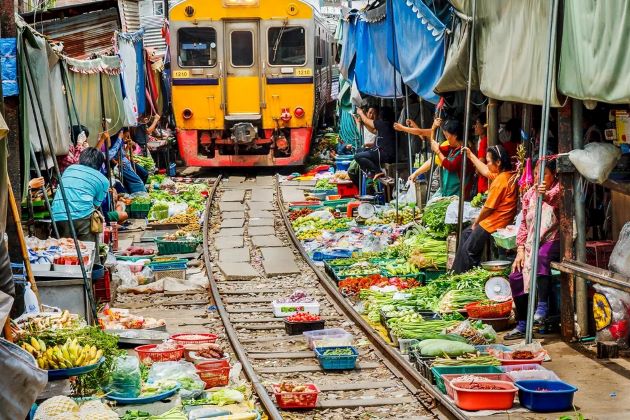 Day 3: Kanchanaburi River Bridge – Drive back to Bangkok (B, L)
Today, we head to the War Cemetery of World War II which is the place thousands of the Allied Soldiers were laid in peace. Then, we move to the Death museum to witness the display of the relics of the war. We also get into a scenic long-tailed boat riding on the Mae Klong River. Welk over the renowned Bridge of River Kwai and take some photos. Lunch at a local restaurant and head back to Bangkok. Overnight in Bangkok.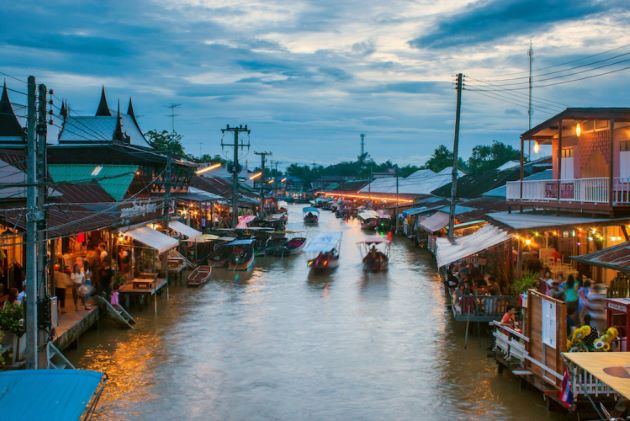 Day 4: Bangkok – Fly to Chiangmai – Coffee, Temples & Market Hopping (B, L)
Take a flight to Chiangmai. Today, you will take a flight towards Chiang Mai. Upon arrival, explore Chiang Mai right away. We will visit Wat Phra Singh which is the original temple built in the 14th century. The temple is one of the most famous attractions in Chiang Mai with its superb gilded rooftops & whitewashed walls. Next, we move to Wat Chedi Luang which is one of the oldest temples in Chiang Mai destroyed due to an earthquake in 1545. It then was partially restored by UNESCO in the 90's. You can feel it's really cool once there, but what we get into most is the opportunity to have a little chit-chat with monks about Buddhism and Chiang Mai.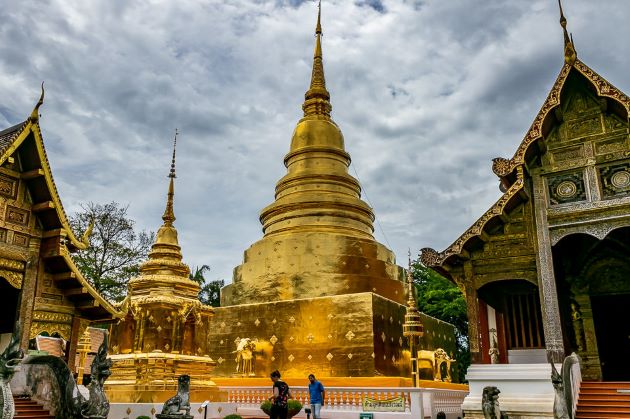 Time to refresh. We go to Akha Amma Coffee House to take it easy and grab some dark brew or coffee. In the evening, you can choose to visit the Night Markets. Chiang Mai is a paradise of Shopaholic. As the sun goes down, there is nothing better than strolling around the maze of streets around its markets in the old city. Overnight in Chiang Mai.
Day 5: Bua Tong Sticky Waterfalls (B, L)
Today, we will have an opportunity to enjoy one of the most unusual experiences. That's traipsing up a waterfall with your feet sticking onto the rocks.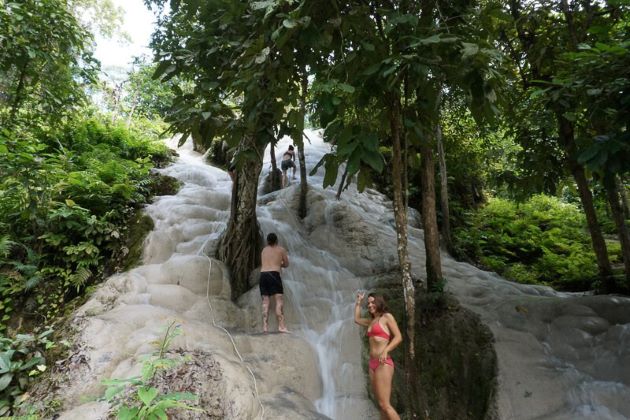 It's 1.5 hours of drive northward of Chiang Mai to the limestone sticky waterfall. You can drive there yourself, of course, but you will be highly recommended taking a guide and book this trip with a travel agency for your safety. Moreover, there ain't not so good options for food & drink so if you choose to rely on a travel agency, the tour guide will cater to you and taste fantastic food and drink. Overnight in Chiang Mai.
Day 6: Wat Doi Suthep & Cooking Class (B, L)
Today, we enjoy a little trek to the Doi Suthep Temple. It's about 40' out of the town and approx. 300 steps upward this mountain temple which is characterized by heavy gold accents & a number of other sights around. Once there, you can have a little chit-chat with monks or head to the hilltop Hmong Village. You can cool yourself since there are a few waterfalls nearby.
You also enjoy a cooking class today. Chiang Mai is an ideal place to do it as you will have an opportunity to experience some of the northern Thai cuisines like Khao Soi (creamy coconut curry noodle soup), Sai Qua (spicy sausage), Laab (spicy salad). There are many options to strive but the most prevalent is May Kaidee's Cooking School. Overnight in Chiang Mai.
20-day Vietnam Tour
Day 7: Chiangmai – Hanoi (B, L)
Breakfast and relax at leisure until getting escorted to the airport for a flight to Hanoi. Upon arrival, your guide and driver will be waiting to warmly greet you and escort you to the hotel for check-in. The rest of the day will be yours, relax at leisure. In the evening, a welcome dinner will be served at a fine local restaurant. Overnight in Hanoi.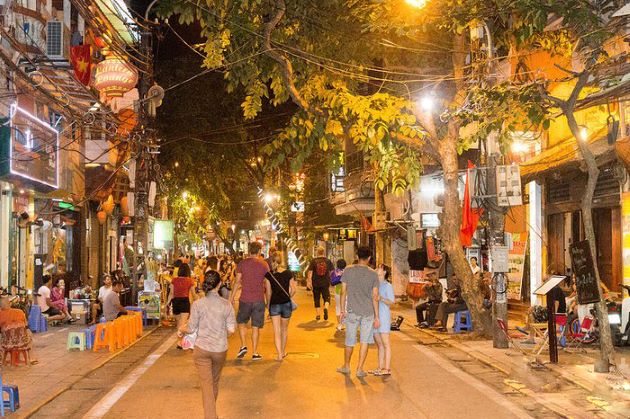 Night Activities Recommended: Get into local beer at Ta Hien Streets, discover the atmosphere of sleepless street with life music, young blood… There will be a variety of bars and pubs to enjoy or you just simply spend your evening strolling around and shopping.
Day 8: Hanoi City Tour (B, L, D)
Today, we will enjoy a city tour in Hanoi, exploring all highlights here. We will visit Ho Chi Minh complex and spend time at Ho Chi Minh's mausoleum, his former stilt-house, the Presidential Palace, the Ho Chi Minh Museum and also, One Pillar Pagoda. The next place we pay a visit this morning is the Temple of Literature built as a temple of Confucius. Lunch will be served at KOTO restaurant which is the non-profit restaurant established by Vietnamese – Australian citizen in helping the street children have a job.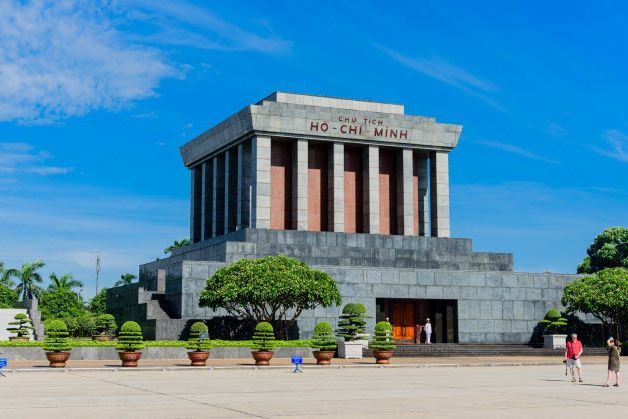 In the afternoon, we transfer to the Museum of Ethnology, known as the best in the country. It has an extensive display dedicated to 54 Ethnic minority peoples in Vietnam. Also, head to Hoa Lo Prison Museum which is well-known as the "Hanoi Hilton". This place was the place that the former US presidential candidate – John McCain was incarcerated for more than 5 years.
You can choose to pass by Long Bien bridge which is the oldest bridge in Hanoi to feel the steady daily life of the locals here. It would be much different from the bustle streets nearby. Later, get into an hour of cyclo tour through the Old Quarter to get an insight into the Old Hanoi. After that, let sit down and enjoy the famous Water Puppets Show.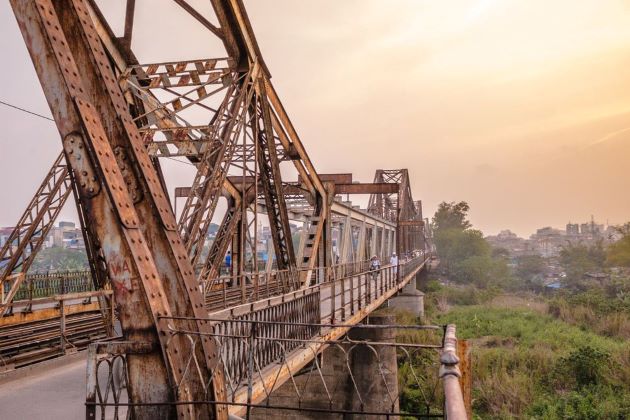 Optional Shows: Along with enjoying Water Puppets Show, you can choose the Tonkin Show or My Village show.
My Village Show: – Lang Toi at Tuong Theatre. Through Vietnamese music, dancing, acrobatics, juggling and bamboo, the show will tell you the cultural story of North Vietnam.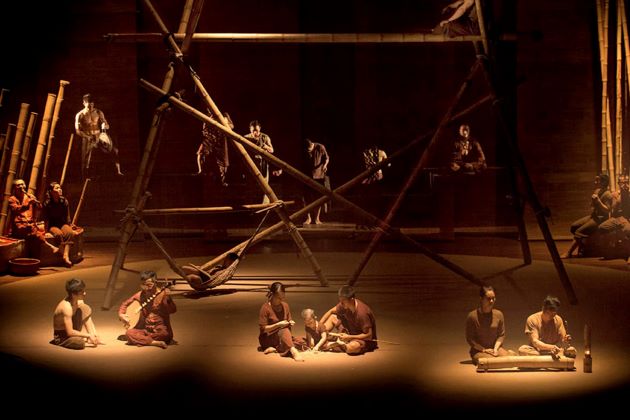 Tonkin Show: Normally, the show is opened on Tuesday, Thursday, and Saturday. The Quintessence of Tonkin Show is considered one of the most exhilarating show in Hanoi. It lasts an hour (7:30 pm – 8:30 pm) and draws inspiration from the spiritual history of Thay Pagoda nearby. The show tells you the story of Thay Pagoda which was found by venerable monk Tu Dao Hanh and explains the old-aged union between religion and the monarchy. This live spectacle is an unmissable highlight of any trip to Hanoi with years in the making and with hundreds of performers, an interactive stage, state-of-the-art technology, and a stunning setting.
You can find a local cuisine market here and take some for dinner. After enjoying the meal, go to the Tonkin show and you will go to the out-door stage of the show.
Remarks:
Ho Chi Minh Mausoleum will be closed on every Monday & Friday. However, we can still visit outside and other sites in the complex.
The Museum of Ethnology is not opened on every Monday.
The Museum can be moved to another museum in Hanoi as your interest.
Day 9: Hanoi – Leisure – Night Train to Sapa (B)
Free and easy today. In the evening, our guide and driver will escort you to the train station for a night train to Sapa. Overnight on train.
Day 10: Y Linh Ho – Lao Chai – Ta Van (B, L, D)
Our guide and driver will meet you at the train station and escort to Sapa town. Take short rest and have breakfast, we start the 6km walk down to the southeast of Sapa along the side of Muong Hoa valley to reach Y Linh Ho village of the Black H'mong.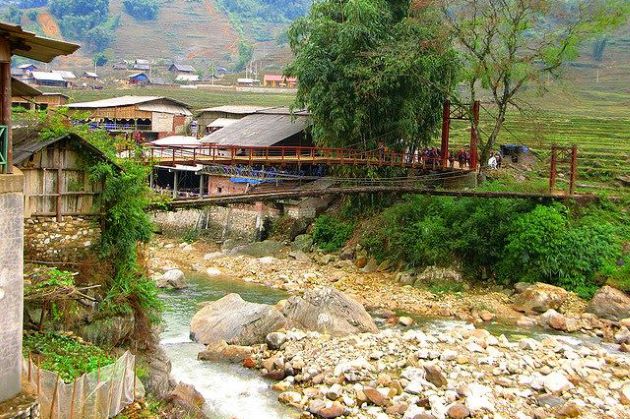 Then we take a 2 km-trekking down to Lao Chai village through terraced rice fields to reach Ta Van village. Enjoy lunch at a local family. It would give us a worth opportunity to learn about the local house architecture that is full of their daily lifestyles and exclusive custom. Get into the landscapes…en route, while trekking back to the bus stop in Ta Van then get back to Sapa by jeep or minivan. Overnight in Sapa.
Day 11: Cat Cat Village – Sin Chai Village (B, L, D)
In the morning, walk down to the Southwest of Sapa (approx. 4 km) to reach Cat Cat village of the Black Hmong people. Take it easy at the foot of the beautiful waterfall & the vestige of a hydroelectric power station which was constructed by the French during the colonial period in Vietnam.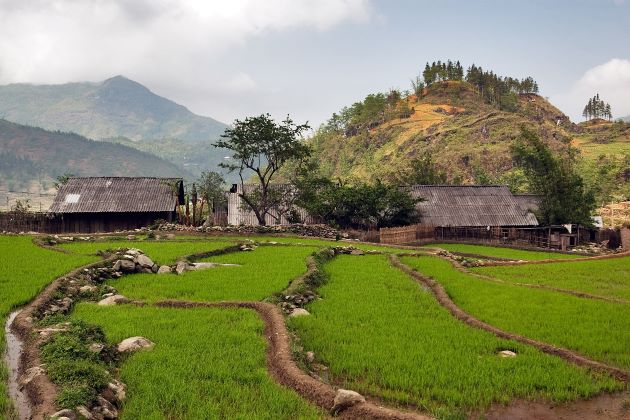 Later, get into a picnic lunch and continue the trip to Sin Chai Village situated at the foot of Fansipan Mountain. Back to your hotel and the rest of the day will be yours.
Day 12: Fansipan by Cable Car – Return to Hanoi (B, L)
This morning, breakfast at the hotel, take 4-minute Mountain Train through valleys, viaducts and tunnels giving wonderful views of surrounding villages & nature. Arrive at Cable Car station, get off the train and get into another 20 minutes cable car ride up to the top. We can witness the peak and spectacular surrounding areas from the peak within.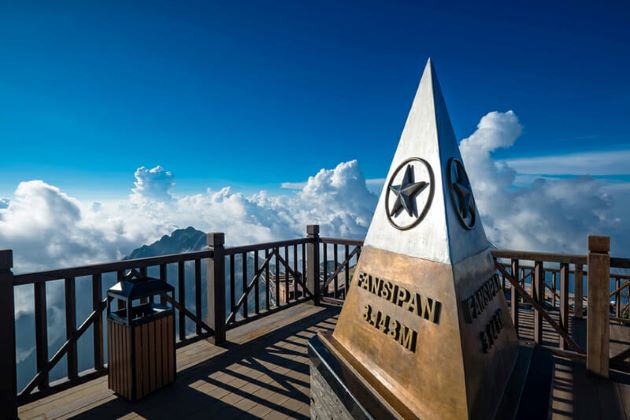 After a 20-minute ride, challenge yourself with 636 high steps up to the Fansipan Summit that is considered 'The Roof of Indochina' with 3,143-meter height. Indulge in the spectacular vista of Hoang Lien Mountain and lush forest. Then, we walk down to the cable car station and ride back. Also, take the Mountain Train back to town and enjoy lunch in a restaurant. In the afternoon, transfer back to Hanoi. Overnight in Hanoi.
Day 13: Hanoi – Halong Bay, Overnight on Cruise (B, L, D)
Today, we will enjoy our trip to one of the most magnificent scenic environments in the world, Halong Bay. Live, swim & sleep upon emerald wave aboard an exquisite Vietnamese boat atop the Halong Bay's calm waters, dining in style with special comfort of the evening breeze that gently brushes through your hair. Be served a lavish meal consisting of the very finest of Vietnamese and oriental cuisine. Expand your palette as well as acquire the taste for something different!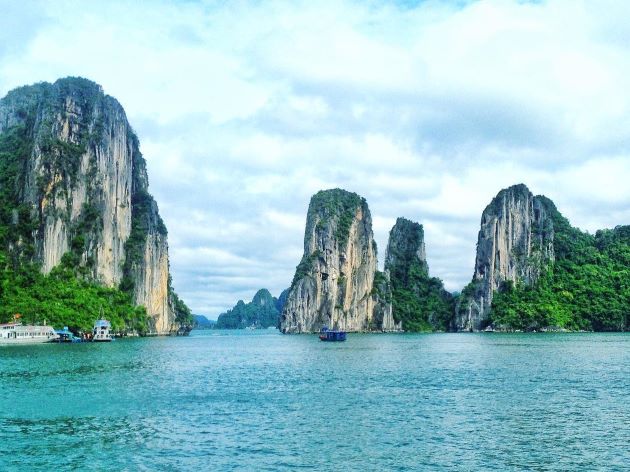 And for those loving the water, you can feel it around your body as you take an invigorating swim under a glowing afternoon sun in the quiet, peaceful bay, the tranquil, crashing waves and picturesque view accenting your indulgence perfectly… Spend the night in your own private cabin, complete with air conditioning and a very comfortable bed to get your head down after a day of joy. Overnight on cruise.
Day 14: Halong Bay – Hanoi – Fly to Hue (B, L)
Wake up with your head just atop the lapping waters, we'll enjoy a full breakfast atop the top deck of your ship before discovering the legendary Sung Sot cave as well as the natural beauty around it. Then, go back to the glorious city of Hanoi once more to connect with your trip to Hue City…Overnight in Hue.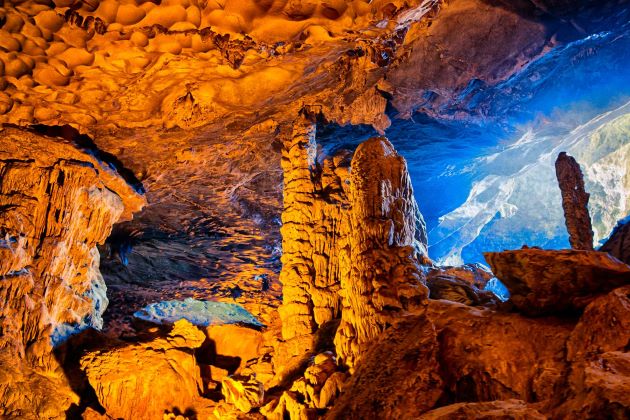 Day 15: Hue Full-day City Tour (B, L)
Today, the day tour in Hue takes you through the heart of the old Imperial Citadel as well as inducts you into the times of old. It is a pure breath of knowledge for the soul as you are walked through the ages of Vietnam & exposed to the stunning, yet pleasantly turbulent history of the great country. Witness the mausoleums of the powerful former Emperors, well-preserved, their history carved into humanity eternally, and listen to the stories of all that they achieved. Seek what shaped the beauty of the country you marvel at before you today. And even venture to the oldest, the first site of the fabled Hue City, the Thien Mu Pagoda, and know where it all began… Coming back in time really is possible with these amazing visits! Overnight in Hue.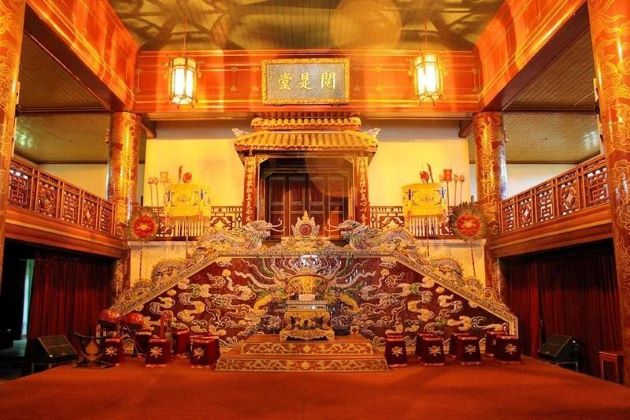 Day 16: Hue – Hoi An (via Danang) (B, L)
Breakfast at the hotel and we take a pretty drive to Hoi An along the highway A1. En route, make a stop to contemplate the beautiful vista of North to Lang Co Beach, and South to Danang City.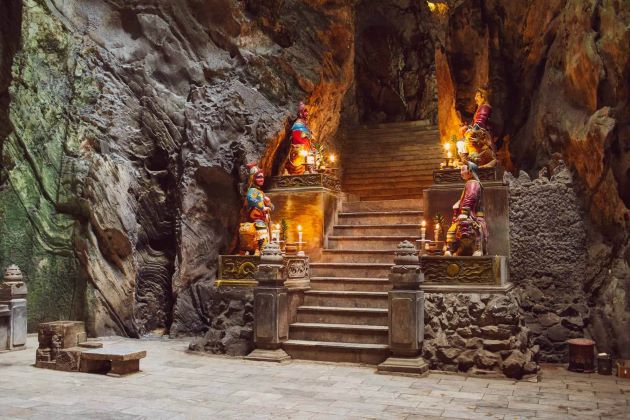 Upon arrival in Danang, visit Cham Museum which is home to the most complete collection of Cham Artifacts. Also, China Beach where the American named and used to enjoy relaxation. Go to the Marble Mountain or the 5 Elements of the Universe (air, wood, water, fire, earth). In the afternoon arrive in Hoi An. The rest of the day will be yours. Overnight in Hoi An.
Day 17: Hoi An Walking tour – Tailor shop (B, L)
Today, enjoy a walking tour in the morning. Begin our walking tour around the old-aged town to head to the Japanese Covered Bridge, Tan Ky old house, the Pottery Museum, the silk street of Hoi An, the Cantonese congregation, the temples and pagodas of Chinese appearance.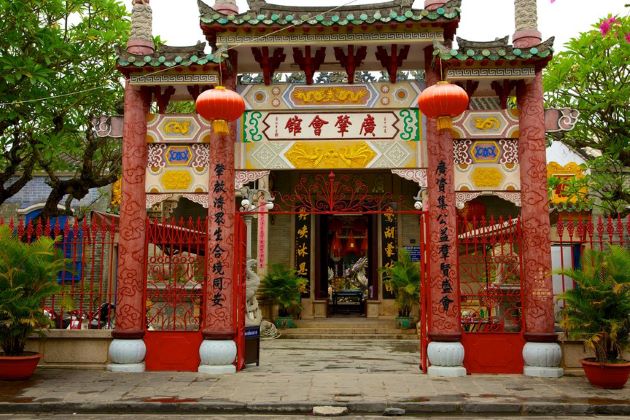 Later, go to the renowned tailored shops which will be waiting for you. If you want, the guide will take you to visit some of them. For the Ao Dai or suit, it takes around 5 hours to complete this. Overnight in Hoi An.
Day 18: Hoi An – Leisure at An Bang Beach (B)
Today, relax at leisure.
Day 19: Hoi An Farming & Fishing Life Eco Day Tour (B, L)
An early start in the morning as we head off to our Farming & Fishing Life Eco Tour. Starting at Tra Que Village, we will get an insight into the local farming communities. Here, we enjoy with the farmers in preparing their land for sowing, helping to fertilize the garden using seaweed from the local river as well as watering it in using huge tin cans strapped to our backs.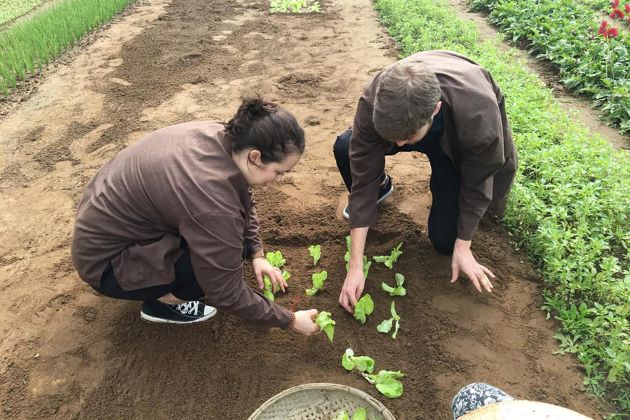 Following this, we start our leisurely cycling tour through the countryside marveling at the local Vietnamese rural life first hand. Later, board our Hoi An Eco-tour boat for enjoying a river cruise. Meet and witness local fishermen working their craft, before getting into a hands-on experience of traditional net fishing. We then go to a Vietnamese bamboo basket boat for a quick race along with ride down a coconut palm-lined waterway. Lunch will be served on the boat, which is prepared using vegetables picked earlier at Tra Que Village. In the afternoon, we have some free time to stroll around Hoi An town center before returning to the hotel. The rest of the day will be yours. Relax at leisure. Overnight in Hoi An.
Day 20: Hoi An – Ho Chi Minh City (fly) (B, L)
Today, after breakfast, relax at leisure until getting escorted to the airport for a flight to Ho Chi Minh City. Upon arrival, our guide and driver will be waiting to warmly greet you and escort you to the hotel for check-in. The rest of the day will be yours, relax at leisure.
Day 21: Ho Chi Minh City – Mekong Delta – Cai Be Floating Market (B, L)
Today, we depart for Cai Be, stopping to take photos of Tan An town overlooking the gorgeous flat rice fields. On arrival in Cai Be, we will take a motor-boat heading to the Cai Be floating market & watch the locals trading fruit along with many other commodities on board their vessels. Then, we wander into the small villages to head to the orchard and fruit plantation. We keep cruising to Vinh Long through a series of small canals to discover the charms of the Upper Mekong Delta. Head to a small family business to marvel at how coconut candy and crispy rice popcorn are made. Reach Binh Hoa Phuoc village, the green pearl of Vinh Long town, where you can get into nature.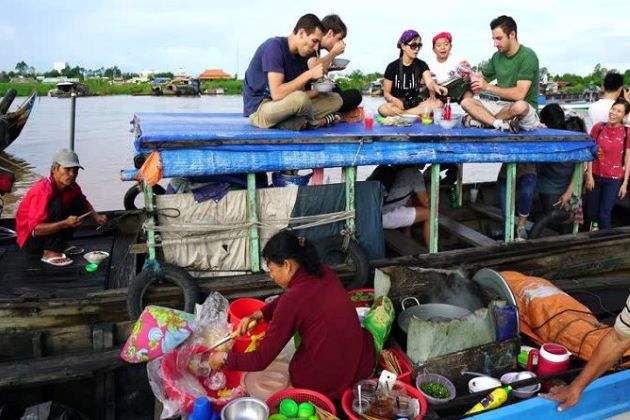 Have lunch of fresh river food served in the heart of the garden and enjoy traditional music. Take a delightful walk through the bonsai garden. Meet the guide & driver again in Vinh Long and return to Ho Chi Minh City. Overnight in Ho Chi Minh City.
Day 22: Ho Chi Minh City – Beach Vacation in Phu Quoc Island or Mui Ne Beach (B)
Today, after breakfast at the hotel, you will have some days to refresh yourself in Phu Quoc Island or Mui Ne Beach. You can choose to take both flight or travel by bus (or private transportation). Upon arrival, you will be escorted to your accommodation. The rest of the day will be yours. Enjoy your day with beach and many more.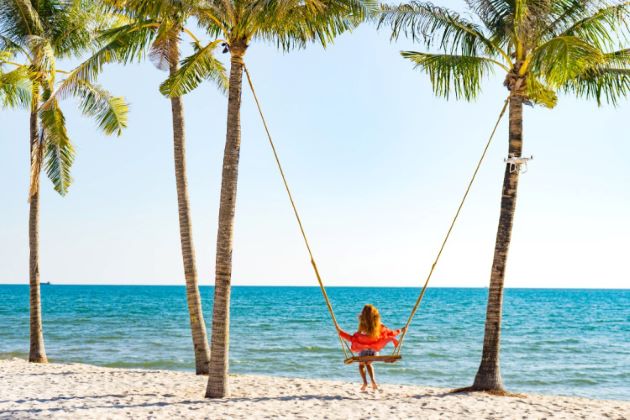 Day 23 – 24 – 25: Beach Vacation in Phu Quoc Island or Mui Ne Beach (B)
Relax at leisure
Day 26: Ho Chi Minh City Departure (B)
Today, we will be back to Ho Chi Minh City for your flight coming home. The trip ends. Hope you enjoyed it and wish we could have another opportunity to go with Viet Vision Travel together.