Tour Route: Beijing – Xi'an – Guilin – Shanghai – Hanoi – Halong Bay – Ninh Binh – Dong Hoi – Hue – Hoi An – Ho Chi Minh City – Siem Reap – Luang Prabang – Xiengkhuang – Vientiane
Duration: 28 Days/ 27 Nights
Date: No fixed dates
Start/ End: Beijing/ Vientiane
Tour Customizable: Definitely! (Tell us your specific requirements in the inquiry form)
Tour Category: 4 Countries – 1 Destination
Tour Type: Culture and History, Explore and Experience
15 World Heritage Sites Included
China: Temple of Heaven – The Forbidden City – Mutianyu Great Wall – Summer Palace – Terracotta Warriors
Vietnam: Thang Long Imperial City – Halong Bay – Trang An Landscape Complex – Phong Nha Cave – Hue Imperial Citadel – Hoi An Ancient Town – My Son Holy Land
Cambodia: Angkor Complex
Laos: Plain of Jars – Town of Luang Prabang
Brief Itinerary
China Tour in 10 Days
Day 1: Beijing Arrival
Day 2: Beijing City Tour
Day 3: Beijing – The Great Wall
Day 4: Beijing – Train to Xi'an
Day 5: Xi'an Historical Tour
Day 6: Xi'an – Fly to Guilin
Day 7: Guilin Trekking Tour
Day 8: Guilin – Fly to Shanghai
Day 9: Shanghai City Tour
Day 10: Shanghai – Fly to Hanoi
Vietnam Tour in 10 Days
Day 11: Hanoi City Tour
Day 12: Hanoi – Halong Bay
Day 13: Halong Bay – Ninh Binh
Day 14: Ninh Binh – Hanoi
Day 15: Hanoi – Fly to Dong Hoi – Phong Nha – Ke Bang
Day 16: Dong Hoi – Hue – City Tour
Day 17: Hue – Hoi An – Walking Tour
Day 18: Hoi An – My Son Holy Land
Day 19: Danang – Fly to Ho Chi Minh City – Cu Chi Tunnels
Day 20: Ho Chi Minh City Tour – Fly to Siem Reap
Cambodia Tour in 2 Days
Day 21: Siem Reap – Angkor Wat Complex
Day 22: Siem Reap – Beng Mealea – Fly to Luang Prabang
Laos Tour in 6 Days
Day 23: Luang Prabang City Tour
Day 24: Luang Prabang – Mandalao Elephant Conservation
Day 25: Luang Prabang – Phonsavan
Day 26: Phonsavan – Plains of Jars
Day 27: Phonsavan – Vientiane
Day 28: Vientiane Departure
China Tour in 10 Days
Day 1: Beijing Arrival (D)
Upon Beijing arrival, you will be welcome by Viet Vision Travel's guide at the airport then transferred to hotel for check-in and repose. The rest of the day is your leisure to explore the capital of China.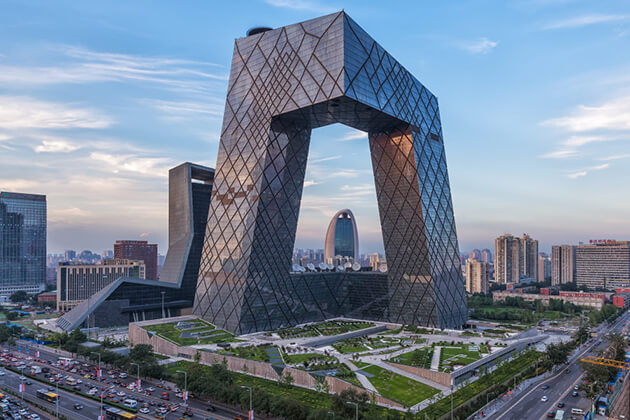 Day 2: Beijing City Tour (B, L)
After breakfast, visit the Temple of Heaven, the 1st World Heritage Site, the largest and exquisite construction in China where the emperors used to pray heaven for an abundant year. You will also have a chance to see local people doing exercises of Chinese Kungfu, Taichi, dancing, and other outdoor activities. Move to a less commercial Hutong street nearby for lunch of authentic Beijing foods.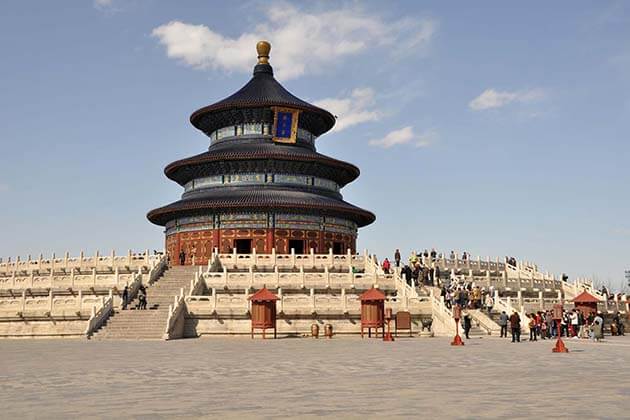 In the afternoon, explore Tian'anmen Square, the largest city center square in the world where a lot of historical and political events of China happened. It is only a short walking from the square to the Forbidden City, the magnificent royal working and living place. Spend about 2 hours discovering glorious halls and dreaming gardens, listening to interesting stories about Chinese emperors and their families, and beholding various art treasures exhibited in palaces. Overnight in Beijing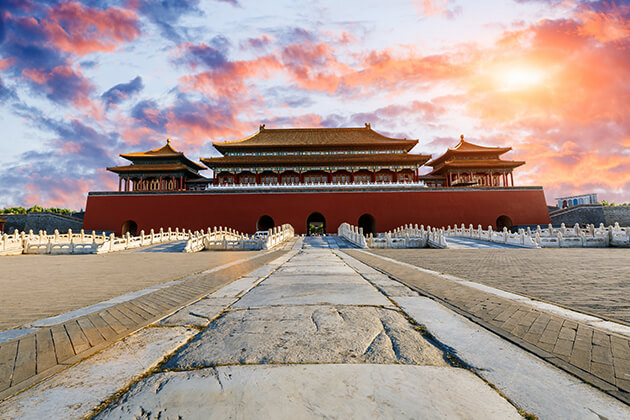 Day 3: Beijing – The Great Wall (B, L)
In the morning, visit the must-see attraction in Beijing – the Mutianyu Great Wall, the famous section of the Great Wall of China which was built in the 6th century. Lunch at a local restaurant in Mutianyu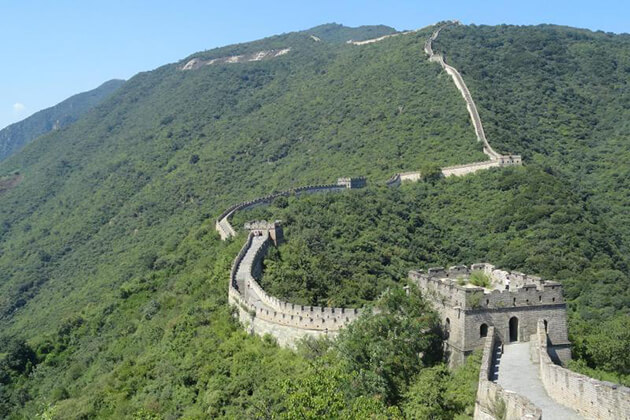 After lunch, return to Beijing and stop at a tea store for relaxation. Upon arrival, take some photos at the outside of the Bird Nest Stadium and Water Cube, which were used for 2008 Olympic Beijing. A recommendation for your dinner today is at Peking Roast Duck Restaurant. Overnight in Beijing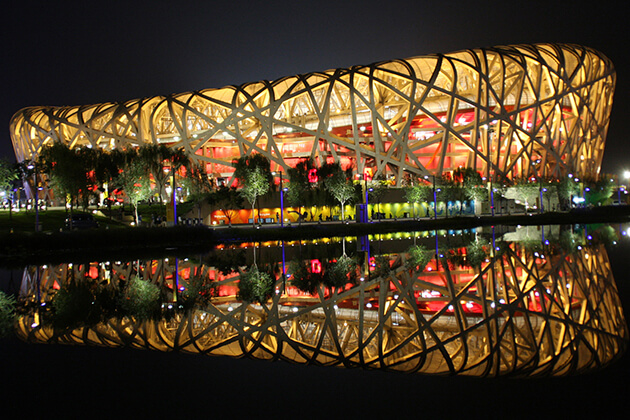 Day 4: Beijing – Train to Xi'an (B, L)
After breakfast, complete your Beijing tour by the last visit to Summer Palace, the imperial resort in the hot weather of Beijing summers. Pay a boat trip on the poetic Kunming Lake and see the stunning Longevity Hill as well as the gorgeous royal garden. Then walk along the Long Corridor to admire prestigious paintings on the beams of this world's longest corridor.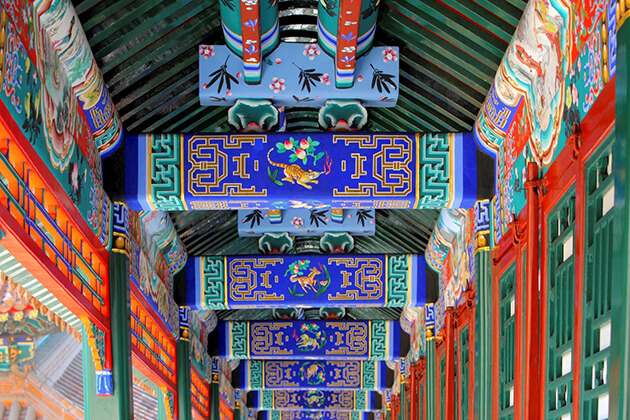 Transfer to Beijing West Railway Station for a high-speed train to Xi'an. Lunch will be served on the train. In the late afternoon, meet our guide at Xi'an train station and then move to hotel for check-in. Overnight in Xi'an
Day 5: Xi'an Historical Tour (B, L)
In the morning, take a bicycle ride at the famous Xi'an City Wall and join in Tai Chi Chuan course taught by Tai Chi Master to gain a deeper understanding of China cultures and tradition.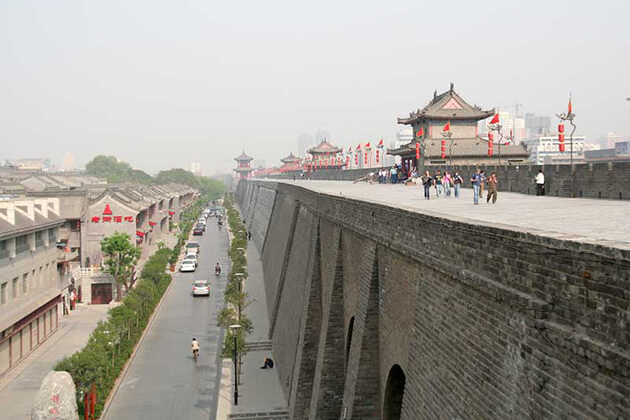 Afterward, travel to the Xi'an's highlight Terracotta Warriors. Stop firstly at a pottery workshop to learn how to create pottery products. Your lunch is served at a local restaurant. Spend today's afternoon exploring Terracotta Warriors with troops, horses, and carriages information of battle. A suggestion for your evening is the Tang Dynasty Show. Overnight in Xi'an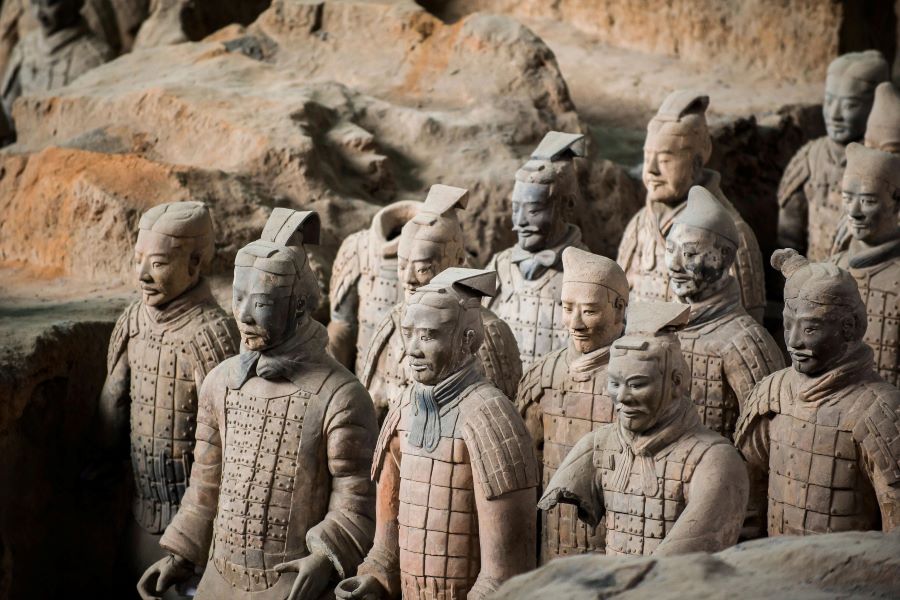 Day 6: Xi'an – Fly to Guilin (B, L)
The morning is your leisure to explore Xi'an. After check-out and lunch, head to Small Wild Goose Pagoda, the astonishing buddha temple constructed in Tang dynasty with elaborate Buddhist architecture. You also have a chance to enjoy traditional shadow play, visit Jianfu Temple and Xi'an Museum.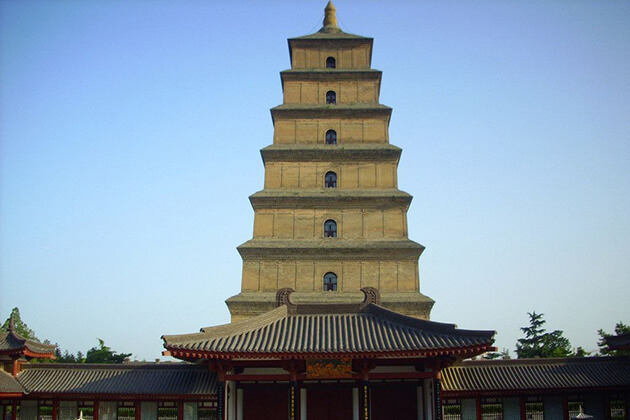 After that, take a flight to Guilin where our guide will be waiting for you and transfer you to hotel for check-in. Overnight in Guilin
Day 7: Guilin Trekking Tour (B, L)
Today's visit is filled by rustic villages of ethnic groups and beautiful rice terraces. After 2 hours of driving from Guilin city center, reach the impressive Longji Rice Terraces with scattered houses and farmers. Enjoy lunch at a local restaurant in Ping'an Zhuang Village to try specialties cooked inside bamboo tubes.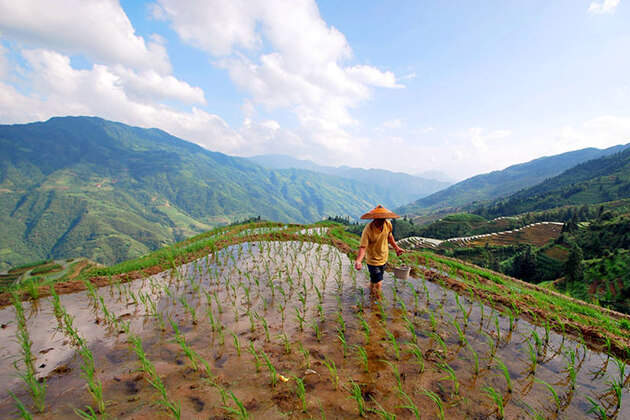 In the afternoon, get a closer look at the life of local people through their lifestyle, costumes, cultures and daily working. Return to Guilin in the late afternoon and prepare for a Four Lakes Night Cruise in the evening. Overnight in Guilin
Day 8: Guilin – Fly to Shanghai (B, L)
After breakfast, visit the iconic Elephant Trunk Hill Park of Guilin city then Reed Flute Cave, the representative of Karst landform of Guilin. After breakfast, take a 2-hour flight to Shanghai where you will be welcomed by our guide. Move to a hotel in Shanghai for check-in and overnight.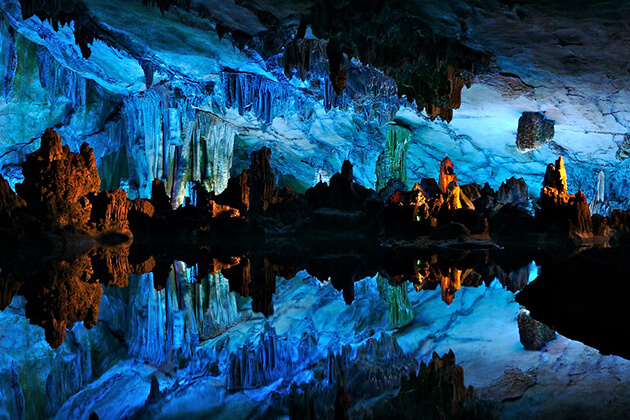 Day 9: Shanghai City Tour (B, L)
It is your last day in China to explore the largest and most modern city on the Chinese mainland. Start the day by walking into Nong Tang – the alleys in Shikumen, to witness the local's plain life. Continue the trip to Yuyuan Garden and the old street of Yuyuan Bazaar.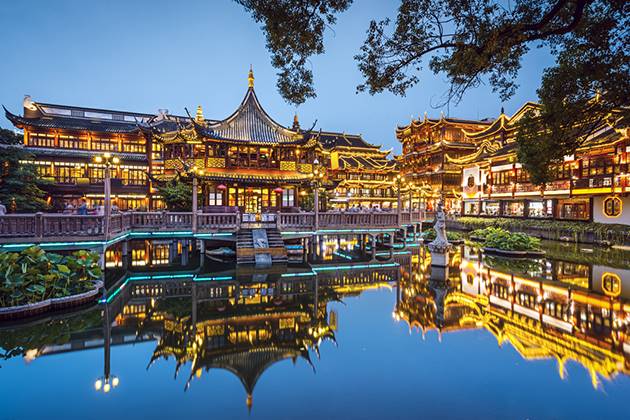 In the afternoon, head to Shanghai Silk Museum before traveling to the foot of the Oriental Pearl TV Tower to learn more about the history of Shanghai through its historical museum. Get up to the 2nd ball of the tower to have a panoramic view of Shanghai. Move to Lujiazui which is known as the finance and trade zone of Shanghai together with a lot of skyscrapers. Overnight in Shanghai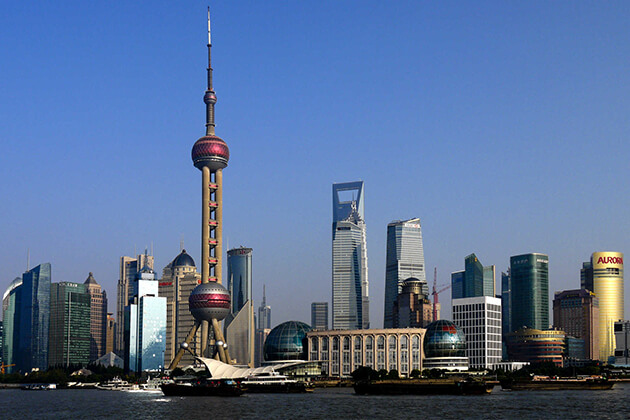 Day 10: Shanghai – Hanoi (B, L)
After breakfast, you will be transferred to the airport for an international flight to Hanoi. Meet our guide at Noi Bai Airport then move to hotel for check-in and relaxation. The rest of the day is your free time to explore this city.
Vietnam Tour in 10 Days
Day 11: Hanoi City Tour (B, L)
After breakfast, begin your day trip at the Vietnamese capital at Thang Long Imperial Citadel and marvel its Ly Dynasty architecture dating back more than a thousand years ago. Later, move to Ho Chi Minh complex of Ho Chi Minh Mausoleum, Presidental Palace, Ho Chi Minh Stilt House, Ho Chi Minh Museum and One Pillar Pagoda. You will have a chance to learn about one of the greatest people in the world.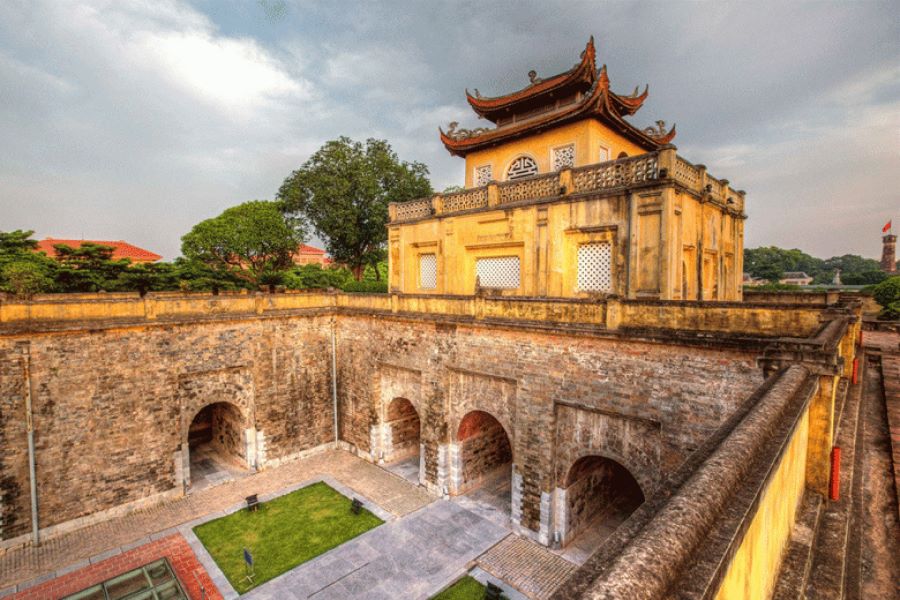 In the afternoon, discover the first university of Vietnam, Temple of Literature, with the combination of wood, tiles and ancient trees. Next, visit Hoa Lo Prison (Hanoi Hilton) – the hell on earth in the period of the French colonial period. Then stroll around Hoan Kiem Lake and visit Ngoc Son Temple (Temple of Jade Mountain). In the evening, exploring Hanoi Old Quarter is a wonderful recommendation. Overnight in Hanoi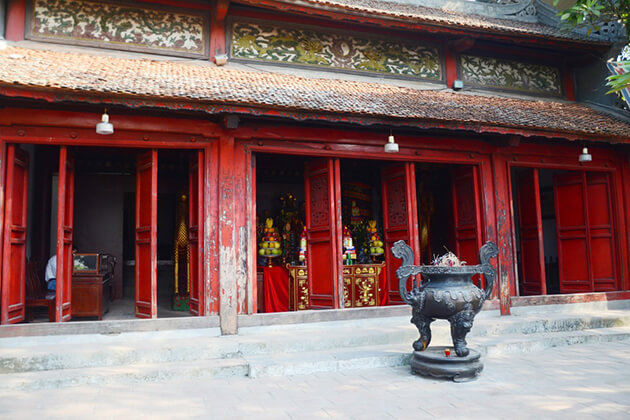 Day 12: Hanoi – Halong Bay (B, L, D)
Leave Hanoi early this morning and transfer to Halong Bay. Upon cruise ship arrival, you will be welcomed by a wonderful meal of seafood with the scenic beauty of limestone mountains and floating villages.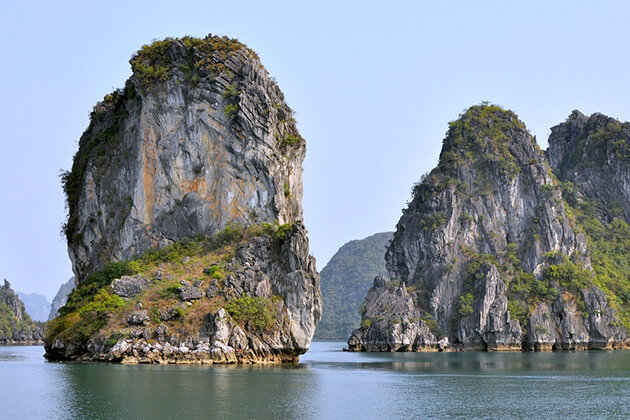 In the afternoon, immerse yourself in the cool emerald water then explore hidden corners of this World Heritage Site by kayak. After that,  relax your body on the sundeck, sip a fine cocktail, and watch the magnificent sunset. In the evening, join in a night squid fishing with the local fishermen. Overnight in Halong Bay
Day 13: Halong Bay – Ninh Binh (B, L, D)
After breakfast, participate in a Taichi lesson on the cruise ship to strengthen your body. Then prepare for the disembarkation and transfer to , the ancient capital of Vietnam in the 10th century. The rest of the day is your leisure to explore the pristine nature of this land. Overnight in Ninh Binh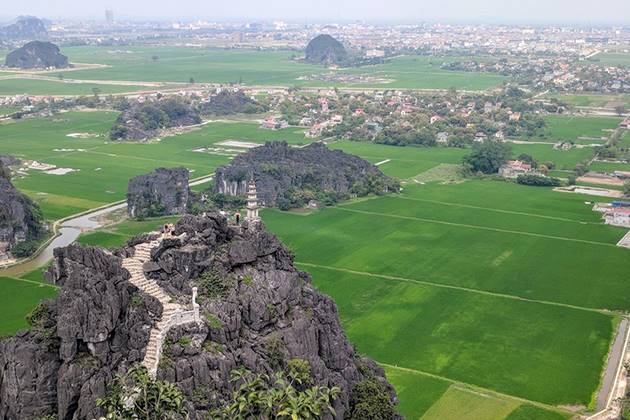 Day 14: Ninh Binh – Hanoi (B, L)
In the morning, sit on a sampan paddling downstream the river among the scene of mountains and rice fields in Trang An Landscape Complex which appeared in film Kong: The Skrull Island. The boat will take you to 12 mysterious caves before docking for lunch.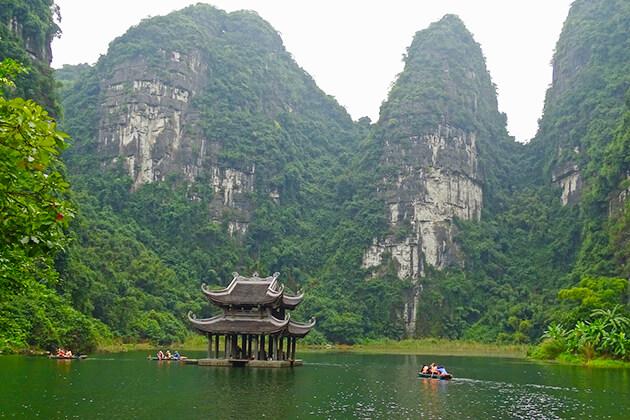 After breakfast, visit Bai Dinh temple, one of the biggest religious constructions in Southeast Asia. Then move to Hoa Lu ancient capital of old architectures and scared temples worshipping King Le Dai Hanh and King Dinh Tien Hoang. In the late afternoon, transfer back to Hanoi for overnight.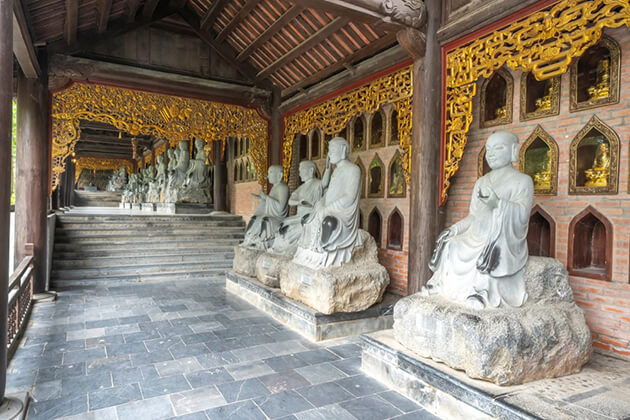 Day 15: Hanoi – Fly to Dong Hoi – Phong Nha – Ke Bang (B, L, D)
After breakfast, move to Noi Bai airport to take a domestic flight to Dong Hoi, Quang Binh. Upon arrival and check-in at hotel, move to Phong Nha Cave and marvel at the world's longest limestone cave recognized as the UNESCO World Heritage Site. To approach the cave and see its masterpieces, you will join in a boat trip along the peaceful Son river. Your lunch today is preparing on boxes.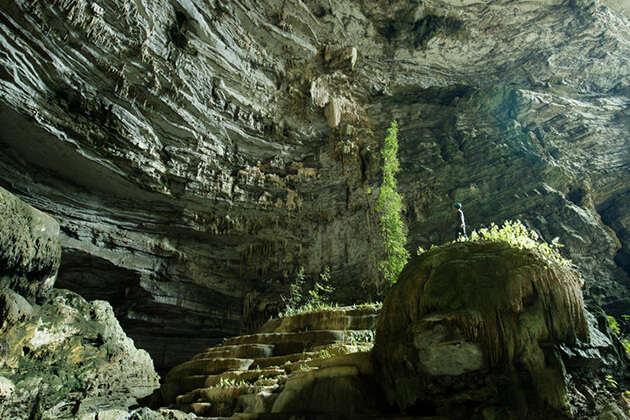 In the afternoon, follow the local guide to explore the untouched Phong Nha – Ke Bang National Park to see unique floras and faunas and take wonderful photos. Overnight in Dong Hoi
Day 16: Dong Hoi – Hue – City Tour (B, L)
Leave Dong Hoi early this morning then transfer to Hue, another ancient capital of Vietnam. Upon arrival, visit Hue Imperial City recognized as the World Heritage Site by UNESCO. Learn more about the history of Vietnamese last feudal dynasty as well as the royal life in the 19th century through palaces, museums, tombs, temples, and pagodas.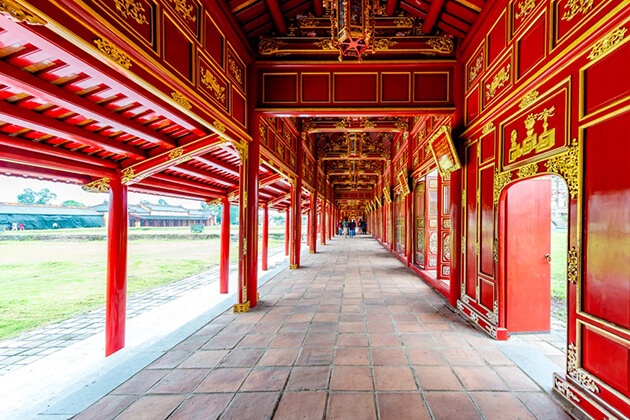 After lunch, explore the tombs of King Tu Duc and King Khai Dinh to get a closer look at elaborate Vietnamese royal architecture. Later, board a dragon boat to paddle along the Perfume River and discover Thien Mu pagoda. Overnight in Hue
Day 17: Hue – Hoi An – Walking Tour (B, L)
Farewell Hue and travel to Hoi An ancient town. Along the route, feast your eyes with the scenic beauty of Hai Van Pass and take unique photos of fishing villages at Lang Co Beach. Have a quick visit at Cham sculpture museum and scared Marble Mountain before reaching the ancient town for lunch and hotel check-in.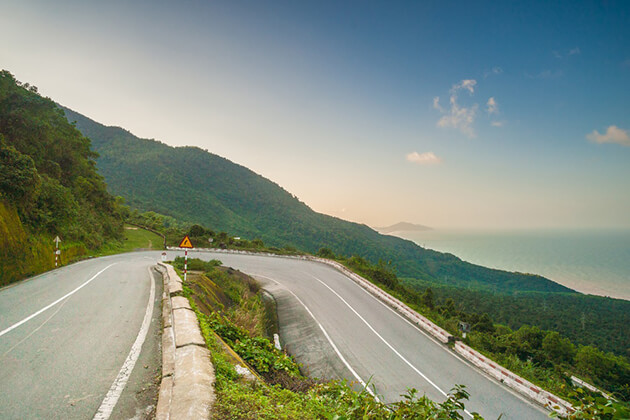 In the afternoon, start the walking tour in Hoi An to behold charms of the former vibrant commercial ports. It includes Chua Ong Pagoda, Tan Ky old house, Japanese Covered Bridge, Chinese Assembly Hall, and the central market. Overnight in Hoi An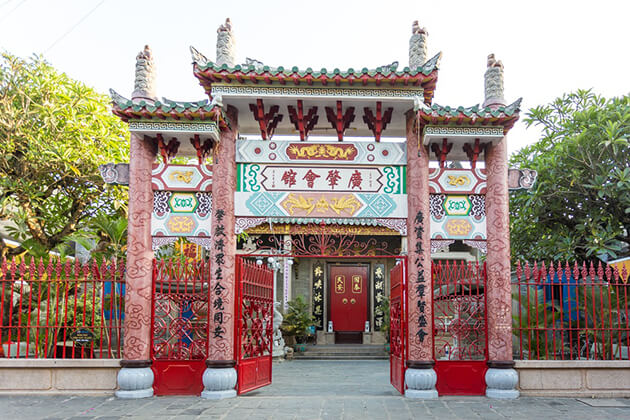 Day 18: Hoi An – My Son Holy Land (B, L)
After breakfast, travel to My Son Sanctuary, the kingdom of Cham Empire ruling central and South Vietnam from the 4th to the 14th century. In the afternoon, it is your free time to explore Hoi An ancient town. Overnight in Hoi An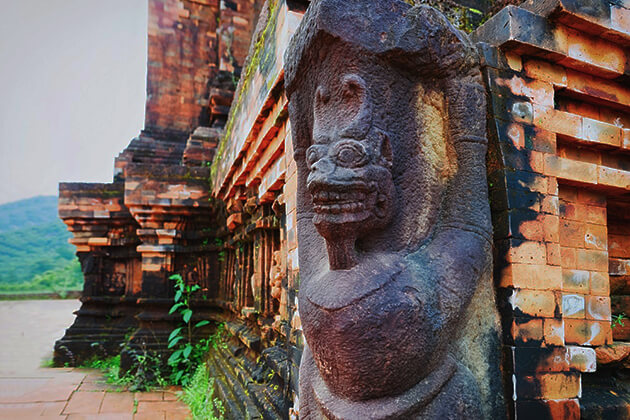 Day 19: Danang – Fly to Ho Chi Minh City – Cu Chi Tunnels (B, L)
This morning, say goodbye to Hoi An and transfer to Danang for a domestic flight to Ho Chi Minh City (Saigon).  Upon arrival,  have lunch and take a short rest before spending this afternoon exploring Cu Chi Tunnels, which used to be the legendary underground system in the Vietnam War. Return to Saigon in the late afternoon. Overnight in Saigon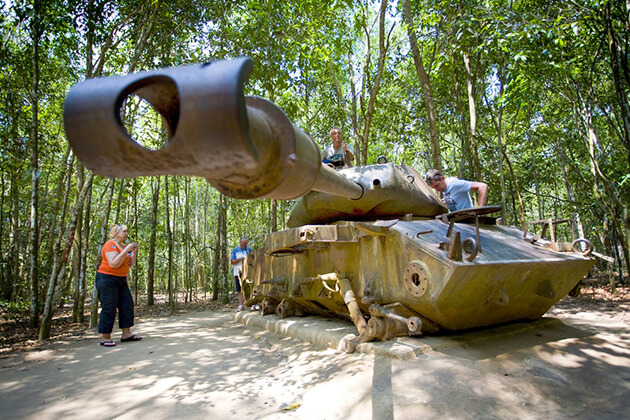 Day 20: Ho Chi Minh City Tour – Fly to Siem Reap (B, L, D)
Bid farewell to Vietnam and fly to Siem Reap. Upon arrival, explore the Roluos Group of the temples then climb to the peak of Phnom Bakheng for a spectacular sunset. Dinner at a local restaurant with the performance of traditional Apsara dance. Overnight in Siem Reap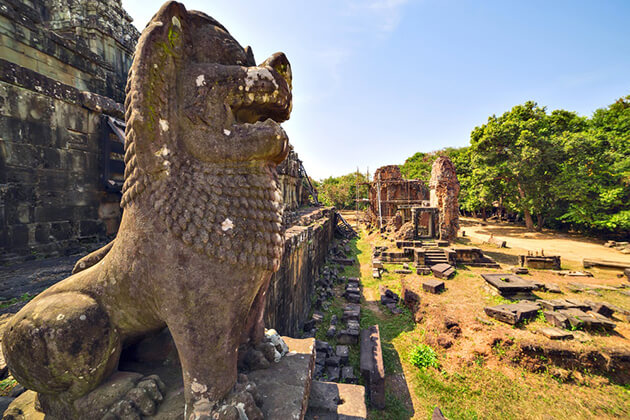 Cambodia Tour in 2 Days
Day 21: Angkor Wat Complex (B, L)
In the morning, drive to the Pre Rup and East Mebon as well as Banteay Srey (a.k.a the woman temple). After lunch, explore the charming Angkor Wat, the heart of the Khmer Empire and the World Heritage Sites. Overnight in Siem Reap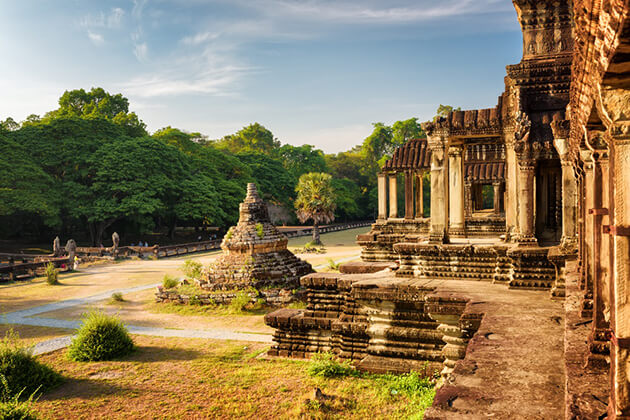 Day 22: Siem Reap – Beng Mealea – Fly to Luang Prabang (B, L)
In the morning, reach Tonle Sap Lake, the largest water reservoir in Indochina, to see rustic floating life of local fishermen. Then visit the wonderful jungle-covered temple Beng Mealea before taking a flight to Luang Prabang in Laos.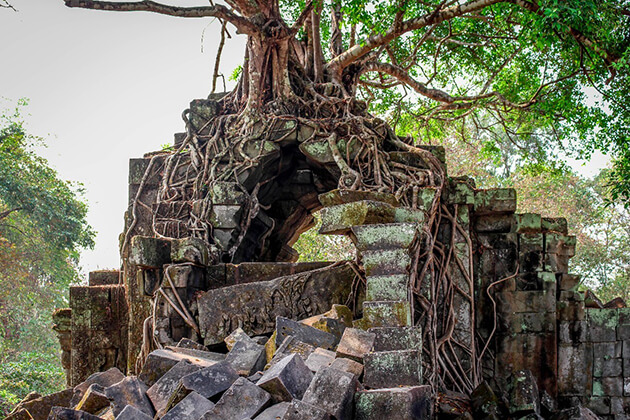 Upon arrival, you will be picked up the airport and transferred to hotel. Then visit some famous attractions of the city such as Wat Visoun, the National Museum, and Wat Mai. In the dinner, stroll around the Night Market to see the colorful collection of textiles made by hill tribal people. Overnight in Luang Prabang.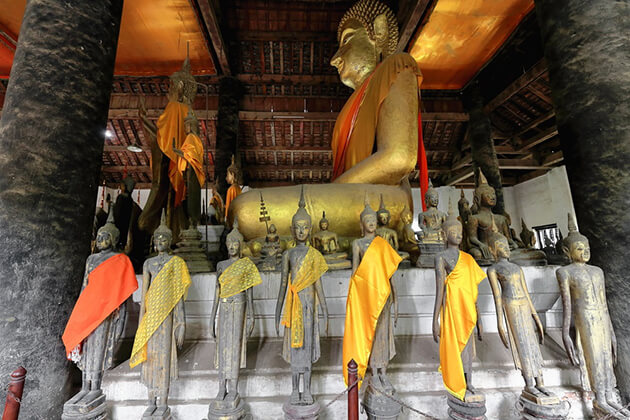 Laos Tour in 6 Days
Day 23: Luang Prabang City Tour (B, L)
Be an early bird today to join in the morning ritual of Alms Giving. You will see a line of monks collecting offerings from local people along the road. Return to the hotel then for breakfast.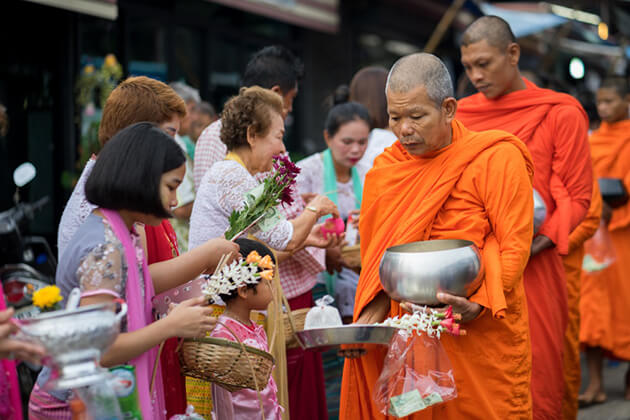 Afterward, visit Wat Xieng Thong which is considered the symbol of Laos. Take a canoe then to reach Pak Ou Cave which is preserving hundreds of Buddhist statues. On the way back to Luang Prabang, see the traditional ceremony in Laos called "Baci".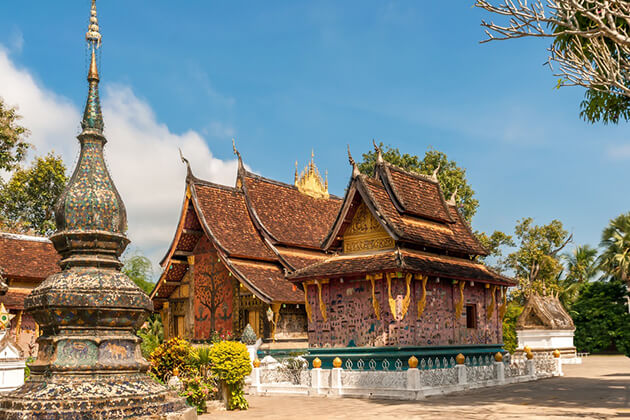 Day 24: Luang Prabang – Mandalao Elephant Conservation (B, L)
This morning is your leisure to explore the city. After lunch, you will be picked up from the hotel's lobby then transfer to Mandalao. Upon arrival, listen to an in-depth introduction about elephant's behaviors and communications.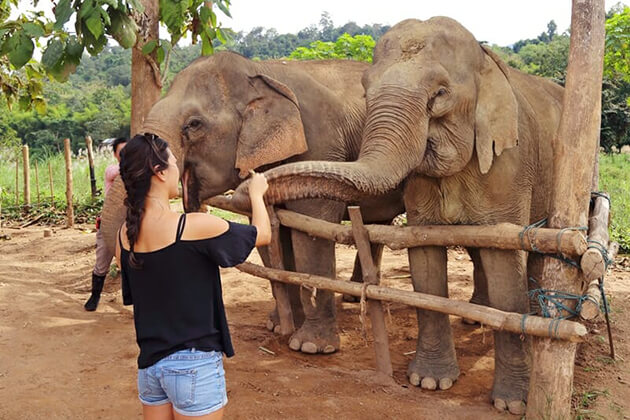 Then join in the cooking for elephants by preparing some foods with special treats which help their digestion. After feeding the elephants, sit on their back to Nam Khan river to see them during bathtime. In the late afternoon, say goodbye to the friendly elephants and return to Luang Prabang.
Day 25: Luang Prabang – Phonsavan (B, L)
Farewell Luang Prabang and travel to Phonsavan this morning. On the way, visit the local villages of ethnic minorities owning unique cultures and tradition. Overnight in Phonsavan.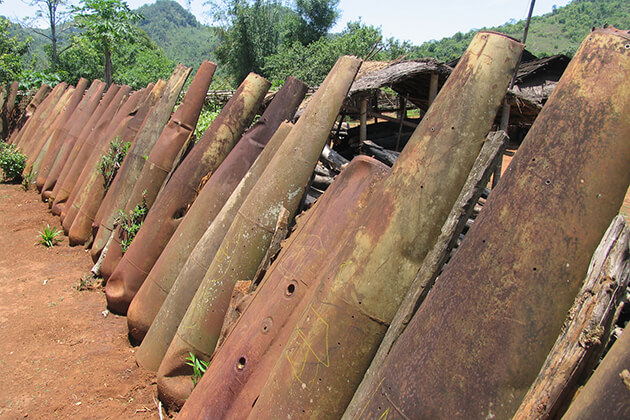 Day 26: Phonsavan – Plains of Jars (B, L)
In the morning, meet UXO Laos, a local organization specializing in detecting and defusing bombs left in the war. After that, visit the three sites of the Plain of Jars, the new UNESCO World Heritage Site in Laos. These immense containers with the weight from 600kg to over 1 ton are still the mysteries of their origin and creation. Overnight in Phonsavan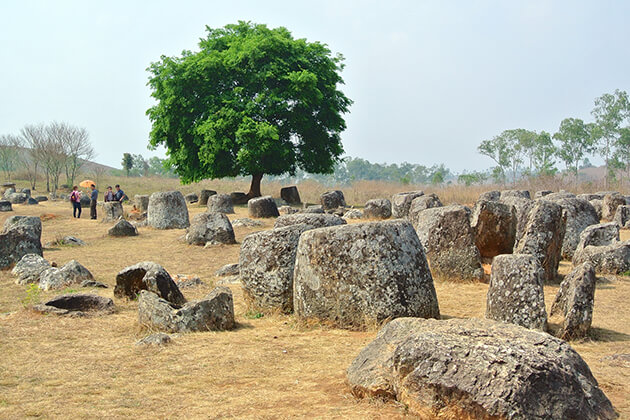 Day 27: Phonsavan – Vientiane (B, L)
After breakfast, visit the Wet Market to interact with the locals then explore some temples nearby as well as Navang crafts. Return to Vientiane by plane after breakfast. In the afternoon, pay a Vientiane tour to discover Wat Si Saket, Wat Ho Prakeo, the Presidental Palace and Patuxai Monument. Overnight in Vientiane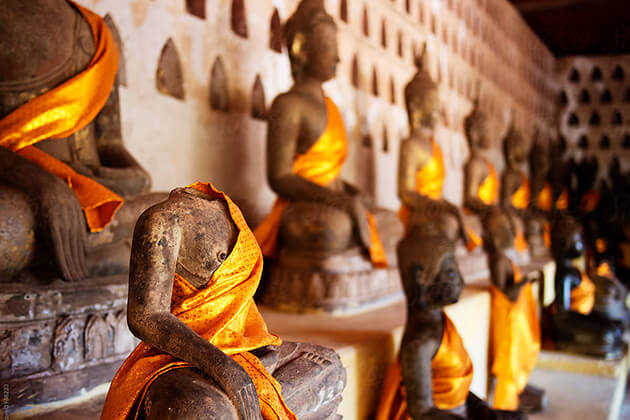 Day 28: Vientiane Departure (B)
After breakfast, wait for our vehicle to transfer you to the airport for your flight home. Tour ends.