Experience the kaleidoscope of unrivaled cultures and histories that well define Vietnam and Myanmar in this 18-day package brought to you by Viet Vision Travel. Discover the incredible traditional traditions, marvel at picturesque landscapes and behold ancient heritage sites. Uncover glorious kingdoms and dynasties of turbulent recent histories standing in stark contrast alongside the modern as well vibrant cities.
Tour Route: Hanoi – Sapa – Halong Bay – Hue – Hoi An – Ho Chi Minh City – Mekong Delta – Yangon – Bagan – Inle Lake – Mandalay
Duration: 18 Days/ 17 Nights
Date: No fixed departure dates. You may go whenever you wish.
Start/ End: Hanoi/ Mandalay
Tour Type: Explore and Experience
Tour Categories: 4 Countries – 1 Destination, Myanmar Tour Packages
Tour Customizable: Absolutely! (Tell us your specific requirements in the inquiry form)
Brief Itinerary
12-day Vietnam Tour
Day 1: Hanoi Arrival
Day 2: Hanoi City Tour – Overnight Train to Lao Cai
Day 3: Lao Cai – Sapa – Y Linh Ho – Lao Chai – Ta Van
Day 4: Sapa – Fansipan peak by cable car – Hanoi
Day 5: Hanoi – Halong Bay
Day 6: Halong Bay – Hanoi – Hue
Day 7: Hue City Tour
Day 8: Hue – Da Nang – Hoi An
Day 9: Hoi An – Ho Chi Minh City
Day 10: Cu Chi Tunnels – Ho Chi Minh City Tour
Day 11: Ho Chi Minh City Tour – Cai Be Floating Market
Day 12: Ho Chi Minh City – Yangon
6-day Myanmar Tour
Day 13: Yangon – Bagan
Day 14: Bagan – Salay – Mt. Popa – Bagan
Day 15: Bagan – Heho – Inle Lake
Day 16: Inle Lake – Mandalay – Amarapura – Mandalay
Day 17: Mandalay – Mingun – Sagaing – Mandalay
Day 18: Mandalay Departure
12-Day Vietnam Tour
Day 1: Hanoi Arrival
Upon arrival, our guide and driver will be waiting to warmly greet you and escort you to the hotel for check-in. Once you've settled, enjoy a walk through the sun-soaked, vibrant city of Hanoi; a myriad of history and rich heritage spanning back hundreds of years. The city itself has been through wars, conflicts, and stood the test of time against politics. With a stunningly rich culture of preserving history for the curious as well as wonderful tourists who pass through the nation, it's a fountain of knowledge to satisfy everyone! Overnight in Hanoi.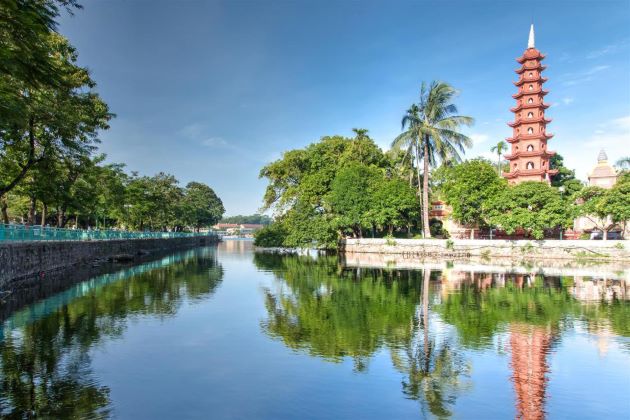 Day 2: Hanoi City Tour – Overnight Train to Lao Cai/ Sapa (B, L)
Today, we will joyfully enjoy a full day city tour in Hanoi. We head to the home of the founder of Vietnam, the legendary Ho Chi Minh. His house which is perfectly preserved is all on display, as well as the presidential palace. Next, we visit One Pillar Pagoda & the Temple of Literature to capture your historic flair and you've got a head-first dive into the mystique which is Vietnamese culture!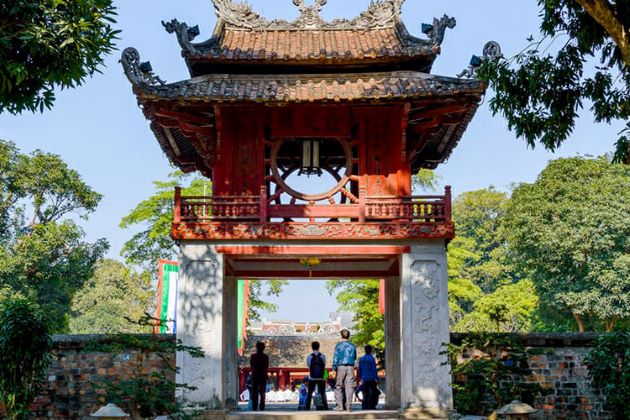 After lunch, you'll get an insight into Vietnam's fascinating, turbulent & enigmatic history with a trip to the Museum of Ethnology. Then, take a stroll around the Hoan Kiem Lake to awaken your spirit right in the very heart of the great city. In the miracle sunshine, if you haven't already built up that sun-kissed tan that holidays are well-known for, this is the perfect opportunity! Indulge in and calm yourselves on the tranquil shores of the lake…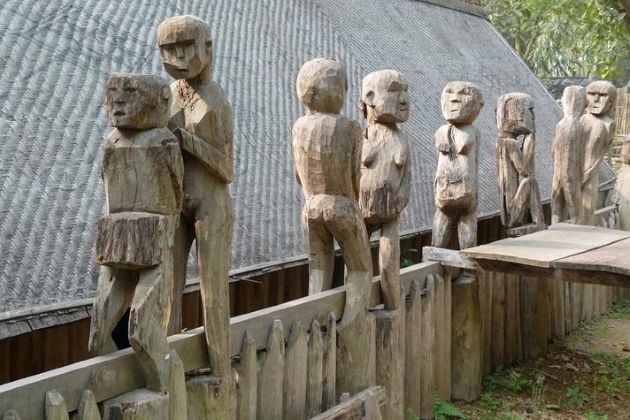 Take a cyclo ride through and explore the bustling Old Quarter. Get into a fantastic water puppet show which is unique in Vietnam. After dinner, you will be escorted to the station for a night train to Lao Cai/ Sapa. Overnight on train.
Day 3: Lao Cai – Sapa – Y Linh Ho – Lao Chai – Ta Van (B, L)
Our guide and driver will meet you at the train station and escort to Sapa town. Take short rest and have breakfast, we start the 6km walk down to the southeast of Sapa along the side of Muong Hoa valley to reach Y Linh Ho village of the Black H'mong.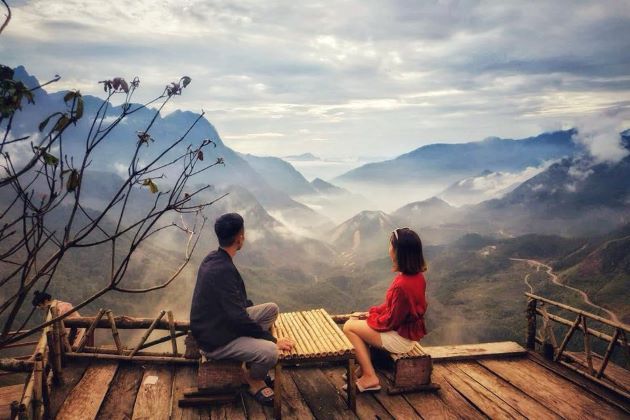 Then we take a 2 km-trekking down to Lao Chai village through terraced rice fields to reach Ta Van village. Enjoy lunch at a local family. It would give us a worth opportunity to learn about the local house architecture that is full of their daily lifestyles and exclusive custom. Get into the landscapes…en route, while trekking back to the bus stop in Ta Van then get back to Sapa by jeep or minivan. Overnight in Sapa.
Day 4: Sapa – Fansipan Peak by Cable Car – Bus Back to Hanoi (B, L)
This morning, breakfast at the hotel, take 4-minute Mountain Train through valleys, viaducts, and tunnels giving wonderful views of surrounding villages & nature. Arrive at Cable Car station, get off the train and get into another 20 minutes cable car ride up to the top. We can witness the peak and spectacular surroundings from the peak within.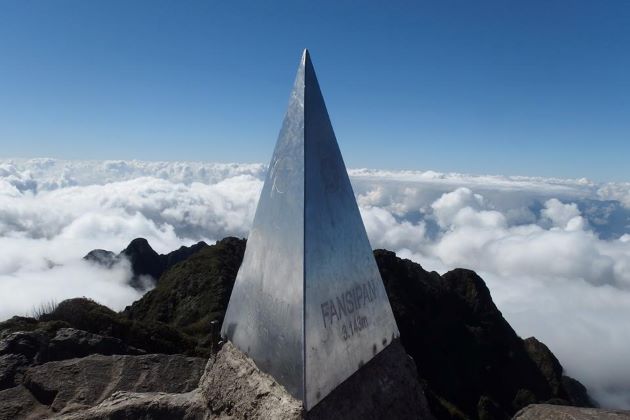 After a 20-minute ride, challenge yourself with 636 high steps up to the Fansipan Summit that is considered 'The Roof of Indochina' with 3,143-meter height. Indulge in the spectacular vista of Hoang Lien Mountain and lush forest. Then, we walk down to the cable car station and ride back. Also, take the Mountain Train back to town and enjoy lunch in a restaurant. In the afternoon, transfer back to Hanoi. Overnight in Hanoi.
Day 5: Hanoi – Halong Bay (B, L, D)
Today, we will enjoy our trip to one of the most magnificent scenic environments in the world, Halong Bay. Live, swim & sleep upon emerald wave aboard an exquisite Vietnamese boat atop the Halong Bay's calm waters, dining in style with special comfort of the evening breeze that gently brushes through your hair. Be served a lavish meal consisting of the very finest of Vietnamese and oriental cuisine. Expand your palette as well as acquire the taste for something different! And for those loving the water, you can feel it around your body as you take an invigorating swim under a glowing afternoon sun in the quiet, peaceful bay, the tranquil, crashing waves and picturesque view accenting your indulgence perfectly…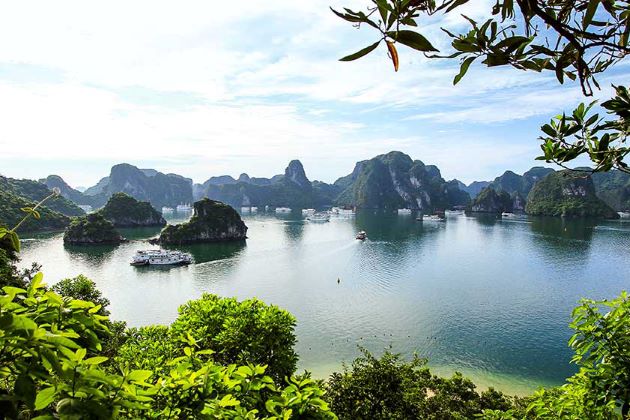 Spend the night in your own private cabin, complete with air conditioning and a very comfortable bed to get your head down after a day of joy. Overnight on cruise.
Day 6: Halong Bay – Hanoi – Hue (Brunch)
Wake up with your head just atop the lapping waters, we'll enjoy a full breakfast atop the top deck of your ship before discovering the legendary Sung Sot cave as well as the natural beauty around it. Then, go back to the glorious city of Hanoi once more to connect with your trip to Hue City… Overnight in Hue.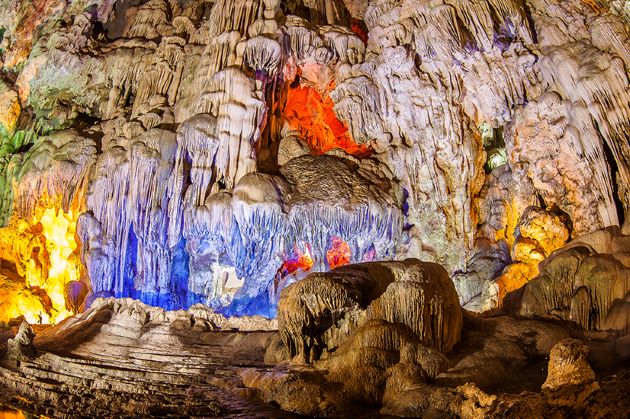 Day 7: Hue Full-day City Tour (B, L)
Today, the day tour in Hue takes you through the heart of the old Imperial Citadel as well as inducts you into the times of old. It is a pure breath of knowledge for the soul as you are walked through the ages of Vietnam & exposed to the stunning, yet pleasantly turbulent history of the great country. Witness the mausoleums of the powerful former Emperors, well-preserved, their history carved into humanity eternally, and listen to the stories of all that they achieved. Seek what shaped the beauty of the country you marvel at before you today. And even venture to the oldest, the first site of the fabled Hue City, the Thien Mu Pagoda, and know where it all began… Coming back in time really is possible with these amazing visits! Overnight in Hue.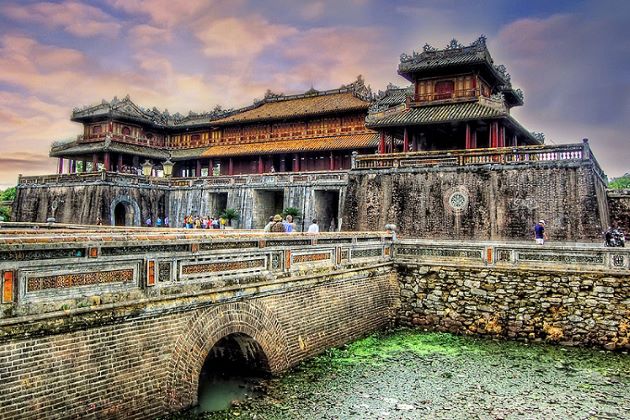 Day 8: Hue – Da Nang – Hoi An (B, L)
Get a feel of both the sand between your toes and the sun on your back as you get yourself into the town of Da Nang. My Khe Beach awaits. Now, it's time to build up that superb sun-kissed look beneath the sun with the stunning, clear blue waves washing over your ankles. With several miles of golden beaches as well as fantastic shoreline for your feet to wander, there's no shortage of destinations to kick back, collect the breeze & smile. Mingle with your beloved, friends, family, and your fellow tourists as you get into the sites and sun…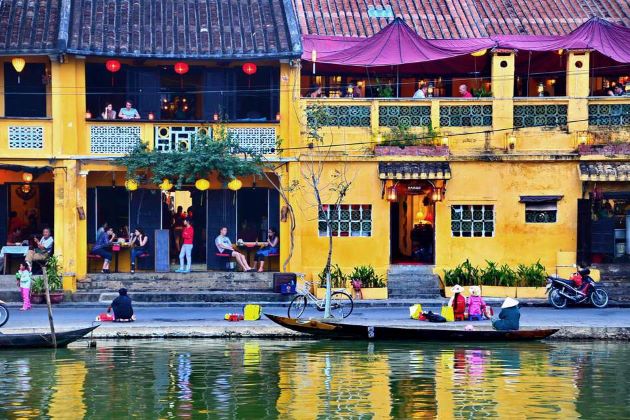 Also, you'll get an opportunity to marvel at the most wonderful collection of Cham sculptures available anywhere in the world! And full of riches and old-aged buildings consisting of the 200-year-old Tan Ky house, Assembly hall & even the former merchants' houses, and it's all yours to enjoy! Overnight in Hoi An.
Day 9: Hoi An – Da Nang – Ho Chi Minh City (B)
Today, relax leisure to travel wherever you want to go… If there is something that is piqued your interest, you have the ideal opportunity to come back and enjoy once more before connecting flight to Ho Chi Minh City… Overnight in Ho Chi Minh City.
Day 10: Cu Chi Tunnels – Ho Chi Minh City (B, L)
Today, we will have an interesting trip to Cu Chi tunnels in the morning and a city tour in the afternoon. We will watch a short introductory video before we enter the tunnels, which will show how they were built, followed by an exploration of the tunnels' maze, some of which have been widened in order to allow tourists access. Also on display, there are various mantraps as well as the remains of an American tank, numerous bomb craters made by 500lb bombs dropped by B52 bombers during the war. We have lunch at a restaurant before head to Ho Chi Minh City.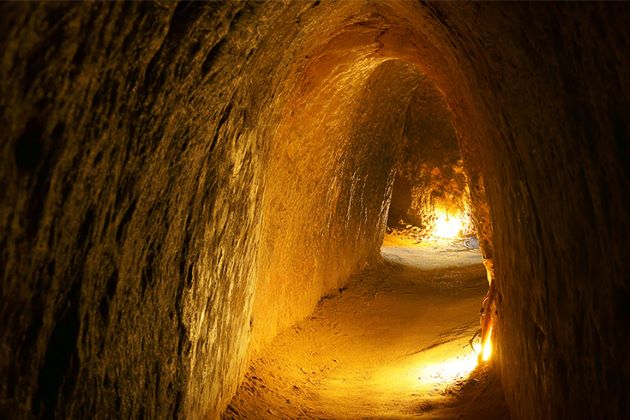 In the afternoon, visit the Reunification Palace, the former Presidential Palace for the president of the South of Vietnam. Then, head to War Remnant Museum, where we can observe countless artifacts, photographs, and pictures documenting about the second Indochina war. Stop at Notre Dame Cathedral & Old Post office to get good shots for our memory of the big & modern city of Vietnam. For the rest of the day, visit Ben Thanh market and back to the hotel at around 18:00. Overnight in Ho Chi Minh City.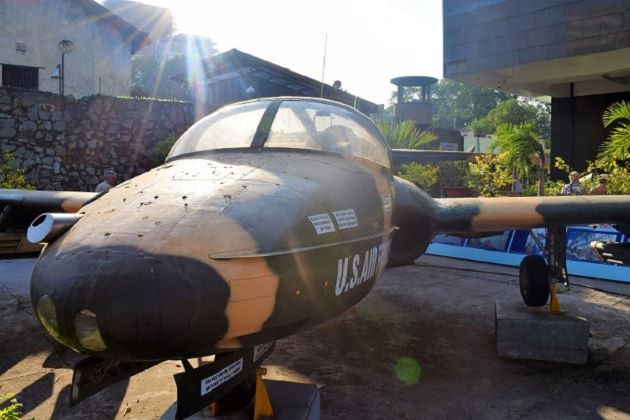 Day 11: Ho Chi Minh City – Mekong Delta – Cai Be Floating Market (B, L)
Today, we depart for Cai Be, stopping to take photos of Tan An town overlooking the gorgeous flat rice fields. On arrival in Cai Be, we will take a motorboat heading to the Cai Be floating market & watch the locals trading fruit along with many other commodities on board their vessels. Then, we wander into the small villages to head to the orchard and fruit plantation. We keep cruising to Vinh Long through a series of small canals to discover the charms of the Upper Mekong Delta. Head to a small family business to marvel at how coconut candy and crispy rice popcorn are made. Reach Binh Hoa Phuoc village, the green pearl of Vinh Long town, where you can get into nature.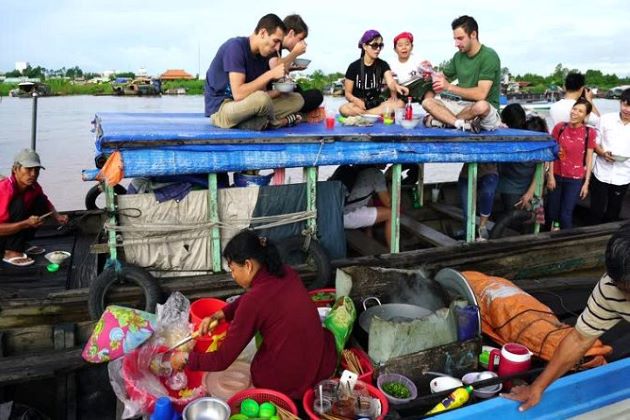 Have lunch of fresh river food served in the heart of the garden and enjoy traditional music. Take a delightful walk through the bonsai garden. Meet the guide & driver again in Vinh Long and return to Ho Chi Minh City. Overnight in Ho Chi Minh City.
Day 12: Ho Chi Minh City – Yangon (B, L)
Relax at leisure until getting escorted to the airport for the flight to Yangon.
Upon arrival in Yangon international airport, our guide and driver will be waiting to warmly greet and escort you to the hotel. Then visit Chauk Htatt Kyi (the 6 storied in meaning; however, actually the huge reclining Buddha Image), Shwedagon Pagoda which is well-known worldwide for its golden stupa in which is the 'Heart' of Buddhism Myanmar. It is believed to be 2,500 years old and the central stupa surrounded by dozens of intricately decorated buildings as well as statues. Overnight in Yangon.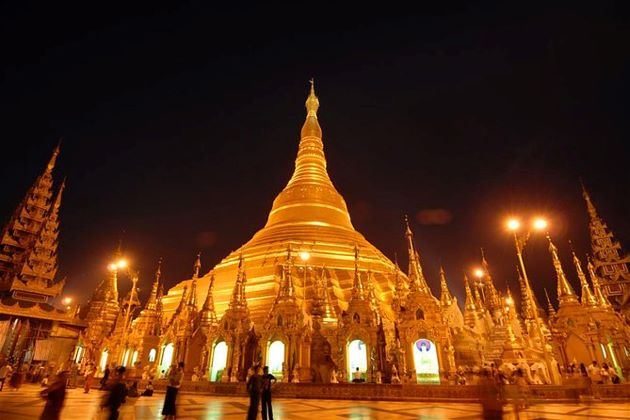 6-Day Myanmar Tour
Day 13: Yangon – Bagan (B, L)
This morning, after breakfast, you will take a flight to Bagan on the East bank of the mighty Ayeyarwaddy River. Upon arrival, transfer to hotel for check-in. Sightseeing tour today will start with a visit to the colorful Nyaung Oo Market, and Shwezigon Pagoda, Ananda Temple, King Kyansittha's masterpiece as well as the crowning achievement of the early style temple of architecture. We then head to Thatbyinnyu Temple which is the highest building on the Bagan plain. Continue to Htilominlo Temple which is noted for its fine plaster carvings and glazed sandstone decorations.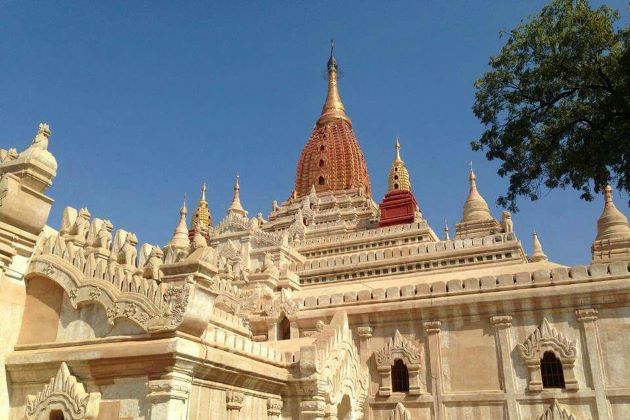 After lunch, we observe the process of traditional lacquerware, one of Myanmar's well-known handicrafts as well as a specialty of Bagan. Our trip keeps going with a visit to Manuha Temple, Myingabar Gubyautgyi Temple which is an early period Pyu-style temple of Hindu influence with some of the most ancient mutual paintings in Bagan &  then, Dhamanyangyi Temple noted for its remarkable brickwork. Lastly indulge in the sunset over the Ayeyarwaddy River from Buphaya or Shwesandaw Pagoda. Overnight in Bagan.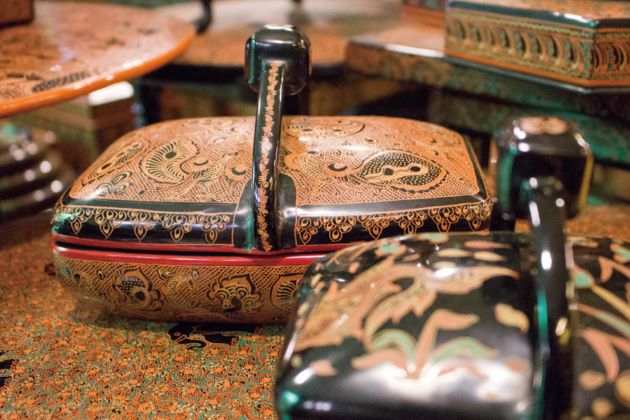 Day 14: Bagan – Salay – Mt. Popa – Bagan (B, L)
Today, we take a pretty drive to Salay which is famous for the ancient monastery to times of ancient and modern. The home of Myanmar spirits awaits, and you might just seek the hidden excitement of engaging with them, for those of with a supernatural belief!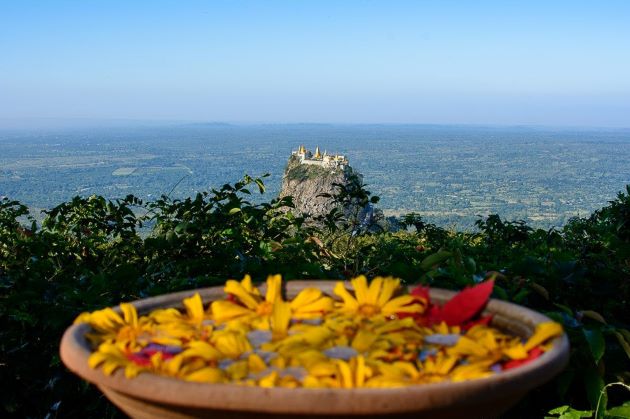 Then, we drive to Mt. Popa where there is a house for Myanmar spirits. En route, you can witness toddy farm & ways of making Toddy Candy. Back to Bagan. Afternoon visit Bagan for the rests of the well-known pagoda. Overnight in Bagan.
Day 15: Bagan – Heho – Inle Lake (B, L)
Morning with breakfast and then transfer to Bagan Airport to take a flight to Heho. From Heho, take a scenic one-hour drive towards Nyaung Shwe that is the gateway village to Inle Lake. Along the way, we make a stop at the wooden Shwe Yan Pyay Monastery. It is an elegant old-aged monastery with its oval-shaped windows. Also, make a stop in Nyaung Shwe for a short walk around town as well as a visit to the vibrant market if it is held that day.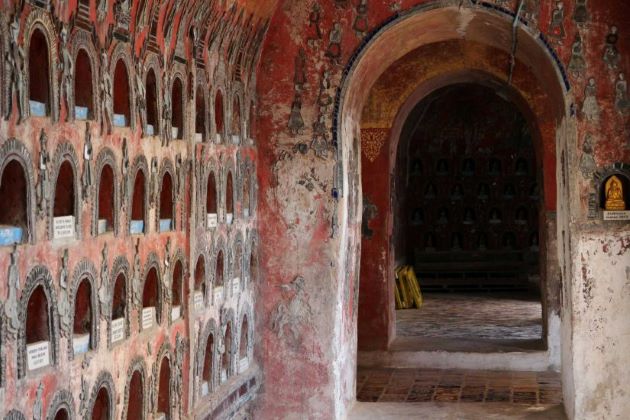 Upon reaching the edges of Inle Lake, we board a private motorboat to Inle Lake, one of Myanmar's most superb sights. Pass villages constructed on stilts over the lake, observe the leg-rowing fishermen & see their floating gardens built up from strips of water. Head to Phaung Daw Oo Pagoda which is famous for the 800 years old Five Buddha statues being are covered in gold leaf.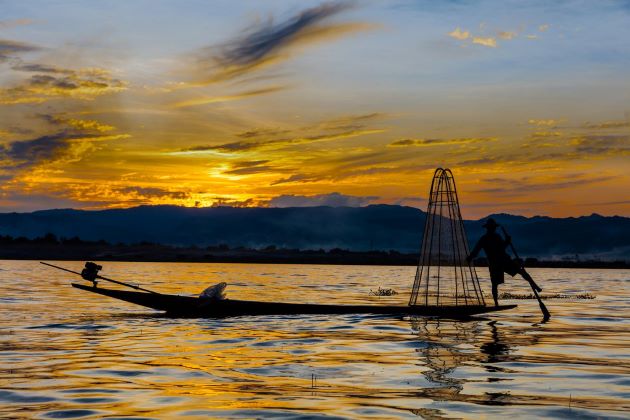 Discover the local crafts of Inle Lake by stopping at the weaving village of Inpawkhone as well as a cheroot factory, where the typical Burmese cigars are made. If time permits, we enjoy a short walk through one of the lakeside villages. Overnight in Heho.
Day 16: Inle Lake – Mandalay – Amarapura – Mandalay (B, L)
This morning, we fly north to Mandalay which is Myanmar's cultural capital. The nature focus of the city is an abrupt hill that rises above a vast moated and walled square. Upon arrival, drive to Amarapura which is former capital. Its name means 'City of Immortality'. Firstly, we visit a silk weaving workshop producing exquisite handmade products and after that, head to Mahagandayon monastery, when over 1.000 monks reside. After touring this tranquil place, keep going to U Bein Bridge, the world's longest teak bridge. Wander along the bridge and enjoy a fabulous view of surrounding farms and streams.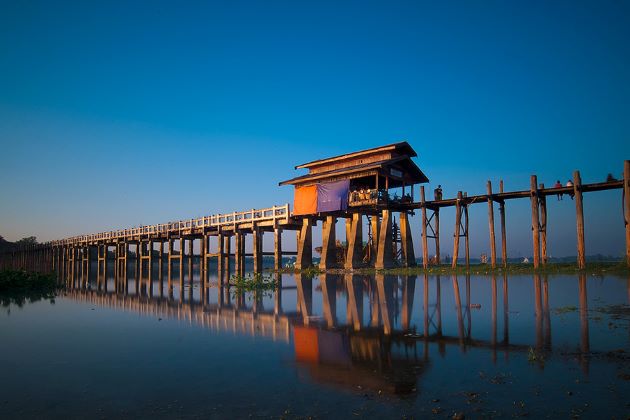 This afternoon, we'll head to Mahamuni Pogada – 13ft-high sated Buddha image which is one of Myanmar's most infamous sites. Then visit Kuthodaw Pagoda where 729 marble stone slabs of Buddhist scriptures have been earned it the title 'World's Biggest Book'. Keep going to Shwenandaw Monastery which is the only remaining building from the 19th century Royal Palace. This grand teak building is well-known for its exquisite woodcarving. Finally, reach the top of Mandalay Hill as the sun begins to go down to marvel at magnificent views of the city and Irrawaddy River. Overnight in Mandalay.
Day 17: Mandalay – Mingun – Sagaing –Mandalay (B, L)
This morning we'll get into a short river journey to traverse to Mingun Pagoda. Then, we continue our visit to the world's largest uncracked bell called Mingun Bell. En route, you can visit a Buddhist nursing home for family-less elderly folk being always glad of donations. (Donation is at your own).Have lunch at a local restaurant.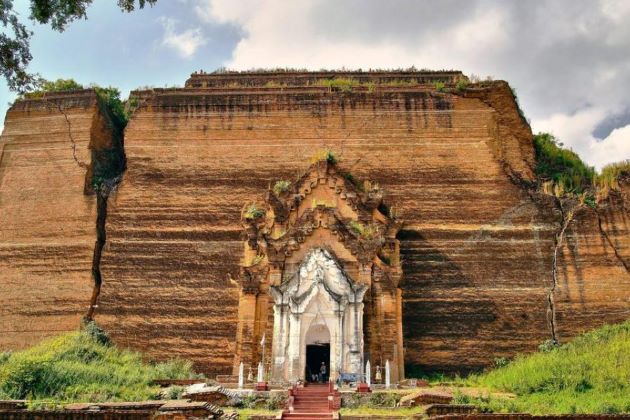 After lunch, transfer to Ava which is one of the old-aged cities, also a remarkably rural backwater of empty fields which is sparsely dotted with widely spaced ruins, monastic buildings, and stupas. Discover Ava by plodding horse cart to head to Bagaya Kyaung (a wonderful teak monastery), Maha Aungmye Bonzan monastery (constructed of stucco-covered brick, royal monastery temple) and Nanmyin (a leaning watchtower of Ava).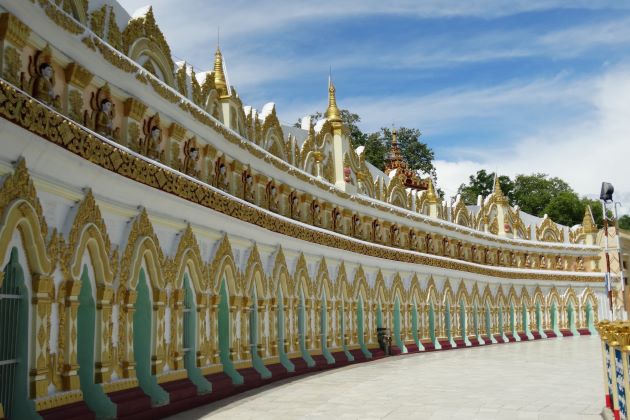 Back to dry land by boat and take a pretty drive to Sagaing by crossing a bridge over the Irrawaddy River. You can see uncountable white-and-gold stupas are highlights of Sagaing. Sagaing Hill is widely considered as the religious center of Myanmar.  It houses 3,000 monks as well as 100 meditation centers and you will head to pagodas like Swan OoPon Nya Shin and U Min ThoneSae. We'll also go to Sagaing's local market which is a typical Burmese market that few tourists visit. Once there, you will see a range of items for sale including locally made pottery, silver, and other handicrafts. Also, make a stop at a small pottery village to observe the process of making the ubiquitous water pots found throughout Myanmar. Drive back to Mandalay and overnight.
Day 18: Mandalay Departure (B)
Time to say goodbye. Relax at leisure until getting escorted to the hotel for a flight coming back home. The trip ends. Hope you enjoyed the trip and hope that we will have another opportunity to go with you together.