This 2-week Vietnam family holiday is specially designed for families traveling with kids. It starts in Ho Chi Minh City (Saigon) then takes in many highlights of Vietnam including Nha Trang, Da Nang, Hoi An, Hanoi, and Halong Bay then finishes in Hanoi. The trip is running at a slow pace which allows you to have more time for your children as well as your own. We do not stuff too much in your itinerary but find the balance for activities for parents and children to make the whole family have quality time. Art from visiting the historical places we also put some programs for children such as visiting the zoo, Water park, Amusement Park…
General Information
Tour Route: Ho Chi Minh City – Mekong Delta – Nha Trang – Hoi An – Hanoi – Halong Bay – Hanoi
Duration: 14 Nights/ 13 Days
Date: No fixed departure dates. You may go whenever you wish
Start/ End: Ho Chi Minh City/ Hanoi
Tour Type: Landscape, Culture, History, and Beach Vacation
Tour Customizable: Absolutely! (Tell us your specific requirements in the inquiry form)
Active Level: Easy & Regular itinerary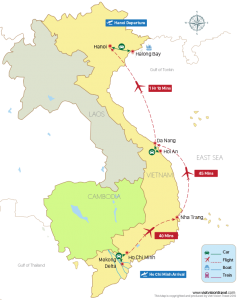 Brief Itinerary
South Vietnam Family Tour – 4 Days
Day 1: Ho Chi Minh City Arrival
Day 2: Ho Chi Minh City Tour – Cu Chi Tunnels
Day 3: Ho Chi Minh City – Mekong Delta
Day 4: Mekong Delta – Ho Chi Minh City
Central Vietnam Family Tour – 5 Days
Day 5: Ho Chi Minh City – Fly to Nha Trang
Day 6: Vinpearl Amusement Park
Day 7: Nha Trang – Free at Beach
Day 8: Nha Trang –  Hoi An – Walking Tour
Day 9: Hoi An – Farming & Fishing Life Eco Tour
North Vietnam Family Tour – 5 Days
Day 10: Hoi An – Da Nang – Fly to Hanoi – City Tour
Day 11: Dong Ngac Culture Village Cycling Tour
Day 12: Hanoi – Halong Bay (Overnight on Junk)
Day 13: Halong Bay – Hanoi
Day 14: Hanoi Departure
South Vietnam Family Tour – 4 Days
Day 1: Ho Chi Minh City Arrival (D)
Welcome upon arrival by local tour guide and driver, then transfer to hotel in the center city. Relax after a long flight journey and enjoy our welcome dinner with a local family, exchange culture with a Vietnamese family. Overnight in Ho Chi Minh city.
Day 2: Ho Chi Minh City Tour – Cu Chi Tunnels (B, L)
This morning, visit the Reunification Palace, the former Presidential Palace for the president of the South of Vietnam. After that, explore the War Remnant Museum, where we can see countless artifacts, photographs, and pictures documenting the second Indochina war. Before our lunch, we stop at Notre Dame Cathedral and Old Post Office.
In the afternoon, leave Saigon for the Cu Chi tunnels. On our way there we will drive through the pleasant countryside; rubber plantations and rice paddies. Before entering the tunnels, we will see a short introductory video showing how they were constructed, followed by an exploration of the maze of tunnels, some of which have been widened to allow tourist access. Also on display are various mantraps and the remains of an American tank, as well as numerous bomb craters made by 500lb bombs, dropped by B52 bombers. After that, we transfer back to Ho Chi Minh City. Overnight in Ho Chi Minh city.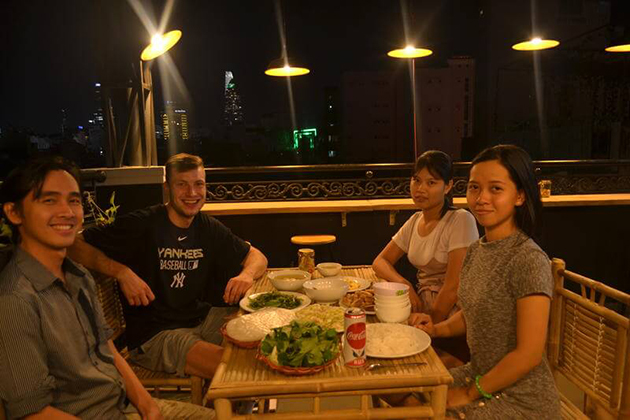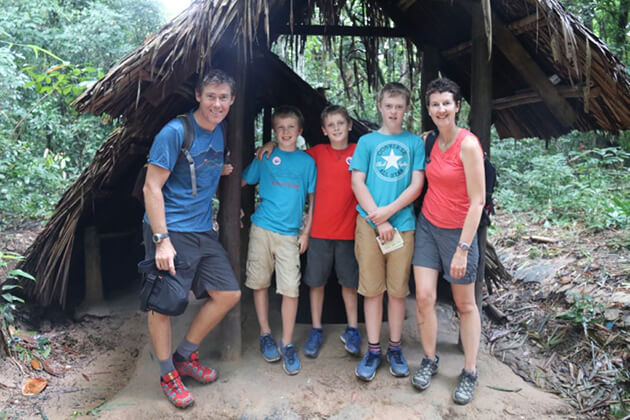 Day 3: Ho Chi Minh City – Mekong Delta with Homestay (B, L, D)
This morning, we travel to Cai Be floating market, which is known as a wholesale floating market. The wholesalers on big boats often moor here. The buyers often take the smaller boats so they can easily find what they are looking for following the tall wooden poles which hang samples of the goods on the big boats. Here, the boat will take us among local barges full of fruits and vegetables. After the market, we stop at local workshops to visit rice paste, coconut candy, pop-rice, and pop-corn production or we visit the handicraft village where the local people make special products of rice-net for spring rolls, fish sauce, soya sauce, cooking salt, sewing coconut-leaves for cottage proof….Then we stop for lunch.
In the afternoon, the rowing boat will take us deeper into the countryside along the canals. It's time we feel the peaceful air while passing traditional houses made of wood, and palm tree leaves; farmers catching fish or picking up fruits by the ancestral way in Mekong Delta. Arriving at home-stay, we check in and enjoy the last but not least activity of the day biking. It will be so amazing to bike on village paths to see the local farms, houses, real-life, and the ancestral ways to pick up fruits in Mekong Delta…
For the rest of the day, we learn to cooksome dishes with the owners, then enjoy dinner and have a cup of tea or rice wine when talking together. We can ask the locals about the culture, people, and history of this Island. They do not mind answering some personal questions. Overnight at home-stay.
Day 4: Mekong Delta – Ho Chi Minh City (B)
After breakfast we walk along the village to enjoy the fresh air in the morning then we fare well with the host, and take a boat trip to the brick kilns to see how the beautiful potteries are made from clay. Along the river, we can see the floating villages, the catfish farm… Arriving in Vinh Long town late morning, visit the local market then back to Ho Chi Minh City. Overnight in Ho Chi Minh City.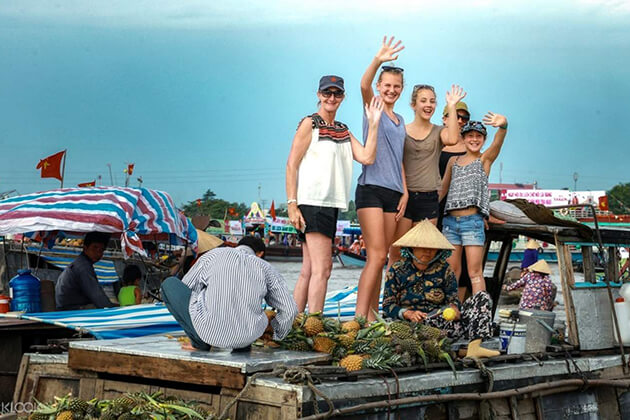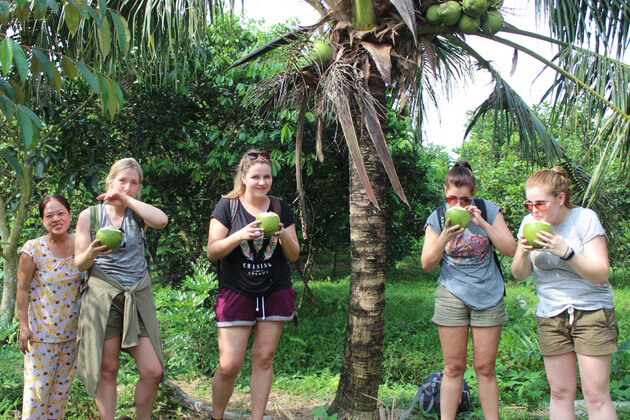 Central Vietnam Family Tour – 5 Days
Day 5: Ho Chi Minh City – Fly to Nha Trang (B)
Morning relaxes in Ho Chi Minh City then fly to Nha Trang beach city where our awaiting tour guide and driver welcome us and transfer us to the hotel. Relax in the beach city. Overnight in Nha Trang.
Day 6: Vinpearl Amusement Park (B)
Spending all today at the Vinpearl Amusement Park where we can join all water and game activities included.
Day 7: Nha Trang – Thap Ba Hot Spring Bathing & Mud Spa Tour (B, L)
Free at leisure today for your activities at Thap Ba Hot Spring and Mud Spa Tour. Overnight in Nha Trang.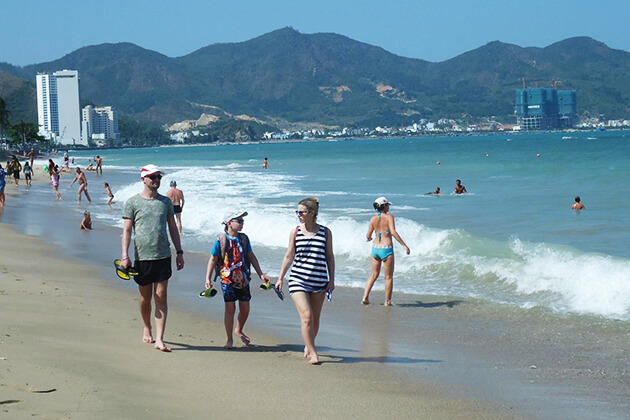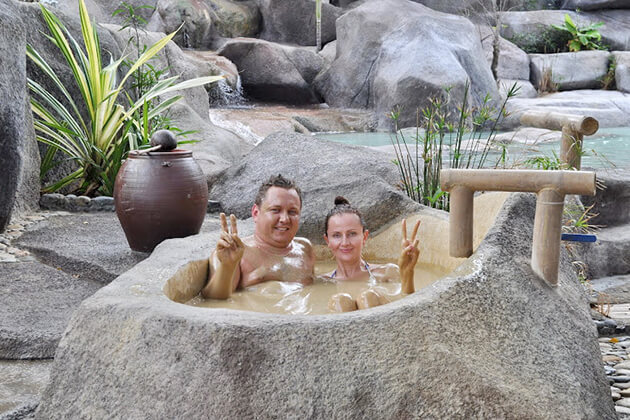 Day 8: Nha Trang – Fly to Danang & Transfer to Hoi An (B, D)
After a morning relaxing at the beach, we transfer back to the airport to take a short domestic flight to Danang where we are welcome and transferred to Hoi An by a local tour guide and driver. This afternoon, we enjoy a walking tour to visit Chua Ong Pagoda, Chinese Assembly Halls, the 200 – year old Tam Ky ancestral house, and the Japanese Bridge. Overnight in Hoi An.
Day 9: Hoi An – Farmer & Fishing Life Eco Tour (B, L)
This morning, we can choose a bus or bike to cycle to a local farming village to join the daily work life of local farmers – hoeing and soil, watering veggies at an organic herb garden, riding water buffalo in the field, and enjoying the freshest air of the countryside beauty. After that, board the Hoi An Eco-tour boat and cruise to the mouth of the river where it meets the Cua Dai Sea.
We also learn and try our hand at local traditional fishing techniques using round and cast nets, and learn to paddle the strange and unique Vietnamese bamboo basket boats. Explore the now tranquil coconut-palm-flanked waterways of a past war and hear of the extreme conditions endured by soldiers on both sides. Have relaxed fun catching beautiful purple crabs on a bamboo basket boat. After visiting a local water coconut palm village, we take a walk around the village and have some tea and snack with local talks…Back on board our Hoi An Eco-tour boat, enjoy our lunch and a cold beer or soft drink on the boat, then back to the hotel. Afternoon at leisure. Overnight in Hoi An.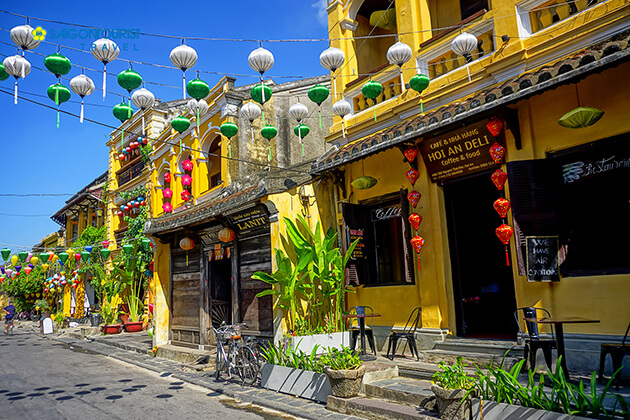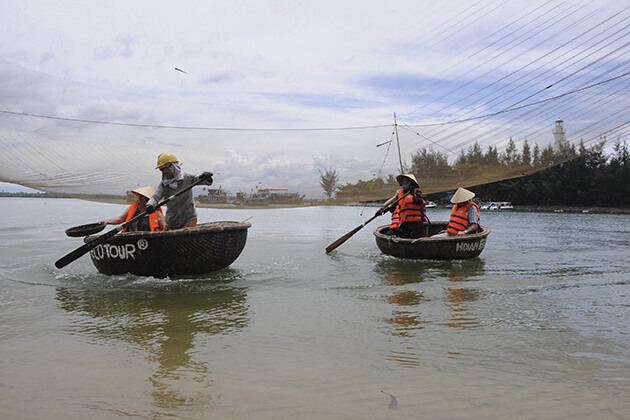 North Vietnam Family Tour – 5 Days
Day 10: Hoi An – Da Nang – Fly to Hanoi (B)
Today we transfer back to Danang to take the flight to Hanoi. Welcome upon arrival and transfer to the hotel. Afternoon, we visit the Temple of Literature: Originally built as a temple to Confucius, this is the site of Vietnam's first university dating back to 1070. The temple highlights the importance that Vietnamese society placed then and now on education.
After that we will take a one-hour cyclo around the Old Quarter, known as the 36 streets, this bustling area of narrow streets is home to literally thousands of small businesses and shopkeepers. Originally, each of the 36 street-names' was related to the products being sold there. Before going back to the hotel, we enjoy the unique Water Puppet show. Hear the Vietnamese traditional instruments and singing from the live musicians who play throughout the show. Overnight in Hanoi.
Day 11: Hanoi – Dong Ngac Village (B, L)
We meet the tour guide and driver at 8 AM then travel to Dong Ngac village which is about 15 km far from Hanoi. Arriving at the village, we stop at a local market to buy the ingredients which we will use to cook for our lunch today. We will have our chance to experience the bustling market and local life as we are guided on how to purchase all. After the market, we transferred to a traditional house and were welcomed by our host. We drink some tea, and relax a little bit before taking our bikes and venturing deeper into the village. We visit Dong Ngac communal house, the oldest house in the village which is more than 300 years old, and the Nguyen family with a house given by the Kings in the past.
After that, we join our cooking demonstration in our host's house and then enjoy the dishes that we do. And then, we say goodbye to our host then continue on our afternoon journey. We are cycling on mostly rural lanes through surrounding villages to Lien Mac, a beautiful area of immaculately tended vegetables and flowers. Here we will get a close-up look at the colorful fields and have the chance to chat with some of the local people out caring for their crops. After taking another route from Lien Mac back to Dong Ngac, we will have a short break for a drink at our host family's home, bid our farewells, and catch the van back to Hanoi. Overnight in Hanoi.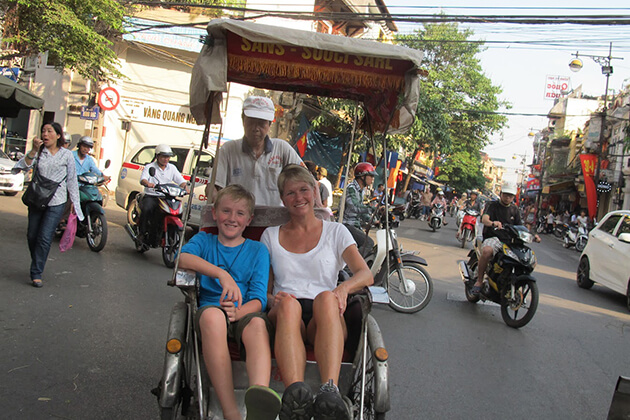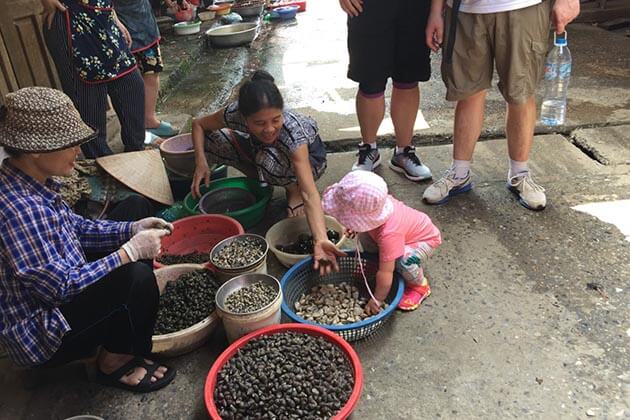 Day 12: Hanoi – Halong Bay (Overnight on Junk) (B, L, D)
After breakfast, we meet our tour guide and driver again for our 2-day excursion to Halong Bay a deluxe junk. Our vehicle will travel through breathtaking scenery en route to a World Heritage area of outstanding beauty. Upon arrival, we will board our boat and cruise around this secluded bay which has been referred to as the 8th Natural Wonder of the World. Whilst cruising we will explore forgotten caves and have the opportunity to canoe or swim from the boat. In the evening enjoy a seafood feast for dinner.
Day 13: Halong Bay – Hanoi (B, L)
After waking this morning, a sumptuous western breakfast will be served for you to enjoy whilst watching the sun rise over magical Halong Bay. After breakfast, we continue cruising around this amazing UNESCO World Heritage Site and explore some more of the intricate cave systems that make Halong truly unique. After a delicious lunch, we head back to Hanoi. Relax for the rest of the day. Overnight in Hanoi.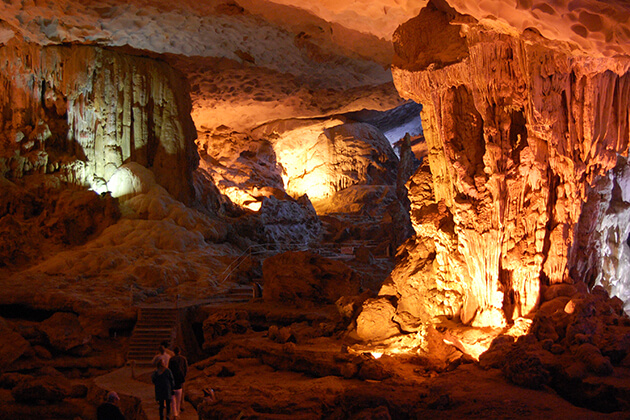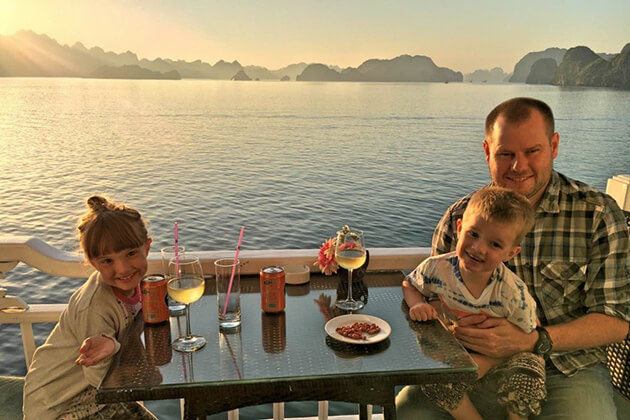 Day 14: Hanoi Departure (B)
Free at leisure for last-minute shopping before transferring back to the airport for our flight home. Your Vietnam vacation package ends.