General Information
Tour Route: Hanoi – Halong Bay – Hoi An – Nha Trang – Mui Ne – Ho Chi Minh City (Saigon)
Duration: 14 Days/ 13 Nights
Date: No fixed departure dates. You may go whenever you wish.
Start/ End: Hanoi/ Saigon
Tour Type: Family Vacation, Cruise, Beach Relax, Soft Adventure
Tour Customizable: Absolutely! (Tell us your specific requirements in the inquiry form)
Active Level: Regular itinerary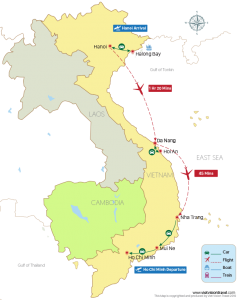 Brief Itinerary
Northern Vietnam Itinerary – 4 Days
Day 1: Hanoi Arrival (D)
Day 2: Hanoi City Tour & Food Tasting (B, L, D)
Day 3: Hanoi – Halong Bay (B, L, D)
Day 4: Halong Bay (B, L)
Central Vietnam Itinerary 5 Days
Day 5: Halong Bay – Hanoi – Fly to Danang – Hoi An (B)
Day 6: Hoi An Eco-Farming & Fishing Tour (B, L)
Day 7: Hoi An Free Day (B)
Day 8: Hoi An – Danang – Fly to Nha Trang (B, L)
Day 9: Nha Trang Island & Snorkeling Tour (B, L)
Southern Vietnam Itinerary 5 Days
Day 10: Nha Trang – Drive to Mui Ne Beach (B)
Day 11: Mui Ne Sand Dunes & Quad Bike (B)
Day 12: Mui Ne Free Day (B)
Day 13: Mui Ne – Ho Chi Minh City (B)
Day 14: Ho Chi Minh City Departure (B)
Northern Vietnam Itinerary – 4 Days
Day 1: Hanoi Arrival (D)
Welcome upon arrival by local tour guide and driver then we transfer to hotel. After a short rest, we enjoy a 1-hour cyclo tour of the French-inspired Old Quarter. We will be free for shopping in the old quarter ranging from markets through to designer boutique stores to amazing contemporary art galleries. We will then sit down to enjoy the performance of the city's famous Water Puppets. After the show, we will ha ave a welcome dinner at a fine local restaurant in town.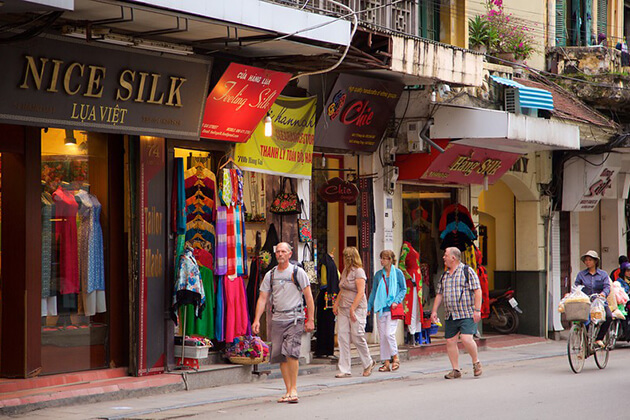 Besides the classic Water Puppet show, you will have some other alternatives as below
Tu Phu show (Four Palace Show): operates every Tue, Thu, and Sat which offers a great experience of the unique ritual performance of Vietnam 'lên đồng' with outstanding visuals, music, and colorful customs, and lively dance performance through Three chapters.
Ionah Show: operates every Tue, Thu, and Sat. Highly recommended for family travel with children. Ionah show is inspired by the world's famous show 'Cirque du Soleil', Ionah show Hanoi is a unique experience combining modern dance, theater, circus, music, and visual and light effects. It delivers novelty and originality in performances and stage effects.
Golden Bell Show: operate every Sat, Golden Bell show is a Vietnamese Culture Show which is performed by Vietnamese Artists. There are at least 9 performances within 1.5 hours including Drum dance, Champa dance, Ritual performance, Flute dance, Quan Ho Folk song, Bamboo dance…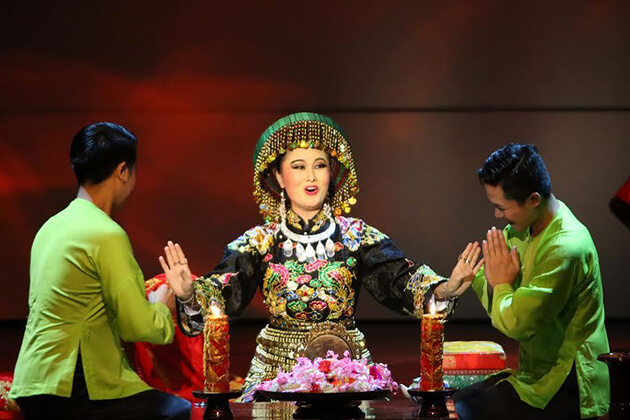 Day 2: Hanoi City Tour & Food Tasting (B, L, D)
This morning, we will visit the Ho Chi Minh complex where we will spend time at Ho Chi Minh's mausoleum, his former stilt-house, the Presidential Palace, the Ho Chi Minh Museum, and One Pillar Pagoda. Followings we visit the Temple of Literature, which was originally built as a temple to Confucius. After lunch, we visit the infamous Hoa Lo Prison. Hoa Lo is also known as the ''Hanoi Hilton'' and was where former US presidential candidate John McCain was incarcerated for over 5 years.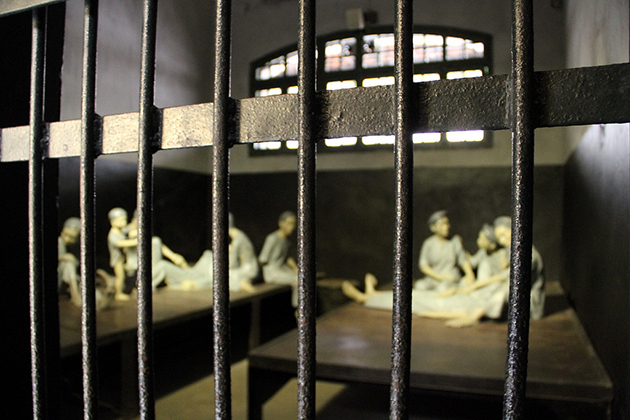 We then start our Food tasting adventure with a walk down to Hang Be street for visiting the local market, we are guided to all the ingredients as well as inhabit local people here. After the street market, we continue our trip along different streets, trying to taste many kinds of local food such as oil-fried pastry, tofu, egg coffee, rice pancake, pillow cake, sweet soup, stuffed pancakes with pork, draught beer… and one of our best surprised is a stop at Dong Xuan wholesales market where we know many kinds of ingredients being sold. Last but not least is our happy ending at the Rue Lamblot restaurant. From here, we enjoy our light dinner with Spring rolls, grilled pork with noodles, fried rice cake, and banana flower salad. Back to the hotel at around 8 PM. Overnight in Hanoi.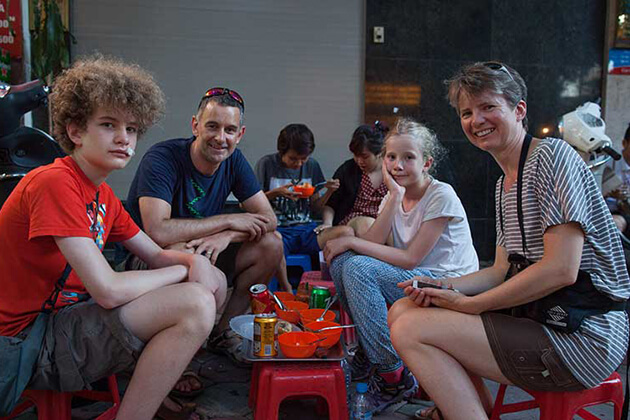 Day 3: Hanoi – Halong Bay – Overnight on Boat (B, L, D)
After breakfast, we set off to the 'Jewel in the Crown of Vietnam'; Halong Bay. Arriving before lunch we will board our boat and then set sail, cruising amongst thousands of extraordinary limestone karst formations. Halong Bay was voted one of 'The New 7 Wonders of Nature in 2011.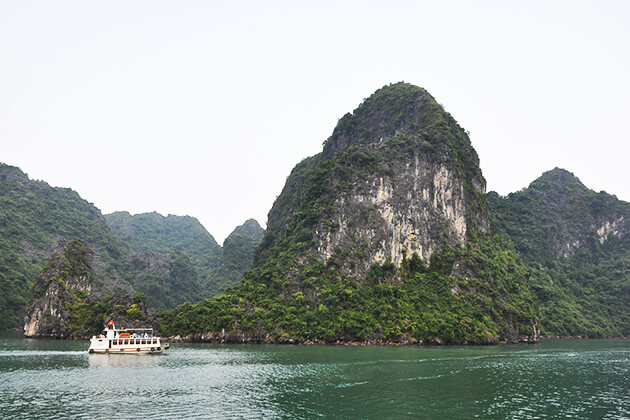 On arrival in Halong, we will embark our cruise followed by a short cruise briefing. We will then savor a delectable lunch while our cruise sails among the limestone islands. In the mid-afternoon, we will kayak among the hidden areas of the bay, around the Bo Nau Cave area before going back to the cruise and continuing cruising to Soi Sim Island. Go swimming and relax at the beach of Soi Sim or climb up to the top of the island for a panorama view of Halong Bay. In the evening, we will cruise back to the main boat for a shower before having dinner and spend the night onboard.
Day 4: Halong – Overnight at Hotel (B, L)
Wake up early in the morning and start your day with Tai Chi exercises or a photo hunt before having breakfast. After that, we will explore the amazing Sung Sot Cave – the nicest cave in Halong Bay. After that, we will return to the boat, freshen up and check out of your cabin. Continue your cruise exploring the Bay, passing Ba Hang fishing village, Dog Islet, and more. While heading back to the harbor, watch the cooking demonstration before enjoying a traditional Vietnamese lunch.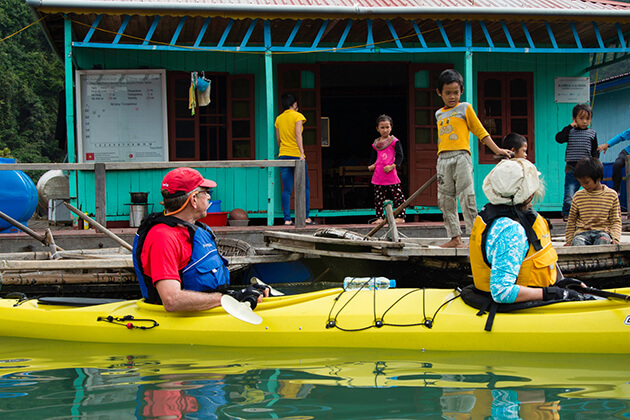 We will disembark at around noon and find your car is waiting and take us to a hotel in Halong City which overlooks the Bay. Check in the hotel and have the rest of the day free at the new white sand beach of Halong City or relax by the hotel's pool. Overnight in Halong City.
Central Vietnam Itinerary 5 Days
Day 5: Halong – Hanoi – Fly to Danang – Hoi An – Walking Tour (B)
After breakfast at the hotel, we will be free until our car arrives to take us to the airport in Hanoi to board the early afternoon to Danang. On arrival, we will be welcomed by our guide and transferred to our hotel in Hoi An.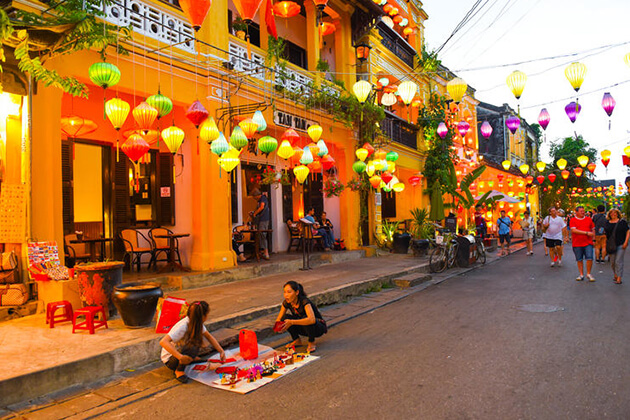 We then start our walking tour around the Ancient town visiting the Japanese Covered Bridge, the Pottery Museum, Tan Ky old house, the Cantonese congregation, the silk street of Hoi An, and the temples and pagodas of Chinese appearance. Overnight in Hoi An.
Day 6: Hoi An Eco-Farming & Fishing Tour (B, L)
We have an early start this morning as we head off to our Farming & Fishing Life Eco Tour. Starting at Tra Que Village, we will get a personal insight into the local farming communities. We set about joining the farmers in preparing their land for sowing, helping to fertilize the garden using seaweed from the local river, and watering it using huge tin cans strapped to our backs. Following this, we will begin our leisurely cycling tour through the countryside witnessing local Vietnamese rural life firsthand.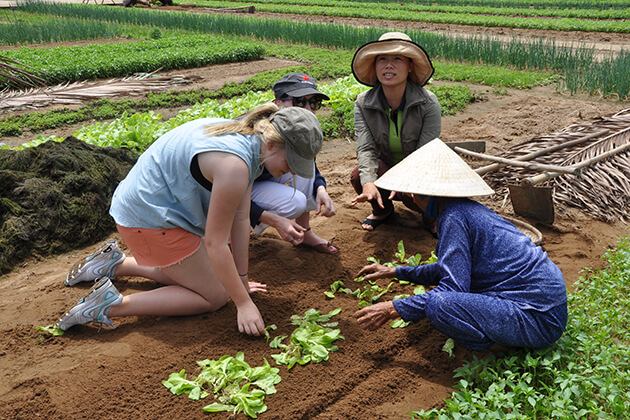 Late morning we will board our Hoi An Eco-tour boat for a river cruise. Here we will meet and witness local fishermen working their craft, before enjoying a hands-on experience of traditional net fishing. We then transfer to a Vietnamese bamboo basket boat for a quick race and ride down a coconut palm-lined waterway. Lunch today is on board our boat, which is prepared using vegetables picked earlier at Tra Que Village. After lunch, we will be free at the beach or stroll around the town. Overnight in Hoi An.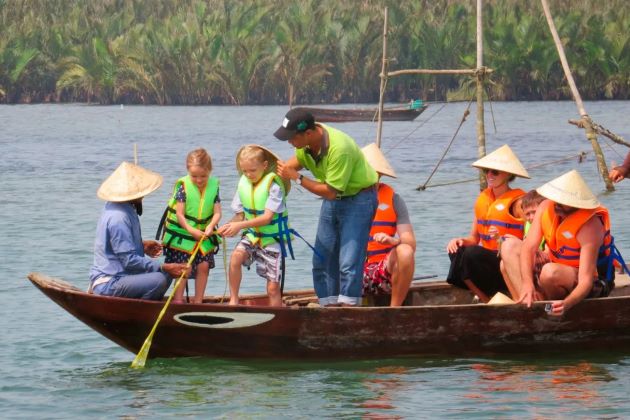 Day 7: Hoi An Free Day (B)
Full day free at My Son Beach
Day 8: Hoi An – Danang – Fly to Nha Trang (B, L)
After breakfast at the hotel, we will be driven to the airport to board the morning flight to Nha Trang. On arrival, we will be welcomed by our local guide and transferred to visit Po Nagar tower, a sacred Hindu site dating back to the 7th century, Stone Church built in French colony time, Long Son Pagoda – Buddhist pagoda built in commemoration of the monks and nuns who died whilst fighting the Diem Government. The tour ends after the visit to the local Dam Market. After checking in at the hotel, we will be free at the beach or the hotel's pool. Overnight in Nha Trang.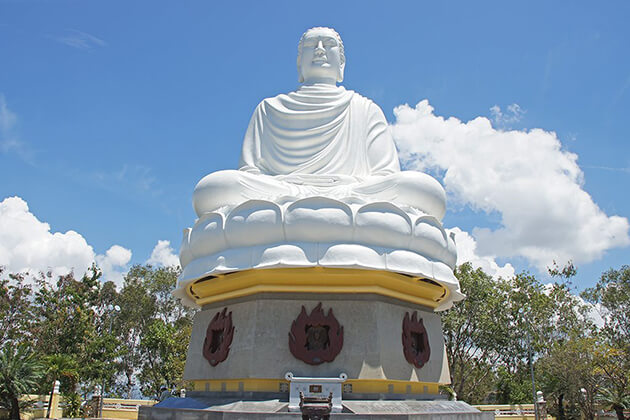 Day 9: Nha Trang Island & Snorkeling Tour (B, L)
After breakfast, we transfer to Cau Da port and start a cruise to Tri Nguyen Aquarium on Mieu Island to visit many sea species of Nha Trang. We then continue to Mun Island which is the best island for snorkeling with lots of colorful corals and fish. You will also be able to see caves in which the sea swallows make their nest. Then relaxing, swimming & doing water sports or other activities at Mot Island, Tranh Beach Island or on a small island called "Mini beach".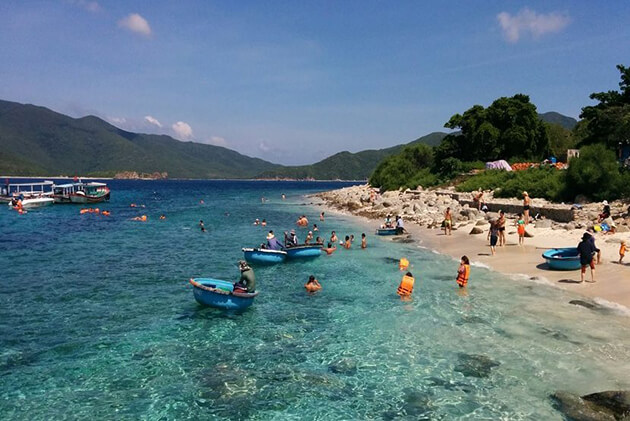 After a fresh lunch on the island, we will cruise back, on the way back, you visit a fishing village before going to the shore. Back to the hotel in the mid-afternoon and have the rest of the day free at leisure. Overnight in Nha Trang.
Southern Vietnam Itinerary 5 Days
Day 10: Nha Trang – Drive to Mui Ne Beach (B)
In the morning, you'll drive from Nha Trang to Phan Thiet, then to Mui Ne beach. Mui Ne is one of the best beaches in Vietnam and is famous for its huge rolling dunes. There is a good range of hotels on the beach and plenty of restaurants with Vietnamese and international cuisine. On arrival in Mui Ne, you will check in at our hotel and have time to relax, swim or sunbathe as you wish. Overnight in Mui Ne.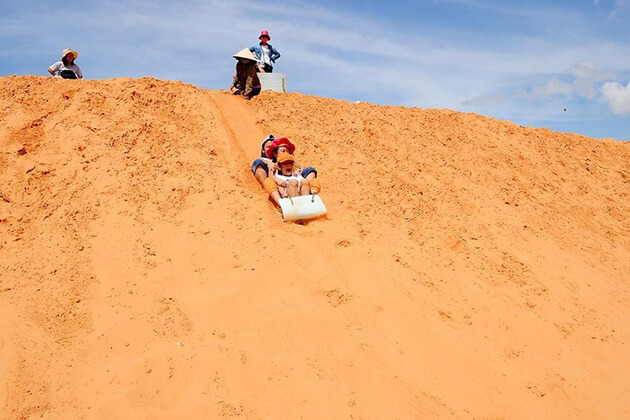 Day 11: Mui Ne Sand Dunes & Quad Bike (B)
After breakfast, we start our Mui Ne Sand Dune half-day tour by jeep. We first visit the Fairy Stream which we can't miss in Mui Ne. After that, we visit the Yellow sand dune. From the top of the Yellow one, we can see all of the scenery of Mui Ne. We will discover the daily activities of the fishing farm. Not only visiting the white sand dune but we will also be fulfilled by the beautiful white sand dune.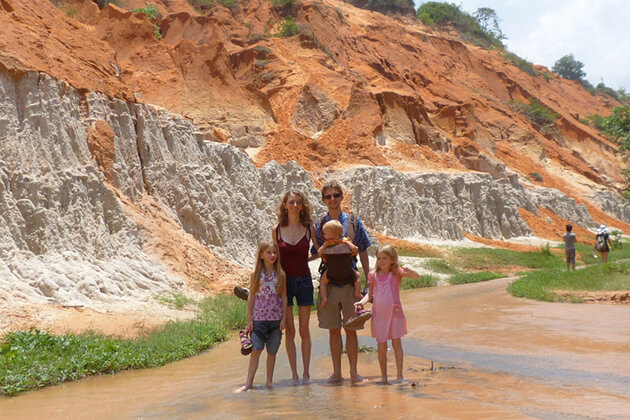 After that, we will get on our Quad bike (ATV) for a 30-minute ride around the vast dunes from the foot to the top of the dunes. It's great fun and exciting way to explore the dunes in a significantly easy-to-use ATV. We then drive back to our hotel and have free time at the beach. Overnight in Mui Ne.
Day 12: Mui Ne Free Day (B)
Time will be free at the beach or play some water sports such as the motorboat, or windsurf (at your own cost). Overnight in Mui Ne Beach.
Day 13: Mui Ne – Ho Chi Minh City (B)
Time will be free until our car arrives at around noon to take us to Ho Chi Minh City. Check-in hotel on arrival and free to visit the huge Ben Thanh Market, the biggest traditional market in town. Overnight in Ho Chi Minh City.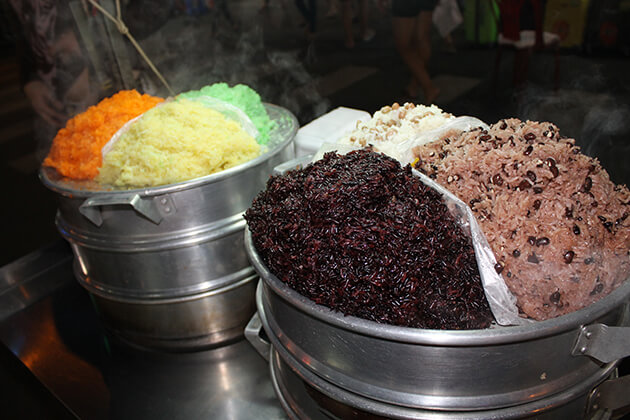 Day 14: Ho Chi Minh City Departure (B)
Today we will depart to the airport at the appointed time with the tour guide before then taking the homeward flight. Your Vietnam tour packages for family ends.