An amazing 2-week Vietnam Family Tour is specially designed for children and their grown-ups with several outdoor activities such as cycling to explore cultural villages in the outskirt of Hanoi, trekking and homestay in Sapa, kayaking in Halong Bay, Farming and Fishing Eco tour in Hoi An, snorkeling and mud bath in Nha Trang, boat cruise and homestay in the Mekong Delta. No problem if you want to spend some extra days at the end of the tour to unwind on a soft white sand beach in Vietnam, tell us your wish and your Vietnam family holiday will be perfectly made.
General Information
Tour Route: Hanoi – Halong – Sapa – Hoi An – Nha Trang – Ho Chi Minh City (Saigon) – Mekong Delta
Duration: 15 Days/ 14 Nights
Date: No fixed departure dates. You may go whenever you wish
Start/ End: Hanoi/ Ho Chi Minh City
Tour Type: Landscape, Culture, Outdoor soft adventure, beach vacation
Tour Customizable: Absolutely! (Tell us your specific requirements in the inquiry form)
Active Level: Easy & Regular itinerary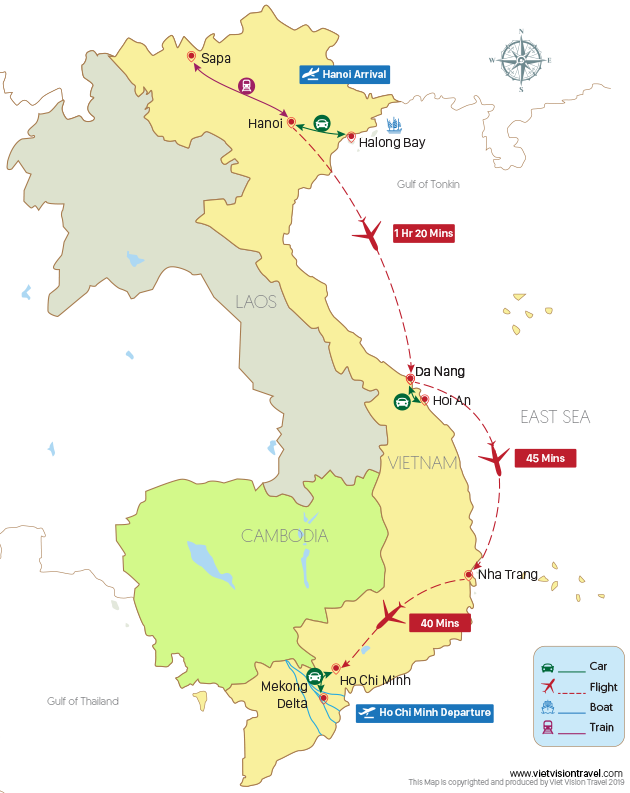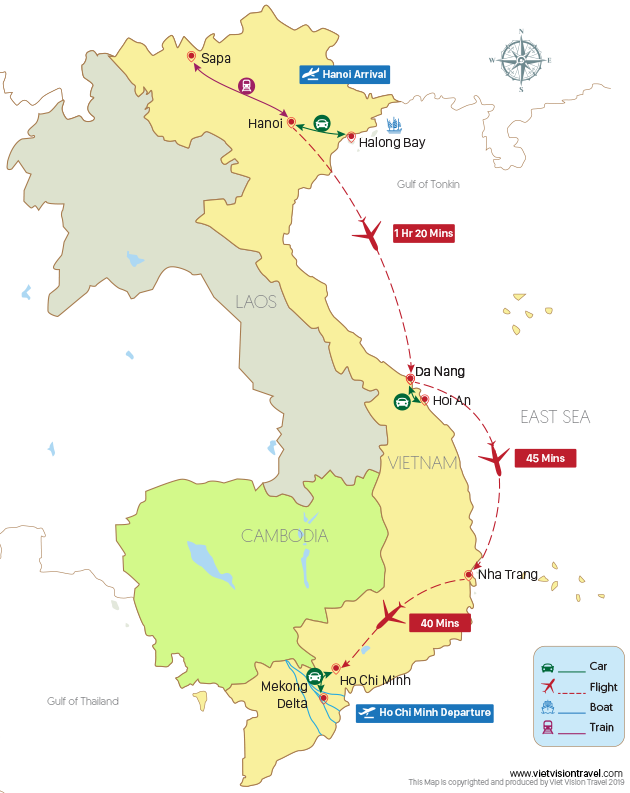 Brief Itinerary
6-Day Northern Vietnam Family Tour
Day 1: Hanoi Arrival (D)
Day 2: Dong Ngac Village – Half-Day City Tour (B, L)
Day 3: Hanoi – Halong Bay (B, L, D)
Day 4: Halong Bay – Hanoi – Overnight Train to Sapa (B, L)
Day 5: Sapa Trekking Tour with Homestay (B, L, D)
Day 6: Sapa – Express Bus to Hanoi (B, L)
5-Day Central Vietnam Family Tour
Day 7: Hanoi – Fly to Danang – Hoi An – Walking Tour (B)
Day 8: Hoi An Farming & Fishing Eco Tour (B, L)
Day 9: Hoi An – Danang – Fly to Nha Trang (B)
Day 10: Nha Trang Islands & Snorkeling Tour (B, L)
Day 11: Nha Trang Free Time (B)
4-Day Southern Vietnam Tour
Day 12: Nha Trang – Fly to Saigon (B, D)
Day 13: Saigon City Tour & Cu Chi Tunnels (B, L)
Day 14: Saigon – Mekong Delta (B, L)
Day 15: Saigon Departure (B)
6-Day Northern Vietnam Family Tour
Day 1: Hanoi Arrival (D)
Welcome family upon arrival by Viet Vision Travel's tour guide and driver who will help family members take luggage to await vehicle outside then transfer us to hotel. We are relaxing for the rest of the day after a long journey flight before enjoying our delicious dinner with a local family, this can be your sales' or your tour guide's house.
This will be a highlight of the trip, especially for the children as Vietnamese are all friendly and extremely hospitable. If you're interested in cooking, we can join in the cooking with the host and also learn how to make some traditional Vietnamese food. Vietnamese people normally watch TV while having dinner, let's experience this and talk about anything you're interested in. After dinner, our car will take us back to the hotel for overnight in Hanoi.
Day 2: Dong Ngac Cultural Village with Bike – Half Day Hanoi City Tour (B, L)
Dong Ngac is the name of Culture village outskirt of Hanoi where there were many mandarins and government staff come from. The village is very different from the busy life outside. Visitors can feel peaceful, quiet, and charming houses, lanes, and people from the village's gate. Visit the busy local market where we have a chance to buy fruits, vegetables, and some other ingredients for our lunch today at a local family. Then, we have a short walk to Ms. Nham's or Ms. Quy's house to have some tea and take bikes to venture into the village. These houses are very old and with hundred years old. During the biking tour, we will meet many friendly nice people and we can contact them with the tour guide's help. Back to the host, we join the cooking demonstration and enjoy lunch.
In the afternoon, we visit Hanoi with the first stop of the Ethnology museum where we will have an idea about Vietnam Cultures, people, and characters through the museum's arrangement. We then back to the center for an hour at the Temple of Literature, home of Vietnam Old University, and now is the temple. The tour guide will show you how Vietnamese education is from the past to the present and we can exchange language with students who want to practice English with visitors. After the temple, we enjoy one of the best traditional performances of water puppets, and later, we go back to the hotel. Overnight in Hanoi.
Remarks: It's nice if today is the weekend, the family will join the Hanoi night market in the Old Quarter. Night market without motorbikes, cars…only walking people…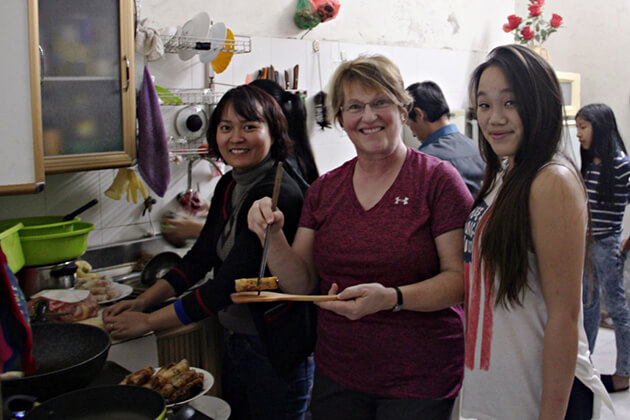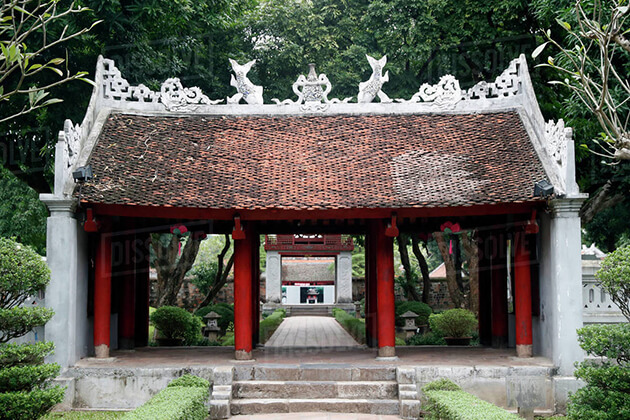 Day 3: Hanoi – Halong Bay (Overnight on Junk) (B, L, D)
Overnight in Halong Bay has now become a must-to-join service for all tourists who travel to Hanoi and the north of Vietnam in general. It's 180km far from Hanoi to the Northeast province of Quang Ninh. Halong Bay is a tranquil Bay with thousands of limestone islands and islets. It's been recognized 3 times for its own values. Overnight junk cruises are designed as floating hotels with private rooms, toilets, spa, restaurants, sundecks….even Jacuzzi.
Your family will depart Hanoi in the morning and check in the junk cruise at noontime. Welcome to the boat with a friendly crew team and we enjoy lunch and many water activities for the rest of the day. Depending on the weather and the season, we will visit one of the best caves on the first day or second day, and we can swim, do fishing, kayak…or only relax on the sundeck. The nice restaurant on the boat is a place where we have our dinner and all meals on the boat. Overnight in Halong Bay.
Day 4: Halong Bay – Hanoi – Overnight Train to Sapa (B, L)
Early this morning, we can get up and welcome sunrise on the sundeck with a morning cup of tea, and coffee or join a Tai Chi session with the Master. This is a memorable time on Halong Bay because the family can enjoy the fresh air and quiet Bay. We have breakfast with other passengers at the restaurant and then join in activities with the guideline of the tour guide on the boat. We check out earlier than usual (at around 10 am), and put luggage outside the door so the crew team will carry them to the pier for us later. We also enjoy early lunch today before taking ten the er back to the pier where our awaiting driver and tour guide take us back to Hanoi. Tonight, we travel up to northwest Sapa by overnight train. There are four berths in one cabin and your family will stay in private cabins.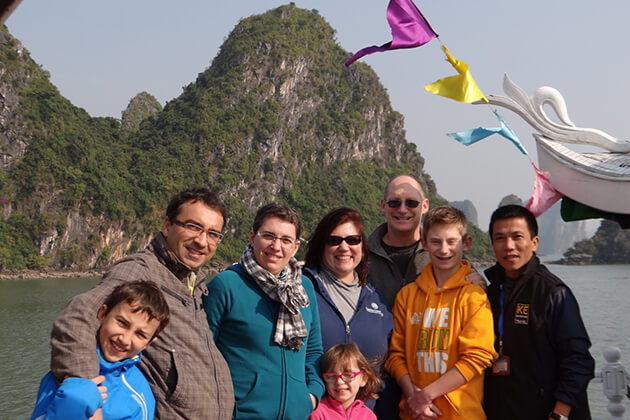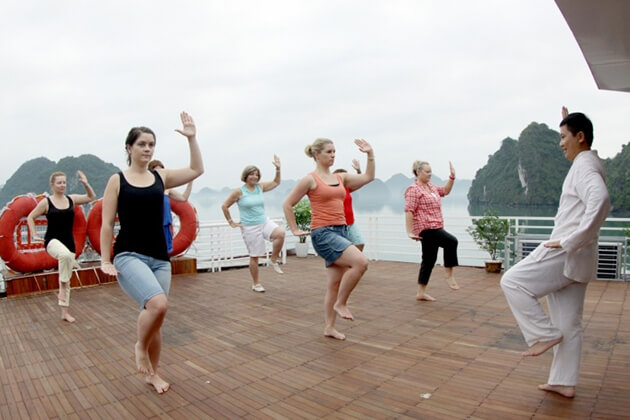 Day 5: Sapa Trekking Tour with Homestay (B, L, D)
Today the expert tour guide will take your family to Muong Hoa valley for a whole day of trekking and exploring nature, culture, and people in one of the highest places in Vietnam. We take a short ride to the village's gate then start trekking along buffalo path, village lanes and streams, rice fields…, meeting and talking with Black Hmong, Dao, Day people… In the evening, enjoy a homestay at one of the hill tribe villages. Homestays are a great way to get a feel for the culture and really understand more about the daily lives of the local people. A common saying is 'you will arrive as a guest but leave as a friend. Your overnight accommodation will be in a home-stay in Sapa.
Day 6: Sapa – Express Bus to Hanoi (B, L)
This morning, we bid farewell to our host and then keep trekking along the valley to visit the Red Dao ethnic minority people. The tour guide will tell the family many stories about these friendly people and their daily life. We also trek through a bamboo forest and catch a majestic waterfall where we can relax before having lunch. After that, we will travel back to Sapa for last-minute shopping before taking the Express bus to Hanoi. It's long driving (5.5 – 6 hours) and there is a stop on the way, the family will check in at the hotel upon arrival. Relax and overnight in Hanoi.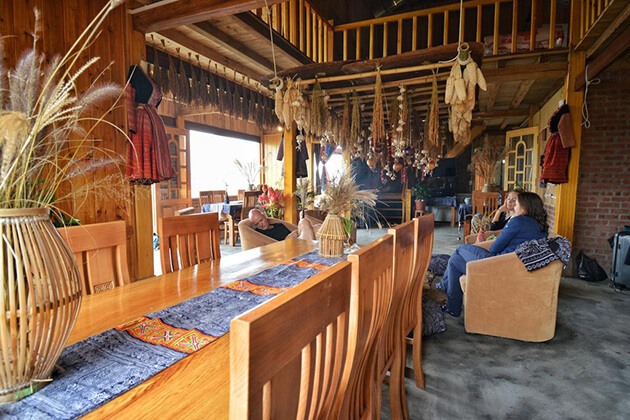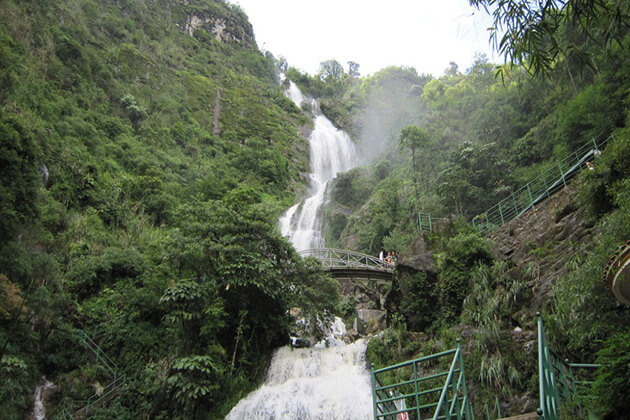 5-Day Central Vietnam Family Tour
Day 7: Hanoi – Fly to Danang – Hoi An – Walking Tour (B)
It's not hurrying this morning when we will take a late morning flight to Danang where our awaiting tour guide and driver upon arrival welcome family. From Danang airport, we will take a short drive to Hoi An, an ancient town that is recognized as a World Culture Heritage of Vietnam. Hoi An town is an ideal place for a family vacation with ancient architecture, a shopping area, a rice field, a beach, restaurants, a cooking class, and many interesting activities. After relaxing at our nice accommodation, we have a short walking tour with a tour guide with a fixed route of the Japanese Covered Bridge, the Pottery Museum, Tan Ky old house, the Cantonese congregation, the silk street of Hoi An, the temples, and pagodas of Chinese appearance. On the tour, your family can stop anywhere wanted. Get back to the hotel after the walking tour. Overnight in Hoi An.
Remarks: If it's midday of lunar month today, your family will experience one Hoi An town without light, only lantern streets, and houses…..
Day 8: Hoi An Farming & Fishing Eco Tour (B, L)
With only a morning tour, your family will experience Vietnamese farming and fishing life by joining this eco-tour with an expert tour guide and services. Getting briefing outside of the hotel, we start accustoming ourselves to bikes, choosing the most suitable bike for each member of the family then follow the tour guide to bike to the village. Firstly, we bike through a rice field to Tra Que organic vegetable village, the tour guide will show us how the farmers here grow vegetables, fertilize the land, and many kinds of vegetables, and herbs together with many stories about farmers here as well. We also try to be true farmers by doing some daily work on the fields such as picking vegetables, watering vegetables, or hoeing up the ground.
Later, your family keeps on biking to the boat pier or riding a bus if someone doesn't want to bike. Boating along the river, we can get fresh air and enjoy the friendly talk of boat staff. We meet a couple of fishermen in the middle of the river, see how they catch fish from the net then we try to do it. It's not easy at all of course. Farewell with fishermen, we keep on our boat to the water coconut forest where we will enjoy the basket boat performance shown by the crew team which is such a fantastic moment. Our morning tour will be ended at the island where we will relax at Cua Dai beach and enjoy lunch with some vegetables that were picked up from Tra Que village. We transfer to the hotel after that for your leisure time in the afternoon. Overnight in Hoi An.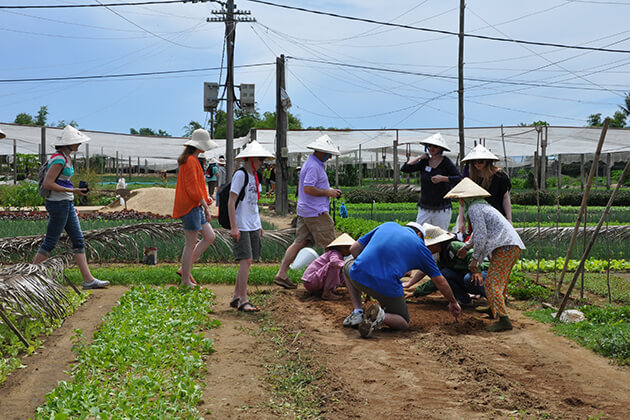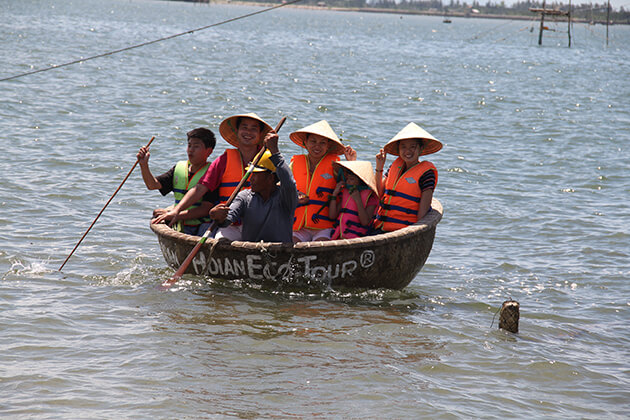 Day 9: Hoi An – Danang – Fly to Nha Trang (B)
There are not many choices for flight time today to Nha Trang from Danang so your family will take a morning flight to the beach city. Nha Trang Beach city is well-known for its beautiful sandy beaches and untouched islands. It's also now a destination for all visitors who want to have some activities such as mud baths, golf, and water activities on the island or in the ocean during their holidays. Nha Trang is also home to Cham ethnic minority people with its history temple of Po Ngar temple complex. Many hotels, restaurants, and resorts have been built and Nha Trang beach city is busy all year round with international and domestic tourists. Welcome upon arrival by tour guide and driver, as usual, your family can ask tour guide many questions for our holiday in Nha Trang. Relax at the beach then and overnight in Nha Trang.
Day 10: Nha Trang Islands & Snorkeling Tour (B, L)
Begin the Nha Trang day trip by traveling around the islands, joining many water activities but firstly stop at Tri Nguyen Aquarium to visit the small ocean world of Nha Trang. There are many species of fishes, corals…. collected and lived here. Visitors will have an overview of the world in the ocean where they will be there after that. The wooden boats take your family to Mun island for snorkeling, Mot island or Tranh Beach Island for swimming or joining water sports….During the boat trip, your family will also discover the islands where skylarks make nets and their own special food. A Vietnamese fresh lunch will be served at a local restaurant before we boat back to the pier at 4h00pm. Overnight in Nha Trang.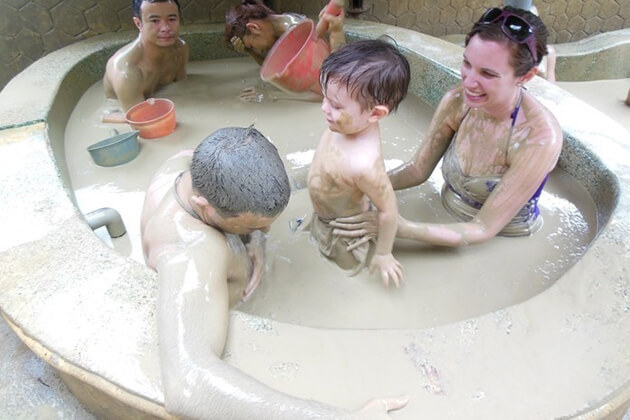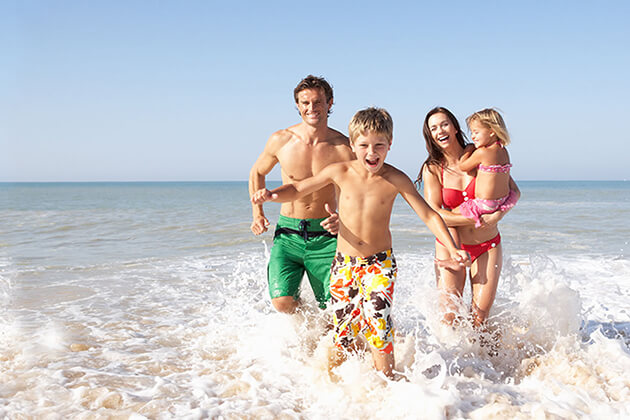 Day 11: Nha Trang Leisure Day (B)
There is no arrangement for today so your family can relax at the beach, or swimming pool or discover Vinpearl Theme Park or enjoy wonderful moments at Thap Ba mud spa, explore Thap Ba temple, or even visit the local market. Overnight in Nha Trang.
4-Day Southern Vietnam Tour
Day 12: Nha Trang – Fly to Ho Chi Minh City (B, D)
Today we take a mid-afternoon flight to Ho Chi Minh City (Saigon). It's about one hour flight from Nha Trang. The local tour guide and driver meet you upon arrival and they will take us to the hotel in the center city. On the first night in Saigon, we feel this vibrant city by seeing it from the boat on the Saigon river cruise while having dinner. This is a new experience and your family should not miss it. Overnight in Saigon.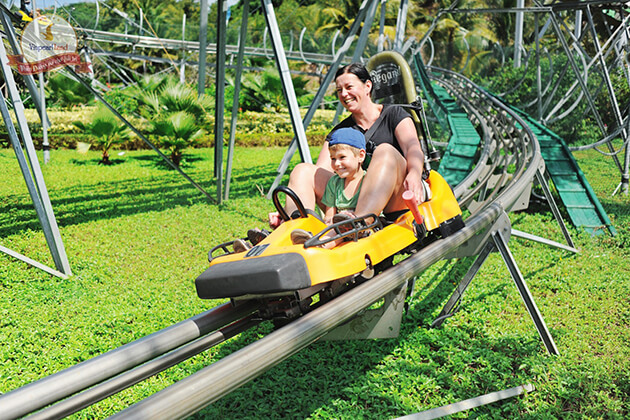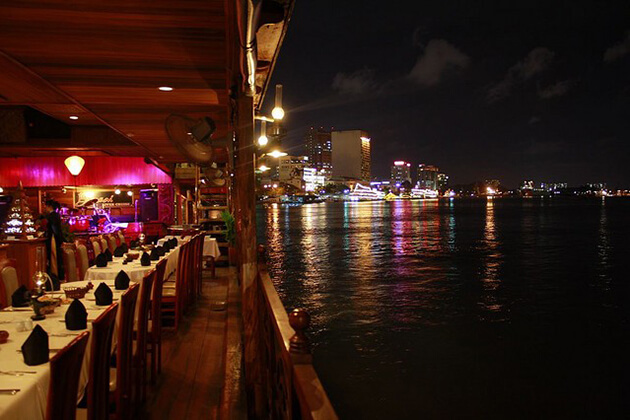 Day 13: Saigon City Tour & Cu Chi Tunnels (B, L)
Today, explore the modern city with its highlights of Reunification Palace, War Remnant Museum, Old Post Office, and Notre Dame Cathedral. The museum can be ignored if it is not suitable for your kids then we will visit Chinatown and Giac Lam Pagoda. The tour guide will lead your family to the past and we will know about the history of the Vietnam War in the South.
In the afternoon, discover the legendary Cu Chi Tunnels to understand more about the Vietnam War with the tunnel system built underground. There were no modern machines or help from modern means but the heroic Vietnamese people could do things that they never thought of before. We will see the video of Cu Chi tunnels, past and nowadays then craw to the permitted parts. We enjoy some special food of local people, soldiers eating during the war, cooked by the Tunnel's management staff. We also experience shooting real bullets at the shooting range with additional payment service (US$1/real bullet). Lastly, we return to the busy city for our overnight.
Remarks: Cu Chi Tunnels will be recommended to visit in the morning from May to October every year (rainy season). Besides, there is a night market in the Ben Thanh market area where your family can go there for shopping and have dinner.
Day 14: Ho Chi Minh City – Mekong Delta (B, L)
The last experience of our family trip to Mekong Delta with Cai Be colorful floating market and taking a sampan tour along the smaller canals into the villages. We start early this morning to get the busiest time of the floating market (from 6h00 am to 9h00 am). In the market, we will see the selling of big boats and the buying of smaller boats. The local businessmen boat many kinds of local food bought from big boats to the deeper villages and sell to villagers. All things make a busy life with their ways.
Out boat cruises us among the barges of fruits, vegetables, farming products…, we will see they sell, buy and friendly exchange goods. Later, we meet sampan women who will row us closer to the villages. We will stop at some workshops, and brick kilns, try some seasonal fruits, and enjoy lunch at a local house cooked by a local family. After lunch, we can take a short bike along the village lane or just relax before we cruise back to the pier to take our vehicle to Saigon. Overnight in Saigon.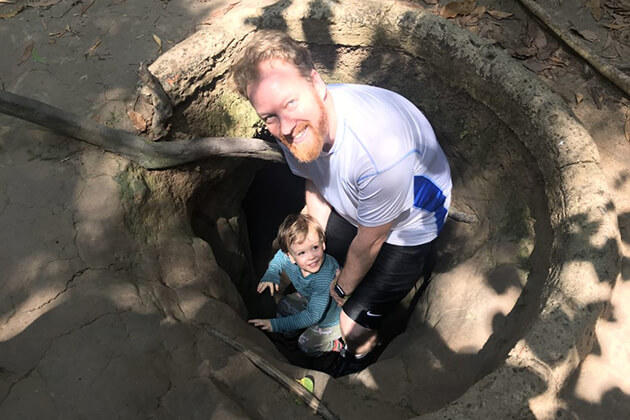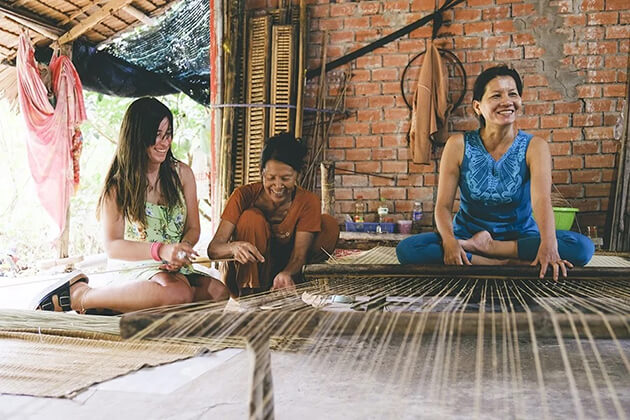 Day 15: Ho Chi Minh City Departure (B)
Today we will depart for the airport at the appointed time with the tour guide and driver before. Farewell Saigon and Vietnam and take a flight home. Your 15-day Vietnam vacation ends.