"Egg coffee" is an iconic street drink in Vietnam. It sounds quite odd to many people but when having a chance to try a cup of "egg coffee" you will be mesmerized immediately by its flavor.
The "egg coffee" is a mixture made with coffee, egg, condensed milk, and sugar.
The origin of egg coffee
"Egg coffee" was first made and introduced by Mr. Nguyen Van Giang- a bartender at the renowned 5-star Sofitel Legend Metropole Hotel. Due to the shortage of milk during the French war, Mr. Giang made up of using york egg to replace milk- an essential ingredient to make cappuccino. Beyond his expectation, a new creative mixture attracted both Vietnamese and foreigners in the hotel at that time. Recognizing that people had a great impression on his new recipe drink, Mr. Giang decided it was high time to throw in the towel at the Metropole Hotel and started his own business with his own brand name shop"Giảng cafe". Today, "Giang coffee" is managed by Mr.Giang's son, Nguyen Van Do in Hanoi's Old Quarter.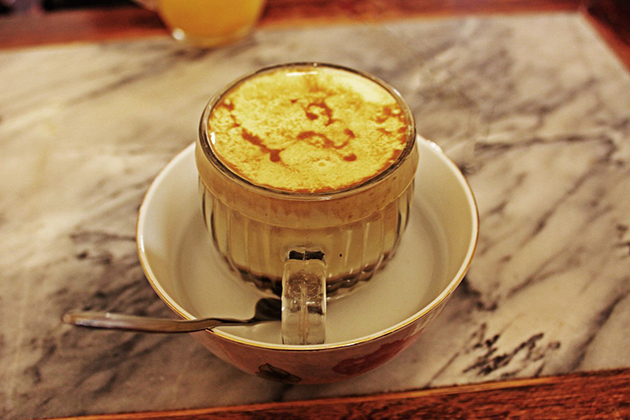 Egg coffee recipes
Egg coffee is a unique mixture of two main ingredients that are coffee and fresh chicken egg. Also, we need condensed milk, and sugar- two other essential elements which help you create a good cup of egg coffee with full of flavor. The success of making egg coffee relies on the density of the texture, and the secret to achieve the density lies on your whisk. In order to make this drink, egg yolk is whisked vigorously with sweetened condensed milk until the texture becomes frothy and fluffy. Then, add the fluffy egg mixture on the cup of coffee. After mixing all the components together, the cup is served in a bowl of hot water to keep its original flavor.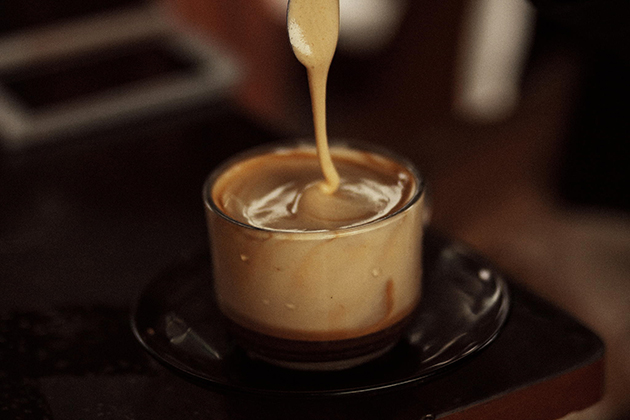 Where to get the original and "authentic" taste of Vietnamese egg coffee
To get a chance to enjoy the "authentic" flavor of egg coffee, you should head to the following address:
– Giảng café – 39 Nguyễn Hữu Huân street
– Đinh café – 13 Đinh Tiên Hoàng
– Giảng café Yên Phụ -106 Yên Phụ street
– Helio café- 57B Đinh Tiên Hoàng street