Coming to this country, tourists always search about diseases, crimes, weather, and savings. But traffic in Cambodia is a real nightmare that can blow away your trip. A large number of situations may happen in the way that you are not ready to face with. Every second you have to notice what is coming to you – a motorbike, a high-speed car, or just a wandering cow. Due to knowing these threatens, Viet Vision Travel want to share some information and experiences for you to be safe when joining in the heavy traffic of Cambodia.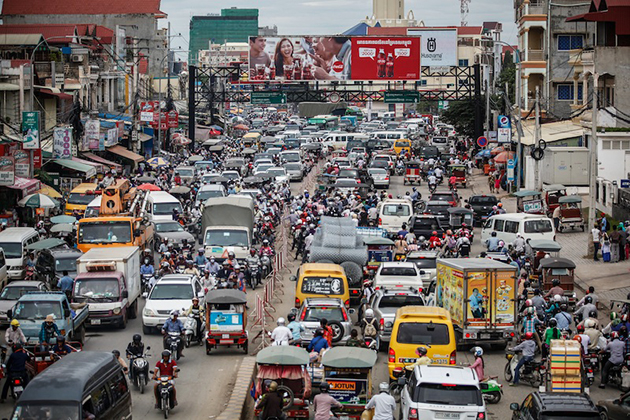 Cambodia Real Traffic
How do Cambodians drive?
Of course, every country has its own traffic rules. But it is really ridiculous that Cambodia's streets have no rules, or you can people make their own rules of driving.
Driving on wrong lanes or opposite direction can be seen commonly in every street even have police or not. Speed limits are nothing in there leading to the fact that red-light cannot make people stop at in case young students coming up with the speed of over 100km/h right behind you. They will not hesitate to joke at you if you really stop in front of a red-light.
Cambodians have the reckless way to drive, sometimes it can be considered as suicide. They never look sideward when changing a lane, overtaking both left and right side without any sign, and gather around an accident but do not help, just watch what happened.
This is also a weird rule that only the first person on the motorbike has to wear a helmet, not people sitting behind. Cambodians usually wear it at rush hours when traffic is so crazy. Before sunset, you can't see anyone wearing it, including the police because they all finish their work.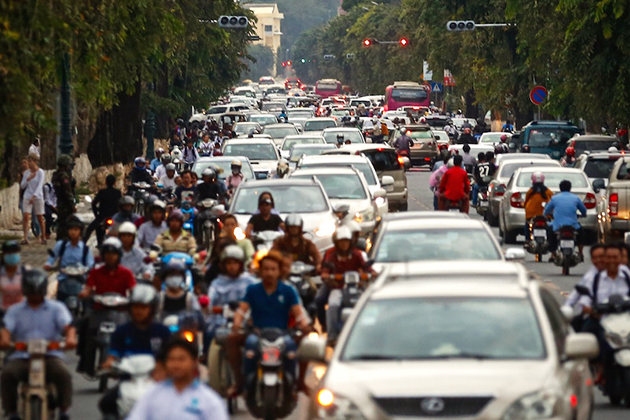 Children are dangerous
Children are really a danger when you are on the Cambodian streets. You can see many 10 years old children go the as high speed as they can without any idea about the safety distances or rules. A small motorbike can bring 3 adults with over 7 children in any way they can think about.
Runaway from accidents
One of the most important things to remember before hopping on a Cambodia vacation is run away as quickly as possible from accidents. They usually leave the victim behind, or cruelly, overturn again and again until they sure that the victim is dead and could not accuse anything. If you have the idea to help the victim, then the nearest western-style hospital with the acceptable standard is in the neighbor country – Thailand, for more details, 4-hour drive and 1-hour flight. Even when they can be saved, their family don't care about who causes the accident, all of the treatment fees are only paid by the helper. Yes, it's you!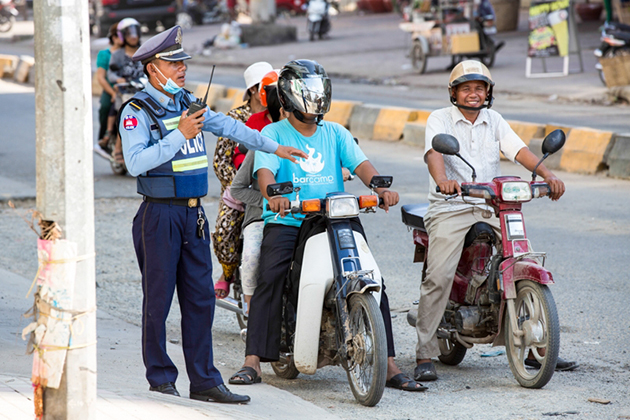 Cambodia Traffic Police
Policemen in Cambodia have to make their own income due to the not well-paying by the Government. It is really a threatening that now they can easily withdraw $20-50 from the wallets of foreigners who don't have Khmer driver license but spent months learning how to drive in their countries.
The police don't care about the people driving on the streets without helmets and driver licenses, or a 15-year-old child rides a motorbike that is twice as big as himself with the speed of 200km/h and causes 100 accidents. The reason is easy to understand. If they stop locals, they can take only half a dollar. But when they catch the foreigners, they can squeeze numerous dollars out.
Some tips when driving in Cambodia
Stay away from the crowds. They just witness an accident, protect yourself by curb your curiosity and avoid troubles.
Notice your back. There are hundreds of people who are ready to crash your back because they don't pay any attention to the traffic while they are at the speed of over 100km/h.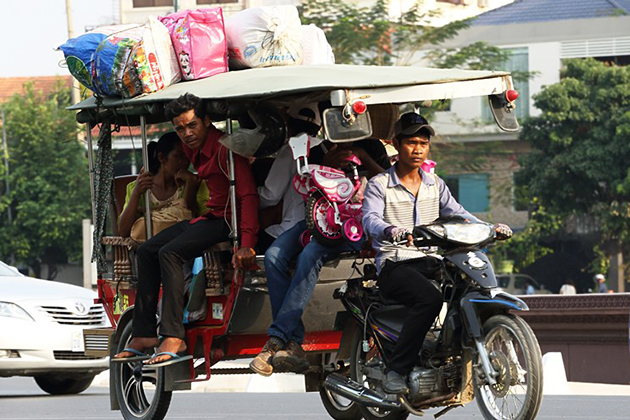 Children! Look out! 12 years old child ride a huge motorbike with full power, it is commonly seen.
Do not stop at the red lights. It is difficult to understand but stopping at the red lights is really dangerous in Cambodia. Many people with high speed are coming behind you, and young students always scare foreigners who follow the rule by passing by just with a 10cm distance from you.
Don't hang your pockets when driving. There are many people watching streets 24/24 to snatch your pocket away.
Don't go out during 5 pm – 6 pm unless you have important work. This time is when students leaving school. Due to their young age, they show off their skills by driving with high speeds around cars and other vehicles.
Tips for dealing with the police in Cambodia. Ask for a bill to prevent them from putting the money into their pockets. Then, better make a deal to pay only 1-2 bucks without the paper. It works more effectively with some Khmer words that you can speak.