Vietnam is home to at least 1,000 villages which are recognized as centers for handicrafts. Visiting them, tourists can experience unique cultures and see firsthand local artisans' skills performed in traditional ways. Here are the 5 most well known among them, most located in northern Vietnam. Enjoy reading!
Quat Dong 
Embroidery 
Village
As one of the most famous traditional villages in Vietnam, Quat Dong is well known for its high-quality products. Embroidery has been developing in Quat Dong since the 15th century when Dr. Le Cong Hanh returned home from China and passed ancient embroidery techniques to Vietnamese villagers. Over the centuries, these techniques eventually spread across the country, Quat Dong's products are still the most appreciated.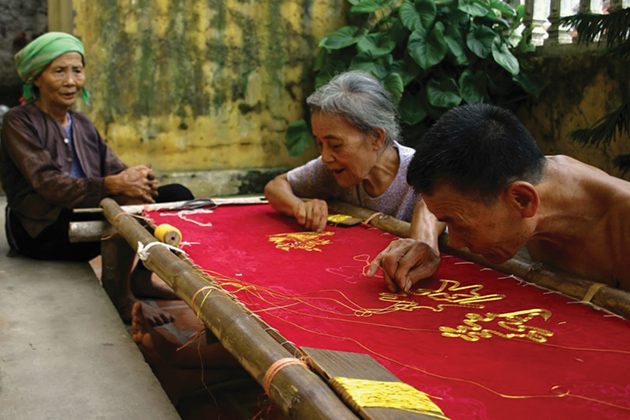 To create impressive embroideries, the artisan has to spend his mind and soul in the products along with an eye for design and clever hands. Visit Quat Dong embroidery village you can find many beautiful embroidered products range from tablecloths, bedspreads, sheets, pillowcases to paintings and decorations. The products of Quat Dong are exported to many countries around the world.
Van Phuc Silk Village
With over 1,200 years of history, Van Phuc is one of the most ancient handicraft villages in Vietnam. It is famous for its traditional weaving and premium quality silk products. Van Phuc silk is smooth, lightweight and elegant. Van Silk is a traditional kind of silk which will make the person wearing it feel cool in hot weather and pleasantly warm in cold weather. You can find many kinds of silks in a wider variety of colors from embroidered silk, wrinkled silk to double layers of silk. A high-quality silk product will be a unique souvenir for your friend.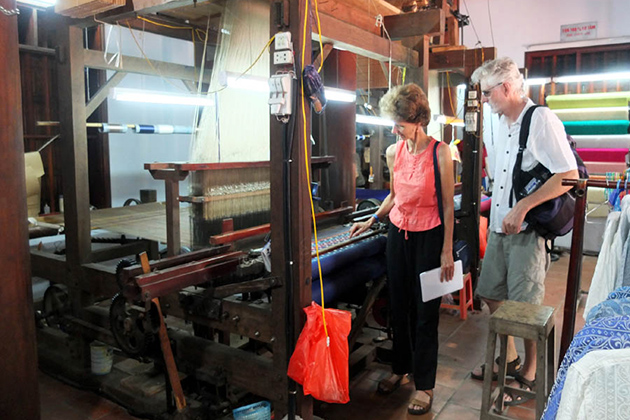 Bat Trang 
Ceramic V
illage
Located about 10km away from Hanoi, to the right side of Hong River, Bat Trang is the heaven if high-quality ceramics. The name of the village related to the story. Visit Bat Trang you not only have a chance to join a buffalo tour for sightseeing and shopping but also have an opportunity to try making pottery products by yourself. It is so interesting to paint your products with colorful graze.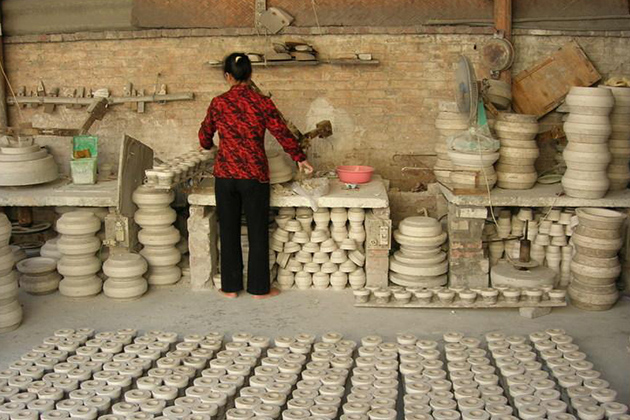 Wander around the village you will be mesmerized by a ton of beautiful ceramics including tea sets, bowls, vases, bracelets, etc. Spend a day tour Bat Trang ceramic village in the market hunting a gift for family or friends and do not forget to bring home some unique daily household items.
Tranh Khuc Chung Cake Village (
Square Sticky Rice Cake)
Tranh Khuc village is a small village on outskirts of Hanoi and has a long-standing craft of making "Bánh chưng", a typically square sticky rice cake for Tet Vietnam. The cakes produced here are fulfilled all requirements of aesthetic and quality and its distinctive flavor. To make a delicious Banh Chung, villages have to do many steps from choosing Dong leaves which must be large, green and untorn; choosing materials for making the cake such as pork, onion, etc. Banh Chung, made by Tranh Khuc villagers, has been exported to many countries around the world such as Russia, Australia, and Thailand, mainly because of the demand created by Vietnamese expats overseas.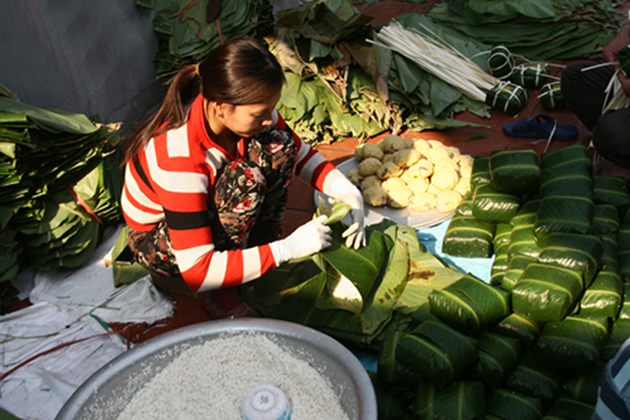 Vong 
Green Sticky Rice V
illage
Vong village, on the outskirts of Hanoi, is said to produce the best "cốm" in Northern Vietnam. Visit Vong village during the green sticky rice making season, you will have a chance to observe the process of making the sticky rice. That process is very complicated. Firstly, locals have to grow a special glutinous paddy. When the paddy begins to ripen and still contains milk in the grains, they will harvest them. After that, the rice is picked off carefully so that the grains are not broken. Then, they put the rice into a large frying pan on small flames and stirred slowly for a specific period of time. Finally, the rice is poured into a rice mortar and slightly pounded with a wooden pestle, rhythmically and at quick intervals until the husk is removed. This delicacy is served with persimmons or ripe bananas. In addition, Com can be used as an ingredient for "chè cốm", sweet soup with green young rice; "chả cốm", salty pie made of pork and green young rice; and "bánh cốm", green square sticky cake. You can see Bánh cốm at almost every engagement ceremony.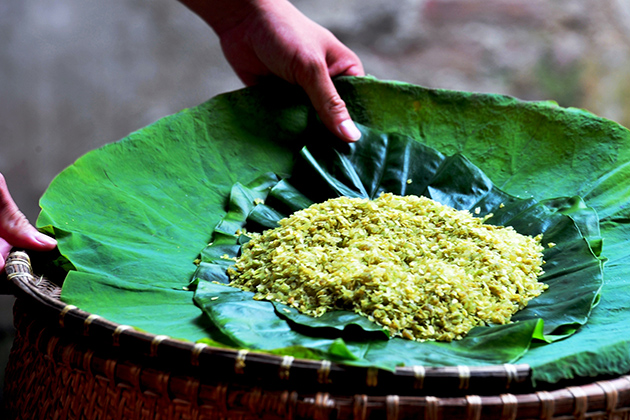 Check out the Hanoi day tours on our website right now to soak up in these traditional handicraft villages. Feel free contact us for wonderful Vietnam vacation!