Shopping malls really bring a new experience of shopping for people all around the world. The amazing spaces of hundreds of stores from top brands together with entertainment and cultural activities give customers the most comfortable and convenient conditions for making purchases. Browse the list of 6 largest shopping malls in Hanoi to enjoy your Hanoi day trips at its best.
Vincom Mega Mall Hanoi in Royal City
Officially opened in 2013, Vincom Mega Mall Royal City is considered as the largest underground shopping mall in Asia. So far, the mall has always welcomed thousands of visitors every day, becoming the major entertainment venue in Hanoi.
The shopping mall owns a large area up to 230,000 m2 located in 2 basements with the commercial center of over 600 pavilions of flagship brands worldwide. To attract visitors, the mega mall is always decorated with themes based on holidays in a year like Christmas, Tet holiday, or Mid-Autumn Festival. Additionally, the shopping mall has top amusement parks in Vietnam such as Vinpearl Water Park and Vinpearl Ice Rink.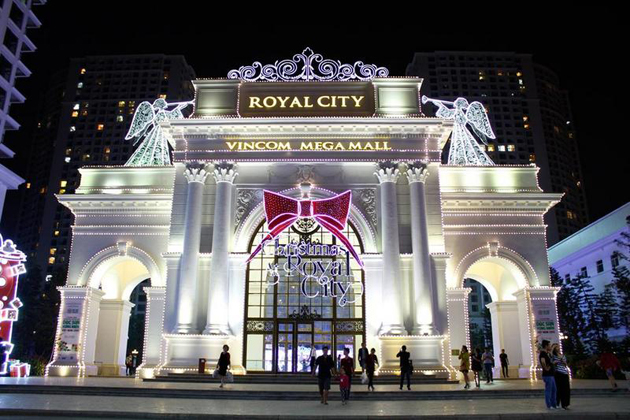 Vinpearlland Water Park has a size of 24,000 square meters and is one of the attractive destinations for many locals as well as international tourists. Coming to Water Park, visitors will be immersed in the cool water, explore the game with curved undulating rivers and endless vortexes. It is really an attractive game for people loving strong feelings.
Besides, the Vinpearl Land Ice Rink is extremely worth your visit to Vincom Mega Mall. It is known that Vinpearlland Ice Rink Royal City has been the first ice freezing system in Vietnam built according to international standards, using natural refrigerant which is very friendly to the environment. Visitors can play ice-skating with professional tools such as skates imported from Italy, penguins, seals imported from the United Kingdom as well as headgears, elbows, and knees. Vincom Mega Mall Royal City well proves that making purchases is just a part of the fun.
Address: No. 72A Nguyen Trai St, Thanh Xuan District
Trang Tien Plaza
Built on the old site of the General Shopping Malls, overlooking the romantic and ancient Hoan Kiem Lake, Trang Tien Plaza has contributed to changing the face of the capital during since Renovation period. Together with the Hanoi Opera House, Hanoi Post Office, Hoan Kiem Lake, the plaza has created a beautiful architectural complex in the Hanoi center.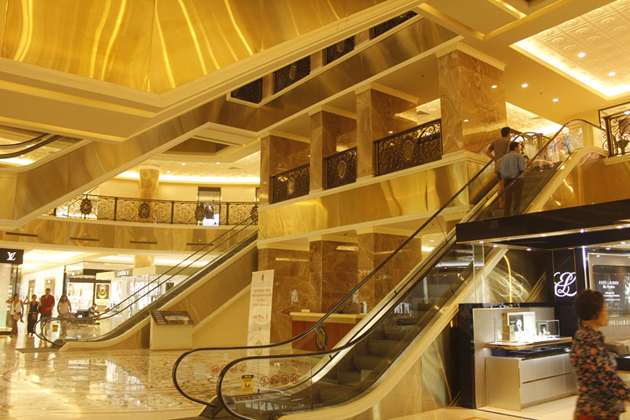 The shopping mall has a total area of more than 20,000 square meters for business premises meeting the international standards with modern equipment and various types of products. Besides, the friendly services and the courtesy of the whole staff always satisfy every customer coming to Trang Tien Plaza. Five floors of the plaza provide a wide range of Vietnamese and international best products and services from cosmetics, leather, jewelry, handicrafts, and Vietnam souvenirs to luxury restaurants, eye-catching café, amusement centers, and a supermarket of fresh and high-quality goods. Especially, one of the must-try specialties you should not miss is the traditional Trang Tien ice creams with dozens of types and smells.
Address: No. 24 Hai Ba Trung St, Trang Tien Ward, Hoan Kien District
Hang Da Shopping Mall
The shopping mall is the "bridge" connecting the traditional business art of generations in Hanoi to the modern lifestyle nowadays. The commercial center is located in the best location of the capital, 500m away from Hoan Kiem Lake, at the heart of the Old Quarters – the vibrant area that anyone should not miss.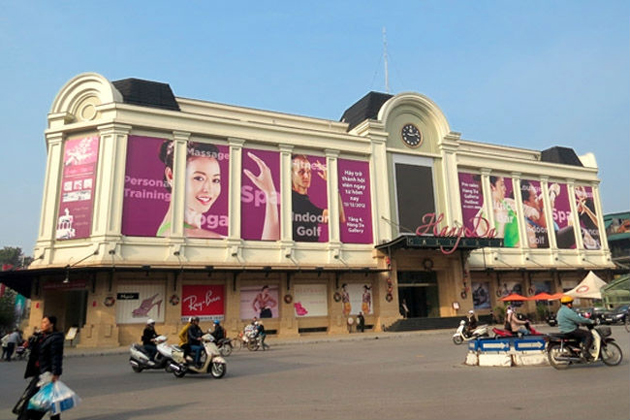 Hang Da Galleria is constructed and designed to provide a luxury space and international standard for business activities. The shopping mall consists of 5 floors and 2 basements providing 8000m2 for retail. The basement and first floor are the traditional markets for inexpensive products such as street foods, clothes, shoes, bags, and accessories. 2nd and 3rd floors are the commercial center divided into different stores of the artistic products, handicrafts, and specialties in Vietnam including ceramics, silk, lacquer, and paintings from the selected brands. The middle to high-end brands of fashion and food industries are allotted professional commissions on each floor, bringing satisfaction to the customers. The shopping space at Hang Da Galleria offers a comfortable shopping experience with unique decór, combining traditional charms and modern appeals. In addition, the shopping mall also focuses on improving the quality of its services, especially customer and delivery services.
Address: Hang Da St, Cua Dong Ward, Hoan Kiem District
Lotte Shopping Mall in Hanoi
Lotte Center belongs to Lotteria – a multinational group from South Korea. Located in the second-highest building in Vietnam, Lotte Center is a well-known shopping mall meeting the international standard in Southeast Asia.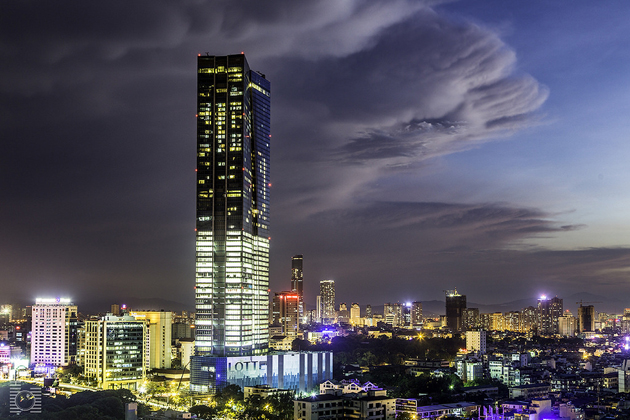 Unlike other commercial centers, Lotte Center focuses mainly on high-class segments with the number of cosmetics, accessories, clothes, and apparel from international brands such as Calvin Klein, Lacoste, and Clarins, etc. Furthermore, the shopping mall has the chains of luxury restaurants combining the Eastern, Western, and Vietnamese cuisine. Specifically, Lotte Observation Deck on the 65th floor is the highlight of Lotte Center. From such a high position, you will have a panoramic view of dynamic Hanoi. Besides, the Sky Walk will bring you the feeling like walking on the clouds. Music shows, coffee shops, and fast food are always available to give you the most wonderful moments. Remember to prepare yourself carefully before going to this Observation Deck.
Address: No. 54 Lieu Giai St, Cong Vi Ward, Ba Dinh District
Savico Megamall
The shopping mall is located at the northern gate of Hanoi with the convenient traffic – only about 5km from the center of Hanoi. Considered as one of the largest commercial centers in Vietnam, Savico Megamall has the total floor size of nearly 64,000 square meters with 2 buildings: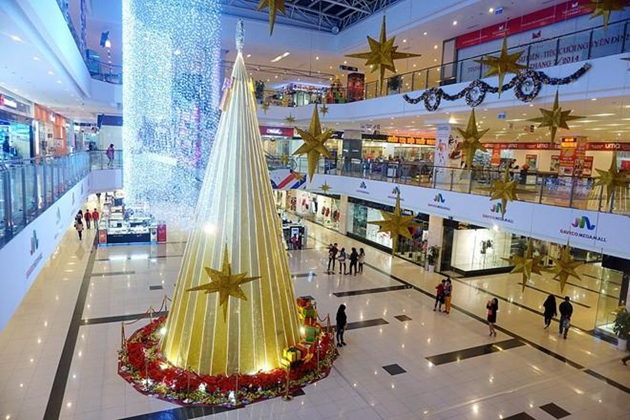 Block A is the huge supermarket with a mix of state-of-the-art brands, ample restaurants, beauty services, and amusement centers. Some of them can be mentioned as Levi's, Adidas, Nike, Prada, and Burberry along with famous fast-food chains including Pizza Hut, Sumo BBQ, and KFC.
Block B is the car showrooms and services. Savino Megamall is also the venue of many musical and cultural activities. The shopping mall is an absolutely ideal destination for people in search of purchase and entertainment.
Address: No. 07-09 Nguyen Van Linh Str, Long Bien District
The Artemis Shopping Mall
With the area of nearly 30,000 square meters, the six-story shopping mall gathers large retailers in Vietnam and abroad with diversified services and products such as Big C Supermarket, Tran Anh Electrical Center, CGV Cinema with IMAX technology, multi-purpose fitness center, Funny City indoor play center, and top brands of fashion, cosmetics, and furniture.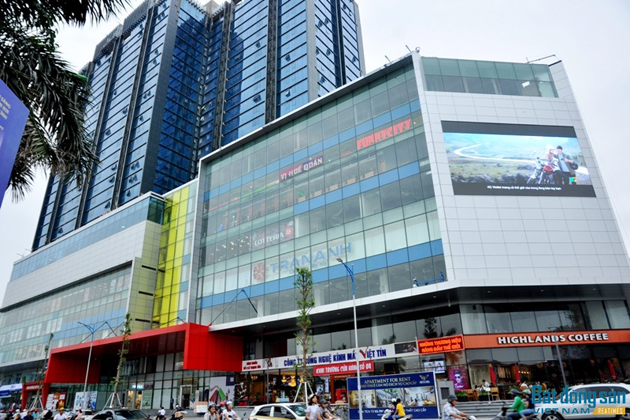 The Artemis is also the paradise of cuisine serving Vietnamese traditional dishes at reasonable prices and specialties worldwide cooked by native chefs. Additionally, festivals and artistic events organized annually at the Artemis are also the spotlights of the shopping mall attracting thousands of visitors. The Artemis shopping center is really worthwhile for your exploration in Hanoi.
Address: No. 6 Le Trong Tan St, Khuong Mai Ward, Thanh Xuan District
Enjoy Vietnam tours with your family to have amazing experiences in this one-thousand-year-old capital