Hanoi has been famous for the capital of culture for a thousand years. If you have a chance to visit the capital of Vietnam, consider visiting the following top attractions so that you can take advantage of the time here and understand the culture as well as the lifestyle of Hanoians in particular and Vietnamese people in general via a journey through architectural and religious works during your Vietnam vacation.
Ho Chi Minh Complex
When mentioning Hanoi, you must know Ho Chi Minh mausoleum. This is not only a tourist attraction in Hanoi but also the place of origin, tradition, the land for Vietnamese people to appreciate the great national hero. The mausoleum is located on Ngoc Ha Street, Ba Dinh District, a quiet space, without noisy stores and shops like other places. Therefore, when coming close to this area, you all have a quiet space in mind.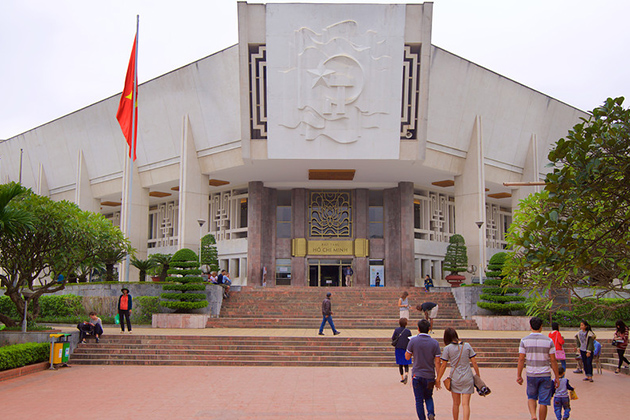 Visiting this place during the day, you can go to visit all sites in the complex such as Ho Chi Minh's tomb, his stilt house, One Pillar Pagoda … And if you go on the night, you can stroll around the area in front of the mausoleum, enjoy the fresh air and wait for watching the flag-lowering ceremony under a fascinating music background.
Temple of Literature
This is the second tourist attraction in Hanoi you should visit. Temple of Literature is a rich and diverse complex of historical relics in the city of Hanoi. This historic area has a brick wall surrounding which looks very quaint and carries the traditional style of Vietnam. With 700 years of operation, it has trained thousands of talents for the country. Therefore, it is not just a tourist attraction but also a sacred place and many people have seen this site as a place bringing luck for the exam and their career.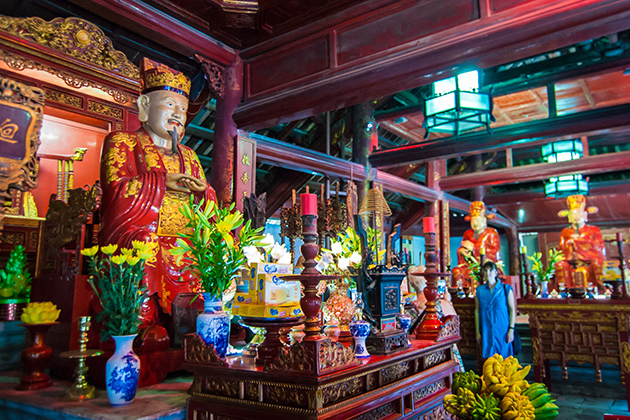 Museum of Ethnology
For any visitor interested in the culture and history of Vietnam, this is a destination that should not be missed. The museum is considered the most interesting museum in Hanoi. The Museum of Ethnology attracts tourists by its unique exhibition of the everyday life, culture, and architecture of the 54 ethnic groups in Vietnam. Visiting here, visitors will have an overview of the history and culture of Vietnam which are diverse with 54 different ethnic groups, but united and integrated.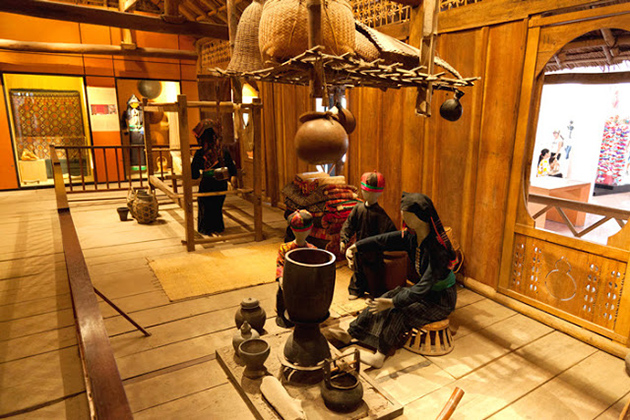 Hoan Kiem Lake & Ngoc Son Temple
Hoan Kiem Lake is famous for the legend of King Le's returning the sword, it is a symbol of Hanoi. Not too spacious and gorgeous, but this place is an indispensable cultural feature of humans as well as tourists in the capital Hanoi. Located in the heart of Hoan Kiem District, next to the Old Quarter, Sword Lake has created a position that is quite attractive to tourists.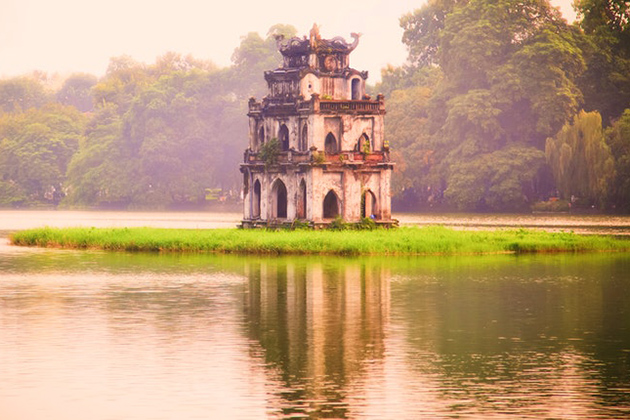 Around the lake are famous historic sites such as Ngoc Son Temple in the north of the lake, shimmering Turtle tower situated in the middle of the lake, The Huc Bridge, Tower Pen, Writing Pad and so on. These monuments also contribute to making a very traditional Hanoi. Early in the morning or afternoon, surrounding the lake, there are a lot of people who are exercising or just sightseeing. They all make a very impressive moment of Hoan Kiem Lake in the heart of people.
Tran Quoc Pagoda
Tran Quoc Pagoda is located on an island on the east of West Lake. The pagoda has a history of 1500 years, is considered the oldest pagoda in Thang Long – Hanoi. Pagoda's architecture is a harmonious combination of majestic, ancient features and elegant landscapes amidst a tranquil background of a vast lake. This place is a Buddhist center of Thang Long under the reign of the Ly and Tran dynasty. This famous tourist destination attracts a lot of tourists in Hanoi because of its historical and architectural value. This is also a sacred place of Buddhism and many Buddhists come here to visit and pray.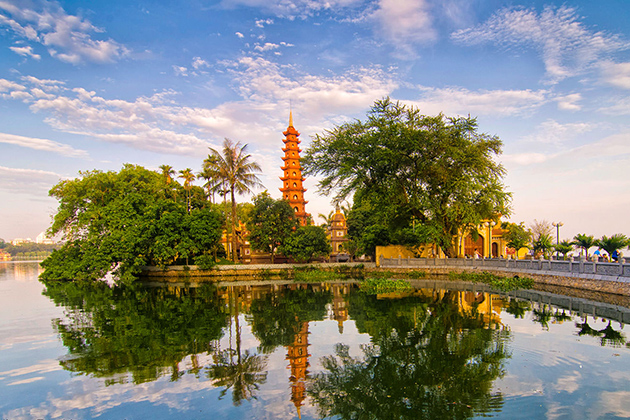 Thang Long Imperial Citadel
This Hanoi attraction is a complex of ancient relics built by many dynasties. As a fortified citadel area, it offers a full range of offices and palaces for the kings in the old days. Therefore, the architecture here is magnificent, ancient and meticulously built.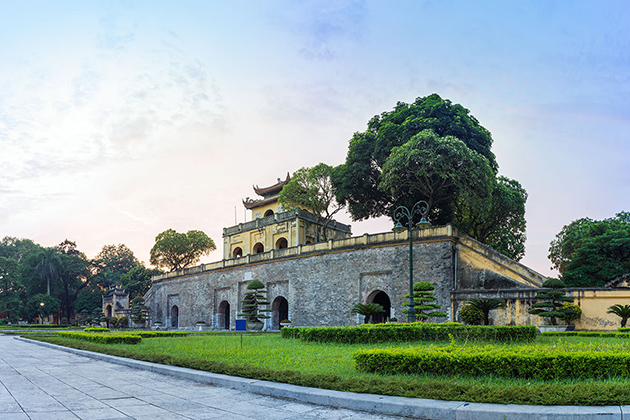 Inside the Citadel are the other monuments such as the flagpole, Kinh Thien Palace, Doan Mon, Hau Lau, Cua Bac … This place not only attracts Hanoians but also foreign tourists where many activities take place such as the festival arts program, cherry blossom festivals or large book fairs …
Hanoi Old Quarter
It would be lacking if you visit Hanoi without a walking trip around the ancient 36 streets here. This urban area concentrates population who do craft activities and trade, forming the characteristic job street, and bringing distinct traditions of urban residents of the capital. Each street has a special name and sale of items related to this name. That is what drives the foreign and domestic tourists cannot miss exploring the Old Quarter when arriving Hanoi.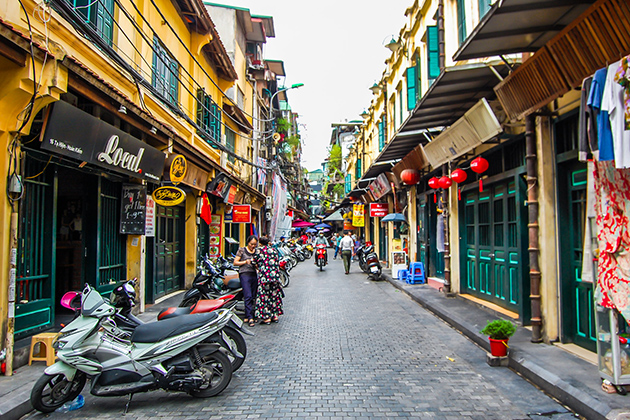 Market & Art Gallery
Dong Xuan Market
As one of the largest markets in Hanoi and with hundreds of years old from the feudal Nguyen, Dong Xuan market has become a tourist attraction for visitors in Hanoi. The market is located in the Old Quarter area, mainly a market for wholesalers, however, you still can find the retail counter inside the market. The market is divided into 3 floors which are very spacious and can easily visit.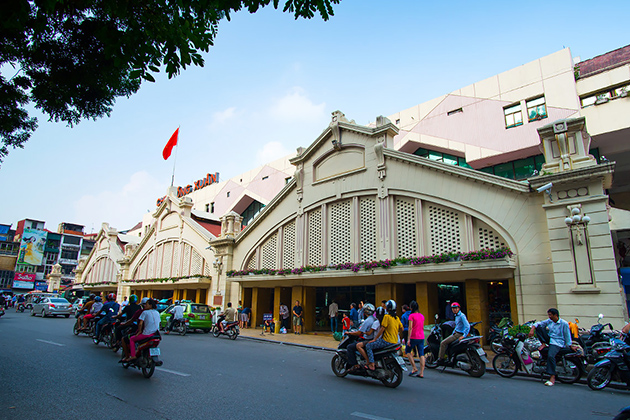 Art Gallery
If you are in search of authentic and original Vietnamese artwork and paintings, art galleries in Hanoi will satisfy your wish. Nguyen Art Gallery is the name of recommendation. From charcoal painting, artful high-quality paintings to watercolor paintings varying in shapes and sizes, this gallery will depict different spiritual as well as aesthetic beauty with its own distinct meaning.
Duong Lam Ancient Village
This is an ancient village that remains mostly tangible and intangible values about the way of life of the ancients. Guests here can enjoy a traditional lunch in the courtyard of an ancient house, or listen to the story as well as visit the mossy walls. The most interesting activity is hiring a bike and cycling around the village to feel the peaceful atmosphere of the countryside and gain insight into the daily life of local Vietnamese people.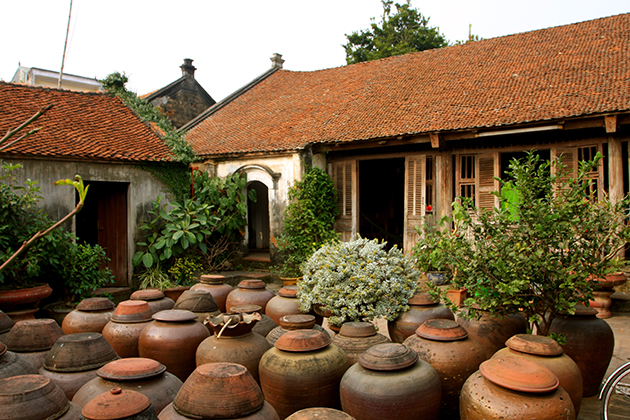 Bat Trang Pottery Village
Located quite far from the center of Hanoi, however, Bat Trang pottery village is a famous place that visitors come to discover. Arriving at the village, you can not only look at objects made of ceramics but also can making these products by yourself. There will be places for you to create favorite products with friends and relatives. The moments with friends along with the chatting, laughing will be an unforgettable memory for guests to experience.