In fact, identify which one is pagoda or temple is still trouble even with some Vietnamese people. The two constructions seem to be similar at a glance but they have distinct architectures, purposes, and customs. Understand clearly about these destinations you visit will make your Vietnam vacation more interesting and enjoyable.
Pagoda vs Temple in Spiritual Life of Vietnamese
In the Vietnam spiritual world, many deities are actually real human beings that have lived exceptional lives and have kept their influential position in the afterlife. Buddha is the highest-ranking of all. Other deities of human origin include famous and powerful emperors, mandarins and national heroes that influenced Vietnamese history. Buddha the compassionate has to take care of everybody, irrespective of his or her deeds and situation. He is therefore extremely busy and does not have time to cater to each individual prayer. However, other figures are choosier; they will look upon individual prayers and decide which one they will answer favorably. This is why Vietnamese worshippers will visit different temples, addressing specific prayers to specific deities. A business request might be submitted to a successful mandarin, a family problem may be submitted to the Mother, etc.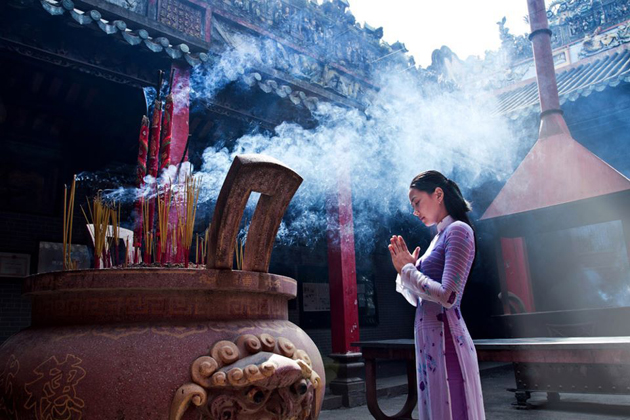 In English, 'temple' is a more general term designating any building where people go to worship, while 'pagoda' more specifically refers to a Hindu or Buddhist temple. Vietnamese also uses two main words "đền" and "chùa" translated respectively as temple and pagoda.
The Differences between Pagoda, Temple & Other Worshipping Places in Vietnam
What is a Vietnamese Pagoda (Chùa)?
It is the base of activities and propagation of Buddhism, a place where Buddhist monks and nuns gather to practice and teach Buddhism. Everyone, including believers or non-believers, can visit, worship, watch, or practice Buddhist rituals. In some places, the pagoda is also the place where the blessing spheres of true practitioners are kept and the monks are buried.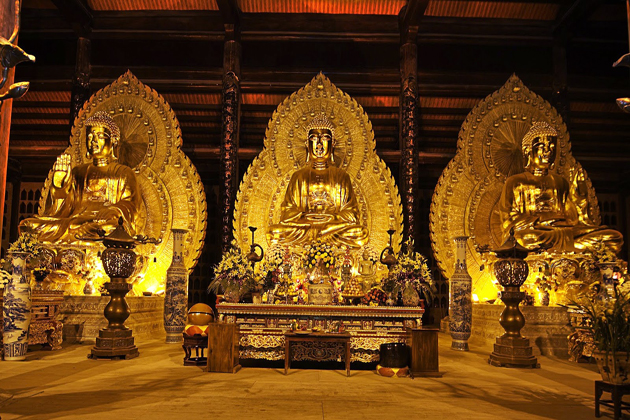 What is a Vietnamese Temple (Đền)?
Temples are architectural works built to worship a saint or historical figure worshiped as divine. In Vietnam, the temples were built to commemorate the merits of  Vietnamese heroes or the merits of an individual with locality built-in folklore.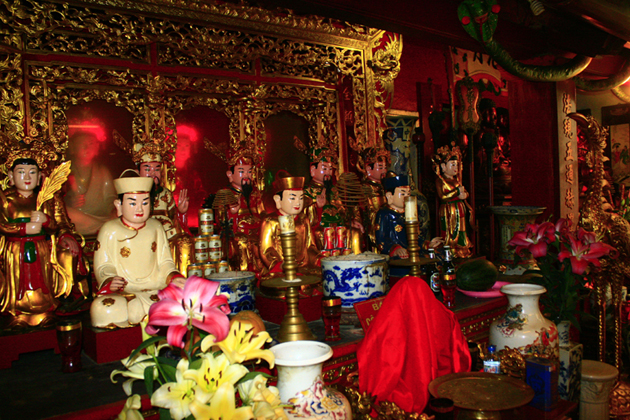 Some famous temples can be mentioned in Vietnam such as Hung Temple, Kiep Bac Temple, Soc Temple, Tran Temple … are places to worship national heroes. Other temples such as Voi Phuc Temple, Bach Ma Temple, Kim Lien Temple, Quan Thanh Temple … worship the saints according to Vietnamese folk legends.
What is a Vietnamese Shrine (Miếu)?
The shrine is a type of cultural relics in Vietnamese folk beliefs, which is smaller than the temple. The one that is worshiped in the shrine is very diverse, which is expressed in the name of the shrine. Shrines are usually built on high ridges, mountain slopes, river banks, villages, and quiet places so that spirits can be peace, not to be affected by the noisy life of normal people.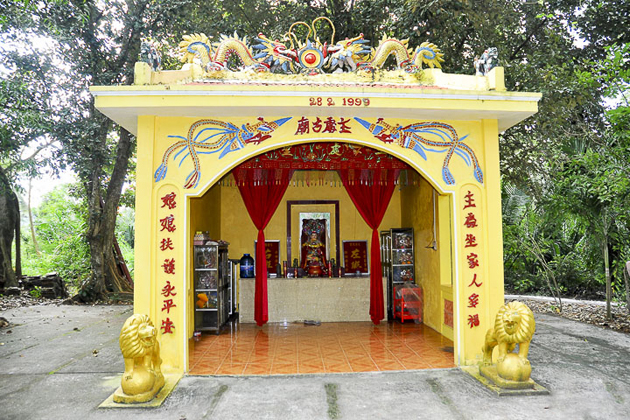 What is a Vietnamese Communal House (Đình)?
A communal house is a worship place of the tutelary gods of the villages, as well as a meeting place for villagers. The communal house is considered as the center of cultural activities associated with a community of residents and characteristics of the Vietnamese rice civilization. A tutelary god is a man who has merit with the people and the country, set up villages, hamlets, or founded a profession (the father of the profession).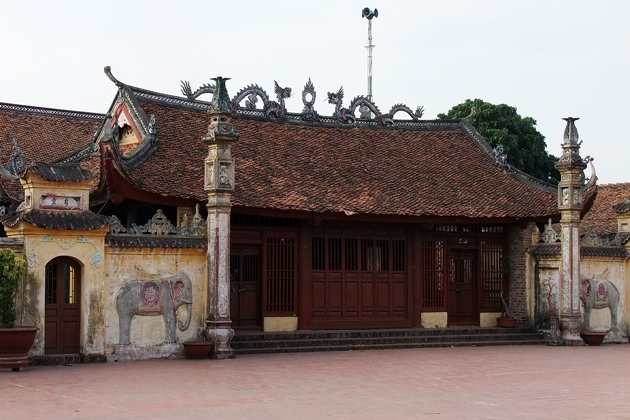 Things to Remember When Visiting Temples & Pagodas in Vietnam
Buddhism focuses on Vietnamese religious life although many people do not practice Buddhism. During your Vietnam vacation, you may have chances to visit temples or pagodas as interesting points for experiencing history, culture, and local religion. Therefore, the list of things to avoid when visiting Vietnam's temples and pagodas will be helpful to avoid an unexpected situation during your trip to these places:
Do not bring anything from the pagoda or temple to your house if that is not what the monks offer to you. All things in the pagoda and the temple are offered by other people.
If you are offered food or drinks inside the pagodas, you should give some money as donations because in the Vietnamese perception, when you receive something, it's good if you send back something else.
In most Vietnamese worship places, you must take your shoes off before getting inside.
There are usually 3 doors in a house of worship, so do not walk in the middle door because it is the door for gods, deities, and the king in Vietnamese perception.
Show respect for God's statues, do not look at it, you can take pictures, but try not to use the camera's flash, make noise and sound in places of worship or in front of the altar.
Do not try to touch the statues.
Do not run, laugh, and do not speak loudly in places of worship.
Do not smoke, chew gum, or spit inside temples and pagodas.
Try not to stand upright in the middle of the altar.
The best clothes to visit temples and pagodas are long-sleeved shirts, pants or at least clothes that can cover your underarms and your knees. Do not wear too much-exposed clothing or tight clothing such as skinny, tank top,…
The best way to greet the guardians of pagodas or the monk is to keep your palm close to your chest or your nose and tilting your head slightly.