Many travelers are concerned about Vietnam SIM cards as well as mobile coverage for staying connected in Vietnam. Indeed, buying a  SIM card in Vietnam to keep contact, information searching or map checking is necessary for a wonderful vacation in Vietnam.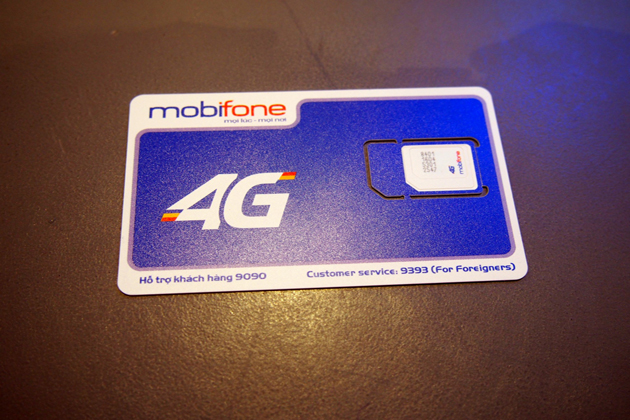 Why do You Have to Buy a SIM Card in Vietnam?
The tourist agencies tend to call you to confirm the imminent arrival of your bus or any change related to your journey so equipping a SIM card in Vietnam is essential. Furthermore, not everywhere in Vietnam is provided with Wifi so you may need data to use the Internet.
What Documents are Requested When Buying a SIM Card in Vietnam?
No documents are requested. You can pay directly in cash in VND for convenience. Buying a SIM card in Vietnam by card or USD is not recommended. However, the shop still offers to change money if needed.
Where to Buy Vietnam SIM Cards?
Is it easy to get a SIM card in Vietnam? Definitely yes. A pre-activated Vietnam SIM card that costs less than 100,000 VND (5$USD) can be sold at the airports, via land borders, and nearly every shop on the streets. Recharge cards are widely available in small shops on the sidewalks. If your trip is organized by a travel agent, you are generally provided with an activated SIM card bought in advance by your tour guide or driver with a registered 3G Internet Package. In case you travel by yourself or a SIM card is not prepared by your clients, buy it at the airports of tourist destinations where the staff can speak English for more convenience. Noi Bai, Tan Son Nhat, and Da Nang Airport, the three biggest airports of Vietnam, inevitably offer this service as well. In addition, all types of SIM cards of different sizes (Full-size SIM, Mini-SIM, Micro-SIM, and Nano-SIM) are available in every mobile shop. In Vietnam, both prepaid SIM cards and postpaid SIM cards are sold, but a prepaid one is highly recommended for foreign tourists.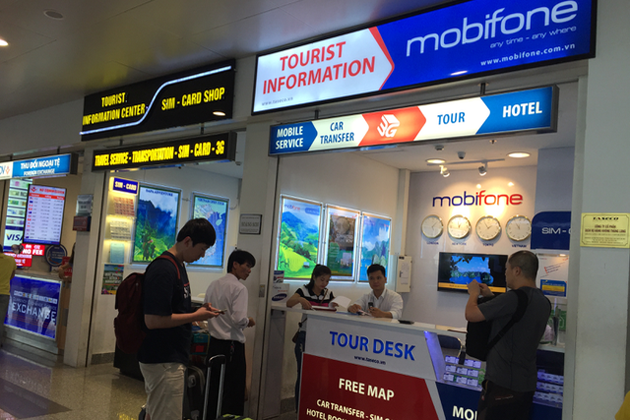 Best Mobile Operators in Vietnam
The three most common mobile operators in Vietnam are Viettel, MobiFone, and Vinaphone. They are all government-owned companies with wide network coverage for mobile calls and are likely to have similar prices. In fact, Viettel seems to have the biggest number of clients while MobiFone has the best quality service with around 3200 mobile phone subscribers in Hanoi and Ho Chi Minh City. For all the mobile carriers, to check the balance, press *101# for the main account and *102# for the bonus account; and to top-up by voucher, type *100*#. If you're bound to stay in Vietnam for a few months or longer, you need to extend the expiration date of each prepaid SIM card (100,000 VND for a 1-month extension). Contact International Support Center for any questions.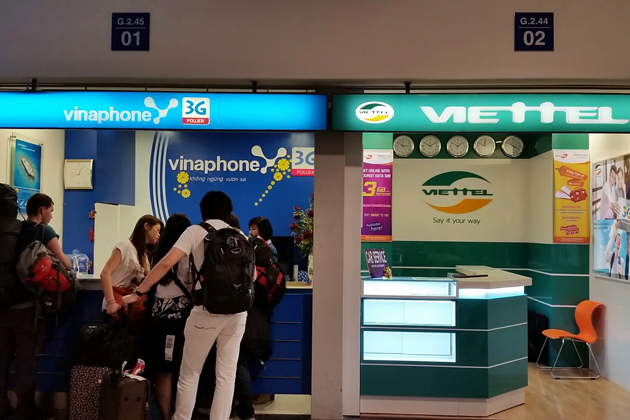 Prices & Data Speed of Vietnam Mobile & Internet SIM Cards
Prices do not differ so much between the 3 major operators: the price of a 1-minute local call is from 1, 000 VND; from 250 VND for local SMS and 2,500 VND for international SMS. Cellular coverage in Vietnam is extensive and stable at an affordable price. 3G High-Speed Data Package for 1 month is about 70,000VND. Speeds vary between good and very good, depending on geographical location. You can have full 3G signal everywhere in Hanoi, Da Nang, Ho Chi Minh City, and other urban areas or even in many remote parts like rural villages in Mekong Delta. Except for in some mountainous areas or in bad weather, data service is limited to access. Besides, 4G/LTE service is currently launched across the country for better usage of mobile applications in Vietnam.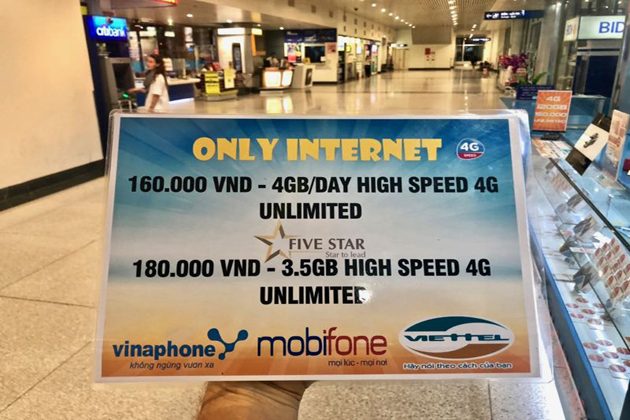 How to Install the Vietnam SIM card?
At the airport, the salesman will offer to install the SIM card for you and take all the steps to choose the 4G package. Always accept, it will verify that it works, but there is no difficulty, the SIM card is available in 4 standards, mini, micro, and nano formats. Cut out the card in the desired format and insert it into your phone. No activation code and no number needed to activate, your SIM card is operational immediately.
Some Useful Tips to Buy SIM Cards in Vietnam
The official language is Vietnamese. Few locals speak English, so download Google Translate on your phone before traveling if you need help with the language.
Ask the sellers to install the SIM card for you because they will know how to do it. Otherwise, follow the instructions we have highlighted above or check the operator's official website for advice.
Go to the official store to receive better assistance and avoid the crowd.
Mobifone is always recommended in big cities, but if you're traveling to remote areas, Viettel is the best.
You will be able to buy SIM cards in almost any store. If Nano-SIM cards are needed, they will resize it accordingly.