An off-the-beaten-track trip in Vietnam stands out of the crowd with interesting experiences and amazing explorations in landscapes filled by pristine nature and untouched destinations. Unlike other Vietnam vacations, this type of travel requires a lot of strength skills, which needs time for training and preparation. Besides, there are some tips you should note before experiencing a wonderful off-the-beaten-track excursion.
Best Places for an Off-the-beaten-track in Vietnam
If you want to visit rural villages and ethnic minority areas, trekking is one of the best ways of getting there – sometimes the only way. Most of the best places to go hiking are in the mountainous area in Northern Vietnam. But there are also interesting places to trek in the Central Highlands and it's even possible down in the Mekong Delta. Trekking is also possible in some national parks, such as Cuc Phuong (a few hours to drive south of Hanoi) and Cat Ba (on the island of the same name in Ha Long Bay). Many visitors to Vietnam wishing to stretch their legs flock to Sapa, a charming little town in the far north, perched in the mountains near the Chinese border (called the Tonkinese Alps by the French, who built Sa Pa to escape the summer heat in Hanoi). Sapa is still a good base for trekking in the region, which is home to a rich array of ethnic minorities. Above Sapa, often shrouded in cloud, Mount Fansipan, almost 3,200 meters above sea level and the rooftop of Indochina will be absolutely worth your while in your Vietnam vacation. Climbing this is probably the ultimate sporty trekking option in Vietnam, but not necessarily the most interesting, because above the foothills it is just rather bleak jungle. A strenuous climb, it will take you from two to four days, depending on weather conditions and on your physical condition. If you make it to the summit and are lucky that the cloud cover lifts for long enough, you may get a stunning view, allegedly stretching right down to the South China.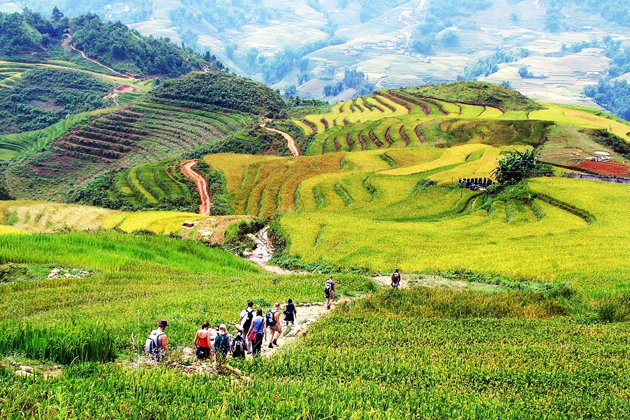 Things to Remember for a Perfect Off-the-beaten-track in Vietnam
DON'T plan to climb the Fansipan from May to August inclusive unless you like leeches and landslides. DO take warm, light clothing with you: this is the only place in Vietnam where it very occasionally snows. DON'T go it alone: this is rough and wild terrain, with inhabitants (apart from the old wild animal that hasn't been hunted yet) and no back-up. A British teenager died from a fall on the mountain not long ago. DO take a guide with you, preferably from the Black Hmong ethnic minority. They are one of the local indigenous peoples here who know this terrain better than anybody and need your money more than the ethnic majority Viet people (or King). A guide is essential because there are barely more than hunters' tracks on the mountain and everything (tents, food, and clothing) must be carried up with you. In fact, a guide is often a good idea wherever you trek: he can also explain and translate if his language skills (and/or yours) are up to it, and he can also arrange for you to sleep overnight in villages. This is a great bonus and you get more trekking time the next day.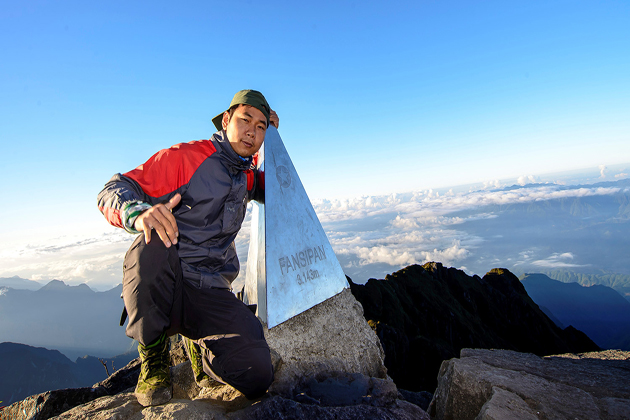 DO check carefully what's on offer with an organized trek: too many guides will just take you on a gentle stroll to a nearby hamlet where 20 other foreigners are already pestering people with their cameras. It is (still) so easy to get off the beaten track in Vietnam's hill country that it would be a shame to miss out on this unique and magic experience. If you prefer to trek unaided and are fit and well equipped, get advice from a hotel (maps are very poor), tell them when (roughly) you plan to get back (calculate about 20 km a day outside the wet season) and go for it! Rural folk in Vietnam are usually gentle and incredibly hospitable. DO pack good walking shoes if you plan to trek. Don't count on buying something when you get there, especially if you have big, Western feet. Something light but sturdy with a good tread is best, as you will often be hiking down wet, muddy tracks or crossing paddy fields and streams. A lightweight waterproof is not a luxury, nor a sweater and some socks: even if you're sweltering down on the coast, it can be chilly in the highlands and freezing in the mountains.