The night market is the "specialty" of this peaceful land with many dainty morsels making people astray. It is located along the Sisavangvong street, starting from the Royal Palace Museum. Every night, the road stretches over a kilometer banning passing vehicles, becomes a pedestrian street and is a gathering place called the night market of Luang Prabang. The night market opens all weekdays from 5 p.m to about 22.30 p.m and especially crowding at the weekend.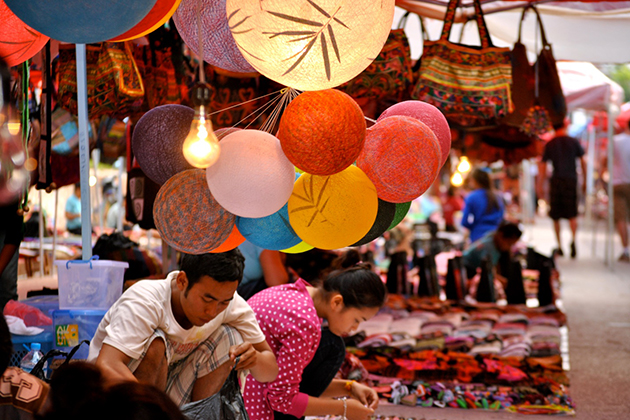 First to mention that this market is a culinary paradise with roasted rice dishes, noodles, the scrolls, juice fruit, ice cream, barbecue, buffets showed proximity to another… especially the foods are also displayed eye-catching in the box, tourists just need to say with the owners what they want.
It has more than 300 installs of arts and crafts made by the local people. In addition, the stalls in the night market also sell a variety of other goods from textiles and clothing, skillful ceramics, valuable antiques, paintings until tea, coffee, shoes, or even rare spices. One thing visitors can easily see when coming to Luang Prabang's night market has a lot of t-shirts, paintings bearing the symbol of Luang Prabang.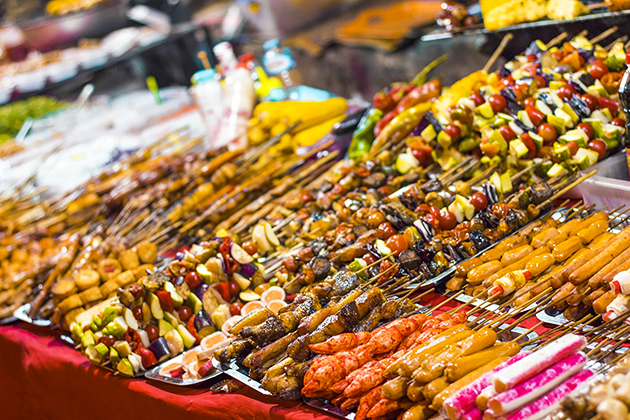 There are many interesting items on display at the night market of Luang Prabang what you can hardly find anywhere else and especially its prices are very cheap. These sellers often offer a relatively low price, so even if you are not good at bargaining, you could still be sure to buy goods cheaply. However, if you like, or simply want to try your bargaining ability, you can still bargain, but do not hope that will be lower.
Even those who do not want to go shopping, you can also wander around the market, chat with vendors. This can help you understand more about the land and people of "the country of elephants". What most visitors feel enjoy shopping in Luang Prabang in particular (and Laos in general) is the vendors do not ask with insistence, force customers to buy anything. If you want to ask about these items, the sellers are happy to answer, they can speak a little English.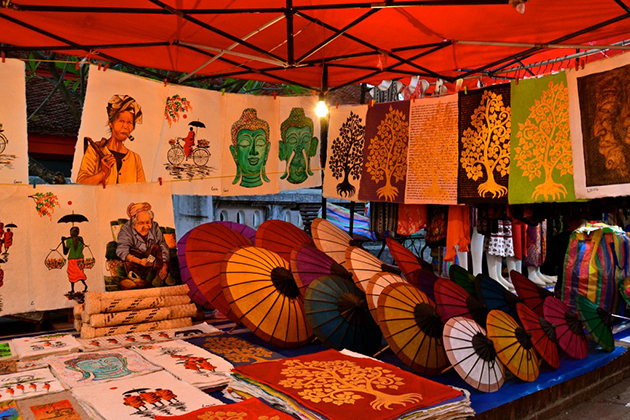 Take a leisurely walk around the night market stalls in Luang Prabang is really an exciting experience for visitors coming here. There would be nothing too strange when you spend hours just in exploring this stimulating market. In fact, if you look around, you'll probably see plenty of tourists are enjoying this interesting experience.