Lieu Doi is a hamlet of Liem Tuc village (Thanh Liem, Ha Nam). The festival takes place from the 5th to the 10th days of the 1st lunar month in commemoration of the Patron Saint of traditional wrestling, who was a member of the Doan family, and was mortally wounded in a battle with the northern aggressors. His wife was very skilled in sword handling and is considered immortal. The festival takes place on the grounds of Nuong cui, and is comprised of the following rituals:
1. Procession escorting the Saint to the wrestling arena.
2. Lighting of a large fire.
3. Handing over of the sword and pink belt.
4. The flag dance.
5. Sounding bells and gongs of neighboring pagodas and temples for moral encouragement.
6. Five rounds of demonstration wrestling performed by two fathers or grandfathers of the village's two youngest sons.
7. Performance of wrestling by local wrestlers to begin the fight. Wrestlers wear only the traditional loin cloth.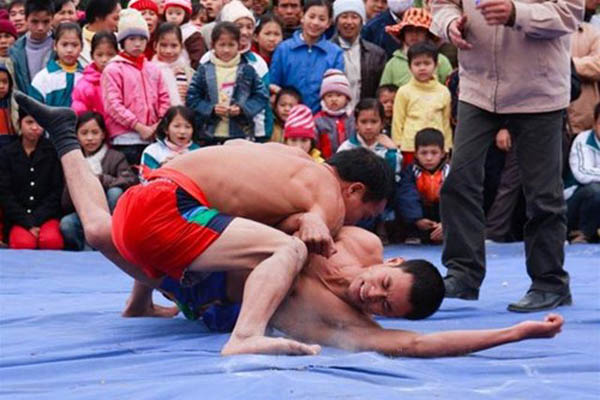 The Lieu Doi wrestling art abounds in ingenious blows. The ceremony's master leads the struggle by beating a drum. The winner of the match is the competitor who succeeds in lifting his opponent off the ground so that his feet no longer touch the soil. Competitions of other martial arts, including those using swords and sticks in which women participate, are also held.