A traditional Vietnamese dessert from Hue, the name of banh Phu The comes from the two parts that are tied together with a string of coconut and encased in a delicate box made of pandanus leaves which implies the happiness and eternity of love as well as marriage. It usually appears at a Vietnamese wedding and is a mouth-watering food you should try during your Vietnam vacation.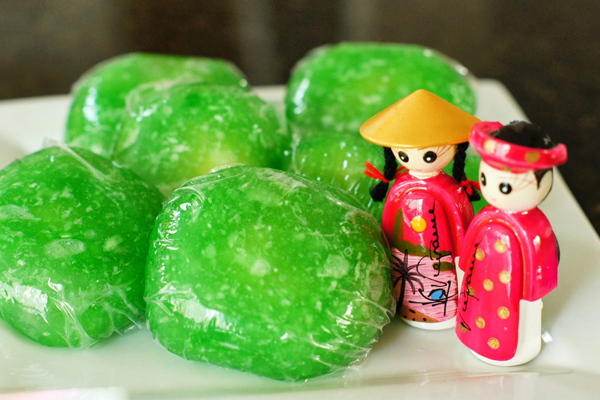 Origin of Banh Phu The
Legend has it that the name of Vietnamese husband and wife cake is due to the story of King Ly Anh Tong (1136 – 1175). On his way to the battle, his Queen made a special cake by herself to express her love to her husband. The cake was really delicious and meaningful for the King. Therefore, he named it banh phu the. Since then, the image of a couple of banh thu phe has been the symbol of eternal love between husbands and wives.
Banh Phu The Recipe
Ingredients to Make Vietnamese Husband and Wife Cake
4 cups (1 liter) water
5 cups (500 g) tapioca flour
11/3 cups (250 g) sugar
1/2 cup (50 g) freshly grated coconut
2/3 cup (150 g) dried yellow mung beans, soaked in water overnight to soften
1/2 cup (125 ml) sugar syrup (1/2 cup/
100 g sugar dissolved in 1/2 cup/
125 ml boiling water)
1 tablespoon oil
1 teaspoon fragrant essence (pomelo, pandanus, or orange)
10 pandanus leaf cups (see note) or cupcake molds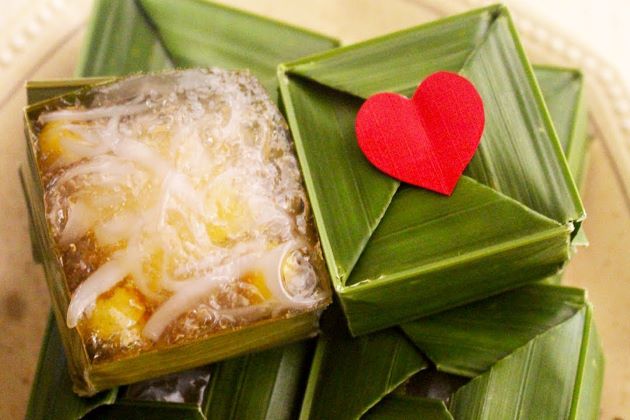 How to Cook 
Vietnamese Husband and Wife Cake
Step 1: Heat the water, tapioca flour, sugar, and grated coconut in a saucepan or small pot over low heat for about 10 minutes, stirring constantly, until the mixture turns into a paste. Remove and set aside to cool.
Step 2: Steam the soaked mung beans for about 20 minutes until cooked. Remove and mash into a paste. Combine with the sugar syrup and oil in a small pot and heat over low heat for about 10 minutes, stirring constantly, until the mixture is thick. Add the fragrant essence, mix well, and remove from the heat.
Step 3: Place a thin layer of the tapioca paste into each pandanus leaf cup or cupcake mold. Add 1 tablespoon of the mung bean paste on top and cover with another layer of the tapioca paste. Steam the cakes in a steamer for about 20 minutes, until transparent and cooked.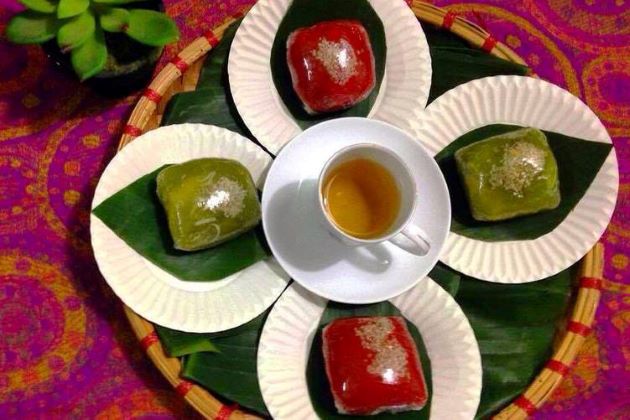 Note: To make a pandanus leaf cup, cut a pandanus leaf into 10 in (25 cm) long segments, with its ridge running along the center. On one side, snip the leaf until the center into 5 equal sections, each measuring 2 in (5 cm) long. Hold the leaf with the snipped side facing down, then fold in from one end of the leaf, overlapping the snipped sections as you fold, until a 2-in (5-cm) square cup is formed. Secure the end with a toothpick or staple.