On the arrival at Ho Chi Minh City, one of the glamour that this chaotic yet charming city offers is a chance to take joyful cooking class lesson and gain a first-hand observation of Vietnamese cuisine in general and local dishes in particular.
Ho Chi Minh City welcomes you with wonderful lessons at any cooking centers or restaurants. By having a deeper understanding of customers' needs and concerns, cooking class appreciates visitors' interest in exploring the uniqueness and richness of Vietnamese food considered amongst the best food in south-east Asia.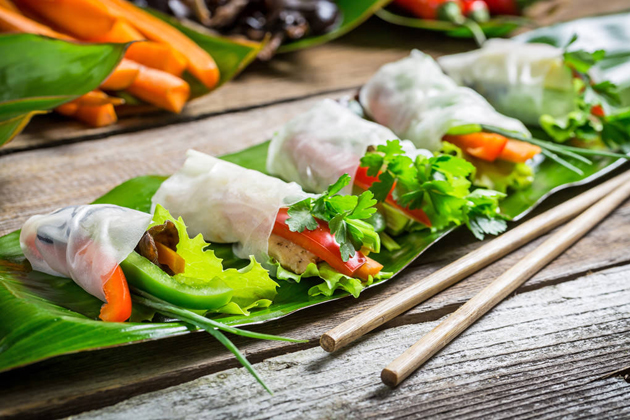 There are a wide range of options in terms of both places to take part in a cooking lesson as well as the dishes to learn and practice. Amazing hands-on experience, talented, professional and enthusiastic chefs, unique recipes and exciting market visit – this is a perfect daydream for a trip to this Vietnam's largest and most dynamic city. Take a tour at Saigon Cooking class Hoa Tuc, Mai Home or Vietnam Cookery Center, your interest will be definitely satisfied.
Start your promisingly fantastic cooking lesson with a visit to local Ben Thanh Market within an hour. You will be carefully and meticulously guided by Vietnamese chefs to visit colorful and vibrant Ben Thanh Market in order to get a closer look at the local market and local people's life. Moreover, you can also have an opportunity to shop around and try amazing dishes in the market as well as purchase essential fresh ingredients for the coming lesson. With no doubt, you would love to try and taste some special and unique street food with an exciting introduction about its origin. For sure, you will be certainly captivated by an atmosphere of hustle and bustle and impressed by heart-warming smile from highly cultured and friendly local people.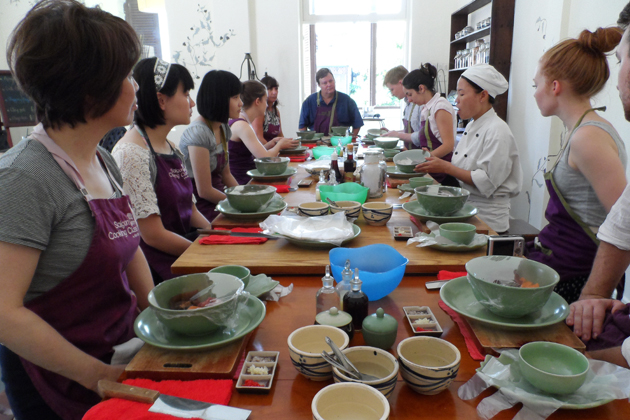 Try hands-on experience by watching talented chefs as they prepare fresh ingredients including typical Vietnamese herbs, vegetable and five main elementary tastes of Vietnamese food, coupled with unique recipe during the lesson. There is no better way than joining a cooking lesson to indulge in rich and unique flavor that Vietnamese dishes offer. Under the careful instruction of English-speaking chef, you will be guided how to do step by step from the way to make the fish sauce for spring rolls and salad to the process of preparing, cooking and decorating each dish. Moreover, in order to make the dish more delicious, you will know how to marinate and add the proper amount of spices for the appetizer and the main course. In addition to that, you have opportunity to witness our great chef decorating the dish with tomato or carrot flowers. Finish cooking and start enjoying what you and Vietnamese chefs have done. You also are served with fresh drink and dessert. Actually, a cooking class would be a highlight of your trip to Ho Chi Minh City.