Nestled at the bottom of Muong Hoa Village with just a few-minute-walk from Sapa town, Cat Cat Village is a landmark of the region with its unique customs and traditions.
Erected during the 19th century, Cat Cat Village is the home to some ethnic minorities living together at peace and creating a community specializing in cultivation with rice terraced fields and traditional handicrafts encompassing flax twisting and fabric weaving. Although time has gone by, those valuable traditions and cultures have been maintained and well-kept to make it distinct from others.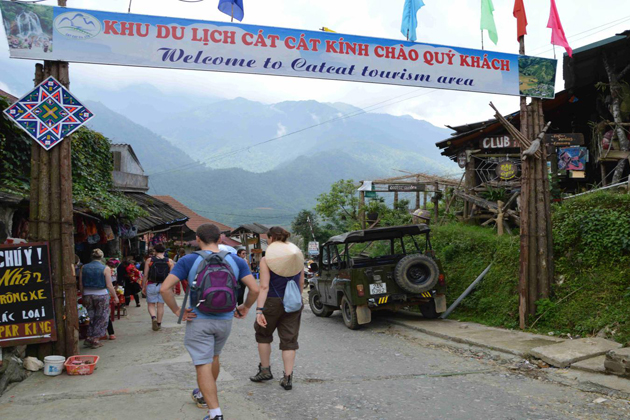 Cat Cat Village offers countless amazing things waiting out there to be explored. Visitors to the villages will be first mesmerized with the tranquility and peacefulness of the sublime surrounding landscape. Cat Cat village is easily realized by a gate. Head further into the village, you can catch a glimpse of convenient cafes, restaurants as well as local stalls.
Once you are there, take advantage of this opportunity to capture the most scenic photos of the magnificent landscape. Moreover, the village also allows you to visit houses of the locals, thereby taking in view of a brilliant patchwork of women wearing colorful traditional clothes and sitting in front of the loom to weave colorful brocades while children playing around. All create a lively picture of a simple life in Vietnam's mountainous area. Especially, those visiting the village are more likely to get a closer look at how locals make sophisticatedly beautiful brocade. Plain brocade will be turned into an eye-catching one by dying them with special leaves and being highlighted with inspirational patterns of animals or flowers. Moreover, Cat Cat villagers have a reputation for skillful and professional gold and silver makers who create beautiful gold and silver jewelry.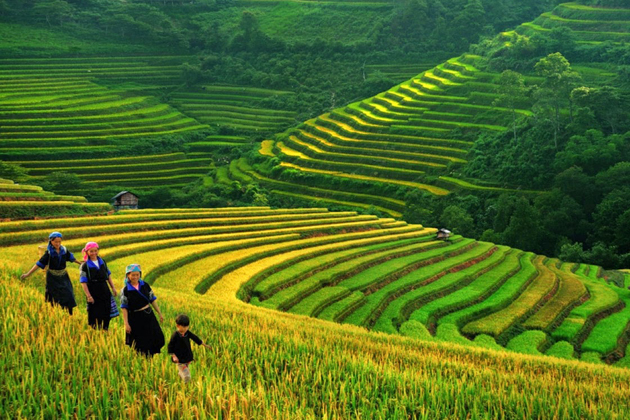 Another no less amazing thing to see in Cat Cat village is to marvel at housing architecture in which the roof is mainly constructed with a kind of wood named po mu, whereas, the walls' material is from saw timber. For a long time, Cat Cat Village has become the home to Black Hmong ethnic minorities with many generations living on cultivation and traditional activities. Therefore, if you visit the Cat Cat village, you should buy some beautiful traditional souvenirs and hand-crafted products. Ađitionally, the village is also an ideal spot for taking challenging adventures such as hiking the mountains or trekking through picturesque rice paddies.