Pure Cambodia is one of the few countries that still maintains many traditional values. The Cambodian costume is not an exception. Besides the urban center such as Siem Reap and the capital Phnom Penh, almost all the mainland of Cambodia is countryside with a slow rhythm and traditional dresses are worn by locals along the streets. Viet Vision Travel will provide you with a closer look at the art of national costume.
The 5 Cambodian Traditional Costumes & Clothing
Krama – Cambodian Traditional Scarf Used in Daily Life
Due to the hot weather and habit of working in the paddy field, the Krama scarf is the must-have item that every Cambodian owns at least one. Krama can be seen on tours to Indochina countries. Not only pretending them from the bright sunshine, but karma also to wrap their long hair to more convenient at work. You can easily find various karma sold in the Old Market and Central Market as an interesting souvenir for your friends and family.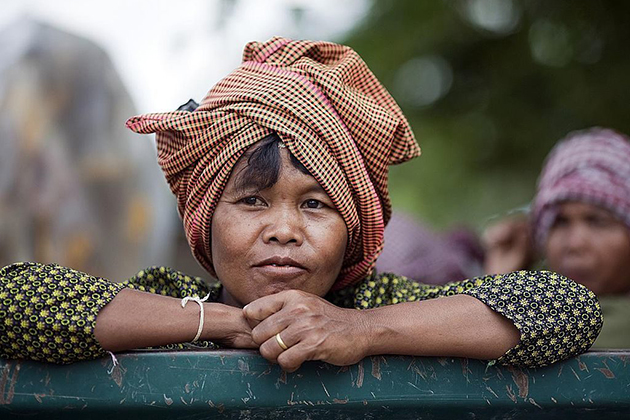 Krama scarf is usually wrapped around the head under the large hat worn by farmers. But more than this, the meaning of Krama is not limited in scarfs. They can transform into baby carriers, pillow covers, beautiful decorations, and the things which wipe away sweat after a hard-working day.
Sampot – Cambodian National Clothing
The national soul of Cambodia crystallizes in Sampot – one of the unique national heritage. This costume has the ancient history dated back to the Funan Era by the order of the Khmer King despite the behest of Chinese diplomats. Although some variations depending on social classes, overall, the Sambot has a length of 5-6 feet with the end sewn together.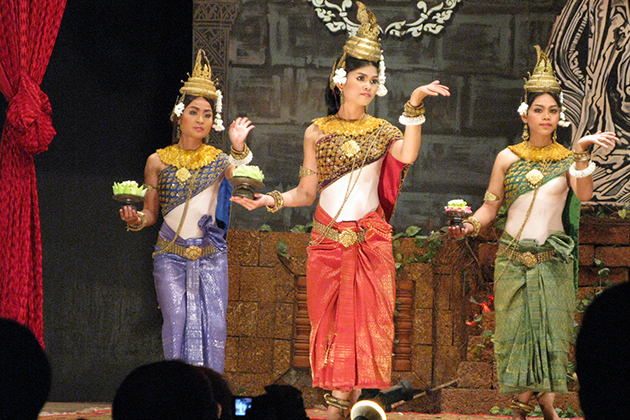 Sampot Chang Kben – Cambodian Upper & Middle-class Women
This type of Sampot includes not a skirt but pants. Longer than other types, Sampot Chang Kben has a length of over 9 feet and a width of around 3 feet. This type of Sampot is decorated with many patterns revealing the class whose wear it is such as the flower or graphic sinking motifs. The materials to make these clothes are also high-class and comfortable for various festival activities.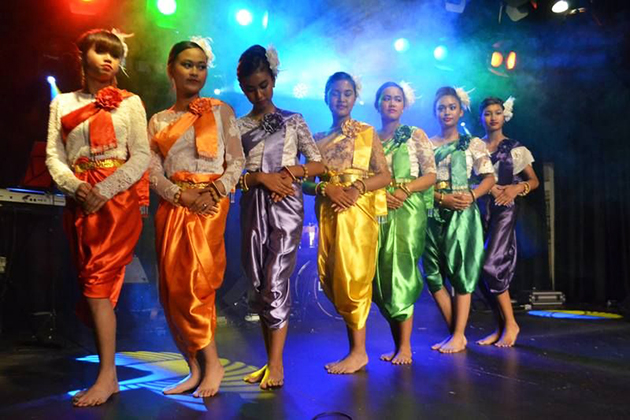 Passengers traveling to Cambodia may confuse about how to wear this complicated costume, especially with many accessories attached. The sampot chang kben is wrapped around the waist, covered along the body, and tied a knot between the legs and secure by a sparkling belt. In the past, high-and-middle class women dress in daily life. But nowadays, it only is worn by all classes women on special occasions such as festivals and New Year Eve.
Sampot Phamuong – Cambodian Luxurious Dress
Not only one type of Cambodian traditional dress, but Sampot Phamuong is also the name of many different variations of traditional Khmer textiles. Despite being the single colored, Sampot Phamuong is not boring with 52 colors used in and twill weaved on the surface. For more details, this luxurious fabric is constructed by 22 needles.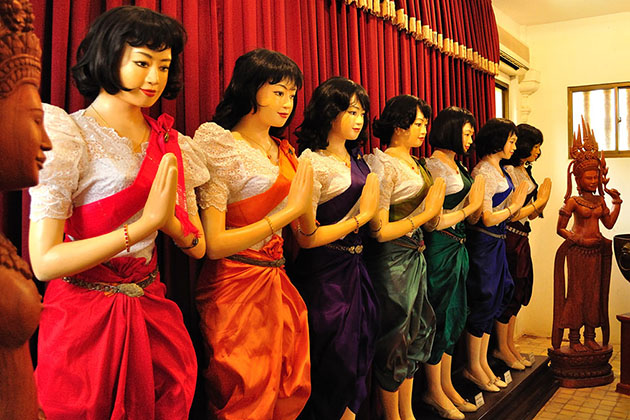 Sampot Phamuong usually has floral and geometrical patterns and is divided into some variations such as chorcung, kaneiv, rabak, bantok, and anlounh. Especially, yellow silk – the most valued material for a Phamuong – is considered as a prized regional specialty with its excellent quality.
Sampot Hol – Cambodian Typical Traditional Dress
Hopping on Cambodia tours, you may not have the chance to admire Sampot Chang Kben and Sampot Phamuong, but the Sampot Hol can be seen in many places you go to in this country. The Siam culture had influenced heavily to the Khmer society that the Sampot Hol seems as the ceremonial skirt of Thailand court in the 19th century. However, the Khmer weaving industry is not a copy of Thailand.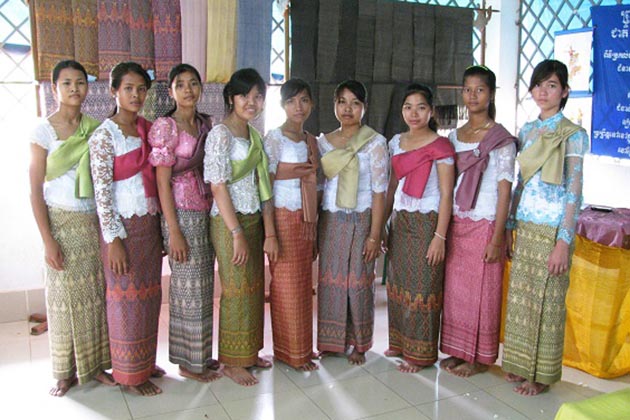 The Sampot Hol is a wrapping skirt that is made with the traditional technique – chong kiet and twill weave. All the Khmer art style is revealed in over 200 patterns of this costume combined with 3-5 colors including yellow, brown, red, green, and blue. More than the Sampot Phamuong, the Sampot Hol has the motifs of geometric, floral, and also animals.
What Cambodian Traditional Dress Should Visitors Wear?
Travel to Cambodia, you should find out the typical costume and which are accepted in different social circumstances. If you don't choose a suitable cloth, you can be awkward and even considered impolite. Here are some tips for a great Cambodia tour.
Same as every time around the world, scanty and short clothes are not accepted in religious sites of Cambodia. People with shirtless or hot pants will definitely not be allowed to enter any temple or pagoda. Devotees usually wear formal Cambodian clothing and remove hats and shoes. To show your respect for their belief, remember to do like a truly Cambodian devotee, or at least copy what they do for sure that you don't make any mistake.
For other popular activities such as sightseeing or traveling, you will need a comfortable pair of walking shoes to trek through the irregular grounds. Due to being a tropical country, a hat is an essential part of your luggage to pretend you from the heavy sunlight. For more, remember to bring at least a bottle of water because the tap water here is not safe to drink directly.