Although English has been widely spread throughout Vietnam, it still has some difficulties during your Vietnam vacation without knowing and understanding some essential Vietnamese words and phrases. Prepare some words in hand will absolutely reduce frustrations and misunderstandings, which gives you a perfect trip to Vietnam.
Basic Vietnamese Words & Phrases for First-time Introduction
It's the most convenient way to start learning and also the answer to the most common opening common conversations in Vietnamese.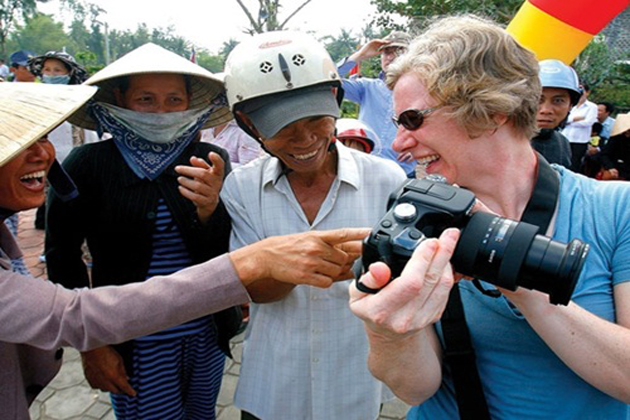 Sin Chow: Hello
Toy dane too…: I come from…
Ban kwe khome?: How are you?
Gahm un ban toy khome: I am fine, thank you
Ban thane zee?: What is your name?
Toy thane la…: My name is…
Toy kung hey-oh: I do not understand
Toy hey-oh: I understand
Vung: Yes
Khome: No
Chuck moong numb moi: Happy New Year
Tiam bien: Goodbye
Basic Vietnamese Words & Phrases for Asking Helps
After having introduced yourself, you're definitely going to need some phrases for tricky situations to at least appear unruffled, even if you're feeling the opposite. This way you won't embarrass any Vietnamese by yourself losing face and thus making them feel bad for you!
Seen loy: Excuse me
Ban zup toy duc khome: Can you help me?
Khome co cheese: You are welcome
Khome sao: No problem
Gahm un: Thank you
Basic Vietnamese Words & Phrases for Asking Directions
Vietnamese streets are really maze-like with thousands of vehicles and a lot of crossroads. Taxis or motorbike taxis are absolutely indispensable means of transportation for tourists during their Vietnam vacations. However, most drivers are not able to communicate with you in English. So it is wise to equip yourself with some words and phrases in case you get lost in that maze or want to go somewhere. But carry a map and write down the address or location you plan to go is recommended for sure.
Toy muan dean…: I would like to go to…
…Uah dou?: Where is…
Di tan: Go straight
Tchai: Left
Phai: Right
Zun like: Stop here
Dee dean…nhu the now?: How can I get…?
Cheese trewn ban doo duc khome?: Can you show me on the map?
Basic Vietnamese Words & Phrases for Shopping
Vietnam is no doubt a paradise of shopping with various types of products and reasonable prices. With some common Vietnamese words, your shopping will be completely fast and easy. They even help you bargain to buy things at cheaper prices.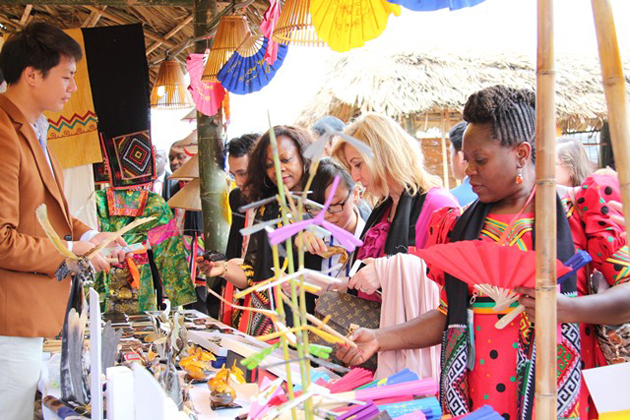 Toy muan kai khac: I would like something else
Wa lew niem: Souvenir
Bow neuw tee-en?: How much?
Bot duc khome?: Could you give me a discount?
Dat wa: That is too expensive
Toy moo-ah kai night: I will take this one
Toy khome moo-ah: I do not want to buy this one
Cor nyor hurn: Smaller size
Cor lurn hurn: Bigger size
Kai zee day: What is this
Sem kai night duc khome: Can I have a look?
Basic Vietnamese Words & Phrases at Restaurants or Food Stalls
A culinary adventure in Vietnam deserves the first position in your itinerary. So learning a few useful words and phrases will make your taste perfect.
Bar mee: Bread
Ka fey soo does: Coffee with ice and milk
Dee-uong: Sugar
Goy kwoon: Roll
Nucc suoi: Mineral water
Beer: Beer (Same pronunciation)
Trian mieang: Dessert
Tiem aen: Restaurant
Seen ting tian: Bill, please
Cay: Spicy
Cheen: Well-done
Tai: Rare
Vua: Medium
Thit: Meat
Goy: Salad
Bank: Cake
Muoi: Salt
Hat tiu: Pepper
Basic Vietnamese Words & Phrases of Time
Tuuh hi: Monday
Tuuh bar: Tuesday
Tuuh thu: Wednesday
Tuuh nahm: Thursday
Tuuh saow: Friday
Tuuh bay: Saturday
Chew ngut: Sunday
Phut: Minute
Zuh: Hour
Ngay: Day
Tuuan: Week
Thiang: Month
Nahm: Year
Bay zuh: Now
Laht neu-uh: Later
Sang: Morning
Chew: Afternoon
Toy: Evening
Dehm: Night
Some Other Vietnamese Words & Phrases
Ban dou: Map
Bye bian: Beach
Down: Island
Tou: Boat
Share mai: Motorbike
Thanh phou: City
Lang: Village
Cheuw: Pagoda
Nha Thod: Church
Choew: Market
Bao tang: Museum
Nha vee sing: Toilet
Nui: Mountain
Sung: River
Nha thuoc: Pharmacy
Beanh vian: Hospital
Besides these common Vietnamese words and phrases, you should you non-verbal communication such as body language or eye contact. Hope you can enjoy your Vietnam vacation at its best.