This Hoi An tour will offer you a great chance to discover the beautiful countryside area in Hoi An on bicycles, visit a local organic vegetable village, "become" a real Vietnamese wet rice farmer. We also take part in many activities such as: riding the water buffalo, go fishing with local people and enjoy seeing "THE GANGNAM' style" performance on the round basket boat dancing at the fishing village on sunset time. Furthermore, we will explore the water coconut palm mangrove by rounded bamboo basket boat. This country life experience tour will give you the best experience about the authentic and traditional Vietnamese people way of life.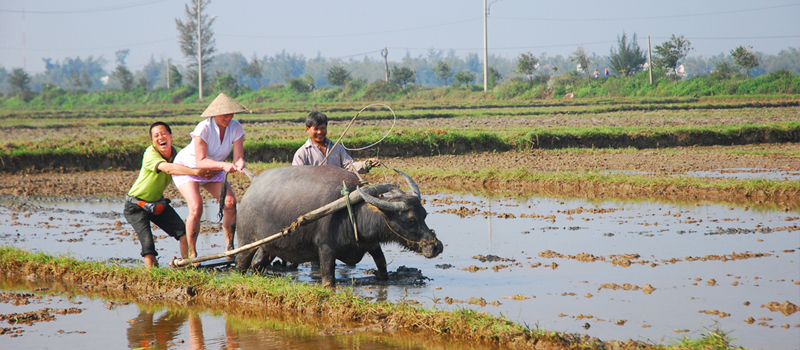 Tour Highlights
Snap the beautiful shots of picturesque landscape on the way to Tra Que Village
Experience the rural living of locals with varied activities
Go deeply into the US – Vietnam War with a knowledgeable former guerrilla
Meet the local hospitable host and sharing the story
Enjoy the basket boat cruise through the green water coconut palm forest
Relax and unwind with foot massage at Mr. Nhi's house
Savor the delicious lunch with authentic Vietnamese food
Experience our service with
Guides: Hand-pick from our best guides, mature, acknowledgeable, all are licensed, great senses of humor
Drivers: friendly, responsible, reliable with many years driving experience, door-to-door services
Vehicles: comfortable, spacious, air-conditioned, big window
Viet Vision Travel Office: 24/7 customer service, accommodate all your needs
Tour route: Tra Que organic vegetable village, Cam Thanh Ecological rice paddy farm, The 7 hectares of Bay Mau Water coconut palm forest and Cua Dai Fishing Village.
Duration: 1 days
Date: Time start: 8:00 A.M – Time finish: 7: 00 P.M
Start/End: Your hotel in Hoi An/Your hotel in Hoi An
Group size: Minimum 2 persons
Tour Category: Hoi An tours
Full Itinerary
Price & Inclusion
Photos
Tour Detail:
Introduction by tour guide about the Hoi An Country Life Experience Tour Program
Starting cycling to the countryside area in Hoi An, taking pictures of the beautiful countryside views before getting arrived in Tra Que organic vegetable village
Visit the village's gardens, meeting local farmers, be explained about Tra Que "Organic farm" and the products consumed in Hoi An and vicinity area.
Join into farming activities such as hoeing soil, using seaweed, transplanting and watering vegetable…etc…
Keeping cycling to the rice paddy field throughout many shrimp farms, on the ways, we have a chance to take pictures of duck farms, shrimps farms, cows, birds, bamboo….
Arriving at Mr. Nhi's house, the local farmer at Cam Thanh Ecological village, talking and sharing about the family of Mr. Nhi and his farming daily life before joining how to grow wet rice with his family.
Start farming work such as plowing and raking with buffalo, riding water buffalo, learning how to transplant rice, water farm, grinding rice, pounding rice, cooking rice …
Enjoy lunch with Mr. Nhi's family. After lunch, taking a rest and enjoying your therapist's foot massage at his family…
We will be picked up at Mr. Nhi's house and transferring down to a local fishing village by van.
Join to go fishing with local fishermen at Phuoc Hai fishing boat to experience local cast net "CHAI".
Arriving water coconut palm forest, enjoying the rounded basket boat demonstration performed by Eco-tour crews and visiting the water coconut palm forest
Enjoy a fun to catch little crabs around the water coconut palm forest.
Walking around the Ecovillage and meeting local former guerrilla telling about his/her memory of history about the U.S/VIETNAM WAR from the period 1968 to 1972 between V.C soldiers and U.S GIs.
Returning boat and arriving at the end of the world Beach area, learning more about the local people how they are living and fishing.
Enjoying Vietnamese traditional snacks on board with coldest beers or drinks while seeing The Sun setting down behind the fishing village where fishermen go back to the ocean for fishing…
Back hotel in Hoi An by van, tour ends
What's included?
English/French speaking tour guide/s (Other language/s upon requested)
Pick up and drop of your Hotel in Hoi An ( Only Hoi An old town and the beach areas)
Push bike with helmets
Organic farm visit
Tickets & permits during guiding time
Buffalo pulling cart
Lunch at a local farmer family
Vietnamese wet rice planting with authentic farming tools
Fishing with local fishermen 's nets
Rounded basket boat lesson
Basket boat adventure ride
Visit water coconut palm forest
Little purple crab catching fun
Meeting local former V.C soldiers
Dinner on board
Cold drinks (Soft drinks or beers)
Sunset with cold drinks and Vietnamese snacks on board
Numerous photo shooting opportunities
What's excluded?
Drinks & Beverages
Tips & Gratuities
Others not mentioned