My Son, located 69 km southwest of Danang, was an imperial city during the Cham dynasty, and 75km far from Hoi An. My Son is the former capital of the ancient Cham civilization that ruled Central Vietnam from the second to the thirteenth century. Their religion was primarily derived from Indian Hinduism. My Son is considered to be one of the best-preserved Cham structures in Vietnam. The complex is comprised of seventy Hindu-like towers and temples dating from the second century. My Son Sanctuary is a large complex of religious relics that comprises more than 70 architectural works. They include temples and towers that connect to each other with complicated red brick designs. The main component of the Cham architectural design is the tower, built to reflect the divinity of the king.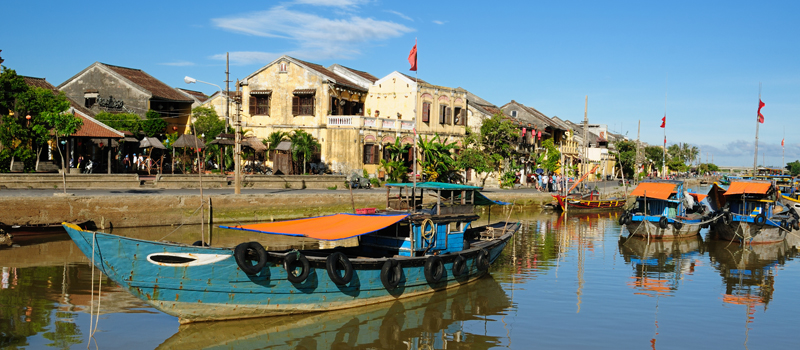 Tour Highlights
Enjoy the drive through the picturesque village of Central Vietnam
Discover the Champa culture and the magnificent architecture of My Son Sanctuary
Tour the must-see sites in the Hoi An ancient town
Feast on delicious lunch with local dishes
Experience our service with
Guides: Hand-pick from our best guides, mature, acknowledgeable, all are licensed, great senses of humor
Drivers: friendly, responsible, reliable with many years driving experience, door-to-door services
Vehicles: comfortable, spacious, air- conditioned, big window
Viet Vision Travel Office: 24/7 customer service, accommodate all your needs
Tour route: World culture heritage of My Son temple
Duration: 1 days
Date: Daily
Start/End: Hoi An/Hoi An
Tour Category: Hoi An tours
Full Itinerary
Price & Inclusion
Photos
At 08:00, we will pick you up at your hotel in Hoi an in the morning. A private car will bring you from Hoi Aan town to My Son Holy Land.
Located in a lush valley, My Son was a capital and religious center of Cham people, now remaining with red brick towers and sanctuaries. My Son, considered being in the same league as some of Southeast Asia's greatest archaeological sites, including Angkor in Cambodia, Bagan in Myanmar, Ayutthaya in Thailand and Borobudur in Indonesia. These towers and sanctuaries were built from the 7th to 13th centuries.
11h30: Transfer to Hoi An for lunch. After relax, it is the light excursion to go around the tiny town of Hoi An for city tour: 400 years old Japanese Bridge, 300 years old Chinese temples, 200 years old Vietnamese former merchants' houses.
We will transfer back to your hotel at around 16.30 pm. Tour end.
What's Included?
Private A/C Transportation
English speaking guide
Lunch
Entrance fees