Let's begin an in-depth exploration of Vietnamese history, culture, and people. Discover all the most attractive sites of Vietnam, from the bustling and hustling Hanoi to the fantastic landscape of limestone islands in magnificent Halong Bay, from antique Hue Citadel to vibrant Ho Chi Minh City. Explore mystically but purely indigenous life of ethnic minority, enjoy brilliantly warming sunshine in the sun-drenched tropical beaches, feel the tranquility in some remote villages and taste the savory authentic Vietnamese cuisine. You will not regret joining in this itinerary!
General Information
Tour Route: Hanoi – Halong Bay – Hue – Hoi An – Ho Chi Minh City – Mekong Delta – Phu Quoc
Duration: 17 days/ 16 nights
Date: No fixed dates
Start/ End: Hanoi/ Ho Chi Minh City
Tour Customizable: Definitely! (Tell us your specific requirements in the inquiry form)
Accommodation: Listed below or equivalent. Rooms with private bath or shower, hotel taxes, porterage, tips, and service charges
Tour Type: Nature & History, Explore & Experience
Brief Itinerary
North Vietnam 6-Day Itinerary
Day 1: Hanoi Arrival
Day 2: Hanoi 'Old and New' City Tour
Day 3: Hanoi Walking & Street Food Tour
Day 4: Hanoi – Halong Bay with Cruise
Day 5: Halong Bay Cruise
Day 6: Halong Bay – Hanoi – Fly to Hue
Central Vietnam 5-Day Itinerary
Day 7: Hue City Tour
Day 8: Hue – Danang – Hoi An
Day 9: Hoi An Cycling Tour – Duy Hai & Kim Bong – River Cruise
Day 10: Hoi An Eco-tour
Day 11: Hoi An Free Day
South Vietnam 6-Day Itinerary
Day 12: Hoi An – Danang – Fly to Saigon – Cu Chi Tunnels & Vespa Tour
Day 13: Ho Chi Minh City 'Old & New' City Tour
Day 14: Ho Chi Minh City – Cai Be – Private Sampan Cruise
Day 15: Cai Rang Floating Market – Can Tho – Fly to Phu Quoc
Day 16: Phu Quoc Free Day
Day 17: Phu Quoc – Fly to Ho Chi Minh City – Departure
Full Itinerary
Day 1: Hanoi Arrival (D)
Upon arrival in Hanoi, you'll be met by your guide who will transfer you to your hotel. Hanoi, Vietnam's capital, ranks amongst the world's most attractive and interesting cities. It was first the capital of Vietnam in A.D. 1010, and though the nation's capital moved to Hue under the Nguyen dynasty in 1802, the city continued to flourish after the French took control in 1888. In 1954, after the French departed, Hanoi was declared Vietnam's capital once again.
The remnants of over 1,000 years of history are still visible here, with that of the past few hundred years wonderfully preserved. The remainder of your day is at leisure. Overnight in Hanoi
Day 2: Hanoi 'Old & New' City Tour (B)
Enjoy a full-day tour of Hanoi; visiting some of the city's classic sites alongside an introduction to Hanoi's more contemporary side, interspersed with a handful of local experiences.
After breakfast, transfer the short distance to West Lake where bicycles will be waiting for a morning of cycling. Saddle up and set off around the lake. Also known as Tay Ho Lake, this large expanse of freshwater is particularly picturesque, and its lakeside gardens attract locals looking for a quiet spot away from the busy streets of central Hanoi. Various historical places of interest are scattered around the perimeter including Vietnam's oldest pagoda, Tran Quoc, and Quan Thanh Temple, one of Vietnam's four sacred temples. It's a pleasant 17 km cycle on a paved pathway following the shoreline.
Stops will be made to visit one of the ancient pagodas that dot the route and enjoy a drink in one of the lakeside cafés, watching the world go by. Mid-morning, transfer by car to the Temple of Literature, the site of Vietnam's first national university. Built in 1070, this complex of atmospheric halls, pavilions, and courtyards is dedicated to Confucius and scholars. It's one of the few remaining examples of traditional Vietnamese architecture still standing in Hanoi: of special note are the 82 stone steles shaped like turtles which are elaborately carved with the names of candidates that sat the Royal examinations.
From here continue to Trang Tien Street near the Opera House for lunch. Popular with students and office workers, this narrow alley fills with street-side stalls at lunchtime selling everything from pho and fried rice to sticky sweet treats. Pull up a plastic stool and tuck into lunch, Vietnamese-style.
After lunch, it's time to explore Hanoi's contemporary culture, with a visit to either Creative City or The Yard. Throughout the capital, there are rumblings of creativity and entrepreneurial spirit, a step away from traditionalism and the rise of fresh and fashionable places. Creative City, set in a high-rise, and The Yard, a converted warehouse, are two such hangout spaces. A world away from Hanoi's more widely known historical attractions; they are reminiscent of London's Shoreditch and Borough Market, and home to funky clothing shops, hip cafes, and independent eateries.
Your next stop is Manzi Art Café, one of Hanoi's increasingly popular part cafés, part art gallery ventures. Set in a French Colonial villa in a relatively quiet Hanoi street, it's the sort of place where you could easily while away a couple of hours drinking Vietnamese coffee and browsing the artwork. Sadly you won't have so much time to spare, but there will certainly be time for a coffee before walking to the Old Quarter. In contrast to your tranquil cycle ride around West Lake, a stroll through this historic area is an assault on the senses; its maze of narrow alleys is packed with scooters and street vendors, lined with restaurants, traditional workshops, souvenirs shops, and pagodas. The best way to absorb the atmosphere is a local fresh beer at one of the "bia hoi" bars on Ta Hien Street or coffee shops at Hanoi Train Street.
Having enjoyed a beer and thoroughly explored Hanoi return to your hotel. Alternatively, those wanting to spend more time in and around the Old Quarter may choose to take a taxi back to their hotel at a later stage. Overnight in Hanoi.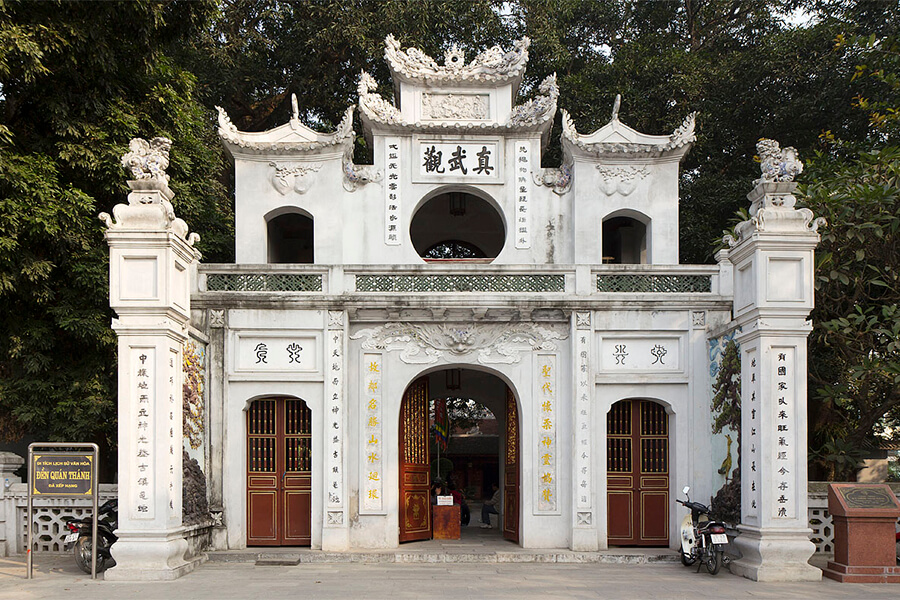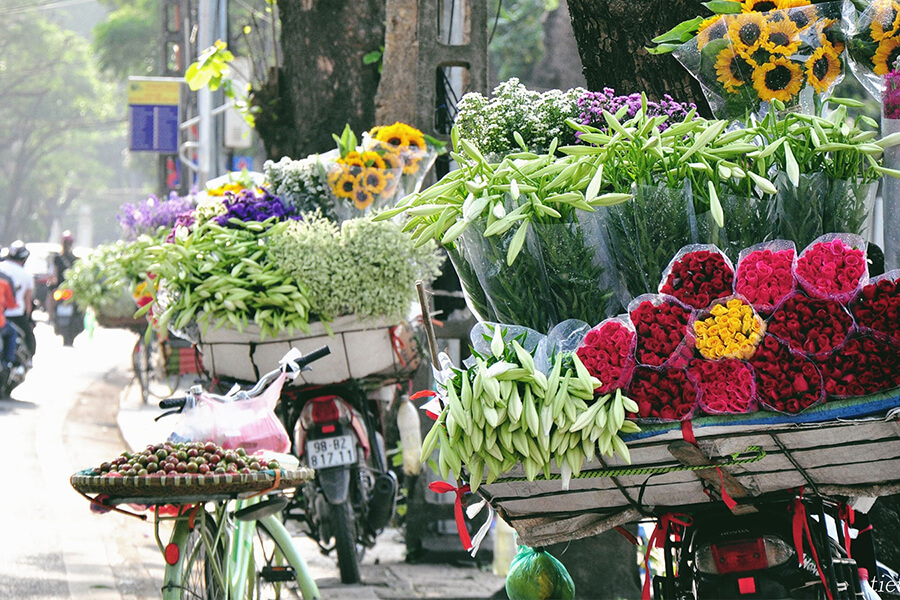 Day 3: Hanoi Walking & Street Food Tour (B)
Your morning is at leisure.
At 12.30 you will be met by your guide for an afternoon walking tour with a difference, this time the focus is solely on the food. Hanoi's residents are famous for their love of their local cuisine and the variety of flavors found in the many restaurants, markets, and street stalls is very different from the cuisine favored further south. There is a wide variety of local delicacies such as Banh Cuon and Cha Ca, and you will not find a better bowl of the soup-based noodle dish of Pho anywhere in the country.
Throughout the afternoon you'll pass along many of Hanoi's lesser-visited streets, taking you away from the tourist crowds and into the heart of this invigorating city. In the late afternoon return to the city's Old Quarter, learn about its history, and immerse yourself in the hustle and bustle of Hanoi's street culture. You'll also have the opportunity to sample Hanoian's favorite 'Egg Coffee', a unique blend of egg yolk, coffee, condensed milk, and butter – unlike any coffee you will have tasted before! In the afternoon, move to Thang Long Theater to enjoy a traditional Water Puppet Show. Overnight in Hanoi
Day 4: Hanoi – Halong Bay with Cruise (B, L, D)
After an early breakfast, it's a three-hour drive from the city to Halong Bay, passing through a number of typical North Vietnamese towns and villages. Upon arrival you will be welcomed aboard your traditional junk; the same style that has sailed the bay for 100's of years. A natural wonder of the world and one of Vietnam's UNESCO World Heritage Sites, the creation of Halong Bay is shrouded in myth. Local legend tells us how the gods sent a family of dragons to defend the country from the invading Chinese. The dragons spat out gemstones that turned into islands, linking together to create a wall against the enemy. The truth is almost as evocative as the legend and upon setting out into the bay you are met by one of the most beguiling natural scenes you will ever witness.
Lunch is served as you depart the port. You will soon leave the mainland far behind, navigating amongst the jagged limestone islands and karsts emerging from the emerald waters. Whilst some islands are no more than large rocks others are far more substantial in size. During your cruise there will be opportunities to disembark, often using smaller boats, or possibly kayaks, to venture into hidden grottos and caves. You will also make stops to explore points of interest such as floating fishing villages and picturesque lookout points.
The cuisine throughout your cruise is both plentiful and of a very high standard. Lovers of fresh seafood will be particularly happy. The dining cabin and bar create a very social atmosphere for those that wish to mix with other guests; whilst cabins, many with a private balcony, are all ensuite and spacious. Each junk operates a different itinerary and onboard, facilities vary. Your consultant will be very happy to discuss each option with you. Overnight on board.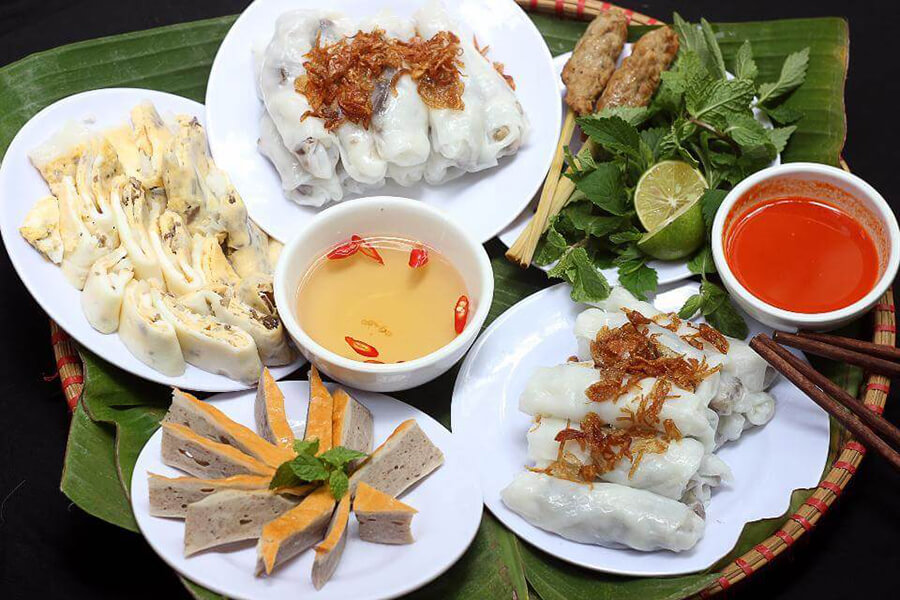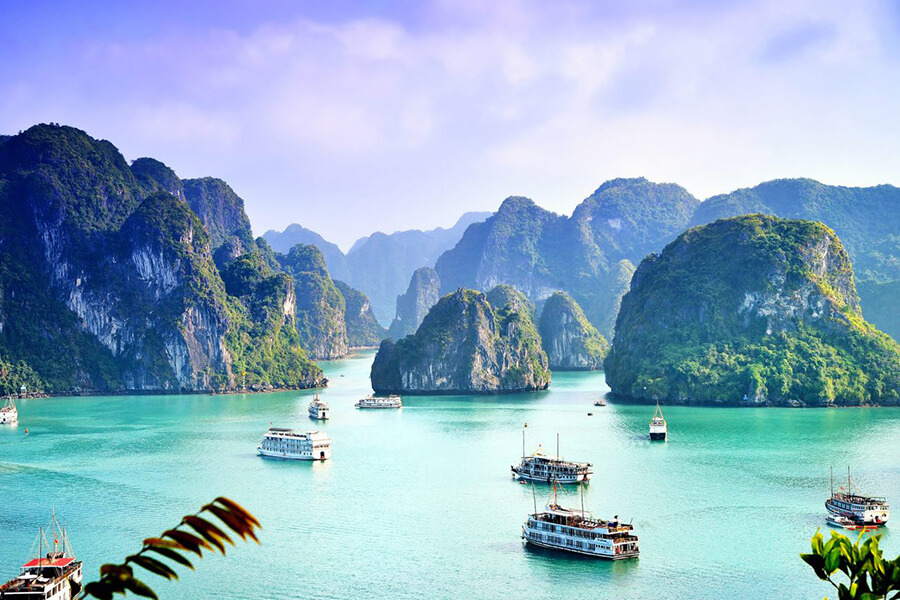 Day 5: Halong Bay Cruise (B, L, D)
Continue your exploration of Halong Bay, cruising to the bay's more untouched areas. The day's program will depend on your chosen junk; however, you will have plenty of opportunities to take part in the Taichi lesson, swim, and kayak, as well as disembark and explore islands. Overnight on board.
Day 6: Halong Bay – Hanoi – Fly to Hue (B)
In the early morning, many of the islands are alive with the sound of various seabirds nesting in the thick green vegetation that engulfs the limestone karsts. Early risers may wish to start the day with a Tai Chi class again, or a cooking class (only available on selected junks), on the top deck as the sun rises over the bay.
Enjoy breakfast onboard whilst your junk slowly turns back in the direction of the mainland, stopping at points of interest en route. Arrive back at the port in the late morning. Disembark and transfer back to Hanoi and then fly to Hue. Overnight in Hue.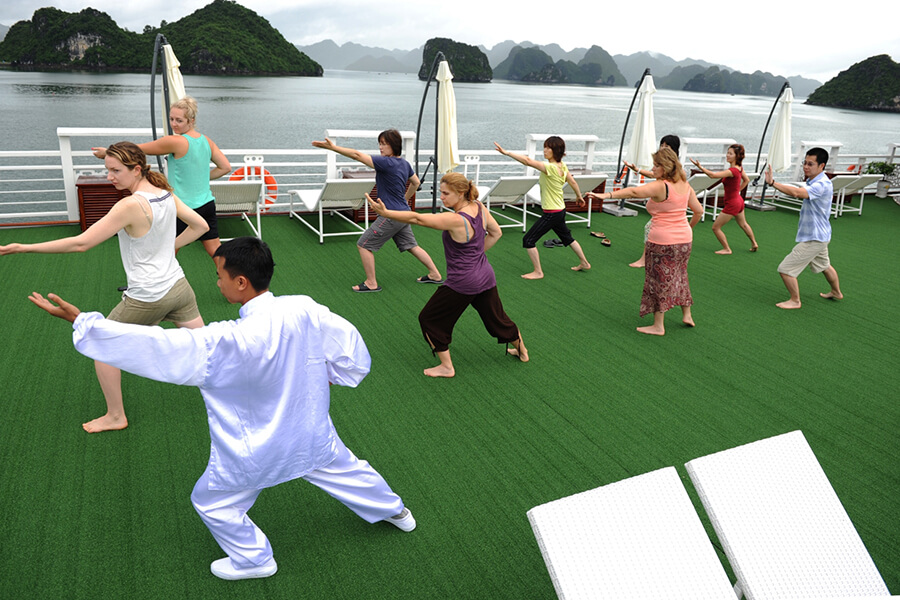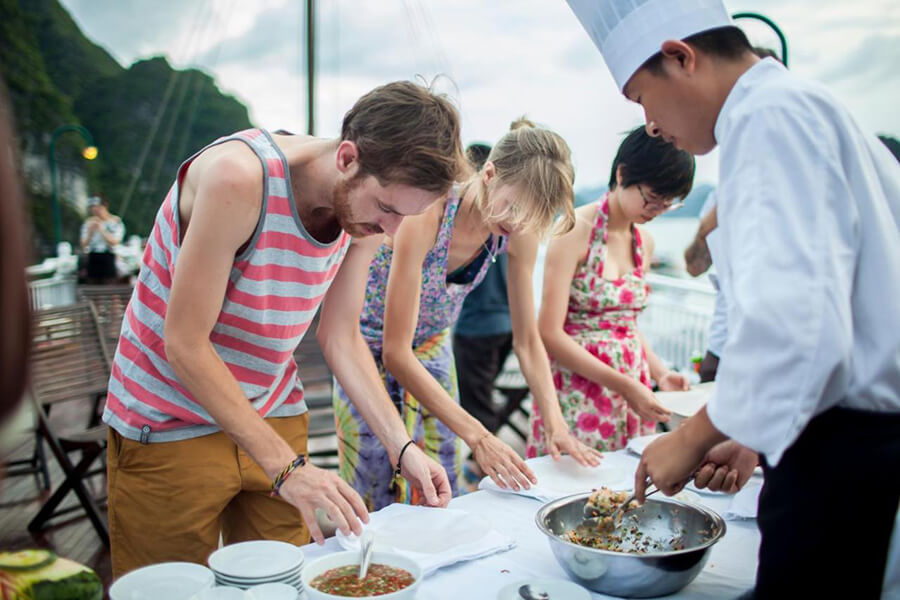 Day 7: Hue City Tour (B)
A perfect way to see many of Hue's highlights without getting caught up with the crowds. Your day begins by saddling up and setting out from your hotel to the area formerly known as the 'New City', before crossing the famous Truong Tien Bridge, built by Gustave Eiffel, over to the "Old City". Visit the heavily bombed remains of the Imperial Citadel, built along the lines of Beijing's Forbidden City and from where the Nguyen Dynasty ruled between 1802 and 1945.
Continue cycling along the banks of the Perfume River as far as Thien Mu Pagoda via Kim Long village, where you can stop to visit a very pretty garden house. Once at the pagoda – perhaps Hue's most famous religious site – explore the gardens and the distinctive seven-story octagonal tower. Return to Hue by car stopping at the elaborate mausoleums of Emperors Tu Duc and Khai Dinh, two of the eight Nguyen dynasty tombs to be found along the banks of the Perfume River. Considered the most impressive of the bunch, both are extravagant complexes of pavilions, temples, courtyards, and lotus-filled lakes. Return to your hotel and for the remainder of your day is at leisure. Overnight in Hue.
Day 8: Hue – Danang – Hoi An (B, D)
Morning departure for Hoi An, driving the picturesque route via Lang Co beach and over the Hai Van Pass (Ocean Cloud Pass), before reaching Danang. If you wish to, there will be time to visit the city's excellent Cham Museum, containing the finest collection of Cham sculptures on display anywhere in the world. You can also stop at the sacred hill known as the Marble Mountain which contains dozens of Buddhist shrines, as well as the nearby Non-Nuoc Beach; popular with American GI on R & R during the Vietnamese-American war. Drive the final 20 minutes to Hoi An and check in to your hotel.
Once known as Faifo, the UNESCO designated World Heritage town of Hoi An was one of the Orient's major trading ports in the 16th and 17th centuries. Despite the passing of the years and the ravages of weather and war, the center of Hoi An remains much the same as it did in its heyday. The town is undoubtedly one of the highlights of any visit to Vietnam with the laid-back atmosphere and the fine Colonial architecture lining cobbled streets offering a glimpse of times gone by.
Then explore the former merchants' homes, the 450-year-old Japanese Covered Bridge, and the colorful market. Hoi An is one of the best places in Asia to shop for silks, handicrafts, antiques, and art. The local tailors are also famous, for their high standards of work and can create anything to order in just 24 hours.
A short distance from the town center is Cua Dai Beach, popular with both locals and visitors for its sandy beach, warm sea, and seafood stalls. Hoi An is famed throughout Vietnam for its fine cuisine and there is a number of sensational restaurants and cafes to choose from. There is time to relax before being met by your guide for an evening food tour with a difference. Tonight's experience will give you a unique insight into Hoi An's renowned foodie scene whilst traveling in your very own US military jeep.
Afterward, drive through rice paddies to a favorite local eating spot where you can sample traditional treats including 'banh xeo', crispy Vietnamese pancakes that are filled with bean sprouts, pork, and prawns. Heading back towards town, there will be a chance to stop for a taste of 'bia tuoi' (fresh beer) before reaching a local barbecue restaurant for the main event of the evening: a traditional BBQ feast.
In the evening, you'll be pleased with the opportunity following dinner, for a stroll around the atmospheric streets of Hoi An's old town. If you wish to finish your evening with a nightcap, then your guide can point you in the direction of a renowned local bar, alternatively, climb aboard your jeep and transfer back to your hotel. Overnight in Hoi An.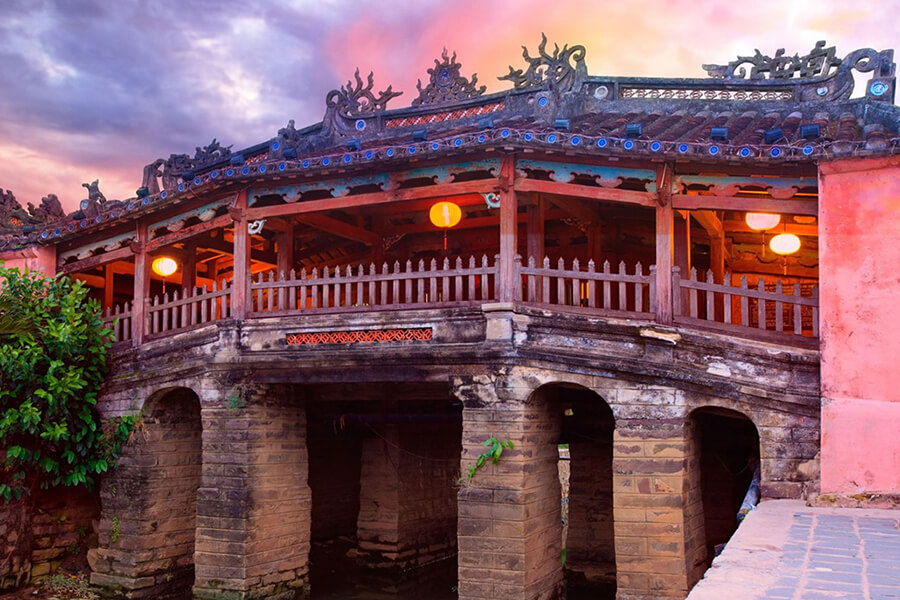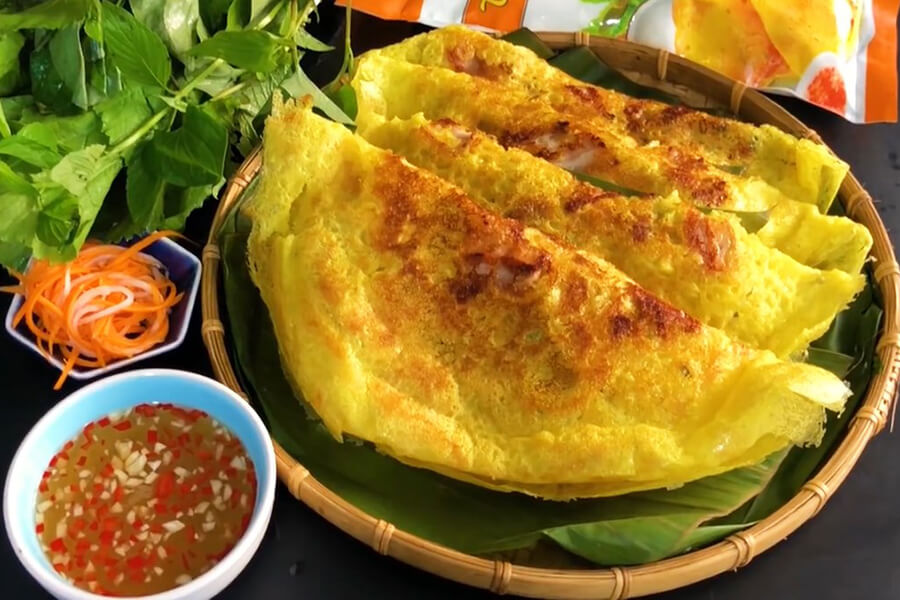 Day 9: Hoi An Cycling Tour – Duy Hai &  Kim Bong Village – River Cruise (B, L)
An early morning transfer with your guide to Cua Dau bridge. From here, swap four wheels for two and enjoy a gentle cycle to the fishing hamlet of Duy Hai, arriving in time to see the small fishing boats return with their daily catch.
Spend the morning cycling through lush countryside and tracks lined by river coconut palms, with the gentle breeze sweeping in off the river. Stop at the raucous Noi Rang market, before continuing on to the village of Kim Bong: village residents here have long been famed for their carpentry skills, thanks to much of Hoi An's ancient architecture being crafted by the present-day inhabitants' ancestors. After an opportunity to interact with the villagers, set off on the winding tracks through rice fields and villages, stopping at one of the few remaining coracles (basket) boat builders and a wood carving workshop.
After exploring Kim Bong and its surrounds, board a private boat and take a cruise along the picturesque Thu Bon River. Enjoy lunch on board as you relax and watch the scenic countryside float past. After a leisurely cruise, in the early afternoon, transfer back to Hoi An where the remainder of your day is at leisure. Overnight in Hoi An.
Day 10: Hoi An Eco-Tour (B)
With over 2000 km of the coast, seafood plays a huge part in Vietnamese cuisine, and nowhere is that more so than in the country's central region. Perhaps surprisingly to many from the west, the majority of the seafood is still caught on a micro-scale, with individual fishermen taking to the sea on a daily basis to catch enough for the family table, before taking any extra to the local market to sell.
Spend half a day learning about their craft and the methods they use; having visited a fishing village close to Hoi An, you will have an opportunity to learn about each stage of the process. Try mastering one of the region's unique bamboo basket boats and the balancing technique behind the throwing of the nets. At the end of your session, there is a chance to sample your catch with a typical traditional fisherman's meal. Your afternoon is at leisure. Overnight in Hoi An
Note: This is a small group, half-day excursion.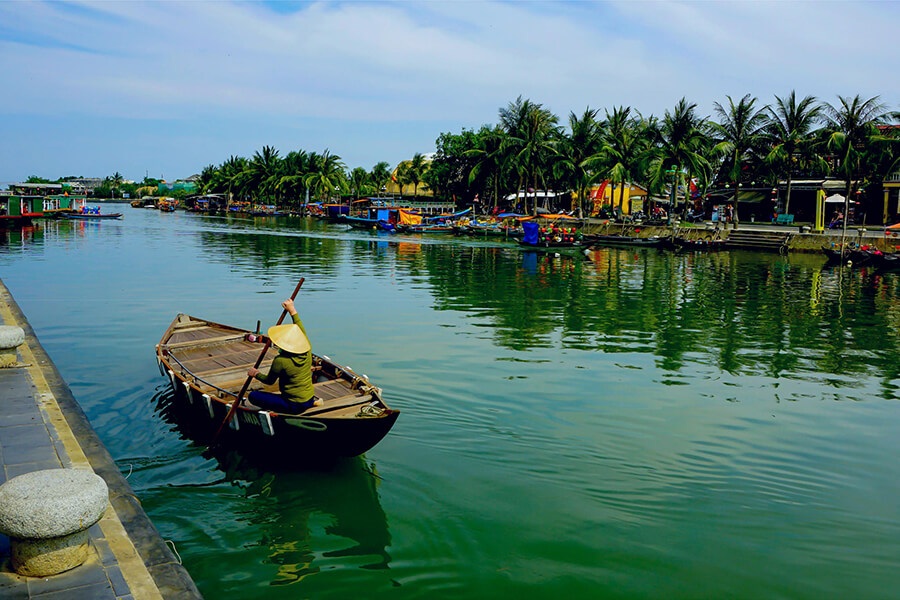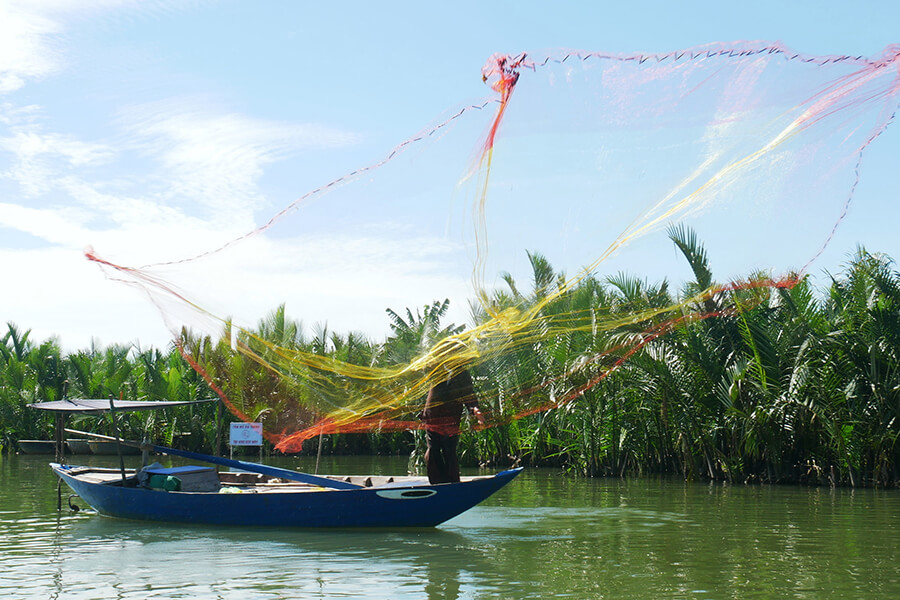 Day 11: Hoi An Free Day (B)
Your day is at leisure. Overnight in Hoi An.
Day 12: Hoi An – Danang – Fly to Saigon – Cu Chi Tunnels & Vespa Tour (B, D)
Morning transfer to Danang Airport for your flight to Ho Chi Minh City. Upon arrival transfer directly to the famous Cu Chi tunnels – an incredible underground tunnel network constructed by Vietnamese resistance fighters during the long struggle for independence. The tunnels, over 250km in length and up to three levels deep in places, played a huge part in the Viet Cong's victory over the Americans, allowing them to control a large rural area surrounding Ho Chi Minh City.
Today, some of the remaining tunnels have been opened to tourists, offering a unique insight into what underground life must have been like during the 'American' war. Continue on to Ho Chi Minh City and check in to your hotel. Ho Chi Minh City is the largest city in Vietnam and is located near the Mekong Delta. It was originally Cambodian territory before being conquered by the Vietnamese in the 16th century and named Saigon. The city was then renamed once again, after the North Vietnamese invasion of South Vietnam in 1975, becoming Ho Chi Minh City (named after the North Vietnamese leader).
The city center is still adorned with wide elegant boulevards and historic French buildings. However, as the undoubted economic center of Vietnam, high-rise office towers are starting to take their place amongst this wonderful colonial architecture. Your afternoon is at leisure until 6 pm when you commence your evening tour with a difference, riding pillion on a Vespa for an amazing tour cum food experience. The first step is to Café Zoom to watch the world go by and enjoy a cocktail and appetizer before adventuring into a favorite local eating spot.
Ride through Chinatown and head to District 4 through busy streets and alleys to see the nightlife of locals and enjoy street food in places foreigners would rarely discover. Continue on to District 1 where you'll sample Saigonese spring rolls, a specialty dish of Saigon, and enjoy southern food with the locals. Stop at a hidden coffee shop to have a taste of Vietnamese acoustic music before finishing the evening with a drink at the city's leading live music venue. Overnight in Ho Chi Minh City.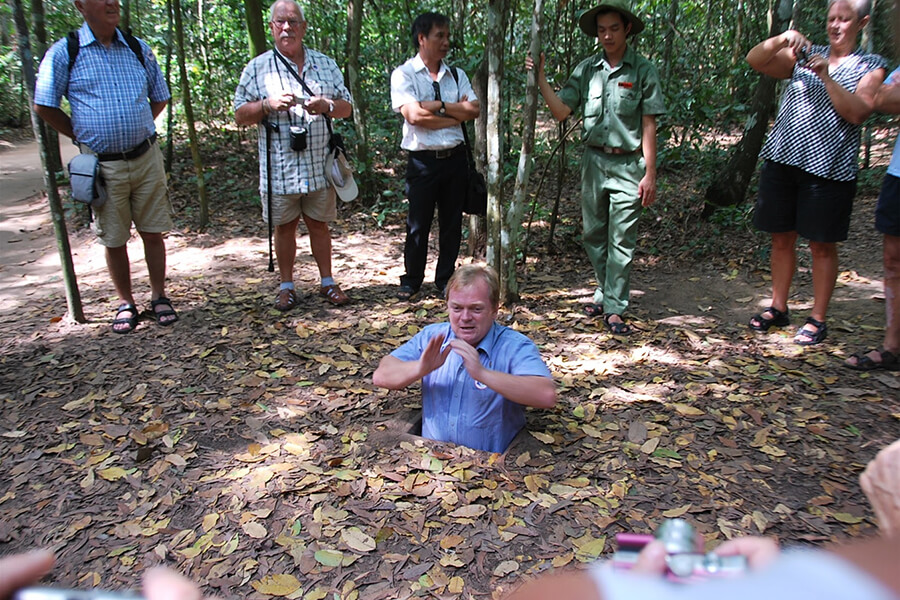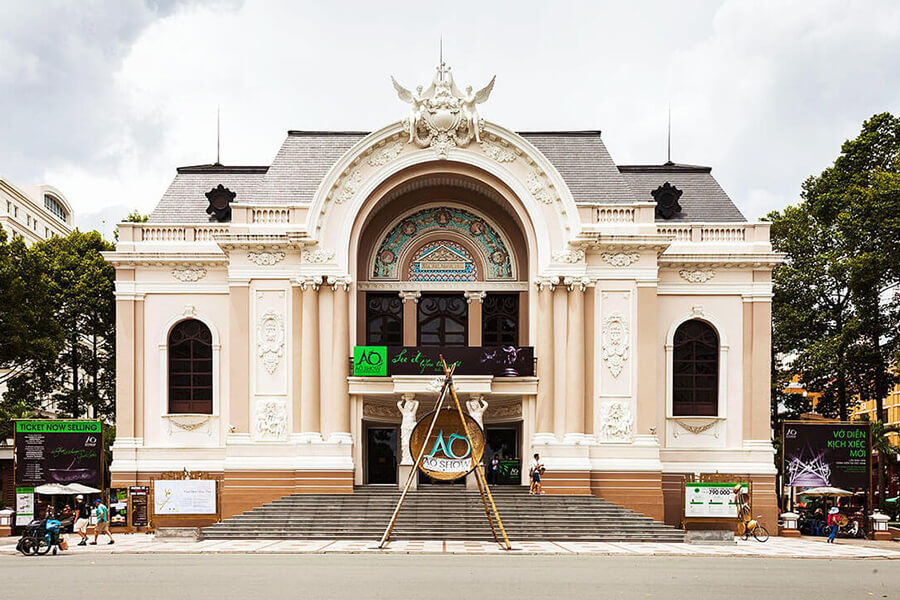 Day 13: Ho Chi Minh City 'Old & New' City Tour (B, L)
After breakfast, set off to tour some of Ho Chi Minh City's highlights. Your guide will be happy to personalize your program, but we particularly recommend certain sites; the Reunification Palace, formerly South Vietnam's Presidential Palace, was built in the 1960s and remains largely untouched since the day Saigon finally fell to North Vietnamese troops in 1975. Others offer visitors a sense of the region's French Colonial past; Notre Dame Basilica was built in the late 1800s, and the pink neoclassic confection that is Saigon Central Post Office was designed by Gustave Eiffel himself. To start your day, however, explore a side of Ho Chi Minh City that few tourists even know exists, let alone get to visit, by plunging into the heart of District 1's maze of narrow alleyways.
District 1 is famous for impressive architecture like the Basilica, but beyond the neoclassical facades lie some of HCMC's most densely populated wards, all thronging with daily life, along with a significant history of its own. Walk through the small back alleys and towards the local residential areas, with their bustling, colorful, aromatic markets, and a variety of small-scale businesses that seem a world away from the city you have seen up until this point.
Stop to observe a Viet Cong secret weapons store, where undercover commandos of the Viet Cong's North Vietnamese Army collected munitions before launching the Tet Offensive, on 30 January 1968, with the sound of Tet (New Year) firecrackers disguising the gunfire. Fighting continued for months in an episode that has been described as the 'bloodiest' phase in the Vietnam-American War, and which triggered much anti-war sentiment in America. The weapon store, now recognized as a National Historic Site, went undetected for many years and played a key part in the VC's Saigon offensive. Much of the extensive weaponry kept there is still on display, and visitors can learn about the clever methods used to smuggle and conceal it.
Having visited a few of the aforementioned 'stately landmarks, continue to Cho Lon, which has been HCMC's Chinatown since 1778. Taste the local favorite noodle dish for lunch, followed by a visit to Quan Am Pagoda, a Chinese-style Buddhist pagoda built during the 19th century, with beautifully decorated interiors. As you explore Chinatown, you will see all manner of goods on sale, from dragon artwork, masks, and pet fish, to sacks of rice, fabric, and cooking utensils.
Leave Chinatown for newer developing areas, observing a visual feast of old and new architecture side by side, before a drive-by what was once known as the "Southern stomach" – specifically, the city's largest rice market, founded by the Chinese in the 18th century. Having thoroughly explored HCMC, finish the tour in fine style by heading up the Landmark 81, which is the city's tallest building in Vietnam. Your guide will be happy to wait for a short while whilst you enjoy a sundowner (at your own expense) with breath-taking skyline views, those wanting more time may choose to take a taxi back to their hotel at a later stage. Overnight in Ho Chi Minh City.
Day 14: Ho Chi Minh City – Cai Be – Private Sampan Cruise (B, L, D)
Early morning transfer to Cai Be where you will board your private traditional sampan; the type of boat that has been used on the Delta waters for centuries. Your crew will consist of a boat driver, deckhand, and a local guide. After boarding, your journey will begin with a short visit to some nearby home factories where you will be able to observe how rice paste, coconut candies, and other specialties are traditionally made. Continue on to the Cai Be floating market, cruising amongst local barges full of fruits and vegetables, before arriving at Sa Dec, stopping en route to visit a picturesque riverside village surrounded by fruit plantations.
Disembark at Sa Dec town and take a walk around the charming town; complete with a number of beautiful old French houses, Chinese temples, and a central market. Visit an ancient house dating from 1890 and the home of Mr. Huynh Thuy Le, 'the Lover' in Marguerite Duras' famous novel. Return to your sampan in time for lunch as you cruise towards Can Tho, passing along beautiful narrow canals and under several wooden 'monkey bridges'. There will be a chance to stop at several further points of interest such as a village and a Cao Dai temple. Before mooring outside of Can Tho for the evening, a candlelit dinner will be served at a splendid ancient house, an unforgettable experience in a truly unique atmosphere. Overnight onboard the sampan.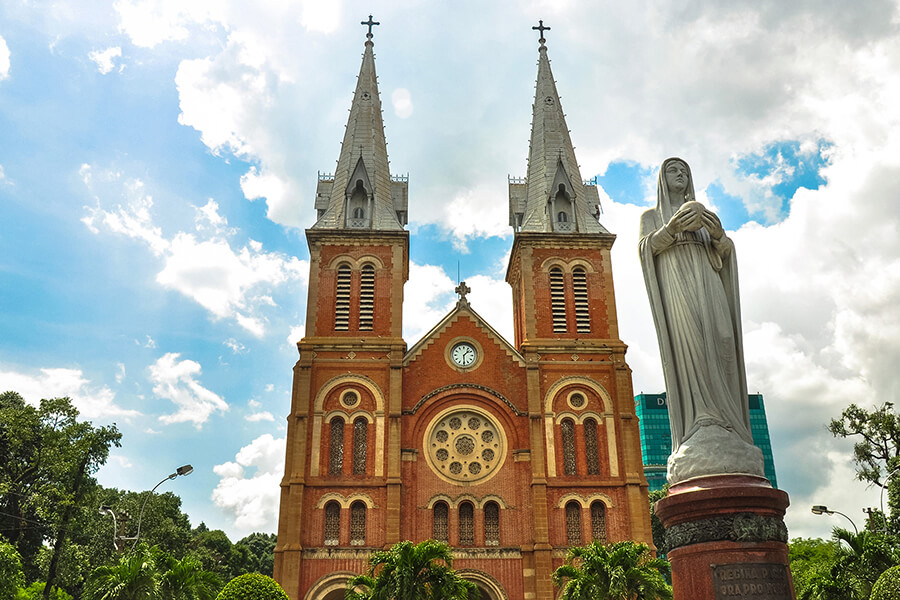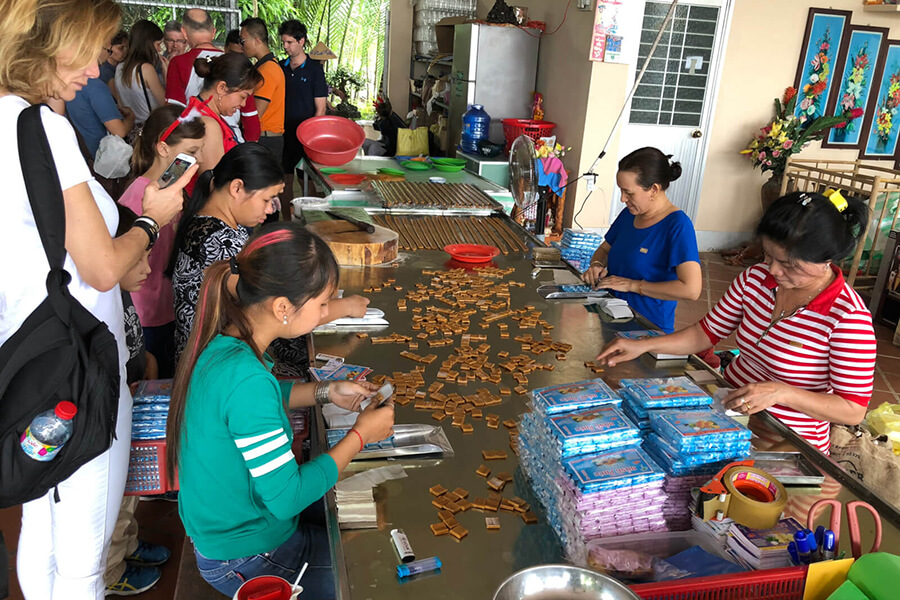 Day 15: Cai Rang Floating Market – Can Tho – Fly to Phu Quoc Island (B)
In the past, we have always recommended our clients to make an early morning visit to Cai Rang floating market, just 15 minutes along the river, enjoying cruising amongst boats trading their produce from all over the Mekong Delta region. For many, this is still the right choice. It is, however, fair to say that in recent years the market has become less impressive and some may argue less authentic, becoming as much of a tourist 'hot-spot' as the markets closer to Ho Chi Minh City that we have advised against in the past. Because of this, we have created a flexible program, so if you wish to make an early morning visit to Cai Rang floating market please advise your guide the night before.
Following an early breakfast, transfer to Can Tho Airport for the short flight to Phu Quoc. Upon arrival, transfer to your hotel where the remainder of your day is at leisure. The island lies in the Gulf of Thailand, 45km west of Ha Tien and 15km south coast of Cambodia (it used to be Cambodian territory). During the late 17th-century, the island was used as an important strategic stronghold for the Vietnam Emperor's fighting bordering forces. In later years the French took advantage of the ample rubber, pepper, and coconut plantations and in more recent times it was home to a POW detention center during the American War.
The island, famous for its production of fish sauce, now provides visitors with long stretches of deserted white sand, low tourist numbers, and a laid-back atmosphere – welcome to the Vietnam of old! Enjoy the wildlife, famous local delicacies, quaint fishing ports, and superb beaches! Overnight in Phu Quoc.
Day 16: Phu Quoc Free Day (B)
Your day is at leisure. Overnight in Phu Quoc.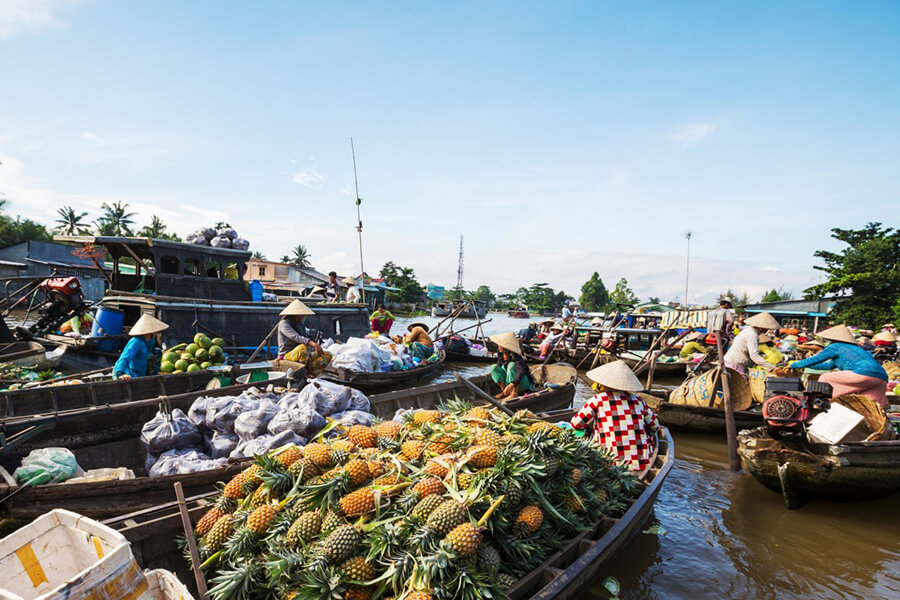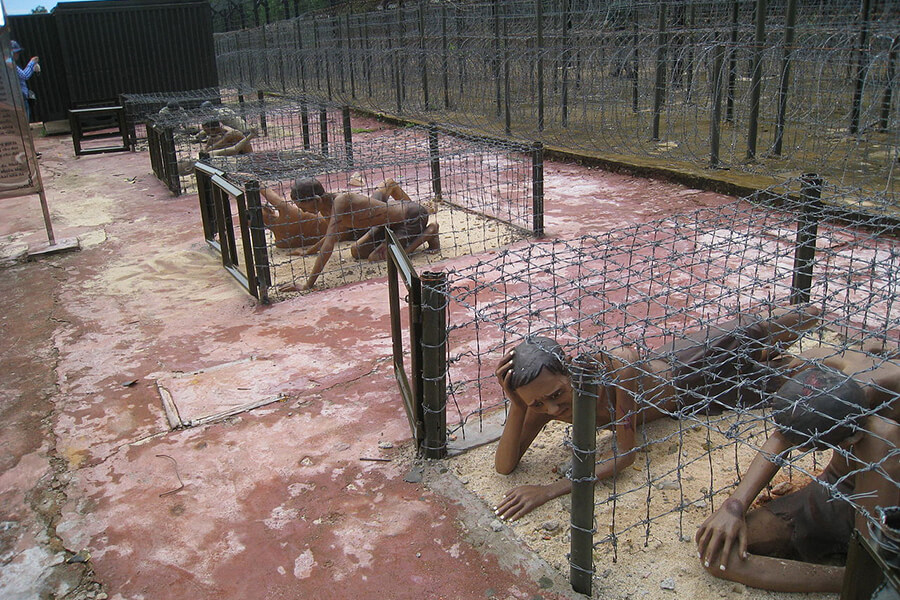 Day 17: Phu Quoc – Fly to Ho Chi Minh City – Departure (B)
Your day is at leisure until your transfer to Phu Quoc Airport for your flight to Ho Chi Minh City to connect with your onward flight. Vietnam tour itinerary 2 weeks ends. See you again in the next Vietnam tour packages.