Tour route: Hanoi – Halong Bay – Sapa – Hue – Hoi An – Ho Chi Minh city (Saigon) – Cu Chi Tunnel – Mekong Delta
Duration: 17 days / 16 nights
Date: No fixed departure dates. You may go whenever you wish.
Start/End: Hanoi/Ho Chi Minh city
Tour type: Food tasting tour, cooking class, adventure in style tour
Tour Customizable: Absolutely! (Tell us your specific requirements in the inquiry form)
Active level: Regular itinerary
BRIEF ITINERARY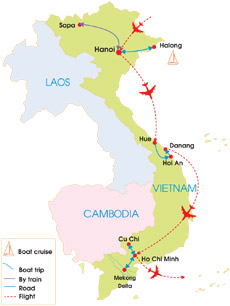 Day 1: Hanoi Arrival/ Welcome dinner with Vietnamese authentic food
Day 2: Hanoi City tour – Taste of Cha Ca La Vong special dish
Day 3: Quang Ba wholesale colorful fresh flower market – Hanoi
– Halong Bay (overnight on junk)
Day 4: Halong Bay – Hanoi
Day 5: Cooking class with the best Chef of Hanoi's cuisine – Night train to Sapa
Day 6: Sapa – Cooking demonstration with 5 color sticky rice
Day 7: Sapa – Lao Cai – Express bus to Ha Noi
Day 8: Hanoi – Fly to Hue– Royal dinner
Day 9: Hue city tour – Taste of Outstanding Vegetarian Food in Hue
Day 10: Hue – Hoi An – Cooking class
Day 11: Hoi An Walking tour
Day 12: Hoi An – Danang – Fly to Ho Chi Minh city – Saigon After Dark by Vespa
Day 13: Ho Chi Minh city tour & Cooking class
Day 14: Cao Dai Temple & Cu Chi Tunnel
Day 15: Mekong Delta discovery by Mekong Eye Cruise
Day 16: Cai Rang Floating market – Ho Chi Minh city
Day 17: Ho Chi Minh Departure
Day 1 Hanoi Arrival/ Welcome dinner with Vietnamese authentic food (D)
Today, we arrive in Hanoi and enjoy the most famous dishes of Vietnam, spring roll (NEM or CHA GIO). NEM is called by Northern people and CHA GIO is called by Southern people. The tour guide and driver will welcome us at the airport and take us to the restaurant after that. There are many kinds of spring rolls in Vietnam and it's mixed between pork and other herbs then fried or it may be the fresh herb with well-done shrimp or beef… There is also spring roll for vegetarians as well. Overnight in Hanoi.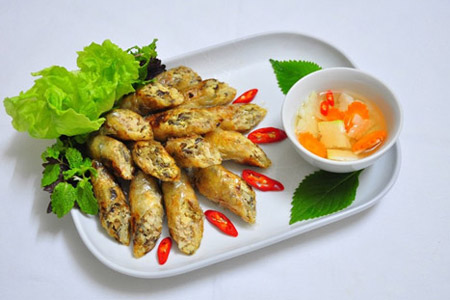 Day 2 Hanoi Food tasting tour & City tour (B, L)
Today we take a tour around the Old Quarter Hanoi to taste many kinds of local food with expert tour guide. We start from Hang Be street market to see how the local people sell and buy for their all meals of a day then walk to the Pho restaurant for our breakfast. Later, we walk along the big, small streets in the Old Quarter, stop at local food, drink workshops and taste all the chosen food, coffee, tea or fruit shakes. We also take a short visit to Dong Xuan wholesale market, see various of food ingredients (dried, fresh, organic…) then we enjoy our delicious lunch at a nice restaurant of Rue Lamblot in Ly Quoc Su street. This is a happy ending for a morning walking and we can chat with restaurant owner if we want.
In the afternoon, we visit Ho Chi Minh Mausoleum, One Pillar Pagoda, The Temple of Literature and walk along Thanh Nien Street in the Westlake Area. We enjoy sunset time with a cup of coffee or fruit shake cup at the floating restaurant/bar on the West Lake. Tonight, we enjoy one hour traditional Vietnamese Water Puppet performance by local artists. Overnight in Hanoi.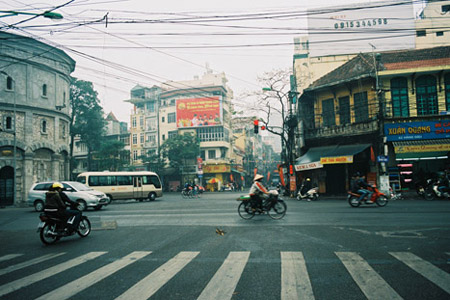 Day 3 Quang Ba wholesale colorful fresh flower market – Hanoi – Halong Bay (overnight on junk) (B, L, D)
Early morning today, we join with the wholesale colorful fresh flower market in Quang Ba, few minute driving from hotel. This flower market is often started from 2h00am until morning. Flowers from all the outskirt villages of Hanoi are taken to this market by farmers. There are hundreds of flowers being sold and customers are owners of flower workshops in Hanoi, pedlars or lovers and even foreigner visitors.
After the market, we will be back to hotel for having breakfast and travel to Halong Bay. Halong Bay is located in Quang Ninh province, 180km Northeast of Hanoi. The Bay is a combination of limestone mountain system and sea. It has been recognized as a World Natural Heritage several times by its special value. We are welcome on board by crew team, enjoy delicious seafood lunch at the restaurant and enjoy the atmosphere as well as all activities with other passengers. We will do kayak in the tranquil bay; go swimming at a beach in the island or just relaxing on the sundeck… Later afternoon, we join with cooking demonstration with chef and enjoy big dinner. If it's possible tonight we can go squid fishing with crews or do leisure on cruise. Overnight in Halong Bay.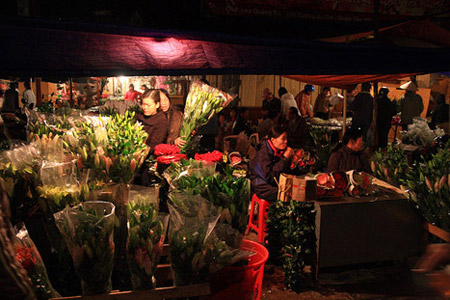 Day 4 Halong Bay – Hanoi (B, L)
This morning, we may get up at sunrise time to see one of the best moment of the day and join with Tai Chi session with Master on the sundeck, or we are only leisure on the chair with a cup of morning coffee or tea. After that, we continue our journey on the second morning on the Bay by having breakfast and explore one of the most amazing caves, Sung Sot. We check out little bit early today and enjoy early lunch as well. The cruise will be back the pier around midday and we take our vehicle to Hanoi in the afternoon. Free at leisure for exploring Hanoi by night. Overnight in Hanoi.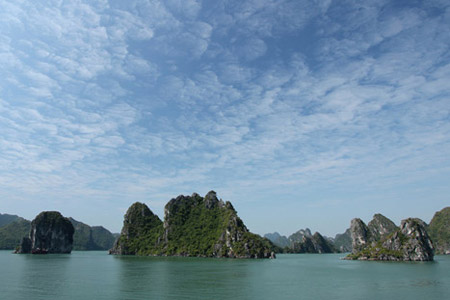 Day 5 Cooking class with the best Chef of Hanoi's cuisine – Night train to Sapa (B, L)
This morning, we can choose the optional cooking class with Madam Anh Tuyet, a famous Hanoi Lady Chef or Mr Didier Corlou – The former Chef of Sofitel Metropole Hotel in Hanoi. The class lasts around 3 hours with local market tour and hands-on cooking. The Chef will guide us how to cook and we follow them step by step, prepare ingredients for dishes and we enjoy all food that we cooked before.
Tonight we depart Hanoi to Sapa by overnight train.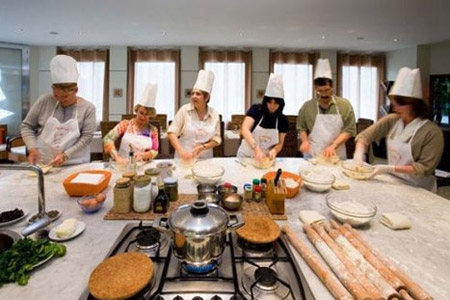 Day 6 Sapa – Cooking demonstration with 5 color sticky rice (B)
Arriving in Lao Cai Railways station in the early morning, we are welcome by local tour guide and drive up to Sapa. On the way, we will stop to catch up the splendid sunrise on the top of mountains and full of cloud valleys. We have breakfast at hotel and climb up to Ham Rong Mountain where we can see the overview of the city and enjoy 15 minute traditional music performance. We also see and taste five color sticky rice what we will learn how to cook later in a local house. The lady will prepare all things and show us all ingredients, how to put water and how to mix color and sticky rice….
In the afternoon, we will walk down to Cat Cat village, home of the Black H'mong ethnic minority people. On the way, we will see the wonderful view of Fanxipan top with cloud, valley under the cloud as well as the fat water buffaloes grazing. We also can contact with H'mong boys and girls who can speak English very well. In the village, we will follow the built lane along the houses on stilts and catch to the Waterfall in the end of the villages. There are many photo opportunities and we will completely enjoy with this excursion. Back to Sapa and overnight in hotel.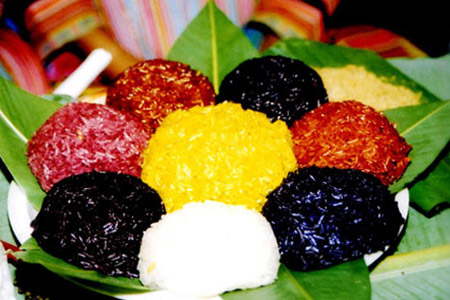 Day 7 Sapa – Lao Cai – Express bus to Ha Noi (B, L)
This morning, our vehicle will take us down to Muong Hoa valley where we will have a short trek into the two villages of Lao Chai and Ta Van, homes of H'mong and Day minority people. These two villages become one of a must-visit destination in Sapa and life of local people here are much better thanks to tourists. Our trekking tour is absolutely spectacular with two side stunning sceneries and our new "friends". We go back to Sapa at lunch time and take our express bus to Hanoi. It's 5 – 6 hour journey and we will completely feel comfortable with tourist bus. Overnight in Hanoi.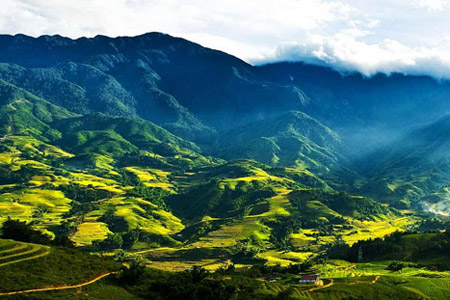 Day 8 Hanoi – Fly to Hue– Royal dinner (B, D)
Today, we take an afternoon flight to Hue and enjoy a special dinner with Royal's style. Hue is a region that is not famous only by its beauty of Perfume River, Ngu Mountain as well as Emperors' tombs, Citadel…, but it's also by Royal dishes with finical choice and performance. Nowadays, some of dishes that only served for old Royal families preserved and cooked for tourists. We enjoy our dinner as Emperor and Queen during dinner.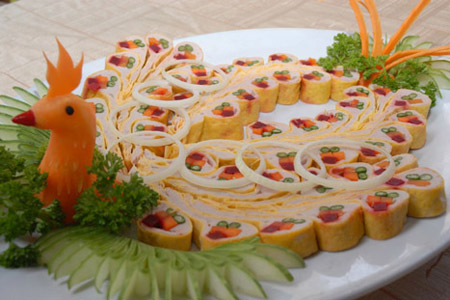 Day 9 Hue city tour – Taste of Outstanding Vegetarian Food in Hue (B, L)
After breakfast, we take a boat trip along Perfume River to Thien Mu Pagoda where is about one hour boating from the city pier. We enjoy fresh air and peaceful view in two sides of the river on the dragon boat, and then we walk up to the pagoda. There are many stories about history of the pagoda and tour guide will take us back to the American War periods through the objects such as an old car…. Following the pagoda, we will visit the Tu Duc Emperor's tomb and two handicraft villages of Colonial Hat and Incense making nearby. Later, we stop at the pagoda and enjoy our delicious vegetarian diet lunch. Vegetarian diet is a special character in Hue. Every lady can cook vegetarian food and all Buddhist people have vegetarian food on the first and the middle day of a lunar month.
In the afternoon, we have tour to the Citadel, Forbidden City and Dong Ba Market. The Citadel and Forbidden City complex is one of the World Cultural Heritage sites in Vietnam and we will go back to Feudalism period with all palaces, Hall, Golden Thrones…. Overnight in Hue.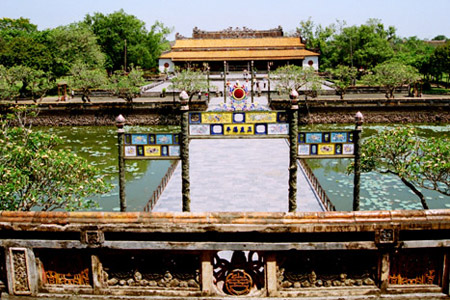 Day 10 Hue – Hoi An – Cooking class (B, D)
Cooking Class in Hoi An is always recommended for all people who love cook and food. In Hoi An Chefs are so well in English and cooking skills. They make joke and make attendants happy all the time during the cooking tours. And we can't miss one of special time in Hoi An in our tour.
Depart Hue in the morning, we travel to Hoi An via Hai Van Pass, Lang Co Beach and Danang city. We stop at Cham museum in Danang for one hour and explore Marble Mountains and the Stone Carving village. We arrive in Hoi An at midday and join the cooking tour after checking in hotel or resort. The Chef takes us to the local market and help us to purchase some ingredients that used for coming cooking class. Later, we join a Hands-on cooking class; prepare dishes, cook and décor follow the chef's guiding. Enjoying all the food we cooked and we can bring recipes to home after that. Tonight, we explore Hoi An town by our way. Overnight in Hoi An.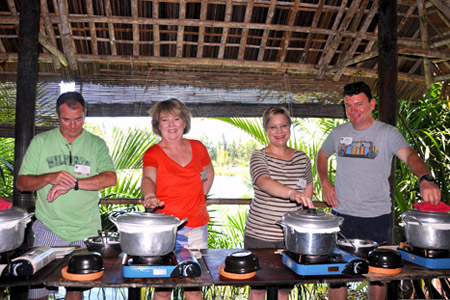 Day 11 Hoi An Walking tour (B)
Hoi An ancient town is located in the lower section of Thu Bon River, Quang Nam Province. It's 30 km from Danang city in the southward. Hoi An town has been the busiest international trading port in the Southeast Asia since 17th – 18th centuries. Nowadays, Hoi An town becomes one of the most attractive destinations in Vietnam by its old and peaceful beauty. Let' discover this ancient town from sunrise time with light sun, ladies in hat carrying their food in the shoulders to the market or to their places for selling while almost shops still closed. At this time of the day, the quaint town is very quiet and peaceful.
Our walking tour with tour guide starts at 8h00am with the first Cantonese Congregation then walk to the Pottery Museum, the Japanese Covered Bridge, Tan Ky old house, and the last point at the Handicraft workshop to enjoy 15 minutes traditional music performance.
There are several options in the afternoon for our free time such as we can relax at the swimming pool of the hotel, or we biking to the beach or even go around for shopping…Overnight in Hoi An.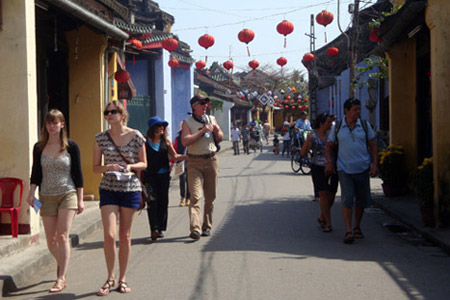 Day 12 Hoi An – Danang – Fly to Ho Chi Minh city – Saigon After Dark by Vespa (B)
Today, we bid farewell Hoi An and transfer back to Danang city for our short domestic flight to Saigon where we continue our adventure food tasting tour. Welcome up on arrival by a friendly tour guide, we will check in hotel and take a short rest before joining a Vespa tour with rider. We discover the city by a different way and taste many kinds of street food that is hygienic and safe for foreigners. We will come closer with the local people and local life, understand much about the local culture via food and stories. The tour lasts about three hours and we go back to hotel for our overnight stay.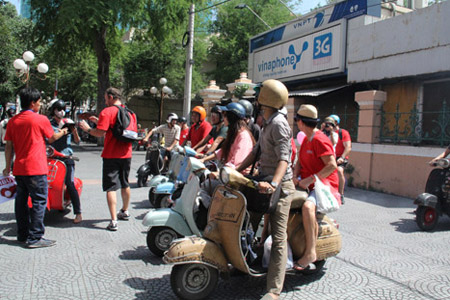 Day 13 Ho Chi Minh city tour & Cooking class (B, L)
Cooking is an art and it's different between regions. The taste of Saigonese is not the same as Hanoian as well as Hoi An or Hue people. Joining with cooking tour in Saigon, we will know how the difference is. The schedule is the same with other cooking tours but we will learn other dishes with a local chef. After the course, we will enjoy all food we cooked before and get recipes and souvenir gift.
In the afternoon, we visit the Reunification Palace, War Remnant museum, Post Office and Notre Dame Cathedral and shopping at Ben Thanh market. Overnight in Saigon.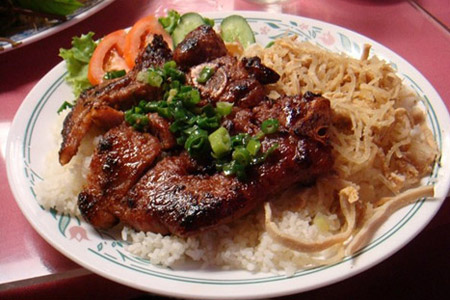 Day 14 Cao Dai Temple & Cu Chi Tunnel (B, L)
This is a combination of the religion and history day tour. We start little bit late in the morning to join the midday ceremony of Caodaism. This is a biggest ceremony of a day and it permits tourists visit and to take photos inside the temple. It's very impressive with costume and the way of ceremony. Then we depart to the local restaurant for lunch before head to Cu Chi Tunnel at Cu Chi District where is about 70km far from Saigon. Visiting Cu Chi Tunnel, we will experience how to go under the ground and how the local people as well as southern solders lived and fight against their enemy during the war. We also taste a local food that is the main food of them in the past, such as cassava, sweet potatoes…. On the way out, we may try on shooting the real bullets in the shooting range that built for tourists. Or we go ahead to our awaiting vehicle for our journey back to Saigon. Overnight in Saigon.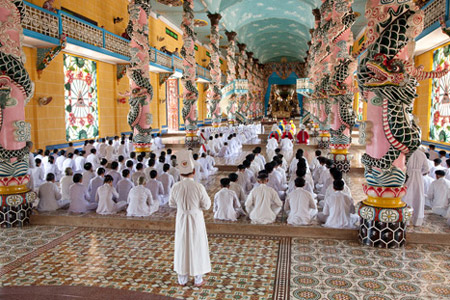 Day 15 Mekong Delta Discovery by Mekong Eye Cruise (B, L, D)
Today, we travel to Cai Be town, Vinh Long province, heart of Mekong Delta to explore the "must-visit" destination with boat excursion trip. Welcome up on arrival by crew team, we enjoy lunch on boat and join the guided land tour with walking in orchard and small villages. Refresh and enjoy sunset on top deck when we return from the villages. We enjoy dinner on the floating restaurant and overnight on Mekong Eye Cruise.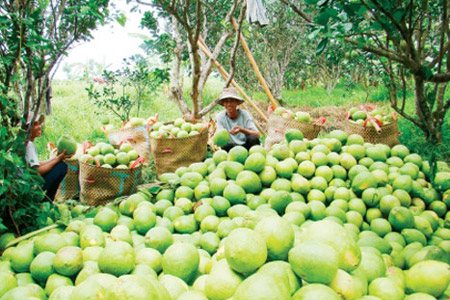 Day 16 Cai Rang Floating market – Ho Chi Minh city (B, L)
We enjoy the breakfast this morning before boating around Cai Rang floating market in Can Tho city. This is one of the most colorful floating markets in the Mekong Delta region. This is a retail market therefore there are mainly small boats with local people selling and buying their agricultural products with seasonal fruits, flowers and other goods. The market is started from 6h00 to around 9h00am but boats gather here from earlier in the evening.
After the market, we are back to Mekong Eyes cruise then having our brunch, check out and transfer back to Saigon. Overnight in Saigon.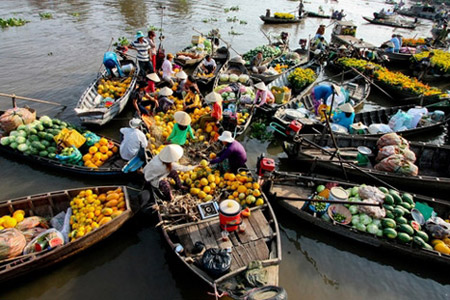 Day 17 Ho Chi Minh Departure (B)
At our appointed time, our tour guide and driver will pick us up and take us back to the airport for our departure flight. Trip ends.