Explore the beauties of Vietnam and Cambodia along the mighty Mekong River. Pass through the fabulous French colonial port of Ho Chi Minh City, reach rustic countryside and vibrant floating market in Mekong Delta before traveling to Phnom Penh which is preserving a lot of unique architectures. The luxury Mekong Princess Cruise will be your journey's companion.
Duration: 8 Days/ 7 Nights
Departure Dates: Listed in Price & Inclusion
Start/ End: Ho Chi Minh City (Saigon)/  Siem Reap
Tour Route: Saigon – Ben Tre – Can Tho – Hoa An – Gieng Island – Hong Ngu / Border Crossing – Phnom Penh – Angkor Ban – Kampong Cham – Siem Reap
Tour Type: Explore and Experience
Tour Category: Small Group Tours
Brief Itinerary
Day 1: Saigon – Embarkation
Day 2: Ben Tre – Can Tho
Day 3: Can Tho – Hoa An
Day 4: Gieng Island
Day 5: Hong Ngu – Border Crossing to Phnom Penh
Day 6: Phnom Penh City Tour
Day 7: Angkor Ban
Day 8: Kampong Cham – Disembarkation
Day 1: Saigon – Embarkation (B, L)
Park Hyatt Saigon will be our meeting point where our guide transfers you to the RV Mekong Princess docking at Saigon Port. You will be welcomed by the cruise's crew before embarking on the Mekong discovery. Lunch will be served after departure and you have a chance to enjoy the scenic beauties of the Saigon River as well as surrounding areas.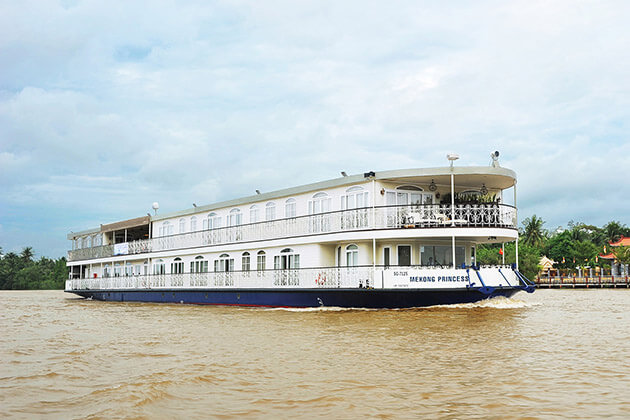 The cruise reaches the heart of Mekong Delta in the late afternoon. It is the time to enjoy cocktails in the sunset and watch sampans pass by. Then taste a traditional Vietnamese dinner with authentic foods among romantic ambiance.
Day 2: Ben Tre – Can Tho (B, L, D)
In the morning, take a sampan through channels and mangroves to reach a local coconut candy workshop. After witnessing the process of making candies, visit an orchard nearby where fruits at various stages of maturity can be seen at the trees. Remember to taste some fresh fruits before returning to the ship where lunch is already served.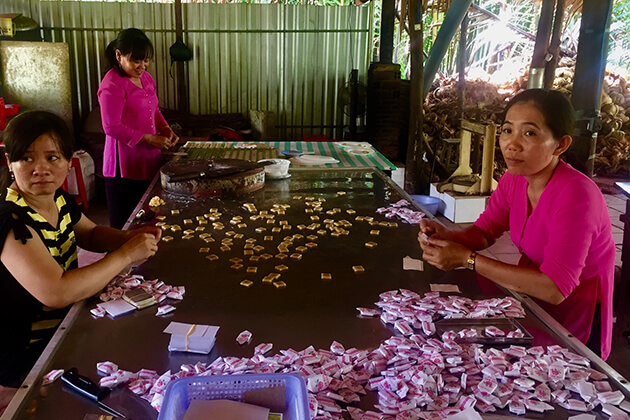 In the afternoon, the cruise ship will sail to Can Tho City, the capital of Mekong Delta. Join in a short trip to Zihuang Pagoda (Chua Ong) and see the interesting unicorn dances. The rest of the day is your leisure to explore this charming city before having dinner on board.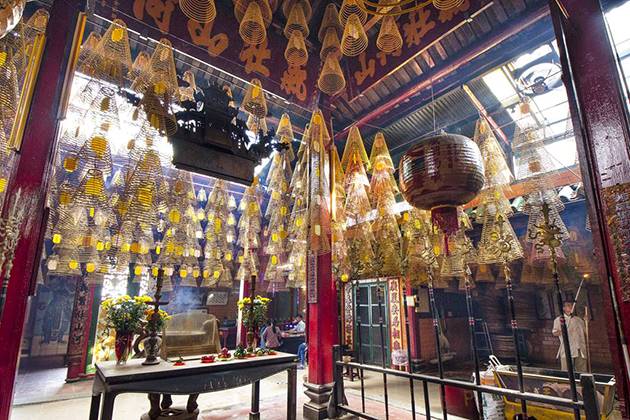 Day 3: Can Tho – Hoa An (L, D)
Start this day before breakfast by a visit to Cai Rang floating market where your sampan will weave in and out of various boats sailing into the market for trading products. It is your opportunity to take amazing photos while sipping a cup of fresh coconut water. Enjoy your breakfast at a food stall on a boat selling noodle soup. Later, stop at a local noodle workshop to see how the main ingredient of your breakfast is made. Take a short rest in the ship then.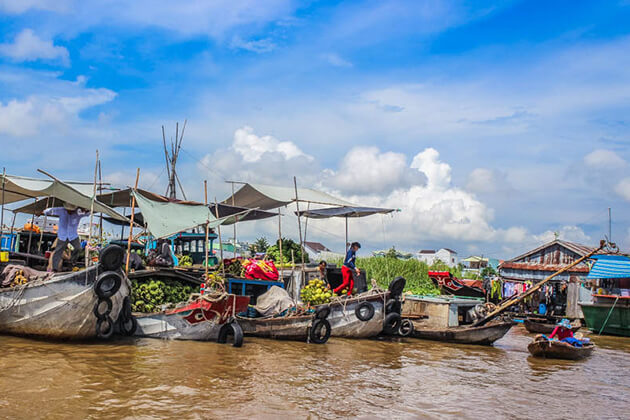 In the afternoon, continue the excursion by a boat trip to Hoa An village which is famous for flower growing and handmade crafts. Visit firstly the flower gardens where you will be impressed by different kinds of colorful floras and learn how to grow and take care of them. Walk to a local house nearby then to interact with the hosts as well as get a closer look at their daily work and life.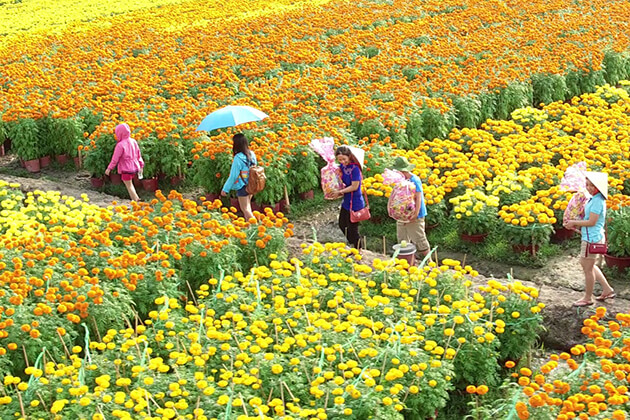 Afterward, travel to another village of conical hat making and mat weaving families. Gain a memorable time chatting with the locals along with hands-on experiences when learning how to do their work. Strolling around the village to see more rice fields and fruit trees before going back to the ship.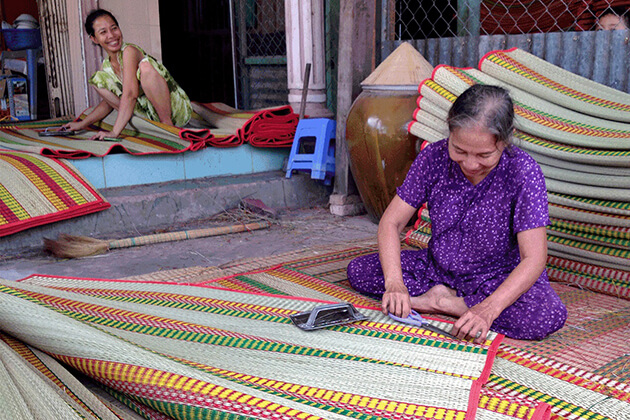 Day 4: Gieng Island (B, L, D)
After breakfast, travel by a small boat to Gieng Island where sampans are manufactured every day by locals. Next, explore a floating area of duck farms and monkey bridges. Try local transportation, motor trishaw, to reach a Catholic Church built in the 19th century. Return to the ship for lunch and leisure till day's end.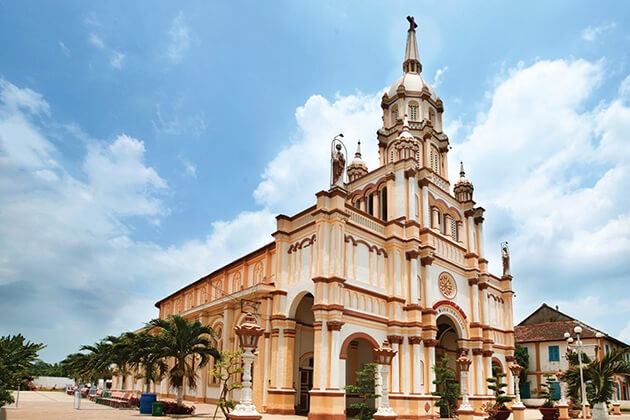 Day 5: Hong Ngu – Border Crossing to Phnom Penh (B, L, D)
Today visit Hong Ngu island village which is not far from Vietnam – Cambodia shared border. A large number of traditional Khmer scarves are produced in Hong Ngu to export to Cambodia. Some villagers are also the artists of embroidery and display their artworks in their houses. You can also visit the local temples of a religion founded here, Hoa Hao. In the afternoon, the RV Mekong Princess will pass the border to Cambodia along Mekong River.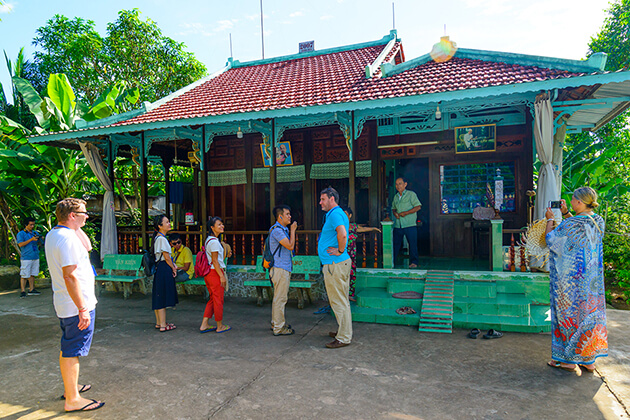 Day 6: Phnom Penh City Tour (B, L, D)
Upon Phnom Penh arrival, meet a cyclo driver who will be your companion of a wonderful city tour of Phnom Penh. Begin your journey at the Royal Palace together with Throne Hall and Moonlight Pavilion. Next, explore enormous stupas and spirit houses when reaching Silver Pagoda which is home to Cambodia's Emerald Buddha and Maitreya Buddha decorated by more than 9,000 diamonds.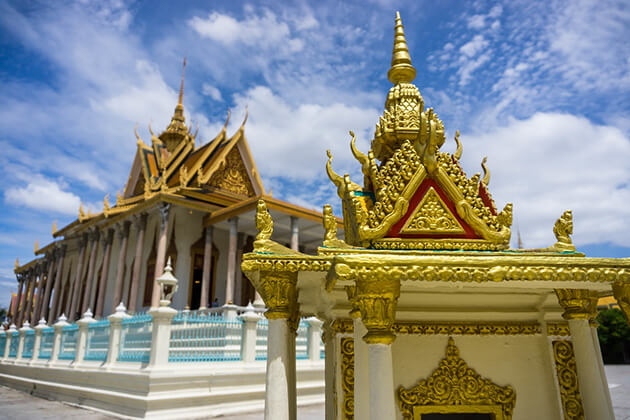 After a short break, visit the National Museum with a closer look at a lot of artifacts excavated around the Angkor Archeological Area and former Khmer Empire. Spend time exploring Phnom Penh markets before enjoying lunch at a local restaurant.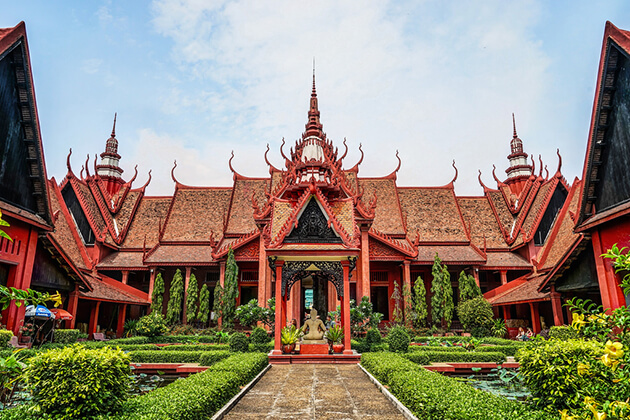 In the afternoon, arrive at Choeung Ek and Killing Fields expressing the darkest days of Cambodia history. On the way returning to Phnom Penh, stop at Tuol Sleng, the infamous destination which used to be the prison and torture headquarters.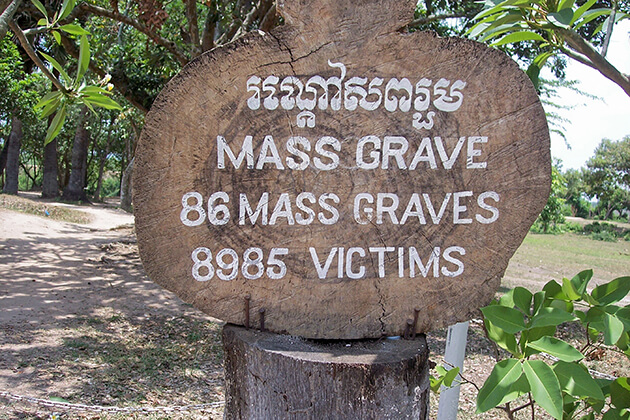 In the evening, enjoy the cultural performances comprising of Cambodia's national dance, Aspara, and other traditional folk dances.
Day 7: Angkor Ban (B, L, D)
Today, visit the charming Angkor Ban town to see the daily life of local people. Move to a local school where you will join in a classroom and experience how their typical school day is.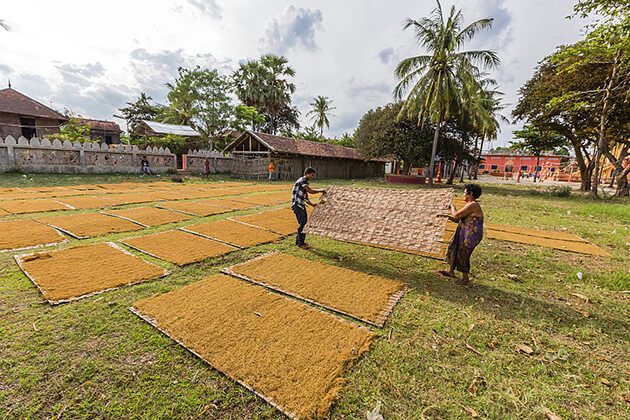 Day 8: Kampong Cham – Disembarkation (B)
After breakfast, disembark the RV Mekong Princess in Kampong Cham then transfer to Siem Reap and arrive at the Meeting Point at the Park Hyatt Siem Reap Hotel