General Information
Duration: 23 Days/ 22 Nights
Date: No fixed dates
Start/ End: Phnom Penh/ Luang Prabang
Tour Route: Phnom Penh – Siem Reap – Ho Chi Minh City – Mekong Delta – Phu Quoc – Danang – Hoi An – Hue – Hanoi – Lan Ha Bay – Vientiane – Luang Prabang
Tour Customizable: Definitely! (Tell us your specific requirements in the inquiry form)
Guides: Local Guide (English Speaking Guide, Other Languages upon Request)
Brief Itinerary
Day 1: Phnom Penh Arrival – Welcome Dinner (D)
Day 2: Phnom Penh City Tour (B, L)
Day 3: Phnom Penh – Transfer to Siem Reap by Private car without tour guide – Dinner with Apsara Dance (B, D)
Day 4: Siem Reap – Angkor Temple (B, L)
Day 5: Siem Reap – Shiva Valley – Banteay Srei (B, L)
Day 6: Tonle Sap Lake – Fly to Ho Chi Minh City (B, L)
Day 7: ½ City Tour – Cu Chi Tunnels (B, L)
Day 8: Mekong Delta (B, L)
Day 9: HCM City – Fly to Phu Quoc (B)
Day 10: Phu Quoc Free Day (B)
Day 11: Phu Quoc Free Day (B)
Day 12: Phu Quoc – Fly to Danang – Transfer to Hoi An (B)
Day 13: Farming & Fishing Eco Tour – Walking Tour in Ancient Town (B, L)
Day 14: Hoi An – Transfer to Hue – Dong Ba Market – Food Tour (B, L)
Day 15: Hue City Tour (B, L)
Day 16: Hue – Fly to Hanoi – ½ City Tour (B, D)
Day 17: Hanoi – Lan Ha Bay – Overnight on cruise (B, L, D)
Day 18: Lan Ha Bay – Hanoi – Fly to Vientiane (B, Br)
Day 19: Vientiane City Tour (B)
Day 20: Vientiane – Fly to Luang Prabang (B)
Day 21: Luang Prabang City Tour (B, L)
Day 22: Luang Prabang in Depth (B, L)
Day 23: Departure (B)
Full Itinerary
Day 1: Phnom Penh Arrival – Welcome Dinner (D)
Welcome up on arrival by local tour guide and driver then we transfer to hotel. Relax in the rest of the day and enjoy a welcome dinner at a fine local restaurant in town.
Overnight in Phnom Penh
Meals: Dinner
Day 2: Phnom Penh City Tour (B, L)
After breakfast at hotel, we head out to the Choeung Ek Memorial, where a stupa made up of some 8,000 human skulls marks the site of the infamous Killing Fields. This was the execution ground for the torture victims of Tuol Sleng and standing in this peaceful setting it's almost unthinkable to imagine that to date nearly 9000 corpses have been exhumed from the area. Confront Cambodia's tragic past on a guided tour of the Tuol Sleng Genocide Museum, a former school that served as a Khmer Rouge torture center. It's estimated that more than 20,000 people were held and tortured here. Lunch at local restaurant
In the afternoon, we visit the National Museum – housed in a beautiful traditional building, that contains many outstanding examples of Khmer craftsmanship. Then, we learn about a brighter period in Cambodian history with a visit to the Royal Palace and Silver Pagoda (We can see from outside only as they are closed for renovations). Spend some time visiting Wat Phnom, a peaceful temple situated on a hill for which the city is named. According to legend, a 14th-century woman named Penh found sacred Buddhist objects in the nearby river and placed them here on the small hill. After the tour, we return back to hotel for sleep.
Overnight in Phnom Penh
Meals: Breakfast, Lunch
Day 3: Phnom Penh – Transfer to Siem Reap by Private Car– Dinner with Apsara Dance (B, D)
Our driver will pick you up from the hotel and transfer to Siem Reap by private car (no guide). We will stop for a short visit at Spider Markets in Skun. Arrives in Siem Reap, check in at hotel before being picked up for Cambodia traditional dance show at local restaurant and back to the hotel for the night
Overnight in Siem Reap
Meals: Breakfast, Dinner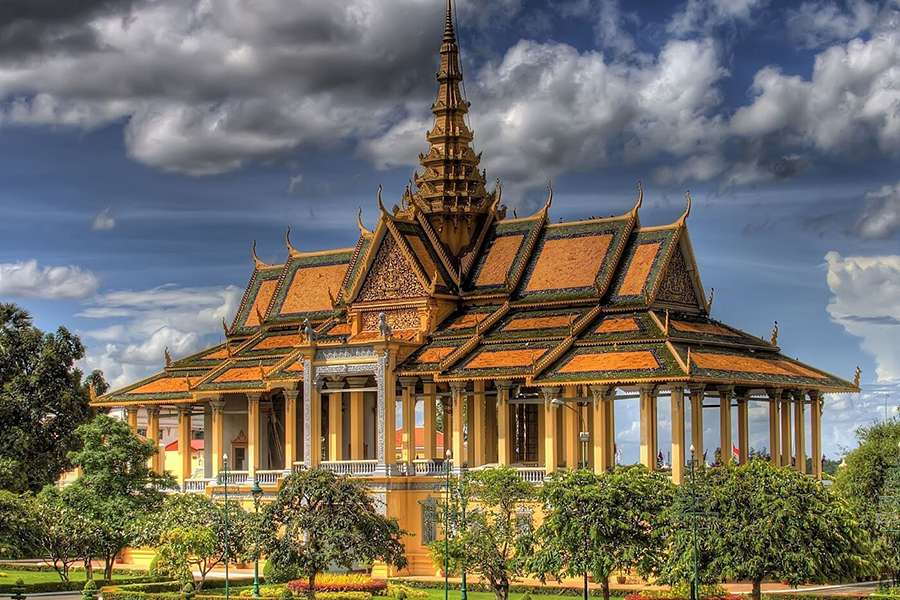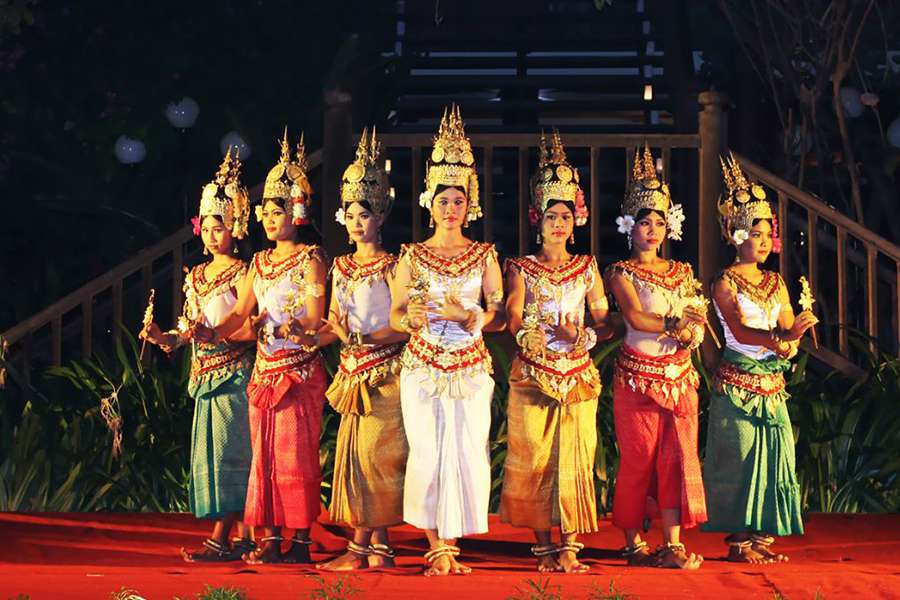 Day 4: Siem Reap – Angkor Temple (B, L)
After breakfast, we will visit the antique capital of Angkor Thom (12 century): the South Gate with its huge statues depicting the churning of the ocean of milk, the Bayon Temple, unique for its 54 towers decorated with over 200 smiling faces of Avolokitesvara, the Phimeanakas, the Royal Enclosure, the Elephants Terrace and the Terrace of the Leper King.
After having lunch, we will visit Ta Prohm, one of the area's most beautiful temples. Ta Prohm has been relatively untouched since it was discovered and retained much of its mystery, and the most famous of all the temples on the plain of Angkor: Angkor Wat. The temple complex covers 81 hectares and is comparable in size to the Imperial Palace in Beijing. Its distinctive five towers are emblazoned on the Cambodian flag and the 12th century masterpiece is considered by art historians to be the prime example of classical Khmer art and architecture. Enjoy a wonderful sunset from the top of Pre Rup Temple.
Overnight in Siem Reap
Meals: Breakfast, Lunch
Day 5: Siem Reap – Shiva Valley – Banteay Srei (B, L)
We will drive up Kulen Mountains for a visit to a Grand Buddha Statue, the River of Thousand Lingas, known as Shiva Valley, and the Great Waterfall. Lunch at a local restaurant. On the way back, we will visit to Banteay Srey, known as Citadel of Women or a Pink Temple, and Banteay Samre Temples.
Overnight in Siem Reap
Meals: Breakfast, Lunch
Day 6: Tonle Sap Lake – Fly to Ho Chi Minh City (B, L)
In the morning, we will enjoy a boat ride on the Tonle Sap Lake at Kampong Phluk Village. This is the largest permanent fresh-water lake in South East Asia and flows into the Tonle Sap River, joining the Mekong in Phnom Penh. We will see a fishermen's "floating village" with floating schools, floating police station, etc. It is same as a big village floating on the lake, and the "village" move from place to place following water levels and current. Lunch at a local restaurant. Transfer to Siem Reap airport for your flight to Ho Chi Minh City. On arrival at Tan Son Nhat Airport in Ho Chi Minh City, welcomed up on arrival by local tour guide and driver then we transfer to the hotel. After check-in, we will be free to wander around the hustle and bustle city on your own.
Overnight in Ho Chi Minh City
Meals: Breakfast, Lunch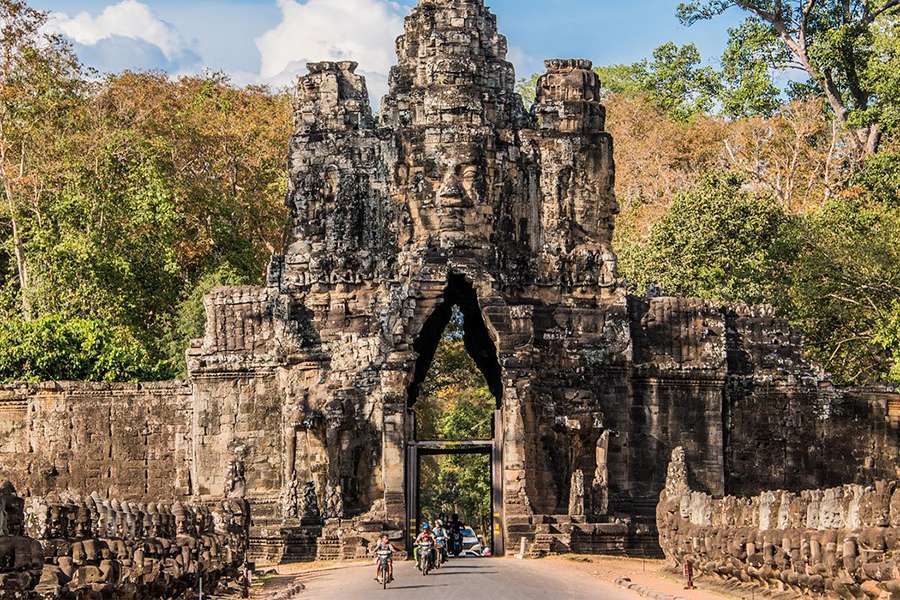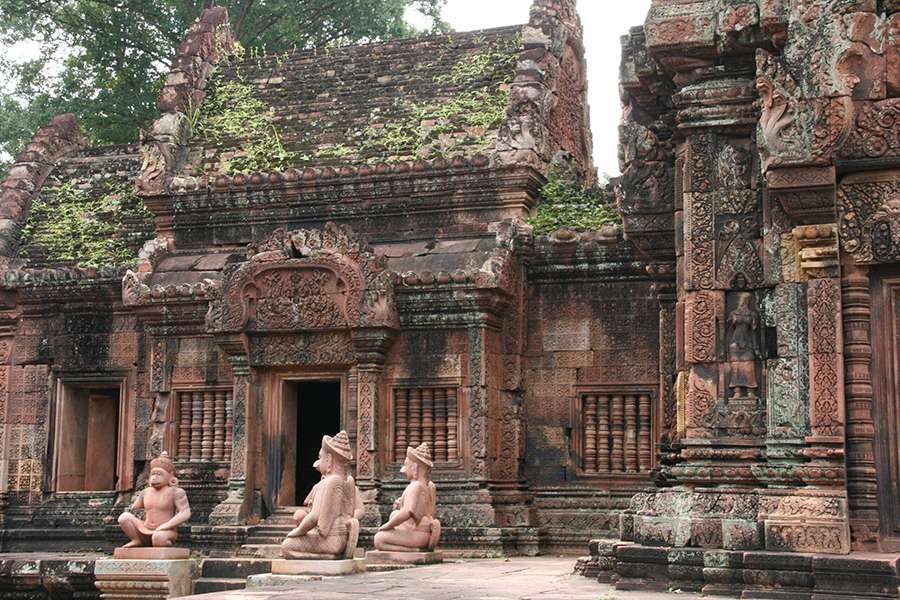 Day 7: ½ City Tour – Cu Chi Tunnels (B, L)
Ho Chi Minh City, formerly named Saigon is the largest city in Vietnam. One day tour around today covers almost the major attractions. Understanding more about history in the War Remnants Museum and the Reunification Palace, admire French-colonial architecture at the General Post Office, Opera House, and Notre Dame Cathedral, and explore the longest tunnels made of Vietnamese people during the war…. Depends the weather and season, we can visit Cu Chi tunnels in the morning or afternoon.
Morning, we head to the Cu Chi tunnels, otherwise known as the "Iron Triangle" or "Iron Land". Before entering the tunnels, we will see a short introductory video showing how they were constructed, followed by an exploration of the maze of tunnels, some of which have been widened to allow tourist access. Also on display are various mantraps and the remains of an American tank as well as numerous bomb craters made by 500lb bombs dropped by B52 bombers. After that we transfer back to Ho Chi Minh City for lunch.
After lunch, we visit the Reunification Palace, the former Presidential Palace for the president of the South of Vietnam. After that, we will visit War Remnant Museum, where we can see countless artifacts, photographs and pictures documenting about the second Indochina War. We also stop at Notre Dame Cathedral and Old Post office to get good shots for our memory of the big, modern city of Vietnam. In the rest of the day, we will visit: Ben Thanh market, and then we will be back to hotel at around 18:00.
Overnight in Ho Chi Minh City
Meals: Breakfast, Lunch
Day 8: Mekong Delta (B, L)
Pick up at your hotel in Ho Chi Minh City, we will drive to Cai Be. The program will start with a quick visit of Cai Be Floating Market. Then, we come to Tan Phong Island for biking/walking on village paths to see the local daily life: orchard, school, church, pagoda, traditional houses… On the way, we can make some stops to see how they make rice-net for spring rolls, sewing coconut-leaves for cottage roof and specially see how they wave the dried water-hyacynth to make many products: baskets, bags, hats, wallets, shoes…
Then, the rowing boat will take you deeper into the countryside on smaller canals to enjoy the peaceful time. Back to our boat to go across Mekong River to An Binh Island. Travel on a manmade canal to local house and spend around 1 and a half hours to eat lunch. We can walk around this orchard & enjoy some cups of tea when listening to the traditional music in the ancient house. Walk in the local village to visit the local workshop to see how to make rice paper, coconut candy, pop-rice… Enjoy some sweets with a cup of hot tea. We will also see the brick kilns where you can see how the local people create beautiful potteries from clay. The cruise will end at Vinh Long city where our car is waiting and take you back to Ho Chi Minh City.
Overnight in Ho Chi Minh City
Meals: Breakfast, Lunch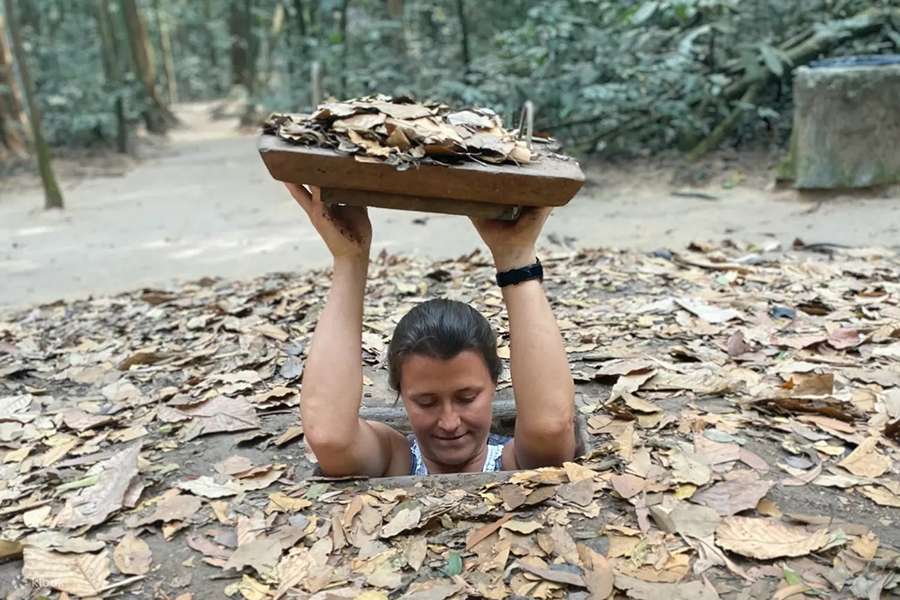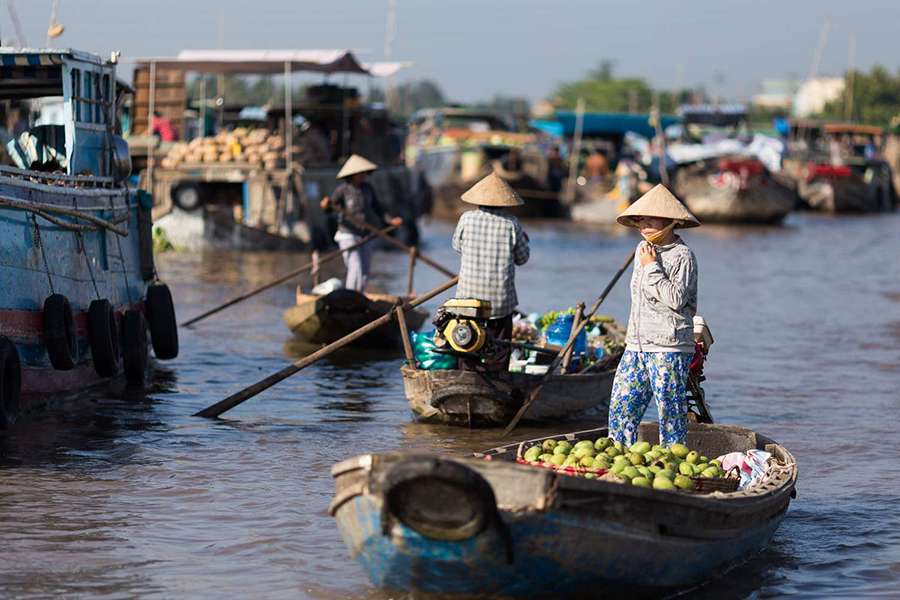 Day 9: HCM City – Fly to Phu Quoc (B)
Time will be free until our car arrives at the hotel to take us to the airport in good time to board our flight to Phu Quoc. On your arrival, car of resorts will pick you up and transfer you to hotel in here for relax. The rest of day will be spend on your own to investigate this beautiful island.
Overnight in Phu Quoc
Meals: Breakfast
Day 10: Phu Quoc Free Day (B)
Today is free day without any further services.
Overnight in Phu Quoc
Meals: Breakfast
Day 11: Phu Quoc Free Day (B)
Today is free day without any further services.
Overnight in Phu Quoc
Meals: Breakfast
Day 12: Phu Quoc – Fly to Danang – Transfer to Hoi An (B)
This morning, we will have a flight to Danang City. The car of resort will transfer you to the airport for flight to Danang. Upon arrival in Danang, our guide and car will wait in Danang International Airport to transfer you to Hoi An Ancient Town for accommodation.
Overnight in Hoi An
Meals: Breakfast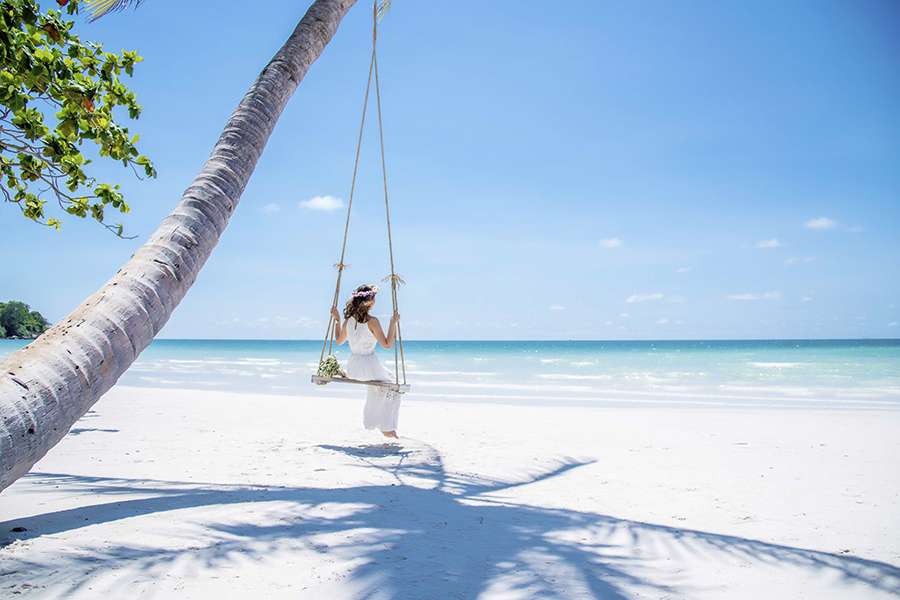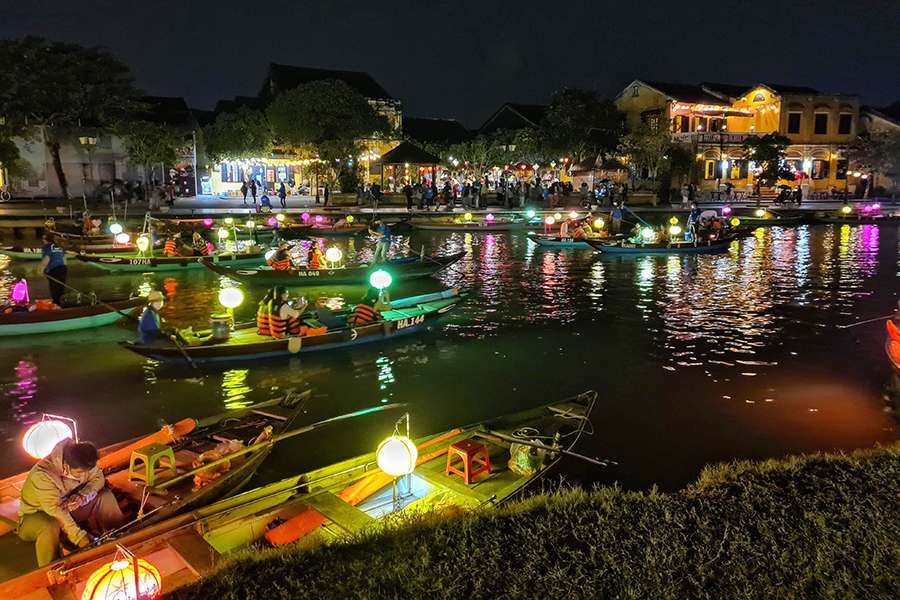 Day 13: Farming & Fishing Eco Tour – Walking Tour in Ancient Town (B, L)
We have an early start this morning as we head off to our Farming & Fishing Life Eco Tour. Starting at Tra Que Village, we will get a personal insight into the local farming communities. We set about joining the farmers in preparing their land for sowing, helping to fertilize the garden using seaweed from the local river and watering it in using huge tin cans strapped to our backs. Following this, we will begin our leisurely cycling tour through the countryside witnessing local Vietnamese rural life first hand. Late morning we will board our Hoi An Eco-tour boat for a river cruise. Here we will meet and witness local fishermen working their craft, before enjoying a hands-on experience of traditional net fishing. We then transfer to a Vietnamese bamboo basket boat for a quick race and ride down a coconut palm lined waterway. Lunch today, is on board our boat, which is prepared using vegetables picked earlier at Tra Que Village.
After lunch, we have some free time to wander around Hoi An town centre before heading back to the hotel. After a short rest, we will spend time to visit the Japanese Covered Bridge, the Pottery Museum, Tan Ky old house, the Cantonese congregation, the silk street of Hoi An, the temples and pagodas of Chinese appearance privately.
*Farming & Fishing is group tour with the attendance of other tourist (no more than 15 persons)
Overnight in Hoi An
Meals: Breakfast, Lunch
Day 14: Hoi An – Transfer to Hue – Dong Ba Market – Food Tour (B, L)
After breakfast at the hotel, we travel by vehicle to Hue along scenic highway 1A. Along the way we will stop to contemplate north to Danang City and the stunning views North, to Lang Co Beach. We will arrive in Hue in the early afternoon and we start the Hue Street Food Tour. Our cyclo men will ride you on the crowded street with a lot of scooters, cars to the narrow alleys to enjoy the best specialities in Hue. Firstly we will enjoy the Banh Beo, Banh Nam, and Banh Bot Loc – the 3 specialities of Hue Imperial City. Our local expert will tell you the ingredients as well as the recipe to make them.
Next, our cyclos will take you to a local restaurant to eat Bun Thit Nuong (mixed noodles with grilled pork). After that, we continue food tour with Bun Hen (mixed noodles with small mussels). You will taste 5 different flavors in this special dish. Then, we will walk along the Perfume River to enjoy Che Hue (Hue sweet soup) at a Riverside restaurant with a wonderful view of Hue by night. After that, we will drive you to taste the best Vietnamese Rice Pancake – Banh Khoai or Banh Xeo. After all, we will ride you back to your hotel in Hue and spend rest of the day to relax.
These are the famous Hue Street Food that you should know and sample in Hue city
Banh Uot – Grilled Pork Wrapped with Hue Wet Rice Paper
Coffee Viet – black or with condensed milk
Che – Sweet Soup
Bun Bo Hue – Hue Beef Vermicelli Soup
Banh Khoai – Hue Fried Pancake
Cha Hue– Hue Sausage
Banh Loc – Filtered Tapioca Dumplings
Banh Ram It – Fried dumpling topped with Sticky Rice Dumpling
Nem Lui – Grilled Ground Pork on Stick.
Me Xung – Sesame candy
Bun Thit Nuong – Grilled Pork Vermicelli
Banh Beo – Steamed Rice Discs Topped with Shrimp
Overnight in Hue
Meals: Breakfast, Lunch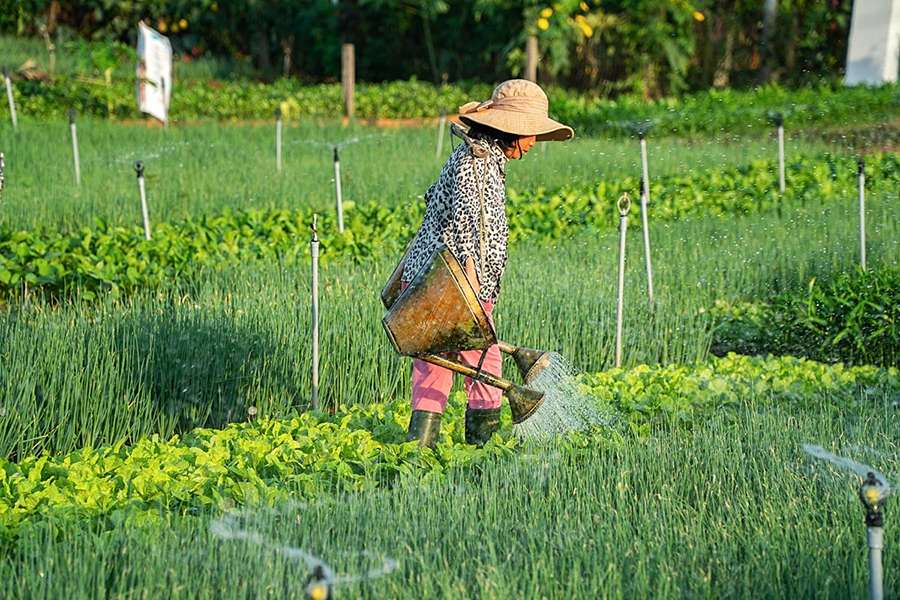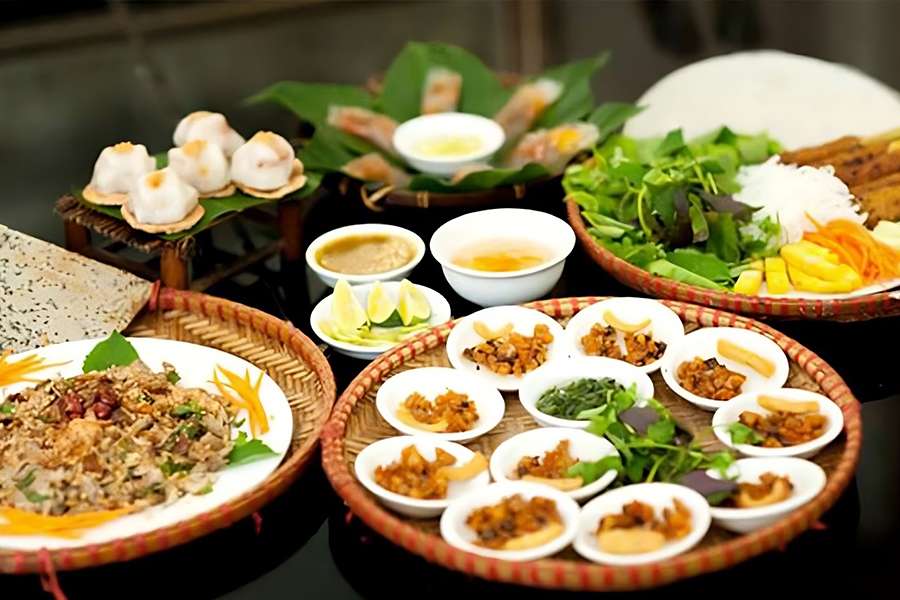 Day 15: Hue City Tour (B, L)
Pick up at hotel at 8:30 AM, we will board the Dragon Boat on the romantic Perfume River heading out for the countryside. Being the ancient capital, Hue is surrounded with ancient tombs of emperors past, and a visit to the most beautiful tombs will be on the itinerary for today. The charming Lady Pagoda (Thien Mu Pagoda) will be the first stop of the day. We will enjoy a great view on the Perfume River and surrounding area. Thien Mu Pagoda is considered the symbol of Hue, and of Buddhism in Vietnam. From here, we rejoin our van and go visit King Khai Dinh's Tomb or King Tu Duc's Tomb.
In the afternoon, we visit the Imperial Citadel where the Nguyen Dynasty ruled between 1802 and 1945, after exploring the ruins of this wonderful monument. We will then depart to the Hue Royal Fine Art Museum, which is housed within the former Dien Long An Royal Palace. We will finish our day with the local Dong Ba Market to see the daily life of local people.
Overnight in Hue
Meals: Breakfast, Lunch
Day 16: Hue – Fly to Hanoi – ½ City Tour (B, D)
From Hue, we flight to Hanoi in around 1 hour. Welcome up on arrival by local tour guide and driver then we transfer to hotel. After a short rest, we will drive to the Ho Chi Minh complex where we will spend time at Ho Chi Minh's mausoleum (outside), his former stilt-house, the Presidential Palace, the Ho Chi Minh Museum and One Pillar Pagoda. Followings we visit the Temple of Literature, which originally built as a temple to Confucius.
Then, we enjoy a 1-hour cyclo tour of the French inspired "old quarter". We will be free for shopping in the old quarter ranges from markets through to designer boutique stores to amazing contemporary art galleries. We will then sit down to enjoy a performance of the city's famous Water Puppets. After the show, we will have welcome dinner at a fine local restaurant in town.
Overnight in Hanoi
Meals: Breakfast, Dinner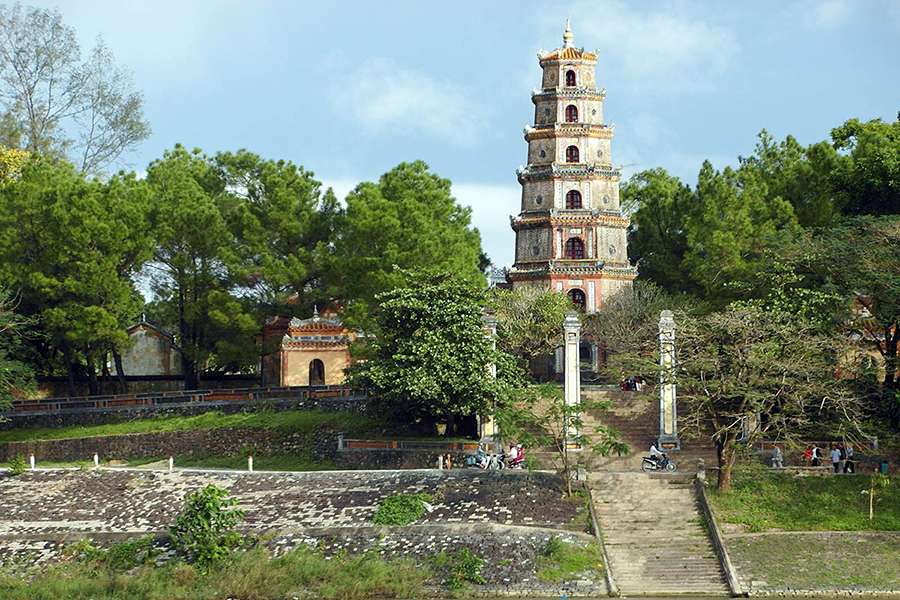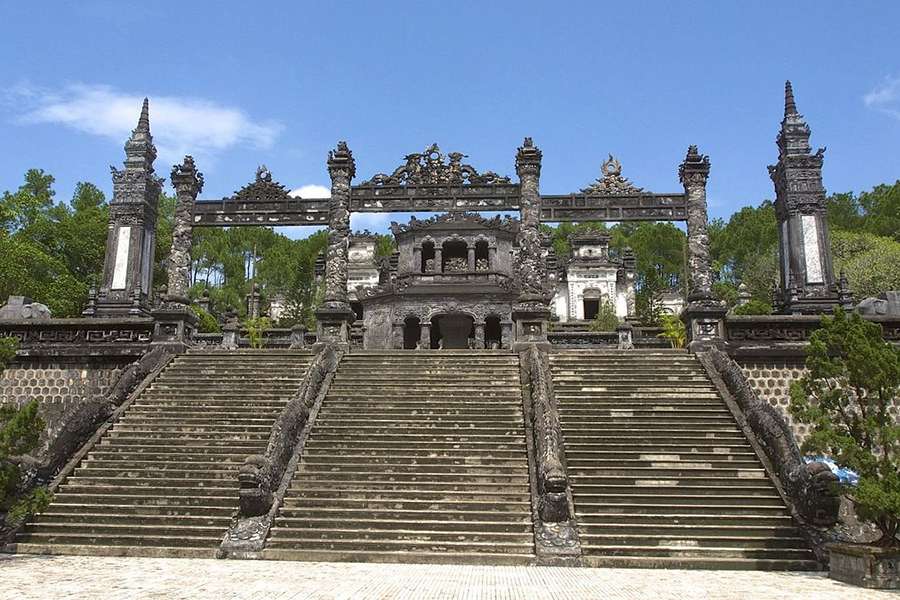 Day 17: Hanoi – Lan Ha Bay – Overnight on cruise (B, L, D)
Pick-up at hotel after breakfast, we drive to Halong Bay. On arrival, we embark on the Sena Cruise followed by a fabulous lunch is served while Sena Cruises starts her sail into magnificent Ha Long Bay – an extension of Ha Long Wonder which is much quieter and has fewer tourists. She will pass famous Finger Islet, Candle Islet and thousands of uniquely shaped limestone towers and islands. Then, we reach Ao Ech area (or Three Peachs area if the weather and tide permit). It is time to discover Lan Ha Bay yourselves with your travel buddy sharing kayak. While kayaking, you will have a brief look at the geology of the karts-mountains that form beautiful surrounding.
In the late afternoon, we return back to Sena Cruise and enjoy our afternoon tea ceremony and "Happy Hour Deal" in all bars on cruise. Before dinner, our experienced captain will choose the most tranquil area to anchor for overnight. After the incredible dinner, take your leisure time to chat at the bar, watch the movie in the restaurant and enjoy spa treatment. In the late of day, reward yourself with a large selection of cocktails at the panoramic bar or take one of our onboard activities: squid fishing, karaoke.
Overnight on board
Meals: Breakfast, Lunch, Dinner
Day 18: Lan Ha Bay – Hanoi – Fly to Vientiane (B, Br)
Start our day with Tai Chi exercises or a photo hunt and have breakfast on board and enjoy the peaceful morning of Lan Ha Bay. After a light breakfast, Sena Cruise continues her sail to Cat Ba Island, passing amazing karst towers. Tea, coffee and light breakfast is served with fresh air and peaceful surroundings. Then, we join the kayaking experience to explore the Tra Bau area – the famous filming location for Kong Skull Island (King Kong) in Quang Ninh in 2018. You can visit the fish raft and interact with local fishermen to explore daily life and traditional fishing methods.
Returning back to cruise, we then spend time eating brunch while Sena Cruise slowly navigates emerald water and thousands of karst mountains towards the harbour for a transfer back to Hanoi for flight to Vientiane. Upon arrival, you will be picked up the airport and transferred to hotel.
Overnight in Vientiane
Meals: Breakfast, Brunch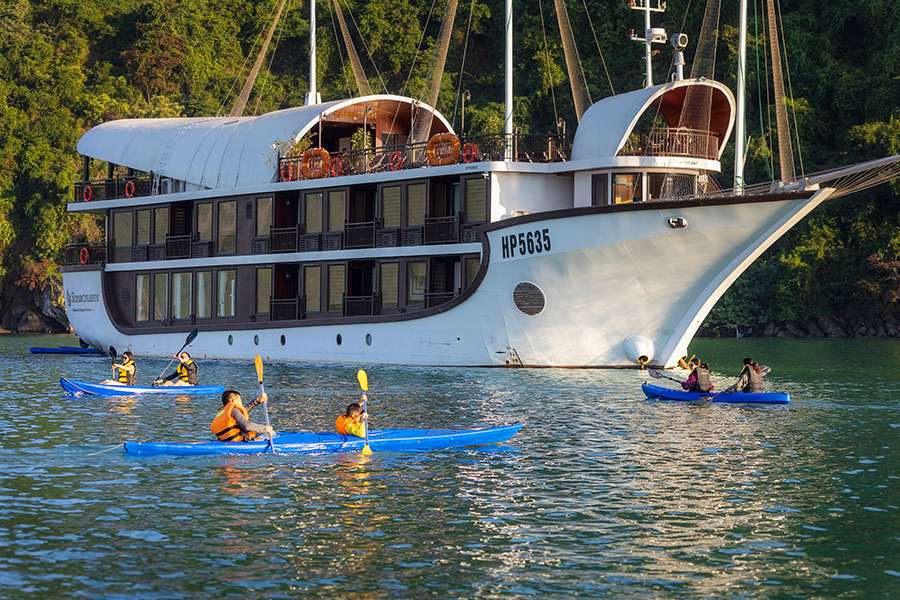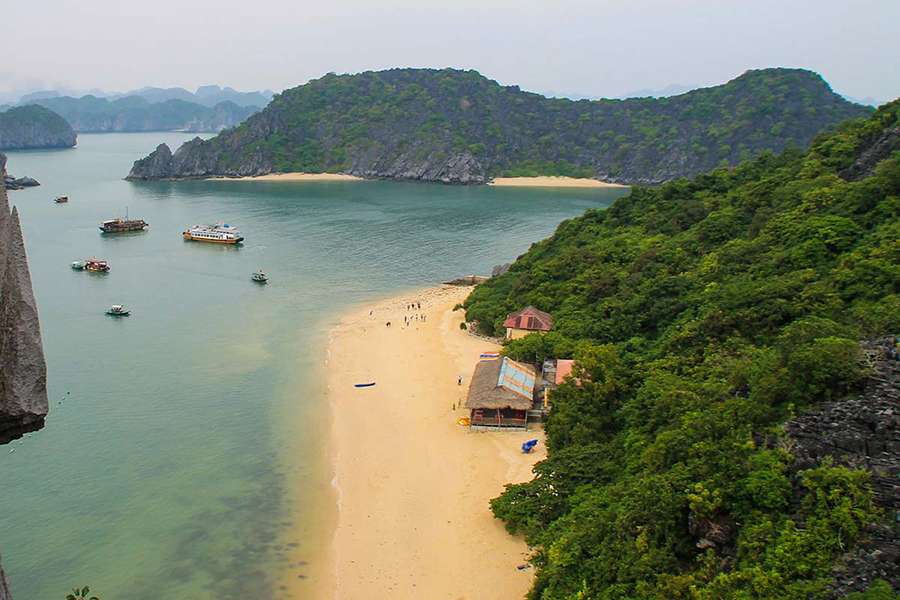 Day 19: Vientiane City Tour (B)
This morning, we visit Wat Sisaket, the city's oldest temple. Dates back to 1818, Wat Sisaket is the most important heritage temple now standing in Laos. It houses thousands of Buddha images from many countries, long lost architectural styles, sculptures and paintings; Wat Prakeo, former royal temple of the Lao monarchy and originally built in 1565, is home to the Emerald Buddha image, Buddhist sculptures are displayed along the perimeter wall, including a 6th to 9th century Dvaravati-style stone Buddha and several standing and sitting Buddhas. On the way back to hotel, stop to take some pictures of the imposing Patuxay Monument, Vientiane's own Arc de Triumph. Afternoon, we transfer to the famous and sacred structure of That Luang Stupa. Then we transfer out of town to visit Buddha Park with thousands of Buddha Statues
Evening is free to visit Night Market.
Overnight in Vientiane
Meals: Breakfast
Day 20: Vientiane – Fly to Luang Prabang (B)
Take fly to Luang Prabang. Upon arrival, we transfer to check-in hotel. We will visit the National Museum, Wat Mai and Hue Chan Heritage House. Next, we climb up to the top of the Phousi Mount for an enjoyable exploration of the sacred stupa as well as watching a beautiful sunset view of the city and the Mekong River from the top. Standing there, you will see a peaceful Luang Prabang which is hard to believe. From there, let's go to explore the Night Market in Luang Prabang, you will see how busy Night Market is, where you can find a lovely collection of handmade textiles or Lao traditional clothes made by the local and hill tribe people from the area near Luang Prabang.
Overnight in Luang Prabang
Meals: Breakfast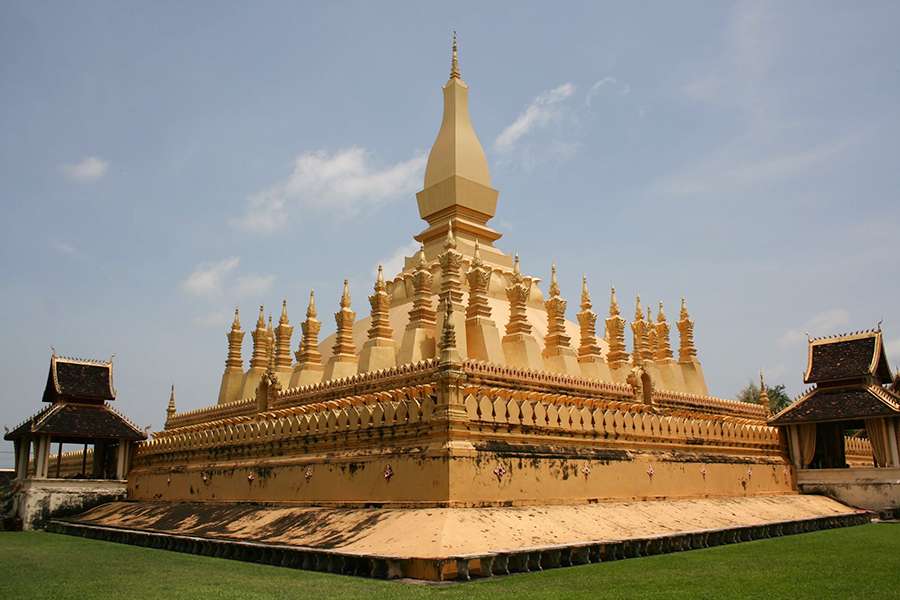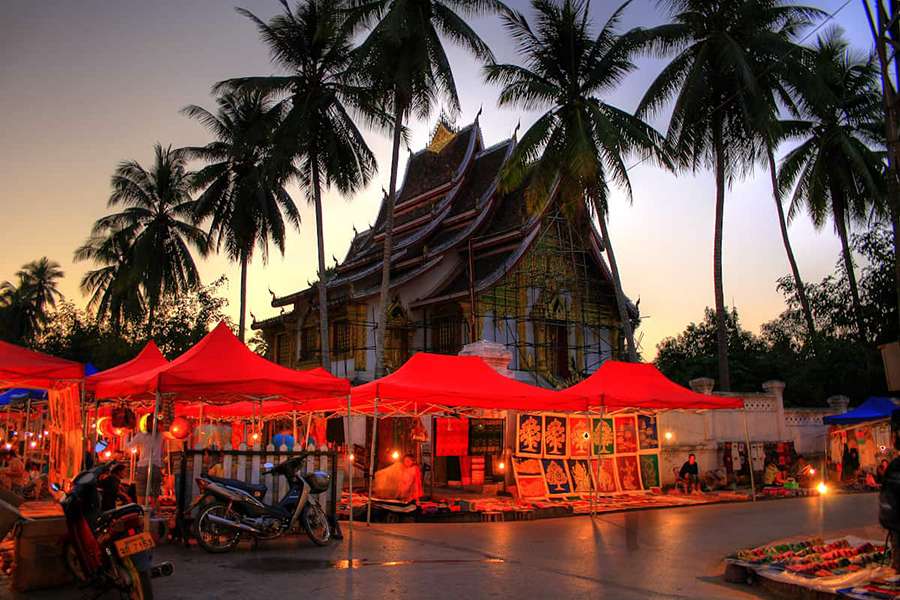 Day 21: Luang Prabang City Tour (B, L)
After breakfast, we will soak into the Morning Market. You will see a lot of offerings such as dried buffalo skin, local tea, and saltpeter among the chickens, vegetables, and hill-tribe weavings. The next place is Wat Xieng Thong which is a symbol of classical Laotian architecture with the roofs sweeping low to the ground. Then we embark a traditional boat to visit mysterious of Pak Ou Caves, crammed with thousands of gold lacquered Buddha statues of various shapes and sizes. Along the way, we stop at the village of Ban Xanghai, where they make the local rice wine. Come back city, en route visit Ban Xang Khong – famous for Saa paper making.
Overnight in Luang Prabang
Meals: Breakfast, Lunch
Day 22: Luang Prabang in Depth (B, L)
Get up early to take part in Alms Giving Ceremony with hundreds of saffron-robed monks. If you wish to make an offering can prepare some food to hand over to the monks. Morning Alms Giving is a ritual dating back generations in Laos. Note that, you should dress appropriately, keep an appropriate distance and observe the ritual in silence. Then, we will return to the hotel for breakfast or join the locals for a bowl of delicious noodle soup after the almsgiving ritual.
We will transfer to visit Buffalo Dairy Farm and have a scheduled tour to see how people make the dairy products from buffalo milk and have chance to taste buffalo milk ice cream. Continute to Kuang Si waterfall where you can splash around in the turquoise pools or walk along the forest trails. Once at the waterfall, we will visit Bear Rescue Center before hiking to the waterfall, swimming is possible. Come back city in the afternoon.
Overnight in Luang Prabang
Meals: Breakfast, Lunch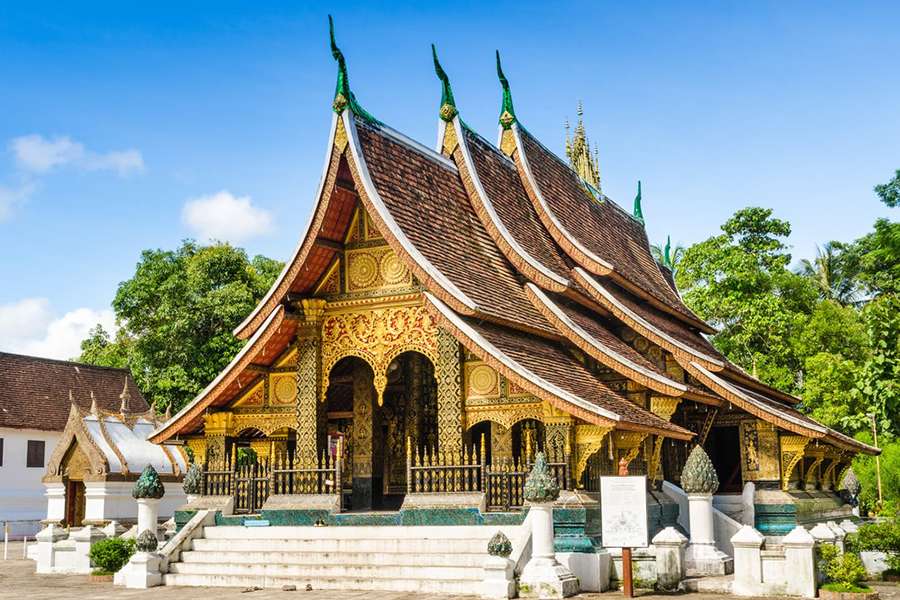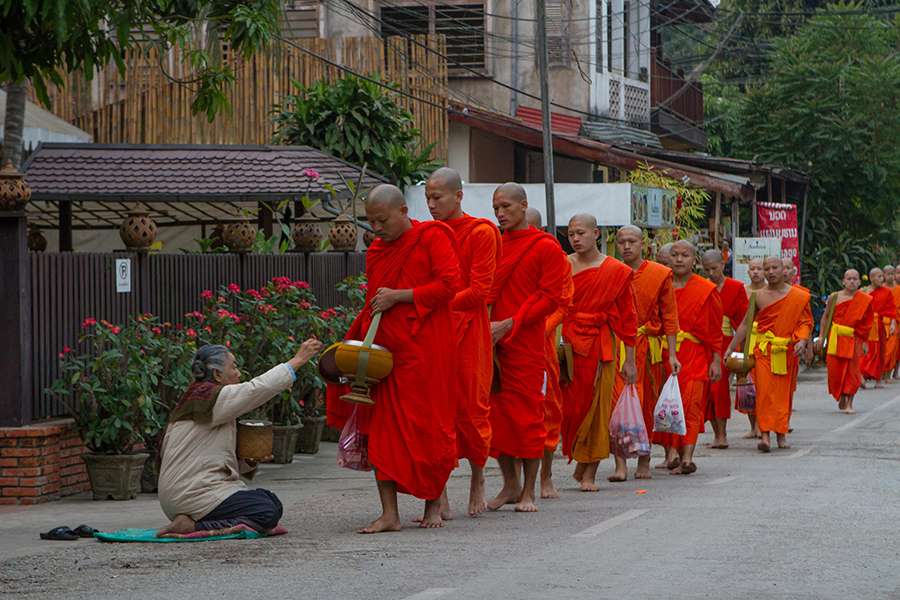 Day 23: Departure (B)
Airport transfer, trip ends! Thanks for choosing Indochina tour with Viet Vision Travel!