BRIEF ITINERARY
Day 1: Arrival – Vientiane
Day 2: Vientiane – Vang Vieng
Day 3: Vang Vieng – Luang Prabang
Day 4: Luang Prabang – City Tour
Day 5: Luang Prabang – Ban Paklung
Day 6: Ban Paklung – Khouangsi Waterfalls
Day 7: Ban Long Phu – Ban Long Lao
Day 8: Ban Long Lao – Luang Prabang
Day 9: Luang Prabang – Departure
Day 1: Arrival – Vientiane
Upon arrival in Vientiane Capital, you will be met and transferred to your hotel. Located on the banks of the Mekong River, Vientiane is a charming and fascinating capital, with an interesting mix of Lao, Thai, Chinese, Vietnamese, French, Soviet and American influences. A city tour acquaints us with the capital and after freshening up, we start visiting some the major sights; including the oldest temple Wat Sisaket, an amazing structure featuring remarkable frescoes and Buddha images.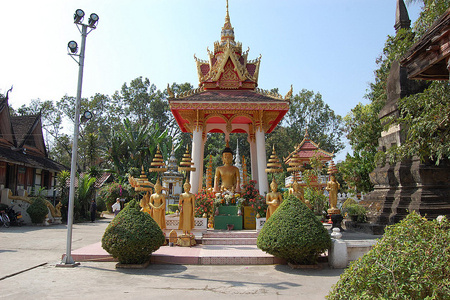 We also visit the former royal temple of Wat Prakeo, which previously housed the famous Emerald Buddha Image. Enroute to Lao's national precious heritage, the famous and sacred structure of That Luang Stupa, you will have the opportunity to take some pictures of the imposing Patuxay Monument, which is well known as Vientiane's own Arc de Triumph. Overnight in Vientiane.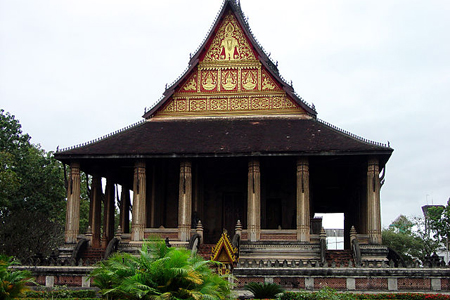 Day 2: Vientiane – Vang Vieng (Road) (B)
We leave the capital early for our journey northbound; we will see some breathtaking scenery enroute as we pass through spectacular countryside towards the mountainous region. Along the way we visit the busy and colorful market of Thalat where various hill tribes come to trade goods and buy provisions. A next stop of our trip is Vang Xang, famous for the archeological site dating back 11th century. We reach our final destination Vang Vieng, which is nestled on a bend of the Nam Song River. Its stunning scenery with limestone outcrops remains unspoiled, despite recent developments with the advent of tourism. After checking into your hotel you are at your own leisure. Overnight in Vang Vieng.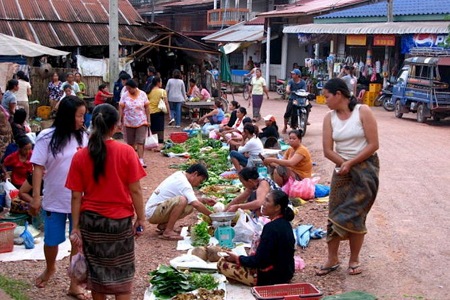 Day 3: Vang Vieng – Luang Prabang (Road) (B)
Today we depart early for our journey by road to Luang Prabang. The road conditions are very poor; however the stunning mountain scenery makes it worthwhile. We arrive in Luang Prabang this afternoon and have time to stroll around to catch our first glimpse of the sleepy town. This enchanting town with its gleaming temple roofs, fading colonial architecture and stunning mountain backdrop has been claimed by UNESCO to be "The best preserved traditional city in South East Asia". There is little traffic on Luang Prabang's roads and you will see monks dressed in orange robes scurry in all directions carrying umbrellas shading themselves from the sun. Overnight in Luang Prabang.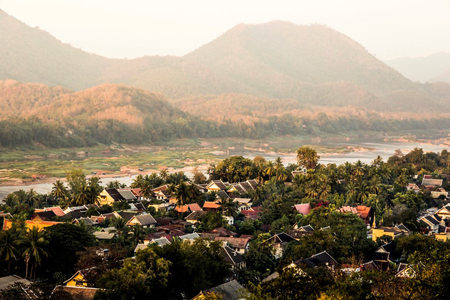 Day 4: Luang Prabang – City Tour (B)
It is worth a visit to the National Museum (Closed Tuesdays) at the former Royal Palace, which displays a lovely collection of artefacts reflecting the richness of Lao culture dating from the days of the early kings right through the last sovereign. Today we explore some of the major sights in this faboulous city, including the impressive stupa of Wat Visoun, the shrine of Wat Aham, the city's oldest temple of Wat Sene and Wat Mai. We visit these sights as well as the magnificent Wat Xiengthong, its exterior architecture is remarkable with decorated guilded stuccoes and doorways, a "Tree of life" mosaic pattern set in coloured glass on the back wall and its three tiered roofs sweeping low to the ground representing classical Laotian architecture.
A visit to Luang Prabang would be incomplete without ascending 329 steps to the top of Mount Phousi for an enjoyable exploration of the sacred, gilded stupa and to enjoy a beautiful sunset view of the city and its glowing reflection on the Mekong River. From there, we explore the Night Market, where you can find a lovely selection of handmade textiles made by local and hill tribe people surrounding Luang Prabang. Overnight in Luang Prabang.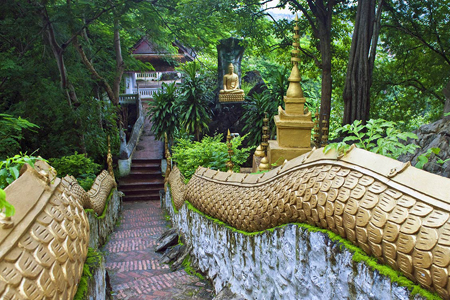 Day 5: Luang Prabang – Ban Paklung (B)
The extremely beautiful mountain region around Luang Prabang is ideal for an adventurous trekking expedition. After breakfast, we cross the mighty Mekong River and visit one of the famous caves in Luang Prabang before walking to local villages of three kinds of ethnic minority groups of Laos of Ban Chane and Ban Pha Phet.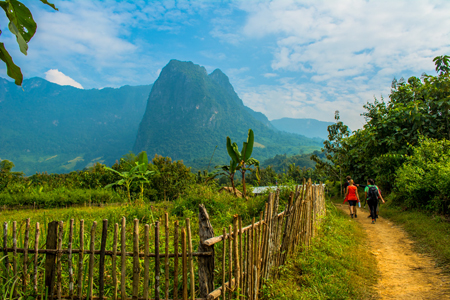 The Khmu hill tribe people reside here; they have a primitive and basic lifestyle. After an enjoyable stop at Ban Pha Phet, we continue our trek and embark on a boat for a leisurely trip to Paklung where we are fortunate to be the guests of a friendly Lao family. This evening we will join the family for a local dinner and experience the hospitality of the villagers. The accommodation is very simple and dormitory style with no western facilities. Overnight at Ban Paklung villager's house (Home stay).
Day 6: Ban Paklung – Khouangsi Waterfalls (B)
Today we bid farewell to the Lao family and begin our full day trek, using local tracks and passing through various hill villages from Ban Jong to Ban Long Phu. We continue to walk through many different villages where we are sure to attract attention from many ethnic minorities, as visitors do not frequently encounter this area. On arrival at Ban Saluen, we cross the Mekong River again and walk towards the famous Khouangsi Waterfalls, where water tumbles over multi-tiered limestone formations into a cool and crystal clear pool, making it a perfect place to relax after spending the day trekking. Overnight at Ban Thapene near Khouangsi Waterfall.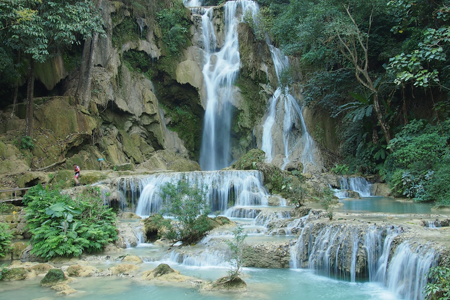 Day 7: Ban Long Phu – Ban Long Lao (B)
Today we continue venturing into beautiful areas surrounding Luang Prabang. We walk up mountainsides passing through forests, streams and rice fields. The trek is challenging; however some physical preparation will enable you to maximize your enjoyment from the walk. We arrive at Ban Long Lao by late afternoon and have time to walk around this little village, observing the lifestyle of the local people. Here we will be honored guests at a villager's home and you can even sample their homemade rice wine! Overnight at Ban Long Lao villager's house (Home stay).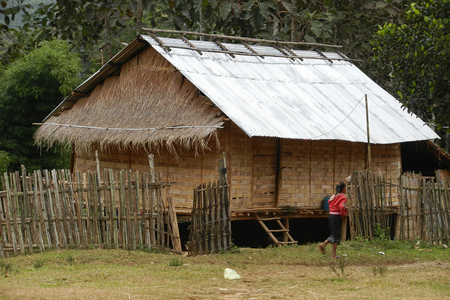 Day 8: Ban Long Lao – Luang Prabang (B)
After breakfast, we spend half our day trekking, passing through several small hill villages. On arrival at Ban Xieng Mouak, we board local transport, a Tuk Tuk for a short drive back to Luang Prabang. The rest of the day is free at your leisure for your own exploration of the town and to catch up on some shopping. Overnight in Luang Prabang.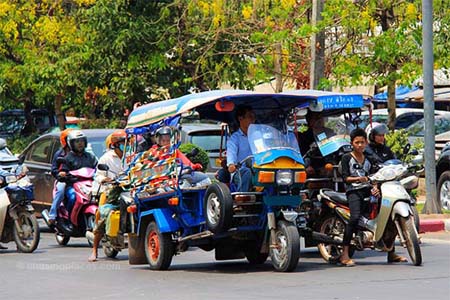 Day 9: Luang Prabang – Departure (B)
There is free time for you to explore the town further or to relax before your transfer to the airport for departure.