Embark on a leisurely experience of South Vietnam within an itinerary of 8 days exploring vibrant Ho Chi Minh City, legendary Cu Chi Tunnels, rustic Mekong Delta, and fantastic Mui Ne. Immerse yourself in an underground discovery, a boat trip through the floating market, and a ton of activities at great sand dunes. With a carefully curated itinerary by Viet Vision Travel, you can rest assured that you'll experience the very best of South Vietnam. From the vibrant energy of Ho Chi Minh City to the peaceful beauty of the Mekong Delta, this Vietnam tour package will leave you with memories that will last a lifetime.
General Information
Tour Route: Ho Chi Minh City – Mekong Delta – Mui Ne
Duration: 8 Days/ 7 Nights
Date: No fixed dates
Start/ End: Ho Chi Minh City (Saigon)/ Ho Chi Minh City
Tour Type: Landscape, Nature, Culture, and beach break
Tour Customizable: Please advise if you have any other requests
Active Level: Motorcycling, walking, boating, farming, beach relax
Brief Itinerary
Day 1: Ho Chi Minh City Arrival
Day 2: Cu Chi Tunnels – Saigon After Dark by Vespa
Day 3: Ho Chi Minh City – Mekong Delta Lodge
Day 4: Mekong Delta – Ho Chi Minh City
Day 5: Ho Chi Minh City – Mui Ne Beach
Day 6: Mui Ne White Sand Dune & Quad Bike
Day 7: Mui Ne Free Day
Day 8: Mui Ne – Ho Chi Minh City Departure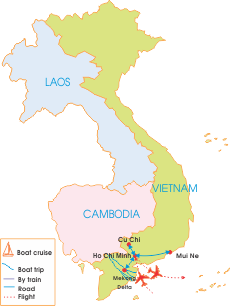 8-Day Southern Vietnam Tour – Map
Full Itinerary
Day 1: Saigon Arrival (D)
On arrival at Tan Son Nhat International Airport in Ho Chi Minh City, we will be welcomed and transferred to our hotel. The rest of the day will be free to recover. Overnight in Ho Chi Minh City.
Day 2: Saigon – Cu Chi Tunnels – Saigon Vespa Tour (B, L, D)
This morning, we will visit Cu Chi Tunnels. At its height, the tunnel system stretched over 250 KM from Saigon to the Cambodian border and was three levels deep. The network included innumerable trap doors, specially constructed living areas, storage facilities, weapons factories, field hospitals, command centers, and kitchens. Today the remaining tunnels have become a major tourist attraction giving the visitor a unique experience and a feel of what underground life during the U.S.-Vietnam American must have been like. We then return to Ho Chi Minh City and have free time at leisure.
In the evening, our Vespa guide will pick us up at the hotel and we start the street food adventure in the back of a Vespa. Our first stop is Café zoom to "watch the world goes by" (quoted by The Lonely Planet) and enjoy cocktails and appetizers before adventuring into favorite local eating spots. Our vintage Vespa scooter takes us to Chinatown and then heading to District 4 through busy streets and alleys to see the nightlife of locals and enjoy street seafood and cold drinks places where foreigners won't be found. Leaving District 4 to District 3 the tour pass through downtown district 1 to take in the sights on the way to Banh Xeo (Saigon Special Pancake), the specialty of Saigon, and southern food with the locals. Then the tour will continue to a hidden Vietnamese-style coffee shop to have a taste of Vietnamese music (live) as a local. After that, the tour will bring a guest to a lively bar to enjoy drinks with live music. The tour ends at 10 PM and we will have a good night after a hectic day.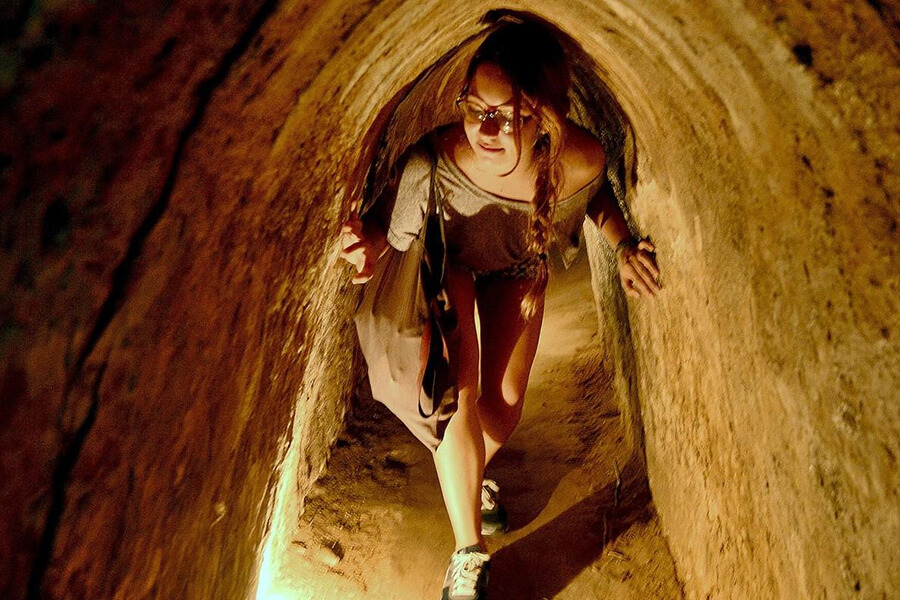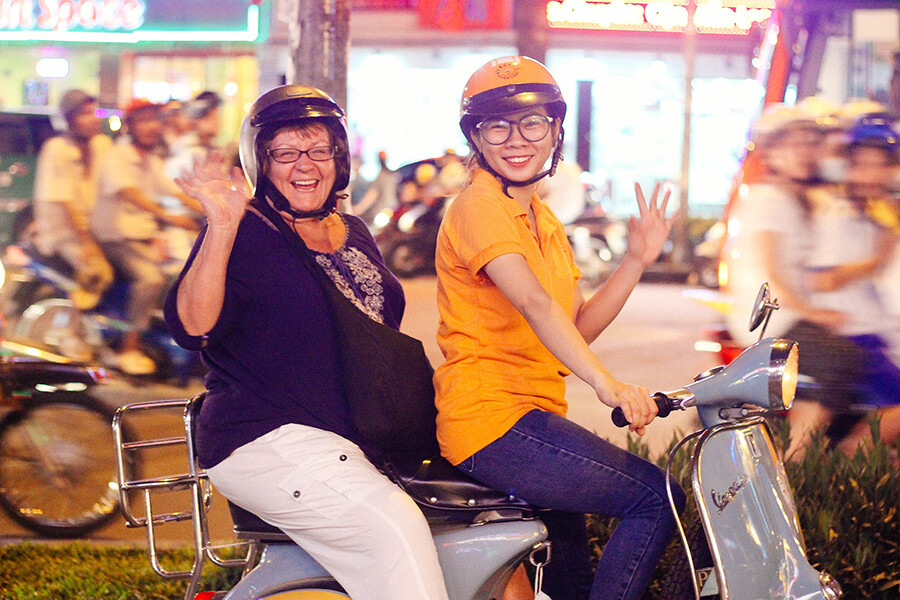 Day 3: Saigon – Mekong Delta Lodge (B, L, D)
After breakfast at the hotel, we will escape from the lively Ho Chi Minh City and head to Cai Be in the Mekong Delta. On arrival, we visit the Cao Dai Cai Be Temple and Cai Be Cathedral right in the town to understand more about the religious life of the Mekong people.
We then embark on a tourist boat to visit the island and floating markets of Cai Be, where we will be introduced to the local agricultural, marine products and buy the ingredients for our own dinner. Continuing on the boat to head to Mekong Lodge in Tan Phong Island, where we will check in our room for relaxing and having lunch.
In the afternoon, we will take part in local activities of ditch fishing hook, which will bring us a rustic and great experience especially when catching fish on the river for dinner. Back to the Mekong Lodge and join our chefs in the kitchen with Mekong Delta's special dishes such as elephant ear fish, spring rolls…Overnight in the Mekong Lodge.
Day 4: Mekong Delta – Saigon (B, L, D)
After breakfast, our guide will guide us to explore more of Tan Phong Island by bike. We will visit the traditional handicraft workshops of handbags, rice papers along with wooden tables and chairs. Stopping at a local farmer's house and talking to him to understand how local farmers take care of their gardens, then try plucking the fruits and tasting them.
The second-day tour continues with a visit to the 'bang' conical hat (nón bàng) workshop before going back to our lodge to fresh, check out, and get back to our boat to transfer us back to the mainland where our car is waiting and take us to the hotel in Ho Chi Minh City. In the evening, we will have a Farewell Dinner in a nice local restaurant. Overnight in Ho Chi Minh City.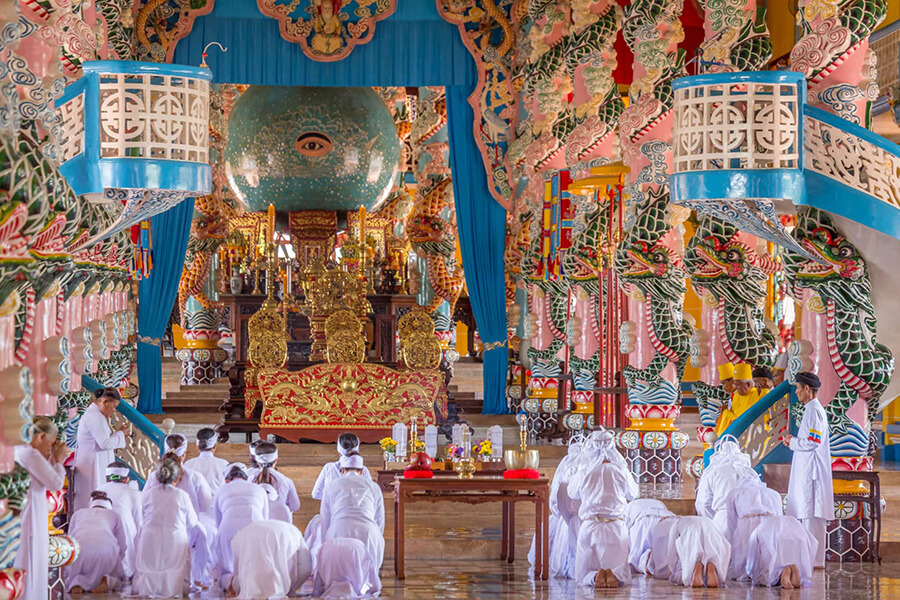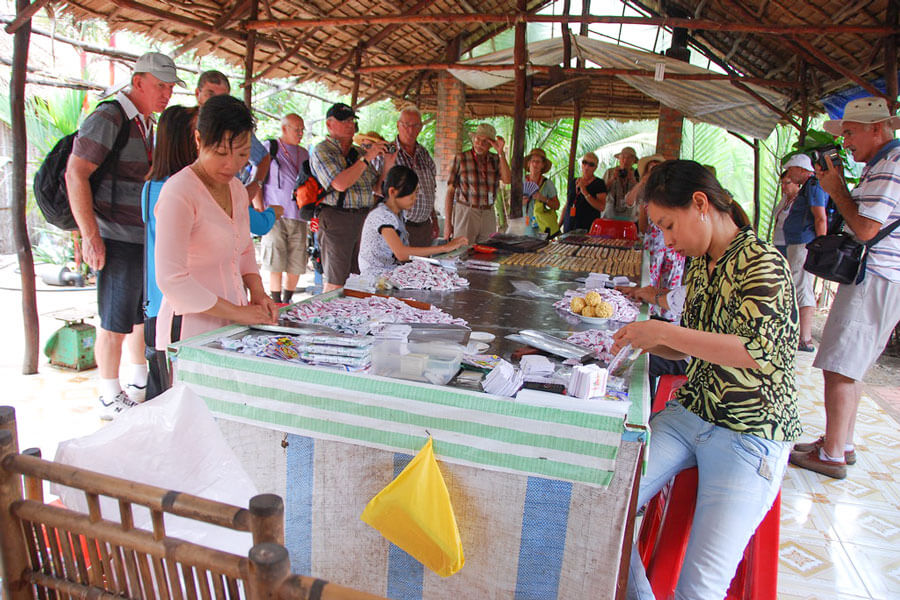 Day 5: Saigon – Mui Ne Beach (B)
After breakfast at the hotel, we will take a 4-hour drive to Mui Ne beach, one of the best beaches in Vietnam with huge rolling dunes, good ranges of hotels and resorts on the beach, plenty of restaurants along the beach roads that served Vietnamese and International foods. On arrival at Mui Ne beach, we will check in at our hotel and have the rest of the day free at leisure. Overnight in Mui Ne.
Notes: Transfer will be with driver only
Day 6: Mui Ne White Sand Dunes & Quad Bike (B)
After breakfast, we start our Mui Ne Sand Dune half-day tour. We first visit the Fairy Stream, a nice natural stream in Mui Ne which we should not miss. After that, we visit the White Sand dune. From the top of the huge dune, we can see all of the scenery of Mui Ne. We will also discover the daily activities of the fishing farm.
Not only visiting the white sand dune but we will also be fulfilled by the beautiful white sand dune. It is a more romantic time for seeing the sunset, slip on the sand. Moreover, in the middle of the white sand dunes, there is Lotus Lake – lotus is one of the most famous flowers in Vietnam.
After that, we will get on our Quad bike (ATV) for a 30-minute ride around the vast dunes from the foot to the top of the dunes. It's great fun and exciting way to explore the dunes in a significantly easy-to-use ATV. In the mid-afternoon, we will drive back to our hotel and have free time at the beach.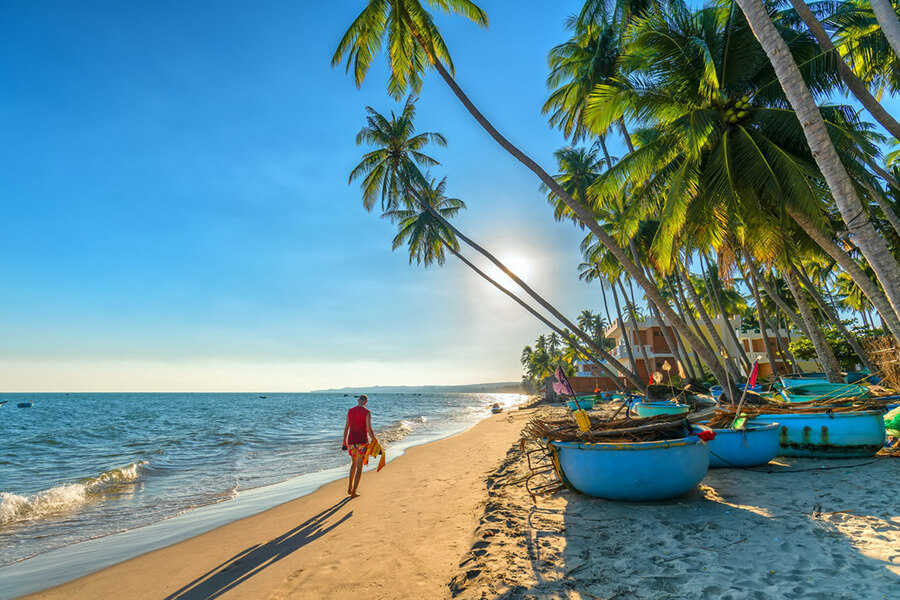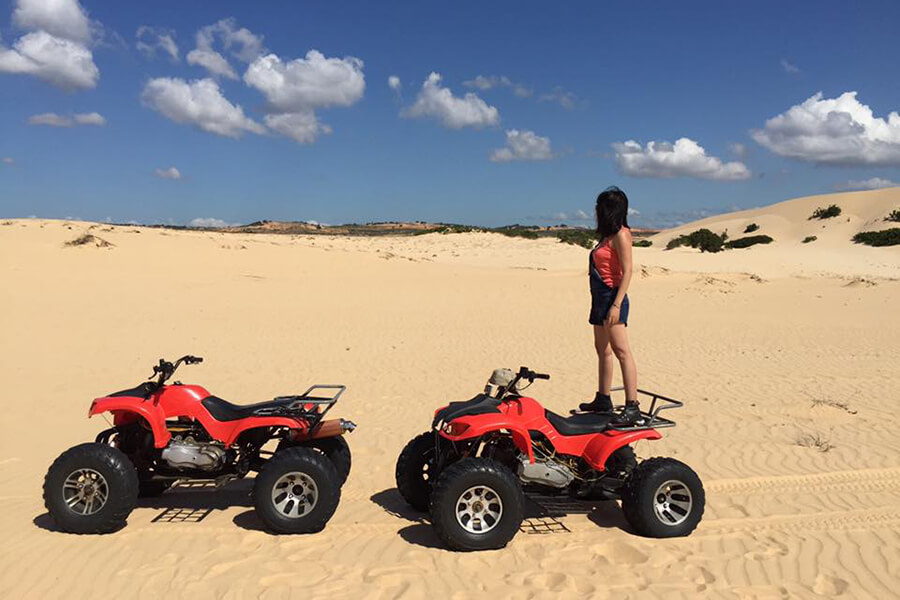 Day 7: Mui Ne Free Day (B)
Free time at the beach!
Day 8: Mui Ne – Saigon Departure (B)
Time will be free until our car arrives at the hotel to take us back to Ho Chi Minh City in good time to connect our departure flight. 8-day South Vietnam Tour ends. See you again in the next Vietnam tour packages.
Notes: Transfer will be with driver only