Duration: 5 days
Start/End: Siem Reap/Phnom Penh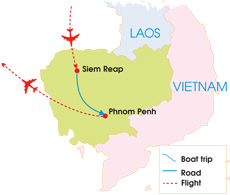 BRIEF ITINERARY
Day 01: Arrival Siem Reap (D)
Day 02: Siem Reap (B, L, D)
Day 03: Siem Reap – Phnom Penh by overland (B, L, D)
Day 04: Phnom Penh full day (B, L, D)
Day 05: Departure (B)
Day 1: Arrival Siem Reap (D)
Upon arrival at Siem Reap and check into our hotel, in the afternoon we will explore Angkor Wat and Phnom Bakheng until sunset. Overnight in Siem Reap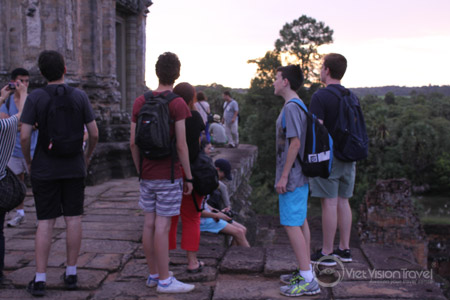 Day 2: Siem Reap (B, L, D)
In the morning, we will explore Angkor Thom the site of the ancient capital of the Khmer empire. Visit the South Gate, Bayon, Royal Enclosure, Phimeanakas, Elephant Terrace and the Terrace of Leper King. Then, we visit Ta Prohm, which many consider the most charming of all the temples. Afternoon we will visit Tonle Sap Lake, Asia's largest inland lake also the biggest harvest fresh water fish in the world, which swells to ten times its normal size during the wet season. Here we have a two-hours boat trip observing how local people go about their daily lives, during the boat trip we stop to visit a bird garden and a fishing farm, and also our boat driver will stop for us to visit the floating school which is a lot of the poor children study in this school, and they are the fisherman's children and a local market will also prove a rewarding experience for today. Overnight in Siem Reap
Day 3: Siem Reap – Phnom Penh by overland (B, L, D)
Early morning we will depart Siem Reap to Phnom Penh by bus; afternoon we will visit the Choeng Ek killing field which is about 16km from Phnom Penh and the Toul Sleng genocide Museum, when the Khmer Rouge came to power in 1975 they converted a former high school in the suburbs of Phnom Penh into detention and torture centre known as Toul Sleng, or S21, a genocide museum was established at Toul Sleng after 1979 and today it remains as it looked when abandoned by the Khmer Rouge.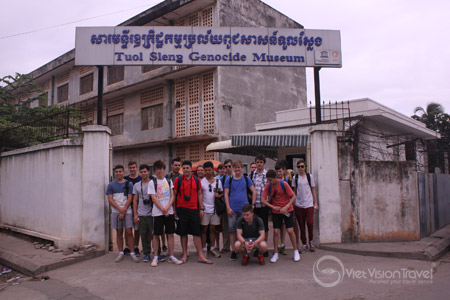 Hundreds of faces of those tortured line the walls inside the old school. Most of the 17,000 people detained at Toul Sleng were eventually transported to Choeung Ek, a mass gravesite known to the locals as the Killing fields after the popular movie; Choeung Ek also serves as a memorial to those killed under the Khmer Rouge rule. Overnight in Phnom Penh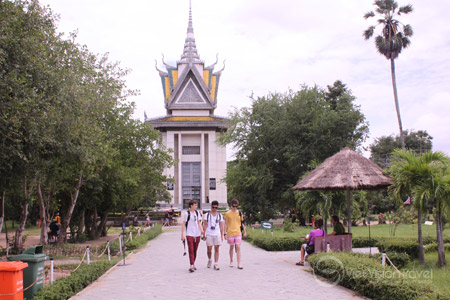 Day 4: Phnom Penh full day (B, L, D)
This morning we start our tour to visit the Royal Palace situated on the site of the former citadel, it was built by king Norodom in 1966, in front of the Mekong. inside its walls are the throne hall , the Chan Chaya Pavilion , used for performances of classical dance , the Napoleon III Pavilion , and the king's and Queen's residential quarters. In the royal palace we also visit the Silver Pagoda called the Pagoda of the Emerald Buddha; it is located in the walls of the Royal Palace. Inside, its floor is made up of 5,000 silver blocks. In the centre of the Pagoda, there is a magnificent 17th century emerald Buddha statue made of baccarat crystal.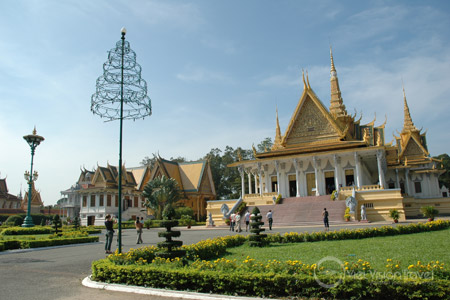 The walls enclosing the pagoda are covered with frescoes depicting episodes from the Khmer version of the Ramayana. Continue to visit National Museum – near the Royal Palace, Cambodia's National museum offers a charming setting for the display of a stunning collection of Khmer art. Predominantly worked in stone, the sculptures date from both the Angkorean and pre-Angkorean eras, in the afternoon, we will explore the colorful market of Russian, Central market. The Central market is where most people do their shopping. There are many branches leading off the central area and the market's high roof is very impressive. Both markets are the place to pick up a few bargains, especially the "Russian" market which specializes in antiques, souvenirs and cheap CDs and DVDs. Overnight in Phnom Penh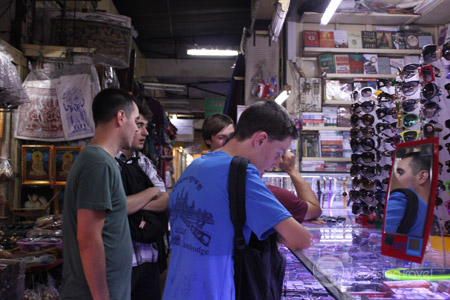 Day 5: Departure (B)
Breakfast at the hotel, free at leisure until transfer to the airport for flight out of Cambodia…