Duration: 12 days
Start/End: Siem Reap/Phnom Penh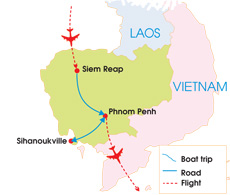 BRIEF ITINERARY
Day 01: Sydney – Singapore – Siem Reap
Day 02: Siem Reap – Angkor Complex (B/L/D)
Day 03: Siem Reap (B/L/D)
Day 04: Siem Reap – Phnom Penh by bus (B/L/D)
Day 05: Phnom Penh (B/D)
Day 06: Phnom Penh (community service)(B/D)
Day 07: Phnom Pennh – Sihanoukville (B/D)
Day 08: Sihanoukville – Bamboo Island (B/L/D)
Day 09: Sihanoukville (B)
Day 10: Sihanoukville – Phnom Penh (B/L/D)
Day 11: Phnom Penh – Singapore – Sydney (B)
Day 12: Arrive Sydney (07:35)
Day 1: Sydney – Singapore – Siem Reap
Depart Sydney (09:05) on SQ220. Arrive Singapore (14:20), change to flight MI618 (16:35) to Siem Reap. Arrive Siem Reap (17:45). Meet Tour Guide Tan at airport. Check into hotel. After our long journey, dinner tonight will be in the Hotel. Dinner at Lucky Mall Super Market (Lucky Burger) and student will pay by themselves
Day 2: Siem Reap – Angkor Complex (B/L/D)
After breakfast, we head off to visit the main sites of the ancient royal capital of Angkor Thom. In the afternoon, we visit the most famous of temples; Angkor Wat before enjoying the sunset from the top of Bakheng Hill.
Dinner Italian food – much food, each person has a pasta +1 small pizza and ice cream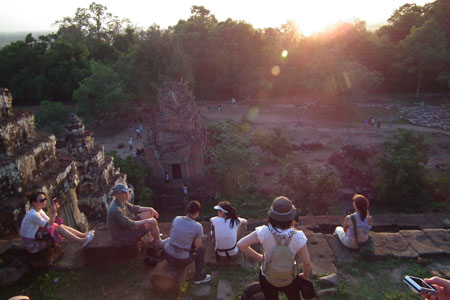 Day 3: Siem Reap (B/L/D)
This morning after breakfast, our group will celebrate Easter Sunday Mass at the local Catholic Church. After Mass we will go for lunch. In the afternoon, we will visit the Mine Museum (on the road at Banteay Srei, then on the way back we will visit to the War memorial monument near the children hospital as well as our guide will explain the history during the civil war in Cambodia. On the way back to the hotel, we will visit Madam Sachinko Cookies for the boys to buy cookies. We then head back to the hotel in the evening; we will make our way to a local restaurant for our official welcome dinner. At dinner tonight, we will also be entertained by a traditional Apsara dance performance. After dinner we can enjoy some shopping at the Old Market.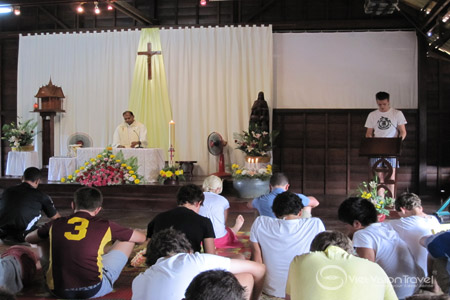 Day 4: Siem Reap – Phnom Penh by bus (B/L/D)
This morning after breakfast, we take the bus to Phnom Penh. Upon arrival, we will transfer to our hotel and get ready for lunch. After lunch we will explore Phnom Penh by cyclo. Phnom Phenh was once considered the loveliest city in Indochina and still maintains much of its charm. After our cyclo ride we will head back to the hotel for a rest and to get ready for dinner.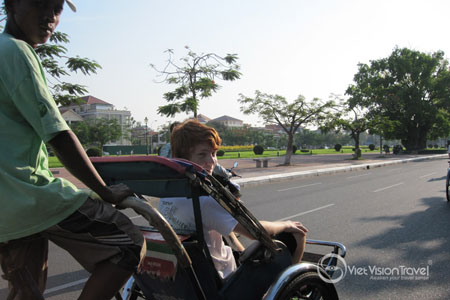 Day 5: Phnom Penh (B/D)
Today after breakfast we head off for a fascinating day of sightseeing in and around Phnom Penh. In the morning, we visit the notorious "Killing Fields" and Tuol Sleng Museum, both of which chronicle the unfortunate years under the Khmer Rouge.
In the afternoon, we will enjoy our time at the Royal Palace in Phnom Penh.
Lunch KFC and student will pay by themselves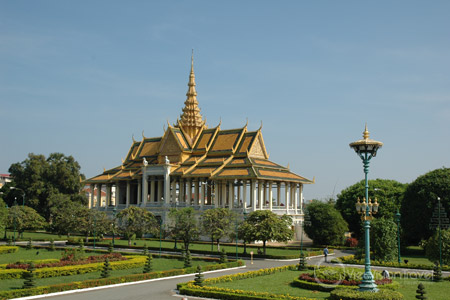 Day 6: Phnom Penh (community service)(B/D)
Today is the pinnacle of the trip were we engage in our community service experience and help the DLS Brothers with their works in the local community. Today we will leave hotel early by bus to the local ferry to cross Mekong River and then continue by Tuk Tuk to reach the village for our community help for today. Our student will arrange their own lunch for today. Sandwich is the easiest way to bring with us during the community help.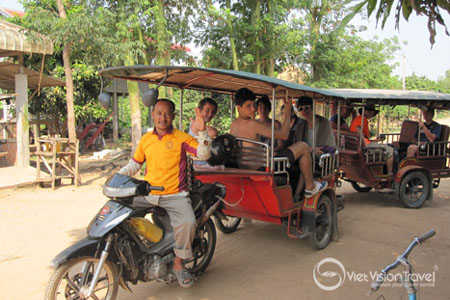 Day 7: Phnom Pennh – Sihanoukville (B/D)
Today after breakfast we will travel by bus along national Highway 4 to Sihanoukville. After we check into our hotel we will spend the afternoon enjoying the many activities our resort has to offer.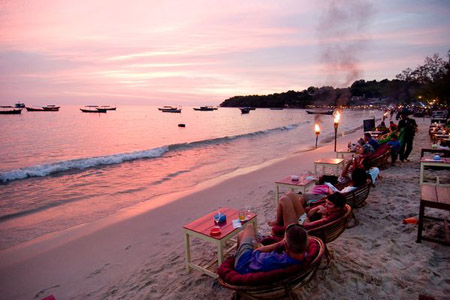 Day 8: Sihanoukville – Bamboo Island (B/L/D)
Today we will enjoy a boat trip on the Gulf of Thailand. The boat will stop close to the many islands which will provide us with a great opportunity for some snorkelling or a swim. When we get off the boat on one of the many pristine beaches we will have plenty of time to un-wind and relax before we enjoy a BBQ seafood lunch.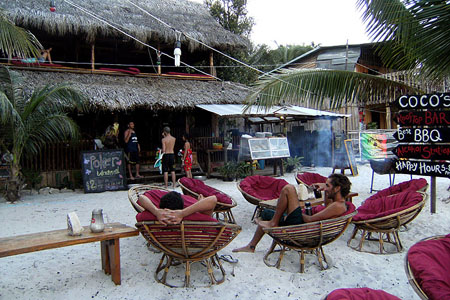 Day 9: Sihanoukville (B)
Day of Leisure in the Resort.
Day 10: Sihanoukville – Phnom Penh (B/L/D)
Today after a later breakfast we will head back along Highway 4 and take in the scenery on our 3.5 hour journey to Phnom Penh. Upon arrival we will check into our hotel and then head out for some last minute shopping at Russian Market before tomorrow's journey home. Tonight we share our memories of our trip and celebrate with our Farewell Dinner.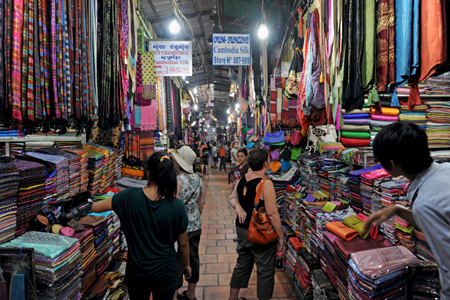 Day 11: Phnom Penh – Singapore – Sydney (B)
Today we have to leave our hotel very early and head to the airport for our flight MI 601 (10:15) to Singapore. Upon arrival in Singapore (13:10) we will have some lunch and wait for our connecting flight (SQ 221 – 20:40) home.
Day 12: Arrive Sydney (07:35)