Discovery Angkor by Bicycle tour 5 days, the great time to pay all your attention at the world famous Angkor complex…
Duration: 5 days / 4 nights
Start/End: Siem Reap/Siem Reap
Active level: Moderate
BRIEF ITINERARY
Day 1: Arrival Siem Reap
Day 2: Angkor Complex
Day 3: Country side
Day 4: Banteay Srey
Day 5: Tonle Sap – Departure
Day 1: Arrival Siem Reap. Ride: No cycling (D)
Transfer via: International flight – Your arrangement.
Sites Visited: Angkor complex, Angkor Wat, Phnom Bakheng
Today is arrival day in Siem Reap City, Siem Reap is the gateway to Angkor and we have five days to enjoy the town and its surrounds. This is the great time to pay all your attention at the world famous Angkor complex. Today depending on your flight after we transfer to the hotel for check in then in the afternoon, we start to explore the Angkor complex by bus to Angkor Wat with our local tour guide to enjoy all the history of Khmer Empire. This evening we will also go to hill top of Phnom Bakheng to enjoy the sunset with over view of Ruins. Tonight we will enjoy our delicious dinner at a fine restaurant in town and overnight in Siem Reap.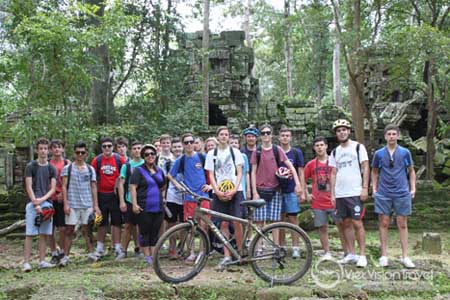 Day 2: Angkor Complex – Ride: 60km (B/L/D)
Sites Visited: Angkor Complex, Ta Prohm, Bayon, Ba Phoun, Elephant Terrace, Terrace of leper king
Today after breakfast, we ready to fit for ridding our bike to the Angkor Complex. Which we will start from Ta Prohm built during the reign of the king Jayavarman VII for devote to his mother in the late of 12th century. After, we continue by our bicycle through the Victory gate of Angkor Thom that is the ancient capital during the Khmer empire built by the same king for dedicating to Mahayana Buddhism. There are lot temples to explore such as Bayon, Ba Phoun, Elephant Terrace and Terrace of leper king. In the afternoon, we cycle to the grand circle to see some more temples built during the Angkor period such as Preah Khan, Neak Pean, Ta som, East Mebon, and Pre Rup, return back to the hotel, dinner at local restaurant and overnight in Siem Reap hotel.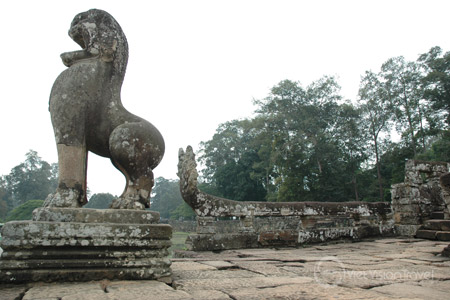 Day 3: Country side. Ride: 50km (B/L/D)
Sites Visited: Baray Teak Tla, Silk farm.
Breakfast at the hotel, we meet up with our bike again and then we cycle through some of the villages on the dirt road to Pouk district. Today is the best chance for us to get closer to the villagers and to know how they live and how they doing for their life which is a lot of activities taken place along the road such as children at the school, Buddhist monastery, farmer and local market. Then we continue with our bike to visit the Silk farm was created to help young people find work in their home villages, and they produce natural Cambodia silk clothes and accessories. Baray Teak Tla (Fresh water reservoir) was built in the 11th century by the Hindue King during the Angkor period and its provide the best spot for picnic lunch and enjoy swimming with very nice and cool fresh water. Afternoon, return back to the hotel with our bike cycle for relaxing and rest of the day. Dinner at local restaurant and overnight in Siem Reap.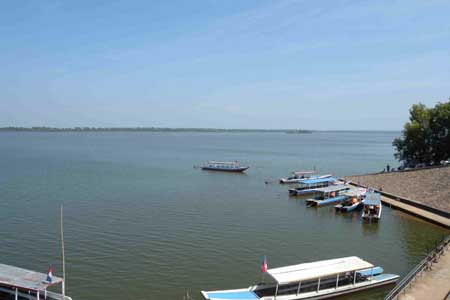 Day 4: Banteay Srey – Ride: 75km (B/L/D)
Sites Visited: Banteay Srei Temple
Today we will prepare for the big ride to Banteay Srei temple (Citadel of women). This Hindu temple dating back to the 10th century has three central towers each decorated with superbly intricate carvings and reliefs of male and female divinities. This morning we will ride past lovely countryside such as villagers grow rice and make palm sugar…etc… after visiting temple then we will have picnic lunch by River (same river that they transport the stone to built temple in Angkor). Afternoon, we cycle back to our hotel and enjoy swimming at the pool. Tonight at 7pm our guide will pick us up for our farewell dinner with the traditional Khmer dancing and overnight in Siem Reap.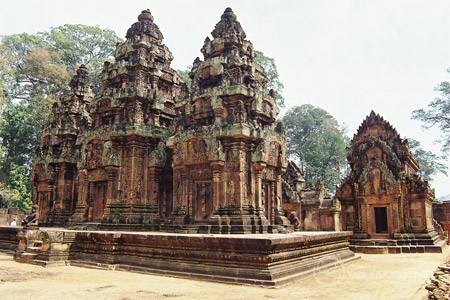 Day 5: Tonle Sap – Departure. Ride: 30km (B)
Transfer via: International flight – Your arrangement.
Sites visited: Tonle Sap Lake
Today we have another short ride along the river to Tonle Sap lake, that is the largest lake in Asia, also the biggest harvest fresh water fish in the world, at there we have the boat trip about 2 hours to visit the floating communities and fish farm and crocodile farm. There are a lot of activities taking place on this lake such as transportation by fast boat and slow boat, fishing, schooling, marketing, etc… then we will ride our bike back to the hotel for check out. We will free at leisure to explore the town and its surrounding before transfer to the airport for flight out of Siem Reap. (Depend on your flight that you choose).