Exploring Cambodia by Bike Tour 12 days avoid the heavy city traffic, discover the scenery of Cambodia with many opportunities to take picturesque photos of people at work in the rice fields, driving oxcarts and other strange vehicles.
Duration: 12 days / 11 nights
Start/End: Phnom Penh/Siem Reap
Active level: Moderate
BRIEF ITINERARY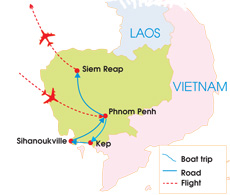 Day 1: Arrival Phnom Penh
Day 2: Phnom Penh – City tour
Day 3: Phnom Penh – Kep
Day 4: Kep city
Day 5: Kep – SihanoukVille
Day 6: SihanoukVille
Day 7: SihanoukVille – Boat trip
Day 8: SihanoukVille – Phnom Penh
Day 9: Phnom Penh – Siem Reap
Day 10: Siem Reap – Angkor
Day 11: Banteay Srey
Day 12: Siem Reap – Tonle Sap
Day 1: Arrival Phnom Penh – Ride: No cycling
Transfer via: International Flight – Your arrangement.
Sites visited: Royal Palace, National museum
Arrival in Phnom Penh by boat from Chao Dock, An English-speaking guide will pick you up from the dock and take you to the hotel. Normally, we arrival in Phnom Penh at noon time, it might be possible to go sightseeing at the Royal Palace situated on the site of the former citadel. It was built by king Norodom in 1966, in front of the Mekong River and National museum which offers a charming setting for the display of a stunning collection of Khmer art. Predominantly worked in stone, the sculptures date from both the Angkorean and pre-Angkorean eras, complimented by more recent examples of Cambodian art. We do need to leave a bit of time in the afternoon for a pre-departure briefing and bike fitting before we go for our welcome dinner. Roof top of FCC is a nice place to enjoy a drink with a whole view of Capital. Make sure to have fun discovering the city! Overnight in Phnom Penh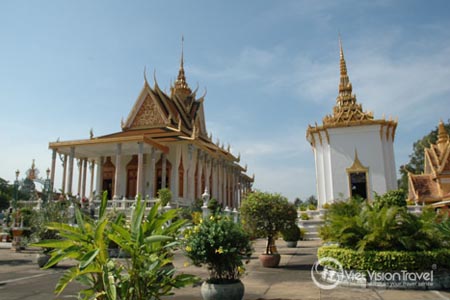 Day 2: Phnom Penh – City tour – Ride: 32km
Sites visited: Killing fields, Toul Sleng museum.
After breakfast, we will ride our bikes about 16 km south of the city to Choeung Ek, a mass gravesite known to the locals as the Killing fields after the popular movie of Roland Joffre. The Khmer Rouge regime under Pol Pot controlled Cambodia from 1975 to 1979. During this dark period, about 2 million Cambodians lost their life, a lot of them were killed in these infamous places; in Choeung Ek about 20,000 men, women, children and infants were executed. To date, about 9000 corpses have been exhumed from 129 mass graves in the area and now their skulls lay to rest in a huge glass tower in the center of the site.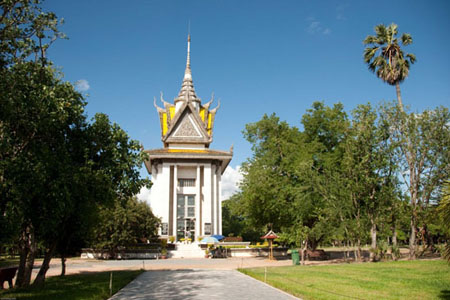 Today, Choeung Ek serves as a memorial to those killed under the Khmers Rouges rule. Return to the city center and visit the Toul Sleng museum. This former high school in the suburbs of the capital was converted to a detention and torture centre – known as Genocide museum or S21 – by the Khmers Rouges when they came to power in 1975. A genocide museum was established at Toul Sleng after 1979 and today it remains as it looked when abandoned by the Khmers Rouges. The pictures of hundreds of faces of those tortured there line the walls inside the old school. Most of the 17'000 people detained at Toul Sleng were eventually transported to Choeung Ek. Rest of the afternoon or you can have time to explore Russian market or Central market by your own. Overnight in Phnom Penh.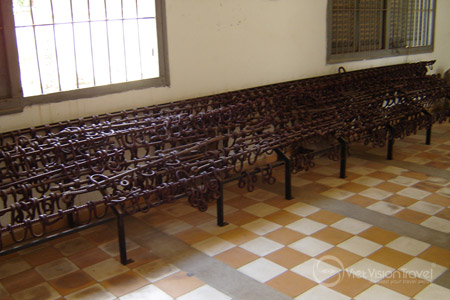 Day 3: Phnom Penh – Kep – Ride: 78km
Early this morning, we will transfer by bus to avoid the heavy traffic to Tani Village to start our cycle to the south towards the Kep City. We will travel through countryside, passing bucolic villages and scenic rice paddies. On the way, we will have plenty of opportunities of break to visit Buddhist temples and villages, to meet monks and farmers and learn about Khmer culture and rural life. After about 45 km of cycling we will stop for picnic lunch at Phnom Vor village that used to be a battle field during the civil war in Cambodia 1970-1998. Then we will arrive in the provincial capital city of Kep in late afternoon. After chek-in at our hotel, you will have some time to rest your legs before heading out to dinner at a local restaurant. Overnight in Kep city.
Day 4: Kep city – Ride: 45km
Today, after breakfast, we will ride our bike to Kampot province. Cycling conditions will be similar to yesterday with many opportunities to take picturesque photos of people at work in the rice fields, driving oxcarts and other strange vehicles. We will also cross swarms of school children by bike on the way to school as well as peaceful water buffaloes lying on pond along the road. We will stop en route for a picnic lunch at the rapids at Tekchhou, giving us time to rest our legs and enjoy the landscape and durian farms. In the late afternoon we will return back to our hotel in Kep by bus which we will drive pass the town to see the old French colonial building in Kampot, this evening you will have time to relax yourself with a drink at hotel. Overnight in Kep city.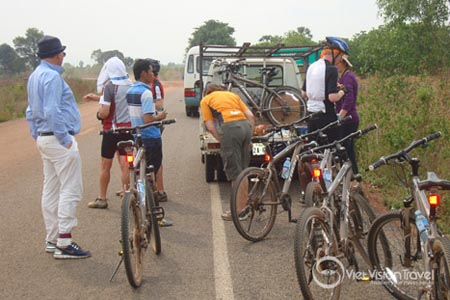 Day 5: Kep – Sihanoukville – Ride: 48km
Today, we will transfer by bus about 90km to avoid the heavy traffic along the coast, on the scenic national road 3 which roves between the Gulf of Thailand and the Elephant mountains, passing some colorful fishing villages to Kong Keng airport to start our cycling to Sihanoukville, our destination of the day. Sihanoukville, also called Kompong Som, sits in the center of a small peninsula that juts into the warm waters of the Gulf of Thailand. This is Cambodia's leading beach resort. There are white-sand beaches around the headland, unspoilt islands off the coast and the popular Khal Chhay waterfall near town. Normally, we will arrive hotel at about 4pm to check in our hotel. Overnight at Sihanoukville.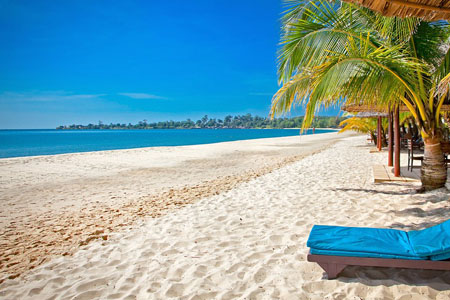 Day 6: Sihanoukville – Ride: 21km
Today, our bus driver will transfer us to the dirt road to meet our bike then we ride our bike through the jungle to Kbal Chay waterfall at there we can enjoy swimming with the local people and some nice photos, after we spend our time a while then we will continue with our bike to meet our bus to drive us back to the hotel. You will be free at leisure of this afternoon to enjoy the lovely beaches or relax in the hotel. Overnight in Sihanoukville.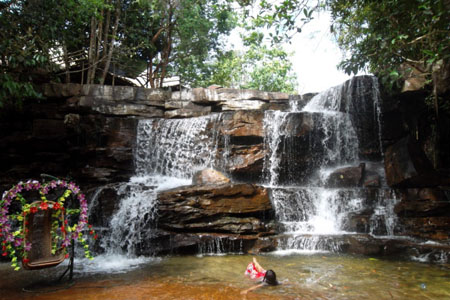 Day 7: Sihanoukville – Boat trip – Ride: No cycling
Today, we will organize a boat trip on the Gulf of Thailand. There are several nearby islands with good snorkeling waters and white sand beaches. The waters of Sihanoukville are warm (consistently 27-31°C) and provide home to a variety of corals and other marine life including anemones, sponges, shells, colorful fishes and moray eels, amongst the most common. The boat will stop close to islands with rocky reefs providing a rich marine life for snorkeling before to shore to an island with uninhabited sandy beaches where you will relax while your guide will prepare BBQ lunch. Later, you will return to Sihanoukville with one or two more snorkeling stops. Overnight at Sihanoukville.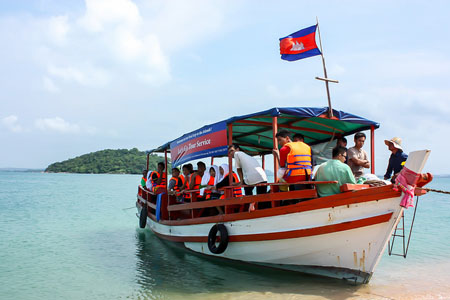 Day 8: Sihanouk Ville – Phnom Penh – Ride: 33km
This morning, after breakfast, we will return at Phnom Penh. This journey will take us about 4 hours and we will arrive in Phnom Penh at noon time for check-in before having lunch. Then in the late afternoon we will cycle to Koh Dach Village, also known as Mekong Island, a fairly touristy island jutting from the Mekong. This 12-km-long island is famous for its weaving and you can learn some tips about silk work. Overnight in Phnom Penh.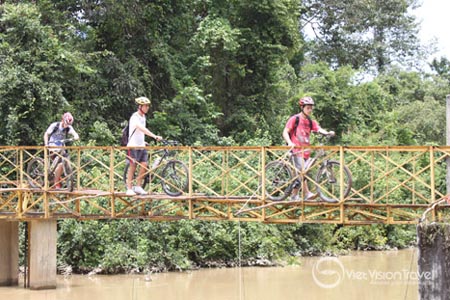 Day 9: Phnom Penh – Siem Reap – Ride: No cycling
Sites Visited: Phnom Bakheng temple, Angkor Wat
Breakfast at the hotel, we will drive to Siem Reap the gateway to the outstanding temples of Angkor. This journey will take about 6hours. Along the way, we will stop at the Skun Village. If you are looking for a snack, you will get the chance to taste the local specialty, the delicious famous fried spiders (Tarantula called A ping in Khmer). Never try, never know, that's our motto! After check in you will have time to relax before we go to the temple of Phnom Bakheng which stands on a hill to enjoy the sunset on the stunning temple of Angkor Wat (weather permitting!) Overnight in Siem Reap.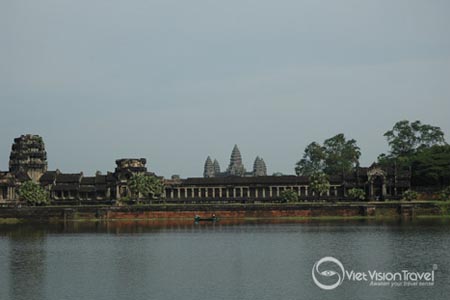 Day 10: Siem Reap – Angkor – Ride: 30km
Sites Visited: Ta Prohm, Bayon, Baphoun, Elephant terrace, Terrace of Leper king, Angkor Wat.
Today, after breakfast, we will ride our bicycle to the temples complex. We will first go to the jungle temple of Ta Prohm. Ta Phrom was a monastery built by Jayavarman VII as a residence for his mother. Ta Prohm looks as many of the monuments did when European explorers first laid eyes on them. Afterwards, we will continue to bike through the Victory gate to reach the royal city of Angkor Thom. This Royal city was first built under the reign of Udayadityavarman II in the 11th century. About one century later, it was destroyed when the Chams from Vietnam rose up against the Khmers invaders, sacking the city. It was subsequently rebuilt by the king Jayavarman VII at the end of the 12th century. Then, in this city we will visit Bayon, Baphoun, Elephant terrace and the Terrace of Leper king.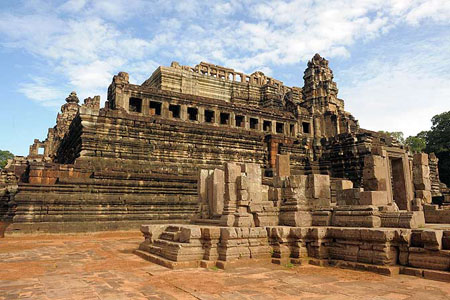 In the afternoon, we will visit Angkor Wat, the largest and most impressive of all the temples. Angkor Wat built between 1113 and 1150AD by king Suryavarman II and dedicated to Vishnu, the Hindu god of preservation, although some people believe it is actually dedicated to the king himself, as his mausoleum, because it faces to the west, which represents death. It is the best preserved of all the temples. Overnight in Siem Reap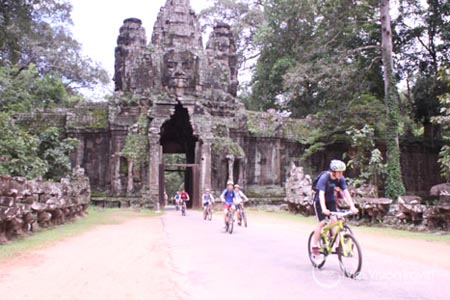 Day 11: Banteay Srey – Ride: 75km
This morning, we will cycle to Angkor and then continue 20 km north of the main group of temples, through the countryside, to reach the magnificent Banteay Srei temple – the Citadel of women. This Hindu temple, dating back to the 10th century, On the way back, we will stop at the Cambodian Landmine museum and Rehabilitation Centre which promotes mine awareness and education for both tourists and Cambodian people.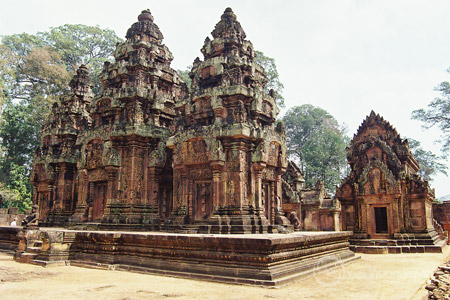 The museum display a large collection of guns, rifles, rockets launchers, pistols, mortars, grenades, CS gas canisters, bombs, bullets and a 225kg bomb from a US warplane, all recovered from Cambodia countryside. Mr. Aki Ra, the founder of the museum, worked as a de-miner when he decided to exhibit his collection of shell casings and decommissioned mines in 1998. Then we will cycle back to the hotel and you will have time to relax by the swimming pool before our farewell dinner with Apsara show. Overnight in Siem Reap.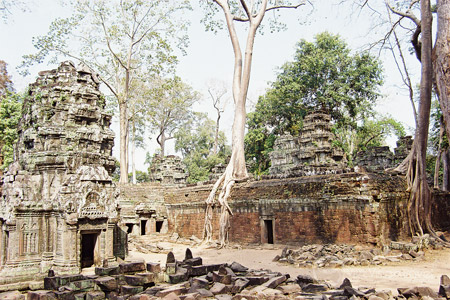 Day 12: Siem Reap – Tonle Sap – Ride: 30km
Transfer via: International Flight – Your arrangement.
Sites Visited: Tonle Sap Lake
After breakfast, we will cycle along the Siem Reap River to Tonle Sap lake the biggest lake of Southeast Asia, supporting which is perhaps the world's largest and richest inland fisheries. It swells to ten times its normal size during the wet season. We will take a boat for two hours, passing through the floating villages, to see how local people run their daily lives. During the boat trip we will stop to visit a bird garden and a fishing farm, as well as the floating school. During the wet season, a lovely swim in this huge fresh water reservoir is a nice experience. We will return to the hotel before having lunch in town and free at leisure in the afternoon to explore Siem Reap on your own before transfer at the airport.