If this is your first time to Indochina, the 16-day Vietnam & Cambodia Highlight trip will give you a vista of 2 beautiful, peaceful countries. A Hanoi, the Capital city of Vietnam where you see both modern and old; a tranquil Halong Bay with thousands of islands and islet; A Hue with Citadels, Kings' tombs, and a Hoi An famous boutique town; a Ho Chi Minh city where you know more about the history of the "Indochina Pearl" and its war history; a Mekong Delta with channels, floating markets… Then a Siem Reap with splendid Angkor Temple & last but not least of a Phnom Penh with a history of terrible Polpot war… More than that, the friendly people, the food and the wonderful accommodation will make your trip is unforgettable.
Tour Code: VTC 01
Tour Route: Hanoi – Halong Bay – Hue – Hoi An – Ho Chi Minh City – Phnom Penh – Siem Reap
Duration: 16 Days/ 15 Nights
Date: No fixed departure dates. You may go whenever you wish.
Start/ End: Hanoi/ Phnom Penh
Tour Type: Landscape and Nature, Halong Bay Cruise Holidays, Angkor Temple and Folk Arts
Tour Customizable: Absolutely! (Tell us your specific requirements in the inquiry form)
Active Level: Regular itinerary, moderate walking
Tour Category: Vietnam Cambodia Tours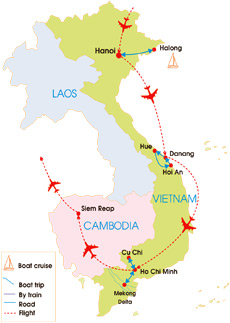 BRIEF ITINERARY
Vietnam Itinerary 11 Days
Day 1:Hanoi Arrival
Day 2: Hanoi City Tour
Day 3: Hanoi – Halong Bay (Overnight on Junk Cruise)
Day 4: Halong Bay – Hanoi – Fly to Hue
Day 5: Hue City Tour
Day 6: Hue -Hoi An via Danang city
Day 7: Hoi An Walking Tour & Cooking class
Day 8: Hoi An Farmer & Fishing Eco Tour
Day 9: Hoi An – Danang – Fly to Ho Chi Minh City
Day 10: Ho Chi Minh City Tour & Cu Chi TunnelS
Day 11: Ho Chi Minh City – Cai Be Floating Market (Mekong Delta)
Cambodia Itinerary 5 Days
Day 12: Ho Chi Minh City – Fly to Phnom Penh
Day 13: Phnom Penh City Tour
Day 14: Phnom Penh – Fly to Siem Reap
Day 15: Angkor Temple Tour
Day 16: Siem Reap Departure
Vietnam Itinerary 11 Days
Day 1: Arrival in Hanoi (D)
Welcome upon arrival by Viet Vision Travel's tour guide and driver, we then transfer to hotel. Relax in the rest of the day before we enjoy our welcome dinner at a fine local restaurant in town.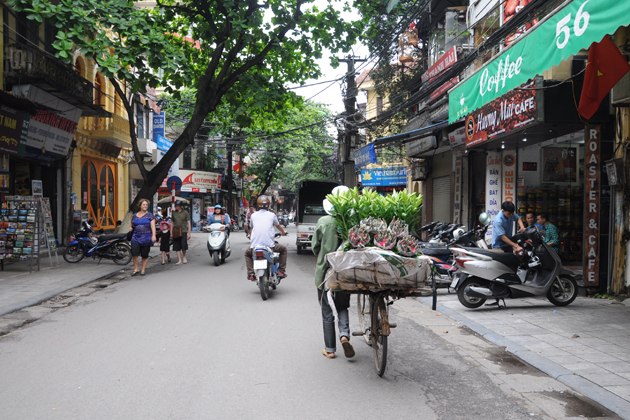 Remarks: If your flight to Hanoi in the morning and you are not very tired, please advise so we will add a half day tour around Hanoi.
Day 2: Hanoi City Tour (B, L)
This morning, we visit Ho Chi Minh Complex to see Ho Chi Minh's mausoleum, Ho Chi Minh's house on stilt, the Presidential Palace and the One Pillar Pagoda. Followings we visit the Temple of Literature which originally built as a temple to Confucius. This is the site of Vietnam's first university dating back to 1070. The Temple now is a destination of Vietnamese students for their educational good luck praise.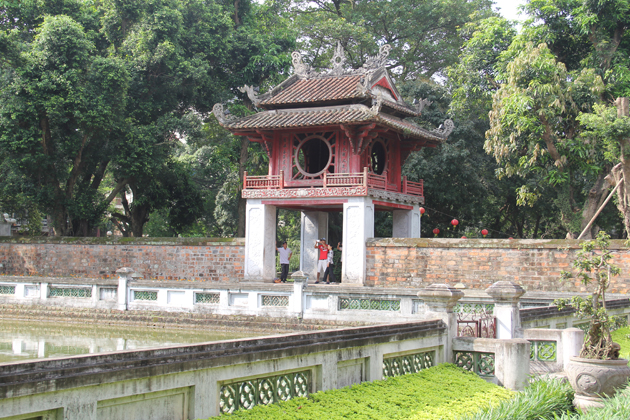 After lunch, we keep on visiting the Museum of Ethnology, which is widely acknowledged as the best in the country and has an extensive display dedicated to Vietnam's 54 Ethnic minority peoples. Then we are back to the center city to take one-hour cyclo around the Old Quarter, known as the 36 streets. This bustling area of narrow streets is home to literally thousands of small businesses and shopkeepers. The last activity today is to enjoy the unique Water Puppet show.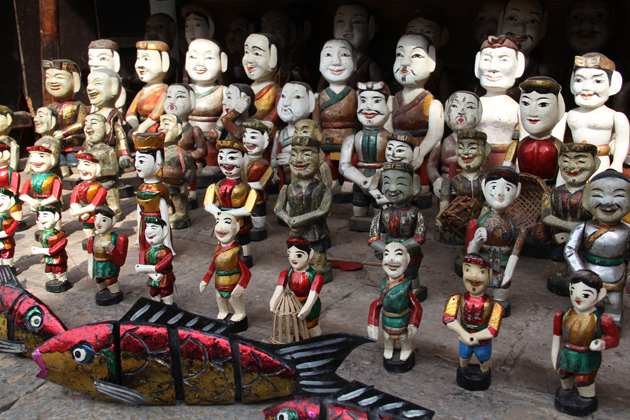 Remarks:
Ho Chi Minh Mausoleum is not opened on every Monday & Friday.
Museum of Ethnology is closed on every Monday.
The Museum can be moved to your favorite museum in Hanoi.
Day 3: Hanoi – Halong Bay (Overnight on Junk Cruise) (B, L, D)
This morning, we depart to Halong Bay. On the way, we will pass the area of the Red River Delta with green welcoming us rice paddies fields. Stopping for a while on the half of the way for tea and relax, our journey continues to Halong Bay. Arriving Tuan Chau jetty, tender transfer to the junk.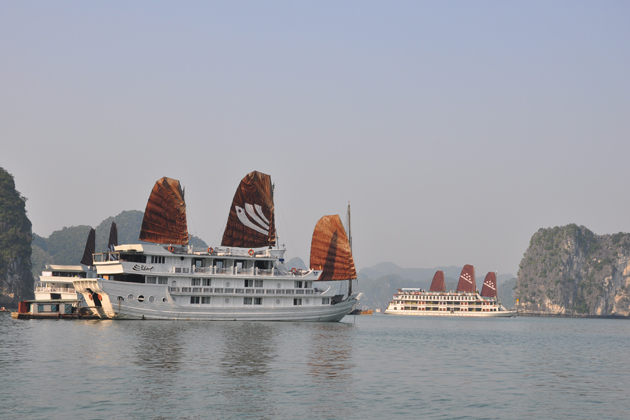 Boarding and check-in with a welcome drink, then the cruise starts through Cho Da, Dinh Huong, Ga Choi, and Hoa Cuong limestone islets while a lunch is served on board. Then visit Sung Sot Grotto, the "Cave of Surprises", before taking a swim in Titov Beach or Soi Sim Beach's pristine waters. The vessel then cruises further to reach its overnight anchorage location near Ho Dong Tien or Luon Cave.
Enjoy the sunset from the sundeck or while swimming; then a dinner will be served on board. The evening is devoted to relaxing in that peaceful piece of a setting, or to experience night-fishing from the boat's deck. Overnight on board.
Day 4: Halong Bay – Hanoi – Fly to Hue (B)
An ultimate experience you may always have dreamt of: waking up early amidst Halong Bay and practicing a Tai Chi session on the sun deck at dawn, while the Natural Wonder around you is slowly waking up! Ideal for your body balance and rejuvenation, and a proven technique to reduce stress and enhance your psychological health. Breakfast with stunning scenery, then a small boat will take you to visit Luon Cave. Lunch is served on board while the cruise goes back to Halong City for disembarking at noon time.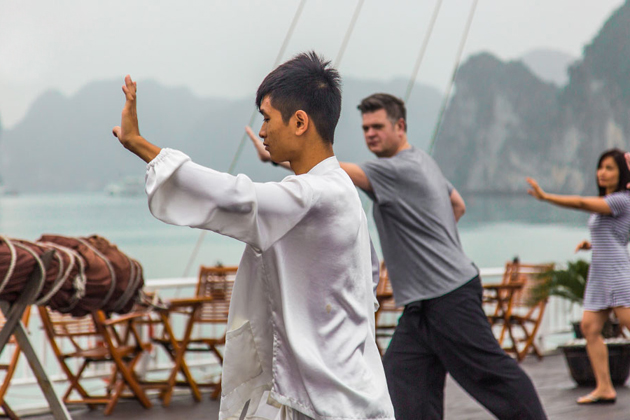 We travel back to Hanoi in the afternoon for our evening flight to Hue. After 1 hour flight, we arrive in Hue. Welcome upon arrival then we transfer to our hotel. Checking in and relax. Overnight in Hue.
Note: The itinerary can change due to weather, tide levels.
Day 5: Hue City Tour (B, L)
This morning, we transfer to the pier for our boat trip along the romantic Perfume River heading out for the countryside. Being the ancient capital, Hue is surrounded with ancient tombs of emperors past, and a visit to the most beautiful tombs will be on the itinerary for today. Our first stop is at Thien Mu Pagoda (The God Lady Pagoda). From here, we enjoy a great view of the Perfume River and the surrounding areas. Thien Mu Pagoda is considered the symbol of Hue, and of Buddhism in Vietnam. Following, we travel to Khai Dinh's Tomb, which was famous for Europe design and construction.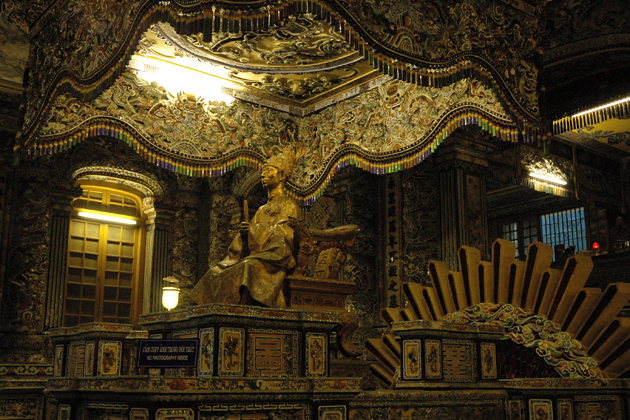 We also visit another tomb of King Tu Duc which was built decades before its occupant's death. The tomb was used as a palace retreat before the Emperor's final resting place. Afternoon we visit the Citadel and Dong Ba market.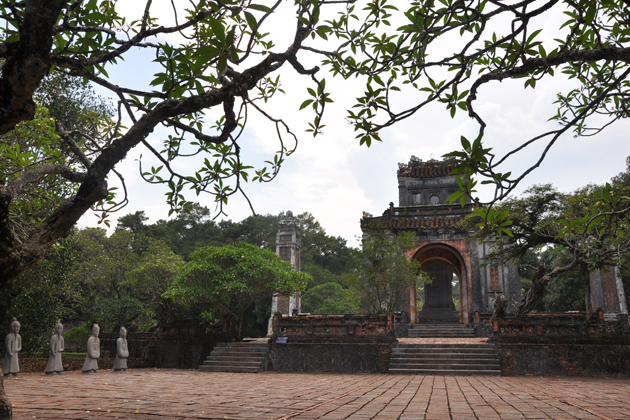 Day 6: Hue – Hoi An via Danang city (B)
After breakfast, we depart Hue for Hoi An travel through the high pass of Hai Van with its spectacular views of the East Sea en route to Da Nang. We will visit Cham Museum that has collected and exhibited the finest collection of Cham statues and works of art, the Marble Mountain, My Khe beach and then going to our hotel in Hoi An. Overnight in Hoi An.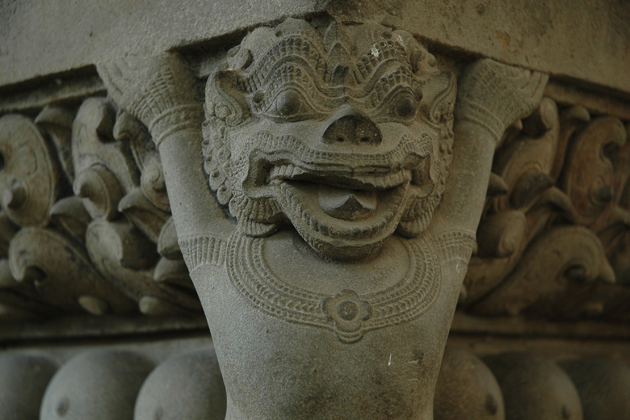 Day 7: Hoi An Walking Tour & Cooking class (B, L, D)
Today, we have a morning walking tour in Hoi An town – one of the World Culture Heritages of Vietnam. This quaint riverside town still boasts a wealth of century's old traditional architecture. The influences of several Asian cultures can be seen in old houses and waterside buildings. It is also famous as a place to be instantly created inexpensive tailored outfits.
In the afternoon, we join the fantastic Cooking class at Red Bridge restaurant with first activity to visit Hoi An colorful market to experience the amazing sights, sounds and aromas of this busy market; and purchase some of the ingredients to be used in the cooking lesson later.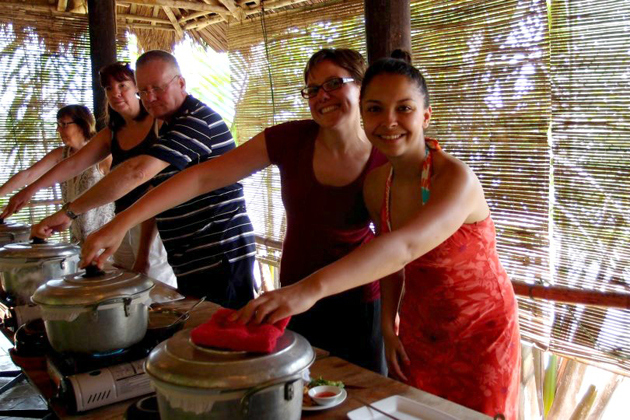 Then, we board the Red Bridge boat for a leisurely cruise (25 minutes) along the Hoi An River to the Red Bridge Cooking School; explore the cooking school's herb and vegetable garden before learning about some of Hoi An's and Vietnam's well-known dishes. The cooking lesson runs for about 2 hours – each dish is first demonstrated by the Red Bridge chef's before we prepare the same dish ourselves. Included in the class is a brief introduction to Vietnamese food carving (plate decoration). After the lesson, we sit down and eat exactly what we have cooked. Overnight in Hoi An.
Day 8: Hoi An Farmer & Fishing Eco Tour (B, L)
This morning, we can choose bus or bike to cycle to a local farming village to join daily work life of local farmers – hoeing and a soil, watering veggie at an organic herb garden, riding water buffalo in the field and enjoy the freshest air of the countryside beauty. After that, board the Hoi An Eco-tour boat and cruise to the mouth of the river where it meets the Cua Dai Sea.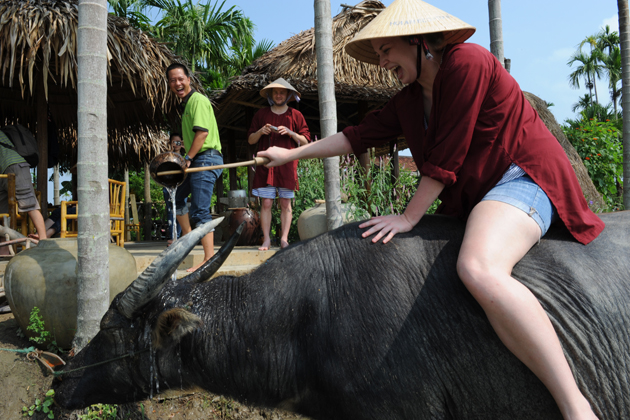 We also learn and try our hand at local traditional fishing techniques using round and cast nets, learn to paddle the strange and unique Vietnamese bamboo basket boats. Explore the now tranquil coconut-palm flanked waterways of a past war and hear of the extreme conditions endured by soldiers on both sides. Have a relaxed fun with catching beautiful purple crabs on bamboo basket boat. After visiting a local water coconut palm village, we take a walk around the village and have some tea and snack with local talks… Back on-board our Hoi An Eco-tour boat, enjoy our lunch and a cold beer or soft drink on the boat, then back to resort. Afternoon at leisure.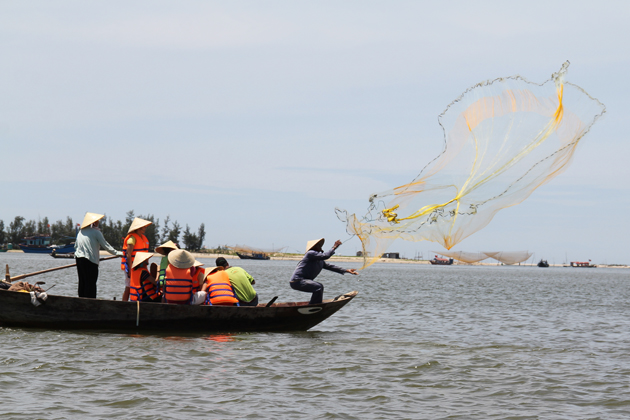 Day 9: Hoi An – Danang – Fly to Ho Chi Minh city (B)
This afternoon, we fly to Ho Chi Minh city where our local tour guide and driver welcome and transfer us to hotel. Rest of the day, relax. Overnight in Ho Chi Minh city
Day 10: Ho Chi Minh city tour & Cu Chi Tunnel (B, L)
Depending on the weather today, we can visit Cu Chi Tunnel in the morning or afternoon. If our traveling time in the raining season, we will visit Cu Chi Tunnel in the morning then city tour in the afternoon. The tour guide will plan for us on tour.
Cu Chi Tunnel, otherwise known as the "Iron Triangle" or "Iron Land" is around 70km far from Ho Chi Minh city. It takes us more than 1-hour driving through the pleasant countryside; rubber plantations and rice paddies. From here, we will have a short time to enjoy the introductory video of how the tunnels constructed; and then explore the maze of the tunnels where are widened for visiting. We also see various mantraps and the remains of a US tank, as well as various bomb craters made by 500lb bombs, dropped by B52 bombers. Relaxing time, we may try to use the real guns and bullets (your own paid – US$1/bullet).
After Cu Chi tunnel tour, we travel back to Ho Chi Minh city for our half day city tour. The highlights of this afternoon are the Reunification Palace (the former Presidential Place of the South Vietnam President in the past); the War Remnant museum where we can see countless artifacts, photographs, and pictures documenting about the second Indochina war; the Notre Dame Cathedral and Old Post Office. Before going back to our hotel, we have a short time to visit the Ben Thanh market. Overnight in Ho Chi Minh city.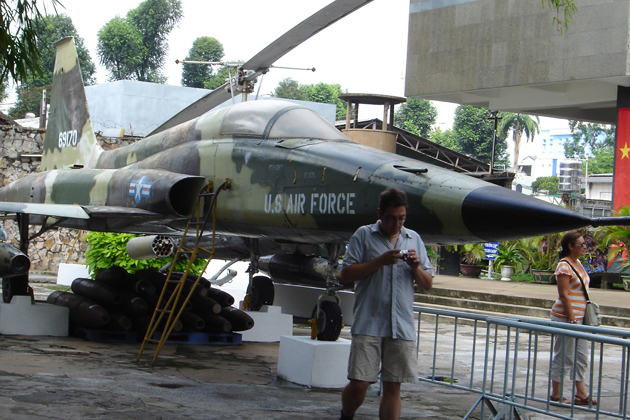 Day 11: Ho Chi Minh city – Cai Be Floating Market (Mekong Delta) (B, L)
Today we travel to Cai Be colorful floating market, is known as a wholesale floating market. The wholesalers on big boats often moor here. The buyers often takes the smaller boats so they can easily find what they are looking for following the tall wooden poles which hang samples of the goods on the big boats. Here, the boat will take us among local barges full of fruits and vegetables. We then stop at local workshops to see how rice paste, coconut candy, and pop-rice, pop-corn made. Later the rowing boat takes us deeper to the countryside along the smaller canals. We enjoy the peaceful time, traditional house made of wood & palm tree leaves. Watching the local farmers catching fishes….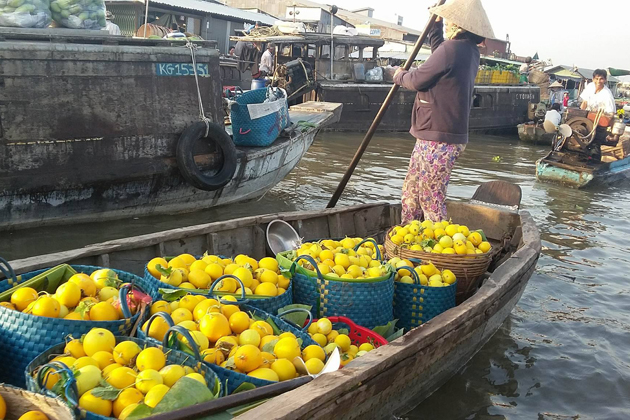 After lunch, we can walk around and then enjoy some kinds of fruits while listening to traditional music. One more thing to do in this trip is biking! It will be so amazing to bike on village paths to see the local farms, houses, real life and the ancestral ways to pick up fruits in Mekong Delta. End of the day, the cruise take us back to Vinh Long city where we take our vehicle back to Ho Chi Minh City.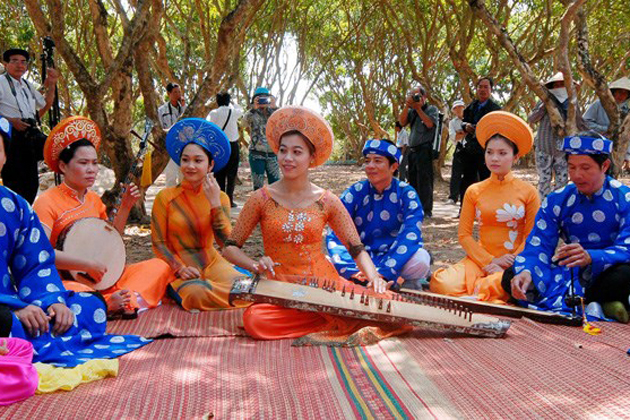 Cambodia Itinerary 5 Days
Day 12: Ho Chi Minh City – Fly to Phnom Penh (B)
Today we take a domestic flight to Phnom Penh. Phnom Penh is the capital city of Cambodia. After the civil war ended more than 15 years ago, Cambodia has become an emerging city filled with modern buildings and distant memories. You will visit the ornate Royal Palace and the Silver Pagoda with a floor that is laid with more than 5,000 silver tiles!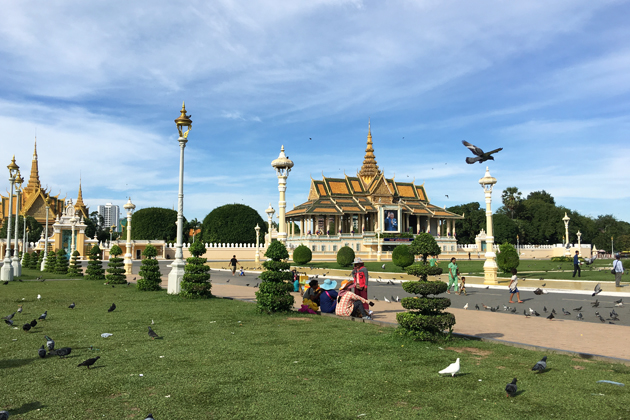 A testament to the horrifying legacy of the Khmer Rouge, a tour the Tuol Sleng museum, a former school turned concentration camp will be provided. Move on to the Russian market, where the sights and smells will fill your senses in the narrow aisles and passionate locals. Later today, we enjoy dinner on the Kanika boat.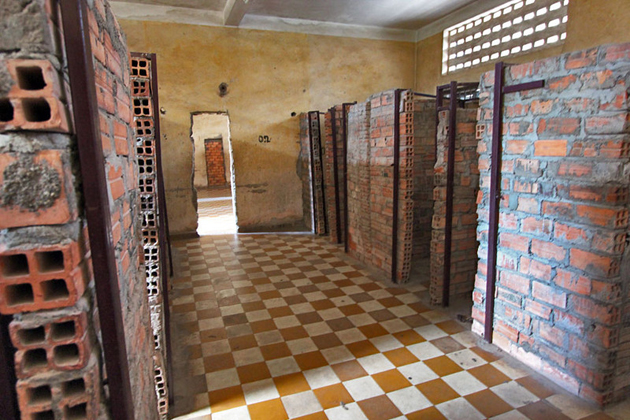 Day 13: Phnom Penh City Tour (B)
Today we explore the unspoiled countryside around Phnom Penh by ATV ride (Quad bike). We enjoy the breathtaking landscape while going through back countryside roads. We cross the forest, unusual bridges and streams, visiting small colorful villages and have the first-hand experience with the local people. See life in their typical homes.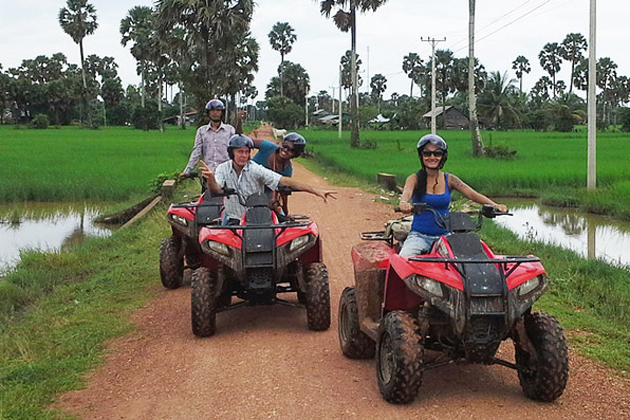 The tour includes a local style lunch served by the Tonlé Bati Lakeside, where we also explore an Angkorian-Era temple. After lunch, the tour continues to the Phnom Tamao Wildlife Sanctuary, where permanent shelter is given to animals confiscated from illegal traffickers or saved from poachers. Later today, we visit the Killing Fields then relax at hotel. Overnight in Phnom Penh.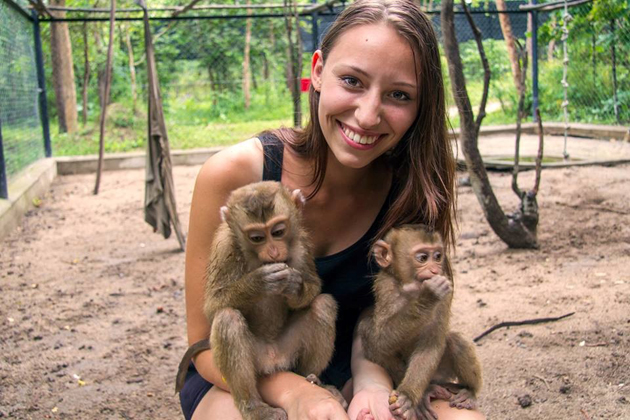 Day 14: Phnom Penh – Fly to Siem Reap (B, D)
Today we take a flight to Siem Reap. Welcome upon arrival then we set off on an exploration to Angkor Wat, an architectural and artistic masterpiece of the mighty Khmer Empire. Sunset at Phnom Bakheng or Pre Rup paints the temple in an orange hue. Overnight in Siem Reap.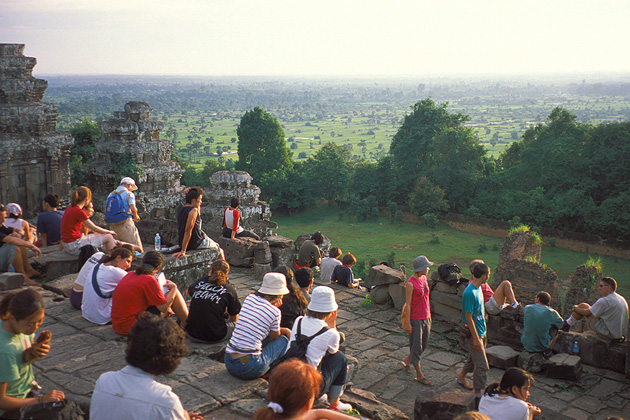 Day 15: Angkor Temple Tour (B)
This morning, we exploration of the temples. Enter this last capital of the Khmer empire through the Southern Gate where giant carvings of gods and demons flank each side of the entrance. Inside this great city, explore the Royal Enclosure, Phimeanakas, Elephant Terrace and Terrace of Leper King. Feel the serenity that exudes from the stone face carvings of the Bayon and temple walls covered in emerald-green moss intertwined with roots which many deem the most charming of all, Ta Prohm.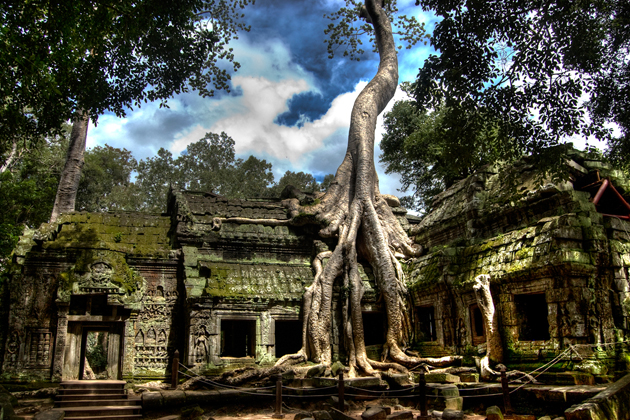 Enter this medieval floating village, where the houses stand atop stilts as much as seven meters above the water. Everything lives on the water, pigs, dogs, crocodiles, and people, all jockeying for space in this incredible floating town. We explore the local wat here, before boarding a bigger boat to take us through the flooded forest and across the Great Lake to Chong Kneas floating village and heading back to Siem Reap by road.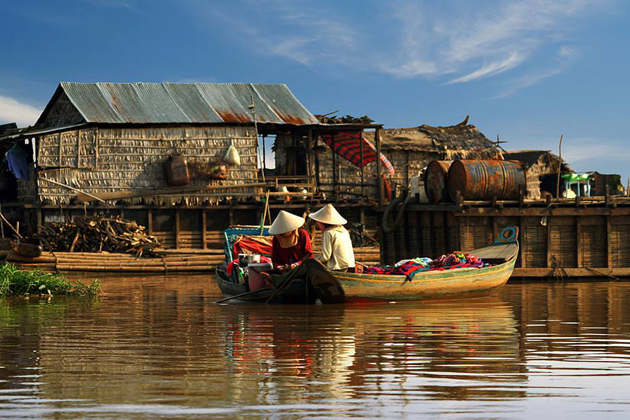 Day 16: Siem Reap Departure (B)
After having breakfast we will free at our leisure till transfer to airport for departure flight. 16-day Vietnam Cambodia tour ends. See you again in the next Vietnam tour packages.