Vietnam and Cambodia may drive you to their mesmerizing beauty via breathtaking images of sunshine-overwhelmed beaches, magnificent Khmer architectures and exclusive features of cultures and customs. Experiencing these charming destinations in one tour will be your most memorable journey ever! Embark into this trip throughout Vietnam and Cambodia, you definitely gain dozens of chances to learn about the vicissitudes of history in both countries and the culture attached with the rural lifestyle.
Duration: 17 Days/ 16 Nights
Start/ End: Ho Chi Minh City/ Siem Reap
Tour Route: Saigon – Mekong Delta – Saigon – Siem Reap – Danang – Hoi An – Hanoi – Sapa – Hanoi – Halong – Hanoi
Tour Customizable: Definitely! (Tell us your specific requirements in the inquiry form)
Tour Category: Vietnam Cambodia Tours
Guides: Local Guide (English Speaking Guide, Other Languages upon Request)
Transportation: Private first-class air-conditioned vehicles
Accommodation: Listed below or equivalent. Rooms with private bath or shower, hotel taxes, porterage, tips, and service charges
Brief Itinerary
Day 1: Saigon Arrival
Day 2: Saigon – Mekong Delta (Overnight CoCo Riverside Lodge)
Day 3: Mekong Delta – Saigon – Vespa Tour
Day 4: Saigon – Cu Chi Tunnels – Fly to Siem Reap
Day 5: Siem Reap – Motorbike Tour
Day 6: Siem Reap Tour
Day 7: Siem Reap – Fly to Danang – Hoi An
Day 8: Hoi An Eco-tour
Day 9: Hoi An – City Tour & Vespa to the countryside
Day 10: Hoi An – Fly to Hanoi
Day 11: Hanoi City Tour – Night train to Sapa
Day 12: Sapa Trekking Tour (Overnight at homestay)
Day 13: Sapa Trekking Tour – Night Train to Hanoi
Day 14: Hanoi – Halong Bay (Overnight on Cruise)
Day 15: Halong Discovery Tour (Overnight on Cruise)
Day 16: Halong Bay – Hanoi
Day 17: Hanoi Departure
4-Day South Vietnam Tour
Day 1: Saigon Arrival (D)
Upon arrival at Tan Son Nhat International Airport, you will be welcomed and transferred to the hotel in the city center for check into and relax. Overnight in Ho Chi Minh City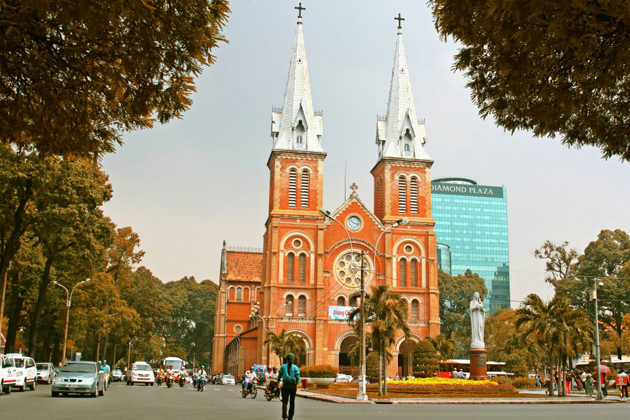 Day 2: Saigon – Mekong Delta (Overnight CoCo Riverside Lodge) (B, L, D)
After breakfast at the hotel, we depart to the Mekong Delta. The Mekong Delta, known as the "rice bowl" of Vietnam, where vast rice fields stretch until the horizon and numerous waterways and poetic landscapes. More than tens of different varieties of rice are planted here. Upon arrival, you will be warmly greeted by a host and be led to a lodge. After just a very short walk, you will have a delicious local lunch with a drink in the lodge's restaurant.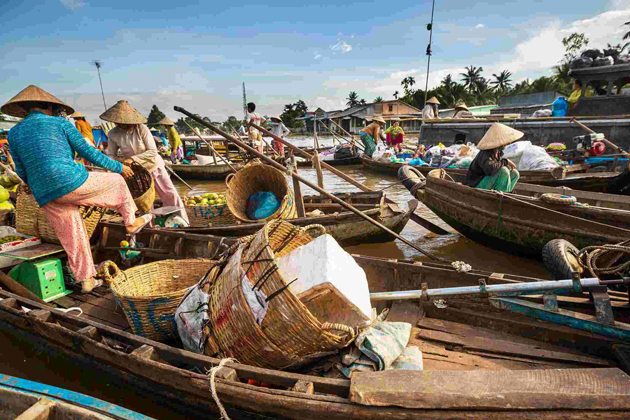 In the afternoon, you will be glided on the local canals and visit 'pop rice factory', a great opportunity for you to witness the combination of traditional and modern agricultural methods.
From that, we walk to Cao Dai Temple – a famous historical site. Then, back to the lodge picking a bicycle for your own to a take a cycling tour around quiet village roads; passing via rice paddies, sedge fields, duck farms, lush tropical fruit gardens, and coconut fabric factory. Besides, you can take a conversation with the locals and help them work in the fields as a type of experience. This is an optimal time to capture the picturesque moments of the sunset down the countryside. Return to the lodge on your bicycle.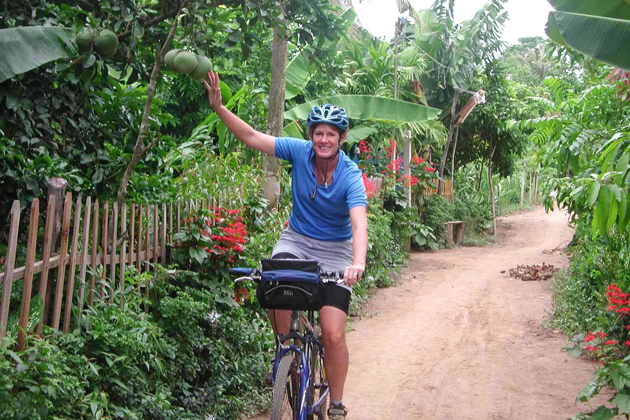 After bath and refresh, you are the chef tonight! A traditional cooking class will teach you the way the residents create a mouth-watering meal. A little experience may help you prepare a Vietnamese meal in your own home even after the trip! The ultimate act of the day may be the most exciting one for you. Going with the locals, using simple torches made of dried coconut leaves to neighbor's home and enjoy a traditional musical performance by war veteran artists. Overnight at Coco Riverside Lodge
Day 3: Mekong Delta – Saigon – Vespa Tour (B, L, D)
Have breakfast at the lodge, then you can take an extra bike tour then walk to Chua Xu Temple – the temple existing for over two centuries, where the locals and visitors from other provinces come to pray. Next, participate in harvesting water coconut leaves with the locals which are used to build the roofs of the houses in Mekong Delta. Subsequently, get back to Ho Chi Minh City and chill out your time.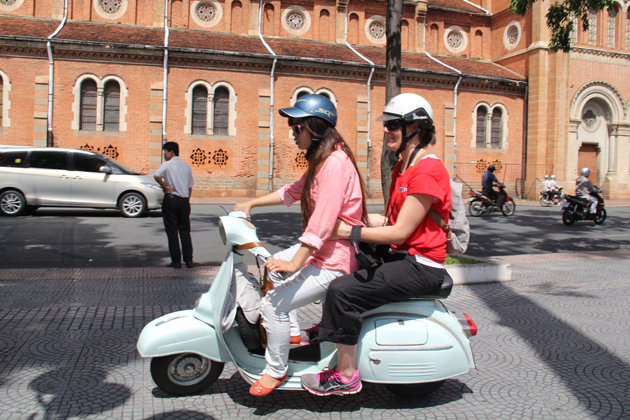 In the evening, let's embark on a Vespa tour with the lovely staff, who will take you a lot of nice photos and send to us after the tour. The drivers will lead you throughout the streets and we can see the nightlife of Saigon people. Drop by a seafood restaurant for a tasty meal.
After that, you'll be taken to the central district, passing some remarkable landmarks of the city and then pay a visit to the Banh Xeo workshop. This is a special street restaurant where you can witness the local women to cook Banh Xeo and try it later with a cold drink.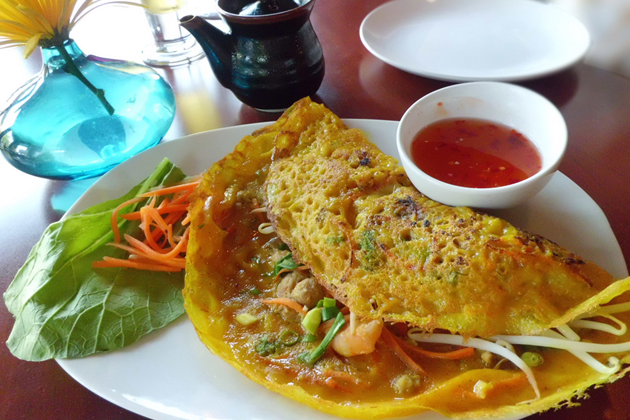 When you think you can't digest anymore, it's time for going to a hidden Vietnamese-style café to get a taste of Vietnamese live music. No micro, no light, there are only live songs, candles, and people sitting there, drinking and enjoying the music.
The final destination of the day is optional for you to see one more music show of Rock & beer or an Ice-cream workshop in case you go with a family. Get back to the hotel and enjoy a peaceful night.
3-Day Cambodia Tour
Day 4: Saigon – Cu Chi Tunnels – Fly to Siem Reap (B, L, D)
Early morning, the local guide will pick you at the hotel and take you to the Ho Chi Minh City's central pier at 1 District. From here, we will depart to Cu Chi Tunnels. A light breakfast with fresh tropical fruits and Vietnamese iced coffee with condensed is served on the boat while the tour guide shows the life on the riverbanks. Upon arrival Cu Chi Tunnels, you will watch a brief introductory video of the area before digging into this site, including the weapon storage and trap systems, underground makeshift kitchens, meeting rooms…which were made by Viet Cong soldiers in Vietnam War.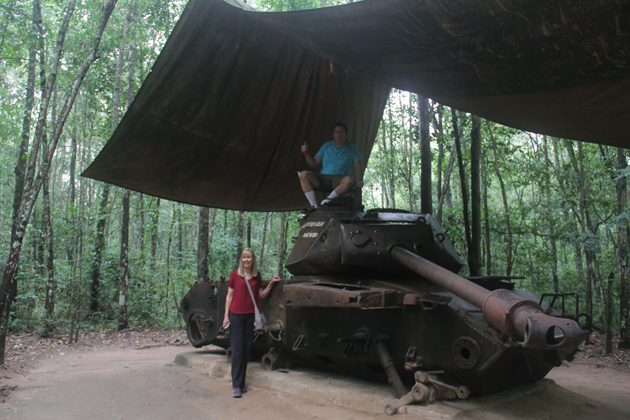 Until the noon, enjoy a tasty local lunch near the river then leave Cu Chi to return Ho Chi Minh City. Free time in the hotel room until the driver comes to take you to the airport for a flight to Siem Reap. Upon arrival in Siem Reap, you will be picked by the local guide and transferred to the hotel room.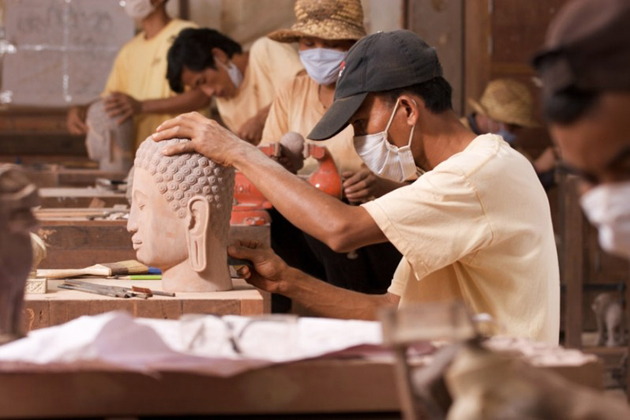 First, let's explore West Barray – the artificial lake constructed in the 11th century and a traditional silk farm. Then, visit the school of fine art Artisans d'Angkor and the deplorable Killing Fields and Wat Thmei. Buffet dinner with Apsara Dance Show is served. Overnight in Siem Reap
Day 5: Siem Reap – Motorbike Tour (B, L)
Breakfast at the hotel then starts the tour with a visit to Tonle Sap Lake. Come to Chong Kneas Floating Village. We will turn to schools, hospitals, restaurants, shops and a floating crocodile farms. The half day is for strolling in Siem Reap local market. Overnight in Siem Reap.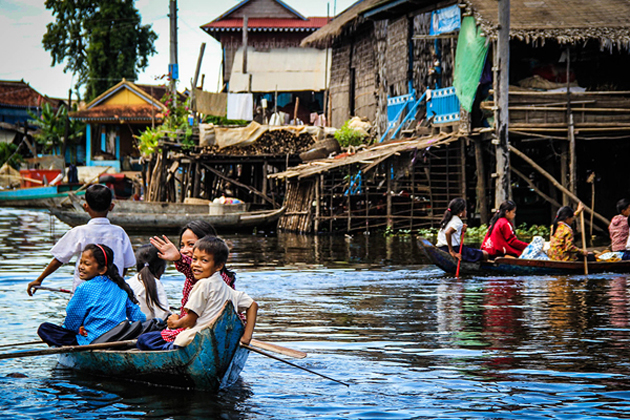 Day 6: Siem Reap Tour (B, L)
After breakfast at the hotel, we embark into the discovery of Angkor temples. Get into through South Gate to see giant carvings of gods and evils on the two sides. Then continue to come on the city, passing Royal Enclosure, Phimeanakas, Elephant Terrace and Terrace of Leper King. Feel the soul of the stone face carvings of Bayon Temple and then admire the charming roots of Ta Prohm.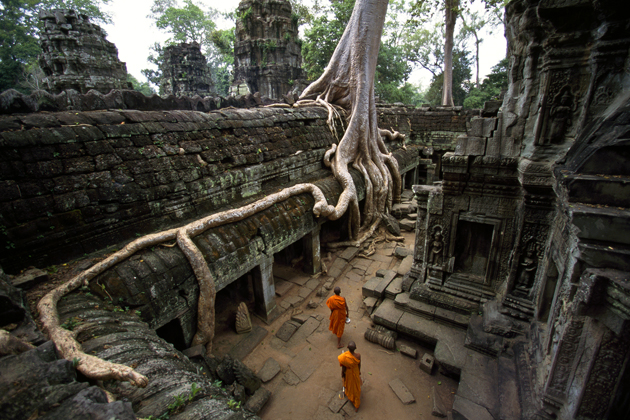 Afternoon is time to take a glance of Angkor Wat – the most famous architecture of Cambodia. Complete the day by climbing up to the top of Bakheng Mountain or Pre Rup Temple to capture a spectacular sunset. Overnight in Siem Reap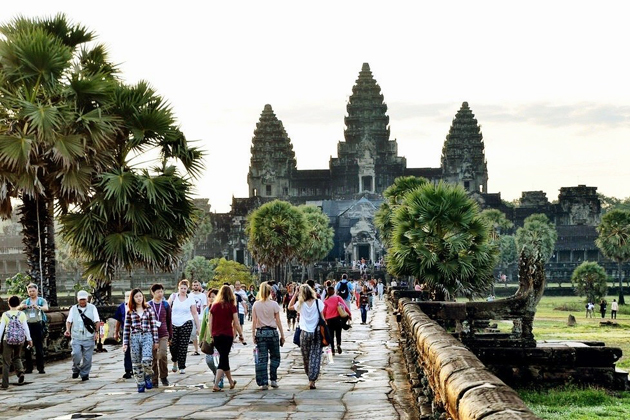 3-Day Central Vietnam Tour
Day 7: Siem Reap – Fly to Danang – Hoi An (B, L)
Have a local breakfast at the hotel and enjoy your own time until the guide transfers you to the airport for a short flight to Danang. Upon arrival in Danang, the local guide will meet and take you to the hotel in Hoi An for check-in. Chill out yourselves during the rest of the day. Overnight in Hoi An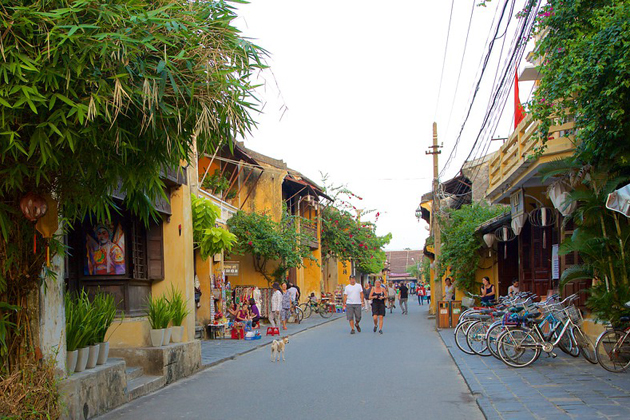 Day 8: Hoi An Eco-Tour (B, L)
Wake up the morning with a Farming & Fishing Life Eco Tour. Start at Tra Que Village, we will put the eyes on the local farming communities. We are about joining in preparing the land for sowing, helping to fertilize the garden and watering it using huge cans loaded behind the backs. After that, take a cycling tour through the countryside seeing Vietnamese rural life.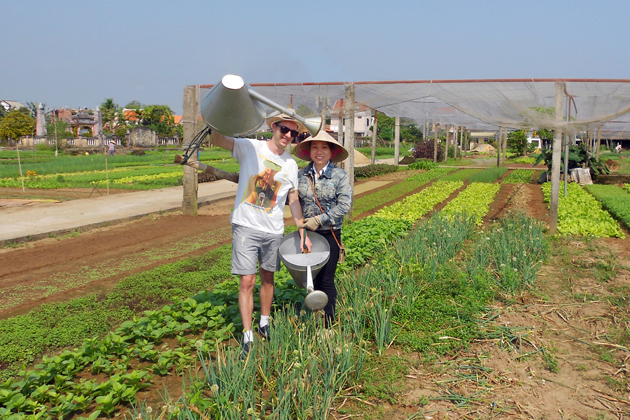 Late morning, go on a river cruise. En route, you totally can meet local fishermen doing their daily work. Later, transfer to a Vietnamese bamboo basket boat for a quick race and ride down a coconut palm. Lunch is prepared on the boat with vegetables which are carefully selected from Tra Que Village. After lunch, free time to walk around Hoi An town before getting back to the hotel.
Chill out the afternoon and overnight at hotel in Hoi An.
Day 9: Hoi An – City Tour & Vespa to the Countryside (B, L, D)
Picked by the local guide in the morning, later let's stroll around the downtown. Begin with the ancient town where there are many famous sites such as Japanese Covered Bridge, Pottery Museum, Tan Ky Old House, Cantonese Congregation, the silk street of Hoi An and so on. Enjoy the lunch at a local restaurant.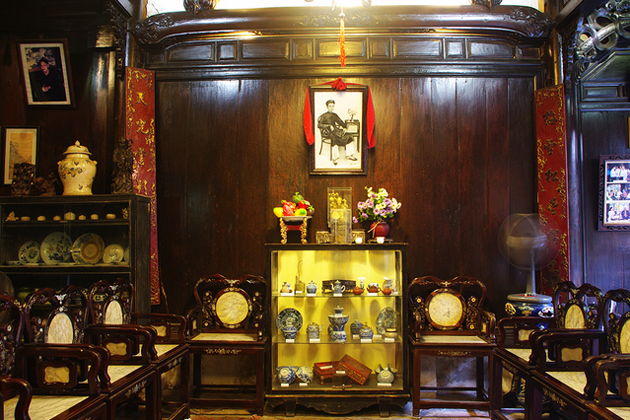 Around the noon, we leave the ancient town to take part in a river excursion on a ferry. En route, we may drop by the idyllic Cam Kim Village which almost has not been affected by the modernity. Take a glance of greenery paddy fields then come on a local family to see the art of weaving, farming and making banh dap (rice cracker). After that, come over a local café to fuel up before crossing a very long bamboo bridge to reach in the opposite landscape where Duy Hai Market and Harbor stand. Here, on the ferry, you float via water coconut palms then head to Tra Que Fishing Village for a fish cracker stop.
8-Day North Vietnam Tour
Day 10: Hoi An – Fly to Hanoi (B, D)
After breakfast, free time for you until the driver arrives to transfer you to the airport for the short flight to Hanoi. Upon arrival, you will be warmly greeted by the local tour guide and transferred to the hotel for check-into. Later, go to a renowned restaurant to enjoy the signature food of Vietnam – Pho.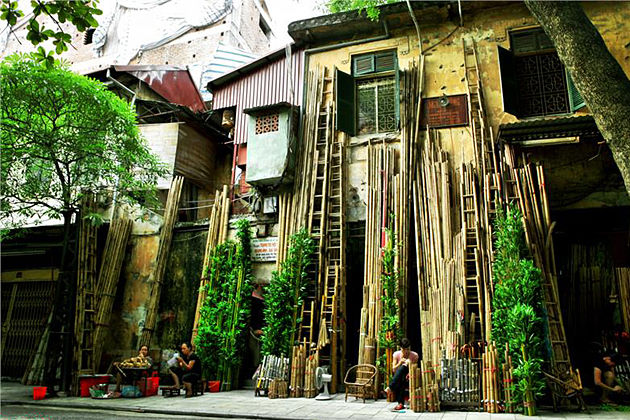 After a brief rest, jump into a cyclo tour around Hanoi Old Quarters. You will be free for a look at the ranges from markets, boutiques, and amazing contemporary art galleries. Next, we will sit down to watch a Water Puppets Show – the folk art type that nowhere in the world owns except Vietnam. After the show, we will have a tasty dinner at a fine local restaurant. Overnight in Hanoi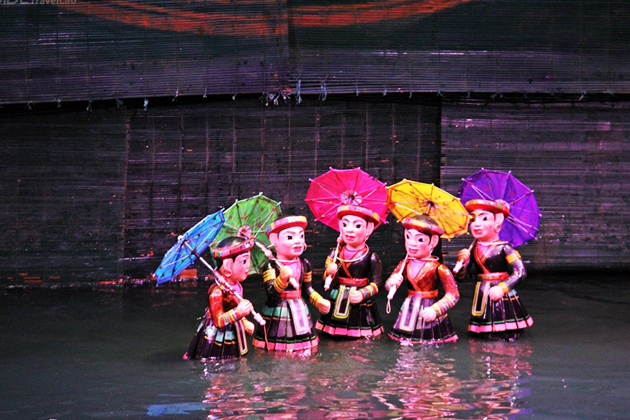 Day 11: Hanoi City tour – Night train to Sapa (B, L)
Today we will roll into the more details of the capital of Vietnam. Start with Ho Chi Minh Complex that's included a lot of valuable historical sites such as Ho Chi Minh's Mausoleum, his former stilt-house, Presidental Palace, Ho Chi Minh Museum and One Pillar Pagoda. Later, let's go to the first university of Vietnam – Temple of Literature, which was originally built as a Confucius temple.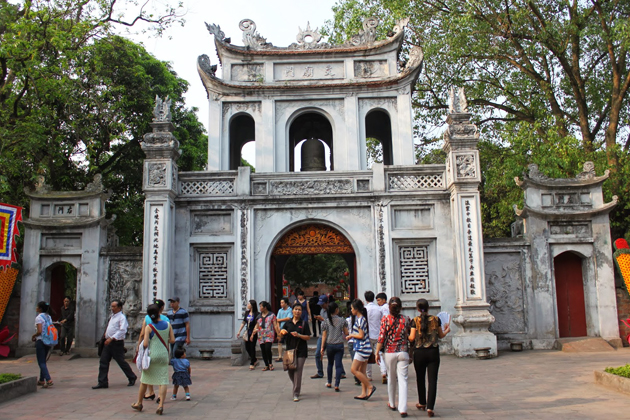 Having a tasty local lunch, we then depart to Museum of Ethnology which is famous as the best in this field of the country. The museum exhibits a huge series of objects of Vietnam's 54 ethnic minorities. The tour's followed by a visit to Hoa Lo Prison – one of the most horrifying places in Indochina War. Return the hotel room and chill out your time until being transferred to the station for an overnight train to Sapa.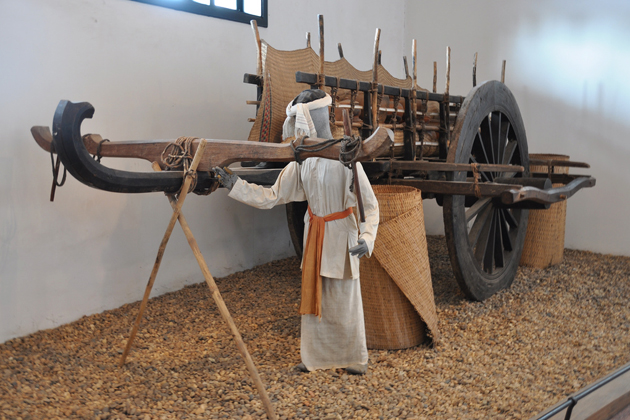 Day 12: Sapa Trekking Tour (Overnight at Homestay) (B, L, D)
The train will arrive in the early morning; you're then welcomed by the local guide and taken to Sapa for breakfast. Afterwards, we will discover Lao Chai Village. We will go trekking from Sapa to Lao Chai, via Cat Cat Village and Y Linh Ho, spending an afternoon learning the techniques of traditional weaving from the women in the village. Complete the day with a night homestay for an awesome and authentic Hmong experience. You can cook dinner together with the host. Overnight at a homestay in Lao Chai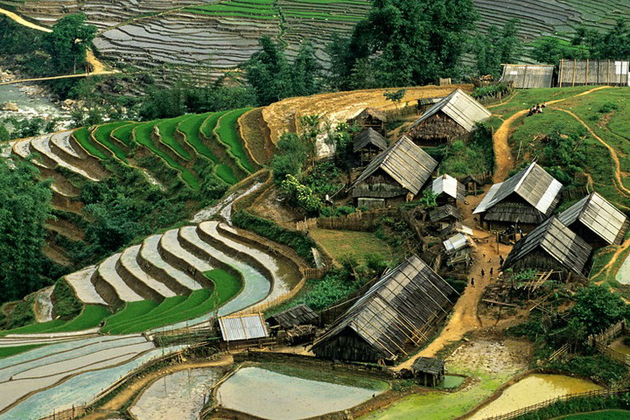 Day 13: Sapa Trekking Tour – Night Train to Hanoi (B, L)
Enjoy a hill tribe breakfast at the homestay, then we go on to trek to Ta Van Village which is home to Day ethnic group. Continue the trek along Muong Hoa Valley, cross a small suspension bridge. Here you can discover an enchanting compilation of rock carvings that feature beautiful images of human, stilt houses and beautiful decorative patterns.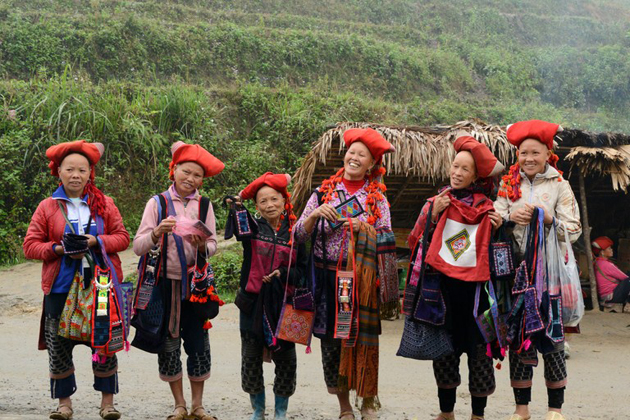 We have lunch in a home in the village. After that, the stroll continues via a bamboo forest to Giang Ta Chai, a village of Red Dao ethnic group. Refresh nearby a waterfall and wait until the car is ready for the journey back to Sapa. Free time and transfer to the station for the night train back to Hanoi.
Day 14: Hanoi – Halong Bay (Overnight on Cruise) (B, L, D)
You will be picked up at the hotel in Hanoi after breakfast to take a 180-kilometer trip to Halong Bay which was twice recognized by UNESCO as a World Natural Heritage in 1994 and 2000. That proves the irresistible charm of this bay. Upon arrival the harbor, we embark on a ship tour, enjoying a welcome drink before a mouth-watering seafood lunch while voyaging throughout the spectacular Halong Bay with its thousands of fantastic limestone islands.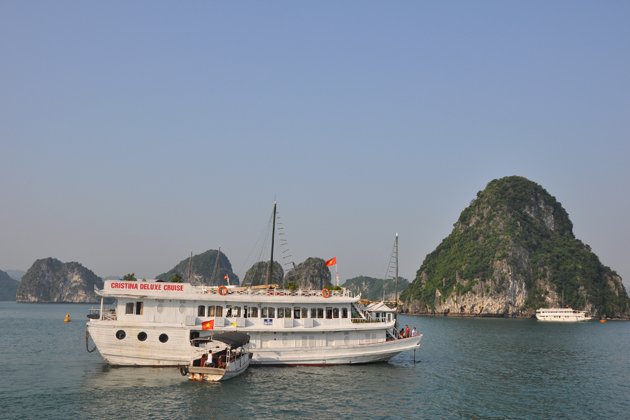 In the noon, let's discover a wonderful "child" of Mother Nature – Maze Cave – one of the most stunning caves in Halong Bay and then climb up to watch the gorgeous view over the bay. Late afternoon, return to the cruise and enjoy an overwhelming sunset party before a dreamlike dinner in Fairy Lake Cave with freaking delicious dishes, accompanied by amazing fruit and vegetables while admiring splendid stalactites. Afterwards, return the ship to enjoy squid fishing, or simply relax on the deck, floating amidst the tranquil bay. Overnight on board.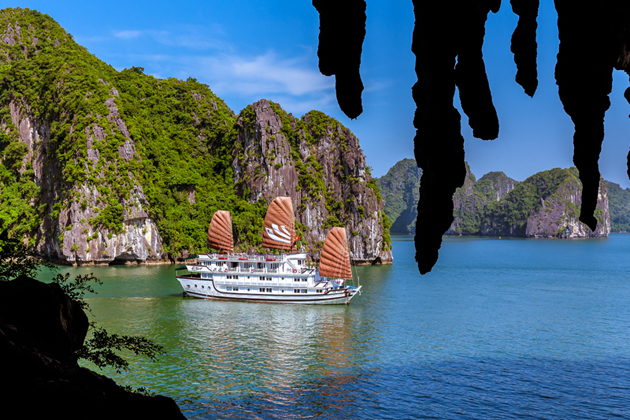 Day 15: Halong Bay Discovery Tour (Overnight on Cruise) (B, L, D)
The day starts early with a Tai Chi Class or a photo hunt before the delicious breakfast is served in the fresh atmosphere and the charming beauty of the bay. Later, we come on a cruise to Lan Ha Bay; exploring Light and Dark Cave by kayaking, swimming and relaxing at the beach and then return to the boat for a barbecue lunch.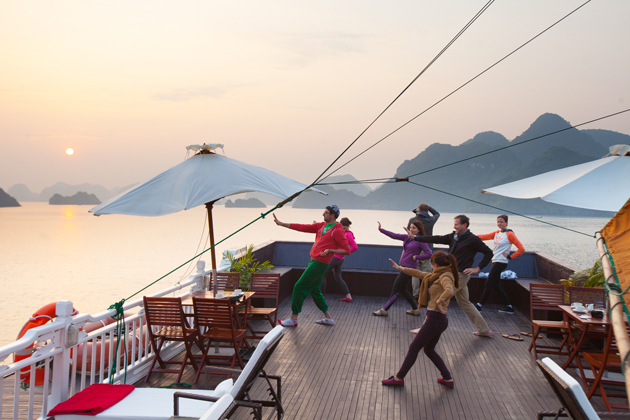 After lunch, more time offered for discovering Lan Ha Bay or just relaxing on the beach. In the noon, we drop in a Floating Pearl Farm nearby and learn about the techniques of creating high-quality pearls. Cruise back to the vessel in the late afternoon and have a good dinner on the beach. Spend the second night on board.
Day 16: Halong – Hanoi (B, L)
This morning, you can also join a Tai Chi Class or hunt some stunning photos. After breakfast, we will come on Ti Top Island for diving, swimming in the emerald water or trekking to the top of the island to get a panorama view of the bay. The next time is for kayaking every the hidden beauty of the bay.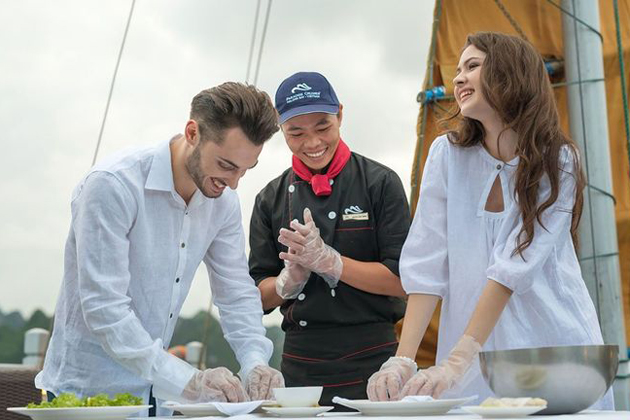 Subsequently, we will check out the cabin and cruise towards the harbor. Join a cooking demonstration before tasting an exceptional buffet lunch. Around noon, say goodbye to the friendly crew members on the ship and find the car waiting to take you back to Hanoi.
Day 17: Hanoi Departure (B)
After breakfast, you will be free until the driver arrives to transfer you to Noi Bai International Airport for your departure flight. 17-day Vietnam and Cambodia Tour ends. See you again in the next Vietnam tour packages.