12-day Vietnam tour packages to discover the quintessence of Vietnam through scenic highlights from the north to the south. This is antique Vietnam with peaceful red-brick houses in quaint and culturally rich villages. This is young but traditional Vietnam with the hustle and bustle of the ancient Old Quarter at night. This is also romantic Vietnam with the gentle Perfume River winding around poetic Hue City. Before heading to Southern Vietnam, enjoy an included visit of spectacular Ha Long Bay enclosed by differently shaped limestone islands and taste numerous types of scrumptious seafood.
General Information
Tour Route: Hanoi – Halong Bay – Hue – Hoi An – Ho Chi Minh City – Mekong Delta
Duration: 12 Days/ 11 Nights
Date: Please choose the below-set departure date
Start/ End: Hanoi/ Ho Chi Minh City (Saigon)
Tour Type: Landscape and Nature, Culture and History
Tour Customizable: Please advise if you have any other requests
Active Level: Soft Cycling, Walking, Boating, Farming, Fishing, Homestay
Brief Itinerary
Day 1: Hanoi Arrival – Tonkin Show
Day 2: Dong Ngac Village – Hanoi Food Tour
Day 3: Hanoi – Halong Bay
Day 4: Halong Bay – Hanoi – Overnight Train to Hue
Day 5: Hue River Cruise & Royal Tombs
Day 6: Hue Cycling Tour
Day 7: Hue – Danang – Hoi An
Day 8: Hoi An Eco-Tour & Free Afternoon
Day 9: Hoi An – Danang – Fly to Saigon – Cu Chi Tunnels – Saigon After Dark by Vespa
Day 10: Ho Chi Minh City – Mekong Eco Lodge
Day 11: Mekong Delta – Ho Chi Minh City – Farewell Dinner
Day 12: Ho Chi Minh City Departure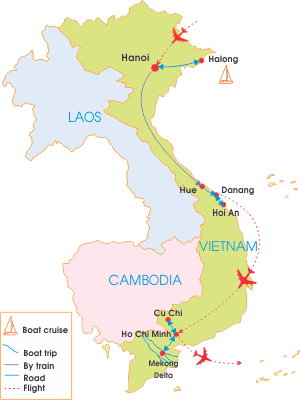 12-Day The Best of Vietnam – Map
Full Itinerary
Day 1: Hanoi Arrival – Tonkin Show (D)
On arrival at Noi Bai International Airport in Hanoi, we will be welcomed and transferred to our hotel. After a short rest, we take the shuttle bus to the outskirt of Hanoi to enjoy a unique show called The Quintessence of Tonkin (7.30 PM – 8.30 PM) – The Show draws inspiration from the spiritual history of the nearby Thay Pagoda telling the story of the pagoda's founding by venerable monk Tu Dao Hanh and explains the ancient union between religion and the monarchy.
Years in the making and with hundreds of performers, an interactive stage, state-of-the-art technology, and a stunning setting, this live spectacle is an unmissable highlight of any trip to Hanoi. Buffet dinner is included before the show. Back to Hanoi in the evening, we spend the night in Hanoi.
Day 2: Dong Ngac Cultural Village & Hanoi Food Tour (B, L, D)
After breakfast at the hotel, we travel to Dong Ngac Cultural Village, which is located about 15km from the Hanoi center. This is an ancient village and a Cultural Heritage Site in honor of it is educated and heroic people recognized by the kings of Vietnam. Here we embark on an interesting market tour, experience the bustling market and local life as the host; try to purchase all the ingredients which we need to cook for our lunch today with the help of tour guides. After that, we transfer to the traditional house for the welcome drink and left all pieces of stuff we had bought at the local market.
Take our bikes and venture deeper into the village: Visit Dong Ngac Communal House, the oldest house in the village belongs to the Do family and is more than 300 years old, and the Nguyen family with a house given by the King. Back to the traditional house, it is time for our cooking demonstration. After watching our host then practice ourselves and then the best part of all, try our dishes! After all our efforts we can reward ourselves and rest back in some reclining chairs in the fragrant retreat of our host's village garden.
In the mid-afternoon, we will be back to the city center and start our Food Tasting Tour in Hanoi. We first walk along the Old Quarters to get a closer look at the daily life of local people. With explanation and choice from our guide, we will taste many kinds of local food such as oil-fried pastry, tofu, rice pancake, pillow cake, sweet soup, stuffed pancake with pork, draught beer… and one of our best surprised is a stop at Dong Xuan wholesales market where we know many kinds of ingredients being sold. Last but not least is our happy ending at a hidden coffee in the Old Quarters enjoy its famous 'egg coffee' in pleasant surroundings overlooking Hoan Kiem Lake.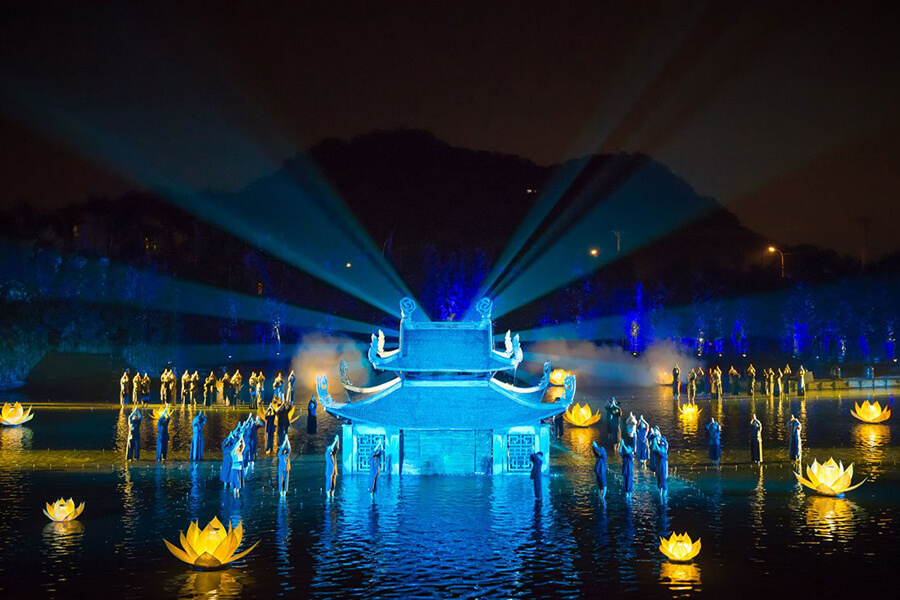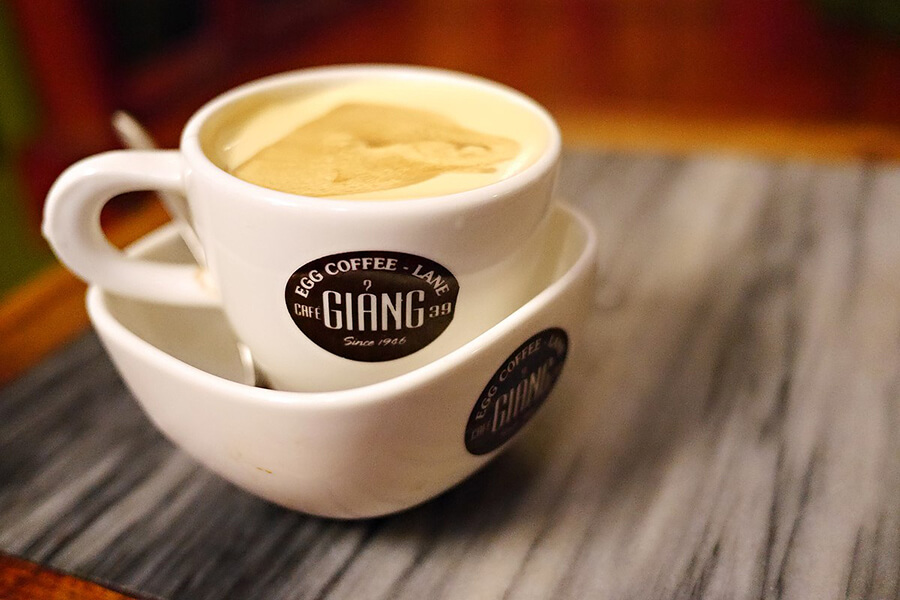 Day 3: Hanoi – Halong Bay (B, L, D)
Pick up at our hotel in Hanoi after breakfast, we will take 180km to Halong Bay – The Bay of Descending Dragon, which is located in the Northeast of Vietnam. Halong Bay has been recognized by UNESCO as a World Natural Heritage thanks to its universal values of landscape, geology, and geomorphology, respectively in 1994 and 2000 and is one of the most beautiful bays in the world.
On arrival, we will embark on your cruise followed by a short cruise briefing. We will then savor a delectable lunch while the cruise sails among the limestone islands. In the mid-afternoon, we will kayak among the hidden areas of the bay, around the Bo Nau Cave area before going back to our and continue cruising to Soi Sim Island. Go swimming and relax at the beach of Soi Sim or climb up to the top of the island for a panorama view of Halong Bay. In the evening, we will cruise back to the main boat for a shower before having dinner and spend the night on board.
Day 4: Halong – Hanoi – Overnight Train to Hue (B, L)
Wake up early in the morning and start your day with Tai Chi exercises or a photo hunt before having breakfast. After that, we will explore the amazing Sung Sot Cave – the nicest cave in Halong Bay. After that, we will return to the boat, freshen up and check out of your cabin. Continue your cruise exploring the Bay, passing Ba Hang fishing village, Dog Islet, and more. While heading back to the harbor, watch the cooking demonstration before enjoying a traditional Vietnamese lunch. We will disembark at around noon and find our car is waiting and take us back to Hanoi.
The rest of the day will be free for a refresh, dinner (on your own account) before our car drives us to Hanoi Railway Station to board the overnight train to Hue (SE1, 19.30 pm – 08.48 am).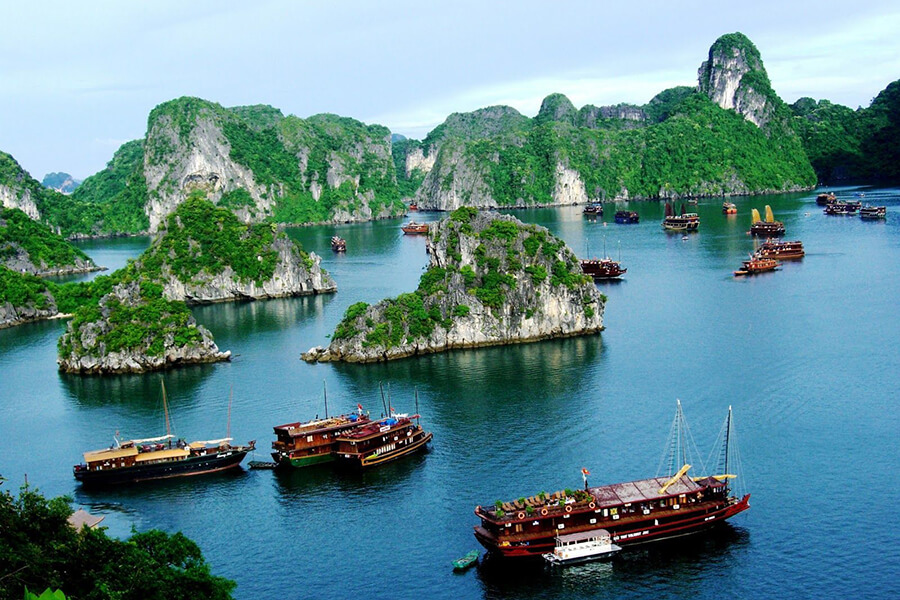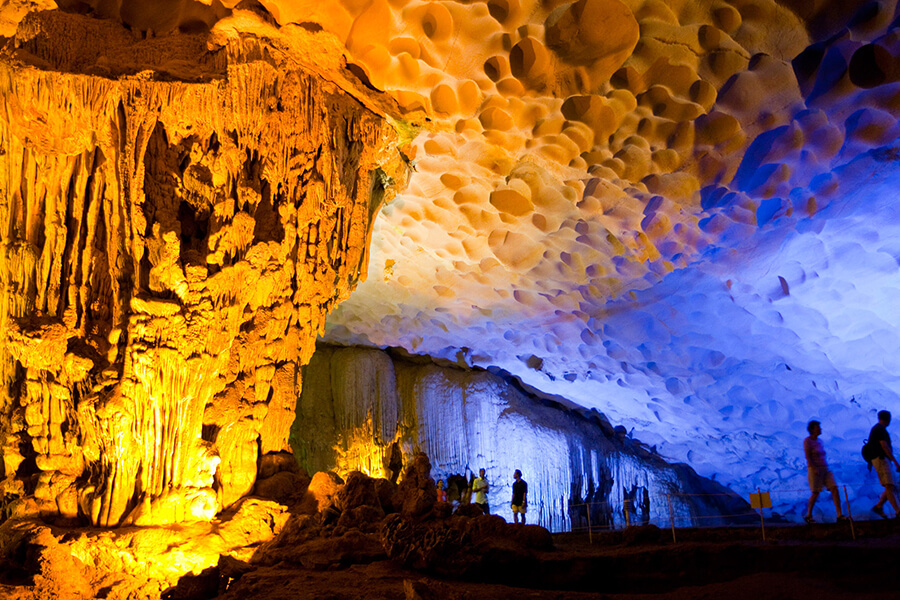 Day 5: Hue – Riverboat & Royal Tombs (B, L)
On arrival in Hue, we will have breakfast with Bun Bo Hue (Hue's Noodle with beef), a special dish of Hue that we should not miss. After that, we will leave luggage at the hotel before boarding the Dragon Boat on the romantic Perfume River heading out for the countryside. Being the ancient capital, Hue is surrounded by ancient tombs of emperors past, and a visit to the most beautiful tombs will be on the itinerary for today. The charming Thien Mu Pagoda will be the first stop of the day. We will enjoy a great view of the Perfume River and the surrounding area. Thien Mu Pagoda is considered the symbol of Hue, and of Buddhism in Vietnam. From here we rejoin our van and go visit King Tu Duc's Tomb.
We then visit Dong Thien Pagoda, one of the most ancient pagodas in Hue built in the 18th century. Our guide will explain to us Buddhism in Vietnam before introducing us to the Monk Monastery in the pagoda where we will have delicious vegetarian lunch with its seeds, potatoes, carrots, mung beans, mushrooms, and soy sauce…
In the afternoon, we visit the Imperial Citadel where the Nguyen Dynasty ruled between 1802 and 1945, after exploring the ruins of this wonderful monument before ending our day in the local Dong Ba market. Overnight in Hue.
Day 6: Hue Cycling Tour (B, L)
After breakfast, we get on our bikes and ride to the outskirt of Hue towards Thanh Toan Bridge (roofed in Chinese style). Along the way, we pedal through small villages with verdant fields of Hue's countryside, stops for photoshoots, or talk with locals about their daily life. We then stop at Thanh Toan Agricultural Museum to understand more about the importance of agriculture in the life of the local people. On arrival at Thanh Toan Bridge, our guide will explain to you its history and significance.
Walk to the nearby market, we will find various local products from fresh vegetables, meats, fish, and other poultry. Continue pedaling to some traditional villages of Hue making 'Conical hat' (Non la) and some other traditional villages. Back to the city center in the afternoon, we will ride around the city before stopping at our hotel. Overnight in Hue.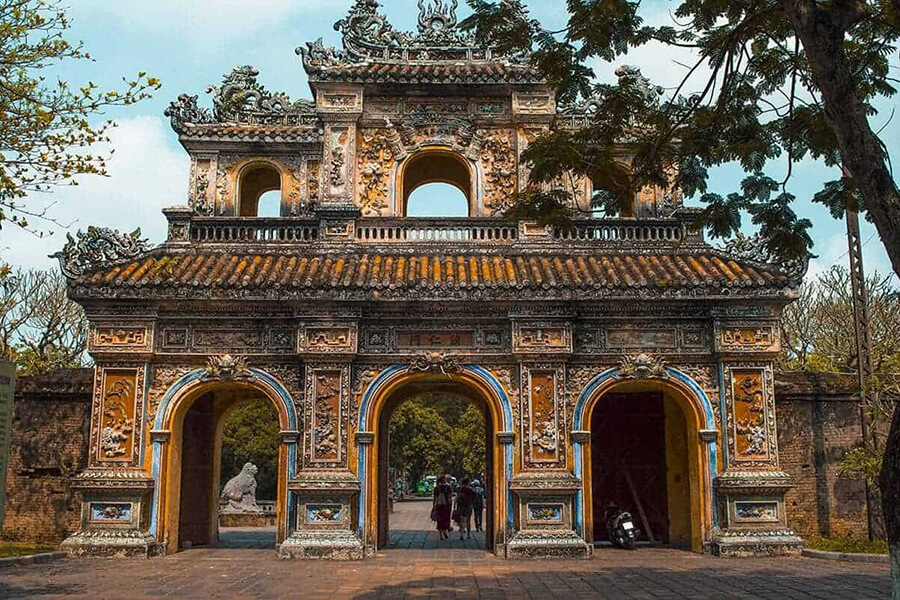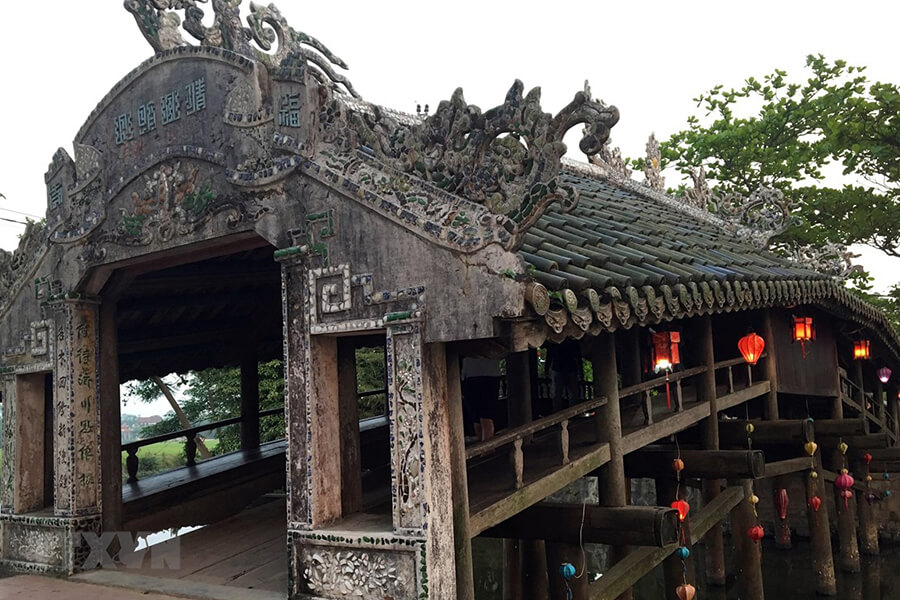 Day 7: Hue – Danang – Hoi An (B, L)
After breakfast at the hotel, we travel by vehicle to Hoi An along scenic highway 1A. Along the way, we will stop to contemplate the stunning views North, of Lang Co Beach and South of Danang city. On arrival in Danang, we will have a brief visit to the Cham Museum – the house of the complete collection of Cham Artifacts anywhere in the world; Non-Nuoc beach – where the Americans named and used to have their Rest and Relaxation; and the Marble Mountain – the five elements of the Universe (water, wood, air, fire, and earth).
We will arrive in Hoi An in the afternoon. We will start our walking tour around the ancient town to visit the Japanese Covered Bridge, the Pottery Museum, Tan Ky old house, the Cantonese congregation, the silk street of Hoi An, the temples and pagodas of Chinese appearance. Then we are back to our hotel.
Day 8: Hoi An Farming & Fishing Eco Tour (B, L)
We have an early start this morning as we head off to our Farming & Fishing Life Eco Tour. Starting at Tra Que Village, we will get a personal insight into the local farming communities. We set about joining the farmers in preparing their land for sowing, helping to fertilize the garden using seaweed from the local river, and watering it using huge tin cans strapped to our backs.
Following this, we will begin our leisurely cycling tour through the countryside witnessing local Vietnamese rural life firsthand. Late morning we will board our Hoi An Eco-tour boat for a river cruise. Here we will meet and witness local fishermen working their craft, before enjoying a hands-on experience of traditional net fishing. We then transfer to a Vietnamese bamboo basket boat for a quick race and ride down a coconut palm-lined waterway. Lunch today is on board our boat, which is prepared using vegetables picked earlier at Tra Que Village.
After lunch, we have some free time to wander around Hoi An town, lazing on the beach, shopping, or whatever takes your fancy. Overnight in Hoi An.
Optional for the Afternoon: My Son Sanctuary
In the afternoon, we will drive to the ancient Cham ruins of My Son which is 75 KM away from Hoi An. My Son is the former capital of the ancient Cham civilization that ruled Central Vietnam from the second to the thirteenth century. Their religion was primarily derived from Indian Hinduism. My Son is considered to be one of the best-preserved Cham structures in Vietnam. The complex is comprised of seventy Hindu-like towers and temples dating from the second century.
Once there, we visit the Tra Kieu capital which was the former administrative center of the Champa Kingdom. Discover the majestic ancient ruins at My Son including ancient towers which were built in the fourth century. In the afternoon, we will return to our hotel for overnight accommodation.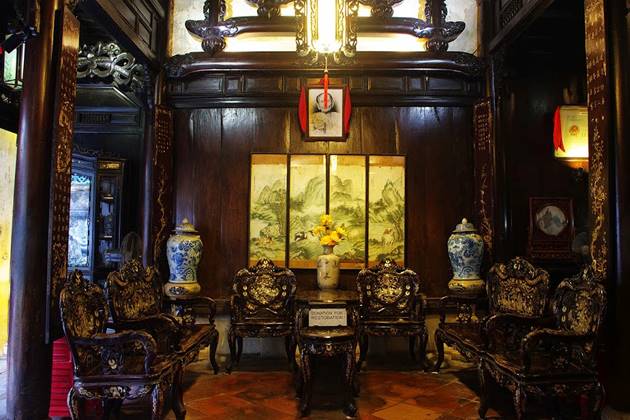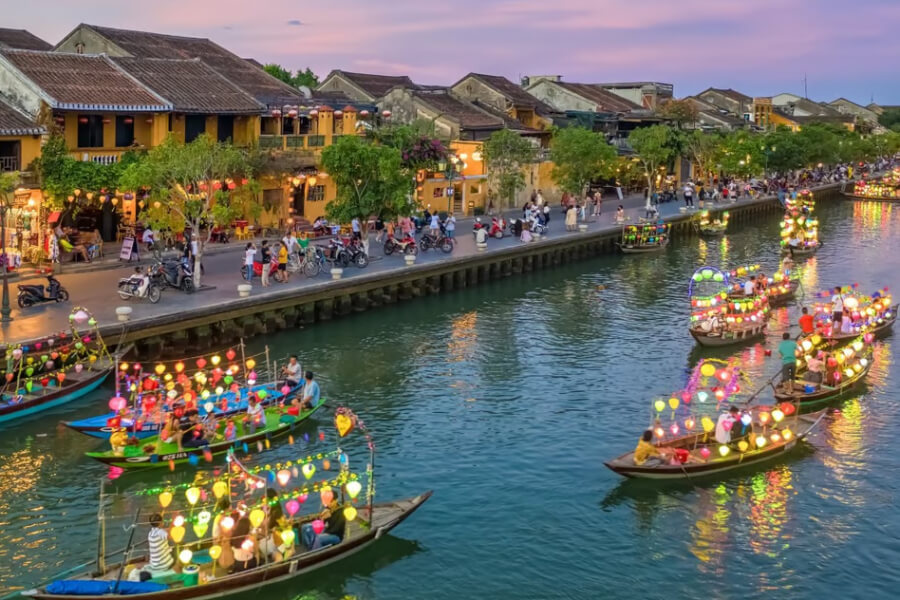 Day 9: Hoi An – Danang – Fly Ho Chi Minh City – Cu Chi Tunnels – Vespa Tour (B, L, D)
Today, we will take a morning flight to Ho Chi Minh City where we will be greeted on arrival and driven to visit Cu Chi Tunnels. At its height, the tunnel system stretched over 250 KM from Saigon to the Cambodian border and was three levels deep. The network included innumerable trap doors, specially constructed living areas, storage facilities, weapons factories, field hospitals, command centers, and kitchens. Today the remaining tunnels have become a major tourist attraction giving the visitor a unique experience and a feel of what underground life during the U.S.-Vietnam American must have been like.
We then return to Ho Chi Minh City and check in our hotel with free time at leisure. In the evening, our Vespa guide will pick us up at the hotel and we start the street food adventure in the back of a Vespa. Our first stop is Café zoom to "watch the world goes by" (quoted by The Lonely Planet) and enjoys cocktail and appetizer before adventuring into the favorite local eating spot. Our vintage Vespa scooter takes us to Chinatown and then heading to District 4 through busy streets and alleys to see the nightlife of locals and enjoy street seafood and cold drinks – places where foreigners won't be found.
Leave District 4 to District 3 the tour pass through downtown district 1 to take in the sights on the way to Banh Xeo (Saigon Special Pancake), the specialty of Saigon, and southern food with the locals. Then the tour will continue to a hidden Vietnamese-style coffee shop to have a taste of Vietnamese music (live) like a local. After that, the tour will bring the guest to a lively bar to enjoy drinks with live music. The tour ends at 10 PM and we will have a good night after a hectic day.
Day 10: Ho Chi Minh City – Mekong Eco Lodge (B, L, D)
After breakfast at the hotel, we will escape from the lively Ho Chi Minh City and head to Cai Be in the Mekong Delta. On arrival, we visit the Cao Dai Cai Be Temple and Cai Be Cathedral right in the town to understand more about the religious life of the Mekong people. We then embark on a tourist boat to visit the island and floating markets of Cai Be, where we will be introduced to the local agricultural, marine products and buy the ingredients for our own dinner. Continuing on the boat to head to Mekong Eco Lodge in Tan Phong Island, where we will check into our room for relaxing and having lunch.
In the afternoon, we will take part in the local activity of ditch fishing hook, which will bring us a rustic and great experience especially when catching fish on the river for dinner. Back to the Mekong Eco Lodge and join our chefs in the kitchen with Mekong Delta's special dishes such as elephant ear fish, spring rolls…Overnight in the Mekong Eco Lodge.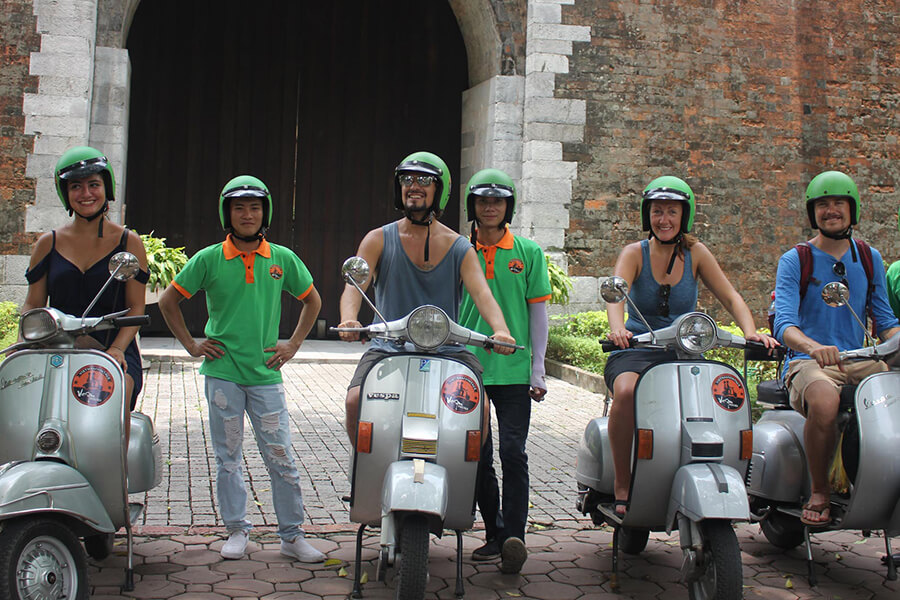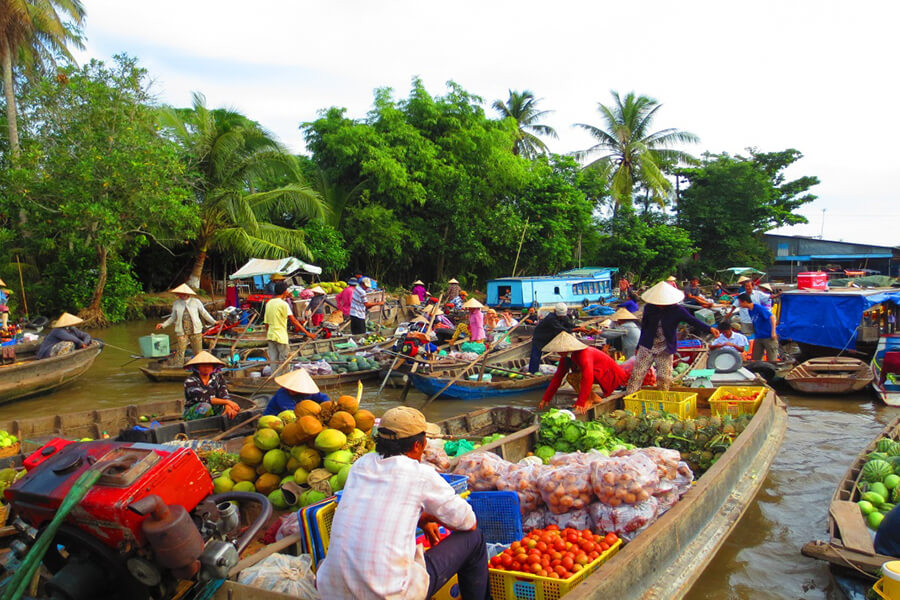 Day 11: Mekong Rustic – Ho Chi Minh City (B, L, D)
After breakfast, our guide will guide us to explore more of Tan Phong Island by bike. We will visit the traditional handicraft workshops of handbags, rice papers along with wooden tables and chairs. Stopping at a local farmer's house and talking to him to understand how local farmers take care of their gardens, then try plucking the fruits and tasting them.
The 2nd-day tour continues with a visit to the 'bang' conical hat (nón bàng) workshop before going back to our lodge to fresh, check out, and get back to our boat to transfer us back to the mainland where our car is waiting and take us to the hotel in Ho Chi Minh City. In the evening, we will have a Farewell Dinner at a nice local restaurant. Overnight in Ho Chi Minh City.
Day 12: Ho Chi Minh City Departure (B)
Time will be free until our car arrives at the hotel to take us to the airport in good time to board our departure flight. The best Vietnam tour itinerary is 12 days' end. See you again in the next Vietnam tour packages.