Sapa is the home to a number of Vietnam's ethnic minority with their own unique values of culture, history and tradition. One of the prominent features that contributes to the multi-color picture of this northwest mountains of Vietnam lies in the existence of numerous local market, fully reflecting the diversity of local people's life. In order to sense the very best of Sapa, looking for unique shopping experience is definitely one of the best things to do. With a lot of amazing things to shop in Sapa, brocade is an outstanding product that best describes the region's imposing nature as well as the ethnic culture. Here are best brocade shops that you can visit in Sapa.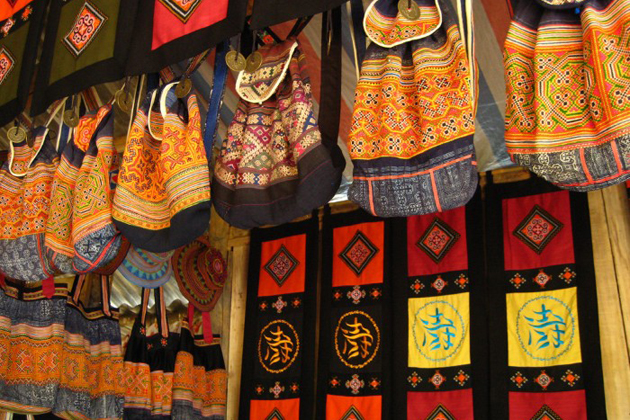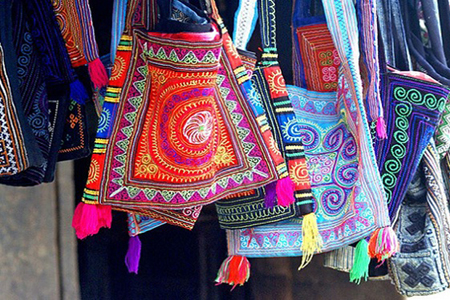 Nguyen Lang Van shop
For those who are interested in colorful brocade products, make your way to Nguyen Lang Van Shop in Sapa town. Entering the shop is like you are stepping into the world of color packed with a wide variety of brocade products
Location: Cau May Street, Sa Pa Town
Can Cau Market
Sapa is the home to a number of wonderful markets representing the soul of Sapa including Can Cau, Bac Ha and Coc Ly. In order to take in views of diverse brocade in northwest mountains of Vietnam, have a stroll around the well-known local Can Cau Market which is considered the sea of brocade. Here, you can catch a glimpse of colorful world filled with a great number of different brocades varying in shapes and sizes. Stop at brocade stalls to pick your favorite items.
Location: 80 kilometers from Lao Cai City and take place every Saturday.
Ta Phin Village
Another place that is famous for brocade is Ta Phin Village. For a long time, Ta Phin Village has made its name to be a long-established brocade village in Sapa with many generations weaving colorful sophisticated brocade. Visitors to Ta Phin will be not only impressed by soaring mountains and stunning rice terraces but also overwhelmed by distinct ethnic cultural values highlighted with brocade weaving. Here, you can admire with the naked eyed wonderful hand-made brocades by skillful local people.
Location: 17 kilometers from Sapa Town.