Masters have introduced Vietnamese martial arts to many countries. Twenty-two schools in France and other European countries have about 13.000 students. The schools active in France include:
The Cuu Long Martial Arts School
Master Tran Hoai Ngoc founded this school in 1954 in Vietnam. Later, he moved to France, where he developed a school in Loire-Atlantiques and Côte d' Azur. Its techniques include sets of katas, exercises with weapons and qigong, breathing exercises for disease treatment, and acupuncture.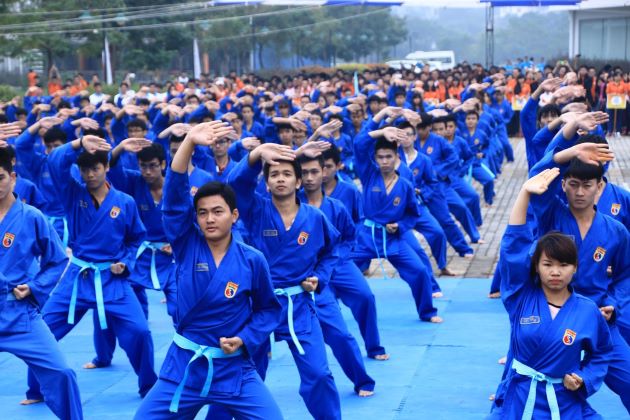 The Nam Ho Quyen Martial Arts School
Headed by Master Philippe Dang Van Sung, this school is a branch of the Binh Dinh Martial Arts School. It practices skills typical of Vietnamese martial arts: pulling, throwing, and sweeping off, breathing, swords, spears, and scimitars.
The Trung Hoa Martial Arts School
Master Nguyen Trung Hoa is one of the founders of the Vietnam Martial Arts Federation in France. After his death, his disciple, Master Jean Quy, established the Trung Hoa School. In addition to the techniques of self-defense and fighting, the school also tries to equip its students with the skills to reach self-perfection and self-realization.
The Thanh Long School of Martial Arts
Founded by Master Francis Fournier, its training exercises consist of external and internal methods, the use of traditional weapons, and methods of reflective self-defense.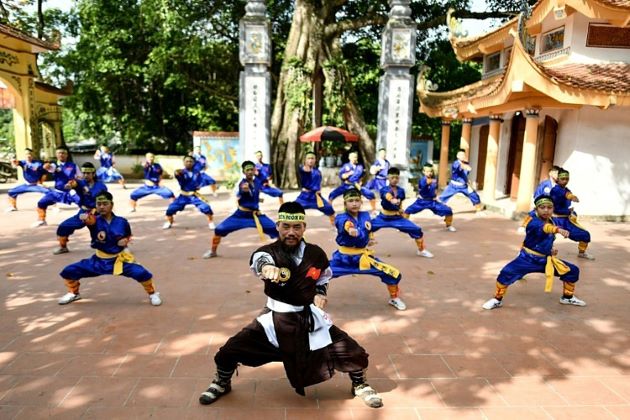 The Son Lam Hac Ho School of Martial Arts
Founded by late Master Vu Ngoc Vinh, this is a school of Vietnamese traditional martial arts now headed by Frederic Vu, Mr. Vinh's son.
The Cay Lau School of Martial Arts
Late Master Nguyen Trung Hoa opened this school of martial arts in France in 1948. After his death in 1975, his nephew, Master Bernard Vo Dinh Quang, developed the school in Paris, Strasbourg, and Montpellier.
The Lam Son Martial Arts School
The successive masters of this school have paid great attention to developing the two basic merits of bravery and sacrifice in their students. The school's Grand Master is Mr. Jacques Tran Van Ba.
The Song Long Khien School of Martial Arts
Set up by Master François Brassecasse, this school has two major fields of training. The external training field develops techniques of combat using traditional weapons and physical enhancement. The internal field focuses on breathing methods and meditation.
Traditional Martial Arts
Grand Master Nguyen Duc Moc introduced this school to France in 1950 and has developed it ever since. Its training exercises include fighting with and without traditional weapons. The first two disciples of Grand Master Moc are Phillippe Bertec and Thiery Dijoux. They are now in charge of developing the school in France and other European countries.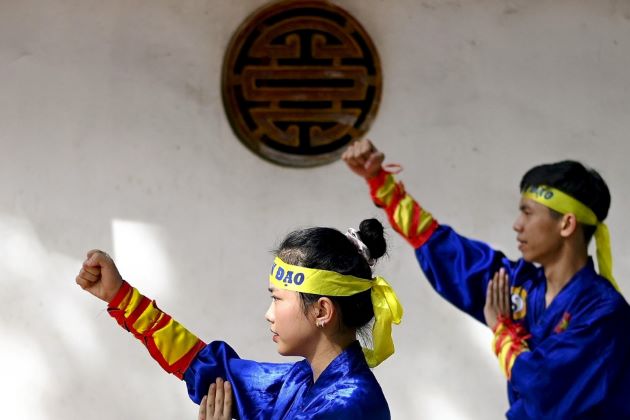 The Tay Son Martial Arts School
In the past, this was a school of combat, in which swords were the most useful weapons. Influenced by war, its philosophy was quite simple: the more enemies one kills, the better. However, now Grand Master Phan Toan Chau has changed the guidelines to teach his students both the philosophy of martial arts and techniques of combat.
The Nam Hai Martial Arts School
Master Nghiem An Thach used to practice martial arts of several schools in Vietnam – including Lam Son, Bach Hac, Thieu Lam (Shaolin), and Hong Gia – before he moved to France in 1983. There, he founded the Nam Hai School. While training his students, Master Thach emphasizes the humane spirit of and respect for Vietnamese traditional martial arts.
The Ky Lan Chi Minh Martial Arts School
Built upon the foundation of Vietnamese and French cultures, the Ky Lan Chi Minh School tries not only to develop martial arts skills but also to include such virtues as honesty, bravery, modesty, and harmony. Master Tran Ba Duc, a disciple of Master Nguyen Trung Hoa, heads the school.
The Long Hai Martial Arts School
Founded by Master Tran Giac, this school has training exercises based on the techniques of ying gong, qing gong, and Vietnam's traditional martial arts.
The Hoa Long Martial Arts School
Founded by Grand Master Vinh Long, Chairman of the Vietnam Martial Arts Association, the Hoa Long School follows the quintessential nature of the martial arts of the late Master Nguyen Trung Hoa and combines the hard and soft styles.
The Viet Martial Arts School
Traditional philosophies of Vietnamese martial arts influence this school's training methods and exercises, which demonstrate the harmony between tradition and modernity, between spirit and body, and between art and sports. Each level of mastery is equivalent to a certain grade of martial arts, which involves an understanding of the spirit, body, philosophy, and combat techniques. Its Grand Master is Mr. Nguyen Cong Tot.